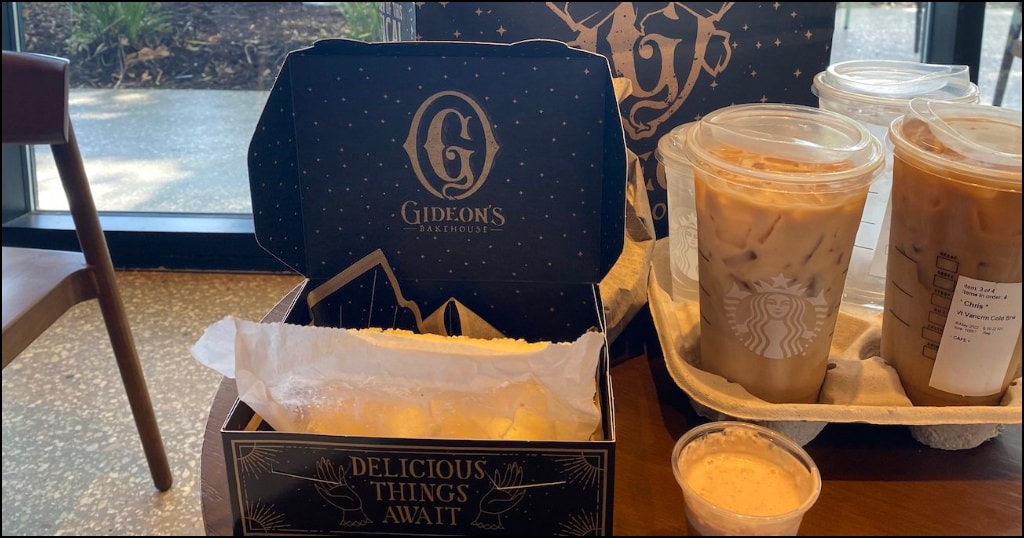 (Photo by Bayley Clark/magicalguides.com)
Most important meal of the day? We think so! It's essential to start every Disney day off right with a quick breakfast. You'll spend some very long days navigating Walt Disney World theme parks, so it's important to make sure you're fueled up.
No worries though because Walt Disney World Resort reigns supreme in the area of food! To help you stat fueled up, here are the best restaurants to grab a bite to eat before a long day in Orlando.
What is Disney Springs?
Known as Downtown Disney a few years ago. This popular area is on Disney property and a shopping destination. It is home to live entertainment, restaurants like Wolfgang Puck Express and STK Orlando.
When it comes to grabbing a quick bite there's a quick service location for every set of taste buds in your travel group. With Sunday brunch, comfort food options, house-made doughnuts and take-home treats, Disney Springs is a great spot to grab your first meal of the day.
When it comes to dining, Walt Disney World has excellent and extensive options but at the heart of it all is Disney Springs. Walt Disney World's vibrant leisure complex is a one stop shop for shopping, entertainment and dining.
Here you will find some of the most remarkable restaurants across the resort including dining locations you have never encountered and some well-loved establishments from across the USA.
There is an endless list of dining options available at Disney Springs that ensures that every taste bud is satisfied. There is no doubt that you will enjoy a mouthwatering breakfast in Disney Springs, the tough part is choosing which place to enjoy first.
Dining at Disney Springs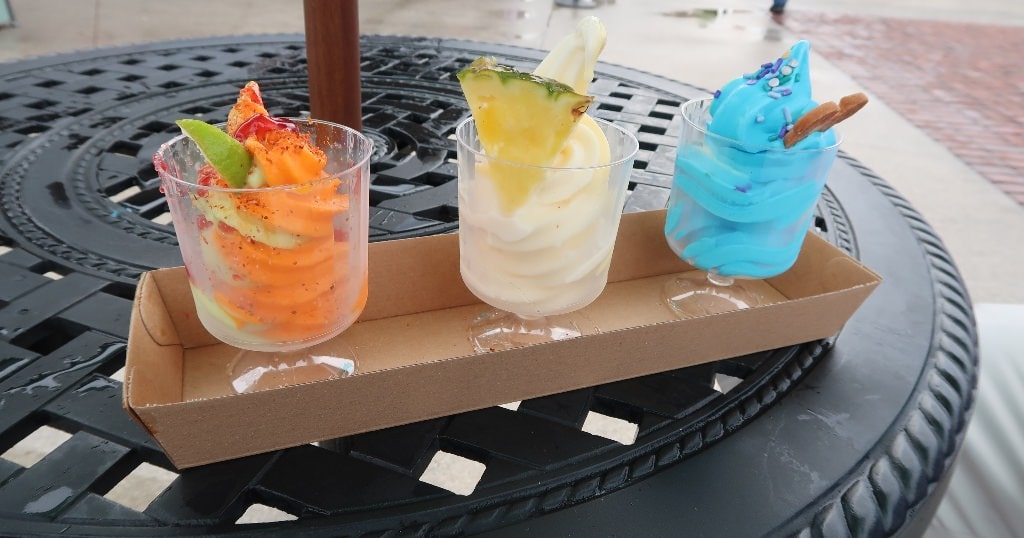 Disney Springs offers over 60 different dining options and is growing with new dining locations opening . This foodie paradise is home to a wide selection of dining locations with something for everyone.
A perfect mix of Disney owned eateries and third party restaurants, Disney Springs has an eclectic list of dining establishments to choose from.
From well-known favorites such as Rainforest Cafe and Earl of Sandwich to celebrated Disney owned restaurants, you can't go wrong choosing a place to enjoy breakfast.
What are the quick service breakfast options at Disney Springs?
Disney Springs offer many quick service dining locations that offer breakfast for a great price. These restaurants have staggered opening times so you will find a quick service dining location offering breakfast at a time to suit you.
Earl of Sandwich
Earl of Sandwich offers a breakfast menu daily between 9:00-10:30. The menu boasts a delicious array of hot breakfast sandwiches, burritos and bowls inspired by British breakfast classics.
Fun fact: The first Earl of Sandwich was started in what is now known as Disney Springs.
Erin McKenna's Bakery
Opening daily from 10am, Erin McKenna's Bakery offers a delicious sweet menu from opening until close. The menu features cinnamon rolls and tea cakes which are great sweet breakfast options whilst savory bagels are also available.
Everglazed Donuts and Cold Brew
For early risers, Everglazed Donuts and Cold Brew is a great choice. If you're looking for a sugar or caffeine kick in the morning, this bakery is the one for you.
Everglazed offers a variety of breakfast inspired donuts including Cinnamon Toast Crunch, Fruity Pebbles and Maple Double Bacon for a morning sweet treat. If you fancy something more savory, Everglazed also features the Breakfast Burger on its menu.
The variety of coffee and cold brew on offer will also perk up your morning.
Joffrey's
Disney Springs is home to two Joffrey's locations, one at The Landing and one at Marketplace. Both locations are beverage only, but if you just need a coffee to kick start your day, Joffrey's is a firm choice.
Joffrey's Marketplace kiosk also offers a selection of smoothies.
Starbucks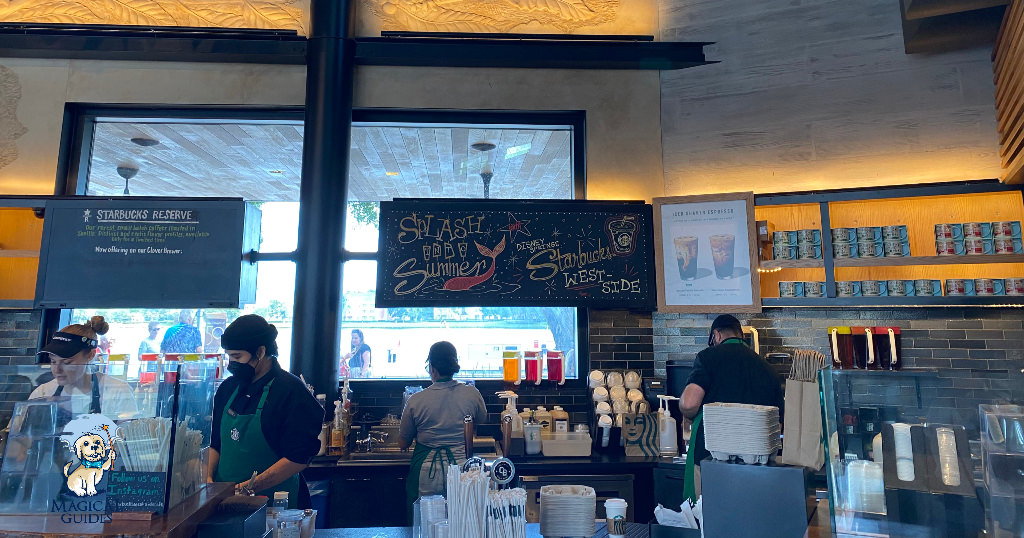 Photo by Bayley Clark
Two Starbucks locations can be found in Disney Springs. The first can be found in Marketplace with the second on the West Side. Both Starbucks locations are classic choices to stop by for a morning coffee.
With both offering hot breakfast items, bagels and pastries.
Please note, opening hours are subject to change.
Are there table service breakfast options at Disney Springs?
There are many quick service dining locations at Disney Springs. Don't sleep on the fact Disney Springs offers many table service restaurants too. Table service restaurants often need reservations so it is best to book in advance to ensure your table is secured.
There are currently no table service restaurants at Disney Springs serving breakfast on a daily basis. There are many dining locations serving brunch with breakfast options. The brunch menus at Disney Springs are offered on weekends only.
Chef Art Smith's Homecomin'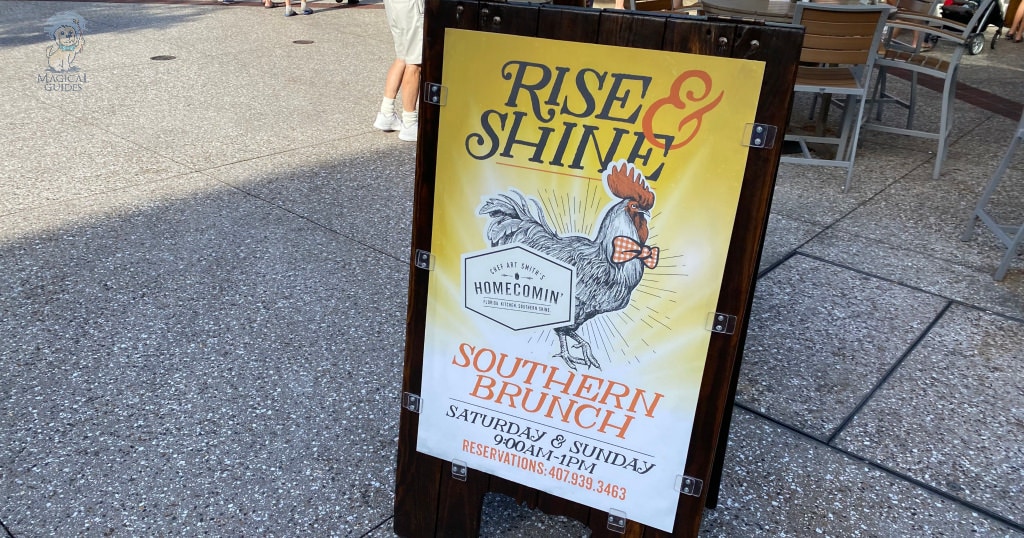 (Photo by Bayley Clark)
The Southern-style brunch menu features Chef Art's famous fried chicken, breakfast bowls and house-made sugar donuts.
CityWorks Eatery and Pour House
The brunch menu is diverse with something to please every taste bud. All dishes have a playful music inspired name such as Sweet Child O' Mine, a stuffed brioche French toast with Bailey's cream cheese and berry compote. Easy Like Sunday Morning, a delicious breakfast flatbread.
House of Blues Restaurant and Bar
The Southern inspired weekend brunch includes all the fixin's with menu offerings such as Chicken 'N' Donuts and Biscuits & Gravy . You can also enjoy bottomless Mimosas and Bloody Mary's to spice up your morning.
Maria & Enzo's Ristorante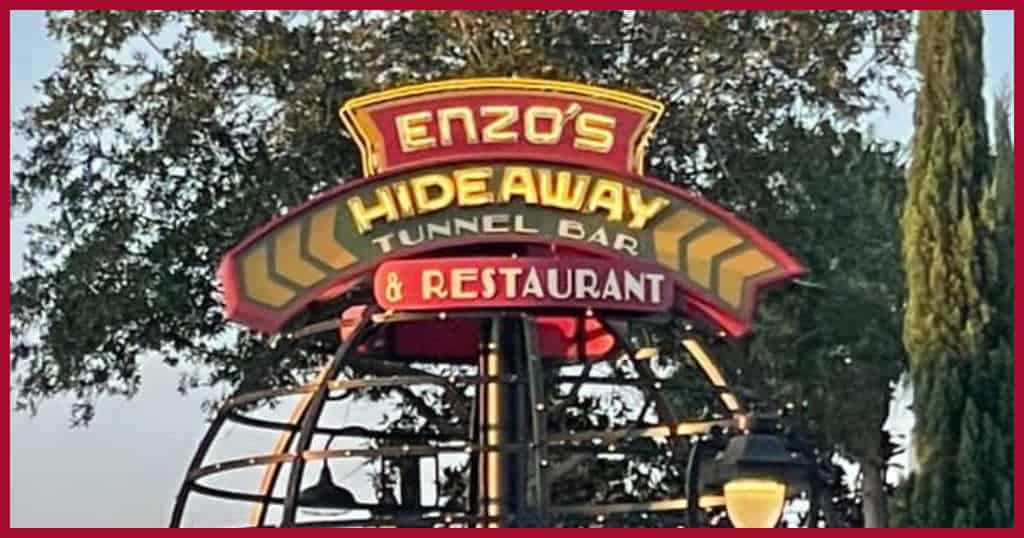 This mouthwatering Italian restaurant serves up an exquisite brunch menu with incredible breakfast twists on Italian classics. Enjoy the Frittata Al Forno, Eggs Benedetto, and Spaghetti Carbonara Americana amongst a whole host of other delicious options.
Raglan Road Irish Pub and Bar
This traditional Irish pub boasts the best of Irish cuisine including a Full Irish Breakfast, Bangers & Mash and The Anglo Irish eggs benedict.
STK
The infamous STK takes up residence within The Landing at Disney Springs. For an upscale brunch, visit on a weekend to enjoy classic breakfast dishes plus the Wagyu Burger BKFT and Truffle Steak and Egg.
Wine Bar George
The Wine Country Brunch explores the flavors of wine country with artisanal meats and cheeses, charcuteries boards and unique cocktails.
Wolfgang Puck Bar and Grill
Wolfgang Puck offers a delicious brunch menu but as the timing is later in the day than other brunch menus, a limited number of breakfast dishes are available. Expect to find avocado toast, chicken & waffles and an Old School Breakfast with the rest of the menu focusing on pizza, pasta and meat dishes.
Can I experience a Character Breakfast at Disney Springs?
At present, there are no Character Breakfast options available in Disney Springs. But, you can enjoy Disney Character Breakfasts close to Disney Springs. Character Breakfast is offered at three Good Neighbor hotels in the Disney Springs Resort Area.
All three hotels are within walking distance of Disney Springs and whilst specific Character appearances are not advertised or guaranteed, official Disney Characters attend the breakfasts with Mickey, Pluto and Goofy all regular visitors.
The character Disney breakfast options at these hotels do not take reservations and are a great choice for those having difficulty securing a reservation for Walt Disney World Character breakfasts.
Character breakfasts are offered at the following:
Lakeview Restaurant at Wyndham Lake Buena Vista Resort – Tues/Thurs/Sat 7:30-10:30
Letterpress Restaurant at Hilton Buena Vista Palace Hotel – Sun 8:30-11:30
Covington Mill Restaurant at Hilton Orlando Lake Buena Vista Hotel – Sun 8:30-11:00
Can you get breakfast earlier at Disney Springs than 9AM?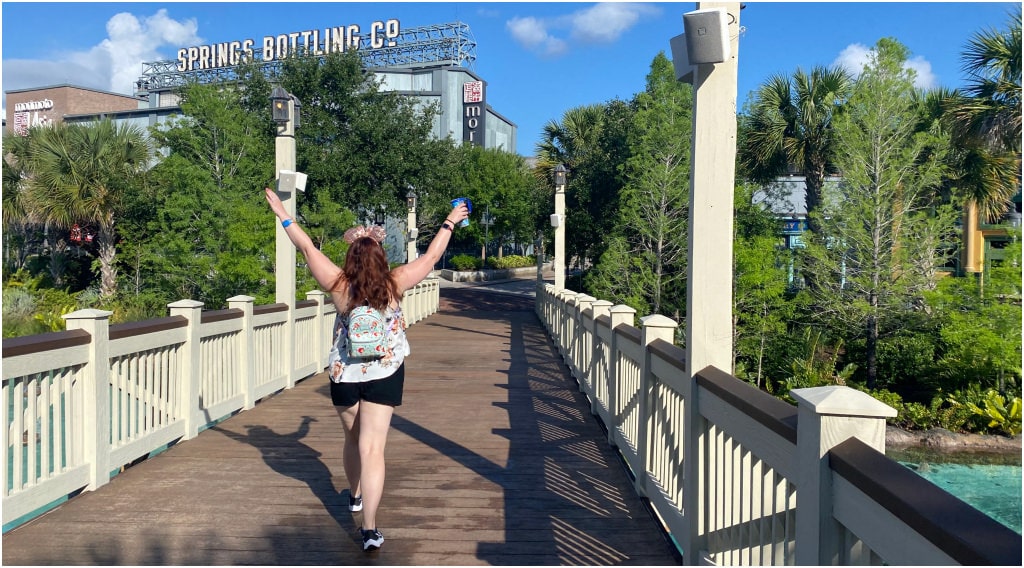 The standard opening time of Disney Springs is 10am but if you're up early and raring to go, this may be a bit late in the morning for you.
For those looking to get an early start on the parks or need to head to the airport, an earlier breakfast would be beneficial. So, how do you get early breakfast at Disney Springs?
Each restaurant at Disney Springs is not owned by Disney so, they all have their own opening hours. There are many dining locations in Disney Springs with earlier opening times that welcome diners before Disney Springs opens.
Disney Springs dining locations with earlier opening hours:
Chef Art Smith's Homecomin' – Sat/Sun 9:30
Earl Of Sandwich – 9:00
Everglazed Donuts and Cold Brew – 9:00
Starbucks at Disney Springs Marketplace – 9:00
Starbucks at Disney Springs West Side – 9:00
If 9 am is not quite early enough for you, breakfast options are also available at Good Neighbor hotels in the Disney Springs Resort Area. Dining locations at Good Neighbor hotels open as early as 6am.
Please note, opening hours are subject to change.
What if I want breakfast later in the morning at Disney Springs?
As each restaurant is operated individually, opening hours vary, however, Disney Springs opens at 10am and most dining locations open in line.
Where offered, breakfast is typically served at Disney Springs restaurants from 10am-12pm with some offering brunch or all day breakfast menus. There is always somewhere in Disney Springs to enjoy breakfast, no matter how late in the morning you rise.
What's so special about Gideon's Bakehouse? Is Gideon's Bakehouse good for breakfast?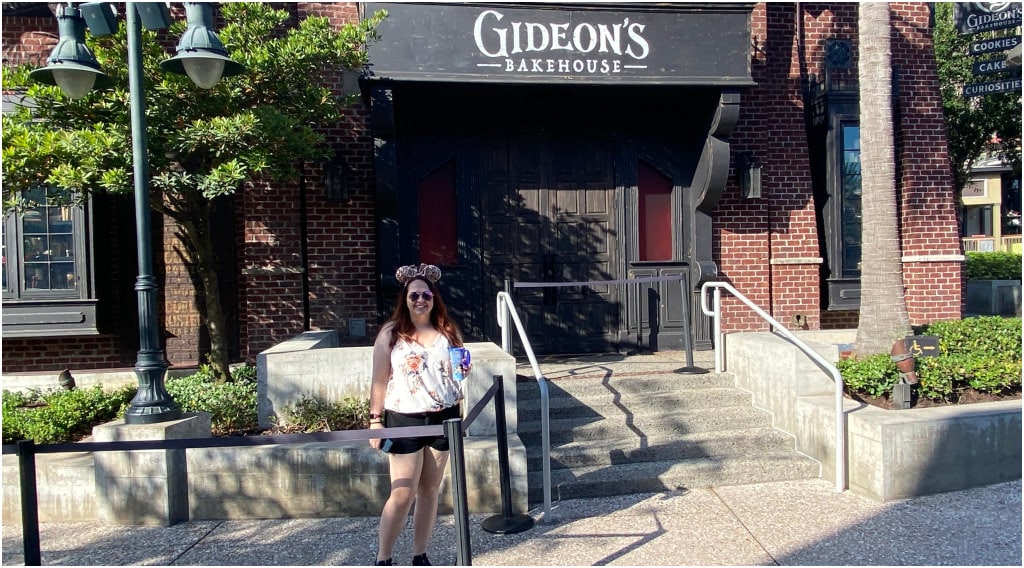 Since opening at Disney Springs in 2021, Gideon's Bakehouse has quickly acquired a cult following of Walt Disney World guests. This mouthwatering bakery is famous for its almost half pound cookies and unique creations.
Gideon's Bakehouse is so popular that it operates more like a Walt Disney World attraction than a bakery. Lines start to form at least an hour before opening and queuing is expected regardless of the time of day you visit.
On the busiest days such as weekends and public holidays, Gideon's Bakehouse utilizes a virtual queue.
Worth the Hype?
So, is Gideon's Bakehouse worth the hype? Well, that all comes down to your personal preference, but there is a reason why the bakery is so popular. If you have a sweet tooth and enjoy a delicious treat, it is likely that Gideon's Bakehouse will hit the spot for you.
They have not only perfected the cookie recipe but the bakery also plays on traditional flavors and mixes things up with unique and unusual creations.
While the bakery offers resident favorites such as the classic chocolate chip cookie, every month, Gideon's Bakehouse releases a limited edition flavor of the month.
Desert for Breakfast, Why Not?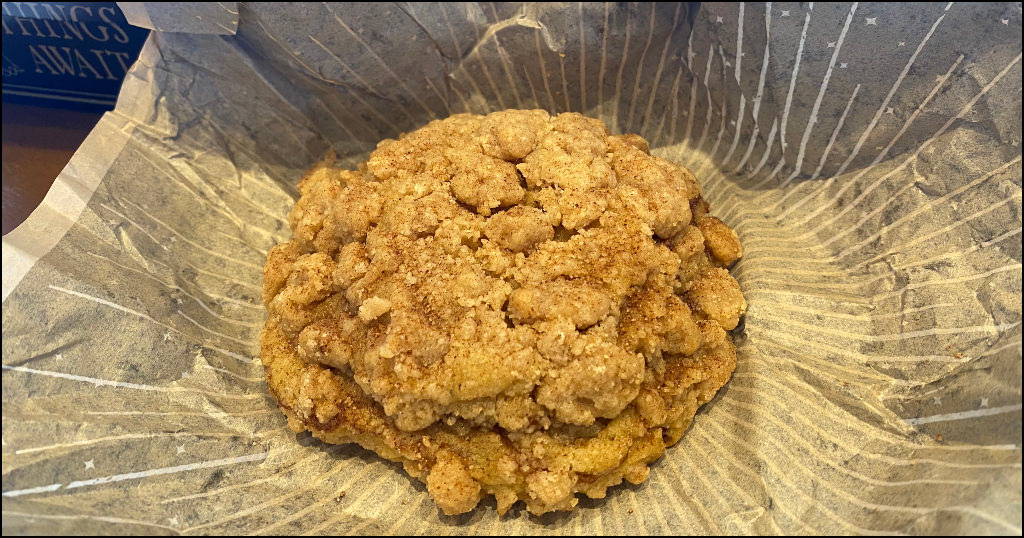 While Gideon's Bakehouse offers incredible sweet treats, is it the place to head for breakfast? If you want to begin your day with a sweetness, then yes!
Gideon's Bakehouse also whips up some unique and delicious coffee flavors, so if you need that caffeine kick in a morning, it is definitely a worthy coffee contender. If you're looking for something a little more savory, then the menu at Gideon's Bakehouse may not be for you!
You'll want to stop by and pick up a mouthwatering cookie or delicious treat.
Can you spend a full day at Disney Springs?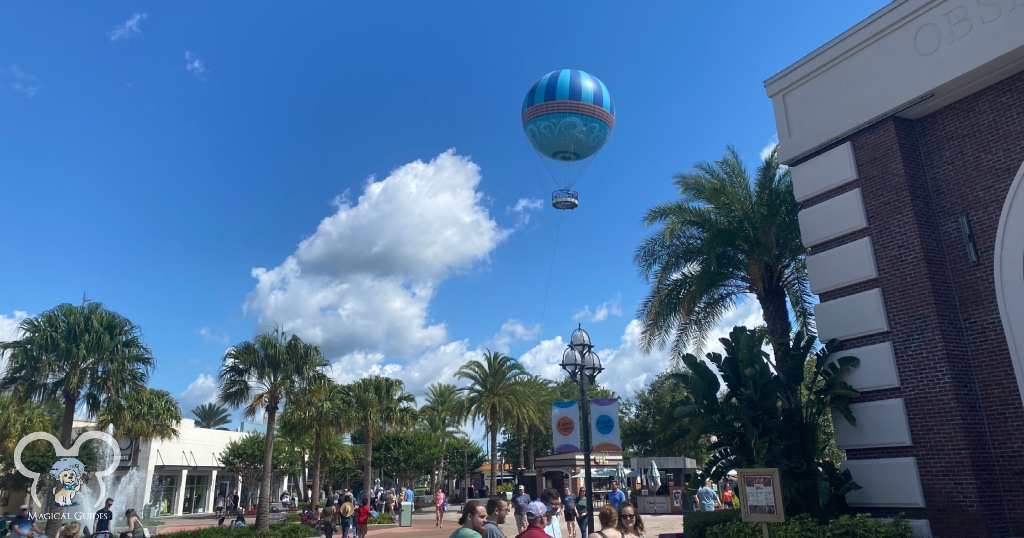 Spending a day at Disney Springs is one of the most exciting and magical experiences you can have. From shopping to dining to entertainment, this vibrant outdoor complex has something for everyone.
Whether you want to take in the sights and sounds, or relax and enjoy the Florida sunshine, there's an array of options available that offer all different type of food, entertainment and shopping.
From souvenir shopping at Disney Springs Marketplace to happy hour at the House of Blues Restaurant & Bar to catching live music at The Edison, it'll be sure to be a day filled with fun!
Do you tip at Disney Springs?
It is customary to tip for good service at Disney Springs, however the amount is up to your own personal discretion. Whether you're dining at one of their many restaurants or having a spa treatment, it's always appreciated to show your gratitude with a tip.
Keep in mind that many of the locations around Disney Springs are staffed by Cast Members who rely on tips as part of their income. So, if you've had an enjoyable experience, be sure to show your appreciation and tip!
With so much to do and explore, there's no better way to start off your day at Disney Springs than with breakfast. From unique twists on classic favorites to traditional cuisine, you can enjoy the perfect meal with family and friends on your next Disney vacation.
Eating breakfast at Disney Springs is the best way to kick-start your day of fun!