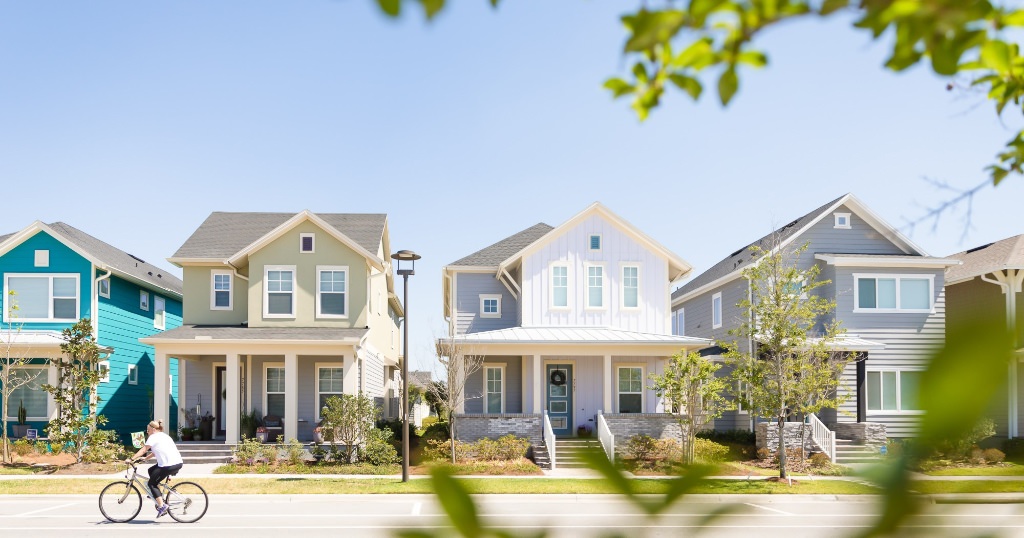 Central Florida has warm winters, beautiful beaches, family-friendly activities, and Walt Disney World. For those Disney lovers looking to move closer to the Mouse House, there are many great areas to choose from around Disney World to relocate to. Whether you are looking to move closer to family in Florida, live closer to the fun Orlando Attractions, or enjoy year-round warm weather, you are sure to find the perfect area to relocate to near Walt Disney World.
The Greater Orlando area is booming with population growth, and AdvisorSmiths report stated that Orlando, The City Beautiful, was ranked Number 3 as the best city with job growth in America. Central Florida is one of the best tourist spots in the world, and many people want to move to this beautiful area to "live where they play." If you are considering relocating close to Disney World, here are some of the best places to live near Disney World.
Read More: The Best Way To Get To Universal Studios From Disney World
What Communities Are Near Walt Disney World?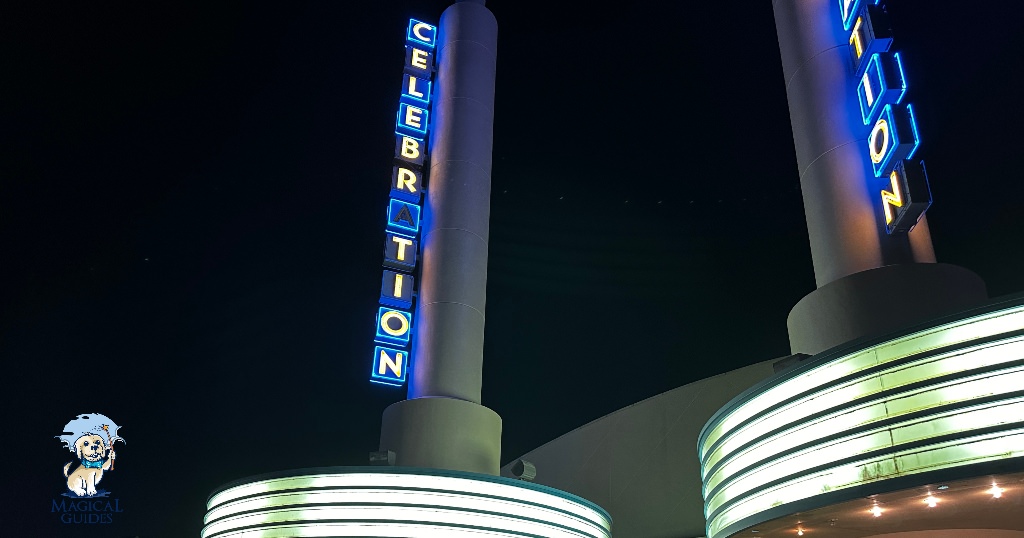 Photo by Bayley Clark for Magical Guides
The Greater Orlando area has many communities close to Disney, each unique in its own special way. Whether you are looking for a family-friendly location, somewhere that is more upscale, or somewhere with a cozy downtown, you are sure to find just what you are looking for in one of these great communities close to Disney World.
I'd recommend creating a list of things that are important to you. What are your non-starters? For my family, I have to have a fence, room dedicated for my husband's office as he works from home, a guest room (as folks will want to come visit) especially after we start a family, and my husband wanted access to outdoor pools.
So when you consider the Florida lifestyle one of the other things I'll mention is traffic. How far will you be from your work? Maybe you'll just have to commute to the living room every morning to start your day, or maybe you'll be stuck on the I-4 for hours. So plan accordingly if you want a short drive to work and to places like Disney Springs.
Celebration
One of the most popular communities close to Disney World, Celebration is known as "Disney's City," located in Osceola County, just 6 miles south of Walt Disney World. The Walt Disney World Company initially developed this luxury city. Disney no longer owns the town, but many Disney businesses are still in the city. Celebration is known for its fun Town Center which has excellent shopping and delicious dining options for its residents. The Celebration Town Center also has special events, such as concerts, its Star Spangles Fourth of July event, and festive holiday parades. The city also has the Celebration Nature Trails, over 23 miles of nature trails connecting to the neighborhood. This is a great way to enjoy the beautiful wildlife of Central Florida.
I absolutely love the downtown area of Celebration, and I frequently come here to explore since I have family that lives here allowing me to crash on their couch. This master-planned community often hosts events downtown that include concerts, hay rides, and at Christmas time they have their own falling "snow".
Celebration is a town my husband and I often look at and consider moving full-time to, or considering purchasing a townhome. It can be pricey considering the current market, but the small town feeling of downtown is truly magical. If you're interested in learning a bit more about Celebration, check out this article I wrote previously called, A Look To The Town Disney Built: Celebration, FL.
I couldn't find a single family home for less than $550k in Celebration, and the ones we really wanted to live in were $850k. Space is a premium here, and as our realtor at the time said, "You don't move to Celebration for the houses necessarily, it's about the lifestyle, and community."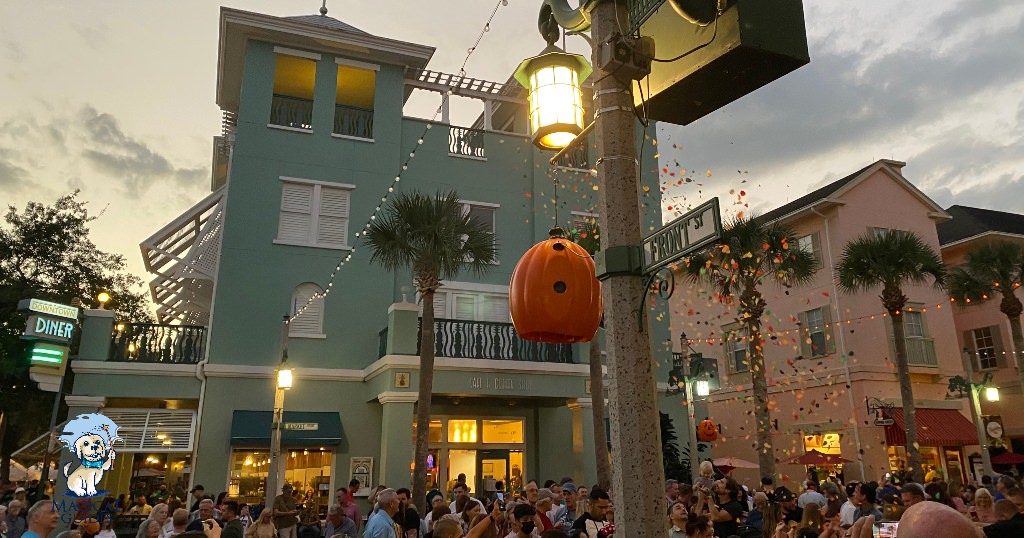 Photo by Bayley Clark for Magical Guides
Clermont
Clermont, Florida, known as the "Choice of Champions," is located 25 miles northwest of Walt Disney World. Clermont, Florida, is great for families, especially those who enjoy the outdoors. The Clermont Chain of Lakes is found throughout the city and is made up of 11 lakes that are connected. Visitors can enjoy swimming, rowing, boating, and more on the lakes. Clermont is also known for its rolling hills and is one of the highest points in Florida. The South Lake Bike Trail runs through the city, and Clermont often has 5k's, marathons, and triathlons. Clermont is an ideal location for those looking to have an active lifestyle near Disney World.
My husband and I toured several neighborhoods in Clermont when we were thinking of moving to Florida. It is an ideal place to consider moving to as it's far enough away from the parks that you will avoid a lot of the vacation traffic, with access to the everyday things you'll need. Clermont is actually the highest point in Florida, so if you're worried about flooding, you're in luck, as it's going to run downhill. Clermont is also known for their orange groves that were everywhere. I also noted that a number of the houses in Clermont (Florida in general to be honest) had their own private pool, which can be a huge plus.
Doctor Phillips
Doctor Phillips is a suburb of Orlando and a prime location if you want to be close to all the Greater Orlando Attractions. Located between Disney World, Universal Studios, and Sea World, this is a great place to live where most people vacation. Doctor Phillips is 6 miles northwest of Disney World. The public school's reputation here attracts many families to Doctor Phillips. The Doctor Phillips Performing Arts Center also attracts many people wanting to catch a Broadway show or live entertainment year around.
The Doctor Philips area is a higher median home price, so if you're looking for a home here, think $500k+ as a starting price. You will also find higher end shopping centers as well as more traffic. I remember going for a hair trial before my wedding here, and it took twice as long to get anywhere due to all the traffic. Still quite a lovely area close to all the major theme parks, so again location is going for a premium.
Altamonte Springs
Twenty-six miles northeast of Disney World along I4, you will find the suburban city of Altamonte Springs. If you want to be close to the Central Florida beaches and Disney World, this is the perfect location. Altamonte Springs is known for its excellent shopping and dining. The Cranes Roost at Uptown Altamonte is a beautiful city area on the water with live entertainment, an amphitheater, and large events such as Red, Hot, & Boom. Lake Lotus Nature Park is a great place to get out and enjoy nature with nature trails, a fishing pier, a boardwalk, and more.
Winter Garden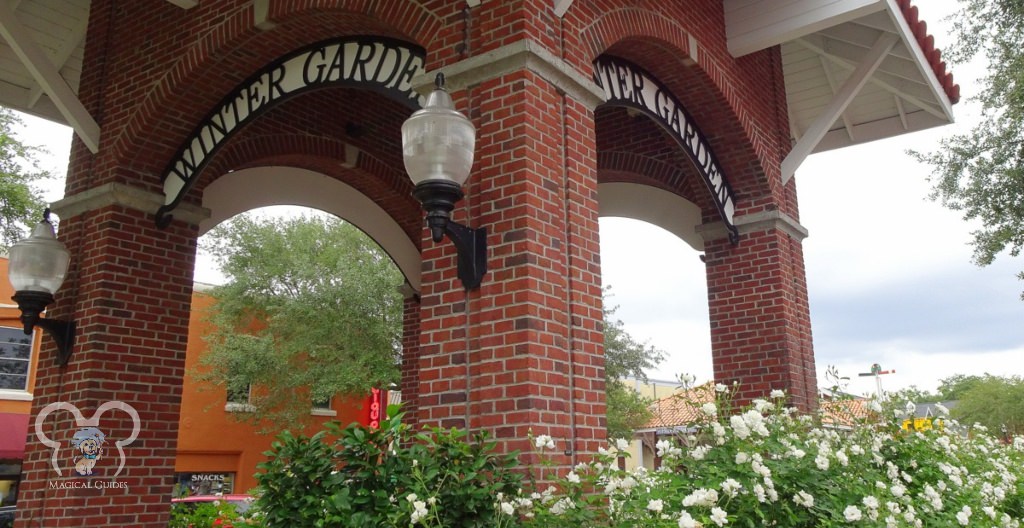 Known as one of the best places to live in Florida, according to Niche.com, Winter Garden, Florida, is a perfect place to live close to Walt Disney World. Just 12 miles north of Disney, Winter Garden offers its residents a lively downtown with events and activities throughout the year. Winter Garden has a large Farmers Market every Saturday, where residents can get fresh produce and homemade goods from local vendors. Winter Garden is family-friendly and stands out to young professionals looking for a fun vibe and exciting nightlife. Art Lovers will love spending time at the SOBO Art Gallery in Downtown Winter Garden. Winter Garden is a golf cart district and offers the West Orange Trail for those looking to get outdoors.
Winter Park
Northeast of Orlando and just 30 miles from Disney is the extravagant town of Winter Park, Florida. Winter Park has elegant single-family homes, world-class museums, and Old-World Charm filled with beautiful city streets to walk through. This charming city is full of history and has a strong sense of community- offering many activities for residents. Rollins College, the oldest private college in Florida, is also found in Winter Park. This luxurious city offers high-quality dining and shopping options and four museums for residents and visitors to enjoy. The Downtown Winter Park Historic District is listed on the National Register of Historic Places and has eight different buildings listed. Winter Park offers many festivals throughout the year and is well known for the Winter Park Sidewalk Art Festival, where many visitors come from around the world to see the beautiful art.
Lake Nona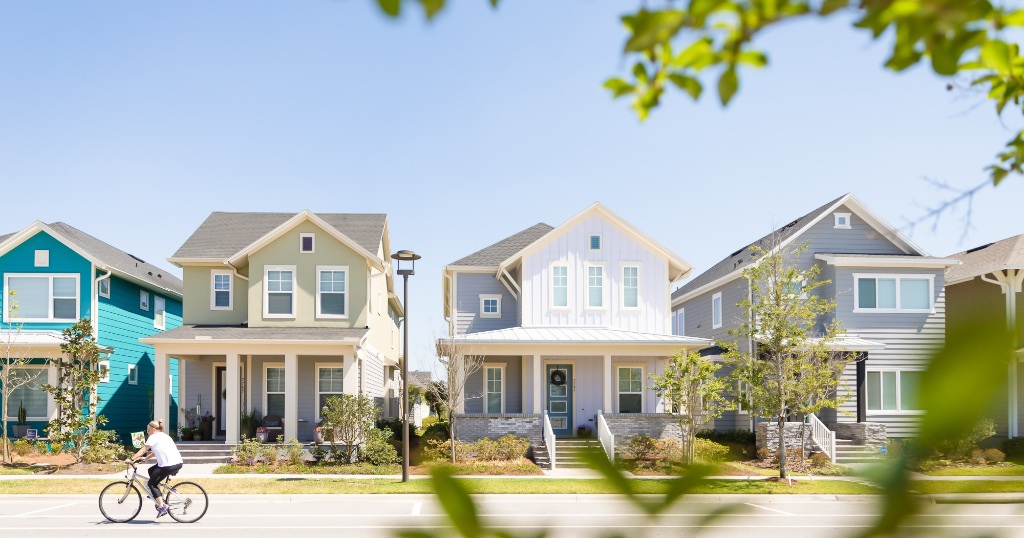 One of the fastest-growing communities in the Greater Orlando Area, Lake Nona is a beautiful city you won't miss out on. Here, you will find many modern gated communities throughout the city with great amenities for families. Lake Nona is a visionary city looking to build a contemporary community full of innovation and connection. Lake Nona is known for its top golfing facilities and many medical centers. The University Of Central Florida College of Medicine is located in Lake Nona and is ranked the #5 pharmacy school nationwide. Lake Nona is only 6 miles from the Orlando International Airport, great for those who travel often. This scenic community is safe, has excellent schools and colleges, and many social amenities for residents to enjoy, and is only 20 miles from Disney World.
Downtown Orlando
The City Beautiful, Downtown Orlando, is the perfect place to live if you are looking for an urban area to live near Walt Disney World. Here, you will find everything you are looking for, a Business District during the day, a lively nightlife, and farmers markets with outdoor yoga classes on the weekends. Take a ride around Lake Eola on one of the famous Swan Paddle Boats with your family in the warm Florida sun. Downtown Orlando has many city districts, including Thornton Park, known for its unique art, and Eola Heights, a historic residential neighborhood with tree-lined streets within walking distance of Lake Eola. The Amway Arena is home to the Orlando Magic NBA team and hosts big-name concerts and sports events throughout the year. Downtown Orlando is a great place to live, tons of entertainment options along with excellent dining options while still only 17 miles from Disney World, and full of history and culture to enjoy.
Champions Gate
Just 9 miles southwest of Walt Disney World is ChampionsGate, Florida. It is known for its world-class golfing and many recreational activities for residents and guests. If you are looking for a community to relax and enjoy the warm Florida winters by the golf course, the city of ChampionsGate is just what you are looking for. This community offers lavish amenities, including a year-round lazy river to enjoy. Its 36-hole championship golf course is one of the best golf courses in the world and was designed by golf champion Greg Norman. The ChampionsGate golf course features a 35,000-square-foot clubhouse, a pro shop, a full-service banquet facility, and a full-service bar. ChampionsGate even offers free shuttles to the Walt Disney World Parks. After a long day at Disney, sit back and relax by the pool at Champions Gate.
Golden Oak at Walt Disney World Resort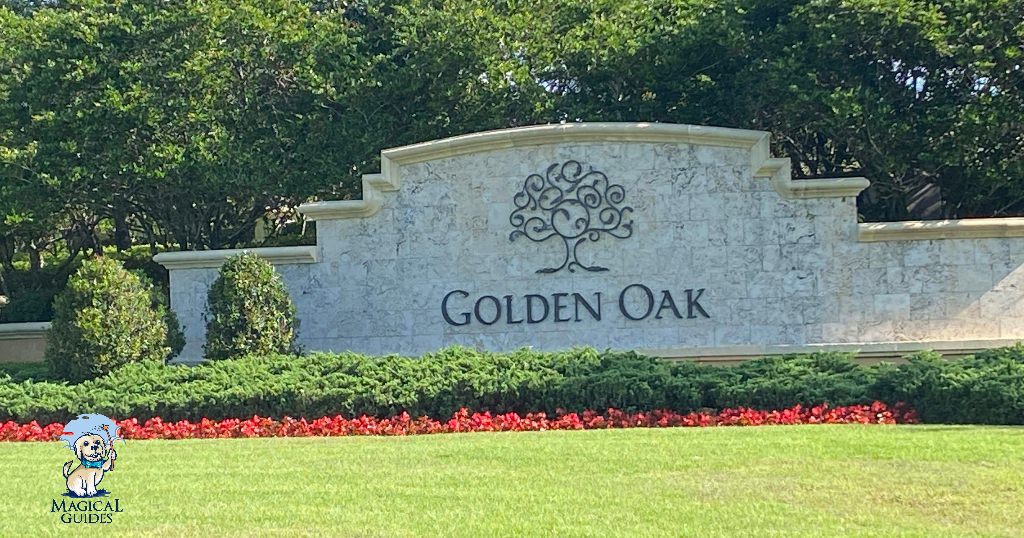 Photo by Bayley Clark for Magical Guides
This upscale residential community on the Walt Disney World property was designed and built by Walt Disney Imagineering, named after the movie ranch, owned by Walt Disney Studios. This beautiful community has exquisite single-family homes and spectacular nightly views of the Disney Fireworks. This community offers many amenities to its residents, including lakes, a river, a game room, restaurants, pools, and a clubhouse for guests to get together for social gatherings. If you want to live in luxury and elegance directly on Walt Disney World property, you may find your next home at Golden Oak.
Now there are few things to note about living basically on Disney property, homes here will start at closer at $3M, with HOA dues somewhere around $5k per month. Homes here have Disney touches for sure, but for most these will be out of reach. They back up to the Four Seasons Hotel and Resort, with some of the homes getting easy access to the Four Seasons fitness center, lazy river and hot tub areas. Not to mention they also have shuttle services to get you to the parks. Of all the communities listed here, this will be the only one that has a dedicated bus drop off at the parks as if you were staying on property full time.
Kissimmee
South of Disney's Magic Kingdom is the popular tourist destination of Kissimmee, Florida. Kissimmee has many activities to keep your family busy, including Old Town, Gatorland, and Fun Spot. Even with Kissimmee is a touristy city, it also is the home to the Kissimmee Prairie Preserve State Park, a 54,000-acre park with beautiful grasslands and wildlife. This State Park is internationally recognized for its lack of light pollution and has a one-of-a-kind view of the stars. Visitors can even view the Milky Way without binoculars or a telescope. Kissimmee's prime location, only 13 miles from Disney, and convenient access to highways such as the Turnpike, 417, and 192 make Kissimmee highly desirable for those looking to move to Central Florida.
I would be hesitant to recommend purchasing in Kissimmee due to high number of vacation rentals here. I have nothing against AirBNBs, or VRBO – I enjoy their services quite often, but I also enjoy peace and quiet. With the neighbors potentially changing every few days, you could be next to party central just depending on where you purchase. So do your homework especially if you have kids or want to raise a family soon, and even then you're not guaranteed that your neighbor won't change or rent out their place.
Davenport
Davenport, Florida, is one of the most popular areas those looking to move closer to Disney World choose to reside in, and for many good reasons. Just 16 miles south of Walt Disney World is the city of Davenport, Florida. Davenport is a small town and a popular location for those wanting to move closer to Walt Disney World. Many people looking to start a career at Disney World choose Davenport to call home because of its proximity to the Disney Parks, its more residential feel, and its reasonable price for housing.
Is Kissimmee or Davenport closer to Disney World?
Because of the affordable prices and located just south of Disney, Kissimmee and Davenport are both highly sought-after locations for those Disney lovers looking to move close to the Disney Parks. It is often debated whether Kissimmee or Davenport is closer to Disney because they are close to the parks and each other. The main differences between the two cities are that Kissimmee has more of a touristy vibe and is closer to the Disney Parks. Davenport is more residential, has more single-family homes, and is just a few miles further away from Disney.
Whether you are looking for a golf community like ChampionsGate, or an active city like Clermont, the Greater Orlando area has many great neighborhoods, unique in their own way to choose from. The best place to live near Disney World is the community that fits the lifestyle you are looking for. All the communities are less than an hour from the Orlando International Airport and less than an hour and a half to the beautiful Florida beaches. Each of the communities on this list has not only single-family homes but also condos. If you are looking to move to Florida, there is no better place to choose than a home in Central Florida.
Who are the best real estate agents to work with if you want to move to a Central Florida city?
Through our travels, and as we enjoy more of Central Florida, making new Disney friends we are lucky to come across folks who are real estate agents. It's important that you interview several folks to find the right person that you click with. House purchases after all is one of the largest if not the largest purchase you'll make in your lifetime. So find the person that listens to you, and is going to find the best house for you and your family.
Here are a couple of my personal recommendations (I do not get a commission or free park tickets for these recommendations, just really like how these folks operate):
David Purdie – a Celebration resident himself, loves the outdoors, and Florida active lifestyle. He's served Orlando and (Florida residential hopefuls) for over 20 years. I've been impressed by David with his willing to share the good bad and ugly about a house, neighborhood and low pressure to finding the right house for our lifestyle.
You can learn more about David with his official page with Compass at https://www.compass.com/agents/david-purdie/
Kim Hawk – nick named the Fairy Godmother of real estate, with her weekly live streaming show seen on Youtube, and Facebook she goes over tons of home options that are within 20 miles from the gates of Disney World. Fun fact, she was one of the original residents of Celebration when it was founded in 1996, and was a backup singer for Amy Grant previously.
Both of the agents listed above are just a few of the many recommendations, and I highly suggest you check them out. Ask them your questions, and let them know what is important to you. I don't think you'll be disappointed working with either to find your dream home in Central Florida.
So are you thinking about moving to Florida soon? Do you live near the House of the Mouse currently? Do you have any tips for other people making the jump to Central Florida? Let us know in the comments below!