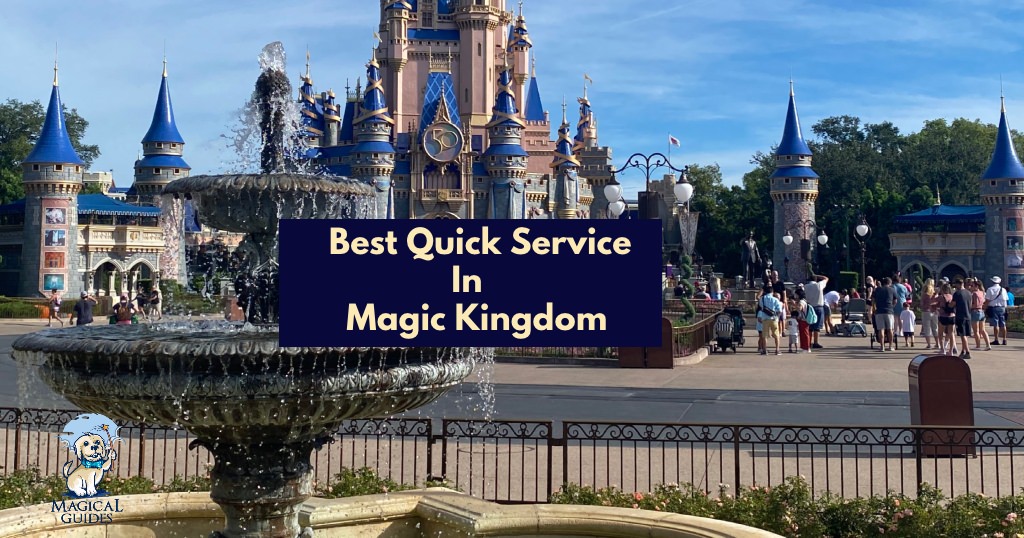 Getting a bite to eat in the most magical place on Earth can keep your family happy and full of energy to make the most of your day. In a park like the Magic Kingdom, where there are so many rides, shows, and characters to experience, your best options for food will often be quick service (sometimes called "counter service") restaurants. The following will give you a variety of good options that take into account food quality, quantity, atmosphere, and speed of service.
Before we get started, I think it's important to note that Magic Kingdom has the worst food options of any of the parks, both for full service and quick service. Though character dining experiences like Cinderella's Royal Table and Be Our Guest are unique, the quality isn't that great, the experience takes way too long, and the prices are astronomical.
Though prices on quick service meals also continue to creep up, they're the simpler way to go to conserve your time in Disney's busiest park. Your food budget will be much better spent in the other parks!
Starting off with the best overall quick service restaurants in Magic Kingdom, I like Columbia Harbour House, Pecos Bill Tall Tale Inn Café, and Cosmic Ray's Starlight Café.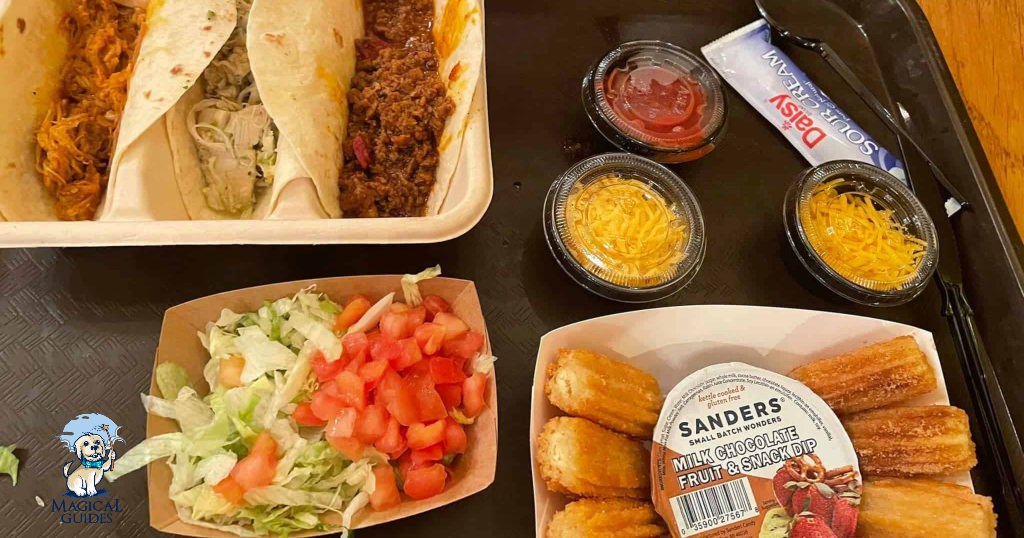 Columbia Harbour House, located in Liberty Square near the Haunted Mansion, has a mix of seafood, sandwiches, and other classics that are likely to please your whole family. The quality of food here is a bit higher than most of the other "burgers and fries" traditional fast-food item restaurants scattered around the rest of the park. A couple of fan-favorites are the lobster roll and New England Clam Chowder, though Columbia Harbor House also has some solid salad options. For picky eaters, there's still chicken nuggets offered. The atmosphere of the restaurant is great too! There's a whole second floor to the restaurant where you can go to get a bit more peace and quiet. There are also plenty of tables near windows to relax and people-watch as you plan out your next ride. Most of the time, this restaurant isn't too busy – but it can have long waits during peak mealtimes. In general, try to avoid grabbing a meal between 11:30 and 1:00 and between 5:30-6:30.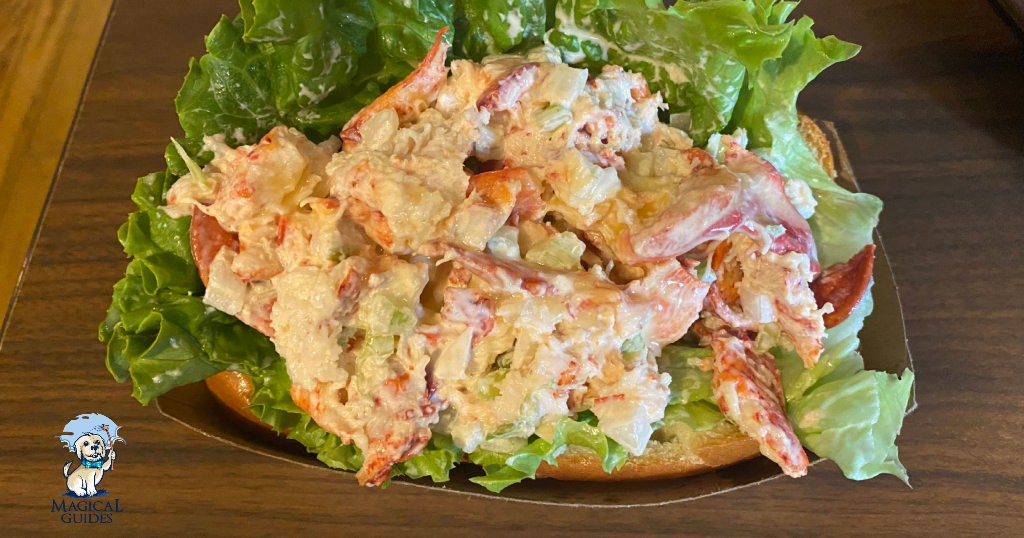 Photo by Bayley Clark for MagicalGuides
Another top pick is Pecos Bill's in Frontierland. It's mostly tex-mex (think fajita platters, nachos, etc.,) though it also offers burgers. I think it's a great option because of the size of the meals you can get. For example, take your pick of three beef, chicken, or pork tacos (or mix and match!) tacos, stuff them full with all the toppings you want, and you've got a solid midday meal to hold you over. Though the restaurant is very popular, things usually move fairly quickly, so it won't make you wait all that long. After getting your food, be sure to head towards the hidden seating area down the hall to the right of where you order. After heading down the hall, follow the ramp on your left up into a smaller, quieter dining area. There are also some hidden tables around the side of the restaurant (around the transition between Adventureland and Frontierland) for outdoor seating that is often quiet and unoccupied. It's another great spot to watch others scurry about their busy days.
Lastly on our list of overall solid quick-service restaurants, I always recommend people to check out Cosmic Ray's Starlight Café. It's got all the usual fast-food favorites like chicken nuggets, bacon cheeseburgers, fries, and barbecue sandwiches. If everyone in your family is looking for something different, defaulting to Cosmic Ray's is never a bad choice. It also has a toppings bar so you can build your own burger the way you like it! What makes the café so great is the live entertainment provided by one of my favorite animatronics, Sonny Eclipse. Featuring the voice of the late Kal David, Sonny serenades diners with his smooth, soulful singing. Even if you don't eat here, take a minute to pop your head into the restaurant to catch his performance. Keep in mind that Cosmic Ray's is usually very busy, so it's extra helpful to use mobile ordering.
Other honorable mention counter service restaurants at Magic Kingdom include Casey's Corner and Pinocchio Village Haus. Casey's corner has foot-long hot dogs, corn dog nuggets, and chili fries. It's on the end of Main Street, so it's not all that far to walk to since it's close to the middle of the park. During the afternoon, you can even listen to the Casey's Corner pianist play old-timey tunes.
If you're hungry for pizza in Disney World's magic kingdom , Pinocchio Village Haus is the only place in the park to visit for. They also serve garlic knots, which many guests love, though I'm not a huge fan of the quality of either. The restaurant does, however, feature second floor dining that is an excellent way to get some peace and quiet in an otherwise busy and crowded park. It overlooks the it's a small world ride!
What are the snack options in Magic Kingdom?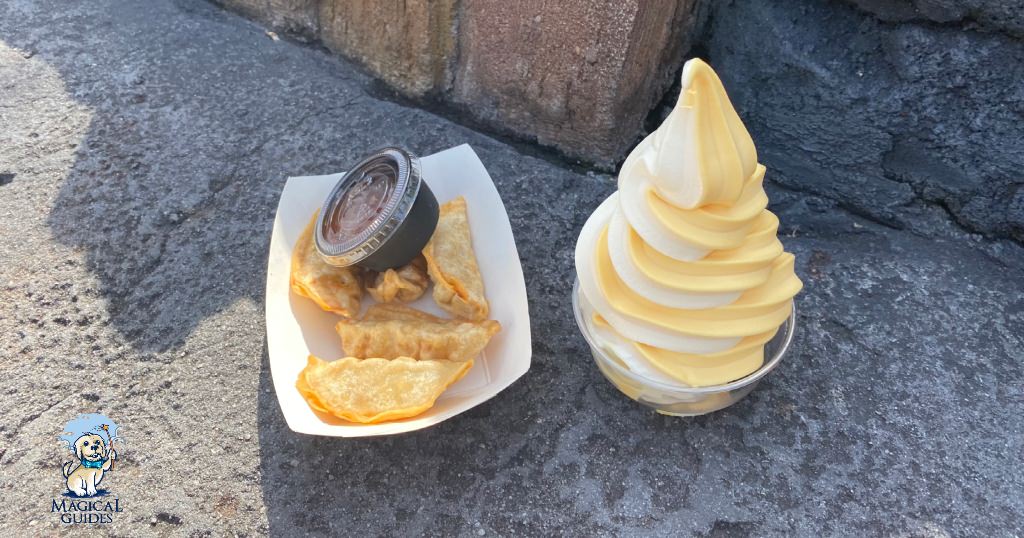 Photo by Bayley Clark for Magical Guides
It's also a good idea to consider some of the best single-item or niche snack options in the park. Though these restaurants aren't as large or don't have as many offerings as some of the other dining locations, they can be well-worth a trip.
If you plan on moving around the park quickly (or not planning out a set time to dine), they can be great picks.
Gaston's Tavern has Le Fou's Brew, a special apple-cider drink. More importantly, it has giant cinnamon rolls! Though they're not the best cinnamon roll I've ever had, the size of the roll with the relatively low price makes it a great snack to share to keep everyone in your group full and happy.
It's located in the back of Fantasyland in the Beauty and the Beast themed area, which is quite nice.
Golden Oak Outpost, located between Frontierland and Adventureland, serves as one of Disney's "test kitchens." They often serve items here that they're testing out for other larger restaurants across the property. Therefore, the menu changes often. However, a lot of the time, the offerings are great, and you can be in and out to grab a quick bite in no time. Recently they've had chicken nuggets and crispy waffle fries.
The Liberty Square Market and nearby Sleepy Hollow, both near Hall of Presidents, also have some solid offerings. The market has fresh fruit if you're looking for a healthy snack but is also home to the famous turkey legs.
Read More: Guide to Finding Turkey Legs at Disney World
You can also grab a turkey leg at Prince Eric's Market in the back of Fantasyland most times of the year. Sleepy Hollow has an awesome fruit and Nutella waffle sandwich in addition to a spicy chicken and waffle sandwich. Keep in mind that neither of these spots have indoor seating, so you'll be in the heat if you're visiting any time but winter.
Lastly, keep an eye out for the Egg Roll carts. A massive fan favorite are the cheeseburger egg rolls (usually located at the entrance to Adventureland from the hub at the center of the park) which often cause long lines.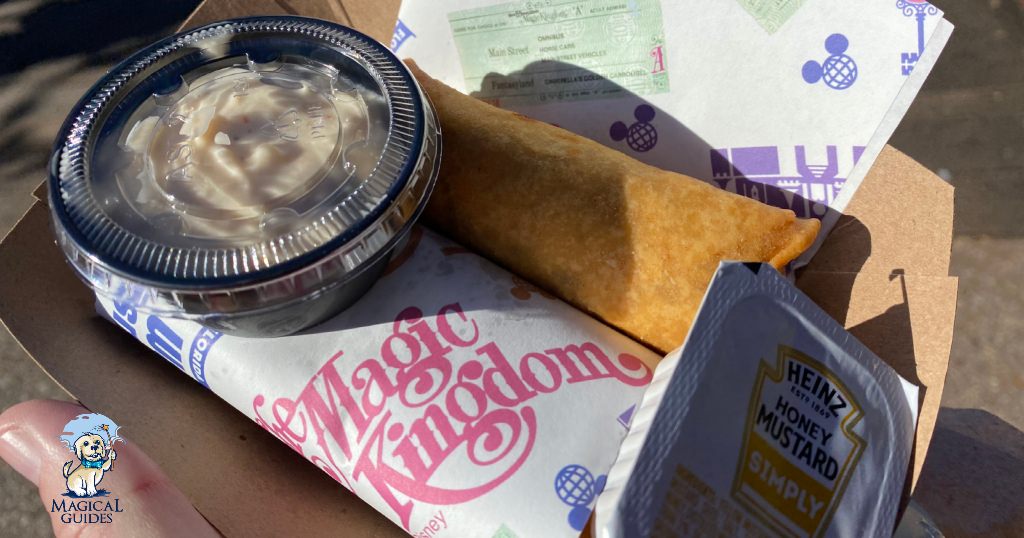 Photo by Bayley Clark for MagicalGuides
Many visitors prefer snacks instead of traditional meals inside the park. A combination of churros, ice cream, turkey legs, and egg rolls isn't going to kill you if it's just or one cheat day, right? If you're like many visitors, you'll be spending the entire day in the park, and that means you may need more food to keep you going. Here are some of the most popular snack-type foods around the park that you're sure to hear about.
Dole Whip – Pineapple flavored soft serve ice cream served at Aloha Isle in Adventureland.
Orange Swirl soft serve ice cream at Sunshine Tree Terrace, also in Adventureland.
Turkey Legs – At Liberty Square Market and Prince Eric's in Fantasyland
Hot Dogs & Chips at the Lunching Pad in Tomorrowland
Funnel Cake at Sleepy Hollow in Liberty Square
Assorted treats at the Main Street Bakery
Macaroni and Cheese (in various forms) at Friar's Nook in Fantasyland. Friar's Nook also has breakfast sandwiches and sausage & gravy tater tots in the morning!
COFFEE?! There's a Starbucks on Main Street that is always super busy, so I recommend drinking Joffrey's at various locations throughout the park. Backtracking to Main Street just to wait 30 minutes to get a coffee just isn't worth it.
Saving money on meals at Magic Kingdom can be important for not blowing out the vacation budget. The first thing to know that can literally save you a hundred dollars throughout a trip is that ALL dining locations that offer fountain drinks (any time you see the coke/sprite/etc., logos) will have FREE WATER. It's actually a law in Florida that requires theme parks to offer free water, so make use of it! At any time, even if you aren't buying any food, you can walk up to the food pickup window and kindly ask for the free cups of water. A soda will cost you closer to $5 with tax and isn't going to make you feel good when you're walking miles and miles throughout the day in the bright Florida sun. Staying hydrated with water during your trip will help you feel better while running around that parks and save you tons of money every day by not paying ridiculous amounts for soda that Disney gets free through agreements with Coca Cola.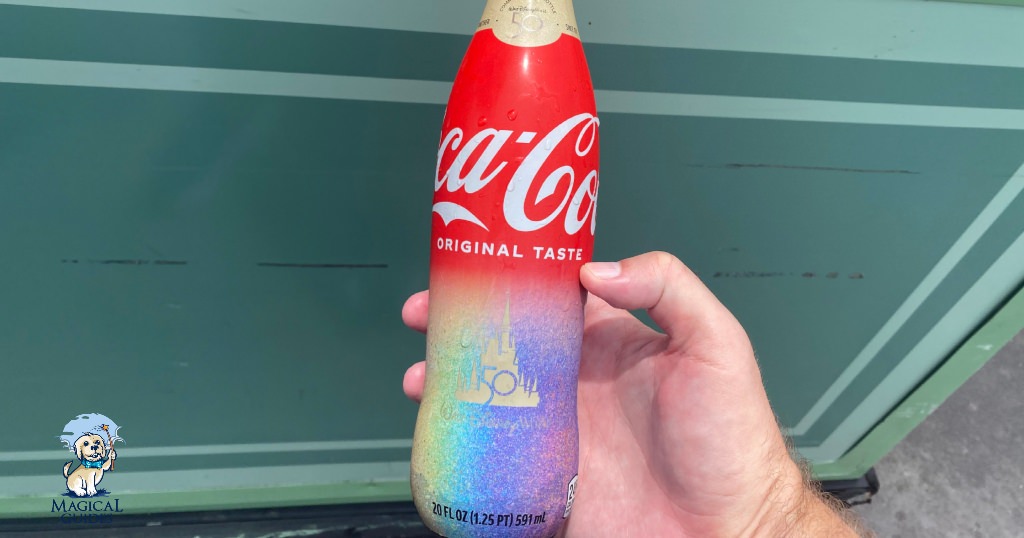 Photo by Bayley Clark for Magical Guides
Secondly, always keep in mind that you can swap out any side that comes with your meal. Don't spend extra money purchasing sides that aren't listed with the meal. Also, kids' meals aren't just for kids – no one can stop you from ordering one. So if you aren't super hungry when you stop for a bite, don't order a full meal. Call me childish, but I commonly stick to chicken nuggets and fries and load up on barbecue sauce to max out the amount of food I get!
It's also a good idea to share your food, especially if you have kids. If your family all wants something different, don't spend the whole day getting everyone different meals and snacks at every food location. Sharing a churro or mickey bar can check off that "bucket list Disney snack" item without forcing you to spend $40 just on churros for your family of 5.
Read also: How Much Money Does Disney World Make A Day?
Lastly, you should bring snacks into the park yourself. Since prices are so crazy, it's a great idea to bring in bags of chips, pretzels, carrots, or whatever your family might enjoy. Carrying around a small backpack (or keeping items in a stroller) isn't much of an issue and having those easy-to-reach snacks can be a huge benefit. You can even snack while waiting in line to save even more time! If you really want to go all-in on the money saving, you can pack an entire lunch. If you don't want to carry it around with you all day, rent a locker at the front of the park, store the food, and come back when you get hungry!
Speaking of saving on time with your quick service dining, it's sometimes crucial to use mobile ordering. Disney has become irritatingly slow when it comes to ordering food at the counter, so you can just use the Disney App (My Disney Experience) on your phone to avoid that headache. You simply select your food items, select a time to show up, and click "I'm here" for your food to be ready within a couple of minutes. I recommend ordering while waiting in the line for a ride for even more time-saving efficiency! Also, you can cheat a little bit and click "I'm here" 3-5 minutes before you actually make it to the location. You'll end up just walking to the counter, showing a cast member the order, and they'll make if for you then (they usually don't have it fully ready and sitting out waiting).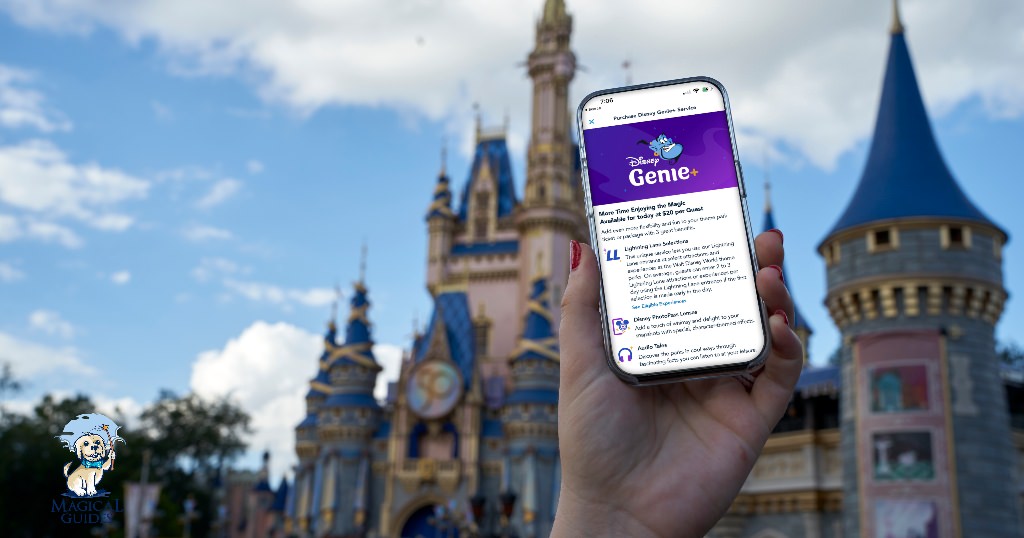 Photo by Bayley Clark for Magical Guides
In summary, with so many options for quick service dining in Magic Kingdom, it can be overwhelming. All of the information contained in this article should give you a great head start in picking out where you want to eat in the park, and how to do so in a way that optimizes your park time so that you can do and see everything! As stated earlier, I highly recommend using only quick service options in the Magic Kingdom because its full-service dining locations just aren't that good. Every other park has better dining options, and your time in the Magic Kingdom is simply better spent elsewhere. If you're looking for character dining, Tusker House at Animal Kingdom is a great pick. If you're looking for great food, EPCOT is the park to be in. Save yourself the headache of trying to find a reservation in Magic Kingdom by following this guide to quick service dining and you'll have a much better day at the park!