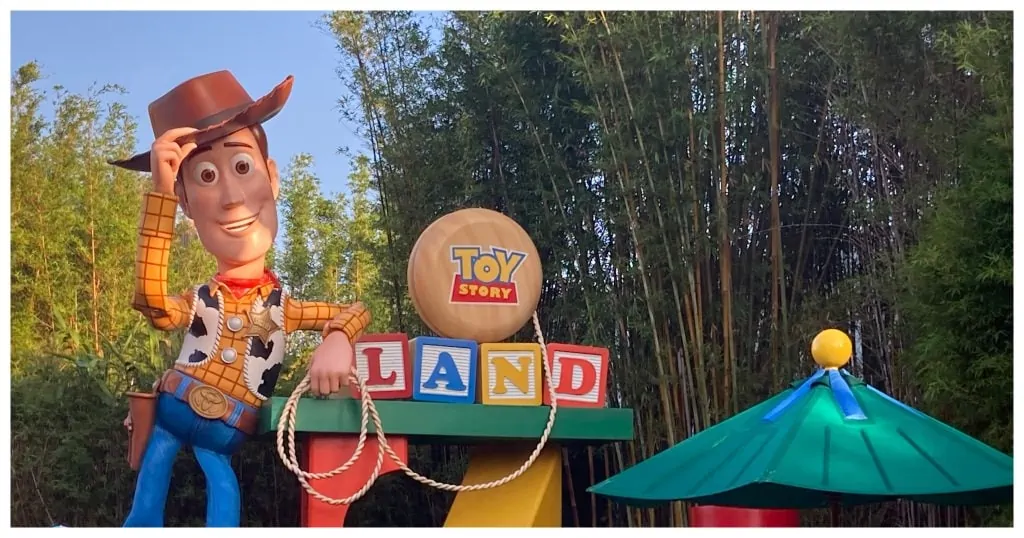 One of the most popular questions parents have before planning their trip to Disney World is, "Should I bring my 2-year-old to Disney?" The answer is an unwavering YES! Disney World is great for bringing toddlers and small kids. There are many rides and attractions the little ones in the family will love. Toddlers will light up when they see their favorite Disney Characters and meet with Mickey and Minnie.
The toddler years can be a challenging time for many parents, and many people argue "But the 2-year-olds won't remember," but as parents, we will. Disney World is made for every age group, and that includes 2-year-olds. Before your trip, ensure you are well prepared and have planned breaks and meals to keep your toddler happy and minimize any potential meltdowns. Here are some tips to help you plan a trip to Disney World with a 2-year-old.
Is Disney World free for 2-year-olds?
Yes! You do not need to purchase a Disney Ticket for children under three years old. Bringing kids under three can be a massive saving versus after they turn three. There is also no extra charge for bringing 2-year-olds with you at most Disney Resorts.
If you plan to eat out while on your vacation, character dining is a great option if you have kids two and under in your party. Toddlers will light up when they see their favorite Disney characters, and kids under three are free at most character dining locations. If your little one gets shy or you are not sure how they will do with the characters, opt for a dining option with face characters. Your toddler may do better with characters not in the full costume and if they can see the characters' faces. Most Disney Character Dining options are all-you-are-to-eat and have great options for kids.
What rides can a 2-year-old get on at Disney World?
Disney World has many rides, attractions, and shows perfect for 2-year-olds to enjoy while visiting. Most of the attractions that toddlers can ride on allow them to sit on their parent's laps. Here is a list of toddler-friendly attractions at each park perfect for 2-year-olds to ride:
Magic Kingdom
Astro Orbiter
Buss Lightyear's Space Ranger Spin
Country Bear Jamboree
Dumbo the Flying Elephant
The Hall of Presidents
Haunted Mansion
"It's a small world"
Jungle Cruise
Liberty Square Riverboat
Mad Tea Party
The Magic Carpets of Aladdin
The Many Adventures of Winnie the Pooh
Mickey's PhilharMagic
Monsters Inc. Laugh Floor
Peter Pan's Flight
Pirates of the Caribbean
Prince Charming Regal Carrousel
Swiss Family Treehouse
Tom Sawyer Island
Tomorrowland Speedway
Tomorrowland Transit Authority PeopleMover
Under the Sea – Journey of The Little Mermaid
Walt Disney's Carousel of Progress
Walt Disney's Enchanted Tiki Room
Walt Disney World Railroad is also great for 2-year-olds but is currently closed for refurbishment.
Epcot
The American Adventure
Awesome Planet
Bruce's Shark World
Disney and Pixar Short Film Festival
Frozen Ever After
Gran Fiesta Tour Starring the Three Caballeros
ImageWorks – The "What If" Labs
Journey Into Imagination With Figment
Living with the Land
Meet a Favorite Pal at Disney and Pixar Short Film Festival
Remy's Ratatouille Adventure
The Seas with Nemo & Friends
Spaceship Earth
Turtle Talk with Crush
Make sure to stop by the aquarium at The Seas Pavilion, where the kids can see many marine animals like dolphins, manatees, sharks, and more! They have a scavenger hunt booklet with stickers to track the animals you see throughout the aquarium that kids will love.
Read More: Is EPCOT Good for Toddlers?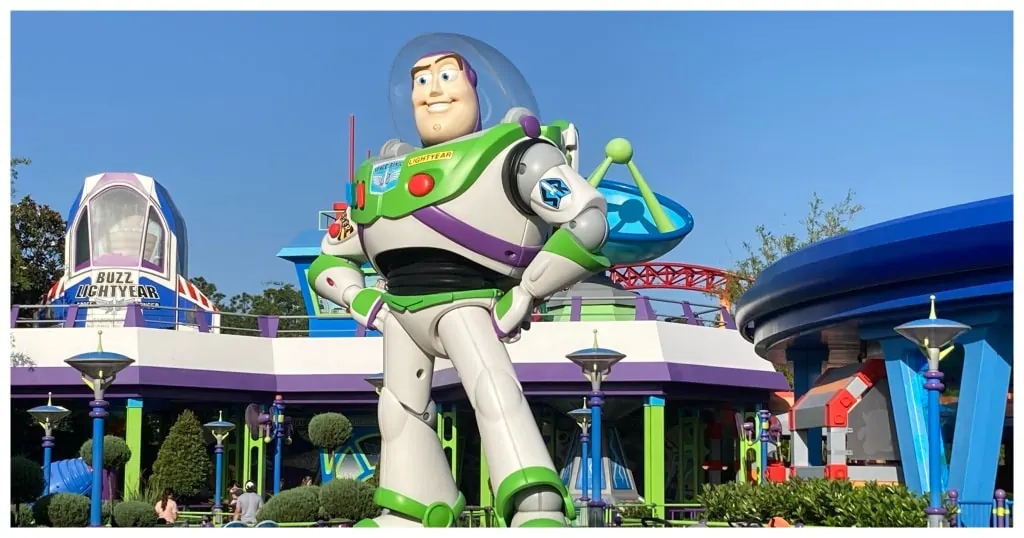 Hollywood Studios
Alien Swirling Saucers
Lightning McQueen's Racing Academy
Mickey & Minnie's Runaway Railway
Muppet*Vision 3D
Toy Story Mania!
Vacation Fun- An Original Animated Short with Mickey & Minnie
Walt Disney Presents
The little ones in the family will love walking through Toy Story Land, where they will find out what it's like to be the size of a toy!
Disney's Animal Kingdom
The Boneyard
Conservation Station
It's Tough to be a Bug!
Kilimanjaro Safaris
Maharajah Jungle Trek
Na'vi River Journey
TriceraTop Spin
Wildlife Express Train
Stop by the front of the park Wilderness Explorers station in the front of the park where the kids can pick up an official Wilderness Explorer. Pick up a book with challenges throughout the park kids can complete and earn badges along the way. This is a fun way to find adventures and explore Animal Kingdom.
Read More: Is Animal Kingdom Good for Toddlers?
What are the best things to do at Disney World with a 2-year-old?
While Disney offers fun rides and shows your family may like, there are many other attractions that are great for 2-year-olds on a trip to Disney World. Toddlers may not want to wait in line after line or sit still during a show and Disney does a great job offering fun spots where kids can play and explore. Here are a few great places you won't want to miss out on when bringing your 2-year-old to Disney.
The Boneyard
The Boneyard at Disney's Animal Kingdom is an outdoor play area in Dinoland, U.S.A. This fun site will make your little one feel like they are a paleontologist digging up Triceratops and Tyrannosaurus Rex bones! They also have a large playground with slides, caves, and climbing areas. This area is shady and has large fans, so parents can cool down while the toddlers can play and run around.
Dumbo the Flying Elephant
Stop by the indoor playground at the big-top tent at the Dumbo the Flying Elephant Ride. You can choose to wait in line here, then get back in line after playing to ride the attraction, or just go in to play. The playground looks like you are at the circus, with a flying Dumbo at the top. The playground is perfect for toddlers and is a great place to take a break from the Florida weather in case of a thunderstorm or a hot day.
Meet the Characters at Disney Junior Pals in Animation Courtyard
Meet their favorite Disney Character! If your little one is not afraid of the characters, there are many places throughout the four Disney Theme Parks where they can meet and chat with their favorite character. If your little one likes Disney Junior, stop by Hollywood Studio's and meet the Disney Junior Pals in Animation Courtyard. Be sure to get a great picture you can take home with you.
ImageWorks – The "What If" Labs
Kids can let their imaginations run wild at ImageWorks – The "What If" Labs. This is located at the back of Journey into Imagination with Figment or at the ride's exit. Here toddlers can run around and create music and learn by playing!
Kilimanjaro Safari
Your toddler will have a great time at Animal Kingdom's Kilimanjaro Safari. Here, they can see wild animals up close in what looks like a real African Safari. If you can get to Animal Kingdom early, try riding this ride first. Most of the animals are more active during the morning, and you may even get to see the animals up close!
Which Disney World Park is best for a 2-year-old?
All four of the Walt Disney World Theme Parks are great for bringing kids of all ages, but Disney's Magic Kingdom is best for bringing two-year-old's to Disney. The Magic Kingdom not only has more rides for 2-year-olds to ride, but it is fun themed and filled with shows and parades that will light up your child's eyes. Cinderella's Castle is truly magical, and no matter what your child likes, they are sure to find something they love at Disney's Magic Kingdom.
What should you take to Disney with a toddler?
Before heading to the Disney Parks with your two-year-old, you will want to plan ahead and bring a few things to help keep your toddler happy. Here are a few items we recommend bringing to ensure you have a magical time with little meltdowns:
Snacks – Make sure to bring some snacks along to help keep your toddler from getting hungry. There are many Disney-themed snacks you can pick up that are fun to bring along, like Mickey Goldfish and Frozen string cheese.
Read More: Grocery Delivery at Disney World; How to Get Groceries Delivered
Stroller – Even though your toddler may be able to walk, you will do a lot of walking when spending the day at the Disney Theme Parks. Bring a stroller or rent one from Disney to help your child save energy and have a fun time.
Read More: What to Know About Stroller at Disney World
Sun Protection – Even on rainy days, the sun can be brutal to kids. Bring a hat and sunglasses to help your child stay out of the Florida sun.
Personal Fan – Bring a personal fan your child can use to help cool down. Even in the winter months, it can get hot at Disney. Having a personal fan your child can use themselves can help them to get some relief from the hot Florida weather.
Small Toys – Make sure to bring a few small toys or coloring books your child can play with while waiting in lines. If you are planning on riding rides, they can get long. Bring some toys or coloring books to help keep them entertained and limit meltdowns while waiting in lines.
Diaper bag– Make sure to pack your diaper bag and an extra change of clothes in case of any accidents.
What part of Disney World is best for toddlers?
The magic of Disney is truly the best part of bringing your toddler to Disney World. Disney does a fantastic job of going above and beyond and making each guest, regardless of age, have a unique magical experience. From Mickey waving to them during a parade or having a princess hug them at a character dining experience, your child will feel like they are a part of the magic.
No place on earth is more kid-friendly for a vacation than Walt Disney World. As long as you are well prepared, your family will have a fantastic time at Disney with a 2-year-old. Plan naps and meals to keep your toddler happy and well-rested.
Even though your 2-year-old may not remember this vacation, you will be sure to. Watching your child light up at "The Most Magical Place On Earth" is a memory you will cherish and will be something you always hold onto. Make sure to take lots of pictures to remember your trip to Disney with your 2-year-old!