Whether you are headed out for a romantic date night or taking your family for a fun filled dinner, Disney Springs has the dining experience you are looking for. From dining with Dinosaurs to having a romantic cocktail looking out over the water, Disney Springs does an amazing job at theming their restaurants and giving you an experience to remember.
You can spend a whole day strolling around Disney Springs shopping and enjoying the wonderful Florida weather. With live shows and fun themes for the holidays, the ambiance of Disney Springs is the perfect spot for any relaxing day out!
Enzo's Hideaway Tunnel Bar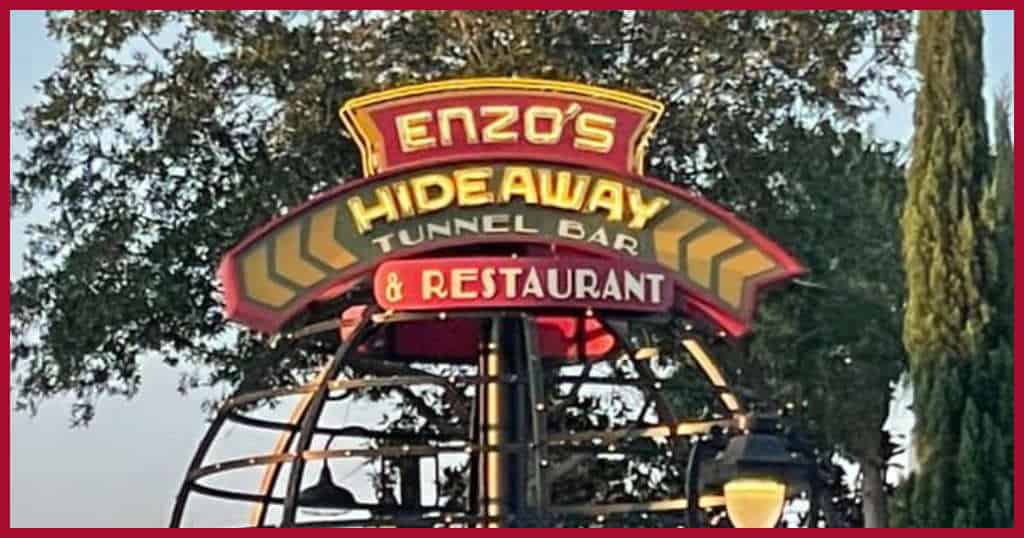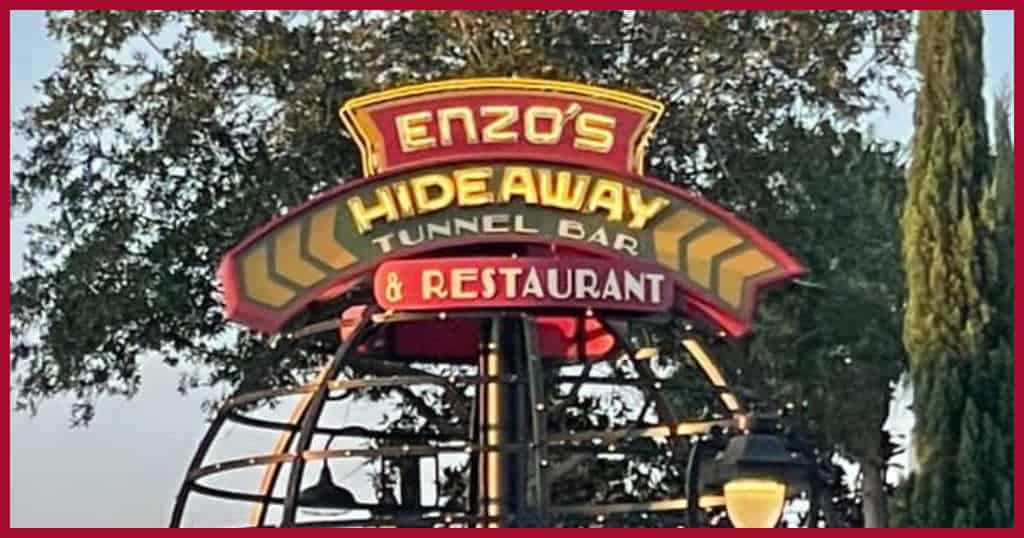 Enzo's Hideaway is truly the Hidden Gem of Disney Springs. Located in The Landing, you may even have trouble finding the door to this hidden, Prohibition-era themed restaurant and bar. When you arrive, you will see Enzo's has tunnels you will pass through under Disney Springs and exudes an imitate, 1920's ambience, with a fun past. Inspired by Florida's "rum-running" history, it is themed after a Speakeasy, but don't worry, you won't need a password to get in. Enzo's offers decadent Italian cuisine and specializes in barrel-aged cocktails. If you are looking for Rums and Scotches, Enzo's has the largest selection at Disney Springs.
One of the best parts of this hideaway is it is typically not crowded and a great place to get away from the busy Disney Springs crowds. Reservations here are highly recommended. They do offer same day reservations but planning will help you guarantee your reservation.
What to try?
Drink: Hazelnut Old Fashioned
With a Hazelnut twist on a typical Old Fashioned, this drink is a must try while visiting.
Appetizer: Burrata Caprese
This dish comes in a bowl and is a mouthwatering take on a caprese, and even comes with homemade bread!
Dinner: Eggplant Parmigiana
You will not want to leave without trying the Eggplant Parmigiana. This delicious meal is thin layers of Eggplant, Marinara, Mozzarella, Parmigiano, Basil all over Spaghetti.
Dessert: Cannoli Siciliano
After finishing your amazing dinner, make sure you have room to try the Cannoli Siciliano, with Sweet Ricotta, Chocolate Chips, and Candied Orange.
Kids:
The Kids Menu offers Spaghetti & Meatballs, Cheese Pizza, and Chicken Tenders and Fries. Great for the picky eaters in the family!
The Boathouse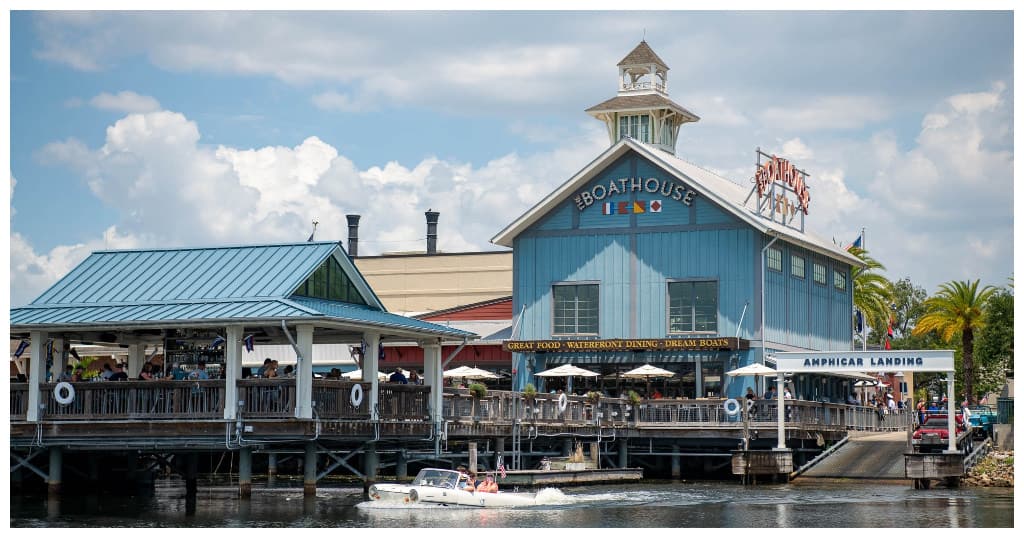 As one of Disney Springs most beloved restaurants, The Boathouse offers beautiful waterfront dining while indulging in exquisite dishes from land and sea! This restaurant is actually right on the lake, conveniently located right in the middle of Disney Springs. There are even real boats inside the restaurant! You can view the beautiful nightly sunsets and watch the Amphicars drive in and out of the marina.
The Boathouse offers amazing Steaks, Chicken, and Seafood. They offer a Raw Bar and some of the best Seafood in Central Florida. If you are craving something a little more basic, they do offer a great selection of burgers, sandwiches, and salads. The Boathouse offers 3 outdoor bars you can relax and grab a cocktail at while waiting for your table. Reservations are HIGHLY recommended at this popular restaurant, so make sure you book your spot early!
Wanting to head over early? Brunch is available here Saturdays and Sundays from 10:00-2:00. Their Brunch menu offers Shrimp and Grits, Crabcakes Benedict and many more great dishes that will leave you wanting to come back for more.
What to try?
Drink: Duck Duck Razz
This fun specialty drink even comes with a fun rubber ducky in it!
Dinner: Maine Lobster Tail Oscar
This delicious 8 oz Maine Lobster Tail is served with Asparagus, Jumbo Lump Crab, Bearnaise Sauce, and Parsley Potatoes.
Brunch: Shrimp and Grits
This Spicy Cheddar Cheese Grits is topped with Shrimp, Andouille Sausage and two Eggs any style.
Dessert: Key Lime Pie in a Mason Jar
This decedent Key Lime Pie served in a mason jar features Vanilla Bean Chantilly Cream and Raspberries that really help to bring out the flavors.
Kids:
The kid's menu at The Boathouse includes:
Burgers
Popcorn Shrimp
Macaroni & Cheese
Grilled Chicken Sandwich
T-Rex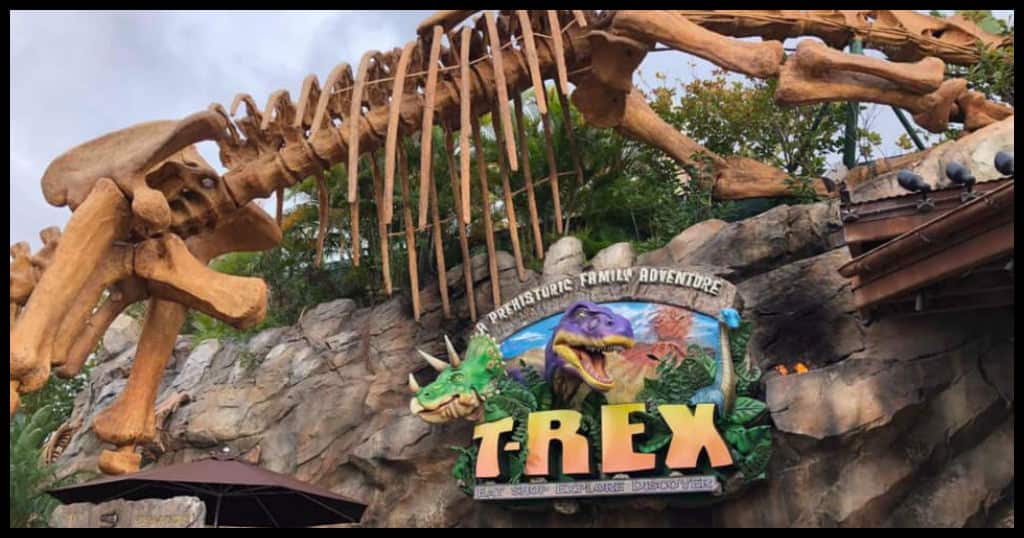 Walk into this fun restaurant and travel back 200 million years ago to when Dinosaurs walked the earth. This dino-themed restaurant is a must stop on your trip to Disney Springs if you have kids with you. This prehistoric family dining experience will leave the little ones on your trip talking about it the whole way home. While waiting on your table the future paleontologist will have fun digging for bones and stones in the Paleo zone. Each room is themed with different Dinosaurs and Sea Life, has color-changing caverns, and even has a meteor shower show every 20 minutes!
T-Rex is not just for the kids in the family. Their Dino-themed menu is fun for all ages and has a verity of options to choose from. They offer American dining options with Salads, Burgers, Pastas, Seafood and more.
Not only will the kids love the environment at T-Rex, but they will also love the food.
This restaurant is owned by the Landry's Chain, so if you have a Landry's Membership, they can help you get priority seating, reservations, and they also offer a yearly gift card send out on your birthday. It is a one-time fee to become a member, so if this is somewhere you will want to go again-and-again, it is something you may want to investigate.
What to try?
Drink: For the Kids
The drink recommendation here goes out to the kids. The souvenir cups here for kids are fun and a great gift to bring home. I recommend letting the kids choose their drinks, but opt for the dino-souvenir cup.
Dinner: Whiskey Salmon & Shrimp
This delicious meal is a must try when visiting T-Rex. Whiskey glazed shrimp and blackened Atlantic Salmon and Shrimp served with Red Skinned Mashed Potatoes, Seasonal Veggies, and topped with Crispy Onion Strings.
Lunch: Triassic Trio
You can't go wrong with the Triassic Trio. This Dino-sized meal includes Shrimp and Scallops, a Shrimp Skewer, Chimichurri Sauce, char-grilled 10-oz Flat Iron Steak, and comes with Raptor Rice.
Dessert: Chocolate Extinction
Along with the amazing atmosphere, the best part of this dining experience the kids will love is ordering the Chocolate Extinction. The Chocolate Extinction is a Chocolate Fudge cake that has Ice Cream, Fudge and Caramel Sauce, Butterfinger Crumbs and comes out smoking. This Monster Dessert feeds four and is the perfect ending to your Disney Springs trip.
Kids:
The Kids Menu includes:
Grilled Chicken
Dexter Corn Dogs
Sly's Sliders
Chicken Quesadilla
Jurassic Chicken Tidbits
Lava Lasagna
Cosmo's Cheesy Macaroni
Rocksy's Pasta
Paleo Pizza
Morimoto Asia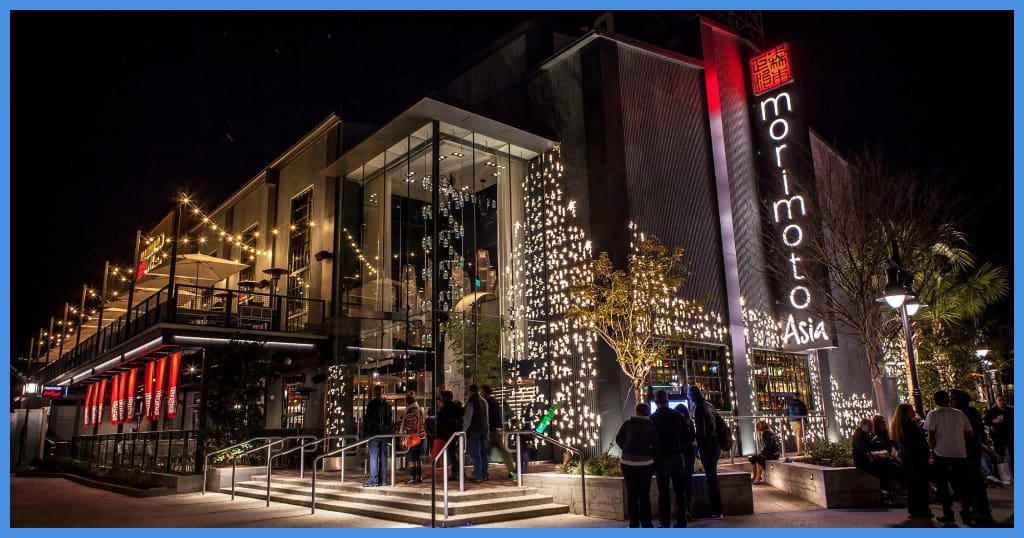 Morimoto Asia is considered the newest flagship restaurant at Disney Springs, one of the finest dining restaurants you will find. Owned by the Japanese master Chef Masaharu Morimoto of Iron Chef America, Morimoto Asia serves up unique Asian dishes and creates an unforgettable dining experience. With A massive two-story interior, 20-foot-long chandeliers, Shanghai themed lounges, private dining spaces, and a second level Sushi Bar and Lounge, you can find the perfect dining adventure you are looking for.
Morimoto Asia offers a unique dining experience, which includes kitchen exhibits that provide behind-the-scenes view into Asian traditions such as Peking Duck Carving and Dim Sum. The artistry of this restaurant, from the beauty of the atmosphere to the delicious food, is delighting to the senses. Stop by the Forbidden Lounge which has a secret entrance!
Make sure to book well in advanced for your trip to Morimoto Asia. Reservations are HIGHLY recommended, and it does book up quickly. If you are wanting to go last minute and do not have a reservation, they do offer an outdoor quick service restaurant on the side of the building called Morimoto Asia Street Food.
What to try?
Drink: Forbidden Lounge Sake Flight
This Sake flight includes Shimizu Pure Dusk, Eikun Big Hawk, Eiko Fuji Honkara, Yukikage Snow Shadow and is a perfect pair to your dining experience at Morimoto Asia.
Dinner: Morimoto Peking Duck
This is a carved house-roasted whole Duck, served with steamed Flour Pancakes, Apricot Sweet Chili, Hoisin Miso, and white or brown rice.
Sushi: Spider
The Spider Sushi is Tempura Soft Shell Crab, Spicy Mayo, Cucumber and Asparagus.
Kids:
The Kids menu offers:
Orange Chicken
Mini Ramen
Lo Mein
Egg Fried Rice
Kids menu comes with dessert and a Boba Tea drink in assorted flavors.
Frontera Cocina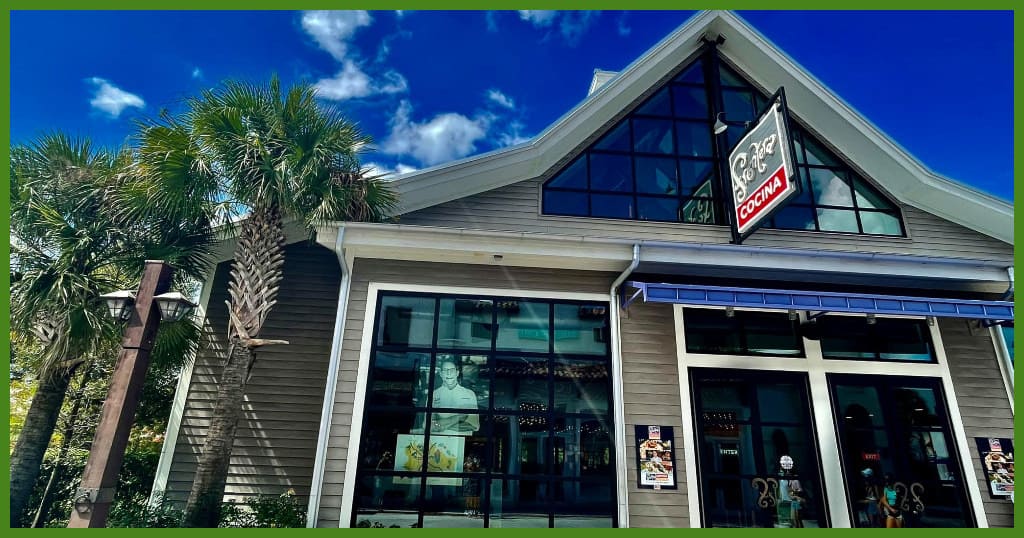 Enjoy the company of friends and family at the lively and entertaining atmosphere at Frontera Cocina. Try savory authentic Mexican cuisine by Chef Rick Bayless. Chef Bayless owns Frontera Cocina and is a seven-time James Beard Award Winner is also a Top Chef Master Winner!
With beautiful Mexican style tile décor and mosaics, this is a restaurant you will marvel at. I highly suggest sitting out on the back balcony where you will have a gorgeous view overlooking the springs and enjoy a Tequila Flight or Margarita by the water. Frontera Cocina offers 18 different options of Tequila and has a Tequila Wall of Fame.
If you are not wanting to do a full dining experience, Frontera Cocina offers a walk-up window where you can have quick service Tocos and Margaritas. This is a perfect stop if you are spending the day shopping and just want a quick refreshment.
What to try?
Drink: Premium Tequila Flight
Try some of the best Tequilas in the Premium Tequila flight including Casa Dragones Blanco, Clase Azul Reposado, and Santanera Blend Extra Anejo.
Appetizer: Chipotle Chicken Flautas
Crispy Chipotle Chicken Tortilla Flautas, roasted Tomatillo Avocado Salsa, Crema, Cotija Cheese, and fresh herbs make this mouthwatering appetizer hard to share!
Dinner: Red Chili Chicken Enchiladas
These savory Enchiladas are made with Fresh Made Corn Tortillas, Chipotle Chicken with Guajillo Chile sauce, queso Chihuahua, Black Bean Refritos and topped with Crispy Onions.
Dessert: Flan de Queso
This Cheesecake Flan is served with Caramel, Guava Paste, and fresh Orange and it a hit for the whole family.
Kids: Tocos
Kids have the option to choose from Quesadillas or Tocos. The Kids Tocos are two flour tortillas with chicken and cheese and served with rice and organic carrots.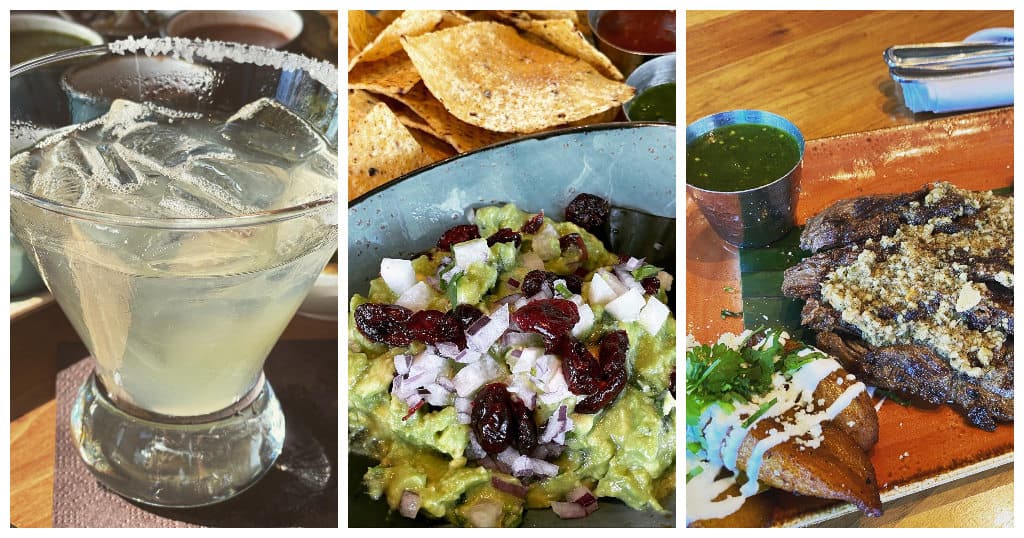 Raglan Road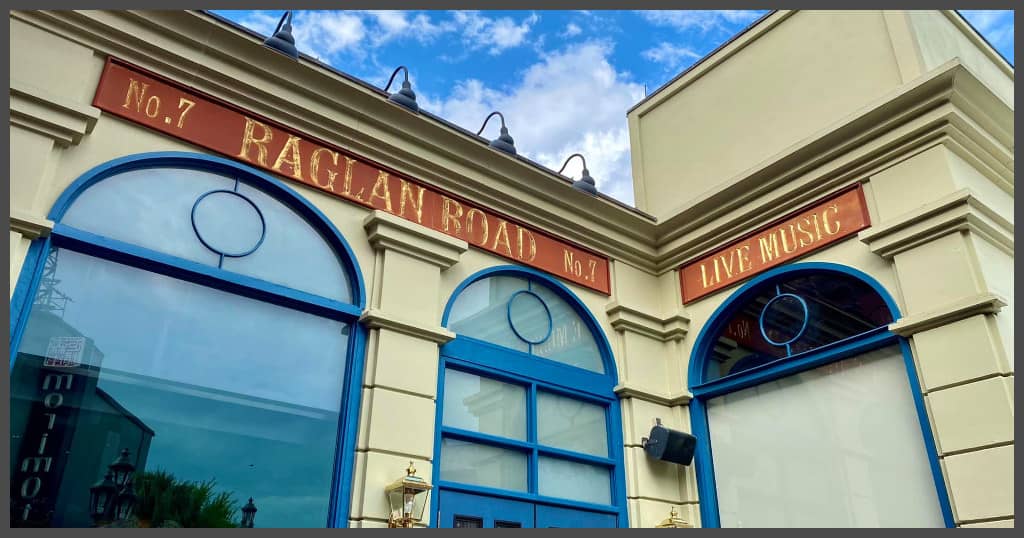 Raglan Road is an Irish Pub located in The Landing and known for its shenanigans. This festive pub offers great meals, beverages, and live entertainment daily. Raglan Road offers the best of the Irish, from food to music to dance, you will find it all here. The atmosphere of this bustling pub will have you wanting to dance all night to the Irish music.
Raglan Road offers the very best of modern Irish cooking. They offer Fish & Chips, and Irish classics like Shepard's Pie and Beef Sandwiches. Wanting to grab Brunch? Raglan Road offers an amazing brunch menu on Saturdays and Sundays! Stop by and grab the Full Irish Brunch and a Strawberry Fields Mimosa.
What to try?
Drinks: Iced Irish
When stopping by make sure you try the Iced Irish. This tasty drinks has Paddy's Irish Whiskey, Butterscotch Schnapps and Baileys Salted Caramel with Iced coffee and Whipped Cream. This delicious drink is so tasty it can be a dessert!
Dinner: Shepherd's to Die for Pie
This delicious classic is something you will be craving to come back for once you try it. Braised and pulled Beef and Lamb with Root Vegetables in a Red Wine Jus with Irish Peat Smoked Mashed Potatoes.
Brunch: Full Irish
The Full Irish Brunch is a full Irish Breakfast with Cheshire Hertiage Port, Irish Banger, Black and White Pudding, Bacon, Roasted Tomato, Mushrooms and Fried Eggs.
Dessert: Rocky Road to Raglan
One dessert that is a must try at Disney Springs is the Rocky Road to Raglan. Double Chocolate & Smoked Almond Brownie Chocolate Ice Cream, topped with house made Marshmallow, Toffee Crunch, Chocolate Soil and Raspberry Puree makes one perfect dessert!
Kids:
The kid's lunch and menu offer these great menu items:
Grillin' Chicken
Atlantic Fish
Gold'n Chicken
Macaroni & Cheese
The kid's menu for brunch has many more menu items to choose from such as:
Bacon and Eggs
Stack O' Pancakes
Grillin' Chicken
Little Big Burger
Gold'n Chicken
Atlantic Fish
Macaroni & Cheese
Mini Bangers & Mash
Recap
So, whether you are going out for a fun night on the town or a Sunday morning brunch, Disney Springs has every type of dining experience you are looking for. Disney Springs has many more restaurants than the ones listed, but these are the ones you will want to visit if you are limited on time. These top dining spots are the best of the best and venues every foodie will love.
One reminder for you is to make sure you book your dining reservations ahead of time. Many restaurants offer walk up service, but that does not mean it is always available. There are many times when it is busy where it is hard to find dining anywhere and even at the quick service restaurants you may have a hard time finding seating.
Another great recommendation is don't just stick to one spot. Each of these locations offer seating at the bar, stop by one and grab a drink, then make sure you have reservations for your meal and after you eat dinner go somewhere else for dessert. Spend your night restaurant hopping and trying the best of Disney Springs and a night you will remember!