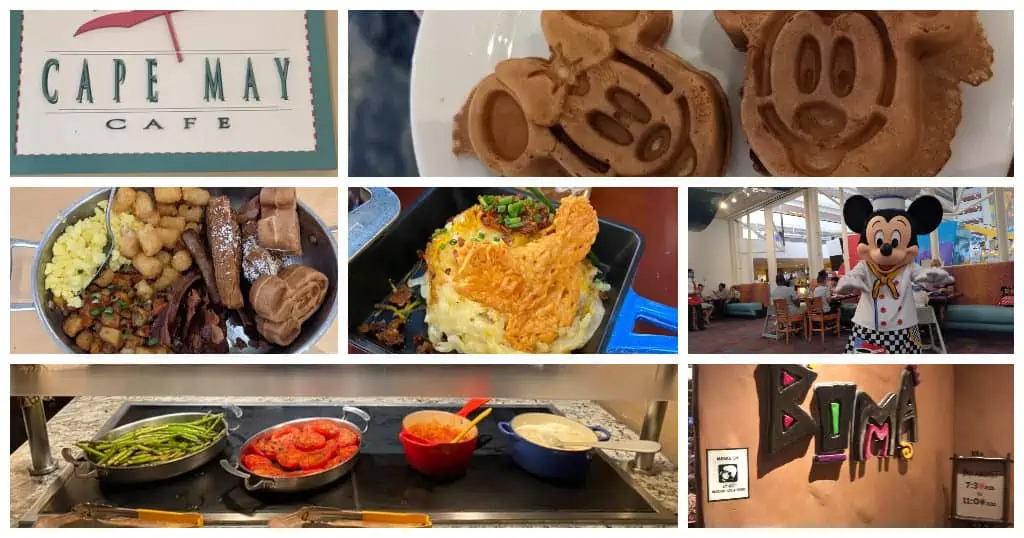 With over 200 restaurants to choose from at Disney World there are a plethora of options to choose from, covering a range of different cuisines and dining styles. One of the most popular styles of dining is a buffet.
The great benefit to dining at a buffet is that you pay one price and can eat as much as you like! This can help you spend less on dining throughout your trip, plus you get to try a range of different foods. Because of this a breakfast buffet is a great way to fuel yourself for the day ahead exploring everything Disney World has to offer!
Another great feature of buffet restaurants is that children under the age of 3 can dine for free if they eat off of an adult's plate. This is another great way to save money!
Breakfast Buffets at Disney World
There is currently only one breakfast buffet at Disney World and that can be found at Boma at Animal Kingdom Lodge. This is known to be of the best buffets in the whole of Disney World!
This buffet has a huge array of dishes, serving both classic American breakfast foods as well as African specialities. Because of the stunning setting (be sure to visit the savannah to see the incredible animals!) and the delicious and unique foods on offer Boma is one of the most popular places for breakfast at Disney World.
It's at the top of our list, as it's our favorite, unique breakfast buffet at Disney World.
Boma
Boma is also one of the best restaurants for vegans, vegetarians and people on a plant-based diet, with dishes on the buffet clearly labeled with the green leaf symbol to show a dish is plant-based.
Breakfast at Boma costs $29 for adults and $17 for children (aged 3 to 9), plus tax and gratuity. Soft drinks and tea and coffee are included in the price. Breakfast is served until 11am.
Breakfast dishes at Boma include:
Pancakes
Waffles
Breakfast Potatoes
Bacon and Sausage
Cinnamon-Raisin Bread Pudding
Carved Ham
Coconut Steel-cut Oatmeal
Turkey or Plant-Based Bobotie
Omelets
Sticky Buns
Deviled Eggs with Smoked Salmon
Chakalaka (Tomato Stew)
Watermelon with Mint Pistachio Crumb
Family Style Dining
When Disney World reopened in 2020 many buffet restaurants were changed to family style dining. Family style dining is where your food is served to you on a platter to share with everyone at your table. Family style meals are often all-you-care-to-enjoy, so you can ask your server to bring out more of your favourite dishes!
Family-style dining is similar to a buffet, the main different being that you get served at your table rather than serving yourself.
Family Style meals cost a set price, just like a buffet, and often include a standard non-alcoholic drink in the price.
Children under the age of 3 are able to eat off of the plate of an adult at all locations that have an all-you-care-to-enjoy meal, which include family-style dining locations.
They are lots of great breakfasts at Disney World that have switched from buffet to family style dining. There is a possibility that in 2022 some of these may revert to buffets as we have seen this happen for lunch and dinner service at some restaurants.
Tusker House Restaurant
One restaurant that has changed to family-style dining is Tusker House Restaurant inside Animal Kingdom Park. Not only does this restaurant serve delicious American and African fare it is also a character dining location!
Dine here to see Mickey, Donald, Daisy and Goofy in their safari costumes and take physically distanced photos. This is a fantastic way to start your day the Disney way!
Breakfast at Tusker House Restaurant costs $42 for adults and $27 for children, plus tax and gratuity. Breakfast is served until 10.30am.
Dishes include:
Pastries Basket with Safari Bread, Multigrain Croissants and Cornbread served with Whipped Butter, Chocolate-Hazelnut Spread and Strawberry Preserves
Fresh Fruit with Honey Yogurt sauce
Breakfast Platter with Scrambled Eggs, Mickey & Simba Waffles, and Durban Chicken & Egg Curry with Jasmine Rice served with Bacon, Sausage, and Roasted Potatoes
There is also a plant-based all-you-care-to-enjoy platter which comes with Just Egg, Plant-Based Mickey Waffles, Impossible Sausage Patty, Potatoes, Chickpea Curry Over Rice, Fruit Salad with Plant-Based Yogurt, Strawberry Preserve, Vegan Butter, Vegan and Gluten-Free Rolls
Hollywood & Vine
Another character dining breakfast inside a Disney Park is Hollywood & Vine inside Hollywood Studios. Come here to start your day with a great meal and meet Disney Jr characters such as Doc McStuffins, Fancy Nancy, Vampirina and Roadster Goofy!
Breakfast at Hollywood & Vine costs $42 for adults and $27 for children, plus tax and gratuity. Breakfast is served until 10.30am
At Hollywood and Vine you start with a pastry basket that includes Caramel Monkey Bread, Croissants, Mini Muffins, Jams and Honey Butter.
You can then choose from a range of entrees such as a Toasted Open-faced Salmon Bagel, Hazelnut Spread-stuffed French Toast, House-made Pancake Stack with Maple Syrup, Powdered Sugar, and Fresh Berries, Four-Egg Scramble or a Plant-Based Egg Frittata.
Kids' entrees are Scrambled Eggs, Mickey Waffle, Pancakes, Plain Yogurt, Corn Flakes, Rice Crispies or Cheerios plus a choice of 2 sides which are Oven-roasted Potatoes, Fresh Fruit Cup, Bacon or Country Sausage.
When visiting Disney World most people choose to dine inside the parks for convenience but some of the best dining can be found in the Disney World Resorts. The great news is they are often very close to the parks and you can use Disney's complimentary transport to get to them!
Chef Mickey's
One of the most famous restaurants at Disney World is Chef Mickey's in Disney's Contemporary Resort.
At this character dining breakfast you get to see Mickey, Minnie, Pluto, Donald and Goofy in their chef costumes! Be entertained by the Fab 5 and take the opportunity to have physically distanced photos with these iconic characters whilst fuelling up for your day ahead!
Disney's Contemporary Resort is just a 5 minute walk, or one monorail stop, away from Magic Kingdom so is the perfect way to start your park day!
Breakfast at Chef Mickey's costs $42 for adults and $27 for children, plus tax and gratuity. Breakfast is served until 12.30pm and is one of the longest breakfast services you can find.
The types of food you can enjoy at this meal include:
Mini Yogurt Parfaits
Fresh Fried Sweet Fritter with Vanilla-Cinnamon Sugar
Scrambled Eggs
Slow-roasted Beef Brisket
Mickey Waffles (Allergy-Friendly and Plant-Based versions available)
"Loaded" Potato-Cheese Casserole
Banana Bread French Toast with Espresso-Mascarpone Cream, Toasted Bananas and Chocolate Crumbles
"Celebration" Mickey Pancake
Tofu Scramble
'Ohana
A fan favorite restaurant is 'Ohana at the Polynesian Village Resort. This stunning resort is just two monorail stops away from Magic Kingdom so is a great place to start your day!
Breakfast here used to be a character dining meal with Stitch but this has been temporarily suspended. Due to this the price has been reduced so you can have a delicious and filling breakfast close to Magic Kingdom for a good price.
Breakfast costs $25 for adults and $14 for children, plus tax and gratuity. 'Ohana serves breakfast until 12pm.
The foods you can enjoy at 'Ohana include:
The Famous Pineapple-Coconut Breakfast Bread
'Ohana Breakfast Skillet with Scrambled Eggs, Pork Breakfast Sausage Links, Hawaiian-style Ham topped with Pineapple Compote, Fried Island-style Potatoes, Mickey-shaped Waffles and Biscuits
'Ohana Plant-based Breakfast Skillet with Scrambled "Eggs", "Sausage", Fried Island-style Potatoes, Character-shaped Waffle and a Cinnamon Sugar Doughnut
Cape May Café
A hidden gem breakfast location is Cape May Café at the Beach Club Resort. This New England themed restaurant is famous for its seafood but also serves an amazing breakfast.
This used to be a character dining breakfast with Minnie and her friends but this is temporarily suspended. No date has been announced for this to return but there is always a possibility that later in 2022 this may happen.
The family style breakfast at Cape May Café costs $25 for adults and $14 for children, plus tax and gratuity. Breakfast is served until 11.30am.
The food at Cape May Café includes items such as:
Salted Caramel Pull-apart Bread topped with Cinnamon Streusel
Omelets (including a plant-based version available on request)
Hot Breakfast Platter with Mickey and Minnie Waffles, Brioche French Toast, Cage-free Scrambled Eggs, Bacon, Breakfast Sausage, Crispy Potato Barrels and Beef Hash
Plant-Based Platter with Just Egg, Potato Barrels, Beyond Sausage and Sweet Earth Bacon.
Currently Closed Buffets
There are two buffet restaurants that are currently closed but may reopen in 2022, although no official announcement has been made about this from Disney. Both are character dining breakfast buffets.
At 1900 Park Fare in the Grand Floridian Resort you can meet Alice in Wonderland, Mad Hatter, Mary Poppins, Winnie the Pooh and Tigger whilst enjoying your breakfast buffet.
At Akershus Royal Banquet Hall in EPCOT you can dine whilst meeting the Disney Princesses.
There are two restaurants that are currently open but not serving breakfast as they previously did. In 2022 we may see these return although Disney have not made any announcements with plans to do so.
Garden Grill in EPCOT offers a family-style meal with character dining featuring Chip n Dale, Mickey and Pluto!
The Crystal Palace in Magic Kingdom is a buffet restaurant overlooking Cinderella Castle. This is a character dining location where you can see Winnie the Pooh, Eeyore, Tigger and Piglet!
There are a range of fantastic restaurants to start your day at Disney World! Although there is only one traditional buffet currently serving breakfast there are plenty of amazing all-you-care-to-enjoy family style meals to visit which are a fantastic alternative.
Whether you would like to start your day with some classic American dishes or try some new cuisines from around the world, dine inside a park or experience a character dining meal there is a lot of variety available for you to choose from!
Dining reservations are necessary for all of these restaurants. For the best chances of getting a dining reservation book exactly 60 days in advance as this is when reservations open up.
If you struggle to get a dining reservation visit the Mousedining website where you can set up alerts for when reservations become available.
Be sure to keep checking the Disney World website as reservations do open up closer to the date as people's plans change.
Bon Appetit!