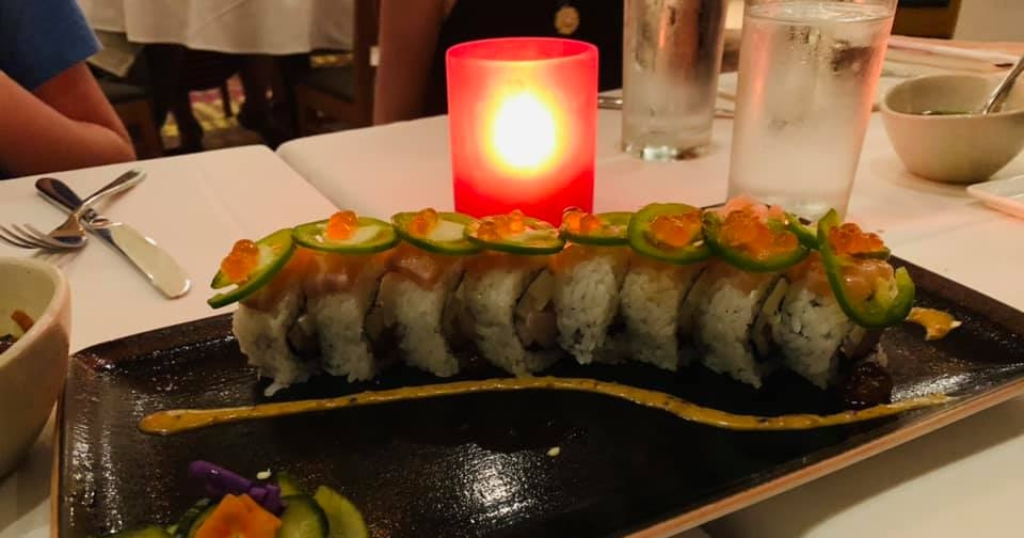 Sushi lovers visiting Walt Disney World are no doubt wondering where they can pick up some of their favorite food for a nutritious lunch or dinner. The good news is that you can find great sushi spots throughout Walt Disney World if only you know where to look. Today we're going to share our guide to the best sushi in Walt Disney World and some of our favorite dining locations to visit on your next trip.
Is There Sushi in the Magic Kingdom?
In the Magic Kingdom theme park you won't find any restaurants serving sushi, but the good news is that you won't have to go far in order to enjoy your favorite meal. Some of the monorail resorts offer sushi on their dining menus, so you can take a quick break from your time in the park during lunch or dinner. Kona Café and Kona Island at Disney's Polynesian Resort offer some fantastic sushi on their menu, and it's often a restaurant you can pick up a last-minute dining reservation for.
You can also head over to California Grill at Disney's Contemporary Resort for sushi, but you'll need to make sure you book this popular restaurant well in advance of your visit. After your meal, you can stick around to watch the fireworks from the balcony, which makes for the perfect end to a day in the Magic Kingdom.
Kona Island Sushi Bar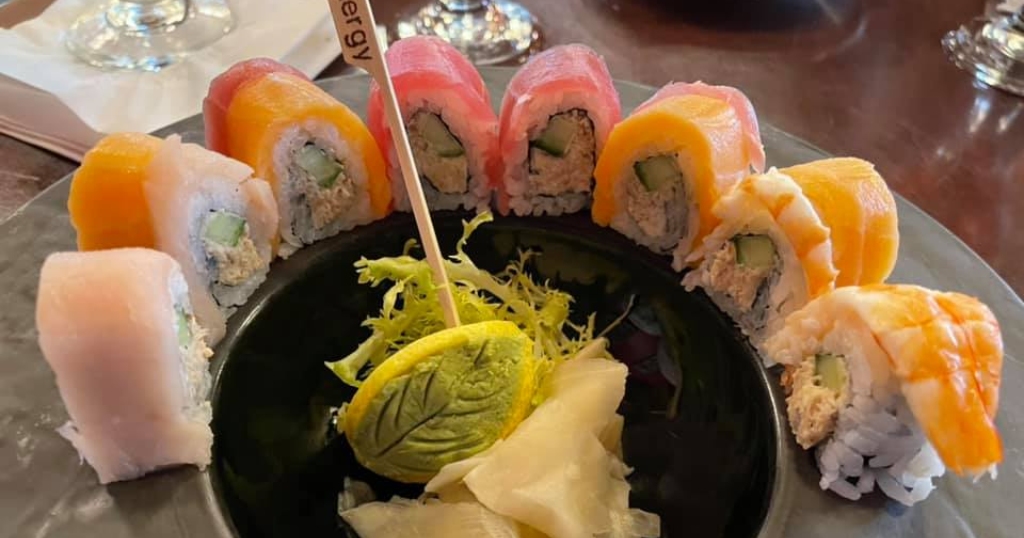 One of the easiest stops to get to from the Magic Kingdom is to Disney's Polynesian Village Resort, as soon as you get off the monorail you are on the second floor of the Polynesian which is the same floor as Kona cafe. Their sushi is to go, and they start selling for lunch. If you're looking for variety, you're out of luck coming to Kona cafe for that, but if you're looking for a basic sushi roll this is a great place to get your sushi fix taken care of without a long line. We do think there are better places to get sushi, but again if simplicity, and time are concerns for you go ahead and stop in.
However those that have already jumped on the monorail so far, we suggest you ride to the Ticket and Transportation Center (TTC) and hop on over to EPCOT…
Does EPCOT Sell Sushi?
As far as dining in the theme parks, the best option for sushi is to head over to EPCOT. Home to the Japan pavilion in World Showcase, Tokyo Dining has a large sushi menu. You can enjoy traditional sushi or great vegetarian options in this restaurant, which also has other menu items if you prefer to mix things up a bit. Some of our top picks on the menu include the California Roll, Shrimp Tempura Roll, Volcano Roll, and Vegetable Roll, but you can't go wrong with any of the dishes here. It's a great location to get out of the heat in the middle of the day when touring EPCOT and enjoy a more relaxing meal.
For a more upscale meal in the Japan pavilion, head over to Takumi Tei. Many park visitors have yet to try this new addition to the park, and it's certainly one of the more pricey options in EPCOT. The menu here is very extensive, but sushi certainly plays a big part in it. Order the Temari Sushi for a meal that you'll remember for a long time after your visit, or consider the prix fixe menu for a truly unique dining experience.
You don't have to pay for a table-service restaurant in order to enjoy sushi in EPCOT, as you can also head to Katsura Grill in the Japan pavilion. This quick-service dining location has fresh and delicious sushi which won't break the bank. It's a good option for a quick sushi fix, and you can enjoy eating either indoors or outdoors in the peaceful Japanese gardens.
Finally, you can also visit Teppan Edo in the Japan pavilion for their hibachi experience. While this part of the menu is the main reason you would visit here, you'll find they also have sushi which can be ordered alongside your main course. This is one restaurant that we think everyone should visit at least once. Kids and teens love the entertainment from the chefs here, but adults will appreciate the fresh and delicious Japanese food.
Sushi in Disney Springs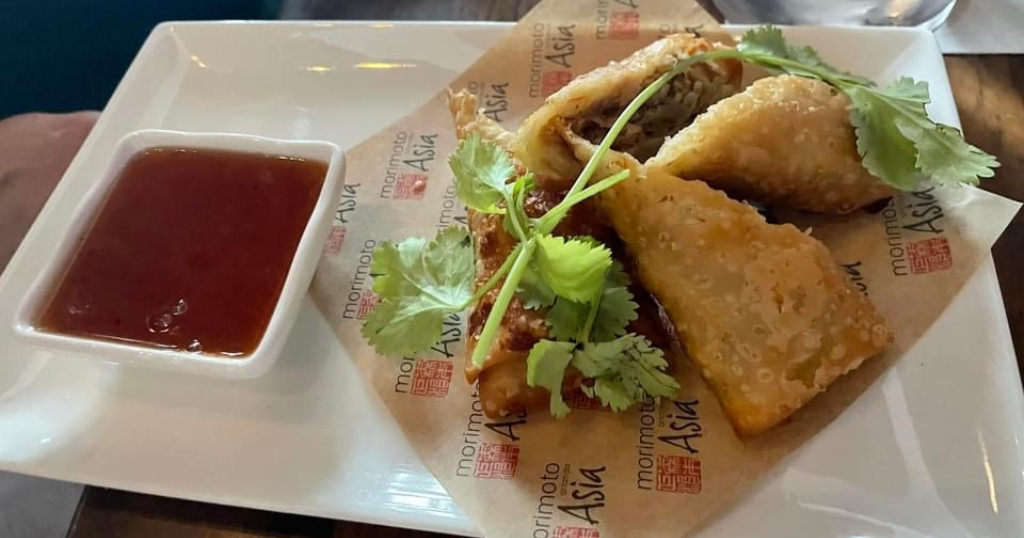 Morimoto Asia
Outside of the theme parks, you'll also find some other restaurants serving sushi in Walt Disney World. Disney Springs is one of our favorite areas to spend time outside of the parks, and Morimoto Asia is somewhere you won't want to miss as a sushi lover. One thing that's quite unique about the menu here is they offer sushi and sashimi platters for larger groups. These platters are a great option for anyone looking to try a variety of sushi, but you can also opt for the sushi rolls if you are just looking to enjoy an individual portion of sushi. As well as sushi, they offer noodles, fried rice, dim sum, and so much more.
Splitsville Luxury Lanes
It may surprise you to learn this next location has sushi on its menu, but you might also want to try out Splitsville in Disney Springs. The bowling lanes are a great way to spend an evening with your friends and family. They have some very delicious sushi on the menu as well, with multiple sushi platters and over a dozen sushi rolls to choose from. If other people in your travel party don't like sushi, they can enjoy other dishes at the same time, such as pizza, burgers, and salads.
Splitsville is going to have about 11 different sushi rolls on their menu, with classic rolls like a California roll or spicy crunchy roll. If you're looking for a sushi sampler here, you will not find it. Of all of the places on the list, this is going to be more Americanized, but don't let that stop you, as the sushi here often lends it self to a rave review for your taste buds.
Make sure you leave room for dessert as well, as they have some of the best on the property here, and are well known for the their ice cream creations.
Other Places to Enjoy Sushi in Walt Disney World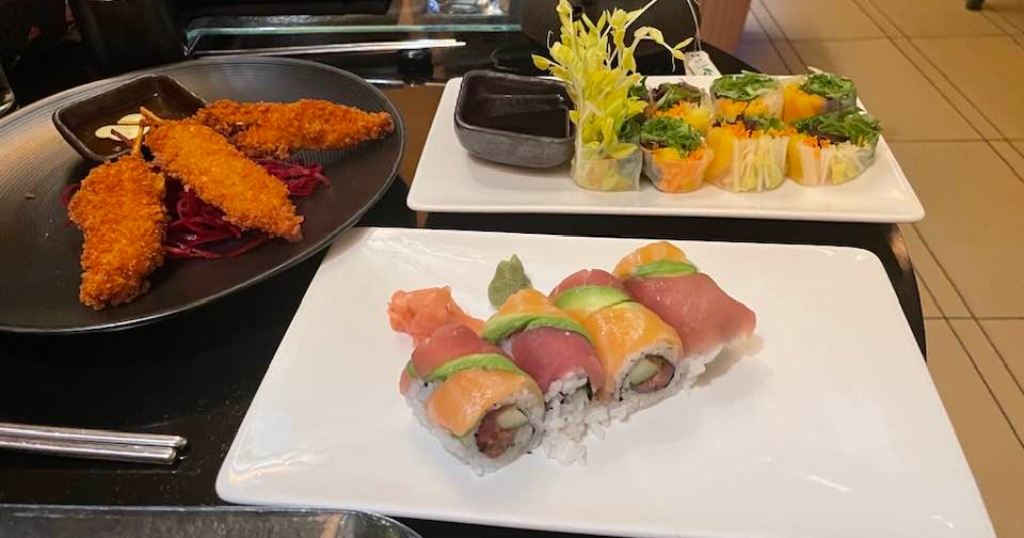 Your final option when it comes to enjoying sushi in Walt Disney World is to travel to one of the many on-site resorts. Kimonos at the Walt Disney World Swan Hotel has both traditional and non-traditional rolls and is the perfect spot for a date night meal for couples. You'll find that their cocktail menu is also one of the best on the property, and we love the ambiance of this restaurant. If you've never checked out the dining options at the Swan and Dolphin, you might be surprised to see how extensive they are, offering you more options following your day in EPCOT or Disney's Hollywood Studios.
Something to also note about Kimonos at the Swan hotel is that they do karaoke Wednesday to Sunday from 9:30 PM to 1:00 AM. So keep that in mind if you're looking to enjoy your spicy tuna roll in peace and quiet. So get there early if you're not about the the karaoke life (I'm not, so we usually go around opening). I do think this is one of the best places to get great sushi on Disney property as I appreciate their sushi chefs making me a spider roll and spicy yellowtail rolls or served as sashimi. If you do end up driving over and parking don't forget to ask for parking validation, so you don't get stuck with a $32 parking tab.
After hitting up Kimonos I love taking a stroll back over to EPCOT to catch the fireworks, as sushi never leaves me with the greasy heavy feeling of other theme park dinners. I can see why Kimonos is a signature restaurant at the Swan, and it's one I often forget as my go to is getting pizza at Il Mulinos.
With so many different restaurants serving sushi in Walt Disney World, you'll certainly be able to enjoy this meal at least once on your next trip. We always recommend booking table-service dining locations ahead of your vacation so that you don't end up disappointed when you arrive. The great thing about Walt Disney World is that there really is a dining option to fit everyone's needs, offering you fresh and delicious meals that your whole family can enjoy on vacation.