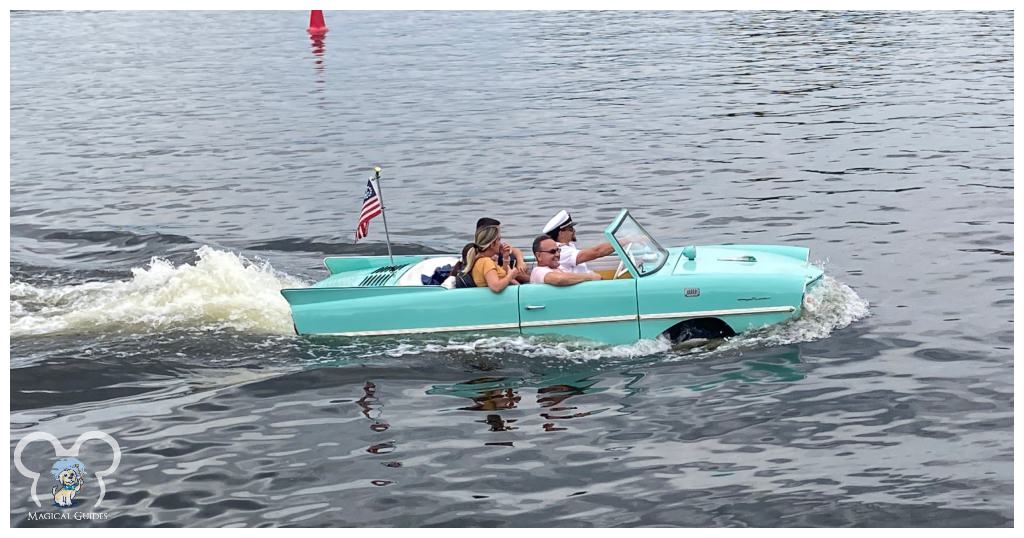 Disney Springs is a fantastic area to spend a day if you are looking to take a break from the theme parks. Depending on where you are staying in Walt Disney World, you might even be lucky enough to enjoy one of the Disney Springs boat rides.
Today I'm going to discover how you can make the most of your time at Disney Springs with this boat service. You can also take the opportunity to be your own boat captain.
What Resorts Connect to Disney Springs by Boat?
There are a few different resorts that offer direct boat transportation from the hotel to Disney Springs on Lake Buena Vista.
You can travel to Disney's Old Key West Resort and Disney's Saratoga Springs Resort by boat. There is also a separate line called the Sassagoula River Cruise, which travels between the two resorts at Disney's Port Orleans.
All these services run during the Disney Springs operating hours, and they offer a scenic boat ride. Of course, they are dependent on weather conditions and water levels, so keep this in mind during storms.
These Disney resorts allow you to have endless dining and shopping entertainment within a short boat ride. This is great for anyone looking to take some time away from the theme parks.
Port Orleans River Cruise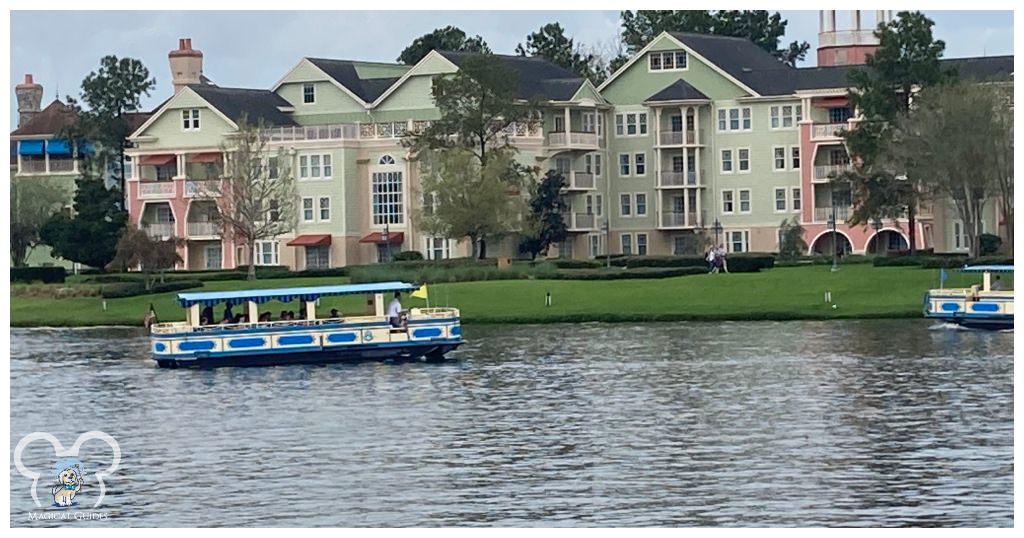 A perk of staying at Port Orleans Riverside or Port Orleans French Quarter is to be able to travel by boat to Disney Springs. Once known as Downtown Disney, this area offers you many dining and shopping opportunities.
This complimentary boat service runs throughout the day, so here are a few key things to know about taking advantage of this boat ride.
The Sassagoula River Cruise docks at both of the Port Orleans resorts, before traveling to Disney Springs. It takes twenty minutes to travel to Disney Springs or back, but it's a very relaxing and scenic journey.
The boats run about every twenty minutes, and they are on offer each day from 10 am until 11 pm. The cruise does get stopped if there are storms in the local area, so keep this in mind, especially during the hurricane season.
Read More: The Best Way To Get To Universal Studios From Disney World
As soon as you arrive in Disney Springs, you'll be ready to hop off and eat or shop in the many locations here.
Car Boat Ride in Disney Springs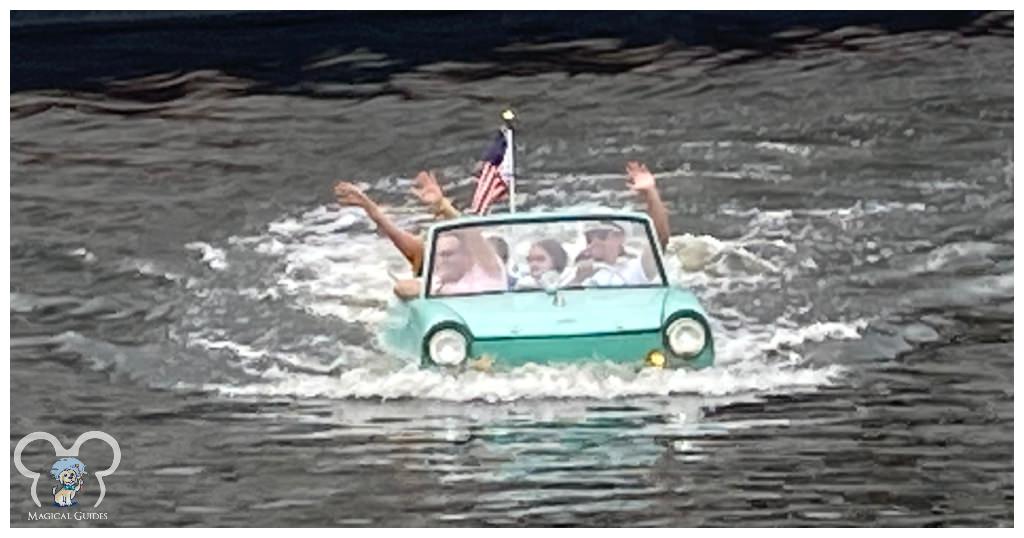 When talking about boats at Disney Springs, you can't overlook one of the most unique attractions. The Boathouse Restaurant offers a unique ride in one of the vintage amphicars on Lake Buena Vista. This is one of our favorite restaurants in Disney Springs. A delicious meal on the waterfront combined with an adventure.
How Much Does it Cost for the Amphicar Rides?
Riding in one of these vintage cars will set you back a little bit of cash. It's the only place in the world that offers you a Captain's Guided Tour in one of these vintage vehicles.
These rare cars are an incredible site to see. To enjoy riding in one of the vehicles in this private collection, you'll pay $125 per car, for up to four people.
Hours and pricing may vary during the year, but they are usually open from 10 am to 10 pm each day. As with any type of boat ride, this is also weather permitting. Keep this in mind if the weather isn't on your side during your time in Disney Springs.
You don't need to be dining at the restaurant to enjoy this experience, but I recommend that you do after your ride.
Do You Need Reservations to Ride the Car Boat?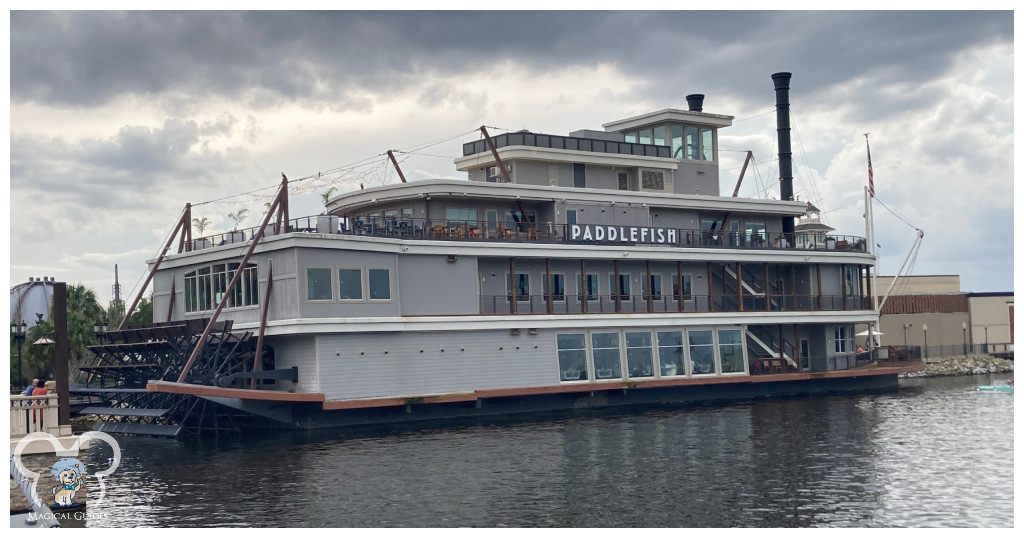 If this is something you want to do on your next Disney vacation, I recommend that you book online ahead of your trip. If you do this with plenty of time, you'll avoid disappointment.
Use The Boathouse website to check out their availability. But, if you are feeling spontaneous, see if they have any openings on the day you are in Disney Springs. Sometimes you'll see a sign up at the boat dock, which will advertise bookings on the day.
You'll want to make a dining reservation if you are looking to eat here too. Both day guests and resort guests can make reservations on the Disney app ahead of your visit. It's a popular restaurant with locals and visitors, so also worth booking early.
When getting the boats around the resort, make sure you always check the time for the last boat each day. You'll find that the vintage amphicar and the Italian water taxi are one of the most unique vacation experiences in the United States. It is well worth adding to your day out at Disney Springs.
Can You Take the Boat to Any Other Park?
As well as the services on offer at Disney Springs, you'll find that there are a few other scenic boat rides to get you around the Walt Disney World resort. The boats are a great way to get around when you aren't in the rush and want to see more of the Walt Disney World resorts.
Let's take a look at where they are and who can enjoy them.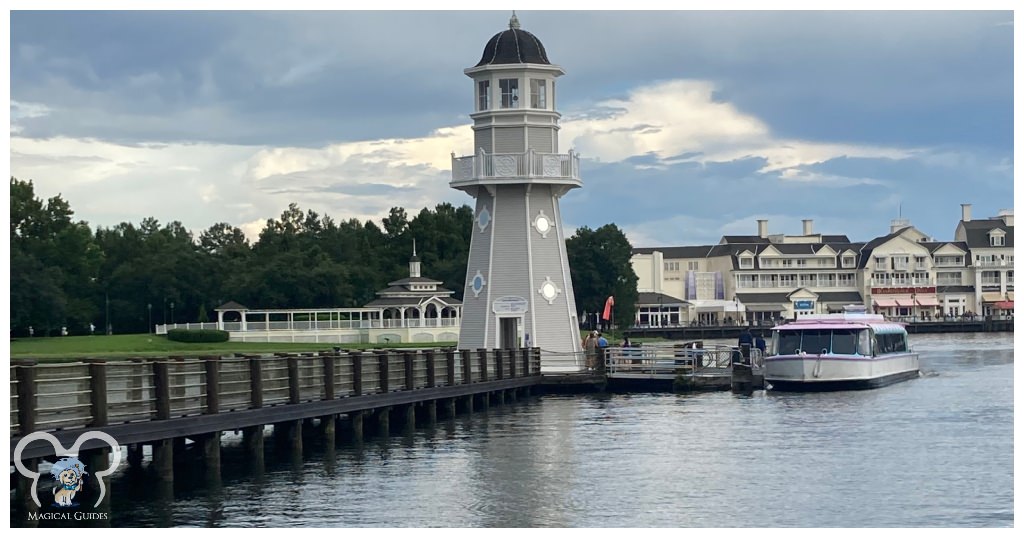 Magic Kingdom Ferries
The Magic Kingdom ferry offers you an alternative to the monorail or bus service. The Ferry provides you with a very pretty ride to and from the theme park on the Seven Seas Lagoon.
There is the main ferry that takes guests from the Ticket & Transportation Center over to the Magic Kingdom instead of taking the monorail. You'll get a great view from any of the decks even the lower deck, making you excited for your day ahead.
Many guests ride the ferry from the ticket center as a tradition to start off their trip, and it will make the perfect start to your vacation.
You'll find landing docks at Disney's Grand Floridian Resort & Spa and Disney's Polynesian Village Resort, which both share water taxis. There is also another line that goes from Disney's Fort Wilderness Resort & Campground to Disney's Wilderness Lodge to the Magic Kingdom. Another one that serves those two resorts and Disney's Contemporary Resort as well.
One of the top benefits of staying in the Magic Kingdom area is the huge number of ways to get around the resort helping you to maximize your time in Orlando.
EPCOT/Hollywood Studios Friendship Boats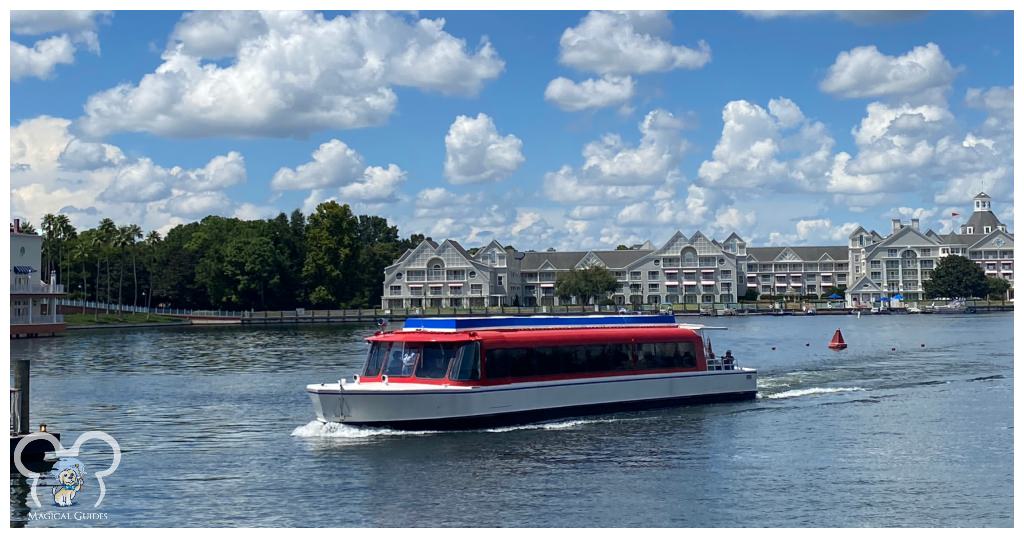 The Magic Kingdom isn't the only theme park you can travel to by boat. The Friendship Boats serve Disney's Hollywood Studios and EPCOT using Crescent Lake.
If you don't fancy walking to and from theme parks, this allows you to rest your legs after a long day of exploring. The Friendship boats connect the two theme parks with the surrounding resorts. Walt Disney World Swan & Dolphin Hotels, Disney's Yacht Club & Beach Club Resorts, and Disney's BoardWalk Inn connect to the friendship boats.
You will get off the boat at the World Showcase entrance to EPCOT or at the very front of Disney's Hollywood Studios when traveling by boat.
I love taking any of these boats as an alternative to Disney buses and monorails. They offer you a picturesque way of getting around on your next Walt Disney World vacation.