My second out-of-state trip with my then girlfriend Bayley (now my wife) was to Disney World at Christmas time. Since then, we've made the trip countless times. We always try to dedicate at least one day to focus on spending romantic time with each other.
We've been going to Walt Disney World for almost ten years as Annual Pass-holders. We have done many of these great date night ideas, though we are still working on completing the list!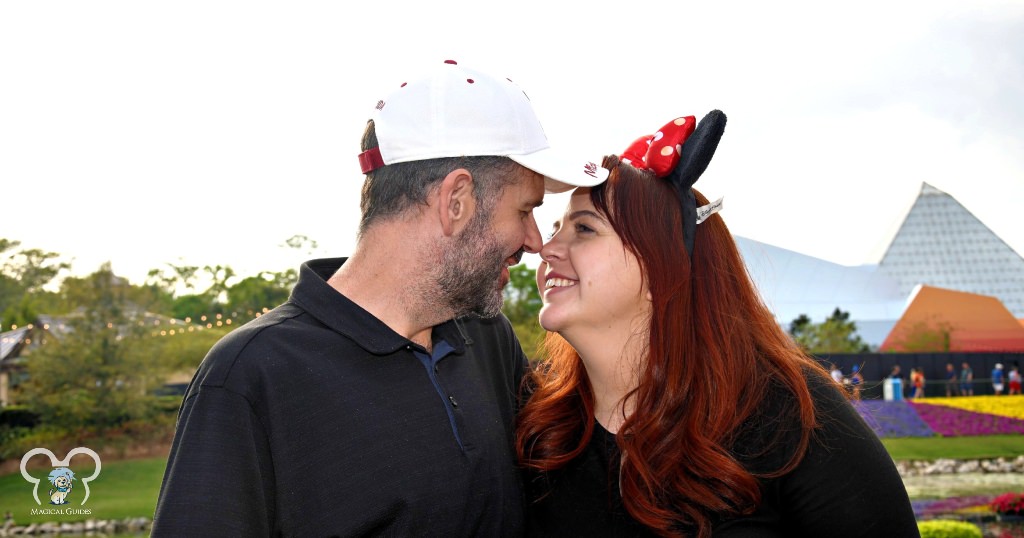 We often find date night options included with park admission to any of the theme parks to keep our cost down for our date nights or ideas that won't break the bank. Find a Disney Date Night Idea for any budget below!
So, let's go over some of my favorite date night ideas as a couple.
Classic Disney Park Date Ideas
Point of View: You are holding hands walking through Cinderella's Castle after walking down Main Street in Magic Kingdom. Romance is in the air and you want some simple and classic date night ideas. If you're looking for some of the go-to date ideas while on your Disney vacation, here we go:
Eat meatballs and spaghetti at Tony's Town Square Restaurant inspired by the Lady and the Tramp movie. ($44 per person, including tip)
Cinderella's Royal Table Restaurant, this is also a great proposal spot ($100 per person, including tip)
Get a silhouette made of you both; this is an old-school and affordable souvenir ($15)
Sit for a caricature, though I will tell you this one is a tad pricey ($80)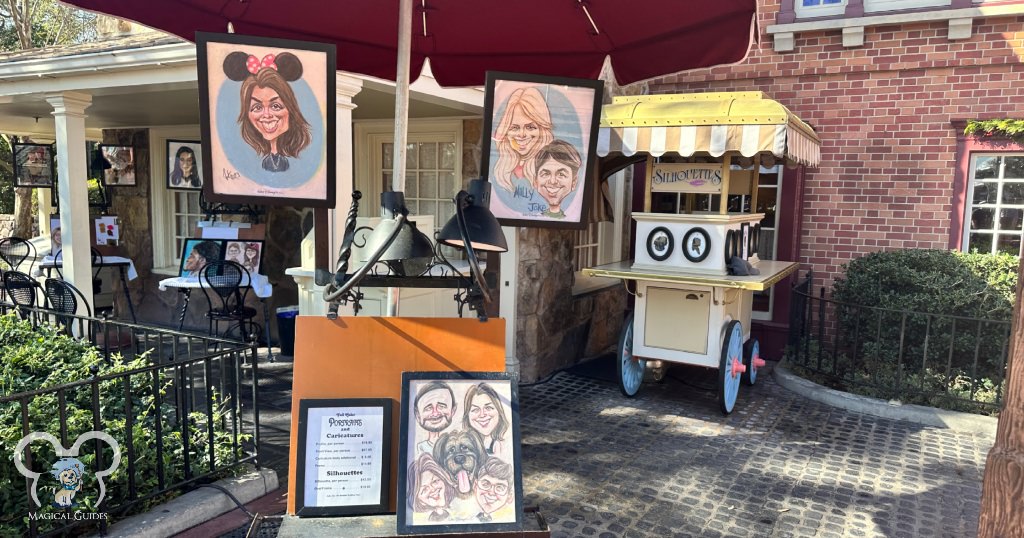 What's nice about the last two is both don't take very long, less than 10 minutes, and allow for talking with the cast members about your trip.
Bars To Visit On Your Disney Date Night
What I love about visiting the bars at Disney World is they don't always require reservations. When Bayley and I book trips, it's usually last minute, so this might cause anxiety for those planners. I encourage you to just go with the flow and remember the best memories aren't always planned.
Bayley and I often will do bar Disney dates when we don't want a full meal, want to catch a show later in the evening, like the fireworks, or want to unwind from our trip. Sure, being a Disney blogger is tough work, but that doesn't mean I don't know how to relax.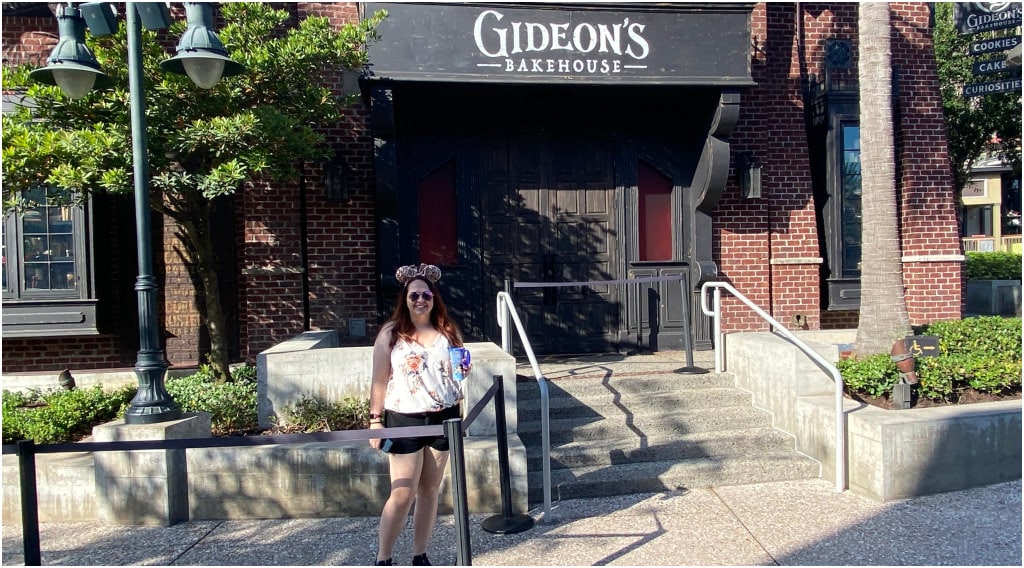 If you don't like dealing with crowds, consider going to the bars earlier, as seating is limited.
Wine Bar George at Disney Springs (Average $16 per drink plus tip)
Put your name on Gideon's Bakehouse virtual queue so you can grab a chocolate cookie when you leave ($6 per cookie)
Trader Sam's Grog Grotto at Disney's Polynesian Resort, this one is Bayley's favorite date night activity (Average $18 per drink plus tip)

The food here is good, but order one of the fun drinks, such as the Nautilus for two!
Get here early; if you don't, a bar outside serves the same stuff, sometimes with live music.

Steakhouse 71 bar bottom floor of the Contemporary Resort, we've been coming here for date night since it was The Wave. (Apps average $12, Drinks average $17 each, dinner Averages $35 per person, not including tip)

Try the bread service with all the sauces, along with a watermelon margarita

AbracadaBar on the Boardwalk ($17 plus tip per drink, Around $15 for apps)

Watch the truffle fries disappear as you people watch and sip their magical cocktails.

The Boathouse at Disney Springs($40 per person plus tip)

This is highly boat-themed, but the food and drinks here are reasonable.
Honorable mention:
The Crew's Cup at the Yacht Club attached to the Yachtsman Steakhouse. Since the parks reopened, they removed the best hamburger on the property and replaced it with expensive seafood. So the atmosphere is the same, and I enjoyed eating burgers on a loveseat; I wouldn't want to pay $100+ for a seafood tower; that would be more enjoyable with a group.
You can also head over to the Yachtsman Steakhouse for some of the best steak on property. You'll be seated in a New England-themed dining room, where you'll enjoy an extensive steak menu.
Of course, if you fancy something different, you can also enjoy their land and sea entrees, which include Whole Maine Lobster and a customized plant-based entrée. Make sure you save room for dessert, as their S'more Sundae and Chocolate Lava Cake are a highlight of any meal here.
Is Disney Fun For Couples?
Going to Disney World as a couple without kids is a lot of fun. It's often a destination for those celebrating on a honeymoon. So if you celebrate a special occasion, don't forget to get a button to let everyone know (they're free).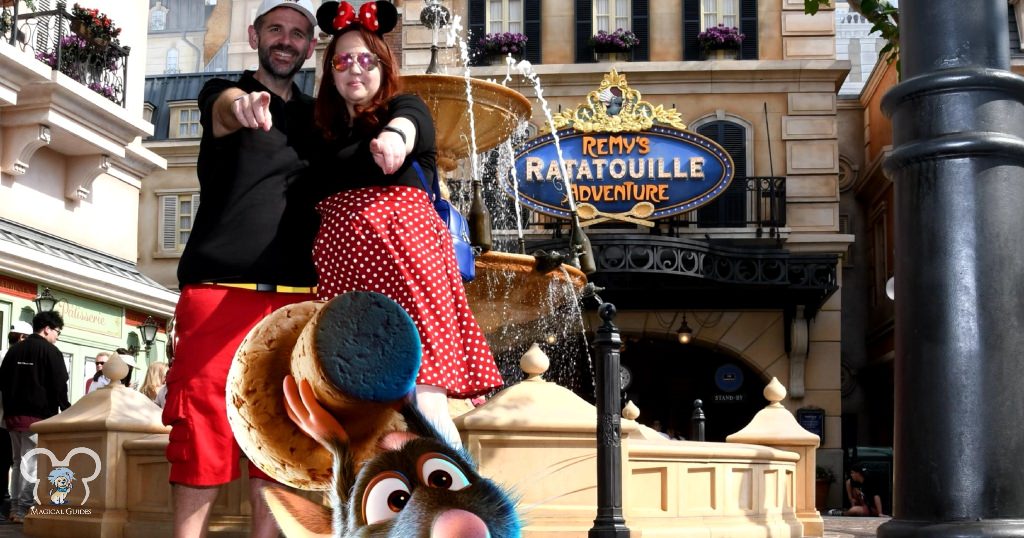 If you want a casual activity, I recommend enjoying one of Disney's two mini-golf courses. This cliche date is Disney-themed, and remember, dating your partner should be fun, light, and a little competitive.
Play a round of mini golf at Winter Summerland or the Fantasia Gardens. ($19 per person)

if you visit Fantasia Gardens, I would go with the easier course; you want to have fun on the date, not worry about your golf game.
The Fantasia Gardens is a short walk from the Swan and Dolphin Resort and shares a parking lot with the Swan Reserve, which has some of the best dining options for a romantic date night.
Enjoy eating and drinking at Shula's Steakhouse bar at Disney's Dolphin Resort. ($50-100 per person)

You can only get their popcorn at the bar, but their drinks are amazing.

Share a pizza at Il Mulino's bar at Disney's SwanResort ($20+ tip)

This is probably my favorite go-to meal and drink. It's more up-scale than you might think, so it's perfect for a casual date night with a walk on the Boardwalk after.

Sing karaoke at Kimonos Lounge ($35 per person plus tip)

If you enjoy sushi, this is the best on property, and the karaoke is for those brave enough to do it. I will eat a spoonful of wasabi instead of singing in front of strangers.
Which Disney World Park Is Best For Couples?
If you only had a single park day ticket, I would suggest EPCOT as the best park for a couple. You can't go wrong with any of the Disney parks for a romantic and fun Disney Date Night though. If you spring for a park hopper ticket, I would leave time for Hollywood Studios in the day.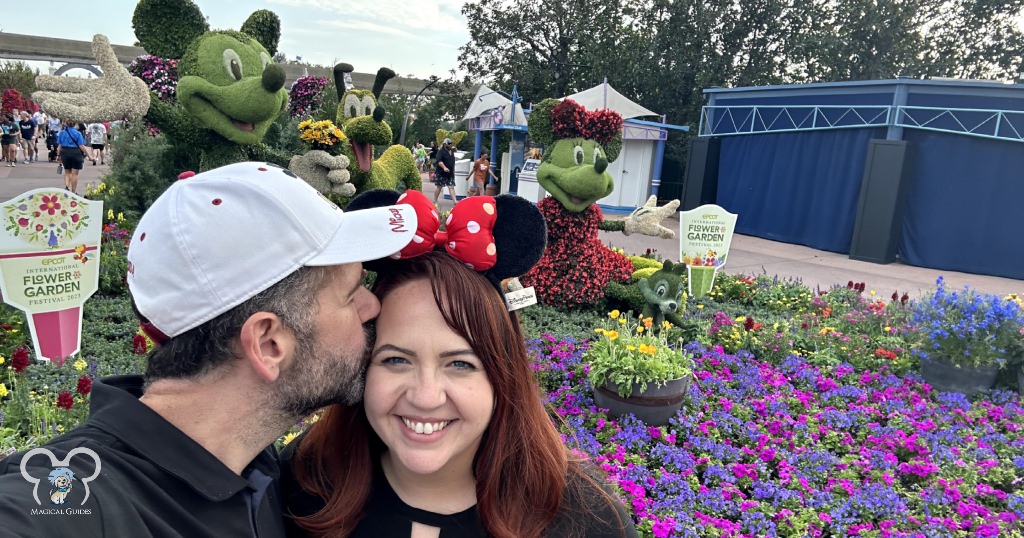 EPCOT often has festivals going on, with a lot of food kiosks offering alcoholic drinks as well. I love the margaritas you can get in the Mexico pavilion, followed by a loop around EPCOT's World Showcase. The most popular festivals perfect for walking around eating drinking, and holding hands are the Flower & Garden Festival and the Food & Wine Festival.
If you're looking for dedicated food and dining experiences inside of EPCOT, here are my recommendations:
Book a reservation at Le Cellier in the Canada pavilion prior to the fireworks; plan no later than a 7:30 reservation. ($100 per person, plus tip)

They are known for their steaks and poutine; with the dark atmosphere, I didn't care for this type of romantic vibe.

Enjoy chips and salsa at San Angel Inn Restaurant overlooking the volcano. (Around $50 per person plus tip)

After dinner, set sail on a short boat ride called Gran Fiesta Tour, trying to find Donald Duck. This is one of my favorite activities next to riding Spaceship Earth.
Disney's Hollywood Studios is the place to go if you're both fans of Star Wars. Here are a few things to be sure when you visit Batuu. Bonus points if you both decide to Disneybound.
Co-Pilot the Millenium Falcon in Smugglers Run (included with park admission)
Build a pair of custom lightsabers at Savi's Workshop. Reservations are required (249.99 for each lightsaber)
Encounter Darth Vader at the Star Wars Launch Bay. Don't forget to grab a picture with the Sith Lord (included with park admission)
Make the jump to hyperspace on Star Tours – The Adventures Continue (Included with park admission)

This has recently been updated, and it's a low-wait ride more often than not.

Enjoy drinks at Oga's Cantina and eat before going, as their menu doesn't offer much more than light snacks. (each drink is around $18 each)
Join the Resistance in an unforgettable battle against the First Order on the Rise of the Resistance. (included in park admission)

This is probably the best ride at Disney World for any Star Wars fan.
Here are a few other places to enjoy for a romantic time in Hollywood Studios:
Share an appetizer, drink, or meal at The Brown Derby in park attire, so those matching shirts are fine attire here. ($50 for drinks, appetizers, tip /  $100 for meal with drinks and tip)

We got a reservation when it started raining, so it was a great way to wait out the passing storm since we forgot our rain ponchos.

Dine in a drive-in movie theme car while sharing a milkshake, with old movies playing at the Sci-Fi diner ($60 for food, drinks, tips+)

The drinks are great here, as well as the burgers; ask for the fries to be extra crispy!
Where Can I Go On A Date Night At Disney Without A Park Ticket?
This is such a loaded question, and the answer is there are a lot of places to go on a date at Disney World, no matter your budget. If you're looking not to spend additional money, here are a few of my suggestions:
If you're staying on Disney World property, check out your resort's activity guide.
Usually, every evening, a Disney movie is shown under the stars. This happens at all of the Disney resorts, so consider checking out a deluxe resort location. (No additional cost)
Take a stroll down Disney's Boardwalk, there will have live entertainment, and holding hands while around a lovely sunset is quite romantic without breaking the wallet. (no additional cost, but I recommend money for ice cream)
Head to Disney Springs to window shop take in the sites and sounds. During Christmas, they have a Christmas tree path, and concerts throughout the year. (no additional cost)
The Edison in Disney Springs ($50 per person plus tip)

For anyone looking for a fun and unique date night, check out The Edison at Disney Springs. This gothic-style restaurant serves American cuisine and an extensive drinks menu. The building is themed after a 1920s electric company, and there are a variety of themed areas guests are seated in. You'll see various entertainment acts perform here throughout the night, so it's both a dining and entertainment venue in one location.
If you want to enjoy the Magic Kingdom Fireworks without a park ticket, I have a few suggestions for you as well.
Go to the second story of Disney's Contemporary Resort. There is a hidden seating area that overlooks Magic Kingdom for a spectacular show with the music as the Monorail goes by. (no additional cost)
Head over to Disney's Polynesian Village Resort to watch the show from the beach area as they turn the lights down. (No additional cost, but recommend springing for a Lapu Lapu drink or a cup of dole whip)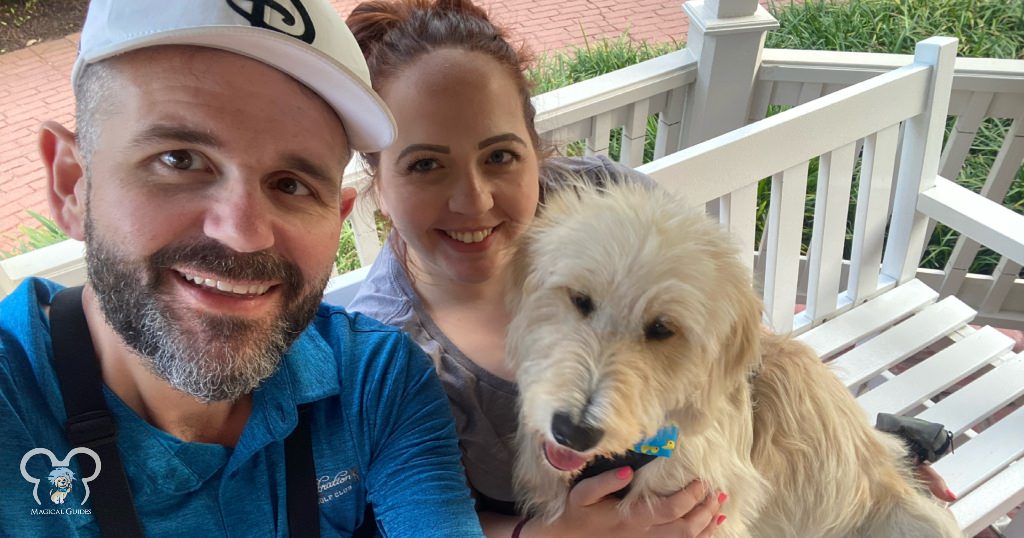 You can even take the boat from Magic Kingdom to Wilderness Lodge:
Watch a unique show called the Electrical Water Pageant. (no additional cost)
Walk the miles of trails they have at the beautiful resort (no additional cost)
Is Disney Fun For Couples?
Without a doubt, yes, Disney World is fun for couples. Disney is not some overly childish place to go unless you want it to be. My future mother-in-law asked when we were planning our wedding if it would it be themed like a 5-year-old's Mickey Mouse birthday party. It was upscale, and the people still talk about the food served at the Waldorf Astoria Orlando.
There are a number of romantic things that can be done at Disney World, for example:
Take a fireworks cruise with you and your significant other; no park ticket is required. Drinks and snacks are provided. For up to 10 people (~$450 for the experience)
Go on a Safari Trek at Disney's Animal Kingdom for the tour. ($189 + park tickets)
If you want to hit up the club at Disney World, go to the Atlantic Dance Hall on the Boardwalk ($18 cover charge, but bring ID for entrance and buying drinks)
Enjoying a piano duel at Jellyrolls on the Boardwalk ($10 per person cover charge, drinks extra)
How Can I Surprise My Wife At Disney World?
I'm horrible at surprises and secrets. I'm not joking; my family has a saying: if they want everyone to know, they tell me.
I surprised Bayley by flying her mom and sister in a few years ago for her birthday and keeping that secret almost killed me. Here are a few ideas to surprise your wife on a Disney World trip.
Consider a carriage ride at Port Orleans Riverside. They offer these rides from 5:30 PM through 9:30 PM, but advanced reservations are required. (Cost $65 + tax and tip).
Enjoy an order of Mickey-shaped Beignets from the Scat's Club at Port Orleans French Quarter resort ($10 for a pack of 6)
Not all couples will enjoy a massage or a spa day, but I'm lucky that my wife and I do. There are a few places to find the best massage at Disney World but be prepared; this isn't a cheap experience.
Couples massage at one of Disney's Senses spas, Disney's Dolphin Mandara Spa, or our favorite spa at the Waldorf Astoria Orlando. ($400 per couple + tip)
Opt for just one of you getting a massage with an in-room massage from the many former cast members who have started their own business. You can find reputable folks in the Ears to Ears Facebook Group($140 per person + tip)
If you're feeling fancy and enjoy the finer things in life, Disney's Grand Floridian Resort & Spa offers a unique upscale dining experience.
Dine at the only on-property Michelin Star restaurant, which has a strict dress code, to enjoy the most elegant meal at Victoria & Albert's. ($450 per person, plus tip)
If you are looking for the ultimate date night in Walt Disney World, head to Victoria and Albert's. This resort has won the AAA Five Diamond Award and offers just one seating time per evening. The dress code is much stricter here than elsewhere on property, and men must wear a dinner jacket. You'll enjoy eleven courses during your time here, so you certainly won't go home feeling hungry.
My recommendation if you want something twice as nice for half the price is to take a monorail ride over to Disney's Contemporary Resort.
Dine overlooking the Magic Kingdom at the California Grill. ($160 per couple plus tip)