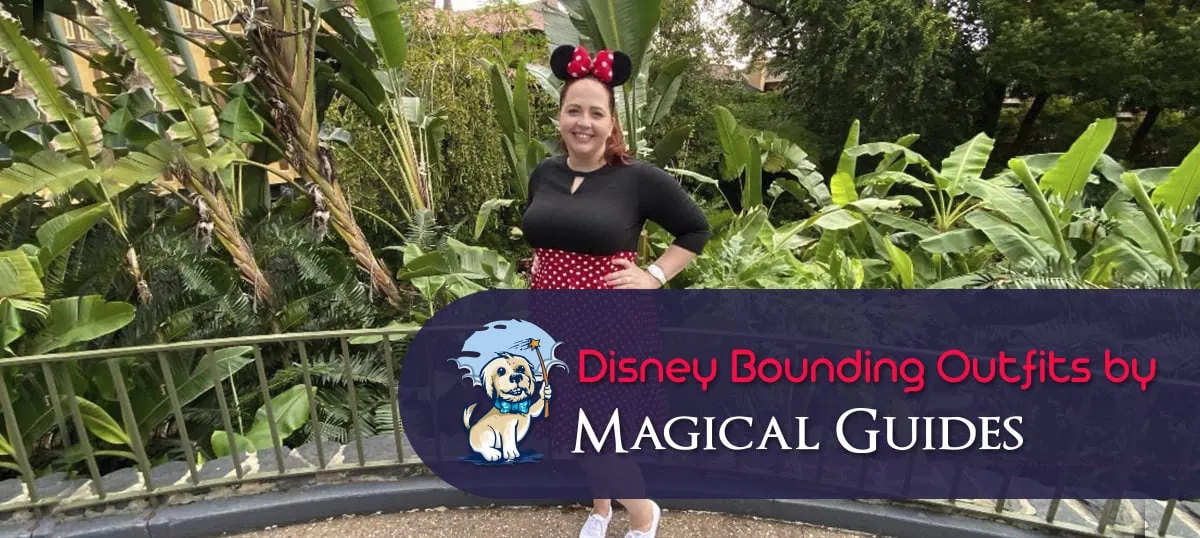 This post contains affiliate links
When walking through Disney World parks you are guaranteed to come across kids of all ages dressed up as their favorite Disney characters. You may see a little Buzz Lightyear riding Splash Mountain, or even a little Snow White eating popcorn. But why don't you ever see adults dressed up as their favorite Disney characters?
This article is about a fun trend for people of all ages to dress up at Disney parks called Disney Bounding. Keep reading to find out what it is, what the official Disney rules are, and some inspiration for your next Disney trip! Join me in finding inspiration for Disney Bound outfits and maybe even for your everyday outfits!
What is DisneyBounding?
Disney Bounding is the term used to describe dressing up as Disney characters without wearing an official costume. Disney rules state that no one over the age of 12 is allowed to wear costumes in the park. This is for many reasons such as safety of children and respect for the characters at the park. Some adults cosplay so well that they look JUST like characters that work at Disney World. Disney avoids a potential problem with this by not allowing anyone over the age of 12 to cosplay in the park. Kids are still welcome to wear costumes that match Disney characters however.
A blogger came up with the idea for Disney Bounding by taking clothes she would wear regularly and accessorize herself to look like Disney characters. It has become a fun way for people to dress in their own personal style while honoring their favorite characters. And, it follows Disney rules as it is just every day clothing items. It's also a bonus that you could wear your Disney Bound outfits in your everyday life to show some love towards your favorite characters even when you're away from Disney.
How to get started with Disney Bounding
Disney Bounding can be such a fun and creative thing to do at the Disney parks! Here are a few steps to help you achieve the best outfit possible.
Choose a Disney character
First, you need to decide which Disney character you would like to dress up as. Maybe there is a Disney character that really inspires you, or one that you can quote their movie all day. If there isn't a character or movie that sticks out to you, go look through your closet and see which color you have the most of. Most characters have a distinct color that is associated with them. If your closet has a lot of blue options for example, then maybe you would want to Disney Bound as Belle or Donald Duck. More examples of characters at the end of this article!
Decide on your personal style
Everyone has their own way of dressing or things that they really enjoy wearing. This is where Disney Bounding allows for creative freedom where as cosplaying requires you to look as close to the character as possible. Disney Bounding encourages you to be yourself first! So, think about your personal style. Do you like wearing dresses? Maybe you like wearing hats. No matter what you like, there is a way to incorporate it into your Disney Bounding outfit. You can also consider your style of clothing. For example, you could have a vintage style, boho, girly, grunge, etc! All of these will have to be considered as well when planning out your Disney Bounding outfit.
Don't be afraid to go outside of your comfort zone though. Try something new that you wouldn't normally try. You might surprise yourself at something you like wearing!
If you are not from Florida you might not know just how unpredictable the weather there can be. Depending on the time of year, you could be experiencing heavy rain showers, extremely high temperatures, or both in the same day. When planning your Disney Bounding outfits make sure you check the temperature of Orlando to be sure that your outfit will be comfortable enough to withstand the weather. You also know yourself best. Ask yourself, do you get cold easily? Hot easily? These are things to consider when picking out your outfit for the day!
Figure out where you would like to purchase your outfits from
While looking through your closet maybe you don't have anything that would work for the character you choose. That's okay! There are so many places you can go find quality items for your outfit. You should ask yourself if you are trying to do this on a budget or if you don't mind spending a little extra money. There are some places that you could find your items while still saving some money such as a thrift store or Goodwill. Sometimes, I find some great stuff there! You can get an entire outfit, or two, for less than $50.
Typically, I like to buy everything on Amazon for Disney Bounding. The reason for this is it's sometimes hard for me to get to the store or shop around. I like being able to see all my options before I spend my money on things. I also feel like this is the best place to find accessories for your outfits. If you think it, Amazon probably has it. You can get more intricate with your outfits by shopping online and comparing everything before purchasing.
Choosing your Disney bounding outfit
Now that you have your character in mind, it's time to start choosing your Disney Bounding outfit. This can be a bit overwhelming if you don't know where to start. I am going to show you some Disney Bounding examples along with some links to purchase items. Of course, you could always check your own closet to see if you have anything that would work for your outfits.
It's important to consider accessories too when planning your outfit. Does your character wear a hat? A headband? Maybe they always wear black shoes. Do some research on your character to see what they normally wear that would be able to be incorporated into your Disney Bounding outfit.
When choosing your outfit, consider color schemes, accessories, shoes, hairstyles, and the overall theme of your outfit.
Need some inspiration outside of this blog? Pinterest is one of my favorite places to get ideas for Disney Bounding! Also, a quick google search should show you some ideas for your favorite character. I promise even if it is a less popular character, someone has probably Disney Bounded as them before! Etsy also has many handmade items that you could purchase to complete your outfit. Amazon is another easy go-to website for Disney Bound gear.
As promised, here is some inspiration for Disney Bounding characters!
Ariel DisneyBounding
When I think of Ariel, I think of three main colors: plum purple, green and red. I always start with my color palette to make sure that I am representing the character correctly.Once you have your color palette, you can check your closet to see if you have any items in those colors. You don't necessarily have to wear a purple shirt or green bottoms, you could switch it up! As long as you are following the main colors you have freedom to do it however you would like.
In both of my examples, I paired the outfits with a bright red accessory. This is to match her bright red hair! When searching for outfits, some keywords you can search for are mermaids, ocean, fork, fish, shells, etc. Any of those searches would bring you to different things you can wear with your Ariel outfit. I have seen many people also wear mermaid leggings (they look like fish scales on your legs). These really stand out and most of the time they are bright and shiny.
Here is an example of Ariel Disney Bounding outfits: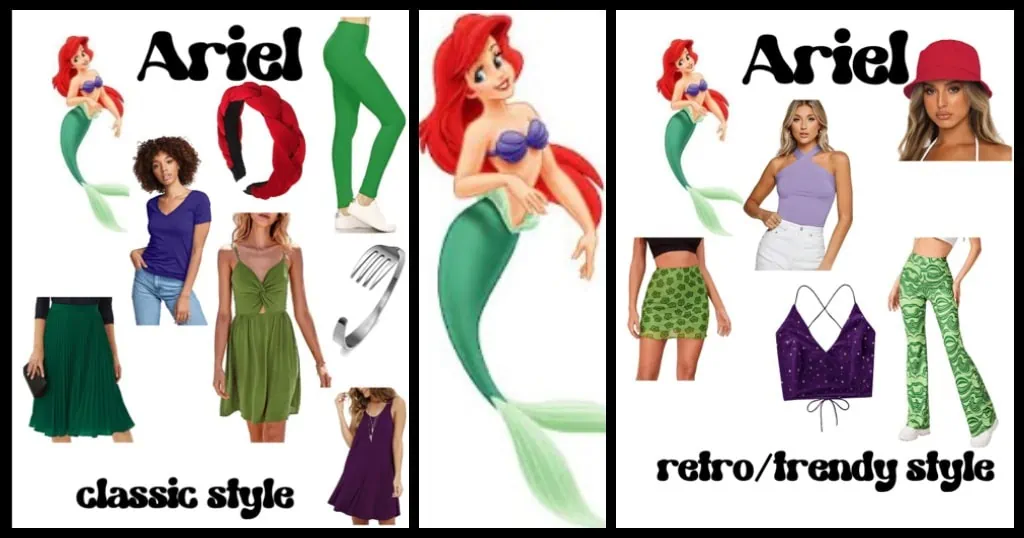 As you can see, there are so many different ways to achieve one look! What I love most about Disney Bounding is the freedom to express yourself in the way you choose! All of these looks were found on Amazon. Ariel's classic style: green leggings, red headband, purple tshirt, green skirt, green dress, purple dress, fork bracelet. Ariel's retro/trendy style: red hat, lavender crop top, green skirt, purple crop top, green pants.
Belle DisneyBounding
Next up on our list of Disney Bound characters is Belle! She is such a classic character and so simple. When I think of Belle, I think of that vibrant yellow/gold color. She is unique because she has one color that gets associated with her the most. You can also incorporate the red rose into your look.
Belle is also fun because she has another outfit that is popular. Her blue/white outfit! You can Disney Bound as either one of her outfits.
Characters with more than one outfit give you more freedom to Disney Bound. Also consider her hair styles in the two looks. One is an up-do and more formal where the blue outfit has a long braid in the back. You can incorporate her hairstyles to help sell the outfit as Belle.
In my examples of outfits, you can see I added roses or books to her look. They are subtle but they add a special touch to the Disney Bound outfit. Anyone who knows Belle would be able to look at those small touches and know exactly that you are Disney Bounding as Belle!
Some things you can associate with Belle are books, roses, Beast, and Lumière.
Here are some examples of Belle Disney Bounding outfits: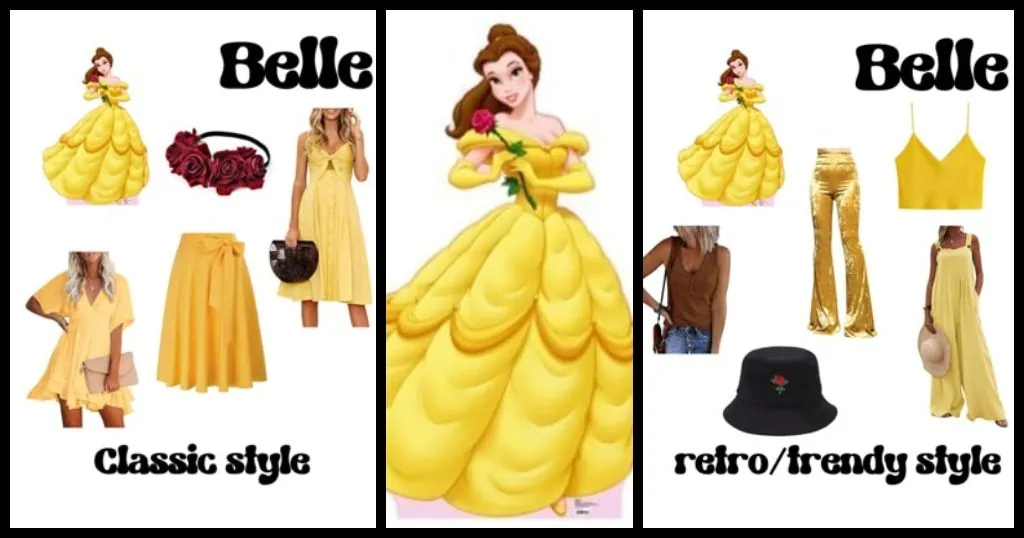 Belle's classic style: rose headband, yellow skirt, yellow dress with sleeves, spaghetti strap yellow dress. Belle's retro/trendy style: yellow crop top, yellow pants, black hat, brown top, yellow jumpsuit.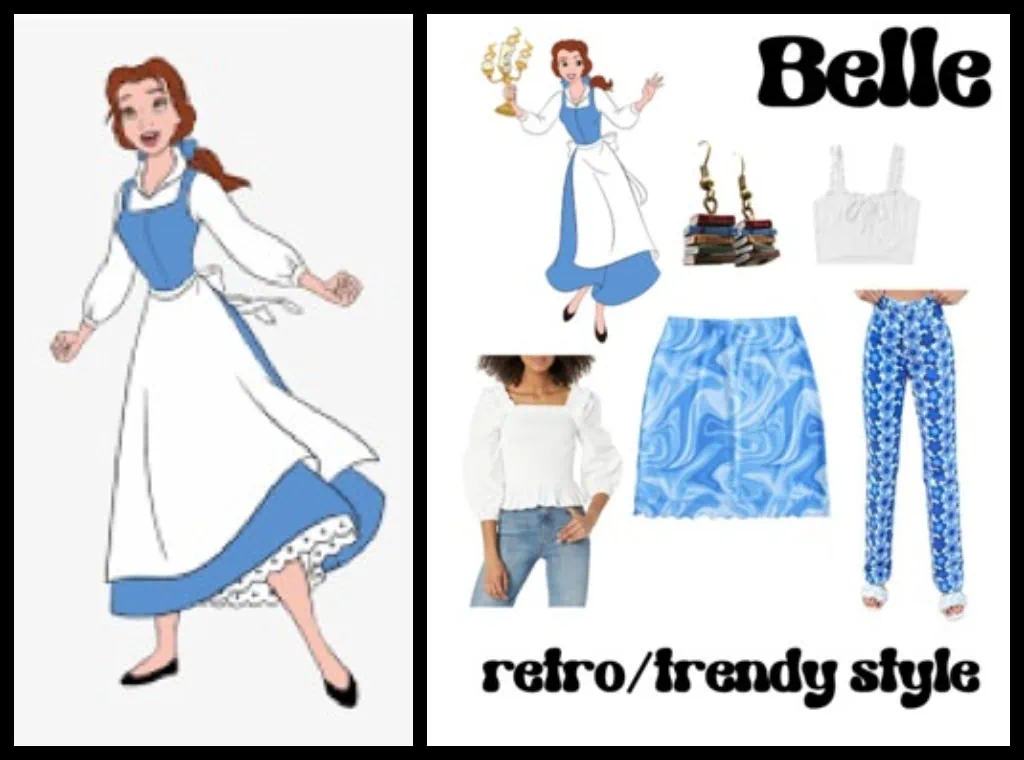 Belle's blue retro/trendy outfit: book earrings, white crop top, white blouse, blue skirt, blue pants.
BB-8 DisneyBounding
Here is a Disney Bounding outfit idea that is a little different than your typical characters, BB-8! BB-8 is a droid in the Star Wars series which means that he is just a robot. This is what makes Disney Bounding so different than just dressing up, you are able to dress up as a robot in everyday clothing items!
This would be perfect to wear in Hollywood Studio's new Galaxy's Edge. BB-8's main color scheme is orange, white and black. You can also focus on accessories that have circles or sharp lines to represent BB-8's pattern.
In Galaxy's Edge, you can build your own lightsaber. This would be such a cool addition to your BB-8 inspired outfit! You can check out the build your own lightsaber area in Galaxy's Edge in Tatooine Traders. You totally customize the lightsaber including the handle and even the color that the lightsaber lights up to be! Any Star Wars lover of any age would love this experience.
Here are some examples of a BB-8 inspired Disney Bounding outfit: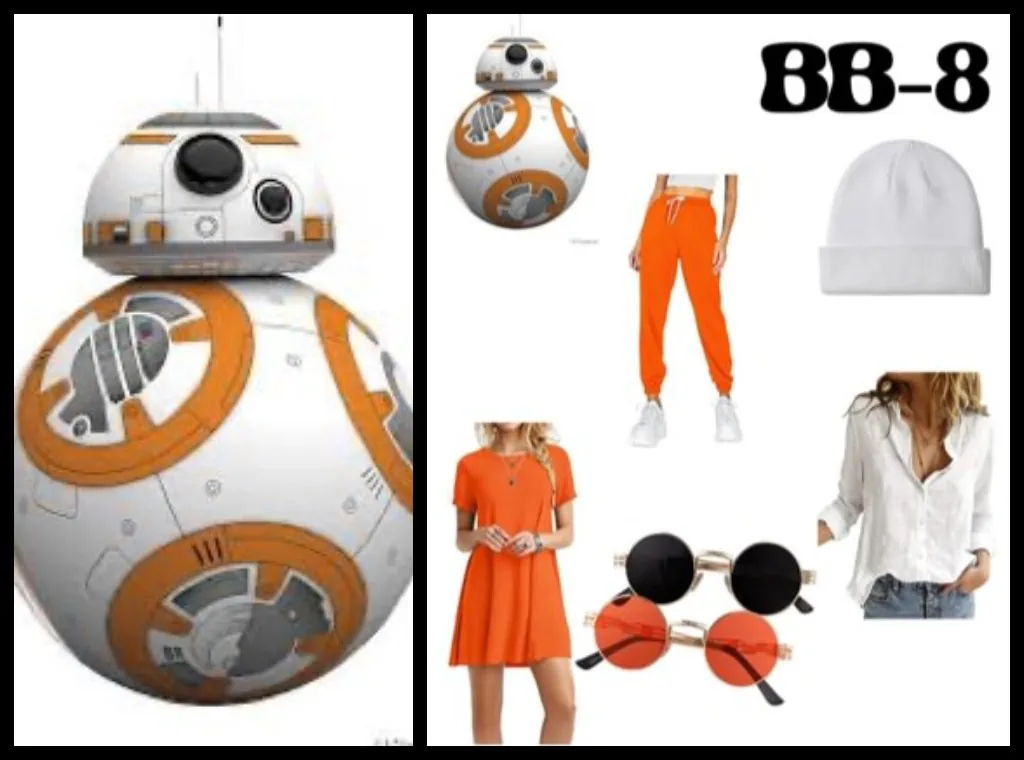 BB8: Orange pants, white beanie, orange dress, glasses, white blouse.
Moana DisneyBounding
Moana is a character with a very distinct vibe. Her main colors are red/orange and beige. Her character is associated with tribal patterns, her heart pendant, her little pig Pua, and the ocean. There are so many cute ways to accessorize your Moana Disney Bound outfit. She is an adventurer so a backpack would work for this outfit, or even a scarf!
Moana's character is strong, adventurous, and curious. Moana lovers relate to her character because of these attributes. Think about that when you are planning your Disney Bound outfit for Moana. What would an adventurer wear? Could Moana wear your outfit while traveling across the sea? Don't be afraid to think like your character!
A good key word to search for this character is "boho". That will bring up a lot of the crochet items. I also found that red/orange color by searching burnt orange. The tribal pattern is also a great thing to search for Moana inspired clothing.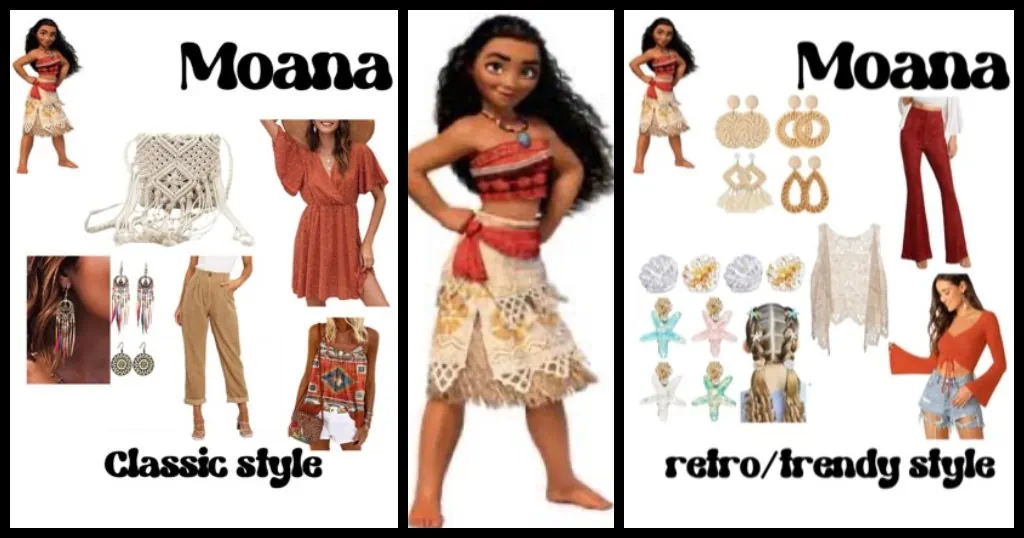 Moana's classic style: dress, bag, tank top, pants, earrings, ears. Moana's retro/trendy style: earrings, hair accessories, pants, top, cardigan vest.
Yoda DisneyBounding
Another idea from the Star Wars series is Yoda! Yoda's character has always been one of the most memorable from the Star Wars series, however Yoda has become even more popular with the newer generations with the release of the TV show the Mandalorian. I think we all fell in love with Yoda's cuteness on this show! This would be another great Disney Bounding outfit idea for Galaxy's Edge.
Yoda's main color is an olive green. Star Wars characters typically wear baggy clothes or accessories in the movies and shows. Also look at this characters specific shape. His ears stand out the most! Look for accessories that might have a similar shape such as the sunglasses I chose below. It is a subtle way of looking at smaller details. I also liked this reference photo because of all the textures. More textures in a photo means it will be easier for you to accessorize or find clothing items with similar textures.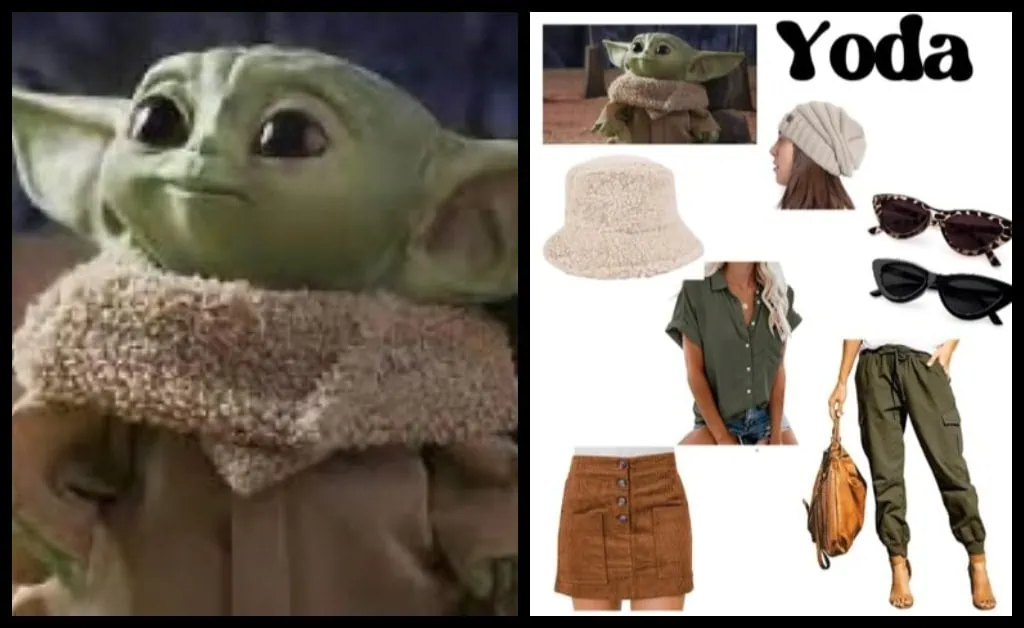 Yoda: beanie, bucket hat, sunglasses, blouse, skirt, pants.
Mirabel DisneyBounding
Mirabel is a character from the new movie Encanto. If you haven't seen this one yet, I highly suggest it! It is extremely popular among the younger kids right now with its catchy songs and colors. Mirabel is the main character in the movie and I love the clothes she wears.
When searching for clothes that look like Mirabel's, look for clothes with embroidery patterns, long skirts, and bright colors. The family in this movie are Hispanic and much of their clothing is influenced by Hispanic culture.
Mirabel also wears very noticeable glasses which could be a good accessory to consider! She is also associated with a yellow butterfly.
Here are some ideas for a Mirabel inspired Disney Bound outfit!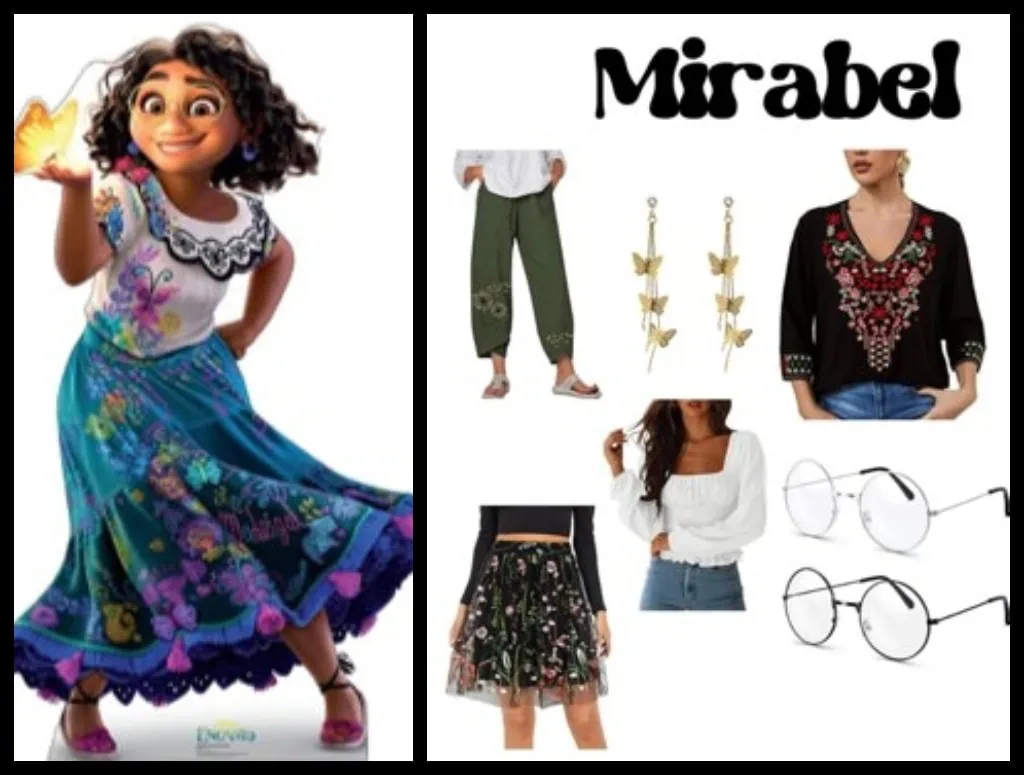 Mirabel: pants, earrings, black top, white top, glasses, skirt.
Cinderella's Castle DisneyBounding
Now this is an abstract idea for a Disney Bound outfit but can be totally magical! When thinking about Cinderella's castle, the colors baby blue and grey come to mind. I also think bling and glam which can easily be incorporated into a Disney Bound outfit. An accessory that lights up could be a huge statement piece that separates your outfit from Cinderella and her castle.
For this one, you can either go very casual or very fancy. It's your choice! This is one of the outfits where you can ask yourself if you would rather be comfortable or be flashy.
You can pair your outfit with accessories that look like a castle or remind you of princesses. While thinking of your outfit it is important to think about how this outfit would be different than a Cinderella Disney Bound outfit as they would be very similar in colors and bling.
When thinking of the castle, I think about the fireworks, lights, projectors, princesses and of course Cinderella! How could you be inspired by these elements? Check out my examples below!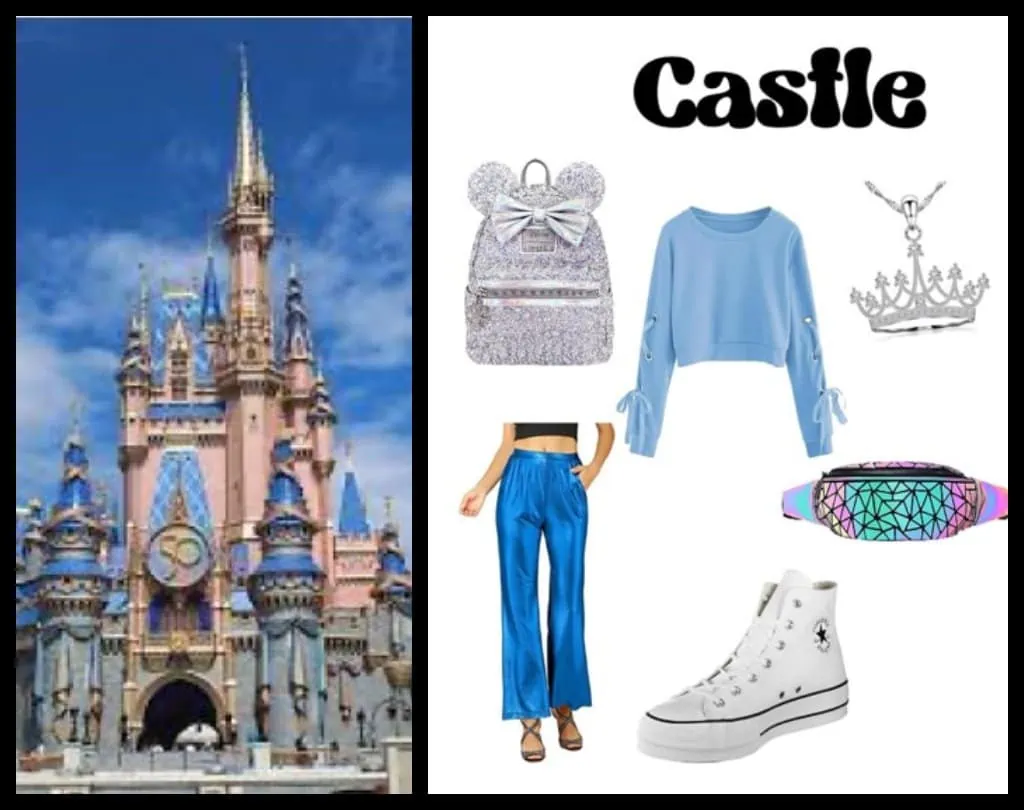 Castle: loungefly, sweatshirt, necklace, pants, shoes, fanny pack.
Remy DisneyBounding
Remy is a cute little rat from the movie Ratatouille. In the movie, Remy is a world-class chef and can cook better than any human. He helps out a chef in a French restaurant so that he can cook high end meals without getting kicked out of the kitchen.
Remy's main color scheme is grey and pink. His body is grey and his features are pink (ears, nose, etc). Some things you can associate with Remy are cooking, chefs hat, rats, cheese, and France.
France is such a distinct place that it is easy to find accessories or clothes with the Eiffel Tour on it. This is a great way to incorporate the setting of the movie into your outfit! I also love that Remy has a soft texture that you can add to your outfit to make it stand out from other outfits.
Check out my example of a Remy Disney Bound outfit.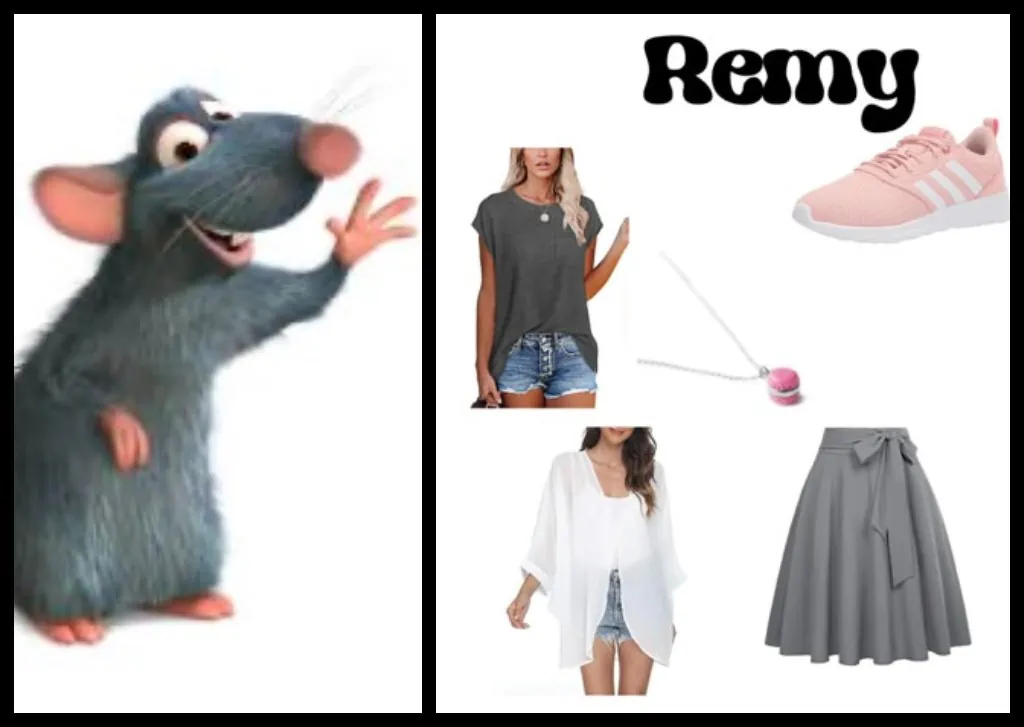 Remy: Pink Addidas, gray top, white top, gray skirt, necklace.
Winnie the Pooh DisneyBounding
Winnie the Pooh is such a fun Disney Bound outfit! I have seen people of all ages do this one and it is so cute on everyone. I especially love seeing little babies in Winnie the Pooh gear, it's just so adorable! But adults can Disney Bound as Winnie the Pooh also.
Winnie the Pooh has some distinct colors that help him stand out from other characters. These colors are red and yellow. He also loves honey which can be put into your Disney Bound outfit. Winnie the Pooh wears a bright red t-shirt over his fluffy yellow fur. I love the texture of the yellow fur and that can be added into your outfit.
I think one of the most special parts of Winnie the Pooh is his friends! Think about how you can add his friends into your outfit. Maybe with just a pop of color such as pink for Piglet or Grey for Eeyore.
Look at my example of a Winnie the Pooh Disney Bound outfit.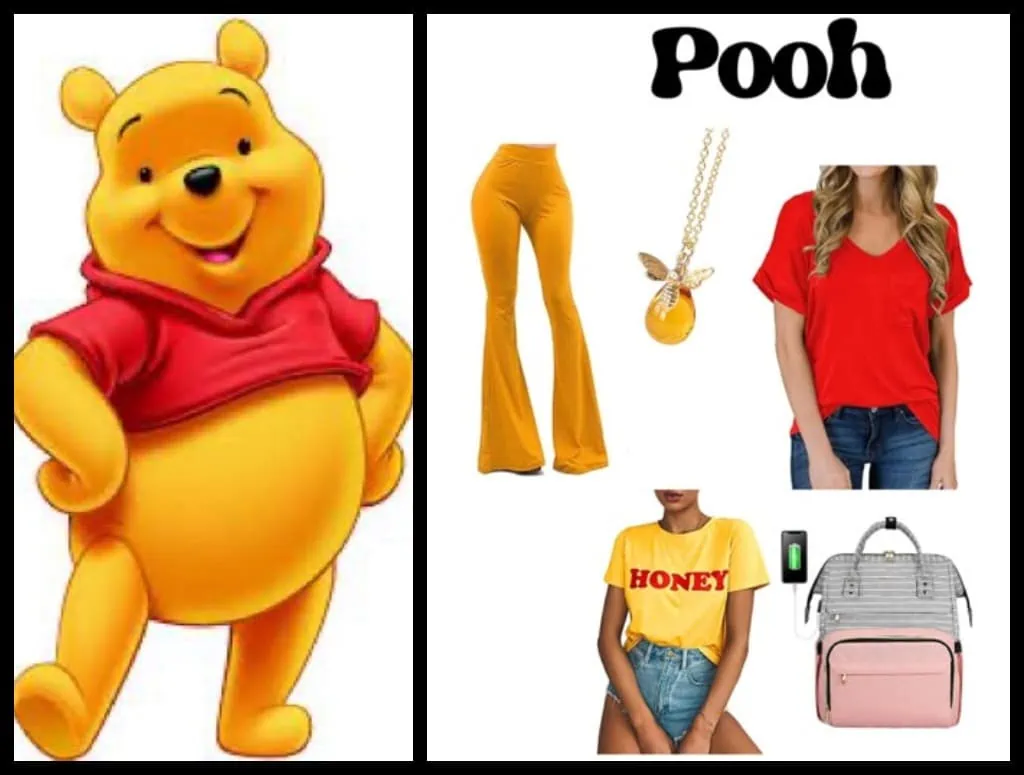 Winnie the Pooh: pants, necklace, red tshirt, honey tshirt, backpack.
Rapunzel DisneyBounding
While walking through Disney parks, I would say this is the Disney Bound outfit that I see and recognize the most. Rapunzel is from the movie Tangled. She was growing her long, magical hair for her whole life and it was so long that it would wrap around everything.
Her hair is definitely the thing that sticks out the most with Rapunzel. Also, her little chameleon friend Pasqual would be a great addition to your Disney Bound outfit. Some things that you can associate with Rapunzel are her hair, sun symbol, her chameleon friend Pasqual, her tower, and her purple outfit.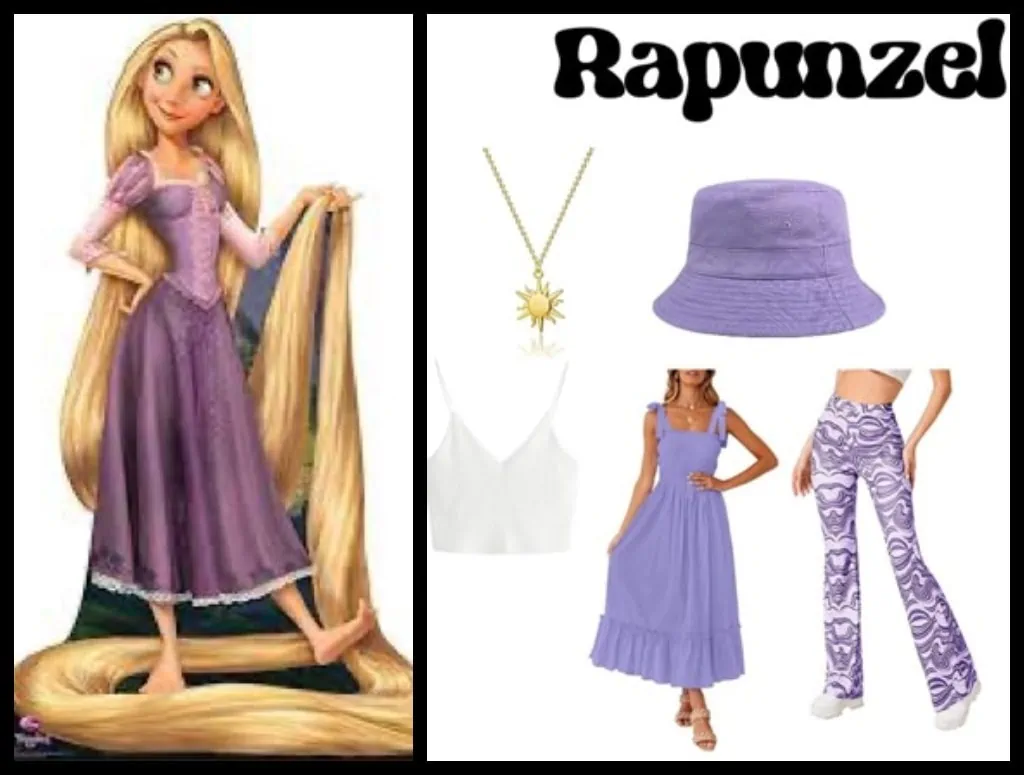 Rapunzel: necklace, hat, crop top, dress, pants.
Mickey Mouse DisneyBounding
Mickey Mouse is obviously a classic character in Disney history. Most people you see walking
through Disney World will have some sort of Mickey shirt, or something with his face on it. It is possible to Disney Bound as Mickey though without having to put his face on anything!
You can do this same outfit for Minnie Mouse as well, just add a bow or some polka dots to your outfit to change it to Minnie Mouse.
Mickey Mouse's main colors are black white and red. His ears are how people easily recognize his character and should somehow be put into your Disney Bound outfit.
This is how I would Disney Bound as our favorite Mouse, Mickey!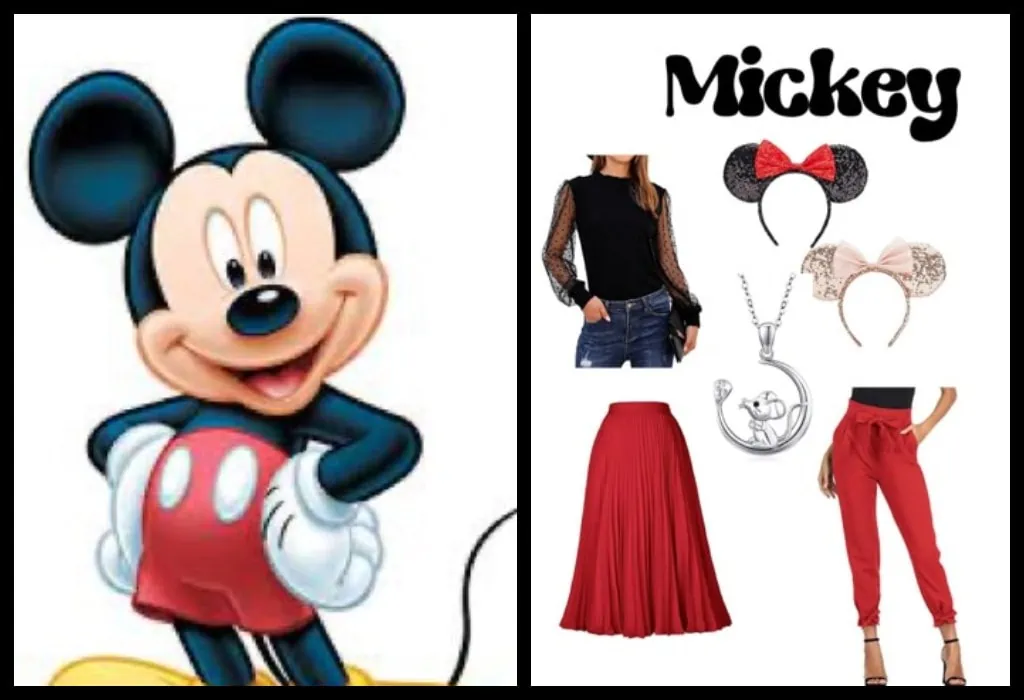 Mickey Mouse: top, ears, necklace, skirt, pants.
Minnie Mouse: Find the dress, shoes, and ears from the featured photo here.