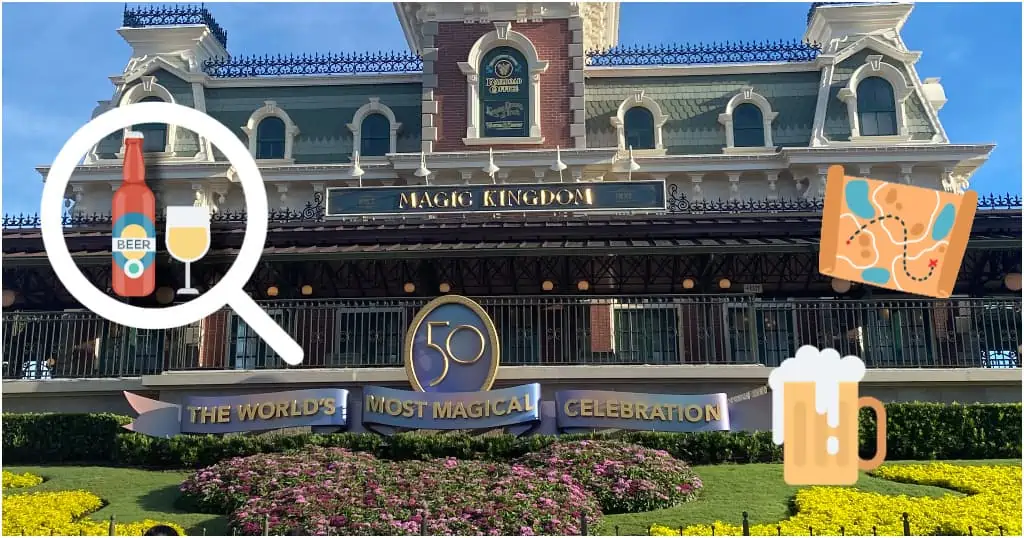 If this is your first time visiting Magic Kingdom Park, you may not know that you will have a harder time finding alcohol in this main park. Walt Disney World's Magic Kingdom is often thought of as an alcohol-free zone, and the question of whether it is a dry park or not is a common question.
Adult Beverages are restricted in Magic Kingdom and not as available, unlike other Disney World parks. While alcoholic drinks are available, when compared to EPCOT, Hollywood Studios, Animal Kingdom, and Disney Springs it is not so easily accessible.
Does Disney Sell Alcohol at Magic Kingdom?
The short answer is yes, Disney's Magic Kingdom sells alcohol though you can only find alcohol at Magic Kingdom's table service restaurants. Even then, those restaurants mostly only serve beer, wine, and hard cider.
Liquor is rare for purchase in Magic Kingdom, with one of the exceptions being within Club 33 (not accessible to 99.99999% of park guests).
Can You Walk Around with Alcohol at Magic Kingdom?
Since beer, wine, and hard cider are only available at table-service restaurants, you cannot walk around the Magic Kingdom theme park with alcohol.
If this is something you are interested in, I would suggest checking out one of the other Disney World Theme Parks that have a different alcohol policy, such as Disney's EPCOT or Disney's Hollywood Studios. EPCOT holds the Food & Wine Festival every year, and it is a great spot to walk around with alcohol in the parks.
When Did Magic Kingdom Start Selling Alcohol?
Once upon a time, the great Walt Disney declared Disneyland an alcohol-free zone, and with the exception of the exclusive Club 33, Disneyland Park in Anaheim remained dry from its opening in 1955 until recently, when more alcohol options were introduced in 2019.
When Magic Kingdom at Walt Disney World opened in 1971, Walt had sadly passed, but Roy Disney decided that Magic Kingdom would also be a dry park because that was what Walt wanted.
Over the years, other parks opened at Walt Disney World, all offering alcohol, but for a long time, Magic Kingdom remained an alcohol-free park. Alcohol brings a rowdy element to the parks that may not be the best family atmosphere.
The first 'castle park' to break from this tradition as an alcohol-free zone was Disneyland Paris. In the year following the opening, Disneyland Park Paris began to feature alcohol on the menus of their table service restaurants.
This decision was made as it was expected of the French experience, as enjoying wine or beer with a meal is part of a lot of European cultures.
While Disneyland Paris changed history, Magic Kingdom stayed dry for almost two decades following the introduction of alcohol at another 'castle park'.
With Walt Disney World's very own private membership Club 33, Magic Kingdom has technically always offered alcohol on the property. However, due to the club's exclusivity, alcohol was not readily accessible to the standard Magic Kingdom guest.
From opening in 1971 right up until the expansion of New Fantasyland in 2012, Magic Kingdom remained an almost alcohol free zone.
With the expansion of New Fantasyland came one of Magic Kingdom's most iconic restaurants, Be Our Guest, and when the restaurant opened its doors, alcohol was offered on the menu.
Be Our Guest was the very first location in Magic Kingdom to serve alcohol to Disney guests, and whilst it was met with mixed reviews and served only a limited selection of beer and wine, this introduction of alcohol paved the way for Magic Kingdom to expand its alcohol offerings.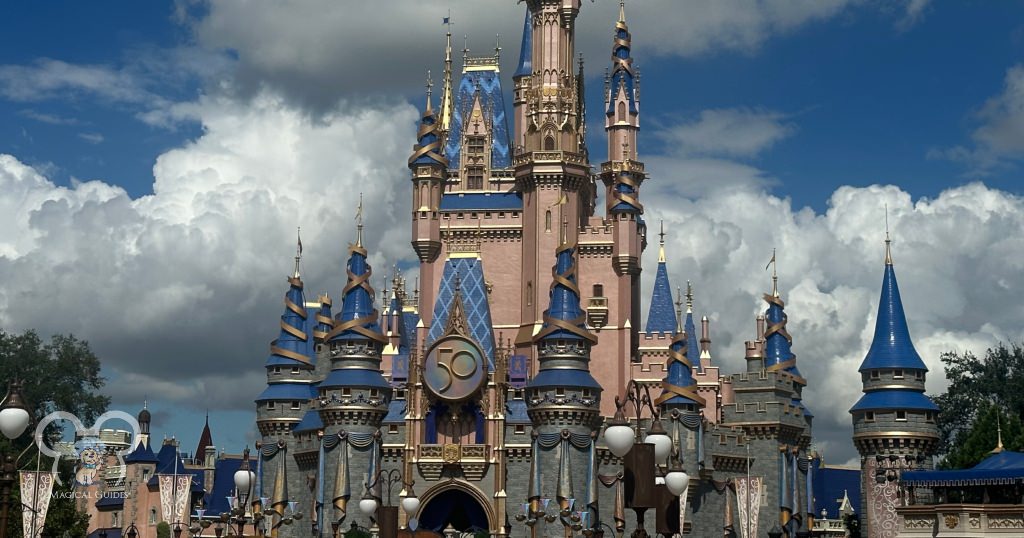 Where Can You Drink Alcohol at Disney?
Since 2012, Walt Disney World has expanded the offerings of alcohol available across Magic Kingdom with beer, wine, and cocktails easier to find. However, unlike the other Walt Disney Parks, alcohol is still restricted to a certain extent in the park and can only be found at table service restaurants.
With table service restaurants offering more of a fine dining experience, it was decided that alcohol should be available. Guests paying such a premium for the dining experience would expect a glass of wine or an alternative alcoholic beverage to enjoy alongside their meal.
Under these circumstances, it no longer made sense for Walt Disney World not to serve alcohol at these Magic Kingdom dining locations.
In contrast to EPCOT, Hollywood Studios, and Animal Kingdom, a sit-down restaurant is the only place where alcohol is available in Magic Kingdom, with kiosks and quick-service dining locations remaining dry.
Alcohol was introduced to table service restaurants only as it was felt that this would have no impact on the overall guest experience of the most magical place on Earth, and this has proved to be true.
The exception to this rule of table service restaurants only is the special ticketed dessert party events.
Where Can I Find Beer and Alcohol in Magic Kingdom?
As alcohol is only available at select locations and events in Magic Kingdom, you will most likely need to plan if you wish to enjoy alcohol during your visit and reserve the Magic Kingdom restaurants you want to dine in.
Table service restaurants often book up early, with reservations opening for guests 60 days in advance.
For guests staying at a Walt Disney World Resort, this timeframe is increased ever so slightly as you can make dining reservations for your entire stay 60 days before your check-in date.
While walk-ups sometimes are possible, if there is a particular restaurant you wish to experience, it is highly recommended that you book a table in advance.
When it comes to ticketed events, these are optional extras and again, planning is essential to secure your place at the event.
Be Our Guest Restaurant
Be Our Guest Restaurant was the first Magic Kingdom restaurant to serve alcohol and one of the most notable restaurants that serve alcohol.
Be Our Guest is one of the quick-service restaurants that require a reservation. The Fantasyland restaurant serves alcohol during lunch and dinner with a drinks menu offering champagne, wine, cold beer, and cider.
Reflecting Be Our Guest Restaurant's French theme, most of the beer and wine is French or Belgian, while the private label Champagne list can be purchased by the glass or the bottle with a select few of the most premium options available bottle only.
Cinderella's Royal Table
Traditionally a character dining restaurant, the signature dining experience at Cinderella's Royal Table serves alcohol at all meal times, including breakfast. During breakfast, the menu includes a selection of wine cocktails often associated with the first meal of the day, including mimosas, bellinis, and The Royal Breakfast Flight, which is a sample of all the specialty cocktails available.
For lunch and dinner, the alcohol options change to a collection of champagne, sparkling wine, and wine with a very limited beer selection.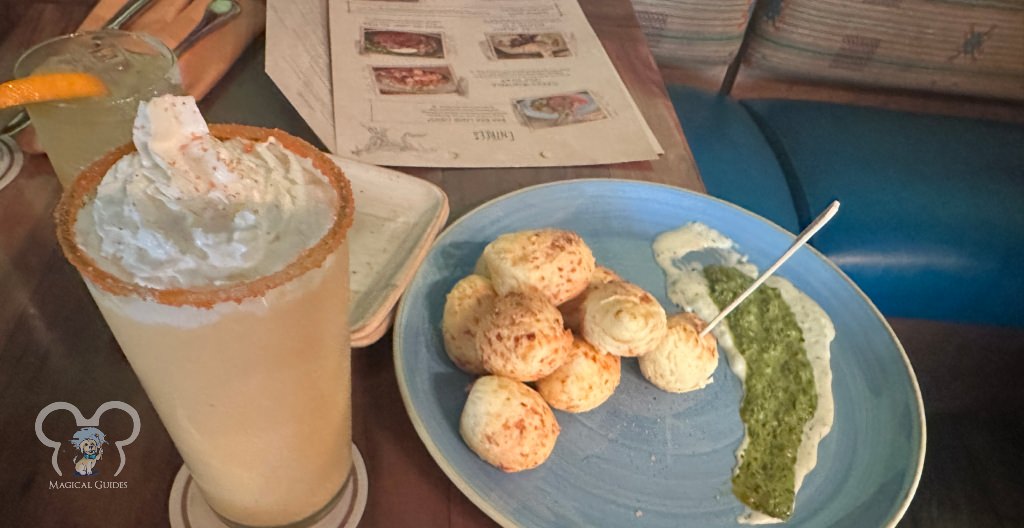 Jungle Navigation Co. LTD Skipper Canteen
Adventureland's tropical outpost Skipper Canteen is a casual dining table service restaurant serving lunch and dinner. Alongside the delicious offerings of exotic cuisine, Skipper Canteen's menu includes wine, beer, and two specialty cocktails.
For the cocktails, you can choose from Skipper Sangria, a traditional sangria, and Veranda Shandy, a unique concoction of the zesty Blue Moon ale with chipotle and pineapple juice. They also offer a Golden Haze Margarita.
To let you in on a secret, Skipper Canteen also has an exciting range of cocktails you won't find on the traditional menu including Cerulean Blue Sangria, Passion Fruit Sangria, and Frosty Pineapple.
You won't find the secret menu items listed, and they can change frequently, so research before you visit and ask your skipper if you'd like to order one.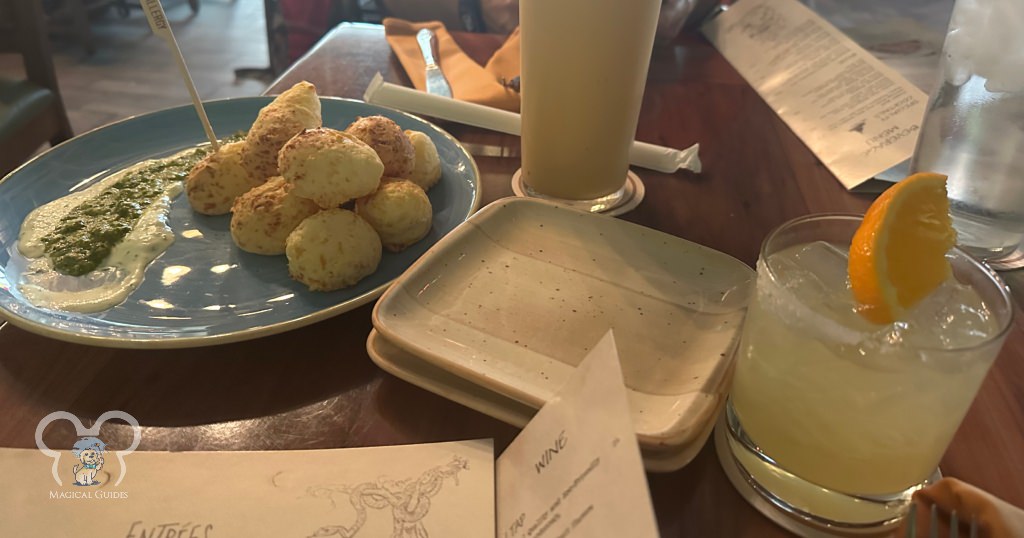 Tony's Town Square Restaurant
Upon entering Magic Kingdom, the first table service restaurant you will find is Main Street USA's Lady and the Tramp-themed Tony's Town Square Restaurant.
With a delicious Italian menu, the alcohol options are also distinctly Italian. For lunch and dinner, Tony's Town Square Restaurant serves a vino collection from various wine-making regions of Italy, while the beer list is limited to just two options, Stella Artois and the Italian Peroni.
In addition, the sparkling Italian cocktail Bellini also features on the menu.
The Plaza Restaurant
Nestled between Main Street USA and Tomorrowland, The Plaza Restaurant is a charming casual dining table service restaurant. The restaurant features an American-themed menu and a tiny selection of alcoholic beverages.
The wine list features six options with a balance between red and white, while four beers are also available.
Liberty Tree Tavern
At home in Liberty Square, Liberty Tree Tavern is a colonial American themed all-you-can-eat buffet. The colonial American themed restaurant offers a menu celebrating the taste and flavor of the USA, including a drinks list of American wine, beer, and cider.
A popular drink to try here is the Gold Rush which is bourbon, lemon juice, honey and crystalized ginger. Another new drink is the Magical Beacon Cocktail with Gin, Blue Curacao, Lemonade, Hibiscus Grenadine, and lemon.
The Crystal Palace
The charming Victorian-inspired restaurant of The Crystal Palace, located on Main Street USA, is a highly rated character dining restaurant and the perfect place to eat with exceptional views of Cinderella Castle.
The American buffet serves a variety of mouthwatering dishes alongside a refined alcohol drinks list of craft beers, cider, and wine. The menu also offers a duo of specialty cocktails with both mimosas and sangria on the menu.
The Diamond Horseshoe
Frontierland's The Diamond Horseshoe is the land's incredible all-you-care-to-enjoy table service restaurant set in a beautiful Old West music hall. Standard beverages are included in the buffet price, but alcohol is available for an upcharge.
The menu features a range of Californian wines, a selection of US-brewed beer, and a few specialty cocktails. You will find sangria, mimosas, and the Spirit Of '76 Cider Shandy on the cocktail menu, a lager and cider creation.
Dessert Parties
Dessert parties have long been optional at Magic Kingdom, a special ticketed event held on the Tomorrowland Terrace. The event includes a fireworks pre-party where guests can enjoy a variety of exquisite desserts and drinks, including an assortment of wine and beer.
The event concludes with the dazzling and magical fireworks spectacular enjoyed from a prime position without ever having to leave the terrace.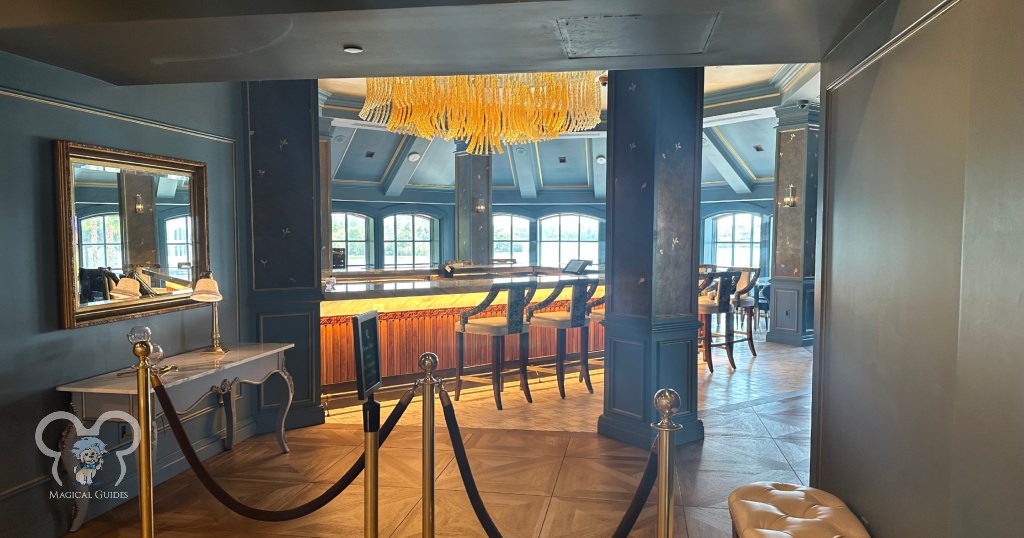 Where Can I Find Alcohol Near Magic Kingdom?
The Monorail has three resorts that all have alcohol available and are a short monorail ride from Magic Kingdom. Disney's Contemporary Resort, Disney's Polynesian, and Disney's Grand Floridian Resort.
The Contemporary is home to Steakhouse 71 and California Grill Lounge which both offer bars you can order drinks from. The Grand Floridian has the Enchanted Rose Bar.
My favorite bar along the monorail is at Disney's Polynesian Village Resort. Trader Sam's Grog Grotto is a fun atmosphere that is kid friendly despite being a bar.
So there you have it, the park seamlessly introduced alcohol to the family-friendly environment of the most magical place on Earth, and alcohol can be found at Magic Kingdom.
Adult drinks can definitely be enjoyed for lunch and dinner at Magic Kingdom. You have to know where to find it.