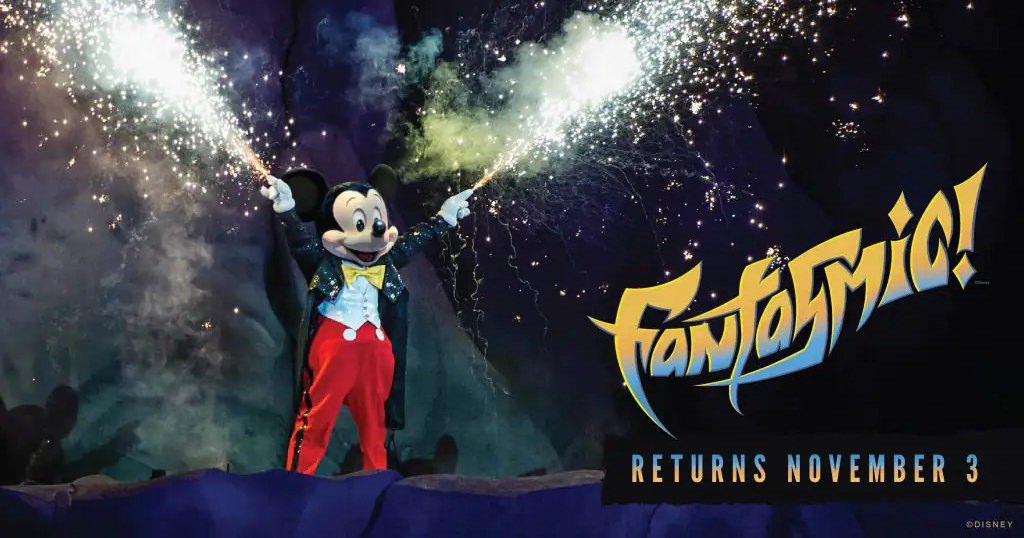 Fantasmic, Disney's Hollywood Studios Nighttime Spectacular, has finally re-opened after a long hiatus following its closure during the pandemic. Fantasmic is a unique show that combines live action, water and projection special effects, and pyrotechnics with your favorite Disney characters and music that combine into a cacophony of magical fun. You will enter the dreams of Mickey Mouse as he and other heroes fight off Disney's best villains. The return of Fantasmic has also led to the return of nighttime crowds in Hollywood Studios, causing larger waits – and the possibility of you missing the show entirely!
That's where the Fantasmic Dining Package can save the day. You simply make an advance reservation at any one of 5 Hollywood Studios select restaurants, then get special VIP seats directly in the middle of the Hollywood Hills amphitheater for prime viewing area of the show. Here are some additional details to help you determine if the Fantasmic Dining Package is a good choice for you:
How do Fantasmic Dining Packages Work?
To start, you will need to make a choice for where you want to eat your meal in the park prior to the show. Details on each of the options are available in the next section. All you need to do is pick your favorite dining location, make a reservation for lunch or dinner (or breakfast at Hollywood and Vine!), and enjoy your meal! Be sure to make the selection specifically through the Dining Package option in the My Disney Experience App or online – otherwise, you'll be making a regular dining reservation and won't get the reserved area Fantasmic access.
At the dining location, you will be given a voucher that will guarantee your access to the VIP section of Fantasmic viewing. Once you're ready for the show, you simply head to the entrance at the end of Sunset Boulevard between the Tower of Terror and Beauty and the Beast Stage Show and present the voucher to the cast member on the left side of the entryway. You'll be allowed straight into the show and guaranteed seating in the middle of the amphitheater! Though you are allowed to enter any time within 90 minutes prior to the show, it is best to wait until about 25 minutes before the show in order to maximize your time in the rest of the park since you are guaranteed a seat. Disney notes that you "must" arrive 25 minutes before, but this is mostly to ensure guests aren't all showing up just before the show. All the seats are first come first served, but all in the center section. As long as you don't push your luck arriving only 5 to 10 minutes before the show, you'll be good to go!
What Restaurants Participate in the Dining Packages?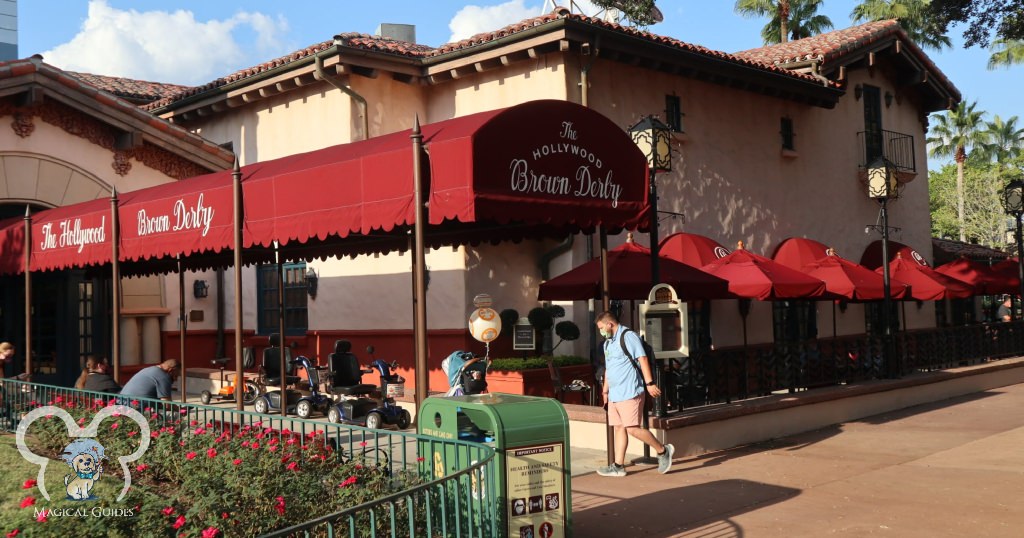 There are 5 total restaurants that participate. Each dining package includes an entrée and choice between appetizer OR dessert. Note that drinks are not included, not even non-alcoholic beverages. If you have any questions about what foods qualify, you can simply ask the cast member at your dining location, and they will be happy to clarify any questions you have. Here is a short summary of each restaurant option. Be sure to check the menus for additional details!
50's Prime Time Cafe ($51 adults, $22 for kids 9 and under): This is my personal favorite pick for a unique dining experience in Hollywood Studios. The whole restaurant is themed as if you're visiting your family for a home-cooked meal. You'll be greeted as a "Cousin" before being seated within view of small 50's TV's by Cast Members who treat you "like family." They are allowed to be sassy and poke fun at you, such as expressing loads of sarcastic joy if you fully clean your plate (there is even a special sticker for it!).
Hollywood and Vine ($71 adults, $47 for kids 9 and under lunch & dinner, $54/$36 breakfast): This is Hollywood Studios' only character dining experience and gives you the chance to meet your favorite Disney Junior characters at a full buffet. If characters are a priority for your family, it can be a great option. However, if you have the time during the rest of your trip, we recommend other character dining experiences such as Cinderella's Royal Table in Magic Kingdom, Tusker House in Animal Kingdom, and Garden Grill at Epcot.
Mama Melrose's Ristorante Italiano ($54 adults, $22 for kids 9 and under): This Italian-American restaurant located in Muppet's Courtyard offers pasta and other Italian dishes. The restaurant is fun but doesn't have any of the unique qualities that some of the other Hollywood Studios dining options do.
Sci-Fi Dine-In Theater Restaurant ($49 adults, $22 for kids 9 and under): After entering the restaurant, you'll step into a nighttime-façade of a drive-in movie which features old sci-fi clips to keep you entertained. The table you will be seated at is a car! The whole experience is unique and super cool, especially for younger visitors who have never seen a drive-in and for older guests who will appreciate the throwback. The food here is a bit less expensive than some of the other restaurants, so keep the prices in mind (versus your dining package total!) when you order.
The Hollywood Brown Derby ($73 adults, $29 for kids 9 and under): Often considered Hollywood Studios' best restaurant, the Brown Derby is themed after a classic restaurant of the same name in California. It's famous for its Cobb Salad, but also has great steak and other options. It's location at the center of the park on the way towards Sunset Boulevard and Fantasmic also make it convenient.
Fantasmic Dining Packages Chart
| | | |
| --- | --- | --- |
| | Adults (ages 10 & up) | Kids (Ages 9 & Under) |
| 50's Prime Time Cafe | $51.00 | $22.00 |
| Hollywood & Vine | Breakfast: $54.00 Lunch & Dinner: $71.00 | Breakfast: $36.00 Lunch & Dinner: $47.00 |
| Mama Melrose's Ristorante Italiano | $54.00 | $22.00 |
| Sci-Fi Dine-In Theater Restaurant | $49.00 | $22.00 |
| The Hollywood Brown Derby | $73.00 | $29.00 |
Is the Dining Package a Good Option for Me?
If you were planning on eating a full-service meal in the park and seeing Fantasmic at night, then you should definitely go ahead and use the dining package. Depending on what you order at the restaurant, the price of the package will only be a little bit higher (around $15 per person) than the value of your food. Typically, Fantasmic shows will fill up completely around 20 minutes before the show – earlier during particularly busy times of the year. Even if you show up 30 minutes prior to the show, most times you'll be seated at one of the edges of the theater, and your view of the show won't be as good as it could be. To get a prime viewing spot without the dining package, you would need to be waiting for the show closer to an hour. Therefore, in most cases, it's worth it to spend a bit of extra money on the package to guarantee a good seat and allow you at least an extra half-hour in the park to experience all of the attractions and avoid the long lines.
However, if you were NOT planning on experiencing a full-service meal in the park during the day, the dining package may not be for you. If you're vacationing on a budget, the $50+ for each adult in your group can quickly add up. Even if you are wanting a sit-down experience, you could still eat at Sci Fi Dine In, for example, and get a good-sized burger and fries for closer to $25.
Also, if you're planning on staying at the park most of the day, you may not need the extra time in the park to ride everything. If you arrive at Hollywood Studios at park opening, you should easily be able to ride everything you want before Fantasmic, though you might spend a lot of time waiting in lines.
Finally, Fantasmic sometimes has 2 shows per night. The second show is always less crowded and won't require much waiting to get in. Getting to the second show slightly early will still get you a great seat, and there won't be a need to get the dining package. Make sure to check the show times the days you will be visiting to ensure your plans can align optimally to see the show!
FAQ's about Fantasmic
What time does Fantasmic start at Disney World?
Fantasmic can run multiple times per evening during peak park attendance. Usually the first show time is earlier in the around 7:00-8:00pm for the first showing and the final show time will take place around 9:30pm. It can also run as early as 6:30pm, with a second showing happening at 8:00pm. So the best bet to find out when Fantasmic is running at Disney's Hollywood Studios is to check the MyDisney App, or check out the official Disney site, here.
Just note that to get the best viewing location you might experience long waits, as they start to allow folks in up to 90 minutes prior to show time on a first-served basis. So if you want to get the best seats and not purchase one of the dinner packages, grab something from the quick services that you pass on the way.
What if the Fantasmic Show gets cancelled?
Unfortunately, if the show is cancelled for any reason (inclement weather, technical difficulties, etc.), then you will NOT be able to refund your dining package. If you eat at the restaurant, you will unfortunately still pay the full dining package price and end up paying extra for nothing. You are able to cancel your Dining Package just like any other dining reservation as long as you do it prior to the day of your visit. Therefore, if the weather looks really bad the day before your visit, be sure to cancel the reservation. Disney shuts down operations outside when there is any lightning within about a 10 miles radius of the property.
How is the Fantasmic Dining Package Seating Better?
The amphitheater is set up much like any concert or stage show you may have seen, with bleachers set up in a semi-circle around the stage. The section directly in the middle of the theater is a reserved seating area only for those with the Dining Package. These seats fill up on a first come first served basis, so those arriving earlier will be able to select their row closer to or further away from the stage. Closer to the stage means you can see the characters better, but seats further away from the stage offer better views of the action and pyrotechnics.
How big is the Fantasmic Theater?
It can seat around 10,000 people. Though it is a huge seating area, the show's popularity makes it difficult to get a seat during busy times of the year. If there are two shows on the day you visit, be sure to go to the second to get a better seat and limit your time waiting.
Is Fantasmic worth seeing?
YES! Recent changes to the show have added characters like Elsa and Moana to join in with our star Mickey Mouse. Though these changes (in my opinion as a Fantasmic ultra-fan having seen the show around 100 times) have muddled the plot of the show a bit, the experience is still unmatched. The combination of live action, characters, and incredible music all come together in an epic finale with Sorcerer Mickey that is sure to be a lasting memory of your Disney World vacation.
I feel that Fantasmic is a spectacular show that is one of the best end of the night shows in all of the Disney Parks. So I would highly recommend not waiting to the last minute