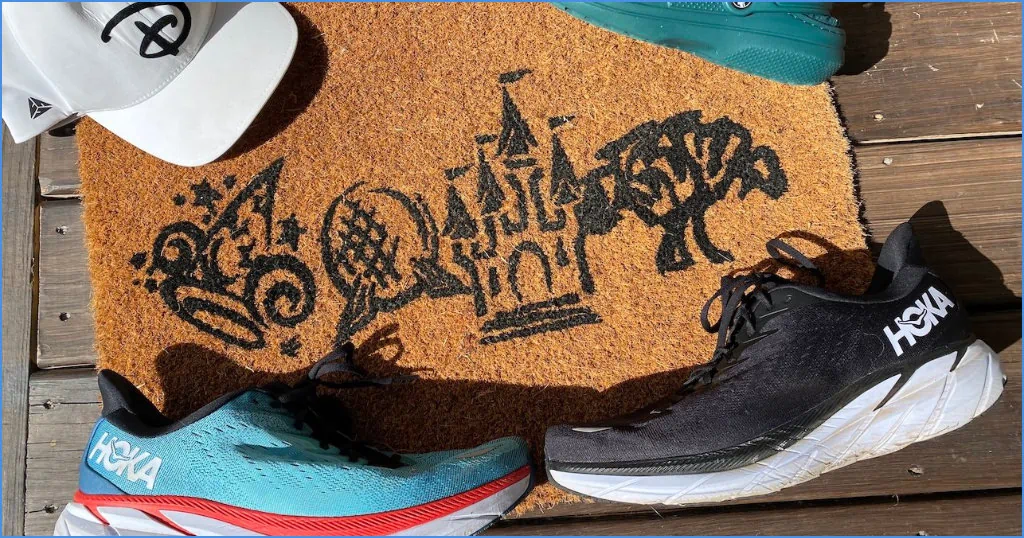 There's a lot of hard concrete in Disney World, and if you're the average person, you will walk 7-10 miles in a single day. That's almost 24-40 miles over the course of a 5-day trip (we assume one day is going to be a pool day). It is important that you take care of your feet and invest in a pair of shoes that will protect your feet from all the walking you're about to do.
When it comes to shoes there are literally thousands of opinions, and countless options you can choose from. We have over 100k+ folks in our Facebook Group, and we polled them around what shoes should look into recommending to you all. From there we have done our own research on what is important in a shoe that can handle all the walking you will do while at Walt Disney World. After taking that list, we narrowed it down and asked the opinion of a podiatrist for feedback on what we should look for in the perfect shoe. This is what we were told to look for:
Look for a shoe that doesn't bend easily. You can test this by attempting to push on each end of the shoe to see how sturdy it is.
Never buy a shoe thinking you have to "break them in", when they are tight.
Always take the shoe for a walk around the store, noting any pain points if any.
If you're out shopping, try shoes on at the end of the day, as that is when feet swell.
Make sure you bring the socks and inserts you want to use with any shoes you're considering purchasing.
Buy a running shoe over walking, as running shoes have thicker soles, so you get more bang for your buck with a running shoe.
With all that said, we have found our recommended shoes for Disney World to be a hit with many members of our family, and forum community. This shoe is nimble, cushioned, and sturdy enough for walking.
We recommend the Hoka's Clifton 8 series as the best shoe to wear when you're going to Disney World.
Hoka is known for their cushion, and their entire brand is based on cushioned shoe models. When you slip the Clifton's on, the first thing you will notice is that it's lightweight, and it has a gentle rocker that will help you stand up straighter, making it easier to take the next step. Each step provides the foot luxury cushion. Don't confuse the mention of cushions as pillows or think you won't have grip or control when walking because gripping power is one thing that makes the Clifton 8s excel. Click the men's and women's links to shop the Clifton 8 series shoe.
It comes in wide sizes and conservative colors. If you want to make a statement with your shoes, the Cliftons have some brighter colors as well. The durability of this shoe has been amazing.
Why am I so passionate about the Hoka brand? Let me tell you about my encounter with them. I have been wearing Hoka's to Disney since 2017 after suffering from plantar fasciitis. It didn't help that my best friend enjoyed walking 12-15 miles a day, and that was taking it easy for them. So, I would be miserable at night, but luckily, after I started to wear Hoka's quite regularly, my feet improved, and now, I won't wear anything else to the parks.
Honorable mentionable shoes that we rotate through and meet all of the same requirements the Hokas do:
Brooks Ghost 14 (Amazon men & women) – (Brooks) – (Road Runner Sports)
Nike Pegasus 38 (Amazon men & women) – (Nike) – (Road Runner Sports)
Remember to rotate your shoes (don't wear the same pair of shoes every day), so you give the shoe time to dry out (in case you run into any moisture) and so the foam has time to decompress. Simply put, rotating shoes helps them last longer, not only saving you money but helping the shoes to perform better for your feet longer.
How to save money buying the Best Shoes for Disney World?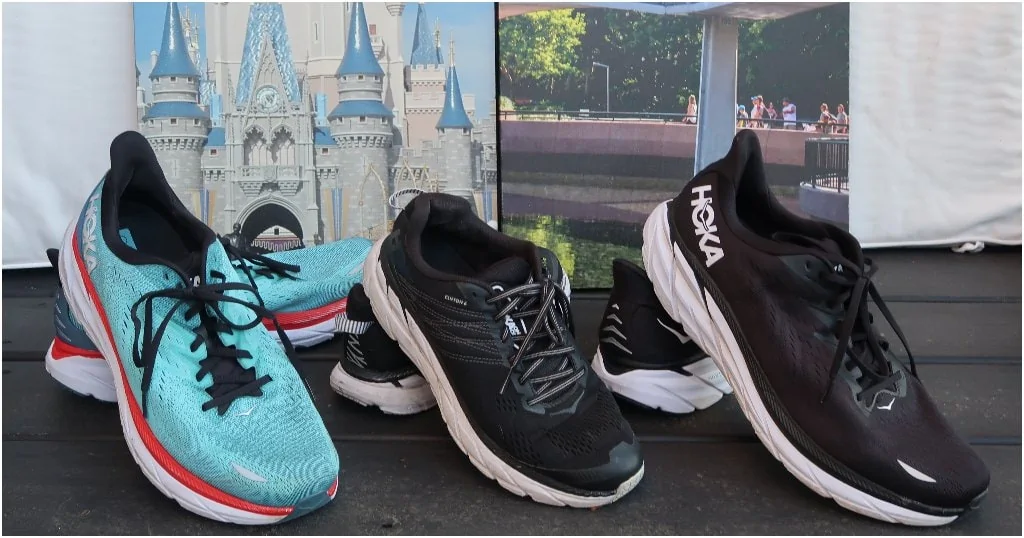 It's important to invest in footwear so you can enjoy every moment of your Disney day. However, that doesn't mean getting the best has to cost a small fortune. Save that money for Disney World! Little compares to the feeling of saving money on top-rated products and here are a few ways I save when buying Hokas.
Waiting for a sale isn't good enough in my opinion as they never happen when I need a new pair. So, I've come up with creative ways that I hope will help you save money when you're looking for your next pair of shoes.
eBay – This will be hit or miss and changes often. Sometimes, you can find brand new or returned store demo models on eBay for less than $100. Just a few weeks ago, I was able to score my brother-in-law a pair of Clifton 8s in black for $45 delivered that were simply the store try-on model. Given he wears a size 11 wide, finding those discounted was an awesome deal I couldn't pass up. Some of you might be grossed out that they were the "model" shoe, but these things were in pristine condition. There are no rules. We are trying to save money here for more time in the parks, remember?
New models – Fashion is never too far from the next update, whether it be a simple color update or some gotta have technology. Where there is this excitement, there is savings! When the new series comes out, I look at my usual suspects and start monitoring the prices. Usually you'll be able to find deals in the neighborhood of $50-60 off the original price, which, in my opinion, is a great time to add a new pair for rotating your shoes. New shoes usually come out during the Summer (think back to school time).
Rakuten – Signing up for Rakuten has been interesting for me. As a family, we love to earn points when we make purchases, so we use the extension from Southwest and Rakuten to see which one is going to give us the best deal (cash back or points) when we are going to buy things. When those new models come out, we see which stores are having bonus cash back. We pair that with a points card such as the Southwest Credit Card, so we multiply our savings. Using Rakuten usually yields me $5 cash back when I buy things through retailers and sometimes eBay! Before you click "checkout", be sure you have this extension installed. If you click our referral link, we both get a little bonus, so that's another perk of being a loyal reader here at Magical Guides!
What Shoes Should You Not Wear at Disney World?
You want shoes that are supportive for your feet. So, to all the ladies out there, this is a great opportunity to remind your spouse why you needed that extra luggage for the trip—the right shoes for the right situation. I'm not saying you shouldn't wear heels while at Disney World, but know the situation. Don't wear heels when you plan to do a park day, but wear them if you're going directly to the hotel and back for a date night at Disney World.
If the shoe doesn't feel absolutely comfortable as soon as you put it on, take it as a sign those are not the type of shoes you should wear at Disney World. You're on vacation, where it's more important to be comfortable and supported instead of focusing solely on appearance for Instagram.
Avoid these types of shoes when going to the parks at Disney World:
Heels
Platform shoes (they will not help your kids get on rides)
Shoes with high wedges (includes cowboy boots)
Worn out shoes (Check if the bottoms are smooth. If so, time to get new ones!)
How Do I Stop My Feet From Hurting at Disney World?
When preparing to pack for your Disney World vacation, it's important to know yourself and family. Are they folks that go from park open to fireworks close, or do you go for a few hours each day? If you're a family that hits each park starting at rope drop and stays all day, let's plan accordingly, shall we? Here is a list of things we pack each time we go to Disney, or we have them on our list for grocery delivery.
Socks
We recommend you bring 1.5x the number of socks for as many nights you will be staying on vacation. For example, if your hotel stay includes 5 days/4 nights, you will want to pack 6 pairs of socks. If your socks get wet, for whatever reason (sweat, walking through water, etc.), change them as soon as you can. When you change your socks, this helps prevent spots in the shoes and socks from creating friction and heat, thus no blisters. I always carry a pair with me in the parks just in case, they are small and can fit in a pocket or bag.
Blister Bandaids
I would recommend sticking with the name brand version of these, Band-Aid Brand Hydro Seal Adhesive Bandages for Blisters, Waterproof. Get the toe blister band-aids for the smaller blisters and the heel blister band-aids for the larger side of the feet blisters. Besides being a bandage for blisters specifically, they seal the blisters in a cushioned area along with being waterproof. This will serve you well when you decide to have a pool day at a resort pool or the water parks like Typhoon Lagoon and Blizzard Beach.

Read Also: Easy Ways To Prevent And Treat The Disney Rash
How Do People Survive With Plantar Fasciitis at Disney World?
My husband had plantar fasciitis during our early years of going to Disney World, and I can tell you it wasn't fun for him. He created some rituals that helped quite a bit, and I'll share them with you as well. He is a big believer that, while it is a mental game, these remedies helped him greatly:
Don't wear worn out shoes!
Rotate your walking shoes (bring two pairs of supportive sneakers)
Wear quality socks, and change them when they get wet!
Apply ice (in the form of a frozen water bottle or cubes)

Never apply frozen items directly to the skin. Use a towel for 15 minute increments.
Using a frozen water bottle can allow you to place it on the floor and massage your foot at the same time—this one helped me at night.

Massage the foot by stretching the arches, especially after having ice on them.
Take over the counter pain relievers such as Tylenol or Aleve (just follow the directions).
Sleep on your back (if you're able) with your feet elevated.
Forgive yourself. Plantar fasciitis is a serious, painful condition, and you shouldn't over do it at Disney World. Use Disney Transportation when possible, and relax those feet.
While suffering from plantar fasciitis, my husband found the Hoka One One Bondi series of shoes to offer maximum support and cushion. He found that his feet still had discomfort, but the pain of walking was greatly reduced. It has a thicker sole over the Hoka Clifton recommendation. They come in wide sizes as well, but be warned that the colors are limited. Hoka Bondis are priced about $20-30 higher than the Cliftons, but as anyone in pain can tell you, when something helps alleviate pain, it's money well spent.
Are Crocs Good for Disney World?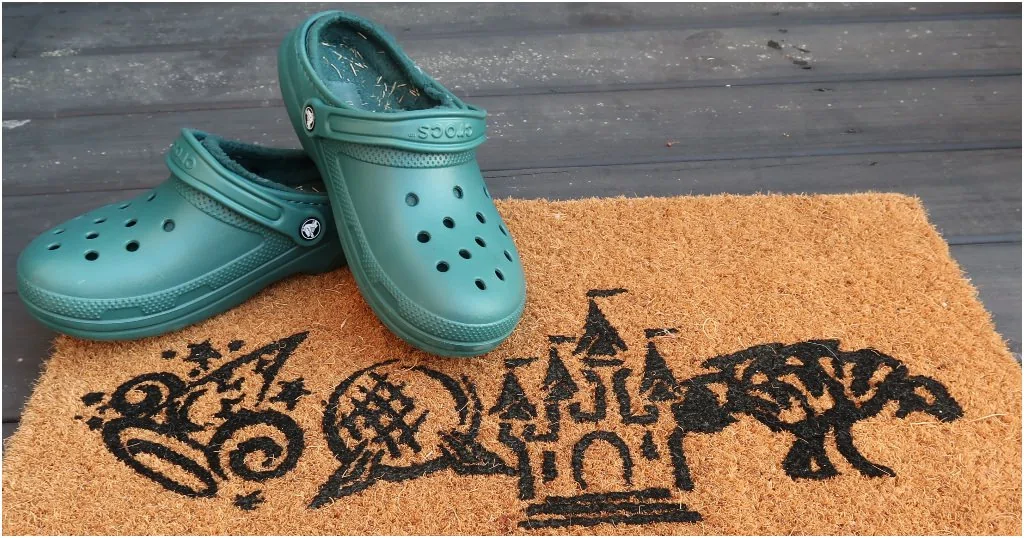 Okay, a number of you have been asking about Crocs in the Facebook Group. Disney even sells Crocs in some of the gift shops like in the World of Disney at Disney Springs. Do we recommend Crocs over the Hoka Clifton 8? No. However, we understand that not everyone is going to want to shell out $130+ for a new shoe.
Crocs are a comfortable alternative to the other shoes such as Native. They are usually a tad bit wider than their competitors, which is great to prevent blisters. However, there are some drawbacks to keep in mind:
They usually look a bit more feminine (who cares, you're on vacation!)
Your feet will sweat some.
You can avoid a few of these issues by combating them with the following:
Wear socks (Highly controversial, I know. I wouldn't do this, looking at you, Disney Dads.)
Spray spray deodorant on your feet.
Apply foot powder to the feet.
I have never had my feet smell when I wear Crocs, but the idea of sweating on the hottest day during the Summer at Disney World just doesn't sound like a good time to me. On the other hand, if I was going to the water parks or resort pools, these would be my go-to if I forgot my flip flops.
There is a lot you have to do to get ready for your next Walt Disney World Vacation, and your feet can be easily overlooked. Set yourself up for success, and feel less tired from your vacation by taking care of your feet. Get yourself a pair of Hokas, enough good socks for your trip, and I can assure you, your feet will thank you by the end of the trip.

Do you have a pair of shoes you recommend when you're headed to the parks? How do you like to save money on new shoes? Leave a comment down below, letting us know what you like to wear!