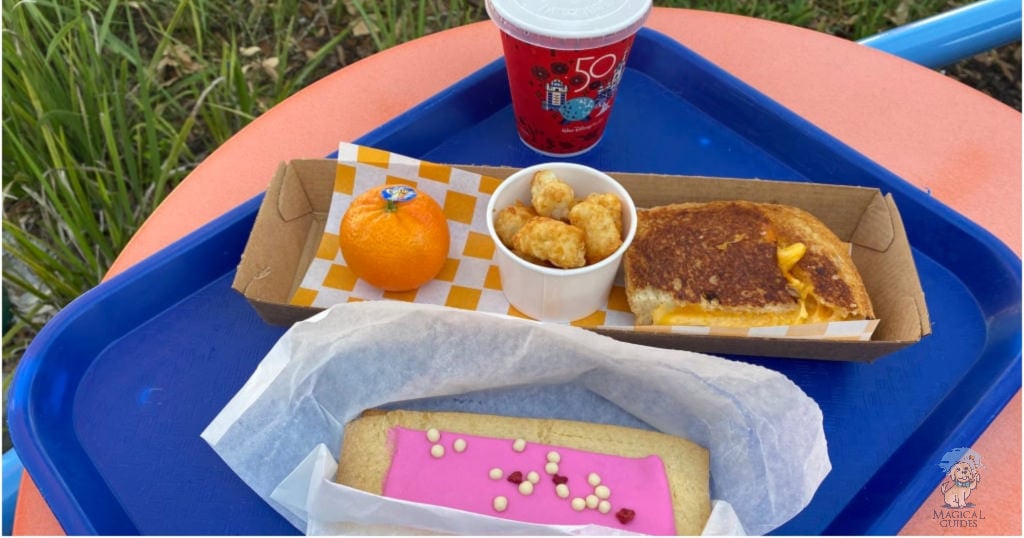 Friends and family know that when I travel I like to try the unknown, things I can't get everyday, now pair that with my love with talking with locals to get their insight and knowledge, and that has led me to some delicious meals.
This happened recently when I suggested to my cousin that we should rope drop Hollywood Studios, ride at least 3 attractions, and then get breakfast. I will admit, this was a bit ambitious as the energy this can require.
We were struggling after riding Rise of the Resistance, Smuggler's Run and Rock'n'Roller Coaster, and not sure what to get for breakfast. I could tell hanger was starting to settle in, so we had to act fast. We began our search for the best places to eat in Hollywood Studios.
As luck would have it, as we walked down Sunset Blvd, that's when I saw a Guest Relations stand and thought to get their opinions. The delightful cast member could see us dragging, and asked us a few important questions for our breakfast quest.
Sweet or Savory?
How far were we willing to walk?
So with those questions brewing in our mind, we set out on our journey, and here are our recommendations for you when you set out to find the best places to eat breakfast in Hollywood Studios.
Hollywood Studios is no longer a half day park, it has something for everyone, and is by far the most action packed park at the Walt Disney World Resort. So it makes sense that you want to start your day here early at Hollywood Studios, so you can avoid long lines, but did you forget about one of the longest lines there can be at Disney World? The breakfast line!
Everyone knows that if you're going to walk around the Disney parks all day, you're going to need some delicious energy and sustenance. How else will you make it from one side of the park to the other when you've just ridden Rise of the Resistance but your Lightning Lane for Tower of Terror is in less than 10 minutes?!
Read Also: Star Wars: Rise of the Resistance Guide
What are the best table service Hollywood Studios breakfast options?
Here's the excellent news: Hollywood Studios has numerous breakfast options! This includes sit-down breakfast AND several quick service locations. Get ready to take some notes, because we're breaking it all down:
For a table service breakfast option in Hollywood Studios, you'll want to check out Hollywood & Vine. Most of the breakfast options at Hollywood Studios are quick-service, but that doesn't mean that they aren't delicious! Oftentimes, guests prefer quick-service to table service dining when they're in the parks, because they don't have to take up as much time on their meal, and they can get to the rides and shows quicker.
Of course, if all you need is coffee and a quick pastry, there is a Starbucks at the front of the park at "The Trolley Car Café" and there are also Joffrey's Coffee stations throughout the park.

Are there any breakfast buffets in Hollywood Studios?
Everyone has a different breakfast priority when starting their morning at Hollywood Studios. Some of them make a bee-line for their favorite ride / the ones with the longest lines. Other guests go straight to find breakfast and coffee. And then there are the serious breakfast-lovers. These are the people who planned and made breakfast reservations at the only restaurant in the park that offers breakfast reservations before the park even opens. Yes, you read that right. It's a little known fact, but you can in fact reserve breakfast at certain restaurants in the parks before rope drop. If you can get up and out the door early enough to make one of these reservations, then this is a pretty special opportunity to take advantage of.
Read Also: Guide To Rope Drop Hollywood Studios in Disney World
So, where can you do this in Hollywood Studios, you ask? Hollywood + Vine, which opens at 8:00am, is a delightful character breakfast buffet (and the only pre-rope drop option), for you to take your Disney Junior-loving kiddos! Your kids can meet the popular characters, such as Doc McStuffins, Goofy, Fancy Nancy, and Princess Sofia the First, while the adults go back for seconds at the buffet, or you can all eat quickly and go get in line for your first ride! The choice is yours, and it's good to know that this is an option for your schedule. (Also! The Disney Junior stars are only at Hollywood & Vine for breakfast! So if you reserve a different meal thinking you'll have the same characters, you will probably be disappointed.)
In order to reserve a breakfast at Hollywood + Vine, make your reservation as early as possible.
If you're not one of those people who wakes up and is immediately hungry for breakfast, you might get hungry a little bit later in the morning, like 10:00am. In that case, your breakfast options are still plentiful. Hollywood Studios has a variety of quick service breakfast options including Star Wars-themed and Old-Hollywood themed- breakfast! You'll have your pick from sweet pastries, savory options, and delicious coffee.
What are the quick service breakfast options at Hollywood Studios?
There are so many delicious quick service options in Hollywood Studios for breakfast! Let's break them down:
Our favorite is quick service breakfast option is Woody's Lunch Box in Toy Story Land located in the back of Hollywood Studios.
Woody's Lunch Box
Woody's Lunch Box has probably one of the most delicious quick-service menus in all of Hollywood Studios, so in addition to an adorable theme, you'll see why guests are running to get in line here. Best part of getting there early, is there's usually not a line for breakfast. You can use mobile ordering here, as the day progresses I would recommend it so you can scope out a table. The tables can get scarce as more folks come for those tater togs, and delicious raspberry tarts. If you can't tell this is one my favorite quick service restaurants.
Starting off with an Alien-themed "souvenir sipper" option for your beverage, guests can pick up one of these for $14.99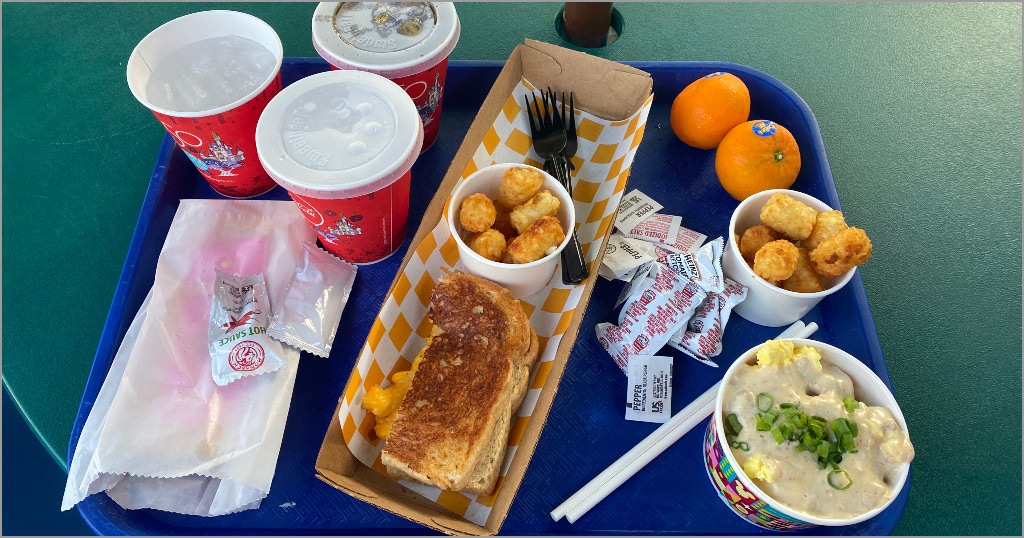 If you're a proud self-proclaimed "foodie," expect to be overwhelmed with delicious breakfast choices. Between an exceptional breakfast bowl, (and a kids option!), meat-based and plant-based "Totchos", (a combination of tater tots and nachos), and 4 different flavor options of "Box Tarts" which are essentially high-quality pop tarts, you're almost guaranteed to find something that you like at Woody's Lunch Box.
The "box tarts" flavors include a banana and peanut butter fudge option, chocolate and hazelnut, lemon blueberry, and a raspberry flavor! Woody's Lunch Box also offers Joffrey's Coffee, hot tea, orange juice, milk, and the usual Coke Cola products.
Allergy-friendly menu? Yes!
Not far from Woody's lunch box, is the back entrance to Galaxy's Edge, and if you're a Star Wars fan, then you'll want to check out the following themed breakfast joints:
Ronto Roasters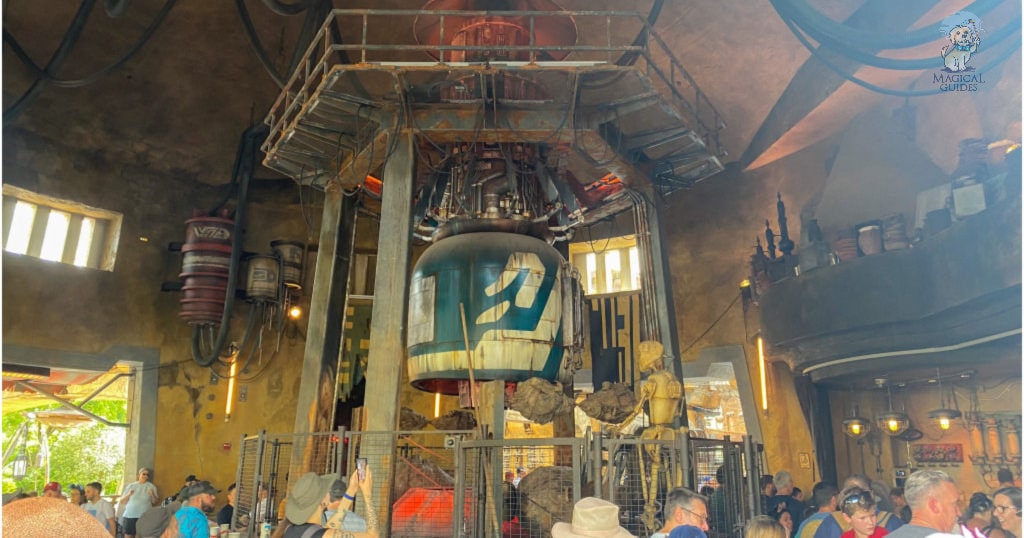 Located in Galaxy's Edge, this Star Wars-themed BBQ spot ties in all the thematic elements possible complete with a pitmaster droid as part of the décor. You can also mobile order here! Among their breakfast wraps, fruits, overnight oats, and delicious beverages offered, you'll want to make sure you try the "Ronto Morning Wrap!" Check out the full menu for all selections.
If you want to save time, we recommend using the mobile ordering via the app over standing in line. Ronto Roasters is close to the Smugglers Run attraction, so the lines can get long here quickly. During my last trip, we stood in line for the regular line when we heard the urging from a cash member to use the app, ordered via the app, and had our order ready 1 minute later. It saved us at least 10 minutes from standing in line ordering. So consider, using Disney's mobile ordering option.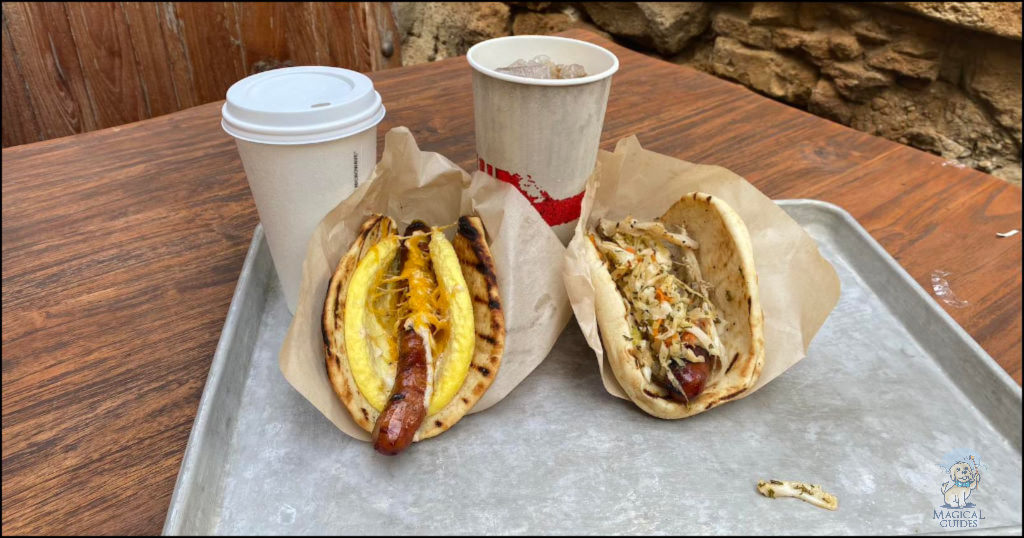 The Ronto Morning Wrap is priced at $12.49, and Ronto Wrap is priced at $12.99 (as of July 2022). Both were good, but we enjoyed the slawed up Ronto Wrap just slightly more.
Allergy-friendly menu? Yes!
Docking Bay 7 Food & Cargo
Here, you'll find amazing "Rising Moons Overnight Oats", an egg bite, sausage, and hashbrown option, and "Moof Juice" among other things. This spot is definitely tasty and has a really fun atmosphere.
We didn't try this location for breakfast when we were there this last visit, but I imagine it's pretty standard Disney theme park breakfast food. We have eaten here for other meals, and it was an alright option, highly themed in Star Wars, so definitely appreciate that when there.
Allergy-friendly menu? Yes!
Anaheim Produce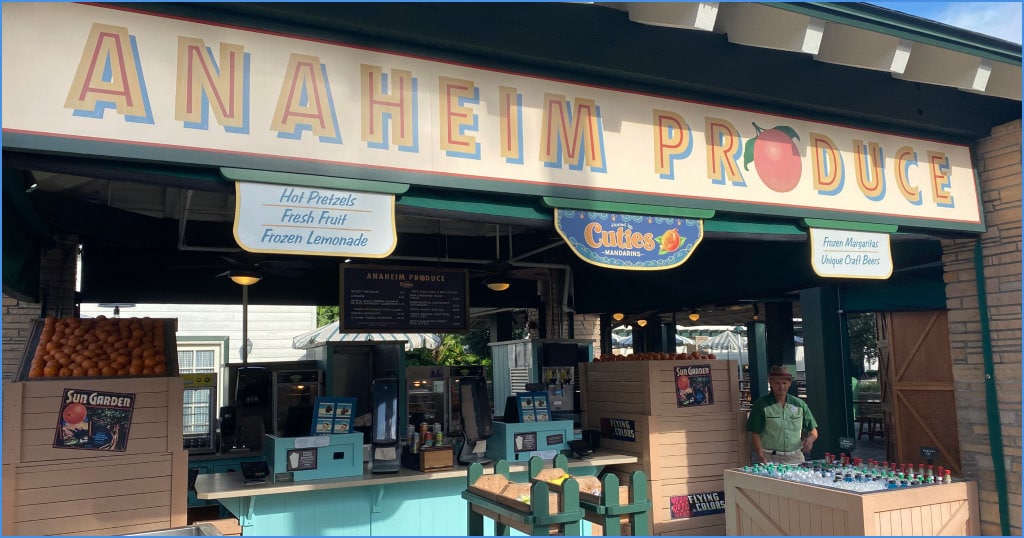 If you're on the other side of the park, on Sunset Boulevard, you can find a quick service breakfast at Anaheim Produce! You will mostly find snack options here, but they also offer fresh fruit and packs of Cuties® Mandarin Oranges!
Scoops
If you decide to continue down Sunset Boulevard, past Anaheim Produce, sitting on the corner right before Tower of Terror and Rock'n'Rollercoaster sits an unsuspecting ice cream stand. This isn't an ordinary ice cream stand, as it's the morning hours, and you can't eat ice cream for breakfast….even if you're on vacation in the Most Magical Place on Earth. Instead during the breakfast hours they serve something that is sweet, and delicious waffles covered in fresh blueberries and whip cream. This is
But wait!
We've talked about table service and we've covered counter service breakfast at Hollywood Studios.
So now, let's talk quick coffee options:
Trolley Car Café (Starbucks)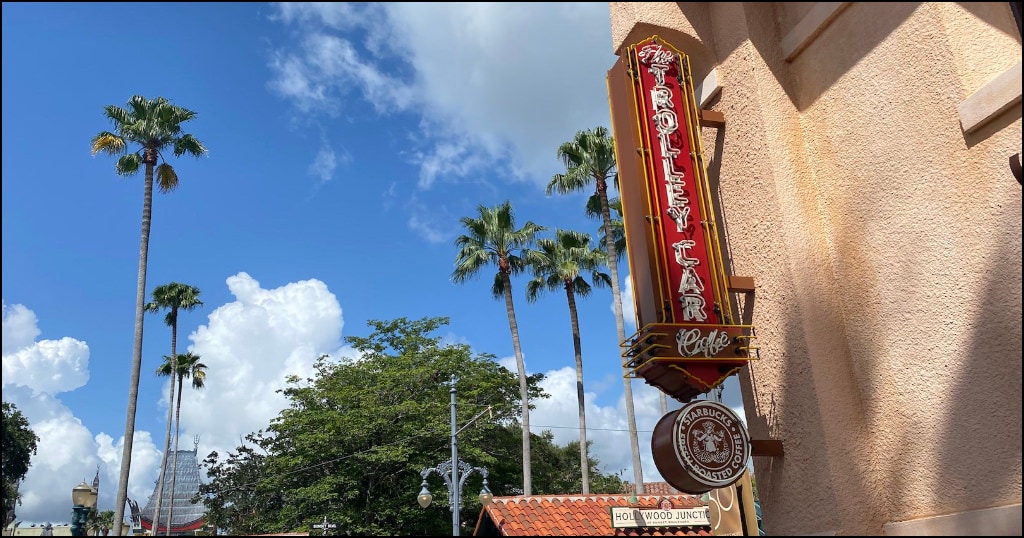 I don't know about you, but when I hit the parks, the first thing I look for is a sugary iced coffee beverage to get my morning started! I usually hit up the Trolly Car Café, which is the official Hollywood Studios Starbucks! (And the only Starbucks in the park!) If you're looking for other things, this Starbucks offers those as well, such as refreshers, hot teas, or just black coffee.
My favorite drink is the cold brew coffee with vanilla sweet cream. While I was waiting I did ask the barista her thoughts on the carrot cake cookie offering, and she let me know this is a fan favorite I should not miss out on.
Previously it was sold across the street from Starbucks, and Disney fans everywhere rejoiced after it was brought back instead of being discontinued. She did warn me it was more of a sponge like texture, and told me I wouldn't be disappointed.
She was right, it shouldn't be missed if you're looking for a coffee and cake type breakfast. I always enjoy learning things from cast members and appreciate them sharing things like this, so be sure you thank those cast members that take additional time with you to make your trip even better.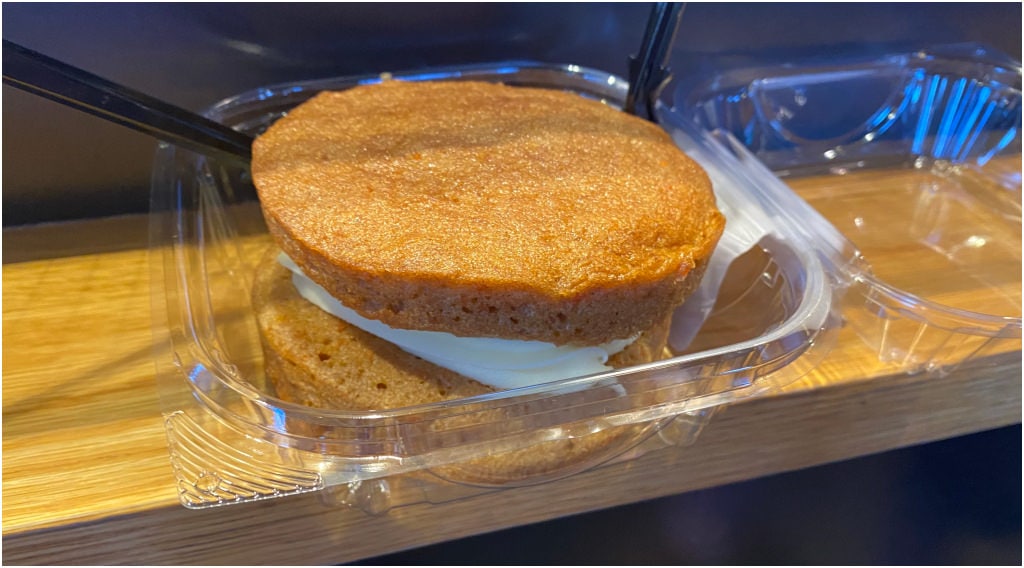 The inside is classic-Hollywood themed, and offers some delicious Disney-specific pastries as well as the typical food items that Starbucks offers. Keep in mind: the line is usually always long inside, but they make the drinks pretty quickly! The carrot cake cookie is priced at $3.99 (as of July 2022).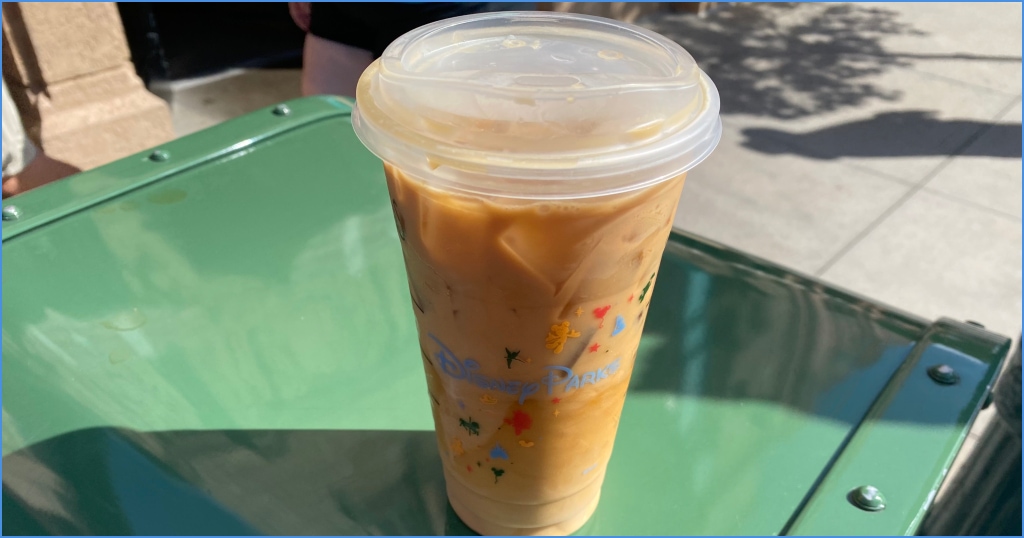 Joffrey's Coffee and Tea Co.
There are a few different kiosks throughout Hollywood Studios that offer Joffrey's coffee (decaf and regular) and their delicious tea.
There is a full Joffrey's Coffee and Tea Co. stand right outside of Tower of Terror at the end of Sunset Boulevard, and another full Joffrey's Coffee and Tea Co. station in Pixar Place that offers the full menu of specialty coffee and tea beverages. Here, you'll find drinks such as the Dreamsicle Iced Latte, Dulce de Leche Iced Latte, Orange Vanilla White Chocolate Tea, along with about 28 other tea flavors, depending on availability!
For a limited time only, there is a 50th anniversary "Golden Age" fruit frappe, so if those flavors excited you, try this unique beverage while it's being offered!
Usually at the Joffrey's Coffee and Tea stations, you can purchase from a selection of bakery items such as cookies, a cinnamon roll, and more.
The Joffrey's stations and Trolley Car Café are great options for a quick (but still very delicious) coffee and pastry item on your way to your next ride or shop of the day.
All in all, there are a lot of ways to find the breakfast and caffeine start to your day that you're hoping for! You just have to know where to look. Hollywood Studios has some great options to offer and they're always changing and expanding their restaurants, so keep checking back before your trip. In the past, Hollywood Studios has tested out excellent breakfast menus at Rosie's All American cafe and the ABC Commissary among other places, so you never know what will be added!
If you have the Disney Dining plan (when it returns), it is recommended to know which food locations you can use your plan at throughout the park. Additionally, if you and your family want to reserve a character buffet breakfast at Hollywood & Vine, make sure you make the reservation far in advance to ensure a spot.
The reservations fill up fast and there are not many of them! Also, although the Star Wars locations are quick service, those lines will get pretty long, especially in the summertime. So, if Ronto Roasters is your priority for breakfast, make sure you get there early!
Just remember, when in doubt, you can always grab a delicious pastry from one of the many coffee and pastry carts located throughout the park.
Here's to you finding the breakfast and coffee or tea items of your dreams!
Have a magical morning at Hollywood Studios! Any suggestions we missed? Let us know in the comments below.