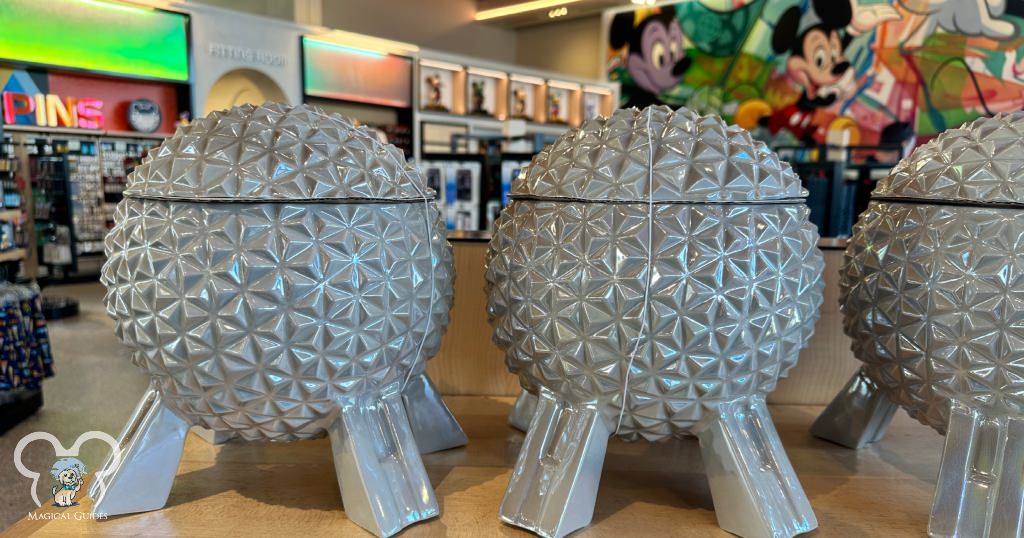 One of the best things in life is being in Disney World. The next best thing is remembering the great times with an awesome Walt Disney World resort souvenir.
My favorite souvenir is is the large collection of Disney coffee mugs I have, and I use them every day. It makes me smile when I use my Mickey mug on Mondays, and it just takes the sting out of getting back to the grind.
You might remember my brother-in-law whom I mention a few times, he lives in Celebration, the town that Disney built. He has one of the Monorail sets that he sets up every year around the family Christmas tree.
We would love to hear what your favorite Disney souvenir is, let us know below!
Disney is smart, and they are targeting the newest merchandise trends and making them hard to find souvenirs. Creating a sense of "limited", so people will flock, but more on that later.
The latest hard to find item that people are looking for is the Spaceship Earth Cookie Jar.
I'm talking about the type of cookie jar that grandma would keep full of cookies when she knew you were coming over. Disney is making cookie jars out of icons from the park, which you can only find while on a Disney vacation.
Is it time to start a theme park cookie jar collection? I'm not sure if my waistline or kitchen counter can handle that.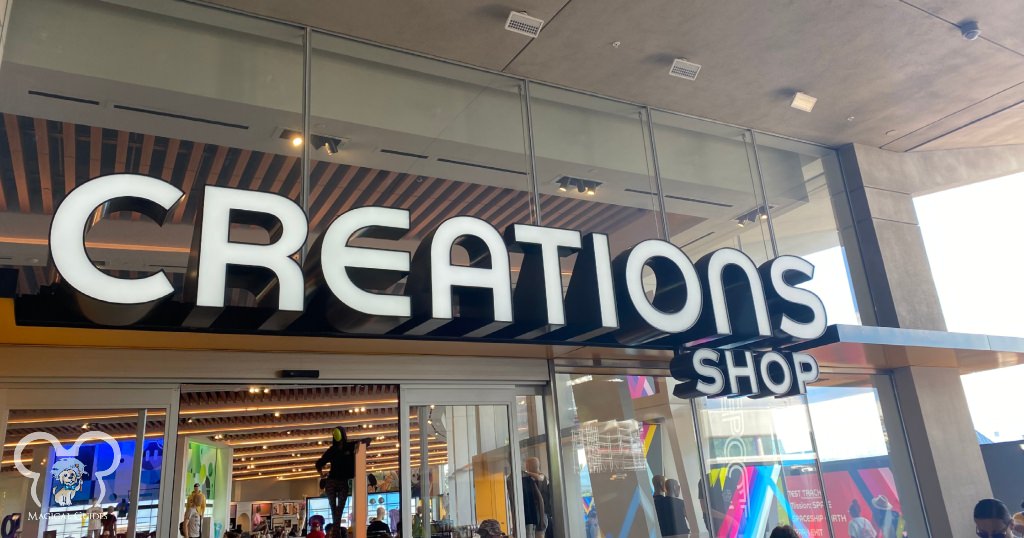 Where can you buy the EPCOT Cookie Jar?
Inside Walt Disney World's EPCOT is the newly renovated Creations Shop. If you previously went to Mouse Gear (Rest in peace), Creations Shop has replaced it.
You will find the latest Disney gear here. Beside it, if you need a break is Club Cool, try some Beverly if soda is your thing.
I always love to stroll through here to find coffee cups, t-shirts, or Loungefly bags. They do host the Annual Passholder magnet giveaways here as well, so if applicable, be sure to bring your annual pass, and form of ID with you.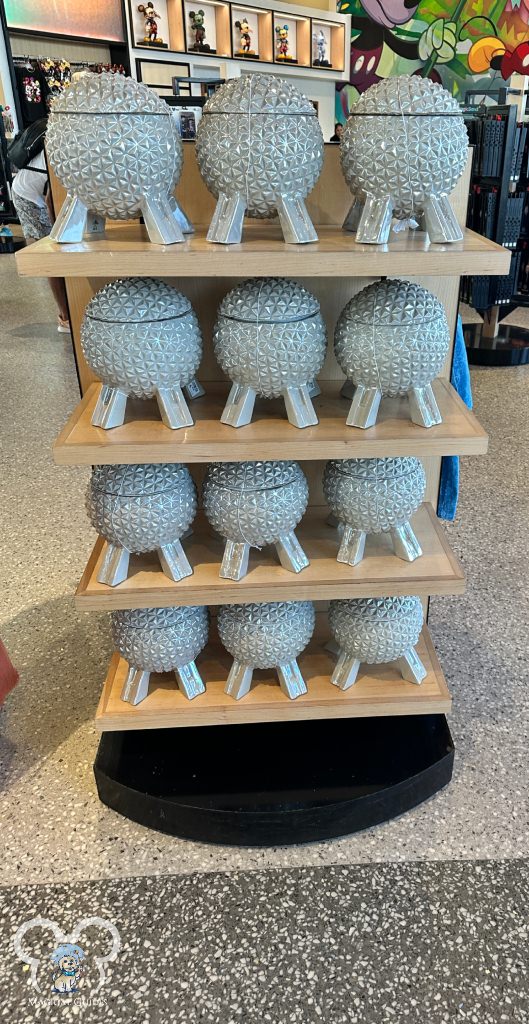 If you forget to visit the Creations inside of EPCOT, try the World of Disney. You can find World of Disney located at Disney Springs. 
There's no admission fee to Disney Springs. Just have to find a parking space if you drove to Disney World, or take a bus from one of the Disney Resorts.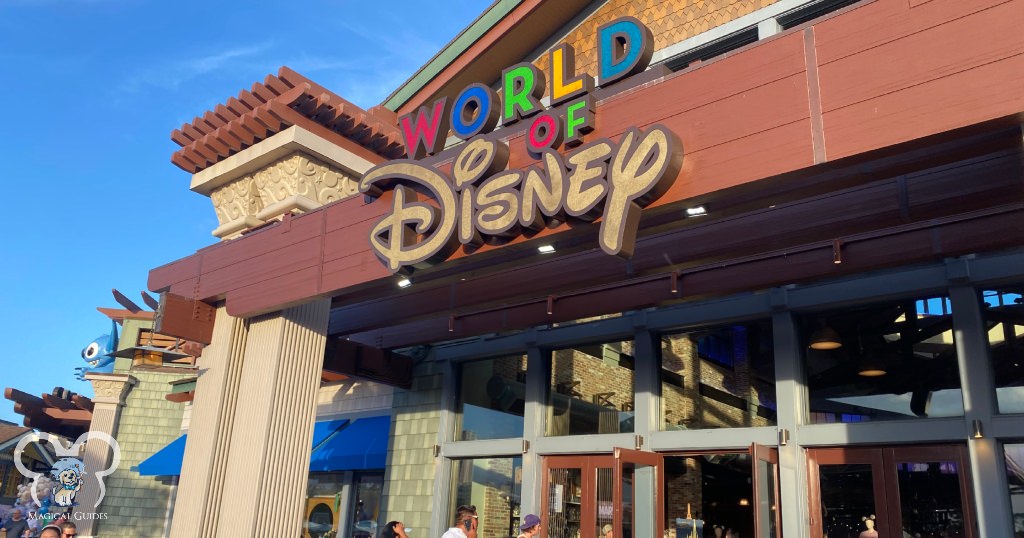 The World of Disney shop can get busy, especially later in the day. So if purchasing souvenirs is your goal, I would go earlier in the day. While there may I also suggest checking out Gideon's Bakery? If you're a cookie fan like I am, it's a must-visit every time I go now.
How much is the EPCOT Cookie Jar?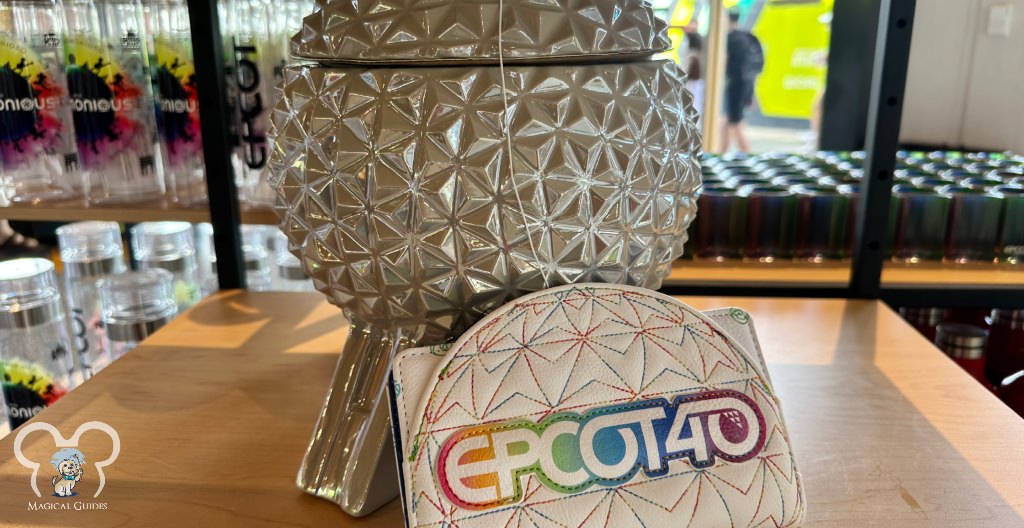 If you are looking to buy the Spaceship Earth cookie jar it will cost $54.99 plus tax. That's before any tax, or discounts are applied.
If you are Disney World Annual Passholder, don't forget to bring your ID so you can get 20% off the EPCOT cookie jar. That could be a savings of over $11 bucks! That savings could buy you a snack or a drink when you're drinking around the World Showcase.
If you do end up buying the cookie jar at the park, take care to wrap it up well. If packing to go in carry-on or checked luggage, consider separating the lid. Yes, it has a silicone gasket around it for a tight seal, but any bumps along the way home might cause a crack or two.
You may even consider paying for it to be shipped home at one of the business centers at some resorts.
Before you use a business center, Disney also offers a service to have your items shipped home for you. I did this with a few items since I didn't have room in my suitcase.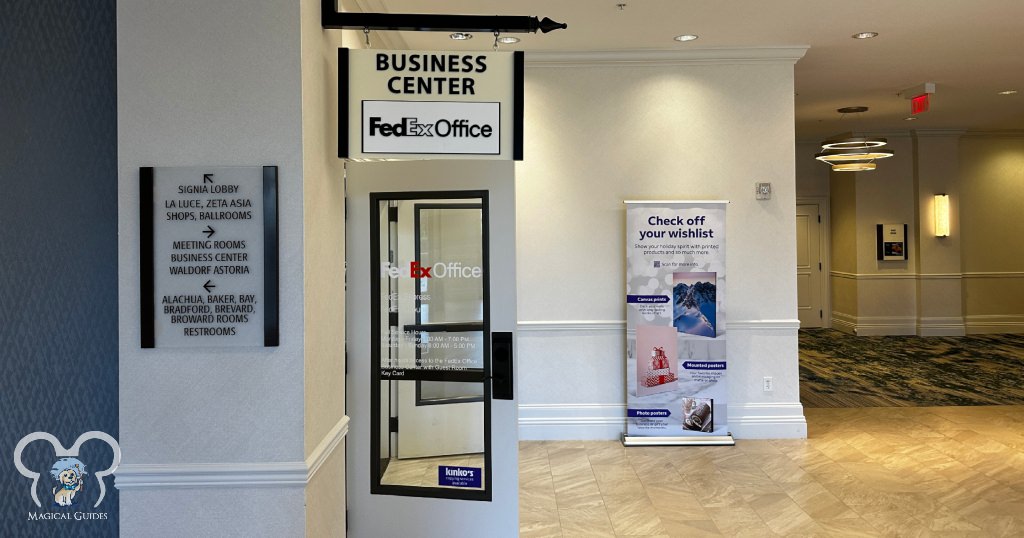 If you are looking to buy the EPCOT Cookie Jar online – click here.
What can you put inside the EPCOT Cookie Jar?
With the popularity that this miniature version of the futuristic geosphere, I was hoping to find a creative way fans have displayed this in their homes.
You could load the cookie jar up with mints for after dinner, or before, just because
Tiny colorful pebbles with some LED light strings
Cookies of course (I'd recommend these bags of Famous Amos cookies to prevent crumbs)

Oreos
Girl Scout cookies (although Thin Mints are better from the freezer!)

Disney-themed replicated cookies (like mini Mickey rice crispy treats, mini churros, brownies, and oatmeal Wookie cookies)
Would the EPCOT Cookie Jar make a good gift?
If your mom is a Disney fan, particularly of EPCOT, consider purchasing this cookie jar for her. If you take the title of your mom's favorite, don't forget to leave a comment down below. I love to stir the pot of sibling rivalry!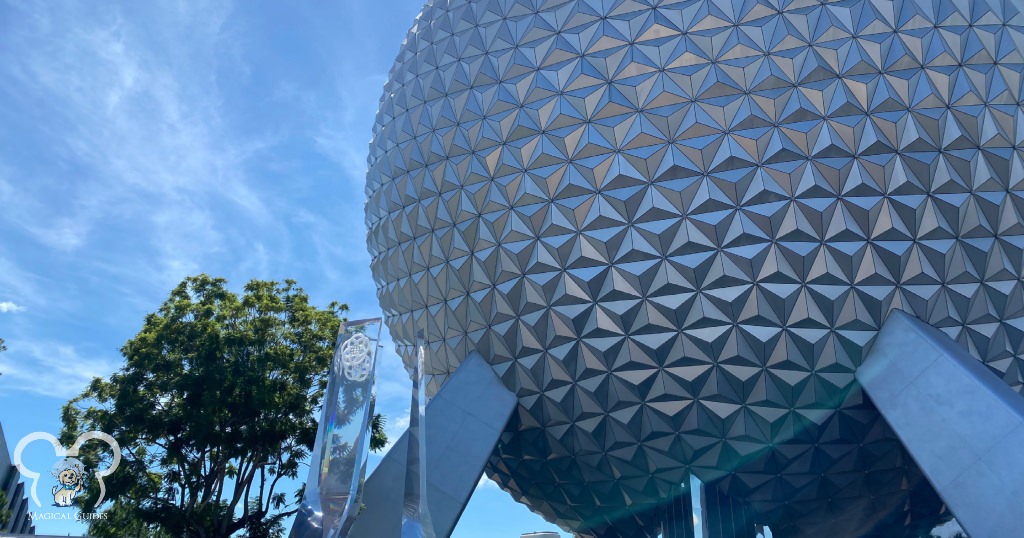 If you have Disney World super fans, and you know who they are, this would be a great gift. If you can score a good deal on it, ie, not paying too much over retail, you will surely impress the Disney World experts in your life.
Just know that if you give this as a gift to a Disney World expert, have a few facts in your back pocket. Here are a few key points to know:
It took 26 months to build the Spaceship Earth dome, and ride.
It's not really a perfect sphere but is still recognized as the largest freestanding sphere in the world.
Built-in drainage, rainwater doesn't flow off the sides, but instead into the World Showcase.
The EPCOT ball is over 18 stories tall (180 feet) and weighs 16,000,000 pounds
While quite large, the EPCOT Ball could easily fit into the Seas Lagoon tanks, the largest attraction in EPCOT.
The ride is actually inside its own sphere, and on top of that is the sphere we see outside of it.
Alright then, now you're loaded with fun facts about What is the EPCOT Ball and What's Inside? let's talk about purchasing options other than being in the park.
Does Shop Disney sell the EPCOT cookie jar online?
Currently, Shop Disney does not sell the Spaceship Earth Cookie Jar online.  You can find it at other online retailers via third parties.  I say if you can wait, wait and it will show up on Shop Disney.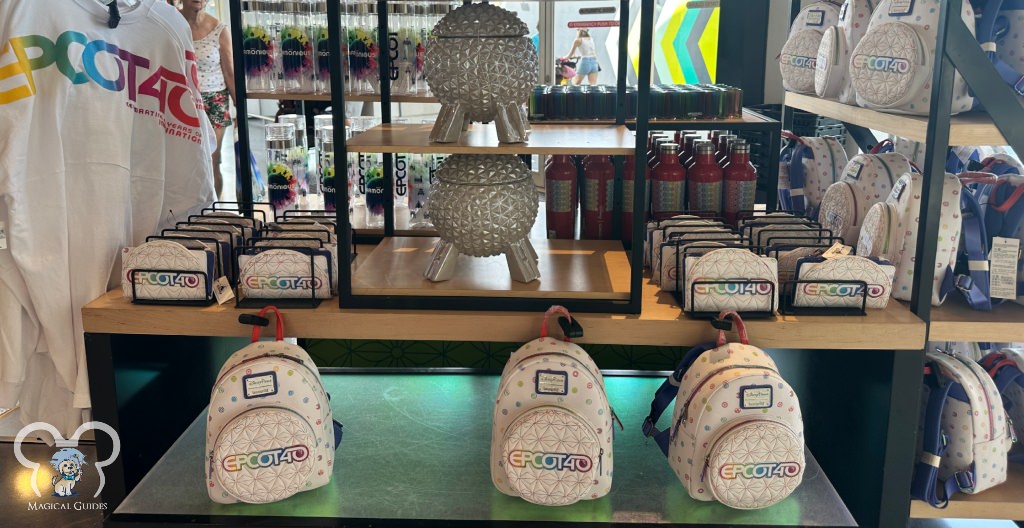 I did find a list on Amazon, currently selling it for $100 which included free shipping. That's not bad at all considering the cost of a 1-day park ticket to EPCOT or travel to Florida.
I also found another popular Parks edition Jungle Crusie Cookie Jar. It looks like it came out for the movie that starred Dwayne Johnson, aka The Rock. It's listed for $90 shipped from Amazon. I'll admit, I do think the Jungle Cruise Cookie jar is would become the unique centerpiece of my coffee bar.
At an even lower price, I found a Space Mountain cookie jar for less than $55 shipped. Interestingly enough the Space Mountain cookie jar is listed as dishwasher safe, while the EPCOT cookie jar comes with instructions to not put it in the dishwasher or microwave.
If you purchase from a third party, please be careful. I don't want sellers to take advantage of fellow Disney fans.
Keep note of the delivery times, and if it's too good to be true, don't buy it. This is one reason I only do face-to-face meetups when making deals on the Facebook marketplace. I also just like to have the item today, rather than deal with if a delivery time is on schedule or not.
Back to the topic of cookies in EPCOT…don't forget about the EPCOT Cookie Stroll!
What is the EPCOT Holiday Cookie Stroll?
One of the festivals that EPCOT hosts during the Christmas holiday season is the EPCOT International Festival of the Holidays. It's a take on all the international holiday traditions from the host countries in the World Showcase.
How much is it to get a cookie stroll at EPCOT?
On average you will spend about $3 each for the holiday cookies. That can add up if you want to try all of them, so budget about $20 per person. I would consider sharing each cookie, so reducing that price to $10 for the entire cookie stroll.
What's neat about getting a cookie stroll passport, is that if you buy 5 of the holiday cookie offerings, you will get the 6th cookie free of charge. That's 6 cookies for around $15, plus a morning coffee or afternoon beer. I don't think I'd go for beer and cookies, but I'm not going to judge how you decide to enjoy your Disney World vacation. Back to the cookie stroll.
Walt Disney World dining knows that not everyone will go for 6 cookies, but it's a fun activity you can do inside of EPCOT while waiting for your Guardians of the Galaxy boarding group to be called.
Will your kitchen be welcoming a wonderful addition of an EPCOT Cookie Jar for yourself, or become mom's favorite? How about taking a cookie stroll at EPCOT's International Festival of the Holidays?
Leave a comment below if you enjoyed this article, and feel free to suggest any other new merchandise you'd like for me to cover! Don't forget to signup for the Magical Guides newsletter, where I send the latest Disney news right to your inbox.