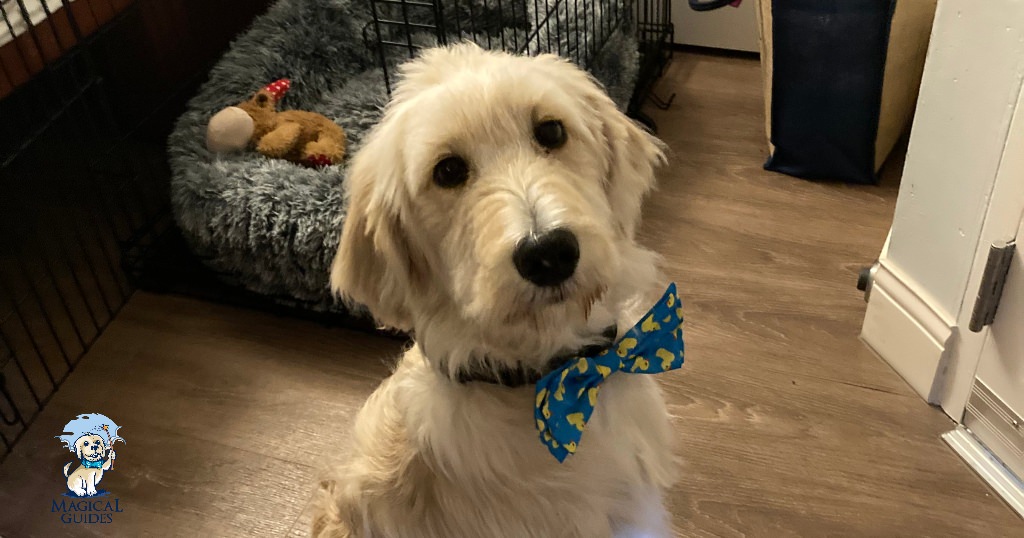 When planning a vacation to the most magical place on earth it's easy to think that you can't bring your dog with you. A number of pet owners are now choosing to go on their Disney World Vacation with their furry friend. We got a new furry family member back in January. So we wanted him to come with us down to Disney World when we went at Easter. So before we get into all the details on pet hotels, and the rules about bring your doggy to Disney, let me introduce Walt, the Disney Doodle. He's a mini golden doodle, but instead of being 35lbs like his mom and dad, he's now coming in at just under 60lbs. He still thinks he's 30lbs, and loves to climb in laps still. That all said, we stayed at Disney's Port Orleans Resort with Walt's for his first Easter. We still got a chance to hit up all the Disney parks, and came back for cuddle time with Walt. Isn't he the cutest? He gives the best cuddles, but not for too long as he's always looking for a cool spot to relax.
Which Disney Resort Allows Dogs?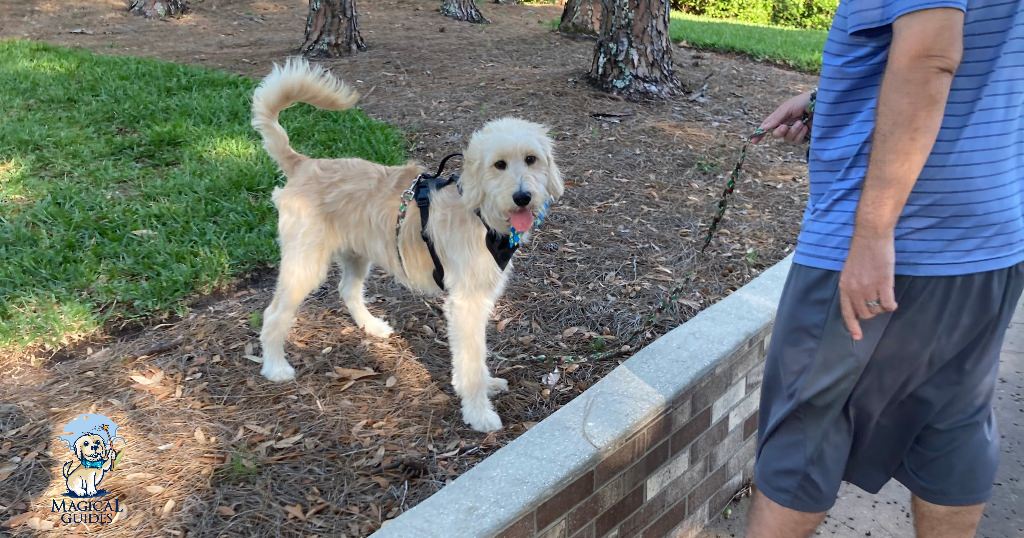 A few years back Disney ran a pilot program to see if they should allow small pets into Disney resort hotels. Now of course that brought a whole world of change for any cast member who needed easy access to your hotel room for security checks or housekeeping. Keep in mind that while you're staying at one of Disney resort pet-friendly rooms, getting house keeping will be a bit more limited.
Know that Disney World offers pet-friendly rooms at all the price points.
Disney's Yacht Club Resort
Disney's Art of Animation Resort
Disney's Port Orleans Resort – Riverside
Disney's Fort Wilderness Cabins and Campsite
If you're willing to stay off Disney property there are other hotels/resorts that pet-friendly hotels. Some are located on the Bonnet Creek parkway or close by in Kissimmee or Celebration.
JW Marriott Orlando Bonnet Creek Resort & Spa
Bohemian Hotel Celebration, Autograph Collection
Wyndham Grand Orlando Resort Bonnet Creek
Four Seasons Resort Orlando at Walt Disney World (If you want to really spoil your pet)
Hyatt Place Orlando / Lake Buena Vista
Most of the hotels and resorts have a room pet-cleaning rate of about $25-75 per night.
Leaving Your Dog Unattended In Your Room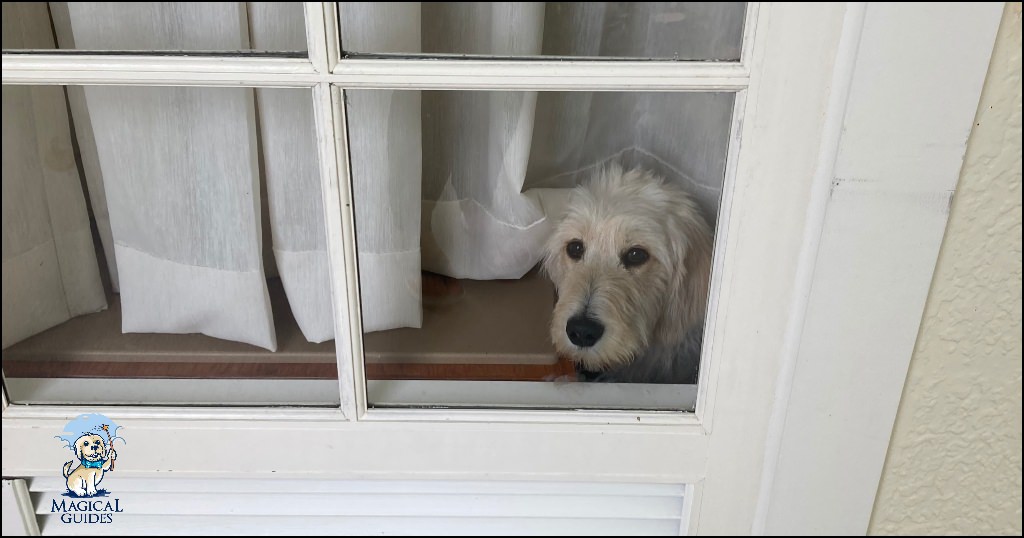 While we know you'll be keen to head out to explore the parks, Disney asks you never to leave your dog in the room for more than seven hours unattended. When you are leaving your dog in the room, hang the Pluto sign from your welcome kit on the door when you are out. We didn't get a Pluto sign when we stayed at Port Orleans, so we used do not disturb sign. This will stop Mousekeeping from entering while you are away. Disney cast members are allowed to call you at any time if they hear noise coming from the room to indicate your dog needs help or attention. You'll be expected to come back within 30 minutes and obey this rule while staying here.
We never experienced a call from the resort, as we tried to make sure Walt was tired out when he was in the room, along with trying to limit clear sight to via the windows. We always secured Walt in his crate after we took him on a potty walk. Walt likes to chew on puppy pads, so we just nix that in our vacation packing etc. One of the nice things about the crate, is that we don't have to worry about him counter surfing into some of Disney snacks like the Rice Crispy treats or one of our favorites – Pickles in a Pouch.
Rules For Bringing Your Dog to Walt Disney World Resorts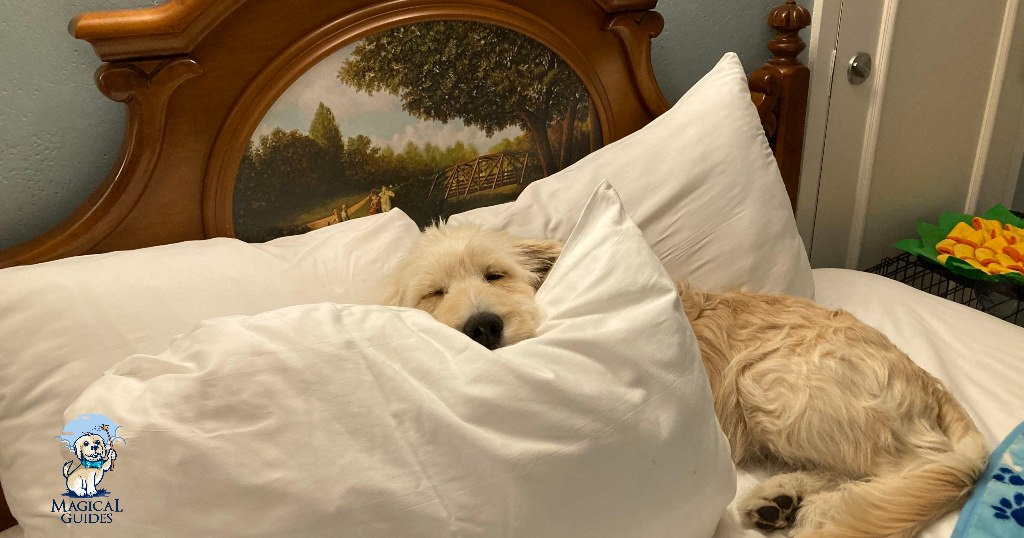 How Do I Add My Dog To My Disney Reservation?
Upon booking your room, you will have the option to put a request in for a Pet friendly room, much like you can request to be close to a bus stop, etc. Others in the groups have said that sometimes they upgrade folks, and just say oh well, your room is a dog friendly room, when it wasn't previously. Not sure if thats a good thing or not.
The rooms that you will be allocated all have easy access to outdoor areas to look after your pet. There are pet relief areas set up, and you'll be offered Pluto's Welcome Kit when you check in. At the current time, it's only dogs that are allowed on the site. In each room, you can have up to two dogs, but they need to be well-behaved throughout your stay. All dogs need to be properly vaccinated and remain on a leash when they are in public areas.
Keep in mind that only certain floors and sections of the resorts are dog-friendly. The majority of each resort is still free from pets so that they can help to accommodate and protect guests with allergies.
Another thing to remember is that while Disney is incredibly welcoming of dogs in these resorts, they aren't allowed everywhere on property. Service animals are the exception to this, but otherwise, your dog can't enter the theme parks, water parks, or communal areas in the resort. You'll need to plan ahead for your visit to ensure you are giving your dog the love and care they need still, as the rooms at Disney aren't ideal for them to be cramped up inside of all day long.
How Much Does It Cost To Board A Dog At Disney World?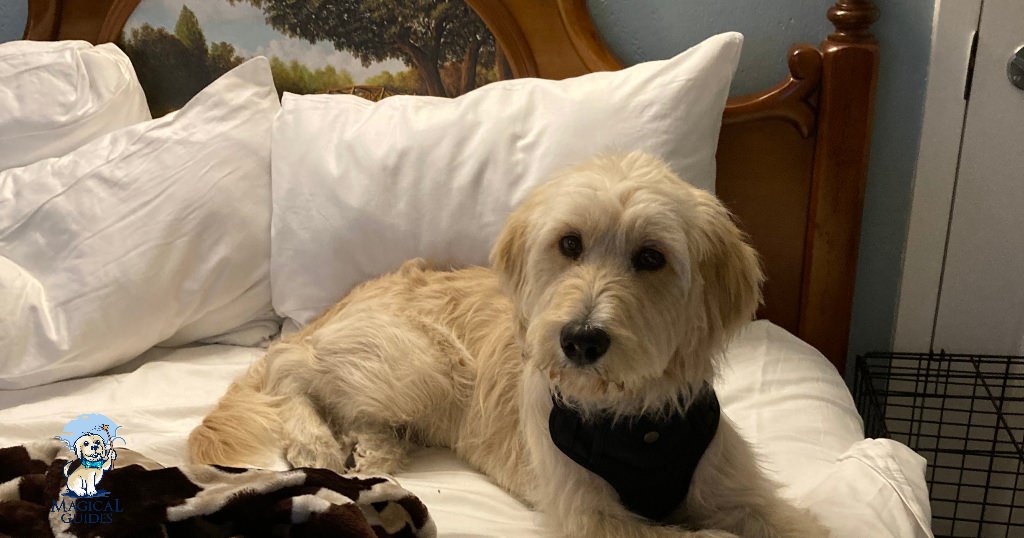 Walt at Port Orleans Riverside (Photo by Bayley Clark for Magical Guides)
We tried to board Walt at Disney's Best Friends dog boarding and resort, but they didn't have any openings. We looked around at several options near by, but discovered openings at Pet Paradise Winter Garden. It was about a 25 minute drive from the Port Orleans Riverside Resort, but this was an amazing place to drop Walt off for the day. They have a bone shaped pool, and tons of other dogs to play with. Drop off, was a well organized oiled machine – it was like picking up and drop off for a school. One of the selling points for Pet Paradise was the web cam that we were able to monitor as we drove to Magic Kingdom, and when we waited in line for Splash Mountain.
For Day Camp (aka doggy day camp) at Pet Paradise it was $39 as we prepaid for 10 days (which included weekends, weekdays only is considerably cheaper). One downside to using Pet Paradise is that since they were 30 minutes away from the parks and resorts we had to end our day earlier to pick up Mr. Walt the Disney Doodle.
Now, I do wish we were able to book sometime for Walt to visit Best Friends Orlando, as it was 5 minutes away Port Orleans complex. However, we weren't able to due to the last minute trip. You will definitely want to book your boarding reservations as soon as you book your trip.
No matter who you find for your doggy daycare, you will need proof of vaccinations, and that they are up-to-date. Do don't leave home without those documents, or also grab some detailed photos with your camera. When we were on the best friends pet care website there was an option to upload copies of the vaccinations without having to bring them with us.
Both Disney's Best Friends and Pet Paradise Winter Garden had options for vip luxury suites which have options for climate controlled rooms, and some with extra space.
Does Disney World Recognize Emotional Support Animals?
Of course Disney World will honor any service dogs or miniature horses, but if the animal identifies as an emotional support animal they will not be allowed into the parks. Service animals are permitted to accompany their owners to help with disabilities such as visual or auditory impairment, epilepsy, limited mobility, autism, and/or medical response. This is important to remember when visiting public resort areas such as the dining halls, or pools.
While service animals are welcome on many rides and attractions at Walt Disney World, some are restricted. This is for the safety of the animal, other guests, and any other animals that may be part of a ride or exhibit.
Can dogs ride Disney rides?
Most of the thrilling rides, (think any rides that go fast, or lift off the ground) dogs will not be permitted, even if they are a legit service dog. While we think it would be so much fun (for us at least) to ride Splash Mountain with our pup, they can't be secured properly, and we all know Disney is not going to take a chance at ruining our vacation or allow our furry best friend to get hurt unnecessarily.
Speaking of rides, you will not be able to bring a pet onto any Disney transportation.
The following attractions do not permit service animals
Magic Kingdom Park

The Barnstormer
Big Thunder Mountain Railroad
Peter Pan's Flight
Seven Dwarfs Mine Train
Splash Mountain

EPCOT

Mission: SPACE
Soarin'
Test Track

Disney's Hollywood Studios

Alien Swirling Saucers
Millennium Falcon: Smugglers Run
Rock 'n' Roller Coaster Starring Aerosmith
Slinky Dog Dash
Star Tours – The Adventure Continues
Star Wars: Rise of the Resistance
The Twilight Zone Tower of Terror™

Disney's Animal Kingdom Theme Park

Affection Section at Rafiki's Planet Watch
Avatar Flight of Passage
Expedition Everest
DINOSAUR
Kali River Rapids
Maharajah Jungle Trek — Aviary Area
So will you bring your furry best friend on your next Disney vacation? Have you ever brought your dog or cat before to Disney World? What do you think of Walt? Isn't he just the cutest dog?