Ready to spend your magical Walt Disney World vacation braving the great outdoors? Walt Disney World's Fort Wilderness Resort & Campground is the perfect getaway for you! Fort Wilderness offers many different types of camping, boating, swimming and much more! Have an adventure to remember staying on the beautiful campground that captures the beauty of the American Frontier. You will want to make sure you have a day planned just to stay at the resort with all the fun amenities they have to offer! Here is everything you will need to know before Camping at Disney!
Where can you camp at Walt Disney World?
Walt Disney World offers camping at Disney's Fort Wilderness Resort & Campground. This family friendly resort offers many different types of camping to choose from. Located on Bay Lake in Lake Buena Vista, Disney's Fort Wilderness is one of the few Resorts that offers boat transportation to Disney's Magic Kingdom. This 750-acre Resort offers over 300 cabins, and 800 tent and RV campsites to allow you have the exact vacation you are looking for.
How can you stay at Disney's Fort Wilderness?
Whether you want to stay in a cabin with a nice bed and indoor bathroom, your own RV, or sleep under the stars in a tent, Disney's Fort Wilderness has what you are looking for! All sites at Fort Wilderness offer Wi-Fi and cable to guests. You can experience the Disney Magic in the wild glamping or camping whichever way you like!
Fort Wilderness Cabins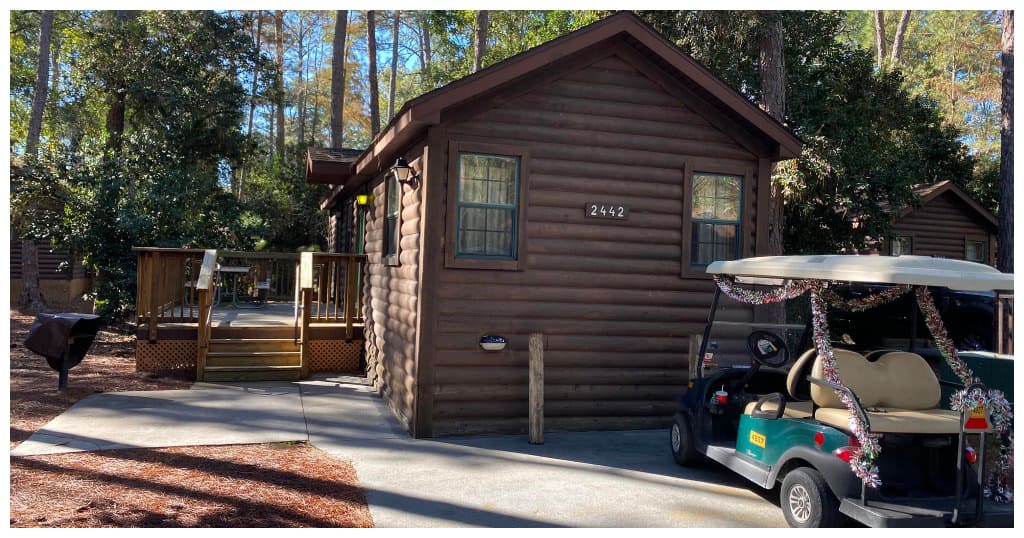 Try glamping in a settler's cabin, a fully furnished cabin in the woods. This private cabin sleeps up to 6 guest and offers a living room, bedroom, bathroom, patio, grill, and full kitchen. Each cabin has a double bed, a bunk bed, and a sleeper-sofa bed in the living room. Dining at Disney can be expensive, and most resorts do not offer kitchens, so this is a great way you can save some cash on your Disney Vacation. Each cabin is also air conditioned, which will be nice to relax after those long summer days. Enjoy the rustic charm of the cabin and the peace and quiet of nature while taking a break from the business of the parks.
Fort Wilderness Camp Sites
Disney's Fort Wilderness offers many different camp sites to choose from. Each campsite steeps up to 10 guests and accommodates up to two tents. Each campsite offers a picnic table and grill to use. The campsites are set up in different loops which hold different types of sites. Here is a list of the sites and amenities they offer:
Preferred Campsite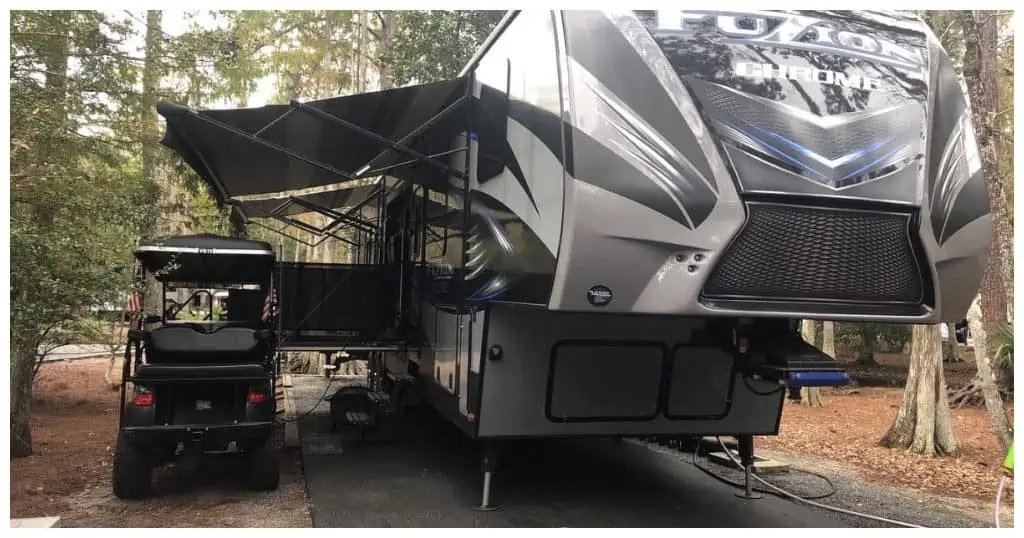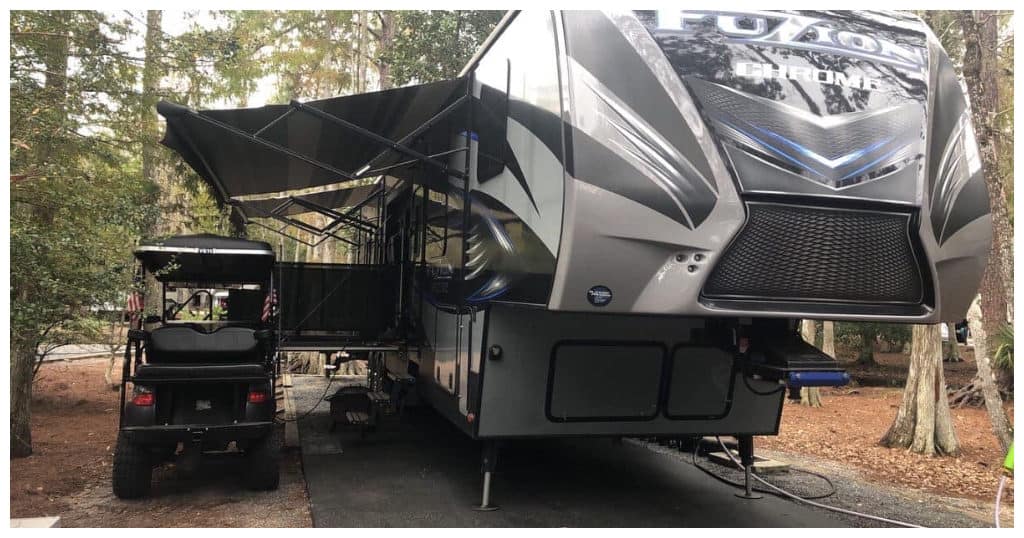 Preferred Campsites accommodate RVs up to 45 feet on a concrete pad. Sewage Hookups, water, and electric are offered at this campsite. Preferred Campsites are closer to the Marina, Pioneer Hall, Trails End, and Settlement Trading Post. Preferred loops are 100, 200, and 300. If you are choosing not to rent a golf cart, this is where you may want to stay as it is close to the beach area and dining. You may also like this area if using boat transportation to and from the Magic Kingdom because it is closer than the other sites to the boat launch.
Premium Campsites
Premium Campsites, like the Preferred Campsites, also offer sewage hookups, water, concrete pads, and electric. These campsites are bigger than the Preferred Campsites and accommodate RVs up to 60 feet. The Premium Campsites are located close to the Meadows Trading Post, Meadows Pool, Bike Barn, and Campfire area. Families typically enjoy staying at the Premium sites because it is so close to the recreation activities and the sites are larger for kids to run around.
Full Hook-Up Campsite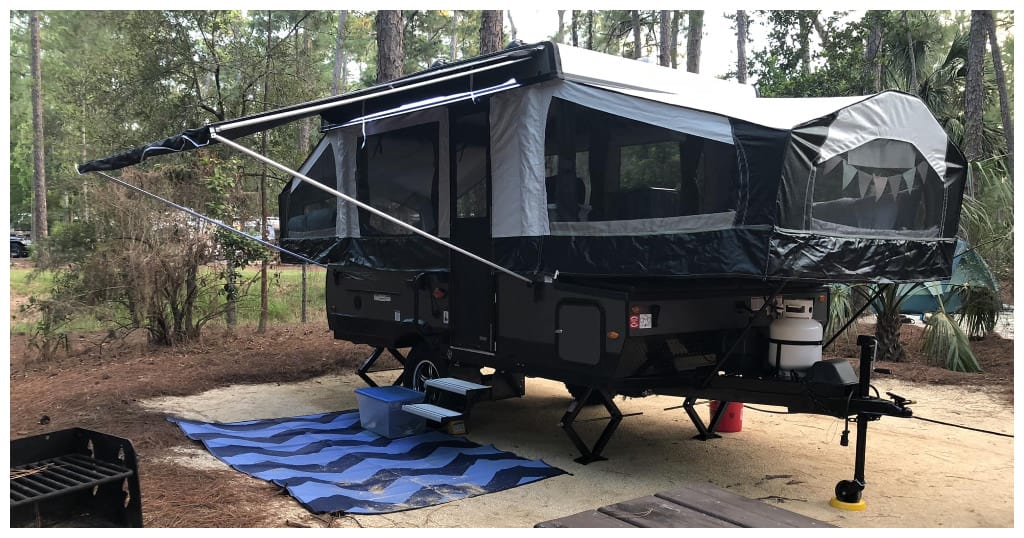 The Full Hook-Up offer many of the same accommodations as the Preferred and Premium sites. Sewage hookups, water, concrete pads, and electric are all included in these sites. The Full Hook-Up sites hold RVs up to 50 feet long. These sites are great for guest who are wanting to save money. They are farther away from most of the amenities at the resort, so they are substantially cheaper in price.
Tent or Pop-Up Campsites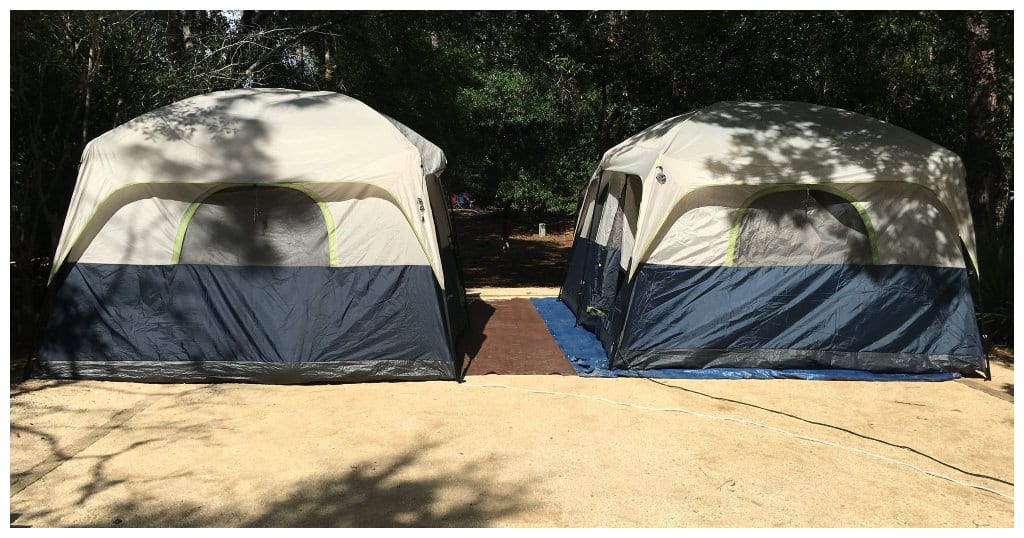 Looking for more of a primitive vacation? Sleep in your tent under the stars and go camping in style at Disney World! These sights are one of the cheapest ways to stay at Disney, but it still comes with all the perks of staying at a Disney Resort. Tent/Pop-Up Sites are the smallest and do not have a concrete pad, or sewer. They do have power, water, and fit up to two tents on them.
Recreation Activities
True to any Walt Disney Resort, Disney's Fort Wilderness offers the best of the best in family entertainment. With fun waterslides, boat rentals, pony rides and more, you will have a hard time fitting everything you want to do into your vacation. Here are some of the amazing activities this resort has to offer:
Pools
Disney's Fort Wilderness has two fantastic swimming pools to choose from, Meadow Swimmin' Pool and Wilderness Swimmin' Pool.
Meadow Swimmin' Pool is the main swimming pool at Disney's Fort Wilderness. Located by the Meadow Trading Post, this pool features a 67-foot-long corkscrew waterslide that is fun for all ages! The whirlpool spa is perfect for parents to relax while the kids are swimming their hearts out!
Wilderness Swimmin' Pool is perfect if you are wanting to relax and find some peace and quiet. This pool is further away from most activities and a great place to get away from the busyness of most of Walt Disney World.
Tri-Circle-D Ranch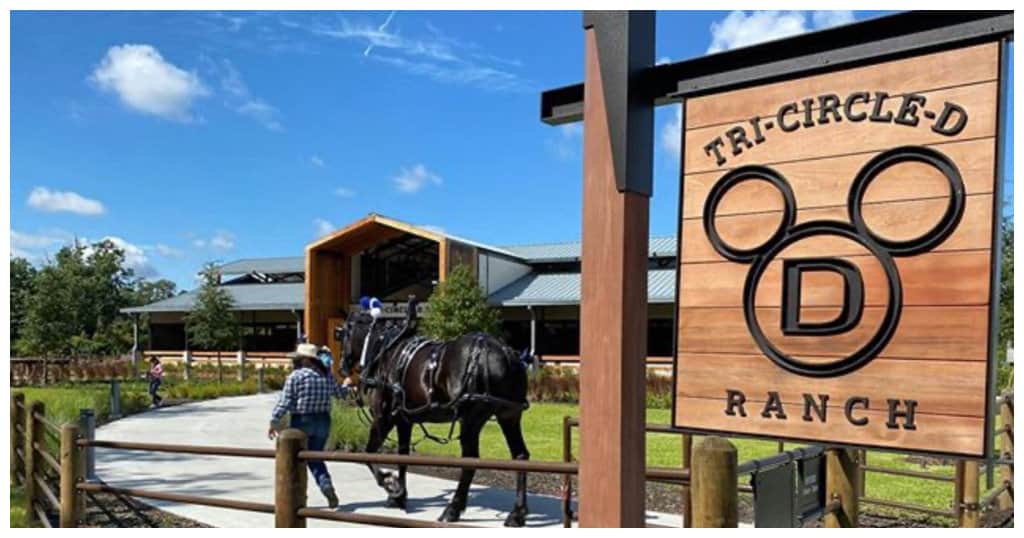 Head over and spend some time at the Tri-Circle-D Ranch, where you can find beautiful horses and ponies. Come and see the newly renovated stables that hold many of Disney's iconic horses! The horses held here are the same horses you will see throughout Disney, the same ones pulling Cinderella in her Royal Coach and Gaston rides in the Cavalcade. Enjoy seeing glimpses of history as you stroll throughout the barn. The little ones in the family can also ride the pony's! That is a memory they will hold onto forever.
Chip 'N' Dale's Campfire Sing-A-Long (Currently temporarily unavailable, but expected to be back soon)
Enjoy singing your favorite Disney songs by the fire while roasting marshmallows under the stars! This is the perfect way to end your night at the resort! The nightly Chip 'N' Dale Campfire Sing-A-Long is fun for the whole family. Stay after the Sing-A-Long and enjoy a movie on the big screen under the stars. Check and see what the schedule is the week you check in and pick a movie your family will love!
There are so many activities at Disney's Fort Wilderness we could not possibly cover them all, here are a few more you won't want to miss:
Fort Wilderness Archery Experience
Holiday Sleigh Rides
Wagon Rides
Segway Tours with the Wilderness Back Trail Adventure
Fishing
Boat Rentals
Bike Rentals
Basketball Courts
Jogging Trails
Playgrounds
Davy Crockett's & Daniel Boone's Wilderness Arcades
Golf Carts
Golf carts are not required at Disney's Fort Wilderness, but they are something that can really make your stay a little more enjoyable! The Fort is 750 acres and walking everywhere you want to go can be a hassle. You can bring you own golf cart, or if that does not work for you, they have golf carts available to rent. The Fort Wilderness rents out electric golf carts that seat up to four guests for $62.91 per day. Only guests 18 years old with a valid driver's license are able to rent and drivers must be 16 years old with a valid driver's license. Reservations are highly recommended! You are not guaranteed to have a golf cart when you check in if you do not have it reserved. You can pick up your golf cart from the same area where you check in at Disney's Fort Wilderness.
Dining Options
If you are choosing to stay at Disney's Fort Wilderness, you will be enjoying some of Disney's most fun restaurants! With restaurants like the Hoop-Dee-Doo Musical Revue and The Chuck Wagon Food Truck, you will find fun dining options the whole family will love!
Trails End
The gallery was not found!
Trails End offers delicious, family style breakfast and dinner at a restaurant that looks like it is straight out of the American Frontier. Breakfast includes Mickey waffles, smoked brisket and eggs, fresh pastries, and more of your favorites to fuel your day at Disney. For supper, make sure to try one of the all-you-care-to-eat skillets! Their family style dinners are perfect for filling you up after a long day enjoying the resort and campground!
Hoop-Dee-Doo Musical Review
Come enjoy this vibrant, fun-filled show the whole family will love! You will be clapping along to the boisterous show that will have you laughing all night! While you are watching the show you will feast on the mouthwatering family style dinner. The dinner consists of buckets of all-you-care-to-eat buckets of fried chicken, smoke BBQ ribs, salad, and much more! For guests 21 and older, they offer unlimited draft beer, wine and sangria, and soft drinks are included for guests of all ages. Reservations are required for this restaurant, and you must pay before the show.
P & J's Southern Takeout
Whether you are looking for a breakfast, dinner, or just a quick snack, this quick service restaurant does not disappoint! With all your favorite comfort foods, this is the perfect spot to relax and grab a yummy bite. P & J's is located by the marina and beach area at Fort Wilderness, I highly recommend grabbing a meal and sitting by the water and having a gorgeous view of Bay Lake.
The Chuck Wagon
Looking for a quick meal? The Chuck Wagon is the perfect stop for you! But you will need to look out for this food truck because it is hidden as an old camper to blend into the campground. They offer many tasty treats such as Corn Dog Nuggets, Pioneer Berry Salads, Turkey Sandwiches, and much more!
Meadow Snack Bar
The Meadow Snack Bar is located right beside the Meadow Swimmin' Pool and is perfect for a meal by the pool. They offer salads, sandwiches, and snacks. A perfect way to fuel you little fish while they swim!
Crockett's Tavern
For the adults of the family, this is a perfect spot to stop and grab a drink while on your Disney vacation. Crockett's Tavern is a walk-up window next to Hoop-Dee-Doo Musical Review and is a great spot to have a drink before the show! They do also serve appetizers such as Jalapeno Poppers and Chicken Wings.
Transportation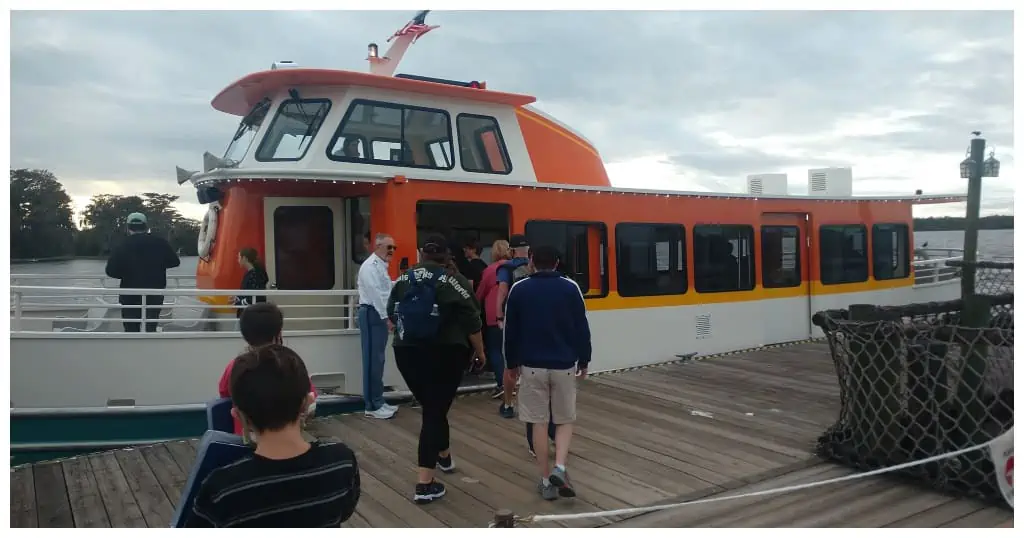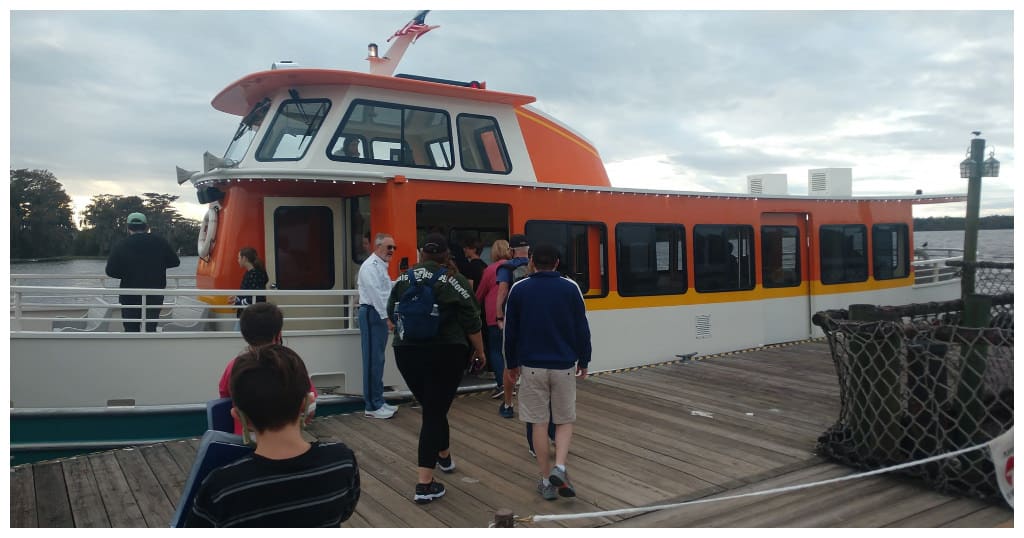 Transportation services offered at Disney's Fort Wilderness are Busses and Boat services. Busses are available to all Disney Theme Parks and Disney Springs. The Boat will take you from the marina straight to Magic Kingdom. Make sure you take the Boat service at least once on your trip and get a beautiful tour of Bay Lake and Seven Seas Lagoon!
What To Know Before You Go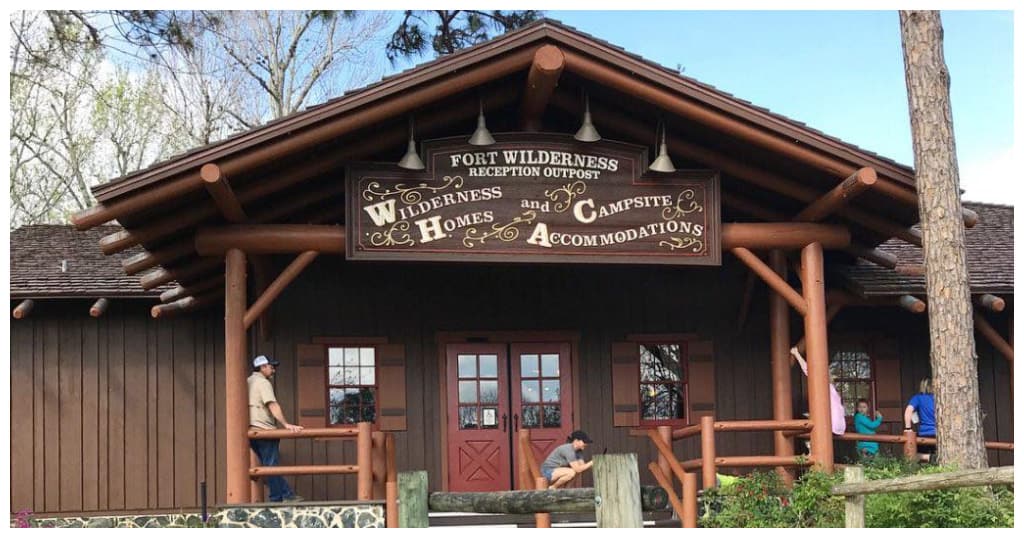 Tips to know before you go to make your trip the perfect magical Disney Vacation!
Check in is at 3:00 p.m. and check out is at 11:00 a.m.
If you are staying at Disney's Fort Wilderness you do get Extra Magic Hours and are able to get into the Disney Theme Parks 30 minutes early!
Make sure to book dining experiences and recreation activities before your trip.
Fort Wilderness is huge! If you can rent a golf cart, do it! You will be thankful you did!
Each campsite has a grill, bring a meal or two to cook at your campsite to save some money on dining!
Two dogs are allowed per campsite in certain camping loops. Make sure to let them know at booking you are bringing pets and you will be set up in the correct loops.
Bring decorations for your campsite! As you walk around the campground you will notice many campsites are decorated with fun lights and decorations! If you go around Halloween, they even do trick or treating at the campsites!
Check out what recreation activities are going on while you are staying.
Let us know how you spend your time at Disney's Fort Wilderness Resort and Campground! Are you going to be staying in a tent or a cabin? What recreation activities will you be doing on your stay? Have you already stayed? Drop us a comment below with what you recommend!