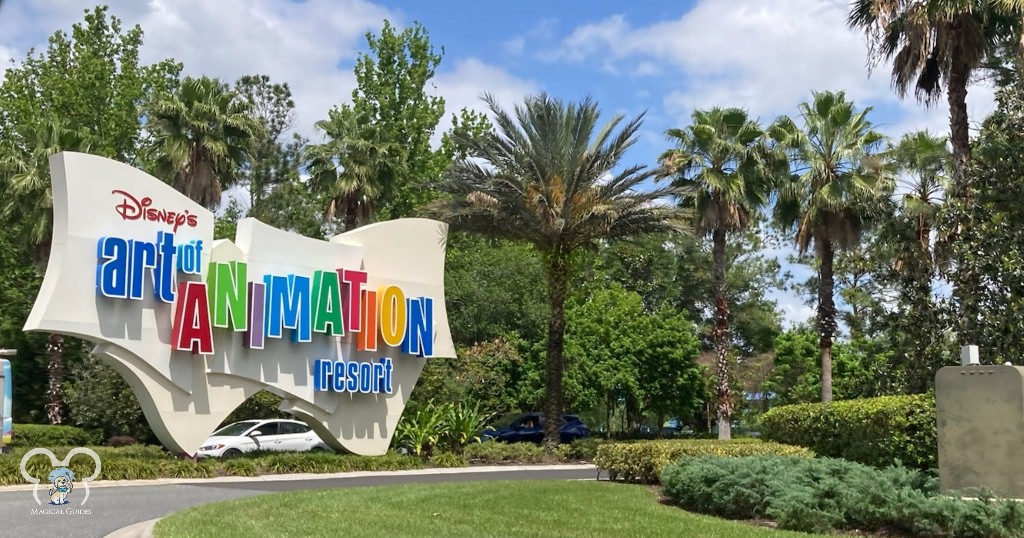 Art of Animation is a very family orientated value resort at Disney World. The masterfully decorated resort immerses guests into the Art of Disney immediately upon entering the lobby.
Black and white sketches of Disney characters line the walls; as guests move throughout the lobby, the artwork gradually transitions to completed drawings. This was an intentional design choice to represent the process Disney animators go through to create their classic characters.
Once outside, guests are greeted with larger than life statues of characters. Interestingly, the statues were built to scale. This was done to make guests feel like they are in the movies themselves.
Along walking paths, guests will come across a life-size Lightning Mcqueen, Pride Rock, and even a 27-foot manta ray. You will feel instantly immersed into the Disney Magic at this resort.
The Disney feel at the Art of Animation makes this my favorite Walt Disney World Value Resort. Ariel from the Little Mermaid is my favorite Disney Princess which makes this resort even more exciting for me.
Let's look at all Disney's Art of Animation has to offer to help you decide if this resort is right for your next Walt Disney World Vacation.
Where is Disney's Art of Animation Located?
The official address for Disney's Art of Animation is 1850 Animation Way, Lake Buena Vista, FL 32830.
Disney's Art of Animation is connected by the Skyliner to Disney's Pop Century Resort. You can walk over to Pop Century using the bridge and walking trail in between the two resorts.
This resort is next to the ESPN Wide World of Sports Complex. It is also located near Hollywood Studios and EPCOT.
What is the Theming of Art of Animation?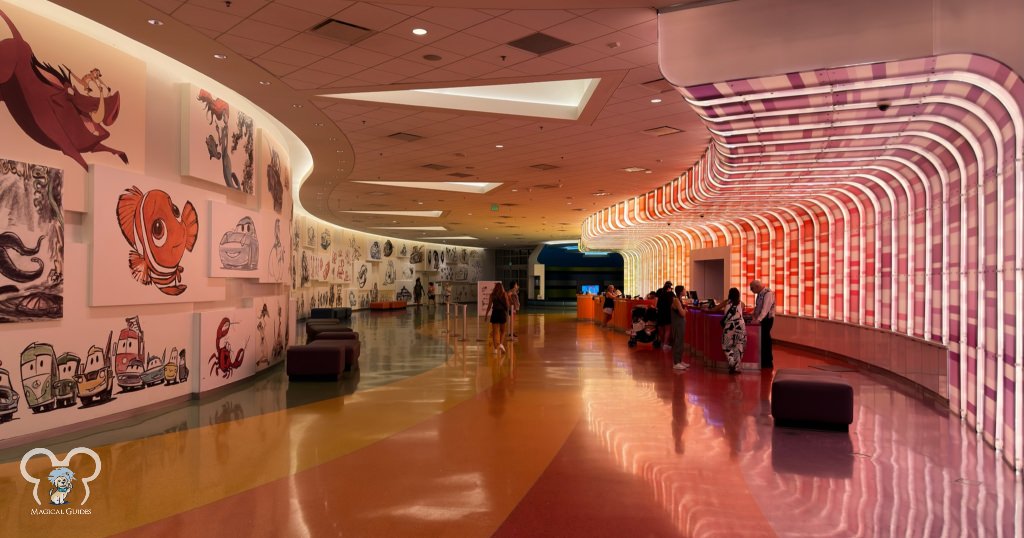 Guests can spend their stay in rooms themed after The Lion King, The Little Mermaid, Finding Nemo, or Cars. Each section of the resort has themed rooms on the inside, but also themed pools and outdoor statues.
The theming at Art of Animation immerses you into the four movie themes. It starts your magical Disney vacation on the right note when you immediately feel the magic of these classic Disney films.
Guest Rooms
There are two types of guest rooms at Art of Animation, standard rooms and family suites.
All guest rooms include:
Coffee Maker
Wi-Fi
​Iron and Ironing Board
Hair Dryer
​in-room safe
​Phone
Mini Fridge
Shampoo and Conditioner
Soap and Body Wash
TV
Suites also include:
A kitchenette
Two bathrooms
Microwave
Two Tvs
The Little Mermaid Standard Room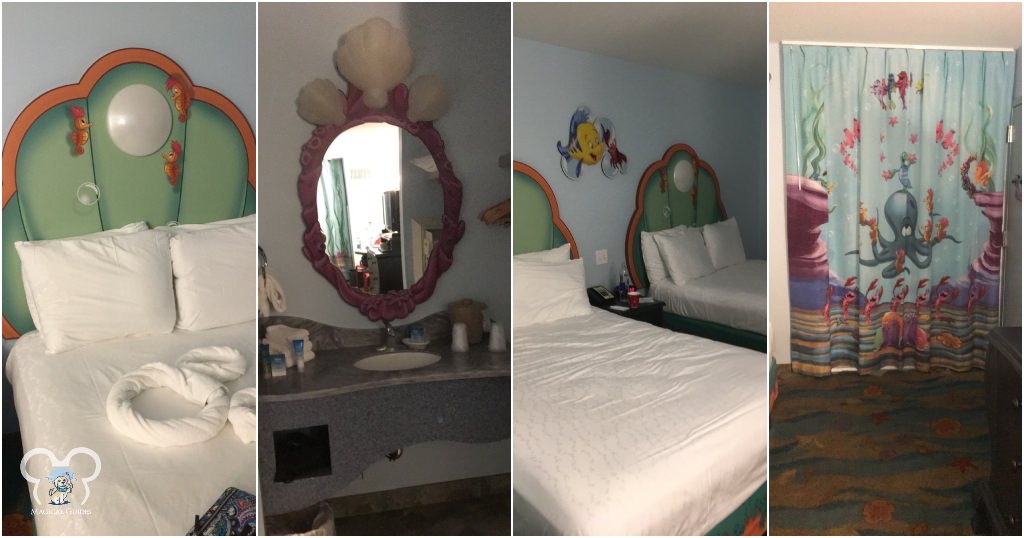 The Little Mermaid section contains standard rooms with a choice of King bed or two queen beds. Views are of the courtyard, Flippin Fins pool, or the parking area. The room rates are about $200-$400 a night.
These smaller rooms sleep four people and work well for small families. There is a small table and chairs to sit and relax in these rooms. The room size is the same as a standard hotel room.
​Ariel is my favorite princess so this is where we stayed. I absolutely loved the Little Mermaid themed rooms. My husband found the beds to be uncomfortable and he did not love the room.
The Little Mermaid rooms are the farthest from everything. The main building at the front is where you will find check-in, dining, and transportation. The Little Mermaid rooms are the longest walk at 10-15 minutes.
If walking is a challenge for your family, you may want to opt for one of the family suites at this resort instead. The Little Mermaid section is the only section at Art of Animation with standard guest rooms and does not have family suites.
Art of Animation Family Suites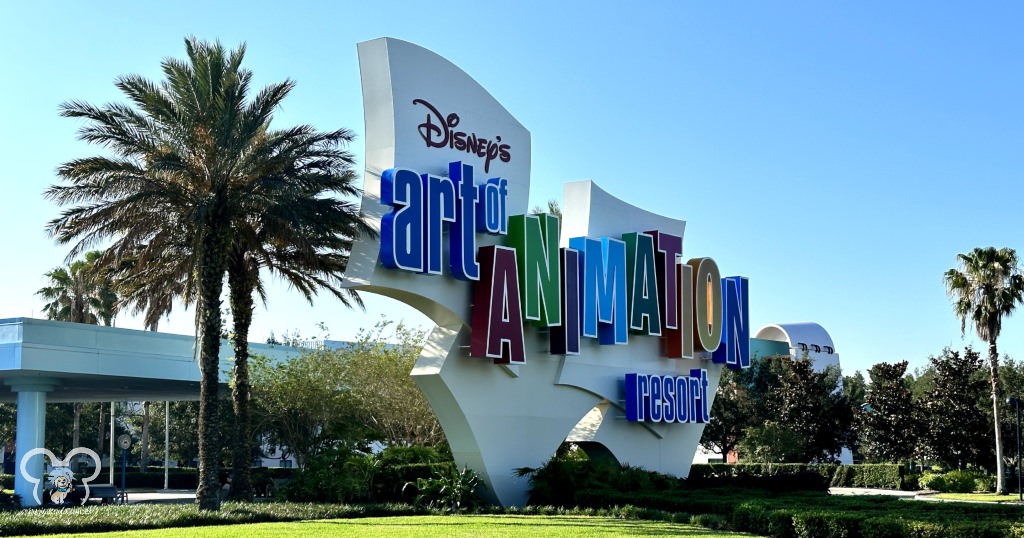 The benefit to staying at Art of Animation is that is can accommodate larger families in one room. This can save your family money by allowing you to buy one resort room instead of 2. The room rates are usually $500-$800 depending on when you are visiting Disney World.
Family Suites may have views of the courtyard, pool, or parking lot. Family suites all sleep up to six people. The rooms have 1 Queen Bed, 1 Double-Size Sleeper Sofa, and 1 Double-Size Table Bed.
There is a separate bedroom with one bed. There is also a living room with a sleeper sofa and a table bed. During the day you have a sofa and table and at night you have three beds that sleep six people.
There are two full bathrooms in a family suite. The suites are 565 square feet compared to the 277 square feet of a standard room. The living area is much larger.
If you choose the family suite option, you won't know which themed rooms you will be staying in until you check in. The possible themes are Cars, Finding Nemo, and the Lion King.
Finding Nemo Family Suites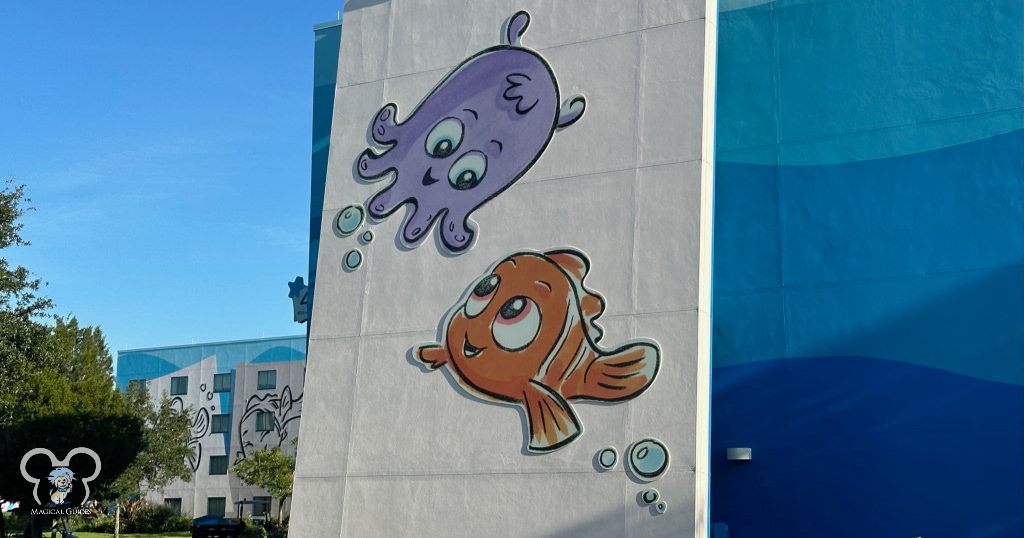 The Finding Nemo family suite sleeps 6 with a queen bed, double-size sleeper sofa, and a double-size table bed. The views may be the main pool, courtyard, or parking lot. The Finding Nemo section only has family suites.
These are considered preferred rooms since they are the closest to the main building, Animation Hall. They are also closest to the bus transportation at the front, the Skyliner, and the Big Blue Pool.
The room rate for these rooms is the most expensive around $600 to $900 a night. They are more expensive rooms due to the location being preferred.
The murals on the Finding Nemo buildings add to the theming of this section. The Big Blue Pool is also Finding Nemo themed that small children will love!
Cars Family Suites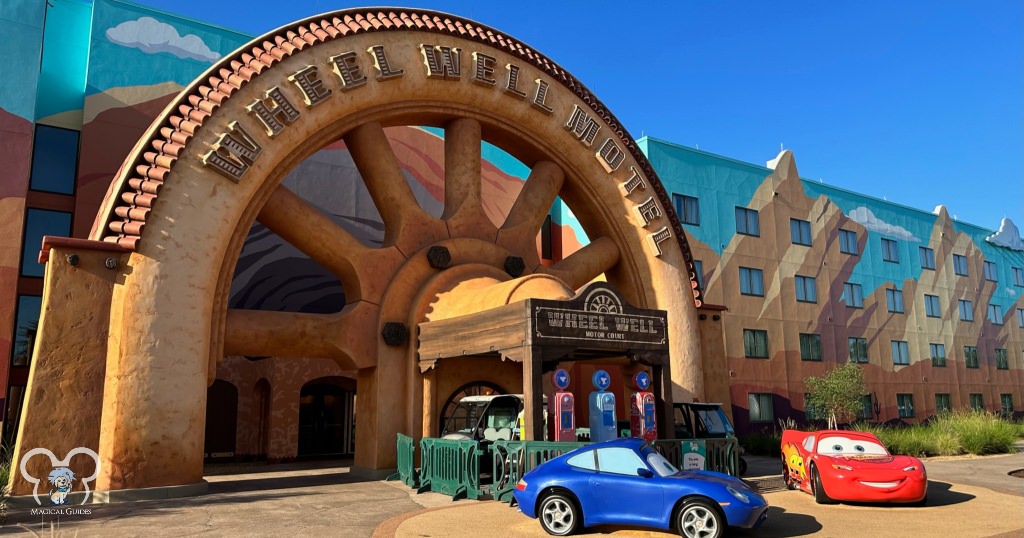 A Cars family suite sleeps 6 with a queen bed, double-size sleeper sofa, and a double-size table bed. The views may be the Cozy Cone Pool, courtyard, or parking lot. The Cars section only has family suites.
The theming in this section will make you feel like you're in Radiator Springs. Cars room rates are typically $550-$750 per night, less expensive than the Finding Nemo rooms.

The Lion King Family Suites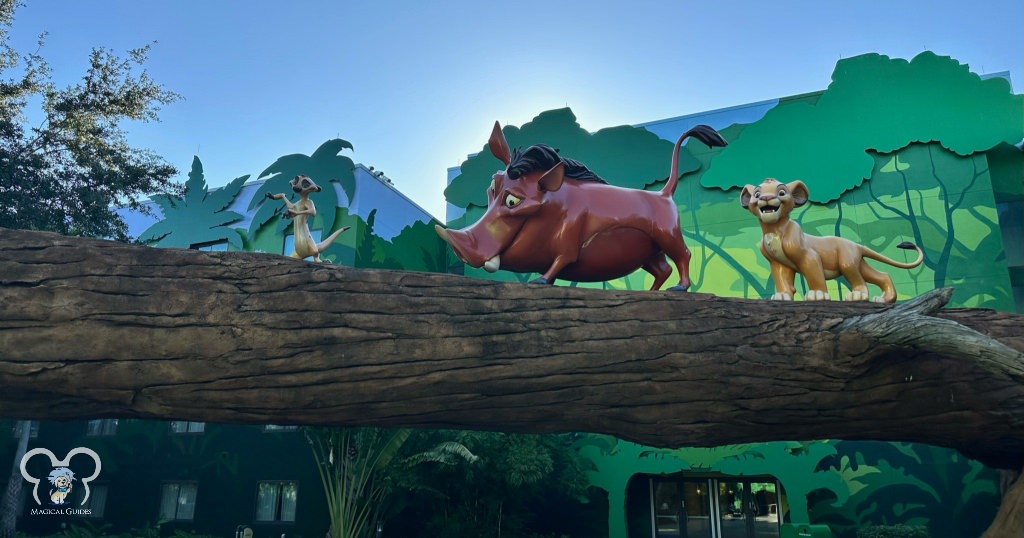 The Lion King family suites sleep 6 with a queen bed, double-size sleeper sofa, and a double-size table bed. The views may be the courtyard or parking lot. The Lion King section only has family suites.
You will find Zazu on the headboards in these rooms. My favorite is the shower curtain with Pumbaa and Timon.
Similar to the Cars rooms, Lion King Suits are about $550-$750 per night.
Transportation
​The bus stop is at the main building, Animation Hall, at the front of the resort. The buses can take you to Animal Kingdom, Magic Kingdom, or Disney Springs.
If you are looking for water parks you will also take a bus. Take the Disney Springs bus to transfer to Typhoon Lagoon. You will take the Animal Kingdom bus to transfer to Blizzard Beach.
For EPCOT and Hollywood Studios you will take Disney's Skyliner at the back of the resort.
Disney Skyliner Transportation
Another perk of staying at Art of Animation is the use of the Skyliner. Pop Century and Art of Animation are the two value resorts located on the convenient Skyliner.
The Skyliner is behind the Finding Nemo section and the Big Blue Pool. Disney's Skyliner is located in between Pop Century and Art of Animation. The two Disney Theme Parks that the Skyliner has access to are EPCOT and Hollywood Studios.
Dining and Shopping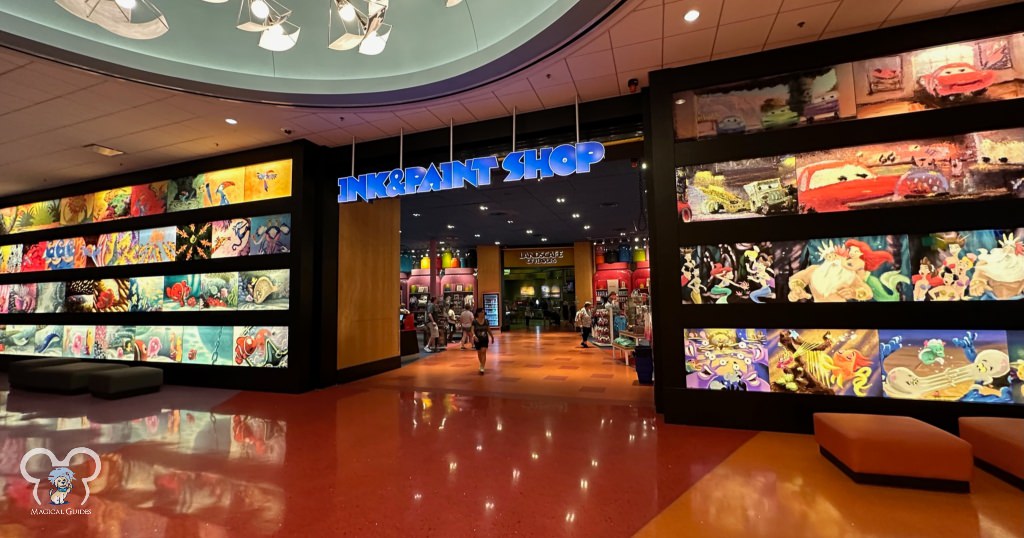 As for dining, the resort offers pizza delivery and multiple breakfast, lunch, and dinner options at Landscape of Flavors food court. Across from the lobby, Landscape of Flavors offers five "mini" restaurants.
For breakfast, guests can enjoy basics like omelettes, pancakes, and plant-based options; the lunch menu includes burgers and pizza. When dinner time rolls around, diners can find dishes like Mongolian grilled fish and jumbo stuffed meatballs. Various cocktails and beers can be ordered as well.
Both my husband and I found the food court to be just okay. The food court works when you are hungry and want to grab food quickly before or after the parks. We prefer to make dining reservations elsewhere or eat once we get to the parks instead.
The Drop Off Pool Bar also offers drinks and limited dining while you're at the Big Blue Pool. The food is closer to snack foods at the pool bar.
The Ink & Paint Shop is a gift shop in Animation Hall where you will find your favorite Disney Merchandise.
Activities and Amenities
Largest Resort Pool In Walt Disney World Resort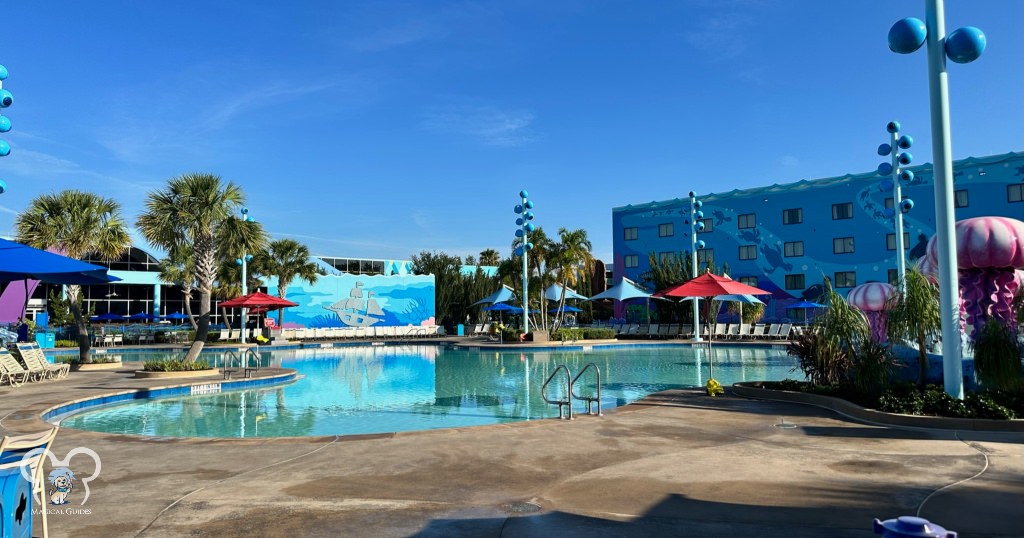 Eventually, guests will find themselves at the Big Blue Pool. This feature pool is themed after Finding Nemo, Big Blue is the largest pool on Disney property. The Big Blue Pool has 308,527 gallons of water!
You can also find the Schoolyard Sprayground, a splash pad for young children in the Finding Nemo section. In addition to the main pool, there are two smaller pools at the resort.
The resort is also home to a Cars themed pool; Crazy Cone Pool offers complimentary cabanas in the shape of traffic cones. Cars fans can swim in this 74,740 gallon pool with their favorite Cars characters like Lightning Mcqueen and Tow Mater.
Flippin' Fins Pool, which is themed after The Little Mermaid, offers an "Under the Sea Orchestra" that is led by Sebastian. This pool is 103,642 gallons.
Art of Animation Campfire Activities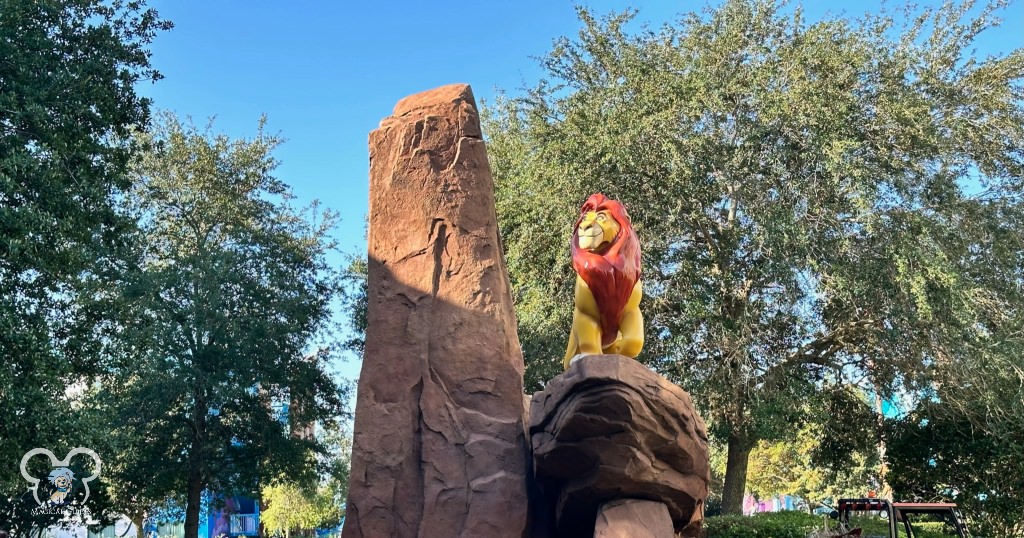 ​Find Pride Rock in the Lion King section after dark and you'll find a fire. You can roast marshmallows from 6:30 to 7:30 every day of the week.
Movies Under the Stars
After you roast marshmallows over the fire, head over to the Big Blue Pool. There is a Disney movie playing every night at 8:30pm. There is nothing like watching a Disney movie under the stars.
Other Amenities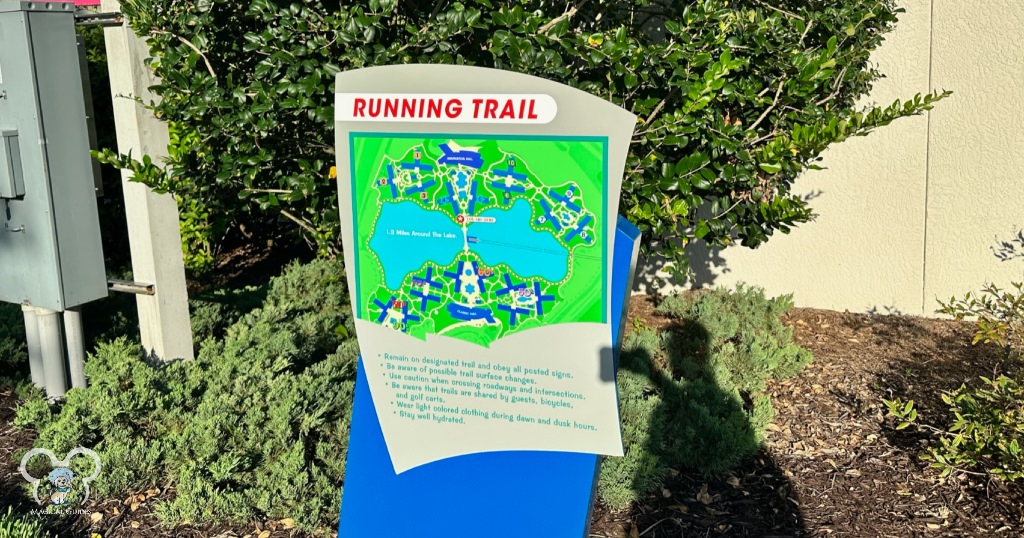 Besides the three pools, Art of Animation also offers jogging trails that include trivia. This scenic trail is 1.38 miles.
There is an arcade called Pixel Play Arcade located in Animation Hall.
The Finding Nemo courtyard has a playground called the Righteous Reef Playground for kids. The Elephant Graveyard Playground in the Lion King is not the typical playground you might think of. This play area still offers fun for the kids though.
If you are looking for Laundry, you will find a Laundry room near all three pools areas on property.
Additional Benefits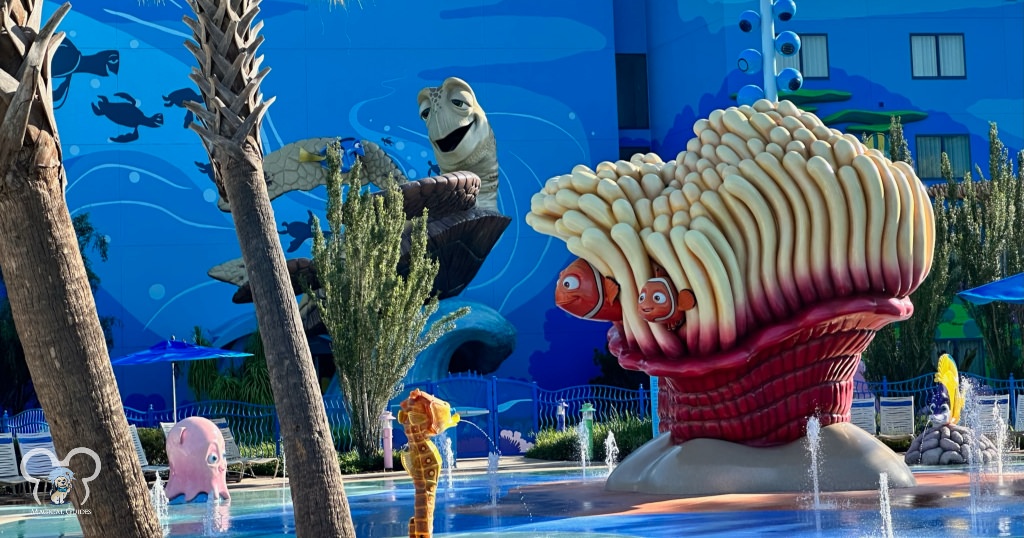 Dog-Friendly Accommodations
Another quality that sets Art of Animation apart from its fellow resorts, is that it is dog friendly. That's right, you can bring up to two dogs to the resort.
Since the parks only allow service dogs, there are local dog-sitting and daycare options available while the family is gone for the day.
I am a dog lover. Our two dogs, Walt & Roy, are beyond spoiled. The fact that I can bring them along with me is a huge perk for this resort.
Early Entry
All on property resorts have the added perk of Early Entry. Enter all four Disney Theme Parks a half hour early any day of the week. This is a major perk for guests staying at a Walt Disney World resort hotel.
Early Entry has replaced rope drop. Get to the parks early for short lines in the parks. This strategy can help you avoid paying extra for Genie+ or Individual Lightning Lanes. Use Genie+ and Early Entry together to maximize your time at Walt Disney World.
Magic Bands
Magic Bands allow you to enter your on property resort room. You can also use them for park entry, LL entrances, photopass photographers, and for payment.
You can purchase magic bands at a discounted price when you book an on property stay like Art of Animation. You can also use Magic Bands that you already have as well.
Read More: Are Magic Bands Worth It?
Art of Animation is a great resort especially for families with young children. The amenities and theming is perfect for kids and your family dog as well.
I enjoyed this resort and it's theming though the price is pretty high. I would rather stay at one of the Moderate Resorts for the price since we do not have young kids.
My husband's review of this resort is not as high as mine. He values a nice bed and access to really good food. Unfortunately, Art of Animation did not deliver on these two things for him.
Disney's Art of Animation Resort is a true work of art. Although it is only a value resort, the amenities and offerings found there make it feel like much more. As one of Disney's top rated resorts, Art of Animation is sure to amaze families.
Frequently Asked Questions
What is Art of Animation considered?
Disney's Art of Animation Resort is a resort at Walt Disney World in Lake Buena Vista, Florida. The address to Art of Animation is 1850 Animation Way, Lake Buena Vista, FL 32830.
Is Art of Animation a value resort?
Yes, Art of Animation is considered a value resort at Walt Disney World.
Does Art of Animation have Disney plus?
No, Art of Animation does not have Disney plus on the televisions.
Can I watch Hulu, Netflix, or any other streaming service at Art of Animation?
No, the televisions are Art of Animation do not have streaming service capabilities. If this is important to you, you may want to consider Disney's Coronado Springs Resort or Disney's Riviera Resort.
Do you have to pay to park at Art of Animation?
As on January 10, 2023 there is no longer a charge for parking overnight at any Disney Resort as a Disney Resort Guest.
What is the closest park to the Art of Animation?
Disney's Hollywood Studios is the closest park to Art of Animation. Disney's Skyliner also provides easy access to nearby EPCOT as well.
How far is Art of Animation from Magic Kingdom?
If you use the free bus transportation, it is a 20 – 25 minute bus ride from Art of Animation to Disney's Magic Kingdom.