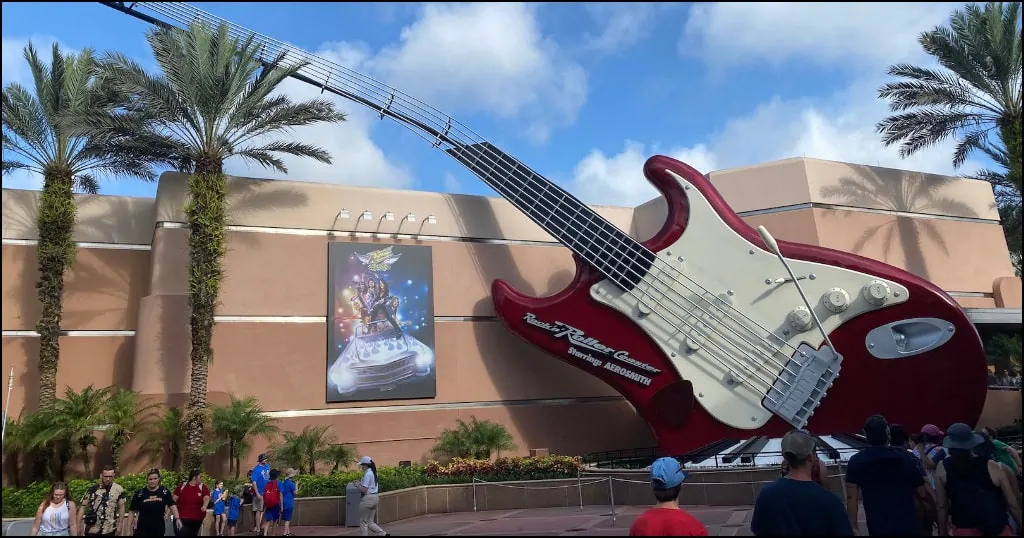 (Photo by Bayley Clark/magicalguides.com)
When looking for the fastest ride at Walt Disney World, you might be surprised by the results of this. As far as roller coasters, Rock 'n' Roller Coaster takes the title of the fastest roller coaster around. However, it isn't the fastest ride on the property. Test Track and Summit Plummet share this title, both topping the charts at 65 mph. Test Track is located in Epcot and takes you on a daring ride outside at the end of the attraction, where you hit these high speeds. Summit Plummet can be found at the Blizzard Beach water park, and this is one of the most exciting water rides around. Both of these rides are ideal for adrenaline junkies, who will love trying out the fastest rides in the resort. Rock 'n' Roller Coaster differs as takes a rider from 57 mph in 2.8 seconds, with the entire ride only lasting 90 seconds.
For so long I was nervous about riding this attraction, but the first time I did I was like a kid on Christmas. So excited, and sweaty (it can get hot inside, but I think it was just my nerves.) I highly recommend following up Rocking 'n' Roller Coaster up with a Mickey ice cream to settle your adrenaline rush.
How Scary is Rock 'n' Roller Coaster in Disney World?
Thrill-seekers planning a trip to Walt Disney World are always wondering what the best attractions are in the resort when it comes to trying scary and high-adrenaline rides. Rock 'n' Roller Coaster Starring Aerosmith is one of the most popular coasters in the resort, especially among teenagers and adults. Let's take a look at how rough and scary this ride is, so you can decide if it's worth adding to your itinerary during your day at Disney's Hollywood Studios.
Introducing Rock 'n' Roller Coaster Starring Aerosmith
Rock 'n' Roller Coaster Starring Aerosmith is an enclosed roller coaster which can be found at Disney's Hollywood Studios theme park. It first opened back in 1999, and it was also replicated for the Paris resort. The attraction is soon going to undergo a retheming, but it has been based on the music of Aerosmith since its opening. You'll board a stretch limo vehicle, which will then take you on a thrilling musical adventure. It's one of the park's most popular rides as far as high-speed thrills, and it's without a doubt the most exciting roller coaster in the Disney parks in Orlando.
How Rough is Rock 'n' Roller Coaster?
While Rock 'n' Roller Coaster is quite a scary coaster for many people, one thing we love about it is how smooth the ride is. It's a very fast and dark ride, but the motion is extremely smooth and not rough at all. It's a great ride for anyone who hasn't been on a looping coaster before, and you'll actually find it's much less rough than some of the tamer coasters in the parks.
Does Rock 'n' Roller Coaster Have Loops?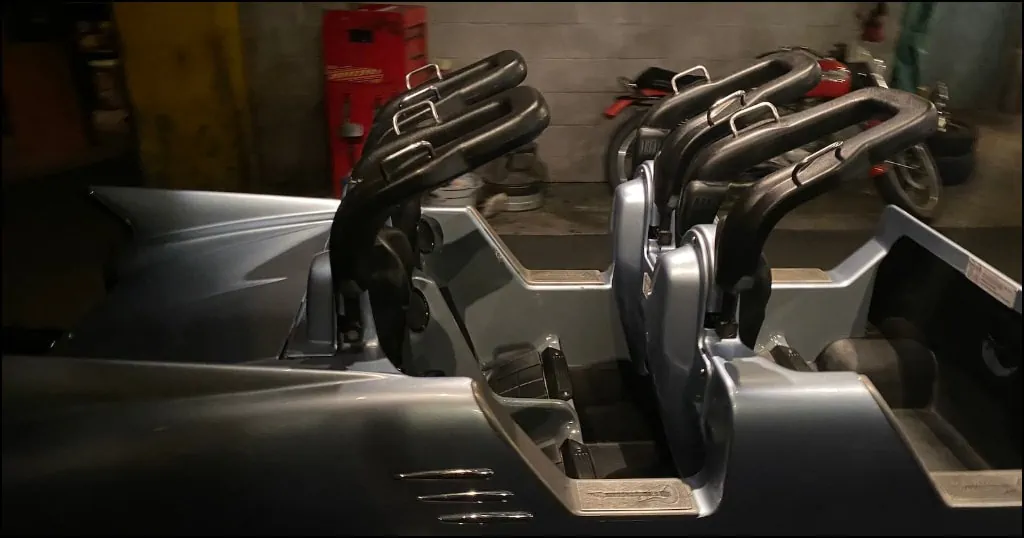 (Photo by Bayley Clark / magicalguides.com)
Rock 'n' Roller Coaster is the only looping roller coaster in the Orlando Disney theme parks. It has three inversions, one corkscrew, and multiple hairpin turns as part of the route. One of the most exciting parts of the ride is the initial take-off. In just 2.8 seconds, you'll travel from 0 to 60 miles per hour. The ride is almost completely dark, with the exception of the neon signs and flashing lights that are placed around the ride. For many guests, this makes the ride a little less scary, as you can't see exactly where you are going or what's coming up on the track.
For parents with kids and teens who've enjoyed rides like Expedition Everest, Rock 'n' Roller Coaster is a good way to test their ability to ride looping coasters. Especially if you are thinking of heading to Universal Orlando Resort on a future trip, where there are many more looping coasters, this is a good introduction to more thrilling rides. The smoothness of the ride makes it more enjoyable for some guests than Big Thunder Mountain Railroad, which is known for shaking you about as you travel around the track. If you do change your mind before boarding, keep in mind that there is an exit available at the attraction, so you aren't forced to stay in the line if you aren't sure about completing the ride.
How Long Does The Rock 'n' Roller Coaster Ride Last?
The length of the entire ride is just 90 seconds, so it's one of the resort's shorter rides. Of course, with the intensity of the ride, most guests still find it's well worth lining up for the attraction. Remember that the lines at Disney's Hollywood Studios are some of the longest in Walt Disney World. If you are keen to ride Rock 'n' Roller Coaster, we recommend either trying first thing in the morning or last thing at night. The ride is also available on Genie+, which is another way to try and ride the attraction. While it's been open for many years now, we don't find the popularity of this ride to have decreased at all. As the only looping coaster in the resort, this is unlikely to change anytime soon unless something similar is built to rival this attraction.
Read Also: Guide To 2022 Rope Drop Hollywood Studios in Disney World
When waiting for Rock 'n' Roller Coaster, you'll find that about 75% of the line is based outdoors. This can be quite unpleasant in the middle of a summer's day, which is why using Genie+ to reduce your time outdoors could be a good option. It's not a particularly exciting queue, unlike others which have various games and design elements to keep you entertained. For that reason, we recommend avoiding the line if it's over 20 minutes or so, or make sure you have something to keep you occupied during your time in line.
Read Also: Which rides have a Single rider lines at Disney World?
Is Rock 'n' Roller Coaster a dark ride?
Rock 'n' Roller Coaster is a very dark ride, but for some people, this makes it more enjoyable. The ride is not properly lit throughout, but there are various signs and smaller lights which guide your way around. If you've never been on a looping coaster before, this can sometimes be a good thing. You aren't really able to see what's coming up, so you can just go with the twists and turns of the attraction. Of course, if you are afraid of the dark, this really isn't going to be a good ride for you. This is why we generally recommend the attractions for teenagers and adults, as young children may find many elements of it to be far too scary.
Is Rock 'n' Roller Coaster Worse Than Space Mountain?
For most guests, Rock 'n' Roller Coaster is more thrilling than Space Mountain. However, this may depend on whether you enjoy looping coasters or not. If you aren't a fan of going upside down, you'll definitely prefer Space Mountain. One thing to keep in mind is that Space Mountain is much jerkier for riders. You are whipped up and down and around corners in the vehicles on Space Mountain, which can be quite unpleasant for anyone who is more sensitive to motion. Rock 'n' Roller Coaster is so smooth, so you are much less likely to come off the ride feeling like you've been shaken around. The low vehicles on Space Mountain offer a very different roller coaster experience, which for some people is the reason they prefer Rock 'n' Roller Coaster.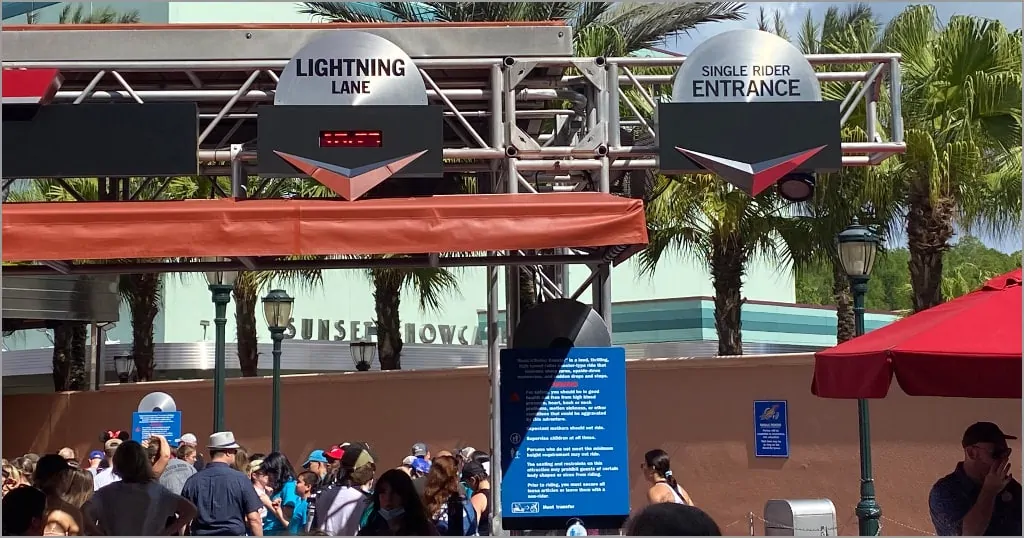 Photo by Bayley Clark/MagicalGuides.com)
Which Disney Park Has The Most Roller Coasters?
The highest number of roller coasters can be found in the Magic Kingdom. However, these roller coasters really vary in their speed and intensity. They range from kid-friendly coasters to popular family rides such as Space Mountain and Big Thunder Mountain Railroad. In the upcoming years, we expect the new roller coaster based on the Tron movies to become a firm favorite with locals and visitors to the resort, adding a new roller coaster to the line-up here.
For more thrilling rides, we recommend heading to Animal Kingdom or Disney's Hollywood Studios. Expedition Everest reaches up to 50 mph and has a fun backward element to the ride. You'll love the incredible views you enjoy from this ride as well when you reach the summit of the mountain. We think that Disney's Hollywood Studios is the best park for adrenaline lovers, who will enjoy Rock 'n' Roller Coaster, Tower of Terror, Slinky Dog Dash, and Star Wars: Rise of the Resistance. We are also excited for the new ride coming to Epcot based on Guardians of the Galaxy, as this park is long overdue a thrill ride such as this one.
Rock 'n' Roller Coaster is an amazing attraction for anyone who is looking for a more thrilling ride to try on their next vacation. It does still attract large crowds, so make sure you get here early or ride the attraction last thing at night. You can also use your Genie+ pass for this, but you'll need to think about how you use this carefully due to the number of popular rides here. Slinky Dog Dash is another great coaster here, so you'll find there's no shortage of rides to keep you busy and entertained during your visit. If you've never been on Rock 'n' Roller Coaster before, we highly recommend giving it a go. We are excited to see the changes to the attraction in the future, and no doubt it will still be a firm favorite with guests for years to come.