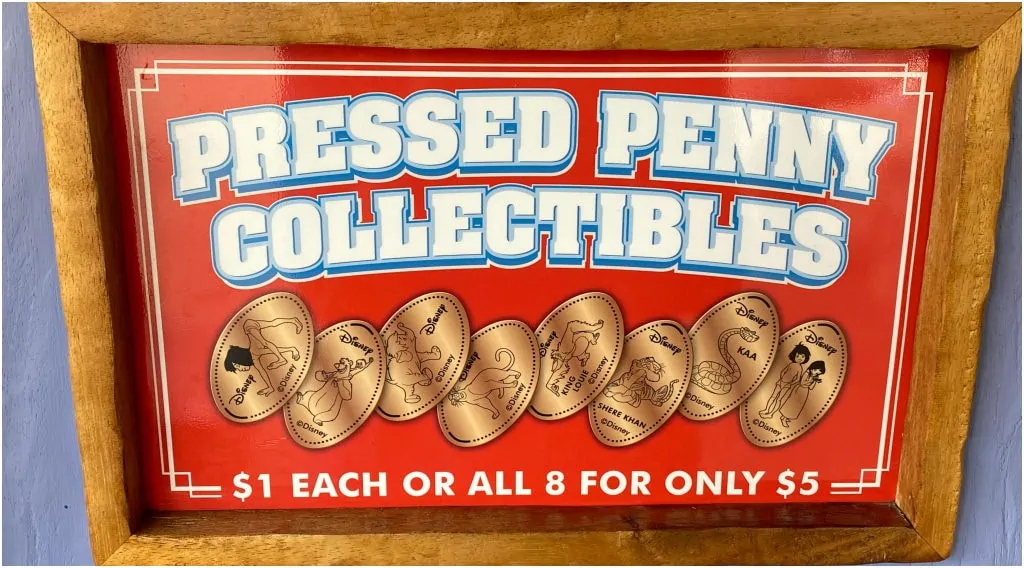 Pressed pennies are a classic tradition that many guests at Walt Disney World love to collect. You'll find pressed penny machines dotted around the theme parks and resorts, and they are an inexpensive collectibles for kids and adults alike.
Today we're going to share our ultimate guide to pressed pennies, including how you can get started with this fun activity. We'll share how much it will cost you to press a penny and how you can prepare to take part in this fun tradition before your next vacation.
Where Can You Find the Pressed Penny Machines?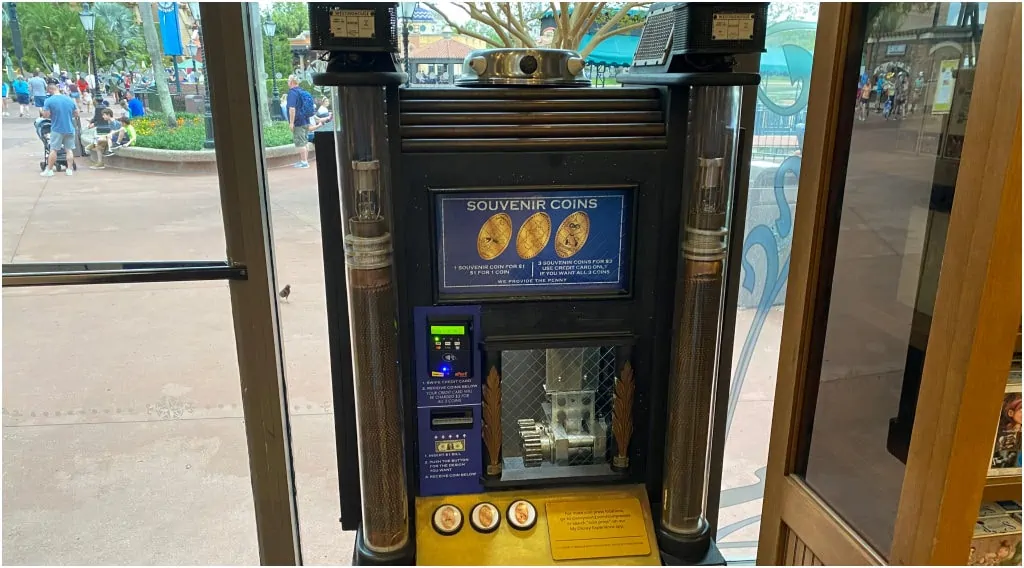 Pressed penny machines can be found across the Walt Disney World resort, including in both the theme parks and resorts. Before a vacation to Walt Disney World, we always recommend downloading the My Disney Experience app.
This app has many great features, but for pressed penny collectors, you'll find that it offers you the locations of all of the machines near you. Instead of spending hours walking around the theme parks trying to find where machines are hidden, you'll find a map that you can browse through in order to find one that's nearby.
The machines all have different designs and pennies for you to collect. There are special edition ones, such as for the holidays or the current 50th-anniversary celebration.
Over the years, the locations and prices of these pennies have changed, which is why we're here today to share a full update on the pressed pennies at Walt Disney World. Some things may have changed since your last trip, but you'll still find this to be a fun way to enhance your vacation.
Even if you aren't visiting the four theme parks during your stay, you'll still be able to enjoy collecting pressed pennies. They are also available at Disney's Typhoon Lagoon and Disney's Blizzard Beach water parks.
You can find them throughout Disney Springs and the ESPN Wide World of Sports Complex, as well as in select resorts. If you play a round of mini-golf at either of the on-site courses, you could also take home a pressed penny as a souvenir of this activity.
The more places you visit on your trip, the more coins you'll be able to collect, allowing you to create a unique collection that shares the story of your vacation.
Read Also: Is The H2O After Hours Glow Party Worth It?
How Much Does It Cost to Press a Penny?
At the current time, you'll find that pressed pennies cost you one dollar, but this will vary from machine to machine. Some of the machines still accept dollar bills, but others ask you to use a credit card or mobile pay for the fee.
Other machines in the resort charge three dollars, where you receive multiple pennies, and others will be five dollars for eight coins. As you can see, you'll need to check very carefully the machine you are purchasing your coins from in order to make sure you aren't paying more than you expected for what you are after.
It's still a very inexpensive souvenir for your vacation though, and is one of the best value-for-money ways to entertain your kids on your next trip to Walt Disney World.
Do I Need To Bring My Own Pennies?
In the past, many visitors to the parks used to spend forever collecting shiny pennies ahead of their trip in order to create the perfect pressed penny each and every time. Now, you'll find that you don't even need to bring any pennies at all, as these are included in the payment fee. You don't have to carry any coins at all with you on your trip, which makes joining in with this activity much easier in this day and age. Instead, Disney automatically uses a very shiny penny for each of the pressed pennies, ensuring your collection looks perfect every time now.
The Best Ways to Collect and Display Pressed Pennies
For anyone who is particularly keen to collect Walt Disney World pressed pennies, you might be wondering what you'll do with them once you've pressed them. In the resort's gift stores, you'll find that they sell pressed penny collectors books, which make it easy to safely collect your coins.
As these pressed pennies are a small souvenirs, you'll want to make sure you put them somewhere safe, or you may easily lose them in your bag or pockets.
There are different designs and books on offer from time to time, so make sure you check out your options when you first arrive at the resort. Pressed pennies can also be displayed in more creative ways when you get home, such as on a dish or on a display on the wall. It's all about using your creativity to find a way to display your collection after spending hours running around the resorts collecting these pennies.
Kids and teens love getting involved in this fun, as it's a new way to see hidden areas of the parks and resorts while creating a fun souvenir that you'll enjoy looking back on for years to come.
Pressed Penny Sets
Some of the machines allow you to purchase sets of pressed pennies as well as single pennies. While you would usually pay $1 for each coin, you'll be able to get a discount when you buy them in bulk. Most of the machines offer eight coins for $5, which saves you a fair bit of money if you are looking to build your collection very quickly.
One thing previous visitors will notice is that the price has increased a lot from the past when it used to be just 51 cents for a single coin. Of course, it's not the only thing that has gone up in price at Walt Disney World and isn't going to completely bankrupt you on your next trip.
Take a stack of dollar bills with you to share with your family during the trip so that you are well prepared to take part in this fun activity.
Read Also: Big Ways Save Money At Disney World
What Age Group Can Enjoy Collecting Pressed Pennies?
One of the things we love about pressed pennies at Walt Disney World is that this activity is suitable for almost anyone. As long as your children are old enough to safely handle pennies, they'll love running around the resort searching for them.
It's a good way to keep your young children out of the gift shops spending too much money, as they'll be far too invested in their pressed penny collection. Make sure you set up clear expectations with them at the start of the trip though for how many pennies they can get each day.
You'll want to also make sure you have enough storage space for all of their new pennies, so they can keep collecting them throughout your vacation.
Read Also: Mini Golf at Disney World
We find that teenagers and adults still enjoy collecting pressed pennies as well. As you get older, you may have more appreciation for the different designs on offer and the rarer pennies.
If you have a favorite character, you may opt to create a themed collection for one trip based on a certain character or movie. There's no limit to the number of ways in which you can collect these pennies, so find a way that suits your budget and idea of having fun in the parks.
You can also just casually collect a few pennies each vacation, adding to your collection year after year when you return to Walt Disney World.
The 50th Anniversary Pressed Coins and Medallions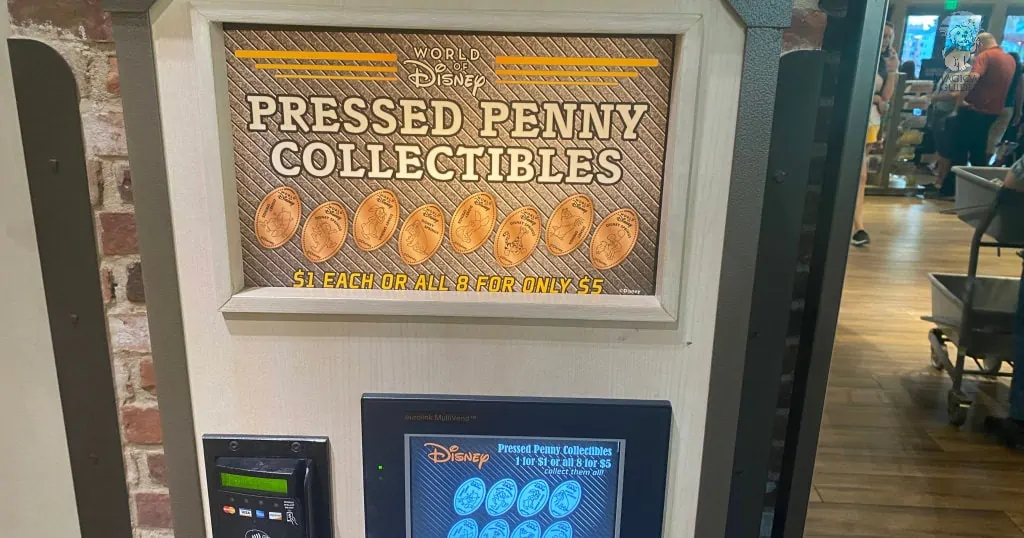 If you are looking for another way to celebrate the 50th anniversary of Walt Disney World, then you can start hunting down the 50th anniversary pressed pennies. Throughout the resort, you'll find themed medallions, tags, and pressed pennies, all of which are just available for the celebrations this year.
The coins are available in 50 different designs, which feature the Disney Fab 50 characters. These include classic characters such as Mickey Mouse, Minnie Mouse, Goofy, Pluto, and Dumbo, through to more modern characters including R2-D2 and Olaf.
You'll see the characters in their pretty costumes for the celebration, so they aren't like your typical pressed pennies. It's a great addition for long-time-pressed penny collectors, who will appreciate having some new designs to add to their collection this year.
How Many Pressed Penny Machines Are There at Walt Disney World?
If you think you can visit every machine during one visit to the theme parks, you may find that you have a huge task on your hands. In fact, in the Magic Kingdom alone, there are 33 machines, with a total of 181 pressed pennies to collect.
EPCOT has 31 machines, Disney's Hollywood Studios offers 25 machines, and Disney's Animal Kingdom has 23 machines. You'll also find that some of the parks have pressed quarter machines, which open up a whole new range of coins to collect.
We don't think anyone will really be able to visit all of the machines in one trip, but that just means you have something to look forward to on your next vacation.
Create Your Own Pressed Penny Holder
There's no denying that a trip to Walt Disney World soon adds up in costs, which is why we are always looking for ways to save money on your vacation. If you want a cheap way to store your pressed pennies, then consider using a pill bottle or an empty tube.
You can then decorate this bottle with your name or your child's name, as well as stickers or pictures of their favorite characters. This would be a great way to store a themed collection, as you can decorate each tube to match the coins that are inside.
You don't have to spend a fortune to get started with this activity, which is why it's one of our favorite things to do in theme parks.
Are Pressed Pennies Still Worth Collecting in 2022?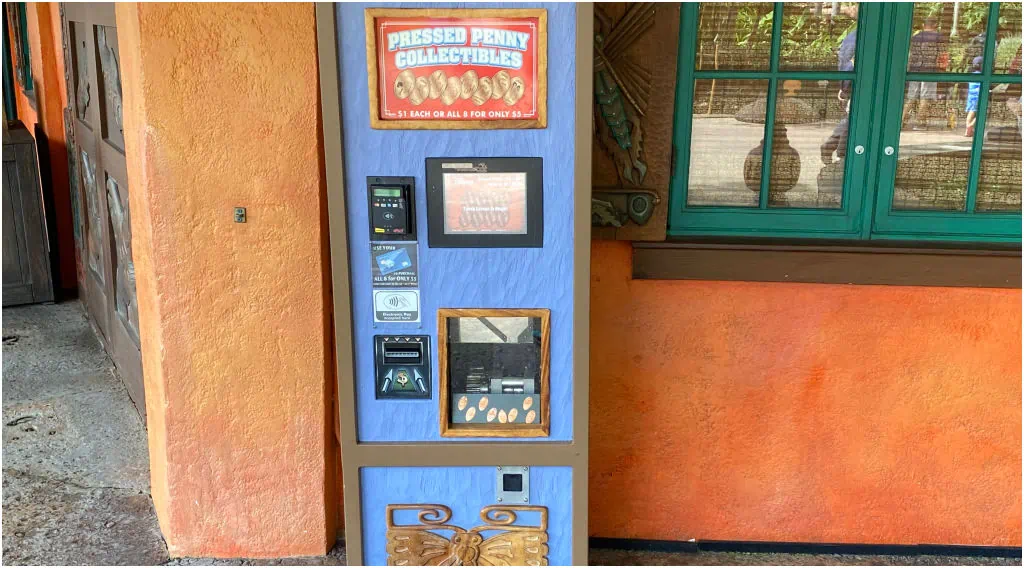 With so many changes to the way in which pressed pennies are sold today, you may be wondering if they are still as fun to collect as when you had to go to the parks with a handful of change. If you have young children, you'll find that the novelty of this activity is still as strong as ever before. It's one of the best ways to create a fun collection during your vacation without spending a fortune.
While there are other activities such as Pin Trading to consider, these soon add up in cost, especially when you have multiple children. Large families appreciate the variety of coins on offer throughout the resorts, allowing each child to make their own unique collection.
This year is also a great time to get started with this activity, thanks to the 50th-anniversary collection. These are a really pretty set of pressed pennies, which will remind you of your visit to the parks during this very special time.
They can be appreciated by both adults and kids alike, who will love finding all of the Fab 50 characters around the resort. It's a great way to get back into this activity if you haven't pressed pennies for a few years, and you'll remember just how fun it was to find the machines around the parks in the past.
As you can see, the pressed penny machines are just as popular now as they were a few years ago, and it's a great way to take a special memory of your trip home with you without spending a fortune. We recommend preparing in advance as much as you can for your trip by collecting some dollar bills and finding a storage solution for your pressed pennies.
It can be so easy to lose these little coins, so make sure you have a way to keep them safe when you are visiting the theme parks. No matter your age, you are never too old to start collecting pressed pennies and enjoying this fun tradition that has been around for many years.