Thrilling rides and exciting attractions makes Universal Orlando one of the top theme park resorts worldwide. Comprising two theme parks, a water park and a shopping, dining and entertainment complex, Universal Orlando has a wealth of action and activity to offer.
With so much to do, numerous days are needed to explore the depths of the parks and everything that Universal Orlando has to offer and booking accommodation close to the action has become somewhat of a priority for theme park fans.
With heavy competition in the Orlando area from other theme park resorts, theming and amenities need to be on point and beautifully executed. Universal's on site resorts and hotels boast beautiful accommodation, exclusive guest benefits and most importantly, prime locations for easy access to Universal Orlando's parks.
This guide will give you the low down on staying on property at Universal Orlando Resort providing tips, tricks and all the information you could possibly need for the ultimate Universal Orlando vacation.
Benefits of staying on property
Universal Orlando Resort offers a variety of resort hotels keeping guests as close to the action of the theme parks as possible. It is impossible to stay closer to the parks and to make your journey even easier, complimentary use of shuttle buses and water taxis between the hotels and parks.
Aside from the convenience of access to the parks, staying at a Universal Orlando resort or hotel provides guests with many benefits and exclusive privileges enhancing your Universal Orlando Vacation.
Guests of Universal Orlando Resorts are able to take advantage of free merchandise delivery. The free service provides delivery direct from Universal Orlando stores directly to your hotel. This allows you the freedom to shop without carrying your purchases with you for the remainder of the day.
Guests can also charge any shopping and dining purchases made across Universal Orlando Resort to their room key card allowing you to enjoy a simple, cashless experience within the parks. In addition, guests can also enjoy complimentary club-to-club access at select venues within Universal Citywalk.
The best benefit of staying at a Universal Resort or Hotel however, is that guests receive early park admission as a perk of staying on property. Guests can enjoy early park admission to both The Wizarding World of Harry Potter and Universal's Volcano Bay.
Read Also: The Best Way To Get To Universal Studios From Disney World
This early admission entitles resort guests to enter Universal Studios and Universal's Islands of Adventure one hour ahead of regular guests and Universal's Volcano Bay thirty minutes prior.
Select resorts and hotels also have additional benefits including Universal Express Unlimited and priority seating at select dining locations across Universal Orlando Resort.
Value Resorts
Universal Orlando's Value Resorts provide guests with the best value for money whilst staying on property by offering Universal Orlando's lowest ever room rates. The Value Resorts are the most affordable accommodation option at Universal Orlando and are a great option for families, large groups and those on a budget. Value Resorts offer the same standard benefits as all other Universal Orlando resorts include free shuttle buses and early park admission. Whilst the Value Resorts are located the furthest from the parks, with only a ten minute shuttle journey to the main Universal Orlando complex, distance is barely an issue.
Universal's Endless Summer Resort – Surfside Inn and Suites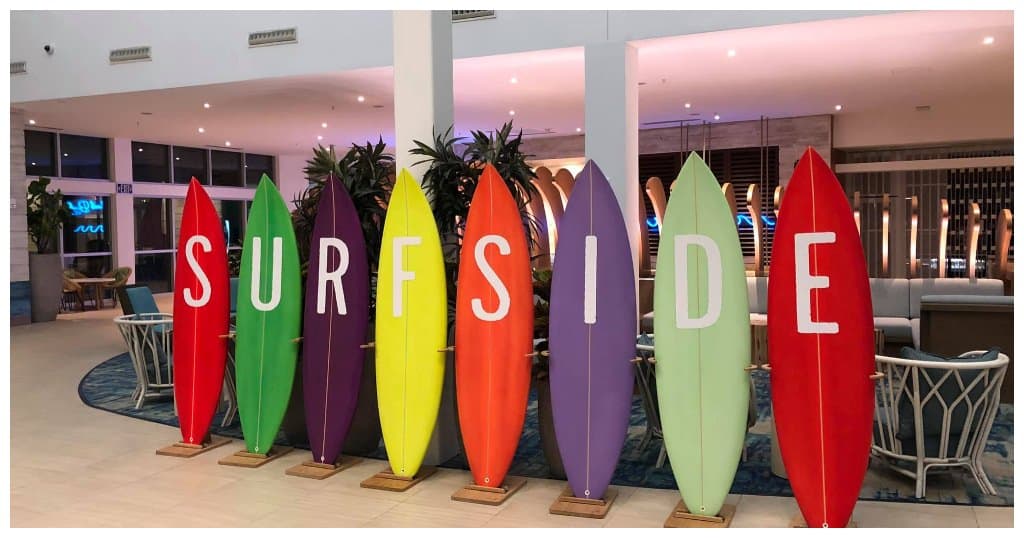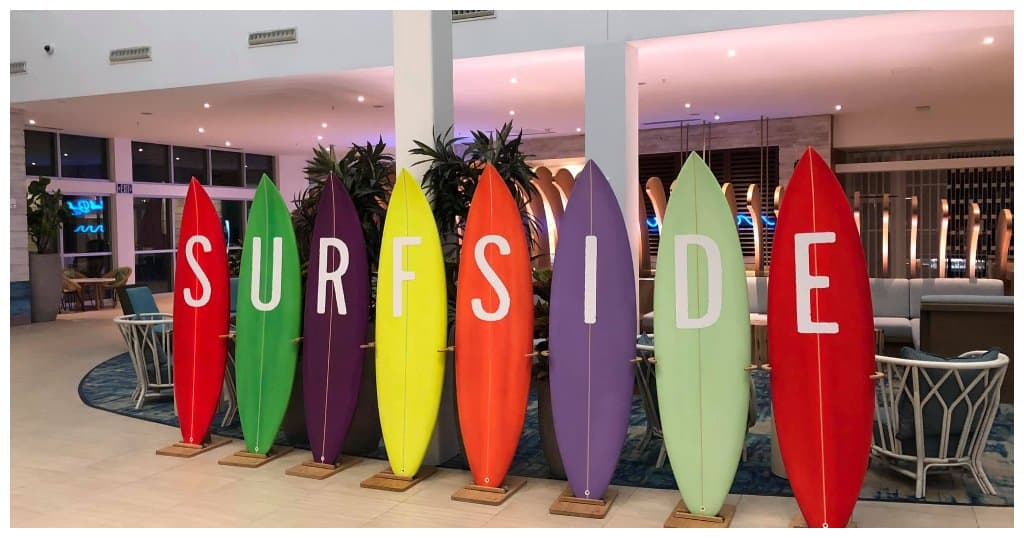 Surfside Inn and Suites has a beachside resort theme with a surf vibe offering a collection of standard rooms and two bedroom suites that sleep up to six and are ideal for families. The accommodation features bright, beachy designs with surfing related theming throughout.
The surf theming continues throughout the property from the ocean inspired lobby to the surfboard shaped pool. A Universal Studios store is on site selling merchandise, sundries and essential items whilst the I-Drive Garden is a unique attraction, a collection of plants in a Universal-themed garden. The property is also home to a fitness center with complimentary access and a games room with a wealth of arcade games.
When it comes to dining, Surfside Inn and Suites does not offer any full service restaurants, however, many quick service locations are available. In the lobby of the complex, a Starbucks is available whilst the pool features Sand Bar, a drinks-only bar serving cocktails, draft beer and many other beverages. The main dining location on the property is Beach Break Cafe. The quick service location offers four hot-counter stations with a variety of options plus grab and go snacks. In room pizza delivery is also available at Surfside Inn and Suites and guests can also utilize the facilities at Dockside Inn and Suites.
Universal's Endless Summer Resort – Dockside Inn and Suites
Dockside Inn and Suites offers a coastal theming and a collection of standard beach themed rooms and two-bedroom suites. Rooms at Dockside Inn and Suites have a beach theme throughout with sunset touches within the decor.
Throughout the hotel, the sunset beach theme continues including the lobby which features a beach design with striking decor, natural wood and warm colors. A Universal Studios store is available in addition to a fitness center and an arcade room. Dockside Inn and Suites features two pool areas on opposite sides of the property. The pools feature sand beaches, zero-entry access and a designated children's splash play area. A schedule of activities is also available from reception with events including ping pong and bingo.
Dockside Inn and Suites offers basic dining locations with no full service restaurants on property. The pool areas are home to two drinks only bars The Oasis Beach Bar and The Wavemaker plus a drinks only bar in the lobby, Sunset Lounge. The primary dining location on site is Pier 8 Market a quick service food court open for breakfast, lunch and dinner. The food court offers five food stations offering affordable meals and light snacks at value pricing for a theme park. An in-house Starbucks is available in the lobby whilst pizza and fried chicken in-room delivery is also available at Dockside Inn and Suites. Guests can also enjoy the facilities at Surfside Inn and Suites.
Prime Value Resorts
Prime Value hotels are a level up from Value hotels, still incredibly budget-friendly but with extra amenities. The hotels within the category are designed for family accessibility with fantastic facilities, supervised children's activities and rooms that sleep up to eight. In addition, Prime Value Resorts come with a perk that no other hotel can offer including Preferred and Premier Resorts as both hotels have a direct private walkway straight to Universal's Volcano Bay.
Universal's Cabana Bay Beach Resort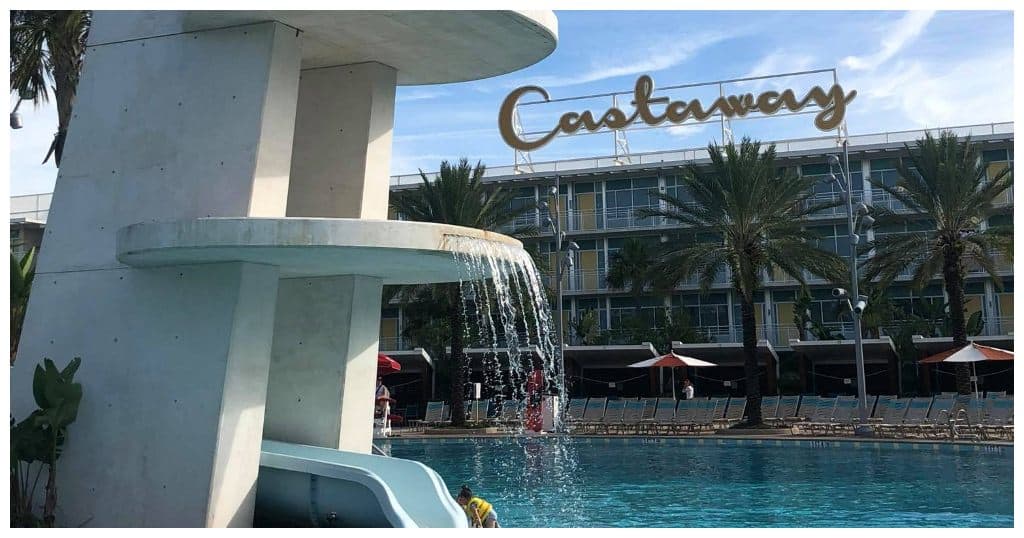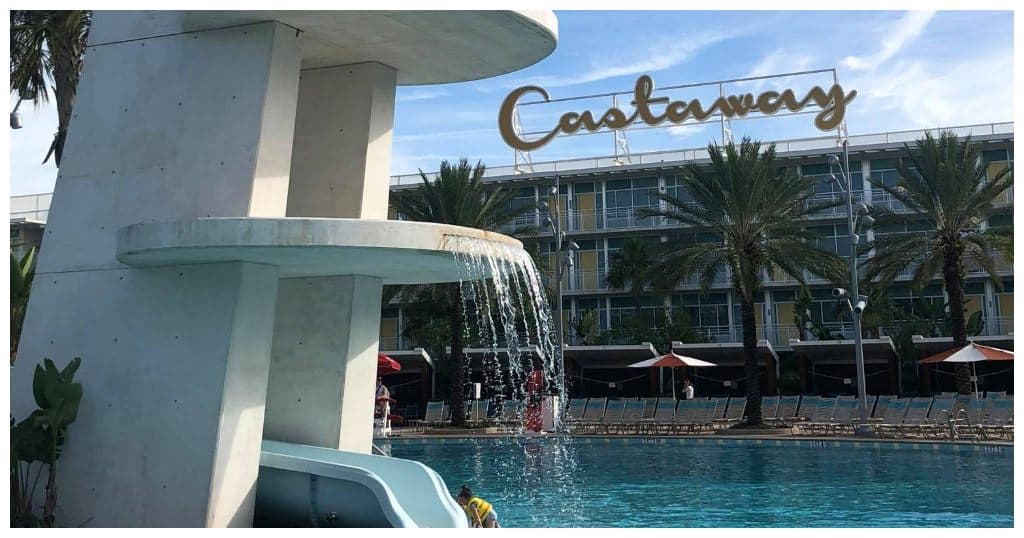 Universal's Cabana Bay Beach Resort is a hotel with an air of nostalgia, themed after iconic beach resorts of the 50's and 60's. Throughout the resort, you will find vintage decor, retro designs and gentle nods to the golden era of beach resorts.
The resort is the largest on Universal property offering a whopping 2200 rooms including standard rooms, family suites and two bedroomed accommodation options. All of the rooms feature bold designs and a cool vibe complete with themed retro amenities. The accommodation is a great option for families as up to 70% of the rooms at Universal's Cabana Bay Beach Resort are interconnecting. Select rooms also have magnificent views overlooking Universal's Volcano Bay theme park.
The resort has an abundance of facilities on offer including two pool complexes. Atomic Courtyard is a 10,000 square foot pool offering a sand beach, a water slide and poolside activities whilst Lazy River Courtyard is a 6000 square foot pool home to Universal's very first lazy river. You can also find Galaxy Bowl on site, a ten-lane bowling alley and full service restaurant venue. In addition, the resort also features a Universal Studios store, the Game-O-Rama arcade room and the Jack LaLanne Physical Fitness Studio.
Galaxy Bowl is the resort's only full service restaurant with a themed menu featuring pizza, burgers and hot dogs. Universal's Cabana Bay Beach Resort's primary dining location is the quick service food court Bayliner Diner offering a variety of stations with retro diner theming and menu options including milkshakes and burgers. The resort also offers two outdoor quick service dining locations Atomic Tonic and Hideaway Bar and Grill serving a selection of drinks and snacks. Finally, the resort is also home to a Starbucks with a unique mid-century design to match the hotel's theming. Guests of Universal's Cabana Bay Beach Resort can also enjoy in room pizza delivery and utilize the amenities at Universal's Prime Value, Preferred and Premier Resorts.
Universal's Aventura Hotel
Universal Orlando's most technologically advanced hotel, Universal's Aventura Hotel is a sleek and sophisticated experience. Turning away from specific theming, Universal describes Aventura's theme as 'vibrant, free-flowing and vibrant' with the hotel bursting with cool aesthetics, a relaxing atmosphere and high technology aspects. The entire resort is open, modern and spacious with a welcoming vibe.
The rooms at Universal's Aventura Hotel offer contemporary luxury with technology a key focus. Every room comes equipped with a tablet able to control everything from light functions to ordering room service. The smallest of Universal Orlando's hotels, Universal's Aventura Hotel features just 600 rooms with a variety of standard and deluxe rooms. Skyline view rooms are also available for exceptional views over Orlando, Universal's Citywalk and the three Universal theme parks.
The hotel also features a Universal Studios store, a fitness center with complimentary access for guests, an outdoor fire pit and a resort pool complete with children's splash pad. However, the main attraction when it comes to public spaces at Universal's Aventura Hotel is the unique virtual-reality gaming room considered the hotel's crown jewel.
When it comes to dining, Universal's Aventura Hotel has great options. Whilst there is no full service restaurant on the property, the hotel has an excellent selection of quick service dining locations. The primary dining location at the hotel is Urban Pantry, a food hall with a wide selection of both hot and cold meals and snacks. Alongside Urban Pantry, within the lobby there is also a Starbucks and a lobby bar, barVentura. Heading up to the rooftop you will find Bar 17 Bistro serving up a great menu of local ingredients and international flavour whilst showcasing one of the best views in Orlando. The pool area is home to Bar Sol whilst a limited room service menu is also available to order via the in room tablets.
Preferred Resorts
The Preferred Resort category is currently limited to one resort and is a higher-end hotel choice than Value and Prime Value Resorts. A Preferred Resort features upscale amenities, intricately detailing theming and valet parking and are the middle ground between the Premier Resorts and lower price points. Preferred Resorts are connected to Universal via the waterway and offer water taxis to the parks and Universal's CityWalk in addition to shuttle bus transportation.
Loews Sapphire Falls Resort
Loews Sapphire Falls Resorts is a AAA Four-Diamond resort property designed as an island themed retreat offering tropical vibes and a Caribbean atmosphere.
The rooms of Sapphire Falls are designed with a tropical getaway in mind featuring natural wood and tones of blue and green. A variety of standard rooms and suites are available some of which offer pool or lagoon views. Standard rooms can fit a maximum of five but suites are also available.
The public space at Sapphire Falls offers excellent facilities with a Universal Studios Store, the Calypso Game Room and the Kalina Health and Fitness Center. Walking and jogging trails can also be found around the property and as Sapphire Falls is a dog friendly hotel, designated dog walking areas are also available. Loews Sapphire Falls Resort features one of the largest pools on Universal property at 16,000 square feet and the pool area is complete with hot tub, a slide, children's play area, poolside games and two white sand beaches. However, the main attraction of Sapphire Falls is the magnificent waterfall that flows into the waterway it shares with the Premier Resorts.
Loews Sapphire Falls offers a wide variety of dining options including 24 hour room service. The resort's full service restaurant Amatista Cookhouse serves for breakfast, lunch and dinner with a delicious Caribbean-inspired menu. In addition, New Dutch Trading Co. is available for quick service whilst Strong Water Tavern offers rum tastings and tapas and Drhum Club Kantine sits poolside providing drinks and light bites.
Guests of Sapphire Falls also have access to the amenities and facilities at all other Universal properties with the exception of Universal's Endless Summer Resort and is connected via walkway to Loews Royal Pacific Resort.
Premier Resorts
The Premier Resorts of Universal Orlando are the most luxurious and upscale on Universal Property but also come at the highest price point. All Premier Resorts are connected to the Universal Waterway offering water taxis to the parks in addition to shuttle buses. Staying at a Premier Resort provides guests with additional benefits including priority seating at select restaurants across Universal property and the use of Universal Express Pass Unlimited which has unlimited priority access to rides and attractions across the parks.
Loews Portofino Bay Hotel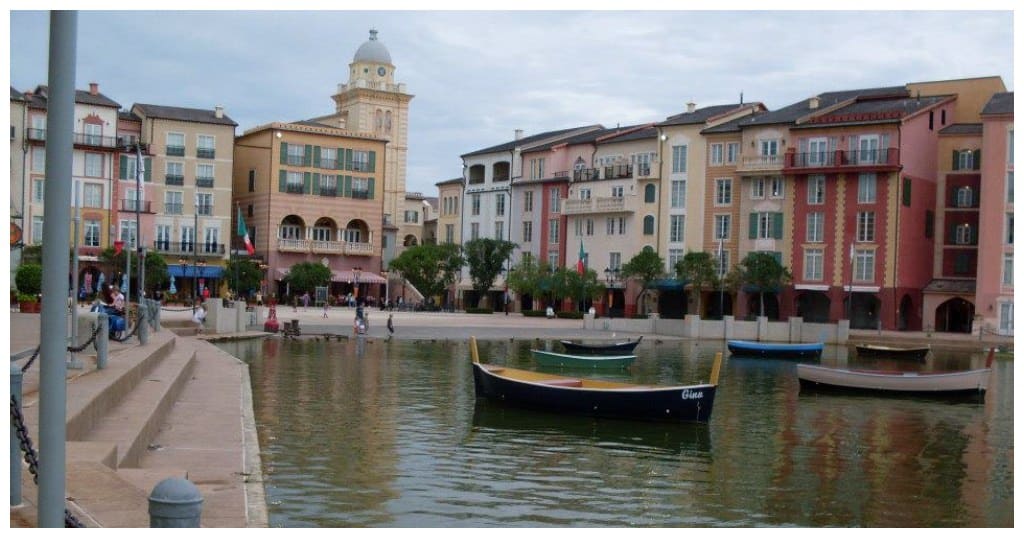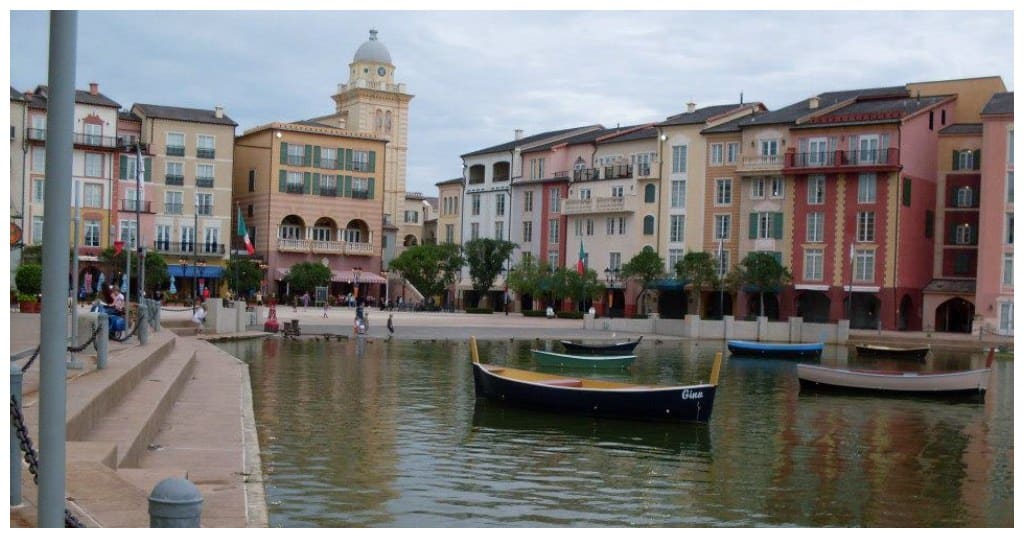 Inspired by the Italian village of Portofino, this elegant hotel offers beauty, charm and an unforgettable vacation. Nestled around a 'harbour' within the Universal waterway, Loews Portofino Bay is the most picturesque hotel on Universal property. Every aspect of the hotel from the landscaping and architecture to the decor and detailing transports you right to the heart of Italy.
Loews Portofino Bay Hotel offers a wide variety of accommodation options including standard rooms, deluxe rooms and suites as well as garden views, bay views and Despicable Me themed rooms. With the exception of the Despicable Me kids suites, all rooms offer a European flair with Italian furnishings and authentic decor.
Surrounding the hotel is the Harbor Piazza and it is here you will find the water taxi dock, the walkway to CityWalk and the on-site shopping and dining locations. Portofino Bay has five stores on property including a Universal Studios store and an art gallery. Portofino Bay is also home to three pools, the main Beach Pool offering poolside activities, an eatery, a beach and waterslide, the Villa Pool which is a more exclusive option with cabana rentals and the Hillside Pool, a smaller, quieter and more private pool area. The hotel also features Mandara Spa offering an extensive menu of massages and treatments.
A myriad of dining options are available at Portofino Bay. The hotel offers three full service restaurants, Trattoria del Porto, Mama Della's Ristorante and Bice offering a variety of Italian dishes. In addition there are also two quick service locations, Sal's Market Deli and Gelateria, plus a Starbucks, two hotel bars and a poolside bar and grill.
Loews Royal Pacific Resort
Loews Royal Pacific Resort invites guests to enjoy a luxurious South Seas vacation with tropical vibes, swaying palm trees and sparkling waterfalls.
The rooms at Loews Royal Pacific Resort are the perfect blend of modern luxury and island charm, decorated with tropical floral detailing and bold accent walls. The resort offers a variety of standard rooms and suites plus eight Jurassic World themed kids suites.
The oasis vibe can be found throughout the entire hotel including the lobby which features lush plants, elephant statues and a reflecting pond. The large pool area offers cabana rentals, a white sand beach, a hot tub and interactive water features as well as an exhaustive list of poolside activities. The resort is also home to two on-site stores, a fitness center, a croquet lawn, walking and jogging trails, a video game arcade and The Mariner's Club, a drop-off children's center.
Loews Royal Pacific Resort also offers some incredible dining options including a poolside bar and grill, a lobby bar and a quick service eatery. The Islands Dining Room is a full service restaurant serving breakfast buffets and pan-asian evening meals whilst Jake's American Bar is open for lunch, dinner and late night dining. However, the resort has two extra special dining options also available, a Despicable Me character breakfast and the Wantilan Luau.
Hard Rock Hotel at Universal Orlando
Hard Rock Hotel allows guests to live like a rockstar with exceptional dining, exciting activities and incredible accommodation. The hotel is the closest resort to the parks with quick access via walkway or water taxi.
Hard Rock Hotel at Universal Orlando has an exceptional variety of room options available including standard rooms, deluxe rooms, suites and All-American music themed kids suites. The rock and roll decor is paired back within the accommodation providing a simple, calming space to unwind after a busy day at the parks.
The hotel has rock and roll theming throughout with public spaces worthy of rockstar visitors. The pool is one of the coolest on Universal property with rock music playing underwater in addition to a 260-foot slide and a white sand beach. The hotel also offers a butterfly garden, fitness center, arcade room and Rock Shop, the hotel gift shop.
The hotel boasts two full service restaurants, the steak and lobster restaurant The Palm and The Kitchen which offers one of Universal's best and most popular breakfast buffets. The hotel also offers a bar, a poolside beach club, a Starbucks and the quick service location Emack and Bolio's Marketplace as well as 24 hour room service.