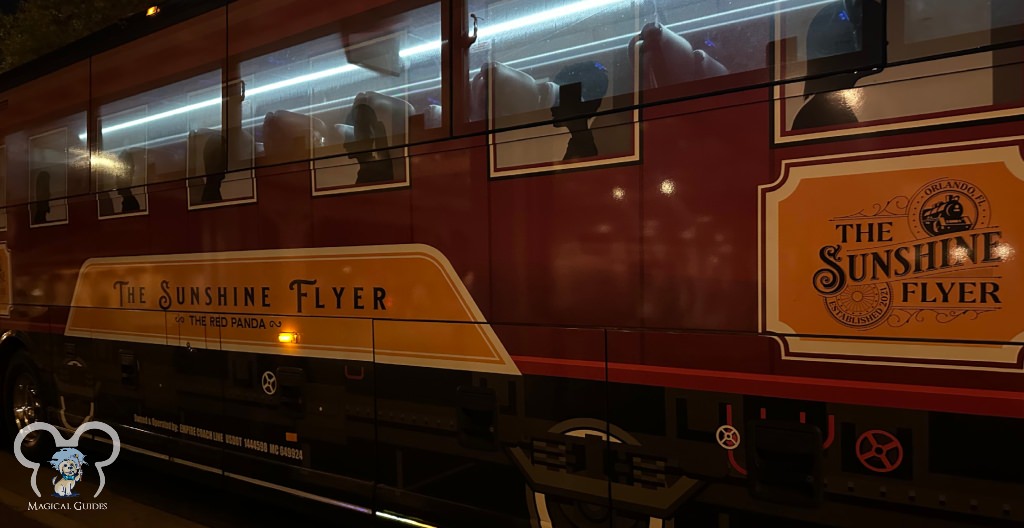 If you fly into Orlando International airport (MCO) getting to a Disney resort can be stressful. We often get asked what the best transportation option is.
In years past we had Disney's Magical Express as a complimentary service. Magical Express would even handle our luggage to and from our Walt Disney World Resort hotels. Sadly, it was a victim of the Chapek pandemic era of leadership.
I do miss not having to wait for baggage claim. However, some of the magical express lines could be a pretty long wait itself.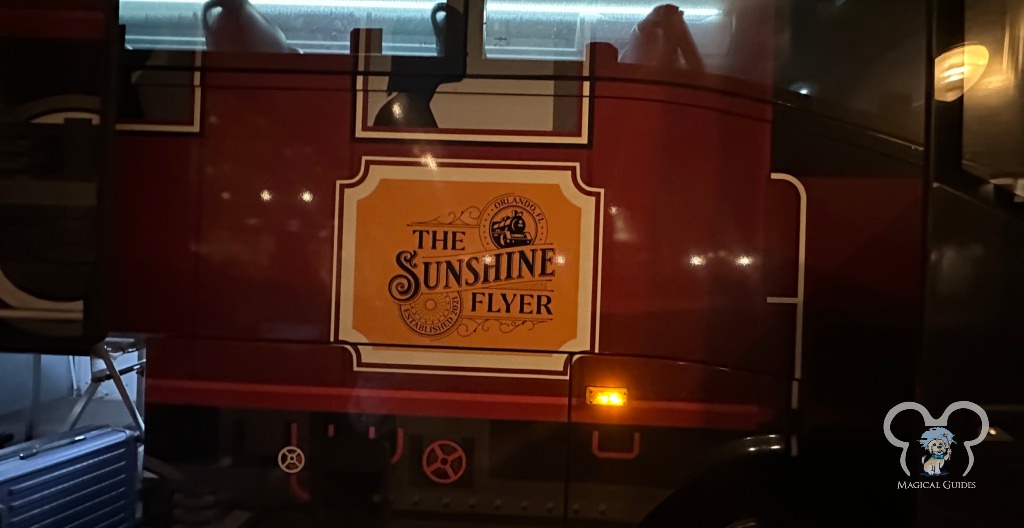 Enter Sunshine Flyer on the Disney transportation scene, the latest motorcoach whisking guests from MCO to Disney resorts in train themed motorcoaches. Each member of the Sunshine Flyer wears conductor style overalls.
We have heard so many good things about Sunshine Flyer. We decided to try it ourselves on our recent trip down to preview the new Tron Lightcycle Ride.
What is the Sunshine Flyer?
Sunshine Flyer is a fairly new motorcoach company offering to whisk guests from MCO to Disney resorts. Taking Sunshine Flyer is a cost-effective mode of transportation from the airport, especially with a large group.
Each member of the Sunshine Flyer team are rail conductors, wearing uniforms styled with blue jean overalls, and a red bandanna. Each of the motocoaches are wrapped in old-fashioned passenger cars from trains.
The train theme bus is a fun way to start your Disney vacation, especially if you have kids. Each seat on the Sunshine Flyer motorcoach is equipped with three-point harness seat belts.
So if you want to bring your car seat feel free to secure it once onboard. Or have the driver store your car seats under the motorcoach to be retrieved on arrival to your Disney resort.
How does the Sunshine Flyer Work?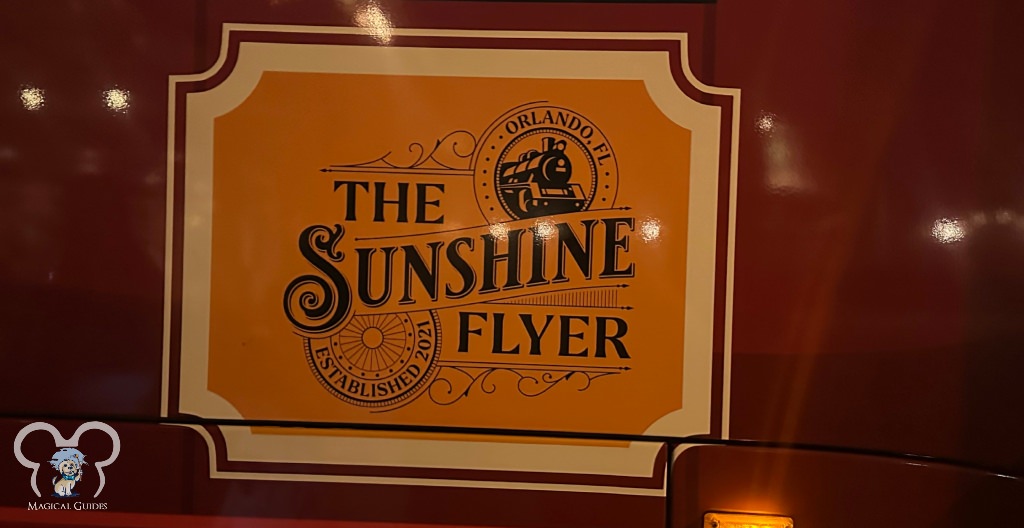 Transportation Management Services has been in the transportation business for over 27 years, serving over 290 cities. TMS is a large events transportation company that handles big events like getting guests to the NBA Finals.
So with that type of expertise under their belt, getting guests to their Disney resort seems like a no brainer. They also have the financial backing to launch a unique motorcoach bus experience airport transportation service such as Sunshine Flyer.
Which Disney Resorts Do the Sunshine Flyer Service?
Sunshine Flyer can transport you round trip from any Disney Resort, including Shades of Green, and Disney's Swan, Dolphin and Swan Reserve resorts.
If you are staying at a Disney Good Neighbor hotel, unfortunately, Sunshine Flyer does not serve those resorts at this time.
How Long Does the Sunshine Flyer Bus take to get to Walt Disney World?
Sunshine Flyer states they have a motorcoach that departs every 20 minutes. Depending on how many stops, I would schedule about an hour to get to your resort, it could even take closer to two hours depending on traffic.
Our trip included stops at Caribbean Beach, followed by Port Orleans French Quarter, then our stop to Port Orleans Riverside. After that there was two additional stops to Fort Wilderness and finally to Disney's Contemporary Resort.
How Much does Sunshine Flyer Bus Transportation Cost?
One of the reasons we tried Sunshine Flyer was they had a special for $12 per person one-way. When I called to book the reservations, our total for our tickets was a tad over $27 as there was a $3 airport fee for being picked up at the airport.
They are running a Spring travel promotion of $12 per person, each way special until May 31st 2023. If you're looking for a discount on Sunshine Flyer or looking to try it for the first time, this is a great deal. A comparable Uber ride would be $40 for my husband and I.
How to Book the Sunshine Flyer Bus
You should book your tickets for the Sunshine Flyer at least 4 days prior to your arrival. However if you forget (like my husband did), give them a call (321) 329-8685.
You can book online, having your flight number will help speed booking your tickets. Don't let not having your flight information stop you from booking your roundtrip on Sunshine Flyer premium motorcoach today.
Once booked you will get a confirmation email that will contain a confirmation and a QR code. I only needed the confirmation code to show upon checkin.
What type of Cartoons are shown on the Sunshine Flyer Bus?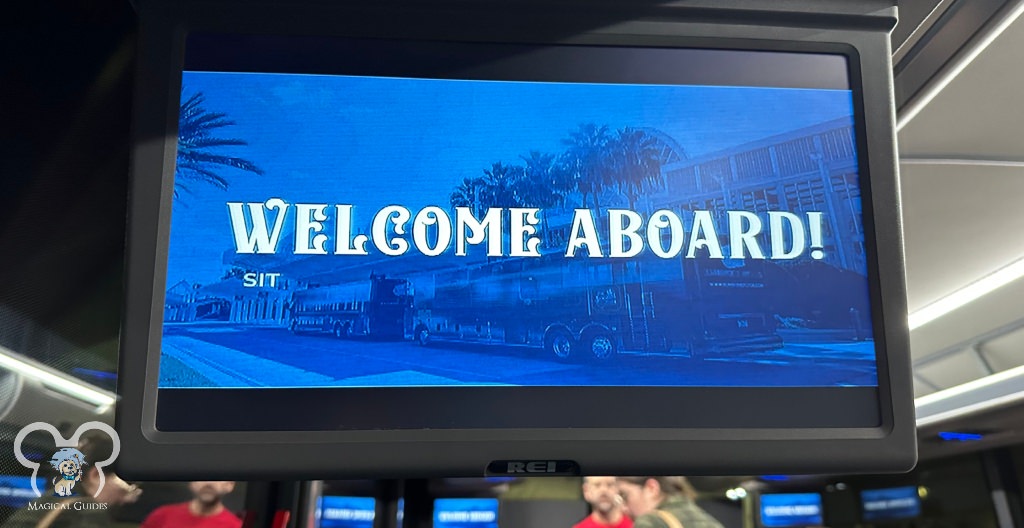 Sitting on the bus there are TV monitors every few rows. To keep you entertained on the journey you will see a mix of trivia and older cartoons.
Some of the trivia is Disney themed, alas there will not be any Disney cartoons shown on the Sunshine Flyer. The cartoons are older, and I didn't really recognize them by name.
Do you tip the Sunshine Flyer Bus Driver?
Oh boy, tipping is a very personal thing. If the driver helps with your bags, you should tip $1-2 per bag. If you are just hopping off the bus with a backpack or such, don't feel obligated to offer a gratuity.
Giving a gratuity is not required, but you are visiting the tourist capital. In today's culture it is considered rude to not tip the bus driver if they help with your luggage.
Where is the Sunshine Flyer located at Orlando Airport?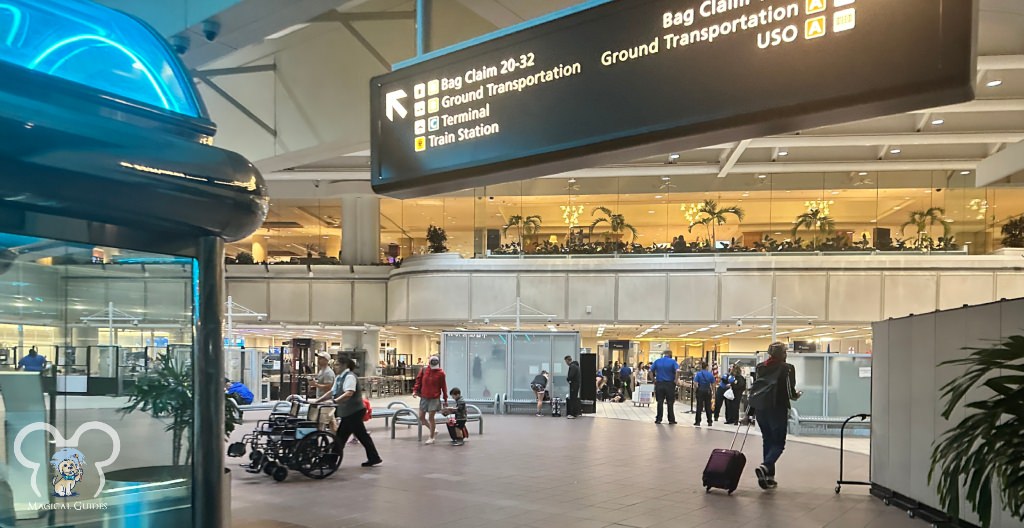 The Sunshine Flyer is located in Terminal B, Level 1, Ground Transportation. If coming from Terminal A, please follow the signs to Terminal B which can only be accessed on Level 3.
Read Also: The Best Way To Get To Universal Studios From Disney World
Walk across the large lobby to Terminal B (about 3-5 minute walk). Take the elevator or escalator to Level 1. Turn right, is located at the last counter against the wall past Starbucks and Hertz.
If you are coming from Terminal C you will need to take the shuttle bus over to Terminal B to get to your Sunshine Flyer bus.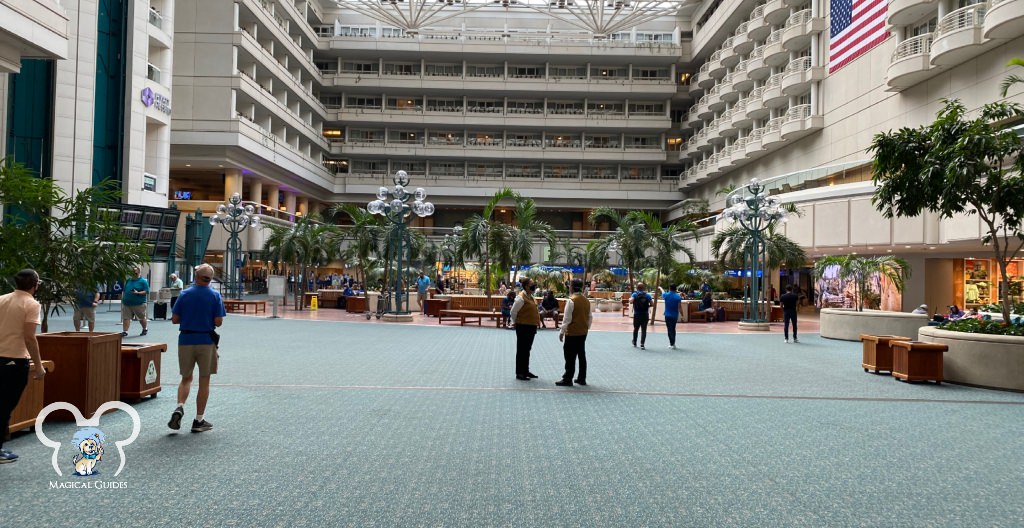 Sunshine Flyer Bus Review
My flight was late getting into Orlando by about an hour. So instead of landing by 7:50 pm, we deplaned around 9:00 pm. We didn't have a set pick-up time, so we made our way over to the Sunshine Flyer desk.
Since we didn't have any checked luggage, we proceeded directly to Terminal B, level 1 Ground Transportation. Checkin was easy, and the agent was friendly. We were directed to wait in a sitting area, which was nice over the previous long lines we had to stand in for Disney's Magical Express.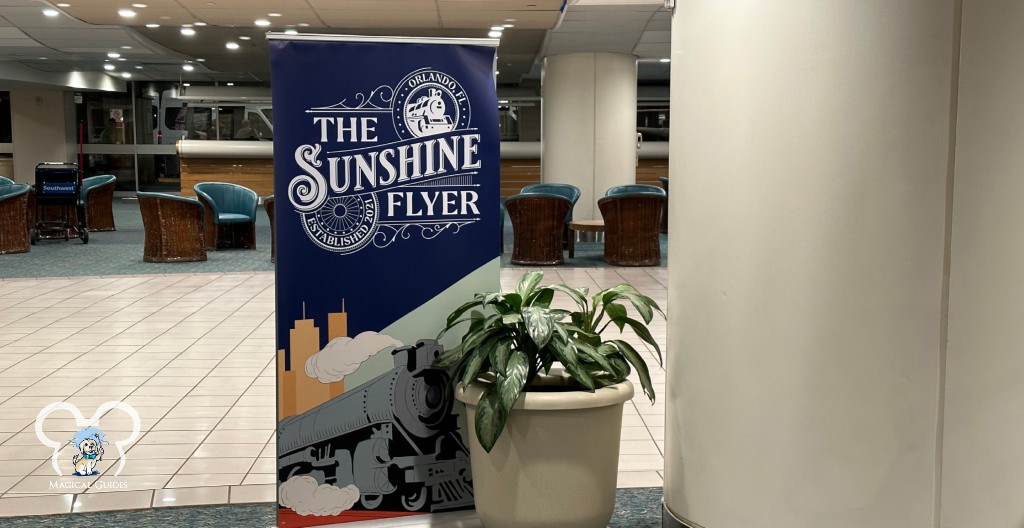 We had a bit of a wait, it was about 25 minutes before the motorcoach arrived. We were called to get in line with other families that were waiting. Once we were all lined up, we were escorted to the motorcoach.
The driver loaded our bags up under the motorcoach, and once boarded we found our seats in the middle of the bus. Our driver was friendly, and offered a few jokes. It was nice not to have to drive in Orlando, but the time it took to get to our resort felt a lot longer than it was.
I did not book a return trip with as I really do not want to get up to leave Disney 3 hours early IE 4am, especially when we have an early morning flight. Our return flight was boarding at 9am, so we opted for an UberX ride-sharing experience.
What is the best way to get from MCO to Walt Disney World: Mears, Sunshine Flyer, Lyft, or Uber?
If you have a large crowd (6+ or more) with a lot of baggage, Mears Connect or Sunshine Flyer are a great affordable option. You could also consider direct Sunshine Flyer private transportation service that will run about $145-160 one-way in a Luxury SUV or Mercedes Sprinter Van.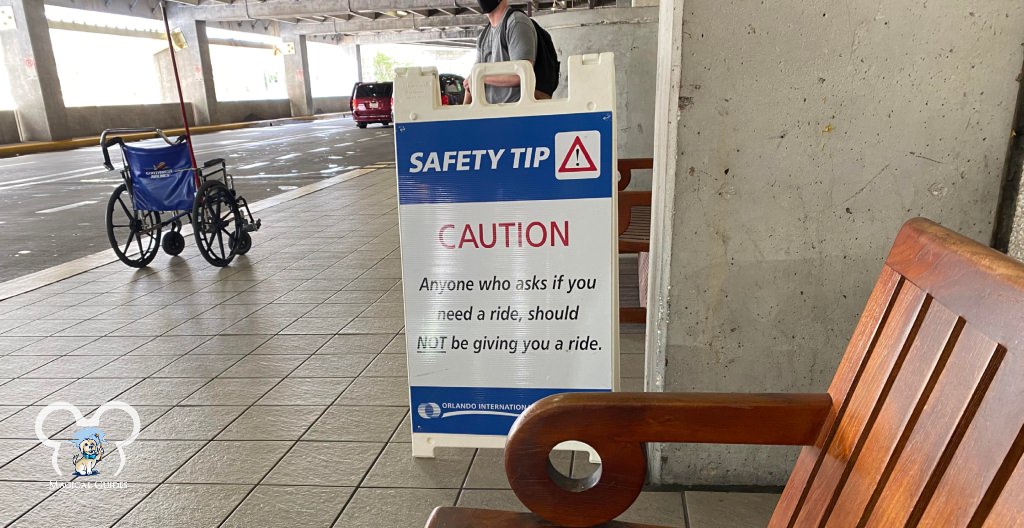 If you're a group of 3 or less, I would strongly recommend Uber/Lyft. You can go directly to your resort, or add a stop at a grocery store. The average UberX or Uber Comfort ride usually runs us $45-55, Lyft is about $5 more, and I find all rideshare level of service to be about the same.
Sunshine Flyer Direct does offer a private transport, but it will run you $120 one-way. If you want to plan a romantic weekend, I might see this private sedan service as an option. You can still get Uber Black for about $75.
So what do you value when you're going on a Disney vacation, time or money? I think the argument could be made for either, and if I'm doing a solo cheap trip, I'm going to check out the themed motorcoach experience again.