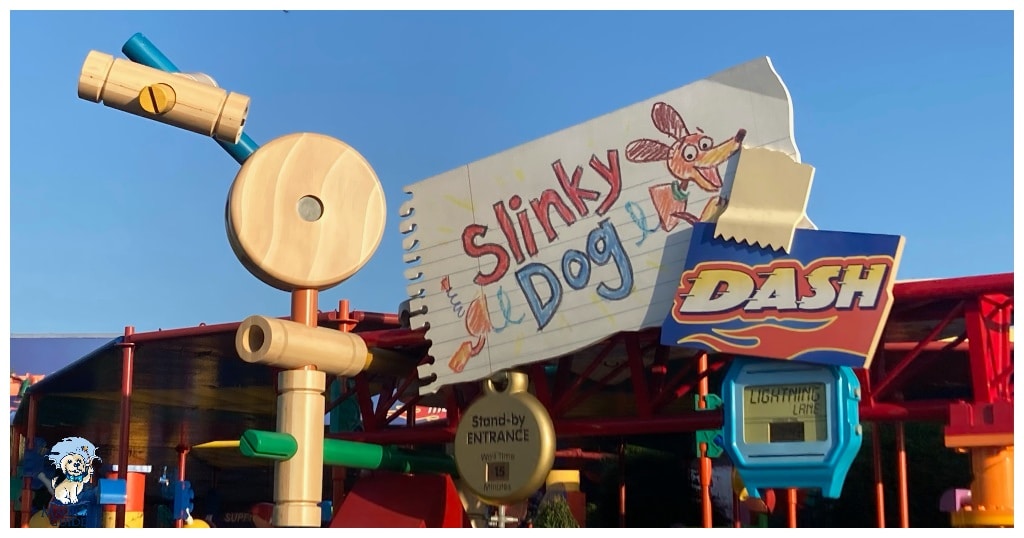 I remember when the first Toy Story came out back in 1995, being a highlight of my childhood. Then Disney announced they would be bringing Andy's backyard to Disney World and Disneyland in the form of Toy Story Land.
I was over the moon when I first stepped into Toy Story Land, as I noticed all the K'nex that were used as gates, and the ground had large footprints to represent where Andy had stepped. We were shrunk, and now all members of Andy's playtime.
My nostalgia aside, you're here to learn more about all the details about the multiple launches that Slinky Dog Dash has, and if it's going to be scary for you or other guests in your party. So let's take a look at a few facts.
Slinky Dog Dash is a roller coaster added to Disney's Hollywood Studios lineup which is one of the park's most popular rides. Check the My Disney Experience app to see the long wait times, showing just how popular this rollercoaster is.
I'm going to give you a hint, it has long wait times for reason, especially when you compare it to the Alien Swirling Saucers ride that are right next door. This is a roller coaster for the whole family to enjoy.
Today I'm going to share our complete guide to Slinky Dog Dash, so you can learn how fast the ride goes and whether it's a good option to add to your vacation itinerary. I hope you enjoy riding this attraction as much as we do on your next Walt Disney World vacation.
Is Slinky Dog Dash Scary?
The answer to the question of whether Slinky Dog Dash is scary will depend on how much you enjoy rollercoasters. If you love being thrown around and going upside down, you'll find this coaster quite tame.
That's right, yes there are multiple dips on this ride, but there are not upside down loops you will need to be afraid of. From the outside looking in, it will gain some height, but it's one of the smoothest roller coasters I've ever been on.
If you want to compare a few Disney roller coasters, let's take a look at Big Thunder Mountain Railroad. Slinky Dog Dash is a lot tamer than Big Thunder, but kids and teens will absolutely love it the double launches.
If you are nervous or scared about Space Mountain in Magic Kingdom, then Slinky Dog Dash will seem quite boring to you. You're not in the dark like you are in Space Mountain, and you can see every turn and climb.
One thing to note, Slinky Dog Dash doesn't have that loud annoying clinking noise when it climbs to the top of a hill. Although the second launch will throw you off as it pulls you back for a second, before launching you forward.
The ride does pick up some speed on the journey, and there are plenty of drops and twists and turns on the way. Only you know your own children and yourself when it comes to whether you'll enjoy this ride, so think carefully about whether you want to ride it before joining the line.
What are the Height Requirements for Slinky Dog Dash?
In order to ride Slinky Dog Dash, riders need to be at least 38 inches in height. This means that it's very accessible to many park visitors, allowing a lot of younger children onto the ride.
We always recommend that you check your child's height before getting on the ride. This attraction always has long lines, and there's nothing worse than disappointing your little one if they aren't big enough to ride.
Read More: Guide to 2022 Hollywood Studios Rope Drop
How Fast Does Slinky Dog Dash Go?
Slinky Dog Dash reaches speeds of up to 40 mph during the ride, which certainly means it's one of the more thrilling family-friendly attractions at the resort. You'll find that it's a very smooth coaster, but it is certainly a step up from some of the options at the Magic Kingdom.
Kids and teens generally really enjoy the theming of this attraction, and they love sitting in the Slinky Dog themed car on the way around.
Are there drops on Slinky Dog Dash?
There are several small drops on Slinky Dog Dash. Be assured they are not like the ones on Space Mountain, or Expedition Everest in Animal Kingdom.
Does Slinky Dog Dash Go Upside Down?
Slinky Dog Dash doesn't go upside down at all on your ride. However, that doesn't mean it isn't a thrilling ride for the whole family. It has some very unique parts to the track, including the bumpy up and down section as you return to the start of the ride.
You'll find there are some fun twists and turns on the way, but it doesn't throw you around too much like other rides due to how smooth it is. If you are looking to challenge your kids without taking them on an upside down attraction, it's a great option for you.
Is Slinky Dog Dash Accessible?
If you've been wondering whether you'll be able to enjoy Slinky Dog Dash on your next vacation, the good news is that the attraction and line as accessible to anyone in a wheelchair. However, if you are traveling in an ECV, you'll need to transfer out of this in order to ride.
You'll then need to transfer into the ride vehicle in order to enjoy your ride on Slinky Dog Dash. Once again we encourage you to decide if this is something you are able to do ahead of riding, so that you don't waste your time in a long line.
As far as anyone who suffers from motion sickness, you'll find that the ride is quite smooth and gentle when compared to something like Expedition Everest. It's a ride that the whole family will enjoy and thanks to it being fairly accessible, many people are able to experience it for themselves each day.
Read More: How to Use Genie+ and the Disney Disability Access Pass
Does It Use a Lap Bar or Shoulder Restraints?
To stop you from lifting up and down when riding Slinky Dog Dash, you'll find that this attraction uses a single pull-down lap bar for each row. Two people sit in each row at a time, so you'll be securely restrained into the vehicle.
You'll find that unless there's a huge height or weight difference between you, you'll feel very snug on your way around. Kids and adults can ride together if they like, which is a good option when your kids are riding Slinky Dog Dash for the first time.
Is Slinky Dog Dash Worth Waiting For?
The long lines for Slinky Dog Dash put a lot of visitors to the park off from riding this attraction. However, if you've never been on it before, it's well worth experiencing it at least once.
I recommend trying to use Genie+ if you have this option but keep in mind that the first passes that may be available might not be until the very end of the day. It's one of the most popular rides on Disney's Genie+, so don't expect a morning return time.
If you love Toy Story, you'll definitely want to ride this attraction once, but for adults, you may prefer to spend your time waiting in line for one of the park's more thrilling attractions.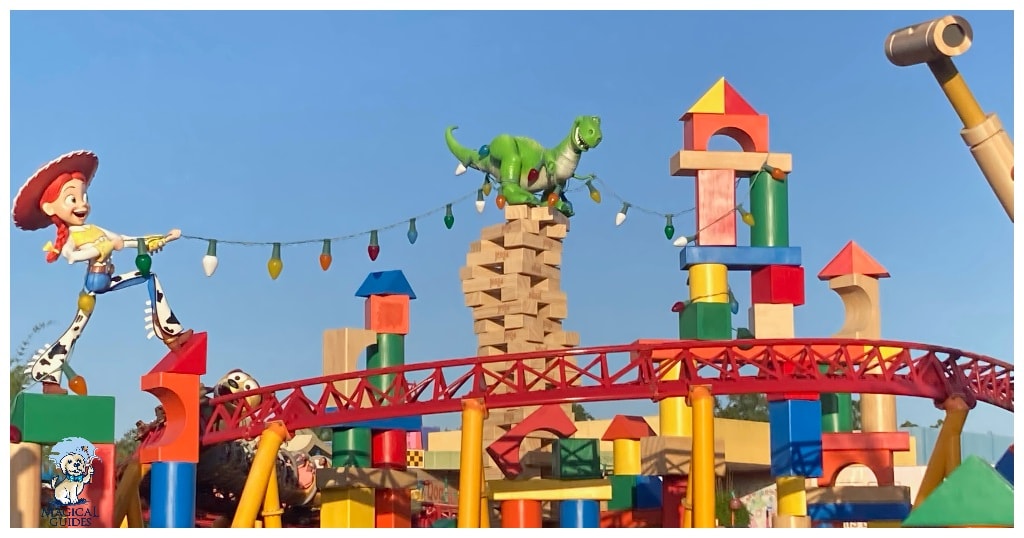 Top Tips for Riding Slinky Dog Dash
Slinky Dog Dash is one of the park's most popular attractions. Thanks to the universal appeal it offers to the whole family, you'll find that everyone rushes here first thing in the morning.
Yes, now that Star Wars: Galaxy's Edge is open, the crowds are slightly lower here, but only by a small amount. This mostly makes sense in the morning as folks are trying to get on Rise of the Resistance or Smuggler's Run.
For that reason, I recommend following the below advice in order to get on Slinky Dog Dash during your next day at Disney's Hollywood Studios.
Ride First Thing in the Morning or Last Thing at Night
The best times to ride Slinky Dog Dash are either first thing in the morning or before the park closes at night. The line for the attraction soon picks up in the morning though, so you'll want to come straight here when the park opens.
If you are staying at a Disney resort, you'll be lucky enough to get the 30 minutes early entry each day. This is the best option for riding the attraction before everyone else joins the line later on.
Apart from that, you can wait until the last thing at night when the park is closing. So many folks are trying to get a seat now that Mickey and Fantasmic has returned for their nightly show.
Folks are so excited about Fantasmic's return they join that queue over an hour before they can get seated. So use that to your advantage, ride more stuff in the park or consider a Fantasmic Dinner package!
Consider Using Genie+
Genie+ is a topic we've covered in great depth before, and it's up to you whether you think it's worth the additional expense for your vacation. That being said, riding Slinky Dog Dash is enough to make it worth getting for your day at Disney's Hollywood Studios.
You'll need to make sure that you pick this attraction first though, as it often goes within a few minutes for the whole day. If you aren't planning to spend your whole day in the park, you may find that you can't get a pass until the evening, which will mean you aren't able to enjoy the attraction.
Make sure you log onto Genie+ as early as you can in order to try and secure a pass for Slinky Dog Dash. You can always try to refresh the app later, but it's very unlikely that something will appear for this ride.
If you do get a Genie+ pass, use the early hours in the day to explore Star Wars: Galaxy's Edge and the other popular attractions in the park. You'll then be able to save up to two hours waiting for Slinky Dog Dash.
While I love this attraction, you do need to put into perspective whether it's worth waiting this long for. Everyone has their own priorities for their time on vacation at Walt Disney World, so work with your family to decide how you would best like to spend your day at Disney's Hollywood Studios.
I do think the individual lightning lane purchase makes sense here. If your budget allows for it, consider it. So book your lightning lane reservation as soon as you can.
If you want to expose younger kids to a roller coaster, and they enjoyed the Seven Dwarfs mine train, I would highly recommend taking them on Slinky Dog Dash. So when you come into the park, skip Mickey and Minnie's runaway railway as the line gets so long so quickly due to the proximity to the front of the park.
Read More: How to Use Genie+ and Lightning Lane at Disney World
Is Slinky Dog Dash plus size friendly?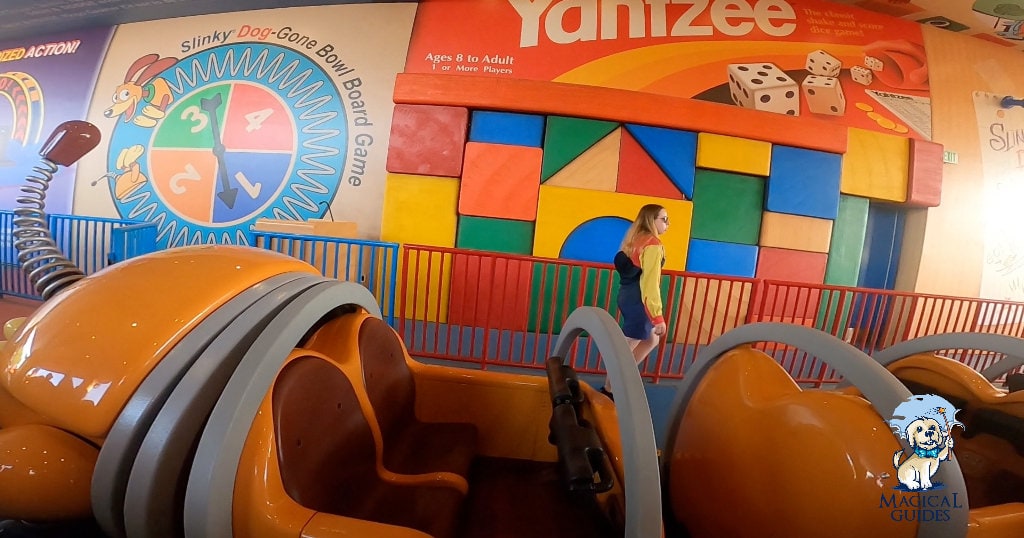 If you require accessibility for Slinky Dog Dash, you will ride in the last car where the seat will open up further for easier transfers from scooters, wheel chairs, etc. That said if you're more Pooh shaped you should know that Slinky Dog Dash is reasonable accommodating for most folks.
The comfort level will depend on where you hold most of your weight. Just know this is much more comfortable than Seven Dwarves Mine Train, at any size, due to the fact you don't have to attempt to squeeze your knees together.
My husband has ridden Slinky Dog Dash at few different sizes.
At his heaviest weight of over 500lbs, wearing a 4-5XL t-shirt along with 62″ waist, it was tight for him as he carried most of his weight in his thighs. It was a little painful in the knee area hitting the bar. Consider skipping the ride.
At 400lbs, wearing a 3-4XL t-shirt along with a 54″ waist, it was firm, and not an issue.
At 300lbs, wearing a 3XL t-shirt along with a 50″ waist, space was not an issue.
At 250lbs, wearing a XL t-shirt along with a 42″ waist, there are no space concerns and was comfortable.
Slinky Dog Dash doesn't seem to be decreasing in popularity anytime soon, which is why you'll want to follow one of these strategies to have the best chance of riding. It's a great attraction for the whole family, but the long lines do put a lot of people off.
Keep in mind the ride is very short, so you may not think it's the best use of your vacation time if you don't fancy standing in line all day long. There's so much else to see and do in Toy Story Land and Disney's Hollywood Studios, but it's still one of our favorite attractions to ride in the park.
I hope that you enjoy your next ride on Slinky Dog Dash and can appreciate all of the time and effort that the Imagineers put into building this ride.
Read More: Disney Park Bag: Essential Items You Should Pack