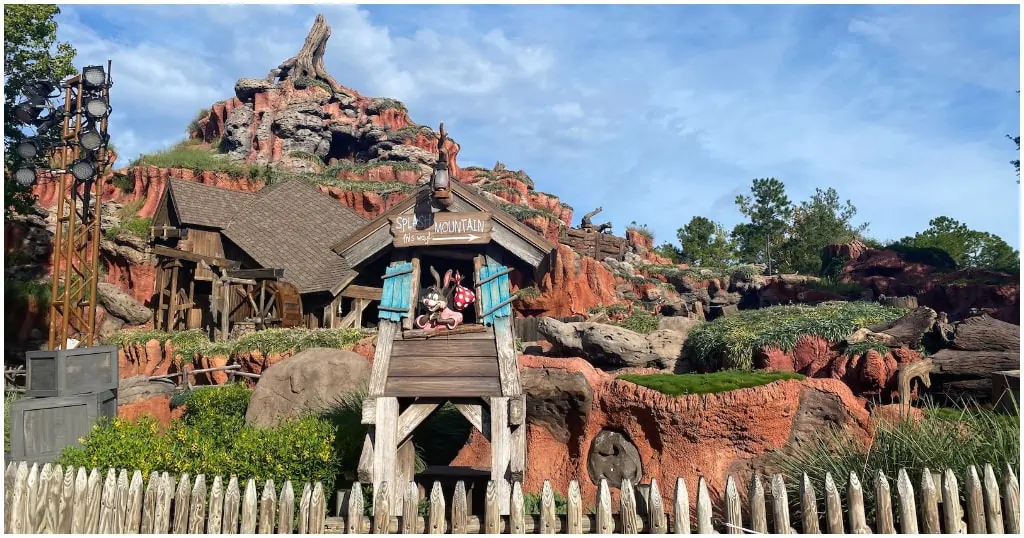 Splash Mountain is a classic Disney attraction located in the Magic Kingdom that may get your wet. If you've never been on this water ride before, you might be wondering who it would be suitable for and how scary the attraction is. Today we're going to take an in-depth look into Splash Mountain, so you can decide for yourself if you want to ride it on your next visit to Walt Disney World. It's the perfect attraction for the upcoming summer months, and one that most visitors to the park won't want to miss out on during a hot day of touring the Magic Kingdom.
How Scary is Splash Mountain?
Upon your initial approach to Splash Mountain, the first thing you will no doubt notice is the huge drop that's the most thrilling part of the ride. That being said, a lot of the attraction is hidden from your view, which leaves you wondering just how scary Splash Mountain is. Splash Mountain is a classic water attraction which is based on the movie Song of the South. This log flume has many dark elements featuring the characters Brer Rabbit and Brer Fox. While the ride is very fun and relaxing at times, it has plenty of turns and drops on its way. Throughout the 18-minute duration of the attraction, you'll float along through the story, leading to the final drop which is without a doubt the most thrilling part of the ride.
Read Also: Secrets You Didn't Know About Splash Mountain
When you first get on the attraction, you might think that you are just going on a gentle water ride through a fun series of story scenes. As you progress, the small drops get larger and larger, until you reach the one that you see on the approach to the attraction which drops into the Briar Patch. The good thing for anyone who has never been on this type of ride before is that you will slowly warm up and get used to the dropping motion. The small drops are quite fun instead of scary, and you'll definitely start to get wet long before you reach the big drop.
The main drop on Splash Mountain stretches over 50 feet and drops at a 45-degree angle. You'll travel up to 40 mph on your way down, so it's not a slow descent. If you are very sensitive to motion sickness, you'll find that this ride may be a little too much for you due to this main drop. As far as getting wet on the ride, you'll find that sitting at the front means you are more likely to end up soaked at the end of the attraction. At the back, you will be a little more protected on your way down, meaning you won't come off the ride completely drenched.
Read Also: Motion Sickness; How To Avoid At Disney World
Should You Ride Splash Mountain If You Are Afraid of Heights?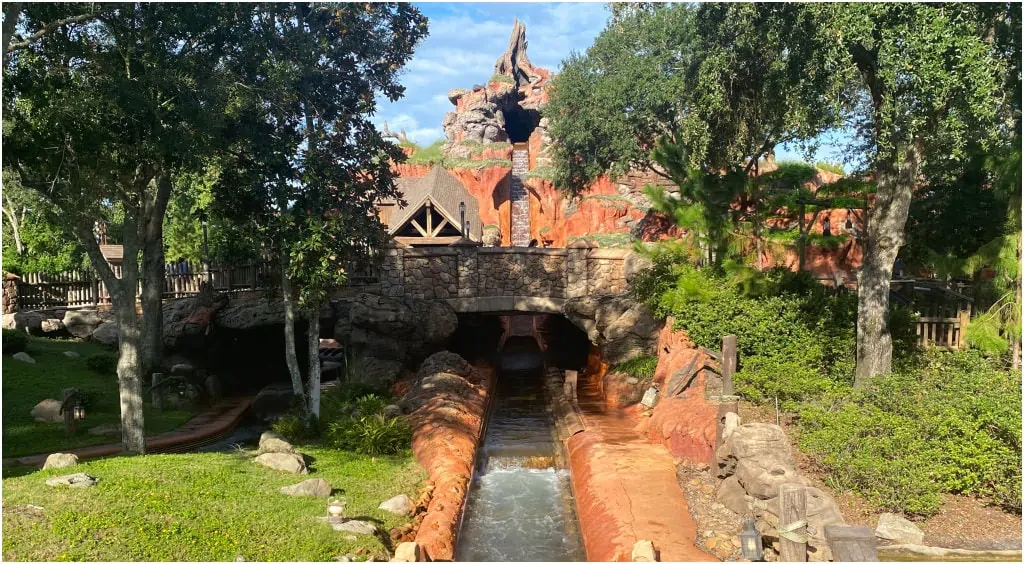 Another reason you may be scared of Splash Mountain is if you are afraid of heights. Most of the ride is on quite a flat level, but the final descent is where you'll need to really consider whether this is a ride that's fun for you. At the top of the hill, you'll have an amazing view over the Magic Kingdom, but it's quite high above ground level for anyone who's afraid of heights. Before dropping down on the final drop, you'll pause at the top to admire the view. Close your eyes if you aren't someone who enjoys heights, or skip this ride altogether if you are really terrified of them. Most people find the whole story of the attraction to be distracting enough to make them still want to have a go at the ride once, but make sure you read the warnings for the attraction as you head into the ride.
Read Also: How Fast Is Rock 'n' Roller In Disney World?
How Steep is The Drop on Splash Mountain?
The main drop on Splash Mountain has a 45-degree drop, so it's quite a steep part of the ride. You'll find that the drop may actually feel even steeper as you head down, as you are traveling at up to 40 mph on the attraction. This final drop is where you'll receive your on-ride photo, and it's an amazing spot for a family photographer. If you aren't keen on riding Splash Mountain, make sure you at least put some time aside to enjoy watching others head down this final descent, as it offers some of the best people watching in the park. The rest of the attraction's drops are quite tame in comparison to this one, so you don't need to worry about them at all if you are brave enough to go on this final descent.
Is Splash Mountain Kid-Friendly?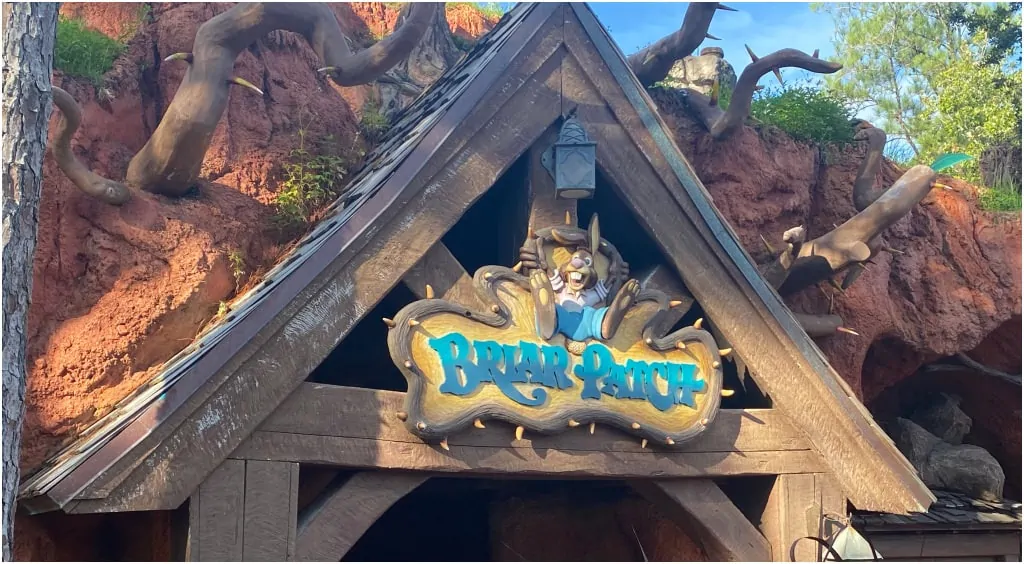 When discussing the question of whether Splash Mountain is a kid-friendly attraction, this is all about how your children are on other rides at Walt Disney World. Only you know your kids and how afraid they may be of certain elements of the attraction, so you'll want to think carefully before forcing them onto it for the first time. This probably isn't the best ride to try first during your visit to the Magic Kingdom, but if your children are quite daring, they'll love going on Splash Mountain.
Read Also: Is Animal Kingdom Good For Toddlers?
As far as how kid-friendly the attraction is, this comes down to both the height restrictions and the ride itself. Riders must be at least 40 inches or 102 cm in order to ride Splash Mountain. On top of that, you need to be in good health and not have high blood pressure, back, neck or heart issues. Expectant mothers are recommended not to ride due to the nature of this ride. If your child meets the height requirement, you'll want to think about whether this ride is suitable for them. If they've never been on a log flume before, maybe consider trying a smaller attraction of this type first. Even a ride such as Pirates of the Caribbean is a good introduction to water rides and will offer them the chance to see what the descent of a log flume would be like.
Can a 5 Year Old Ride Splash Mountain?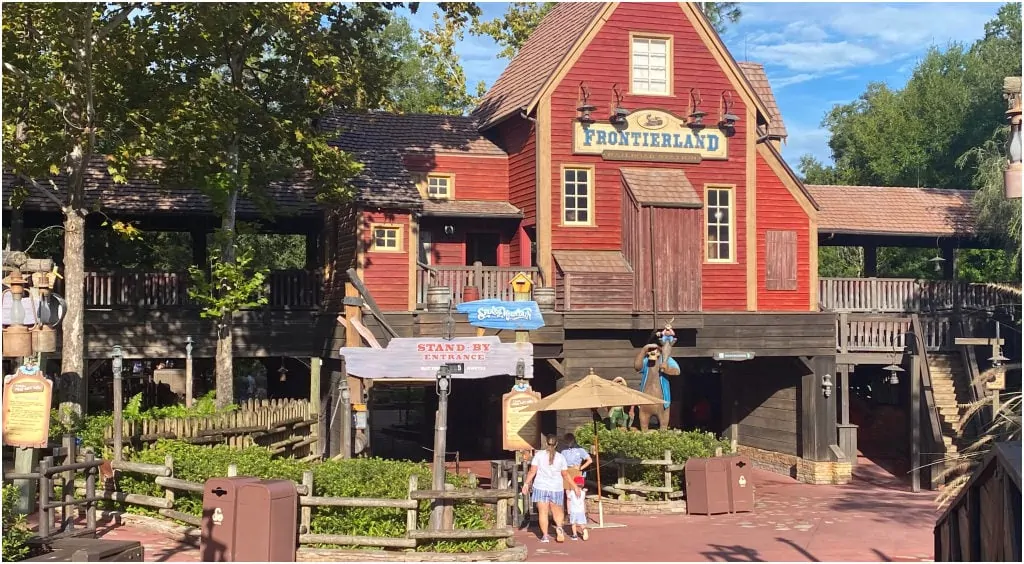 A five year old will be able to ride Splash Mountain if they reach the height requirement for this attraction. As long as they are 40 inches or 102 cm in height, you can consider taking them on the ride. Five years old may be quite young for the attraction though, but we know many kids of this age have a lot of fun when they are riding it. They will likely be distracted by the fun of the story of the ride, which may detract from some of the scarier and quicker parts of the ride. Some four and five year olds also find this to be their favorite attraction in the whole of Walt Disney World. As a parent, just take your time to decide what your child would enjoy doing and don't feel pressured by anyone else's input.
Read Also: Is EPCOT good for Toddlers?
Has Anyone Fallen From Splash Mountain?
While Walt Disney World has a reputation for being one of the world's safest places to take your family, sadly, accidents do happen here. As far as falling from the descent of the attraction, we have never heard stories regarding this, but there have been other incidents at Splash Mountain. Back in November 2000, a man from St. Petersburg, Florida, was fatally injured on the attraction. The reason for this was that he tried to exit the ride vehicle while it was still moving. It's believed he told other riders that he did not feel well, and therefore tried to exit via an emergency exit instead of waiting until the end of the ride. It's an extremely sad case but an example of why you should always follow the cast member's instructions when boarding and getting off any attraction at Walt Disney World.
Read Also: Is Space Mountain at Walt Disney World Scary?
Over the years, there have been other examples of people being injured on Splash Mountain. Some guests have fallen off the ride, which would naturally result in serious injuries to your body. Always make sure you keep your arms and legs inside the attraction when you are riding, as this will reduce the chance of an injury in the future. We hope that no one will ever experience these issues again, but Disney does all they can to keep you secure when you sit in the ride vehicles.
What Happens If You Jump Off A Ride At Disney?
After hearing about some of the crazy things that have happened at Splash Mountain, you might be wondering what would happen if you did decide to jump off a ride at Walt Disney World. Firstly, we need to remind you this is something you should never do, and there are many different consequences that could happen as a result of this. You will likely end up injuring yourself if you do this, as many of the attractions move at a very quick pace and won't stop if you get off. However, some of the rides have sensors, which will stop the attraction if they find anyone passes them. You'll disrupt the experience for everyone else who is riding at this time, causing them to be extremely angry as a result of you jumping off the attraction.
Read Also: Is There a Jail at Walt Disney World?
When you do anything that breaks the Disney park rules, you'll also find you will likely be evicted from the park. After spending so much money on park tickets, this is the last thing you'll want to happen, as you certainly won't get a refund for your tickets. If you are a huge Disney fan, this would be a very silly thing to do, as you may also be banned from the parks in the future. Basically, it's not worth risking anything when it comes to safety in the parks, as this is the number one priority for Disney and their cast members. You'll have a great time here as long as you follow the rules that are in place, which are there to protect yourself and everyone else who has come on vacation here.
The Best Time to Ride Splash Mountain
Now that you know everything there is to know about Splash Mountain, you'll want to find the perfect time to ride this attraction. Keep in mind that this attraction is more popular in the summer months than the winter, as it's best experienced in the hot weather. We recommend getting here as early as possible in the summer months, as you'll find that by midday, the line here is one of the longest in the park. The great thing about Splash Mountain is that it's quite a long attraction, so even if you have to wait for a while, you'll find that it's well worth it for one of the longest attractions in the resorts.
Read Also: Guide to Rope Dropping Magic Kingdom in Disney World
Another great time of the day to ride Splash Mountain is at night-time when the park is about to close. If you time your ride correctly, you can even enjoy the fireworks from the castle when you are on the ride. When you are at the very top about to drop, you'll get an amazing view of the park lit up at night, which is why we love doing this attraction in the dark. It's also even more thrilling come night-time, as you can't see so much of where you are going. This may make it a little more scary for younger children, so think carefully if this is a good idea for your family.

Check out Splash Mountain Wait Times
Splash Mountain is one of the top attractions for anyone visiting the Magic Kingdom. Whether it's your first or one hundredth time in the park, you really can't miss this attraction the next time you visit. We always recommend taking your time to decide if this ride would be too scary for you, as everyone has different levels of enjoyment when it comes to thrill rides. However, nearly everyone who dares to ride Splash Mountain will return over and over again, so it's definitely worth trying at least once on your next vacation.