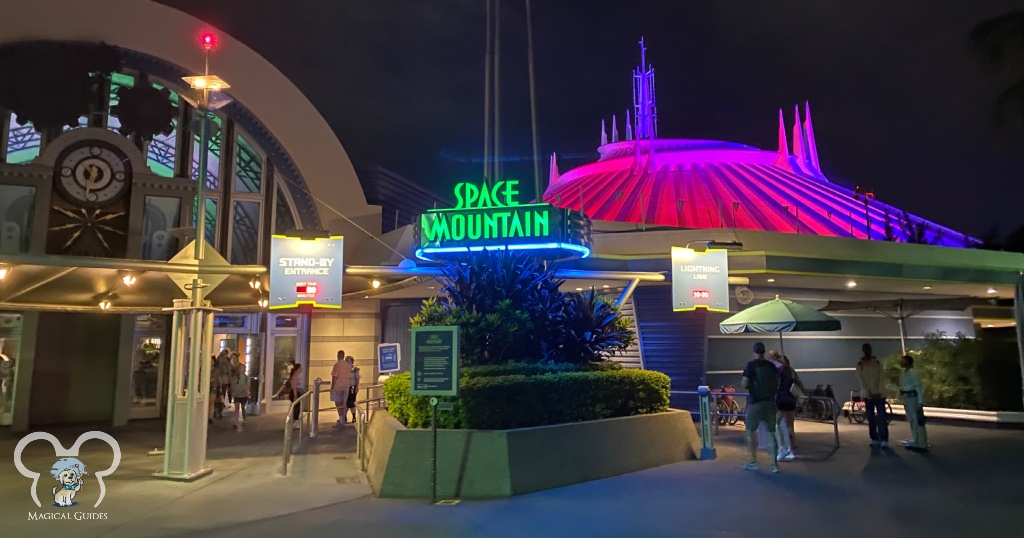 (Photo by Bayley Clark/magicalguides.com)
The Magic Kingdom isn't always known for its thrill rides, but there are some fantastic rollercoasters here that are ideal for anyone looking to enjoy a more daring adventure during their day in the park. Space Mountain is one of the most popular attractions in the Magic Kingdom with teenagers and adults, who love this dark and thrilling journey into space.
That said, Space Mountain is not a scary ride, especially when compared to Twilight Zone Tower of Terror in Hollywood Studios. What gives Space Mountain the most fright is that it's dark, so you don't see the twists and turns coming.
In fact, one of the biggest complaints I hear from my family is they don't like the jarring feeling they have. I don't experience the "shaken soda can" feeling they mention, but I do enjoy the adrenaline rush Space Mountain provides.
To help you decide if you want to brave Space Mountain on your next vacation, I'm going to answer some of the most commonly asked questions about the attraction today. I hope that this guide will help you and your family to discover more about this classic attraction, which I believe everyone should try at least once on their next trip.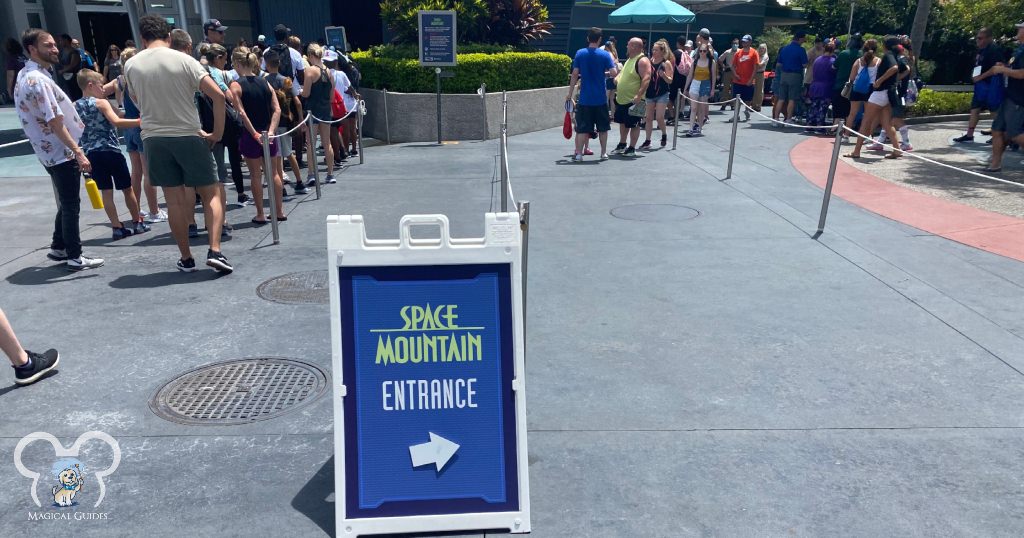 Photo by Bayley Clark (for magicalguides.com)
My husband didn't always love Space Mountain, he was and still is a fan of Pirates of the Caribbean. He was a larger parkgoer (think 6'1 450+lbs) and had a hard time always fitting comfortably with the lap bar.
He has since lost a good bit of that weight, giving him a new lease as a thrill seeker. He loves the darkness of space never knowing where the sharp turns or big drops are coming making this one of the scariest rides at Disney World for me.
Another thing I never cared for is the long lines for this indoor roller coaster. Space Mountain's queue is deceptive from the outside entrance, but once you make it inside there is still an even longer queue.
Compared to Space Mountain in California Disneyland park, the one in Florida has two separate tracks. This allows for a faster loading time, but I would still suggest trying for early entry to Magic Kingdom if you want to ride this indoor rollercoaster.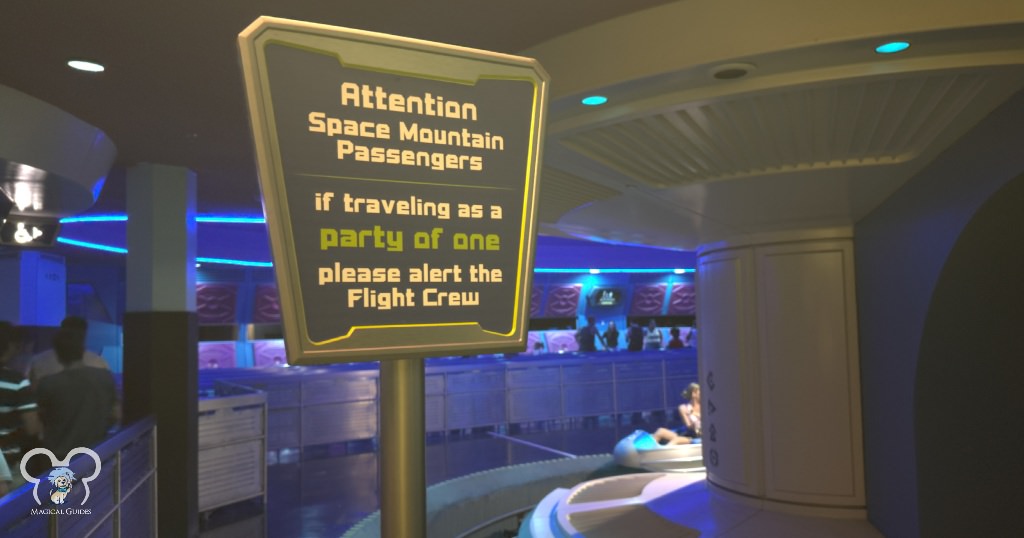 There is not a single rider line like Test Track in EPCOT. There is a sign that says let the cast members know when you get closer, as they can have you fill into a spot where there are only two.
Read More: Guide to Rider Switch at Walt Disney World
Does Space Mountain Go Upside Down?
The first question we often hear about Space Mountain is whether it goes upside down. Many of us enjoy rollercoasters but are still afraid to brave those which have loops and twists. The good news for anyone who is afraid of going upside down is that Space Mountain doesn't loop at all.
You will remain upright for the entirety of the ride, which makes it a great introductory coaster for anyone looking to start trying more daring rides. The good news for thrill-seekers is that it's still an exciting attraction, due to the fact that it all takes place in the dark.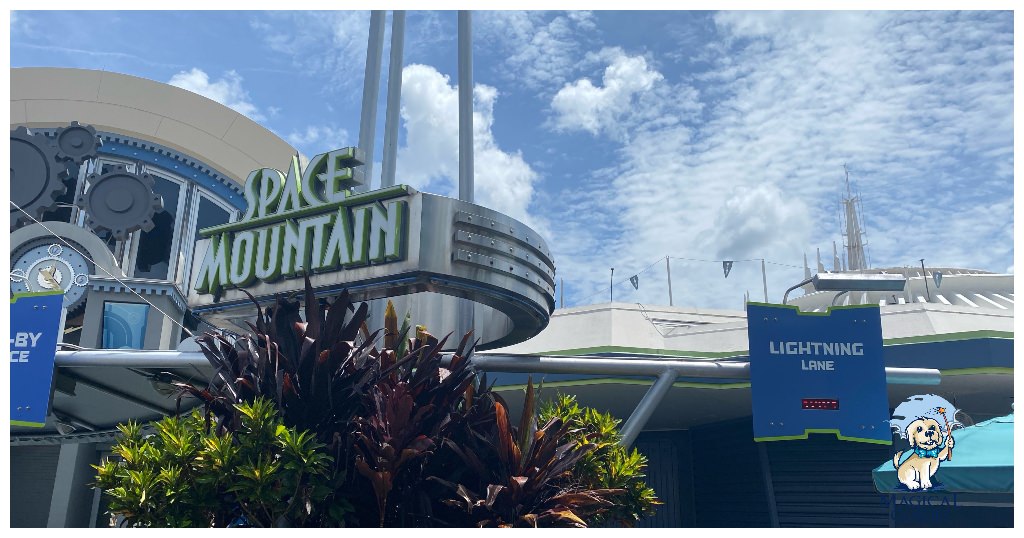 The darkness and the high speed of the ride sure make up for the fact that it doesn't loop. The top speed of Space Mountain is 28 mph. Combined with darkness, it can feel much faster than that.
One thing to keep in mind if you do travel to other Disney parks is that some of the other versions of this attraction are completely different. The one in Disneyland Resort Paris is much more intense, and it loops in the dark here. This is why we often hear this question from travelers who may have been to one of the other parks and experienced a different version of Space Mountain.
The Orlando version is much tamer and fits in with the family-friendly theme of the Magic Kingdom, allowing more riders than elsewhere to experience this attraction.
Read More: How Fast is Rock 'n' Roller in Disney World?
Does Space Mountain Have a Drop?
Space Mountain doesn't have one big drop like you might find on other rollercoasters, but there are plenty of smaller dips and drops as you go through the attraction. When you sit in the ride vehicle, you are very low to the ground, as opposed to sitting in a chair-like vehicle.
Your feet and legs are located in front of you, so you will find that the motion feels much more intense than on a more traditional rollercoaster.
We recommend having a look at the ride vehicle before you go on the ride if you can, as this is something that you might not be expecting if you've never been to the attraction before.
The drops in this ride are much smaller than you might expect, and if you ever get the chance to see the attraction with the lights on, you'll be surprised by how gentle the coaster might look when it's not in the darkness. A lot of the thrill of Space Mountain comes from the fact that you really can't see where you are going for the majority of the ride.
This makes all of the drops and turns feel much more intense, as you have no idea what's ahead of you. If you are afraid of the dark, you may find this ride to be too much for you, but otherwise, you'll likely think it's one of the Magic Kingdom's best attractions.
How Scary is Space Mountain?
The answer to the question of how scary is Space Mountain will depend on how many rollercoasters you've been on in the past. You'll find that compared to looping coasters in many of the country's top theme parks, this is much tamer than those. However, for younger children or first-time rollercoaster riders, this can be a very thrilling and intense ride.
There are a couple of things that make this ride quite unique. Firstly, the ride is in almost complete darkness, so you can barely see what's ahead of you. If you are afraid of the dark, then you may find this to be a little too scary for your liking.
This is another reason we recommend thinking twice about taking young children on the ride, as you never know if they will find it to be too much.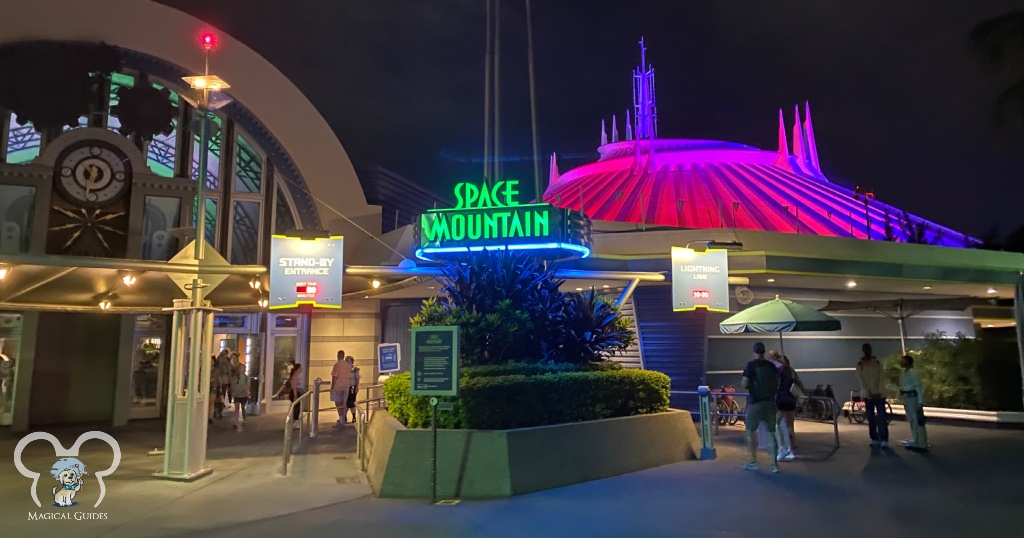 The low seating of the ride vehicle is the other element to discuss when it comes to how scary the attraction is. This ride is quite dated at this time, so it's not very smooth and shakes you around quite a bit. Some people find it's a lot for their body to take, as they are thrown from side to side when you are going around the corners.
While this doesn't necessarily make the ride scarier, it can be a little too intense for some people's liking. If you are sensitive to motion sickness or jerky motions, then be very careful about going on this, as you may come out of the ride feeling very shaken up.
Does Space Mountain Make Your Stomach Drop?
For most people, Space Mountain is a fun rollercoaster that isn't too intense when it comes to its movements and motions. If you are very sensitive to motion sickness, then you may find your stomach drops on the small drops. However, these drops only feel quite intense because you are in the darkness.
When you see the drops with the lights on, you will realize they are actually quite small, but it's not knowing where you are going which makes them feel so scary. Some people do find their stomach drops on the ride, but in general, we don't hear too many complaints about this issue.
Read More: Disney World Rides to Avoid for Motion Sickness
Height and Weight Requirements to ride on Space Mountain
Space Mountain is a must-ride every time we visit Magic Kingdom. I'm hoping the new Tron ride will take some of the long lines for this classic ride. It will not take away from the height requirement.
Any guest wishing to ride will need to meet the height requirement of 44″ tall. The average 5-year-old will meet this requirement, but please don't try to use any tricks to add height to your kids.
Everyone should be in good health. Those that have high blood pressure or expectant mothers should not try to get into a rocket ship.
Do Fat People Fit On Space Mountain?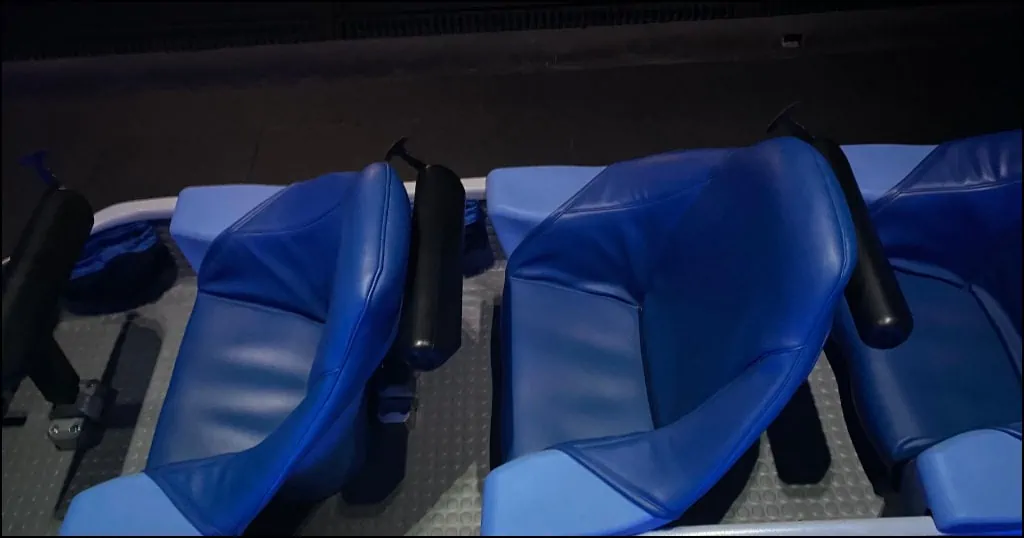 Photo by Bayley Clark/magicalguides.com)
A common complaint we hear about Space Mountain is that the ride vehicles aren't the most comfortable. If you are of a larger size, you may find that this ride just isn't for you. You will need to be able to get in and out of the low-lying seat if you want to ride, which for some people is a huge challenge.
Instead of sitting on your typical bench seat like you would for most rollercoasters, you'll have to get down to the ground and be able to stretch your feet and legs out in front of you. Before you go on the attraction, take a look at the ride vehicle and think about whether it's a good option for your body. You may find that it's very snug around your hips when you are sat down, which for some people distracts from the fun of the ride.
Some real-world data points for some:
My husband at his heaviest was 525lbs at 6'1″ and wearing a 5XL in most shirts and 60″ shorts. He wasn't the most comfortable with riding but recommended always riding in the front seat.
At 400lbs, 52″ waist he made the same recommendation about sitting in the front seat.
At 300lbs with a 46″ waist, any seat was comfortable, with the front still being the roomiest.
At 250lbs with a 42″ waist, any seat was comfortable, with the front still being the easiest to get in and out of.
Just understand it won't be graceful getting in or out of the seat. However, once you're in the seat securely, you're good to go. He also recommended going ahead and storing any loose items prior to sitting down. Just don't forget them when you exit. As far as seat preference, ask a cast member when they are preparing to direct you to the numbered seating.
Is Space Mountain Scarier Than Big Thunder Mountain Railroad?
When comparing the Magic Kingdom's rollercoasters, you might want to know how Space Mountain compares to Big Thunder Mountain Railroad. For most riders, Space Mountain is more intense and scarier than Big Thunder Mountain Railroad.
Big Thunder Mountain Railroad is an outdoor coaster, with only a few undercover and darker scenes. For that reason, you can see where you are going, and the ride is more enjoyable for younger children.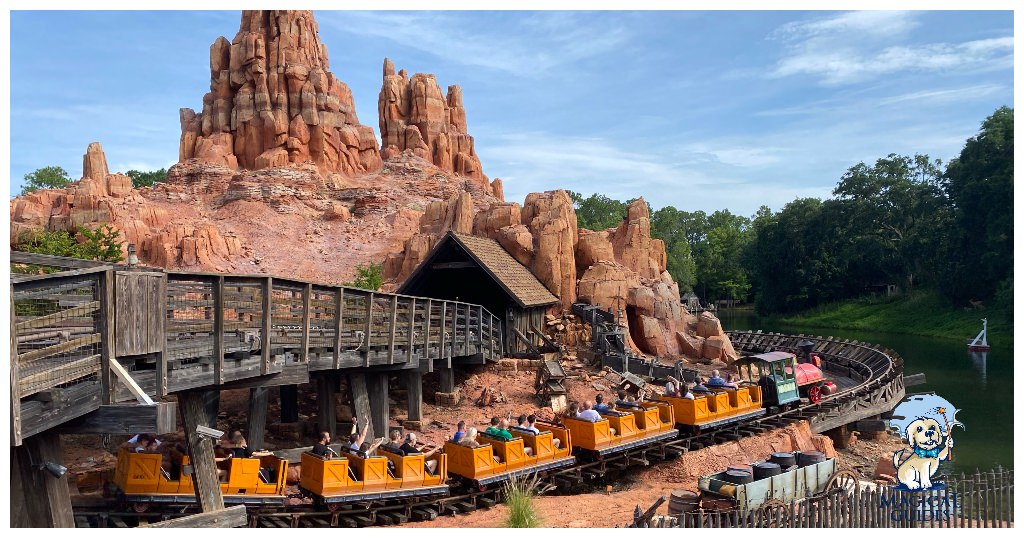 Teenagers generally prefer Space Mountain, thanks to the darkness and the thrill of the attraction. It's all about what you enjoy in a ride if you have to choose between the two, but we generally recommend riding both of them on your day in the Magic Kingdom.
As far as the ride vehicles, Big Thunder Mountain Railroad is a little more comfortable for most riders than Space Mountain. You have more space on the bench seat, and you'll be able to put your bag in the area in front of your feet. This means you don't feel as squished into the ride, which is a huge complaint about Space Mountain.
Young children and teenagers won't be so bothered about this aspect of the attraction, but for some people, this is one of the reasons that they'd rather stick to Big Thunder Mountain Railroad.
Has Anyone Fallen Out Of Space Mountain?
When sitting so low to the ground in Space Mountain, you might be wondering if this has ever resulted in any dangerous accidents. The good news about this ride is that you are very securely sat in the ride vehicle, so this is very unlikely to happen if you do dare to go on this ride.
There have been no reports of guests falling out of Space Mountain's ride vehicle, so this isn't something we believe you should be worried about one bit.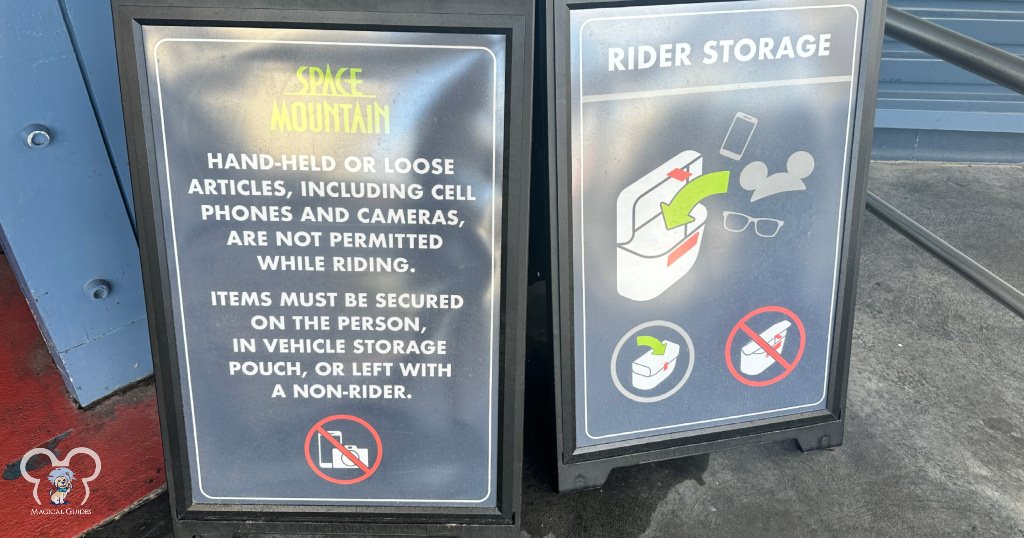 Just make sure you follow all of the cast member's instructions when you are getting into the ride vehicle. They'll be there to support you with your health and safety, so listen to everything they say for the best ride experience.
While no one has ever fallen out of the ride vehicle, there have been some incidents on Space Mountain over the years. In the past, guests have become unwell or lost consciousness when riding the attraction. This is often linked to underlying medical conditions and heart conditions, which is why you always need to be careful to read the recommendations for any attraction you've not been on before.
While it can be tempting to think you are healthy and strong enough to go on these rides, it's never worth the risk if you are unsure about any of the warnings and how they could apply to you.
Has Anyone Been Decapitated On Space Mountain?
One of the most amazing sights is seeing this attraction with the lights on. This rarely happens, but if you get the chance to see Space Mountain in this state, you'll see how close together the tracks are.
This leads to the question of whether anyone has ever been decapitated on the ride. You'll hear rumors from time to time about this, but the good news is that no one has ever found themselves in this state after riding.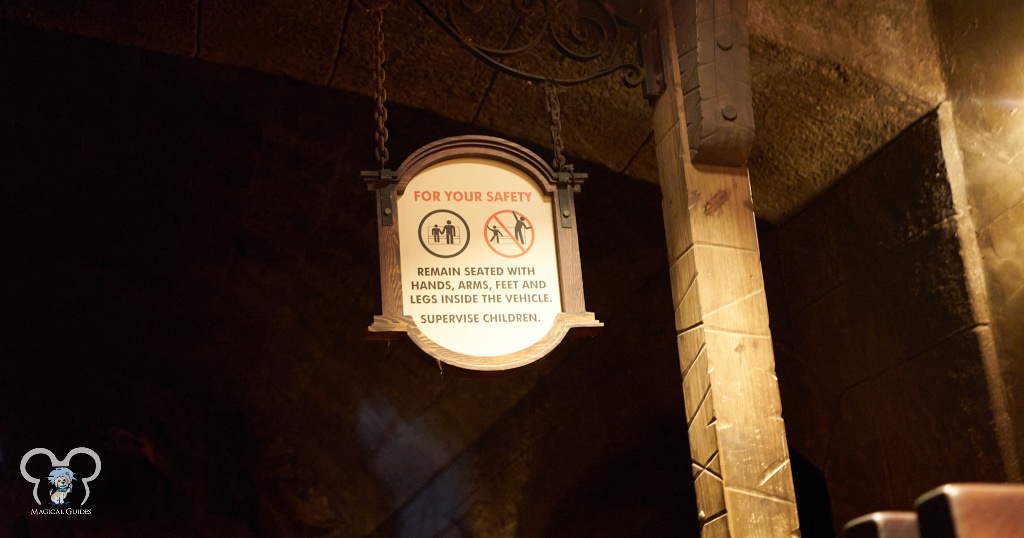 However, you would never want to stand up or get out of the vehicle when it's going at full speed for this reason. The tracks are very close to the vehicle, which is why you are sat down so low in your car on the ride.
Top Tips for Riding Space Mountain
As one of the most popular attractions in the park, you'll want to make sure you get here early to ride. We generally recommend riding Space Mountain first thing in the morning if you can, or within the first hour or two of the park opening.
There's no denying that this is one of the best rides in the Magic Kingdom, and it attracts a lot of teenage and adult visitors to the park. Using Genie+ for access to the lightning lane is a smart move for Space Mountain as well.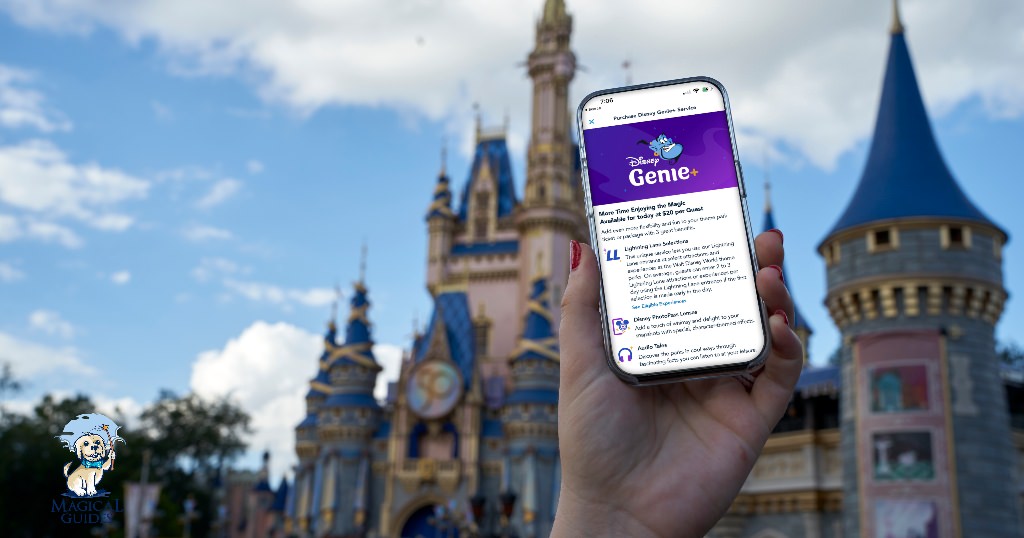 I also would consider rope drop Magic Kingdom, making this one of the first rides I tackle.
You'll be able to book this attraction as one of your choices for the day, and it's well worth using your pass for this. While there are a few other rides you might want to choose before Space Mountain, don't leave it too late in the day if it's at the top of your bucket list to ride.
I would recommend this being one of the first rides you get in the queue for, especially if you decide to rope-drop Magic Kingdom.
Read More: Guide to Rope Drop Magic Kingdom in Disney World
Space Mountain is a must-ride attraction for thrill-seekers in the Magic Kingdom. Make sure you put this on your Magic Kingdom itinerary the next time you visit, as it's a ride you'll enjoy no matter how much you like rollercoasters.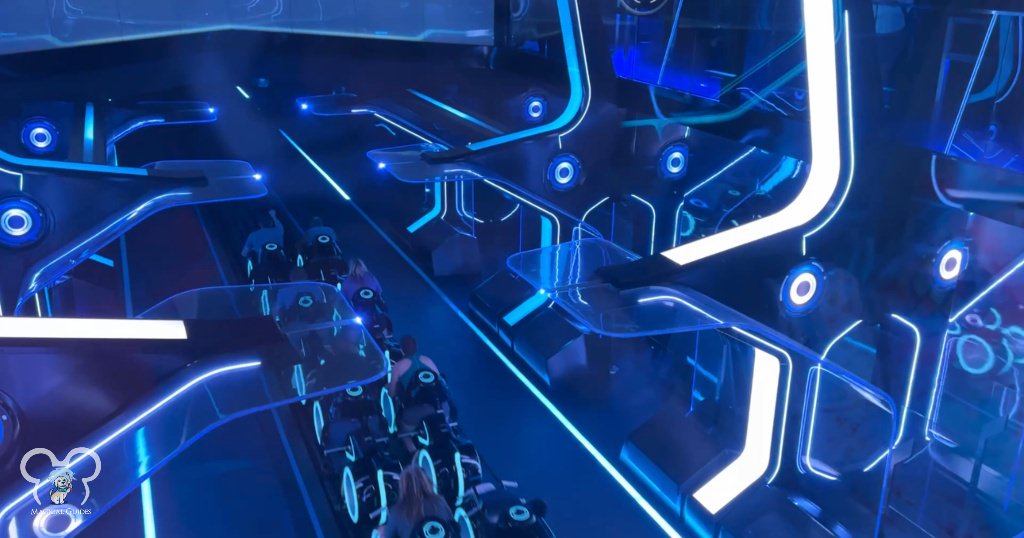 Keep in mind that it's a very dark ride, so can be a little scary for younger children. Only you know your kids, so you'll be able to decide with them if they will enjoy the intensity of this attraction.
Consider using Genie+ as well for this ride, as it does gather large lines after the first couple of hours of the day. It's a great way to save time in line and ensure you can make the most of your limited time in the park for the day when there's so much to see and do here.