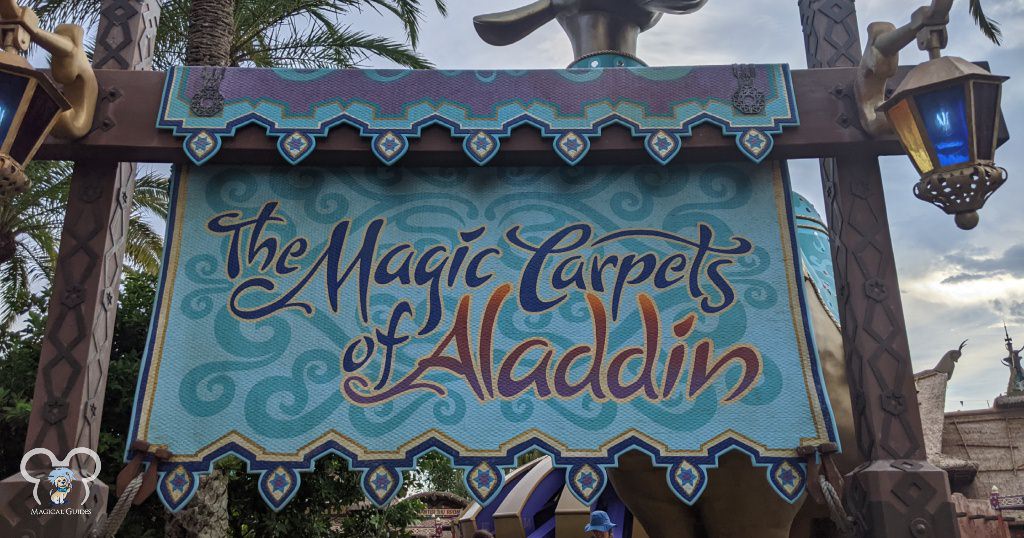 For many visitors at the Walt Disney World Resort, especially those who grew up in the 90s, Aladdin is their favorite Disney movie. Fortunately, there are a handful of places in Magic Kingdom where you can get your daily dose of Aladdin and magic carpet rides.
I'll be your complete guide to everything you need to know about all the important details regarding Aladdin's Magic Carpet Ride and other ways to find Aladdin and Jasmine in the parks.
Growing up in the Disney Renaissance era, movie nights included the latest Disney rental from Blockbuster. So just imagine a 6-year-old singing A Whole New World when the flying carpet scene from the movie Aladdin comes on. This was way before the music of Frozen would grace the world.
Where is the Aladdin ride at Disney World?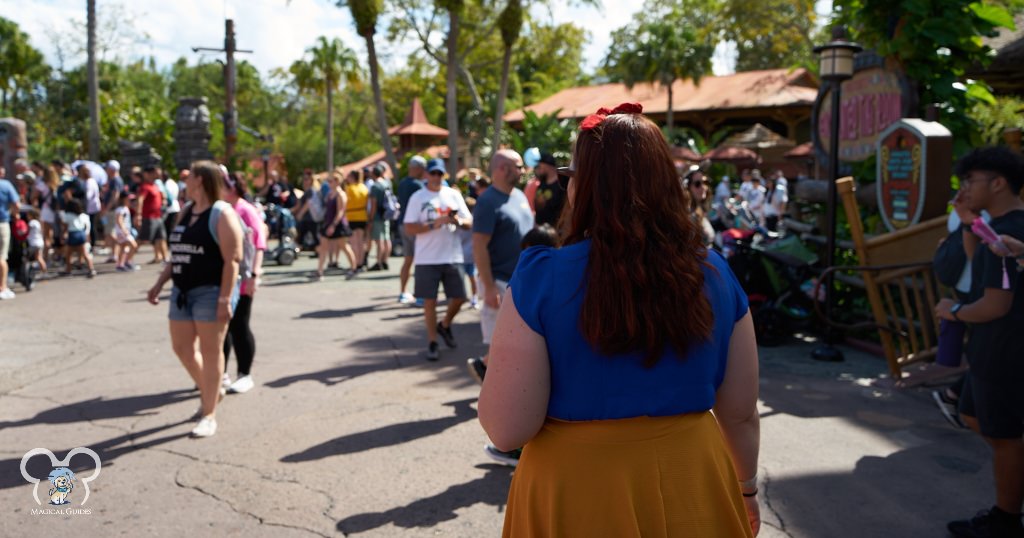 The Magic Carpets of Aladdin attraction is located in Adventureland in Magic Kingdom. It is near Walt Disney's Enchanted Tiki Room and the Jungle Cruise. If you enter Adventureland from the Magic Kingdom Hub, you can't miss it! Just walk down Main Street towards Cinderella's castle, then turn left before you get there.
If you're still lost, just look for a ride with an Arabian theme and rich colors of purple, pink, and blue. This spinner attraction truly looks like something out of the world of Aladdin with its giant genie lamp decoration and golden camels, so you should be able to find it while visiting Adventureland.
It's also located near Aloha Isle. If the standby line looks like it might be a long one, you can grab a Dole Whip to enjoy and help you cool off while you're waiting to ride. You won't be able to bring it on the ride with you, so just make sure that you finish your treat before you get up to the front of the queue.
How does the magic carpet ride work?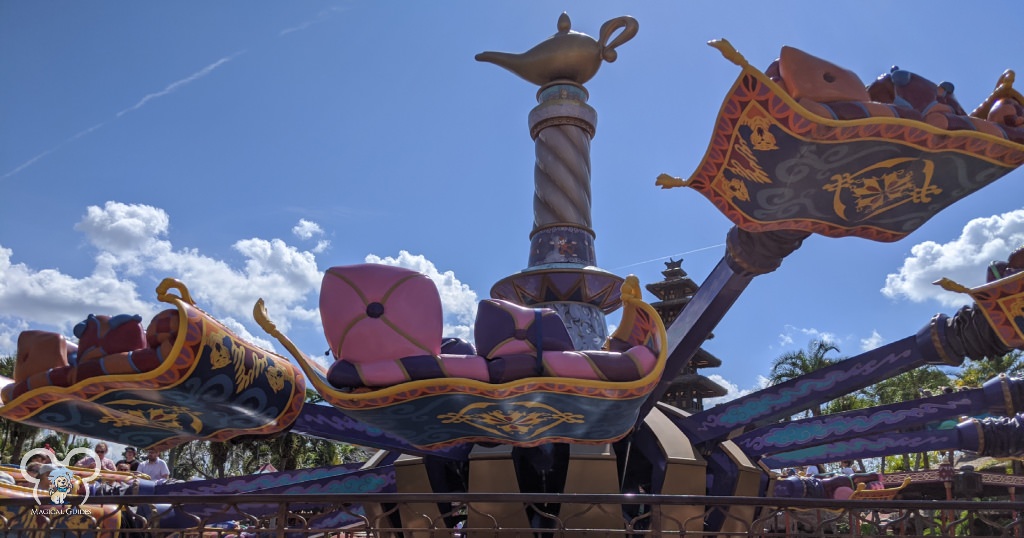 This attraction is very similar to Dumbo the Flying Elephant, Astro Orbiter, and TriceraTop Spin. The ride cars are designed to look like magic carpets with bench seats, and a fabric seat belt is used to make sure you are strapped in and secure during the flight.
The entire fleet of magic carpets has 16 ride vehicles, each guest entering the 4-passenger vehicle. Two guests can comfortably sit in both the front and back section. For safety purposes, it is recommended that small children get into the ride first so that older children or adults are sitting on the section closest to the exit.
The riders in the front row have a lever to control how high the magic carpet flies. They can guide the carpet up and down throughout the ride or simply stay up high or down low. Guests sitting in the back seat are able to control the pitch of the carpet to mimic the feeling of a rocky magic carpet ride.
Whether you are sitting in the front seat or the back row, you will get a lever or scarab button to make this attraction more interactive!
The Royal Spitting Gold Camels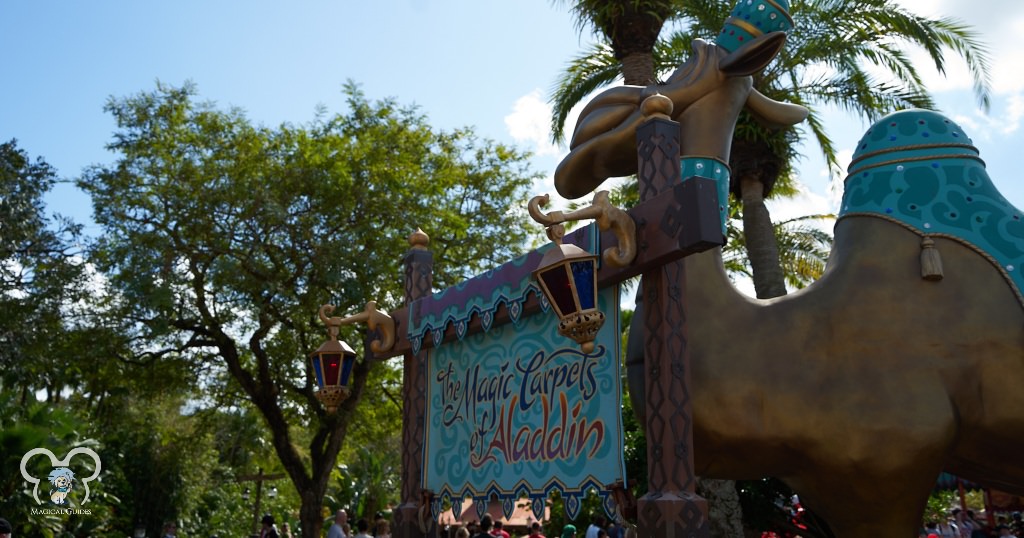 This attraction is unique from Dumbo, Astro Orbiter and other similar rides because there is a small chance you may get wet! This magical ride features two spitting camels. One greets you as you approach the ride and spits at guests walking by, which may be one of the good options for those looking to cool off in the hot Florida sun.
The other gold camel spits at guests riding the attraction. It is a small amount of water, so even though you may get spit at by a golden camel, it is unlikely you'll get soaked or uncomfortably wet. If you're really not looking to get spit on by a camel at all, just make sure the person in the front seat lowers your magic carpet as you pass the camel to try to avoid getting hit by the stream of water.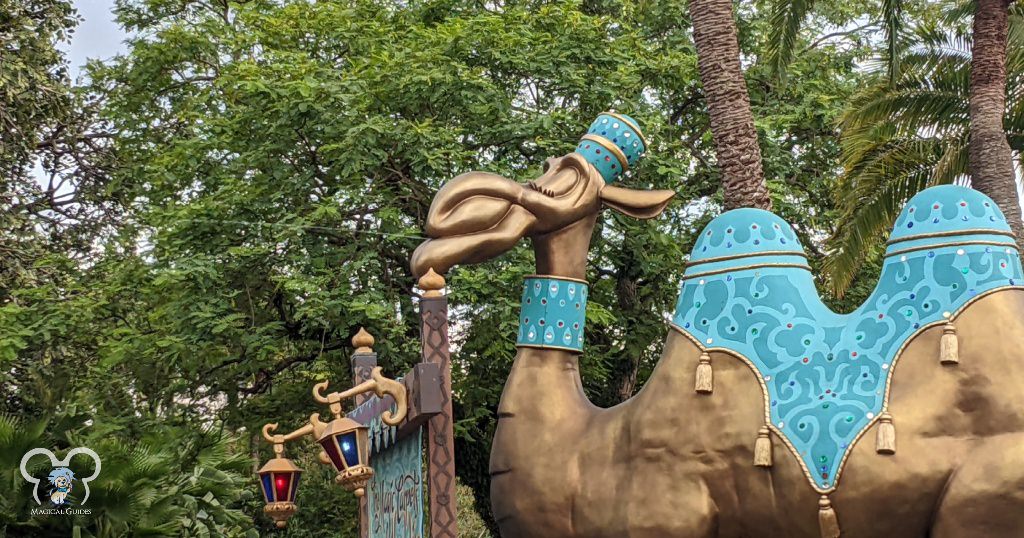 Fun fact – these camels were not built specifically for the attraction they are currently stationed at. From 1992-1995, there used to be a parade titled Aladdin's Royal Caravan in Disney's Hollywood Studios. These two camels were part of that parade and would spit on guests in the audience as they were wheeled by on their float.
After the parade ended, they were sent to "retirement" until 2001 when they made their way to their current home in Adventureland with the magic carpets. So next time you're getting spit at by one of these golden camels, remember that you're being sprayed by a piece of Disney history!
The Birth of Agrabah Bazaar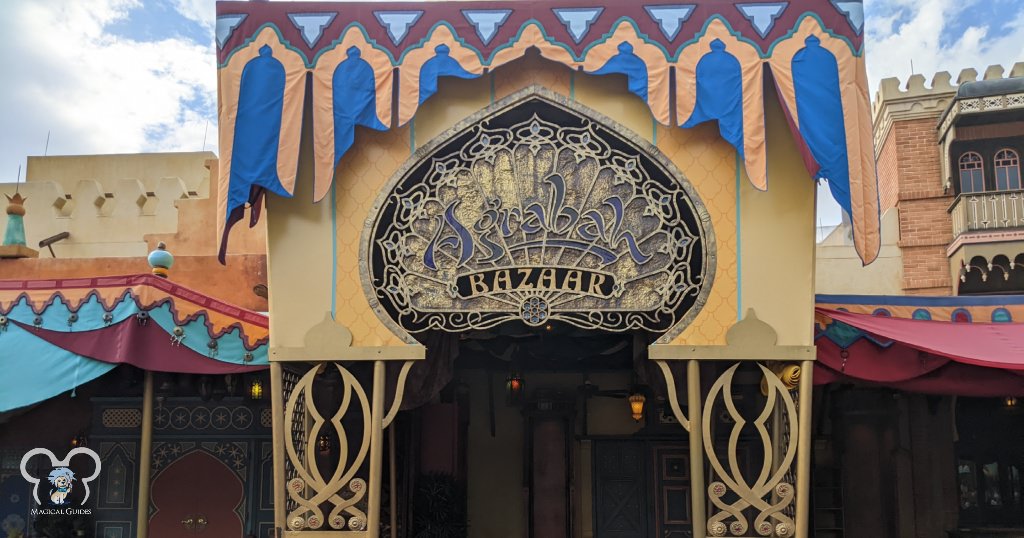 Despite being such a popular film, the Magic Carpets of Aladdin and the surrounding area appropriately titled the Agrabah Bazaar were both considered the first Aladdin attraction to be built in a Disney park. It was designed to appear as though you were shopping through the marketplace of Agrabah and allowed you to buy Aladdin merchandise and souvenirs.
Both the Bazaar and Magic Carpet ride were created in 2001 though sadly the magic carpets are the only ride inspired by Aladdin to be placed in a Disney park since then.
Is Magic Carpets of Aladdin ride worth it?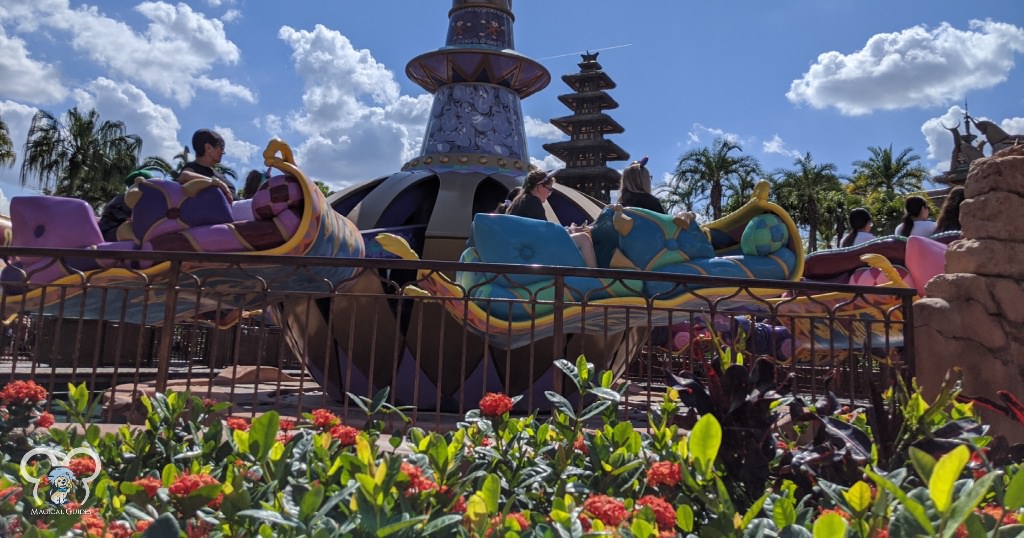 The Magic Carpets of Aladdin can sometimes have long lines that will have you waiting up to 40 minutes for a ride that is only about a minute and a half long. If you're a big fan of Aladdin and really want to make this attraction a priority, it is available on Genie+ if you wish to book a lighting lane.
Personally, I recommend keeping an eye on the wait times using the my Disney experience app. At night, this ride tends to have shorter lines so you can hop on without using up one of your lightning lanes.
Whether you plan to book a lightning lane or wait for a shorter line, the Disney World app is a great way to ensure you don't miss out on these magical flying carpets. Since the Flying Carpet ride doesn't offer a single rider line.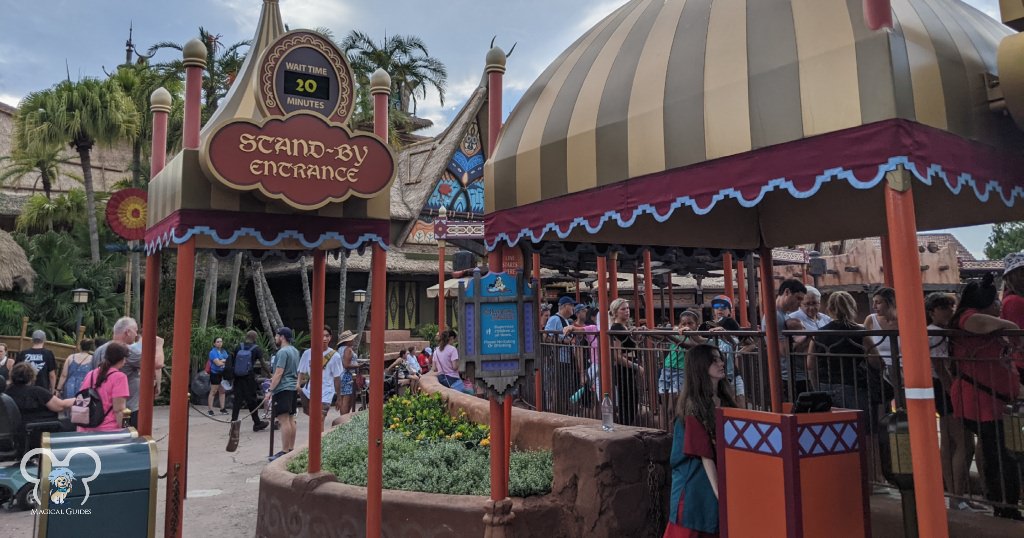 For an even more magical experience, you can try to time it so that you're on the attraction during the Magic Kingdom fireworks. You'll truly feel as though you're flying through a whole new world that's shining, shimmering, and splendid.
Even if you don't go during the fireworks, I've always found that this attraction is more magical at night after the sun has set.
Can anyone ride the Magic Carpets?
Guests of all ages are able to ride this attraction as there is no height requirement. For those who are using an ECV, you must be able to transfer to a wheelchair for this particular ride.
There is one magic carpet vehicle that can accommodate a wheelchair and has a ramp to assist with boarding.
Children under the age of 7 must be accompanied by someone 14 years or older to ride.
The ride is fairly tame and does not go too fast, but those afraid of heights may want to avoid it. However, if you're sitting in the front row, you can control the vehicle so that you stay down low to the ground rather than flying up too high.
Where are Jasmine and Aladdin at Disney's theme parks?
If you're looking to meet Jasmine and Aladdin for a photo or autograph, you're in luck! They are located near the Magic Carpets attraction in Adventureland. You can use the Disney World website or app to check for times, but they usually come out every 1-2 hours for meet and greets.
If you're visiting EPCOT, Princess Jasmine can be found in the Morocco Pavilion in the World Showcase. She is also available to meet at Akershus Royal Banquet Hall in EPCOT over in the Norway pavilion.
Jasmine can also be found at Cinderella's Royal Table. This character dining experience is perfect for fans of princesses. While Jasmine is not guaranteed, she may be one of the Disney princesses to chat with you while you enjoy your meal.
Unfortunately, you won't be able to find Aladdin or Jasmine in Hollywood Studios or Animal Kingdom, so be sure to look for them during your day in Magic Kingdom and EPCOT.
Where else can I find Aladdin and Princess Jasmine in Disney World?
If the spinning ride and meeting Aladdin and Jasmine are not enough, there are still other experiences for fans of the film Aladdin.
Philharmagic is located in Fantasyland in Magic Kingdom and features Donald Duck on a magic carpet with Aladdin and Jasmine during the Whole New World sequence.
A Whole New World with Princess Jasmine and Aladdin
Hopefully, this guide has helped you feel confident in making sure that the fans of Disney's Aladdin in your family make the most of their trip to Magic Kingdom. All of Disney World's spinning attractions are a fan favorite for young children, so if your young one is a fan of Aladdin, this may be the perfect attraction for them.