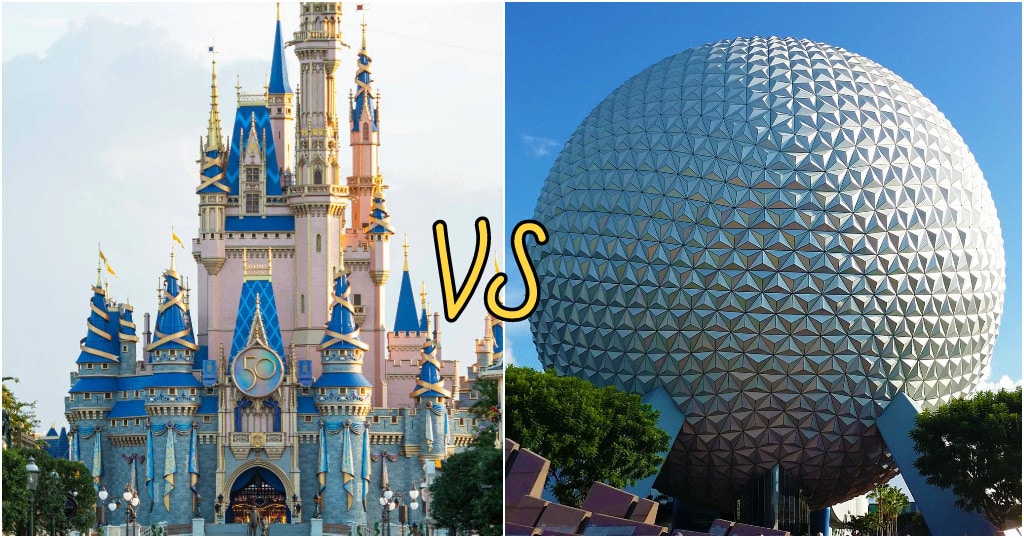 Walt Disney World. Orlando, Florida. There are so many options for rides, attractions, shopping, and dining. It can be hard to narrow down the top choices for your vacation. How do you know you'll be spending time your time on the best of the best? Which park should you visit first?
Did you know? The Magic Kingdom theme park opened in 1971! That's over 50 years ago! Magic Kingdom was the first park to open. In 1982, EPCOT joined the theme park list, as the second park to open at Walt Disney World! In this article, we're going to break down the details of both of the earliest two parks of Walt Disney World.
Which park in Disney World is best?
This is one Disney-lover's opinion, to be sure. But, if you love Walt Disney World, it's almost impossible not to consider Magic Kingdom, as the most classic park. Let's review some key reasons as to why:
Magic Kingdom is where you'll find most of your favorite classic Disney characters. Mickey, Minnie, Goofy, Donald, Daisy. The Disney Princesses will be found in Princess Fantasy Hall. Other classics, such as Winnie the Pooh and friends, Peter Pan, Mary Poppins, The Disney Princes, and Tinkerbell and friends, all can be found throughout Magic Kingdom Park.
In addition to it being the first ever park, home of so many classic characters, Magic Kingdom is also home to the castle. That's right, Cinderella's castle. When you think quintessential Disney World, or even just quintessential Disney, most people think of that majestic castle.
Most of the classically famous rides, like the Mad Hatter's Tea Cups, Space Mountain, Big Thunder Mountain Railroad, The Carousel of Progress, The Peter Pan ride and Seven Dwarf's Mine Train, The Pirates of The Caribbean ride, and the Haunted Mansion all can be found at Magic Kingdom. In addition to some really cool fireworks shows, parades, and fabulous dining options, Magic Kingdom is where to go if you're a big Disney fan and you want your nostalgic and classic Disney fill.
Not to leave EPCOT out of the conversation, let's talk about some of the best parts of this unforgettable park experience. EPCOT has so much to offer and you could really spend multiple days in one trip just roaming around all there is to do at EPCOT. EPCOT actually stands for "Experimental Prototype Community of Tomorrow." In line with it's complete name, is its overall theme of technology, a look into the future through exhibits, attractions, and rides, and then a walk-able tour of numerous countries! (One of the best parts of the park!)
EPCOT has so much to see and do, starting with the park entrance. There's Spaceship Earth of course, which is the famous "globe" or giant globe-shaped structure that is shaped like a golf ball, that you see when you first enter EPCOT. This is Spaceship Earth, and some people don't realize that it's actually a ride! As you go further through the park, you reach "Future World." This front area inhabits shops, Club Cool (A Coca-Cola test-taste area with flavors from around the world), and iconic rides such as Soarin', Living With The Land, and Test Track. Future World in EPCOT is very pro-technology, but also pro-the planet. There's a lot to learn and appreciate while also enjoying delicious tastes and fun rides!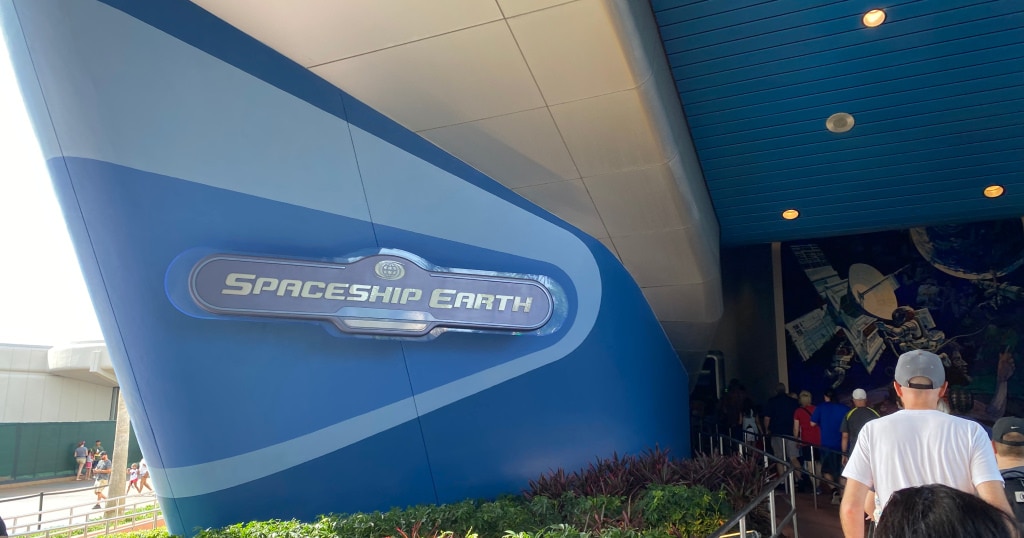 Read More: What is the EPCOT Ball and What is inside?
The World Showcase is a huge reason why people love coming to EPCOT. The Showcase takes you through a highlight of countries around the world, their food, sights, and culture! In order, if you walk counter-clockwise around the Showcase, you will find: Canada, the United Kingdom (where you might see Alice from Alice in Wonderland or Mary Poppins!), France, Morocco, Japan, the U.S., Italy, Germany, China, Norway, and Mexico!
These country stops throughout the Showcase are often referred to as "pavilions." Imagine a window into an entire culture, with opportunities to show, eat, and explore as though you are really traveling the world. There are plenty of beautiful areas to take photos in.
Within the countries, some exciting new rides have opened up. You'll find "Remy's Ratatouille Adventure" in France, and the "Frozen Ever After" ride in Norway. Disney is always expanding and enhancing the world travel experience. EPCOT is a can't-miss situation.
Read More: Guide to Rides in EPCOT
Are there any rides at EPCOT? What rides are a must?
EPCOT currently has 11 rides. You might think that isn't very much, but they're all so unique and exciting in their own ways. You'll definitely want to ride most of them.
Spaceship Earth – Spaceship Earth is a ride through "space," but really, it's a ride through the past, and through the history of communication and technology. Spaceship Earth looks at the development of technology through history, and how we got to present day. It also projects ideas for the future, and incorporates you, the guest, in an interactive journey at the end of the ride. It's so much fun. Probably a must-ride.
Living With The Land – Living With The Land is yet another boat ride, (are we sensing a theme with EPCOT's rides?), but this one really stands out. This ride can be found in Future World, not far from The Seas with Nemo & Friends. The tour guide of your boat takes you through EPCOT's greenhouses, explaining the plants, and the energy-efficient planting methods that employees at EPCOT are using and developing further. It's so fascinating and so important to learn about. Definitely worth it if you have the time. There's also a great food court surrounding the entrance/exit to the ride, which means you won't have to go far to find food afterward!
Read Also: Things You Didn't Know About Living With The Land
Test Track – The ultimate ride for racetrack fans. Do you love cars? Have you SEEN Test Track? You must. It's definitely a must–ride. On Test Track, you'll design a car, and then ride your test car as fast as 65 MPH. Test Track takes you on curves, bumps, and fast stops. Not quite a roller-coaster, but definitely an exhilarating ride. Highly recommend.
Read Also: Test Track at Epcot: Facts and Complete Guide
Journey Into Imagination With Figment – This ride has been at EPCOT for a long time. It fits right in with EPCOT's future world theme though, despite being a bit aged! Here, you'll meet Figment, a small purple dragon, and his pal, Dr. Nigel, who work to research your imaginations! There's a catchy song that you won't be able to get out of your head after riding. The ride takes you through different "labs" which engage the guests' senses. It's a very fun ride for kids and adults of all ages. There's also plenty of interactive fun to explore after the ride is over, as well. Check it out!
Mission Space – Mission Space can be a neat ride if you don't mind being tossed around a bit. Not everyone enjoys the motion of this ride, so be warned beforehand to think twice! That being said, Mission Space assigns you with a role on a spaceship, and you get to choose which "mission" you want to take. Pay attention to which mission you choose: The Orange Mission is more intense than the Green Mission.
Read Also: What happened to Mission: SPACE Epcot?
Soarin' Around the World – Soarin' is an awesome experience of a ride. Soarin' takes large groups of people into a simulated hang-glider seat. It physically lifts guests into the air and rocks them over a massive theatre screen that takes them across the world, displaying different images of different places.

It's absolutely unreal to see. If you don't ride anything else at EPCOT, be sure to ride Soarin'. It's a must!
Read Also – How to get the best seat on Soarin' Around the World
The Seas with Nemo & Friends – This ride takes you under the sea, but you won't find the Little Mermaid here! Instead, you'll find all your favorite characters from Finding Nemo, as they sing and chat with you during your trip. You'll ride around in a large pink clam, very fitting for a "Nemo" ride. (The Nemo ride allows you to see actual, real fish as well!)

After the ride, you can participate in another attraction, "Turtle Talk With Crush." Crush will truly talk with the guests, which is always a laughter-filled experience.
Gran Fiesta Tour Starring The Three Caballeros – Located in the Mexico Pavilion, guests can enjoy a meal, or a dark boat ride tour hosted by the Three Caballeros! If you pay attention, you'll notice Donald Duck on the ride as well.
Frozen Ever After – One of EPCOT's newest rides, the Frozen ride was highly-anticipated. The Frozen movie franchise is obviously a huge deal, so the ride was almost guaranteed to be a big deal. The ride opened in Norway in 2016, replacing the Maelstrom ride that preceded it.

After waiting in a long line of excited guests, you will board a boat, meet Olaf who sings to you about Elsa and then watch as you are taken along the journey of popular characters from Frozen such as the gnomes, Elsa, Anna, and Kristoff themselves. You'll hear music from the film too!
Remy's Ratatouille Adventure – Based on the PIXAR film, Remy's ride gives the guest the illusion that you are the size of a rat. It's a really interesting concept for a ride. The "rat-mobile" takes you through the inside of Gusteau's restaurant and kitchen, mirroring Remy's experience in the film. If you love this movie, you'll probably want to check out the ride.
Guardians of the Galaxy : Cosmic Rewind – The latest attraction Marvel themed ride to open at EPCOT. This is the only roller coaster inside of EPCOT. This is a dark ride that will move you forwards backwards, and side to side. This has quickly become a main attraction in EPCOT.
Read Also: What kind of ride is Guardians of the Galaxy: Cosmic Rewind?
So, what are the must-rides at EPCOT?
Soarin' Around the World
Spaceship Earth
Test Track
Guardians of the Galaxy : Cosmic Rewind
Remy's Ratatouille Adventure
But, definitely ride them all if you can.
Read Also: Guide to Rope Drop EPCOT
Which Disney World park is better for adults?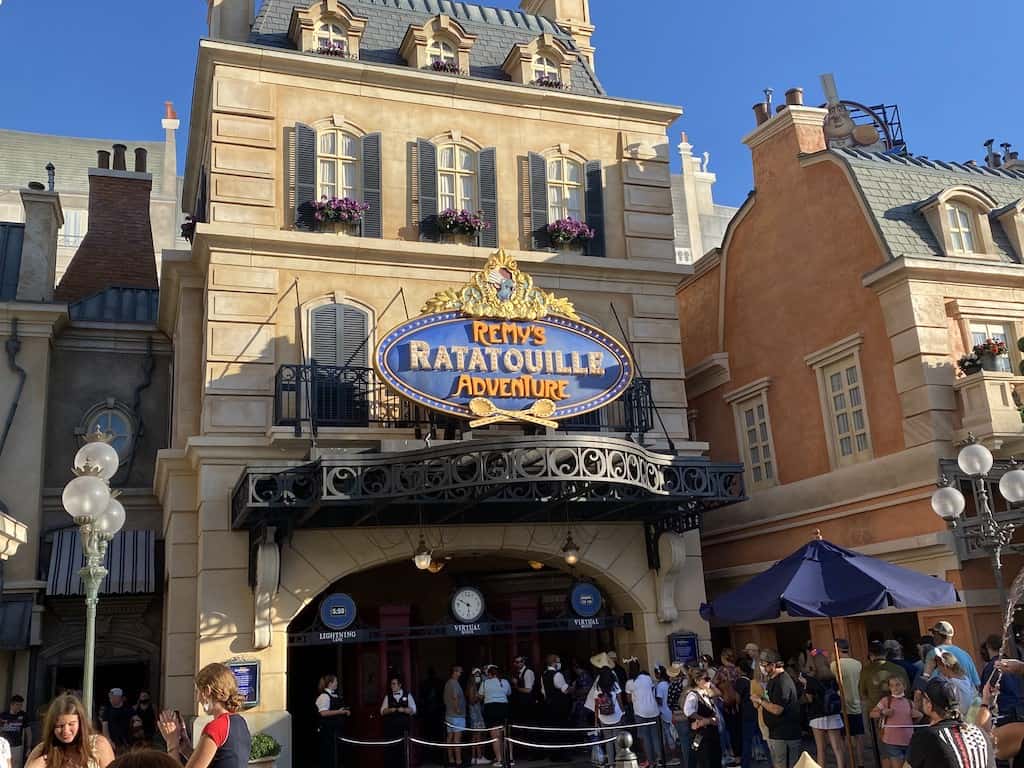 So, you might be wondering, which Disney World park is better / more fun for adults?? The obvious answer here probably seems like EPCOT is the best Disney World park for adults. EPCOT is more adult-friendly, with less character meet and greets, more real-world attractions, and "future world" and "Planet Earth" themes that adults will pick up on, in more depth.
Read More: Discover the Colorful History of Orange Bird in Disney
That being said, naturally, it is still very much a kid-friendly park. If you are an adult and self-proclaimed "foodie" or if you enjoy drinking across the country, you might prefer EPCOT, based on the opportunities to try exotic food and beverages.
Read More: Discover the Best Drinks at EPCOT
That being said, if you are a huge Disney fan like many adults are, then you may prefer Magic Kingdom. Some of the best restaurants, like Tony's Town Square, the Be Our Guest restaurant, Cinderella's Royal Table, and the Plaza are to be found in Magic Kingdom. If you have a sweet tooth there are some amazing bakery options, ice cream options, and delicious coffee in Magic Kingdom! It certainly depends on what you like to enjoy on vacation, but overall the most "adult" park out of the two, is probably EPCOT, based on thematic nature and alcohol options.
Is Magic Kingdom bigger than EPCOT? How big is EPCOT?
Technically, numerically, EPCOT is larger in size than Magic Kingdom. EPCOT is made up of 300 acres! Magic Kingdom, believe it or not, is 107 acres! It's actually the smallest of the 4 parks at Walt Disney World. The smallest, and yet still, the most classic!
Despite acreage and technical size, Magic Kingdom might feel larger, because of the way both parks are broken up. Magic Kingdom is made up of six primary areas: Fantasyland, Tomorrowland, Adventureland, Frontierland, Liberty Square, and Main Street, U.S.A. With so many different sections and so many more attractions than EPCOT, Magic Kingdom might feel bigger, because there's more that comes to mind. EPCOT, needs the acreage, however, because it essentially accomplishes two major concepts all within one park. The future world technology-focused rides, shops, and attractions. Also, of course, the country pavilions!
Which park is better: Magic Kingdom or EPCOT?
Magic Kingdom and EPCOT are so different from each other and they offer completely unique experiences. Are you a classic Disney character fan? Do you want the nostalgia and Cinderella's castle? Are you more excited about world travel and exotic foods? How about improving our planet, technology, and the future?
These are the questions that it's good to ask before deciding which park you visit first! However, if you can, go to both. They're both worth a visit and you'll be well fed and well entertained at either park!
Magic Kingdom has more rides. EPCOT has more diverse food experiences. Magic Kingdom is more playful. Epcot is more educational and innovative!
The best news is that there are constantly new improvements, changes, updates, and attractions coming to both parks. Enjoy your magical trips and don't forget to consider our suggestions. And of course, Happy Vacationing!