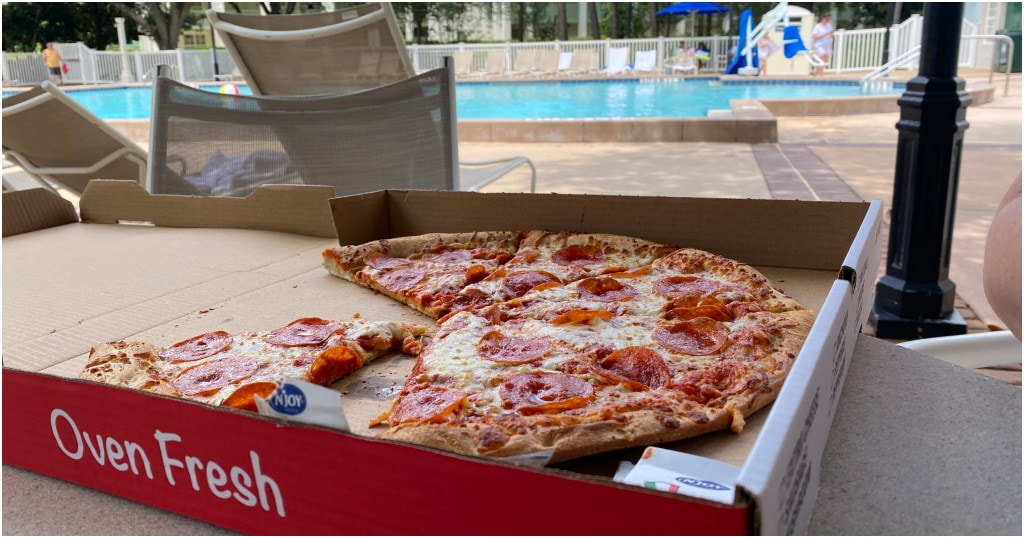 After a long day of running around the Walt Disney World theme parks, sometimes the last thing you want to do is head out for a fancy dinner. Instead, why not consider enjoying a takeout pizza delivered to you directly at your Disney resort. Today we're going to answer the frequently asked question of whether you can get pizza delivered to Disney resorts and how you can go about ordering this delicious dinner. It's the ideal way to relax after a long day and rest up for another day of exploring in Orlando tomorrow.
Walt Disney World Pizza Delivery Service
When it comes to ordering takeout pizza to your Walt Disney World resort, you have a few different options. For those of you staying on-site at an official Walt Disney World resort, we recommend considering the Disney pizza delivery service which is available at some Disney resorts. All of the value resorts offer this service, as well as Disney's Caribbean Beach Resort, Disney's Port Orleans Riverside and French Quarter Resort, Disney's Old Key West Resort, and Disney's Saratoga Springs resort. All of these resorts allow you to order Disney pizza, which comes directly from one of the nearby food locations.
Keep in mind that your menu choices will be much more limited if you opt to take this route. That being said, it's a convenient service which is easy to order and involves little effort from your side when it comes to planning your dinner. Not everyone loves the Disney pizza recipe, so if you are particularly fussy about what type of pizza you eat, you may want to consider another option. However, kids and teens will no doubt be thrilled with their pizza delivery, which you can add salad, drinks, and dessert to as well.
Other Pizza Delivery Options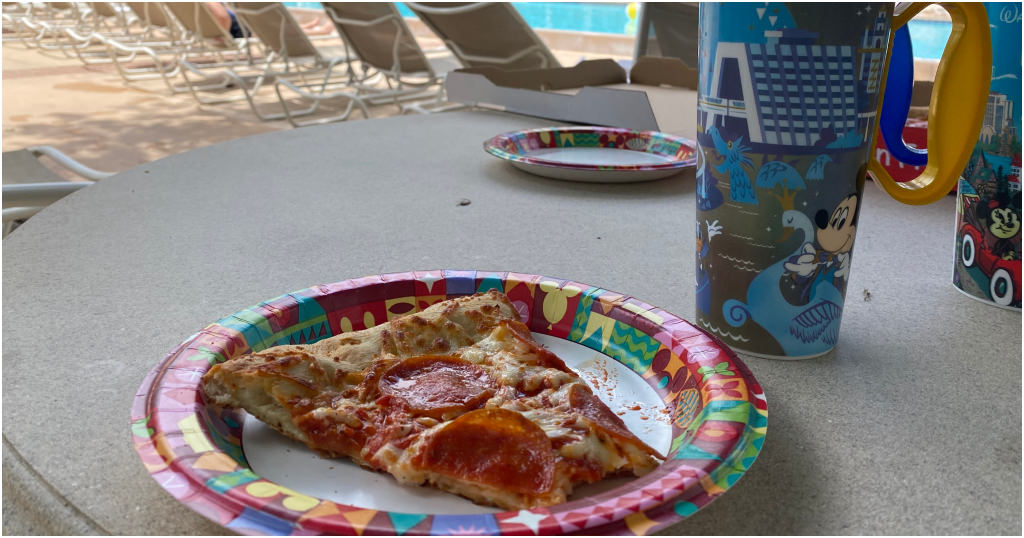 The good news is that there are many other ways you can get pizza delivered to your Walt Disney World resort. If you use an app such as UberEats or GrubHub at home, you'll be familiar with this type of service. You'll be able to browse through all of the local restaurants offering pizza to find one that suits your needs. From there, you can see if they will be able to deliver to your resort, which is much easier than having to call up endless restaurants to see if they offer this service. Popular restaurants in the local area which deliver to Disney resorts include Pizza Hut and Dominos, but you could also find something more upscale. We also enjoy Giordano's and Flippers for pizza here, but you can find Mexican, American, and Asian food with ease on these apps.
The delivery time when using these types of apps will vary depending on when you are ordering. Orlando is a very busy place for tourists, who all like to eat at typical dinner times. The great thing about these apps is that they'll tell you a rough delivery time, so you can plan accordingly for your meal. Make sure you order before your kids and teens get hungry though, or you'll find they are very frustrated and grumpy by the time dinner arrives. If you have plans to head out to the parks again after your meal, make sure you allow enough time so you aren't left rushing your dinner.
While there is some delicious pizza in the theme parks, such as EPCOT, unfortunately this can't be delivered to your resort. We wish so much that Via Napoli could deliver to resort rooms, but you'll need to venture out to EPCOT to try what is without a doubt the best pizza on property. This authentic pizza is a great spot for a family meal, and one we recommend booking in advance if you are dining with a large group. You can't miss their half-meter pizzas, which are big enough to feed your whole family.
Il Mulino at Disney's Swan Resort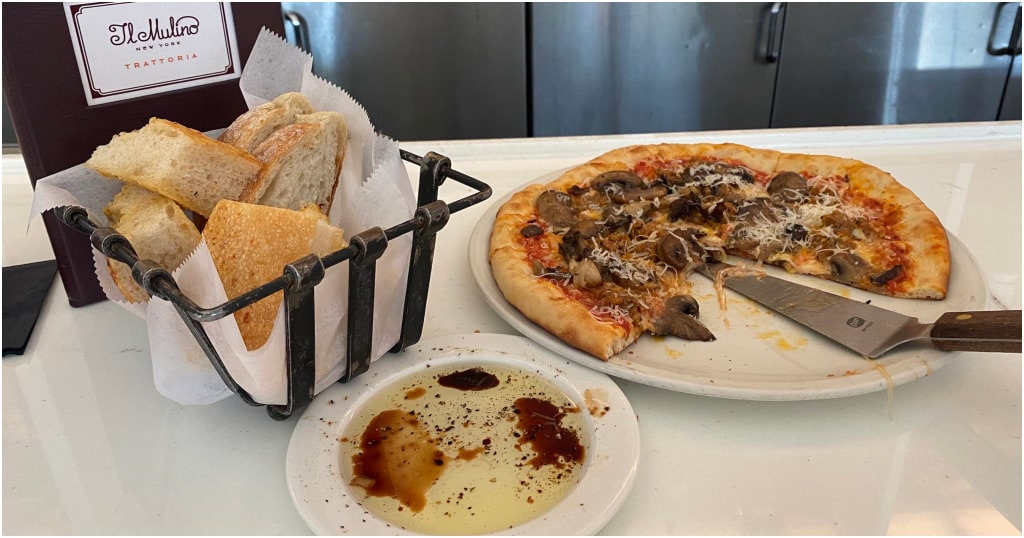 One of my favorite pizza on property is at Il Mulino located inside the Walt Disney Swan Resort. If you're not familiar with this resort, it's in between Disney's Yacht & Beach Club and Boardwalk resorts. A short walk from the backside of EPCOT or Hollywood Studios. I like to sit at the bar for quicker service, and I don't feel too terrible about going to this signature dining spot in park attire. The bartenders are friendly, and attentive to my many questions about their menu. You can order pizza for carryout, not delivery sadly. That said, I would not recommend carrying this out, unless you're staying within a 5 minute walk, as this pizza is crispy, and should be eaten piping hot.
As you can see, there are some great options when it comes to ordering pizza to your Disney resort. After a long day standing on your feet, sometimes all you want to do is chill out and watch TV before heading to bed. Just make sure you allow plenty of time for your order to arrive, or order with enough time to spare so you aren't all starving when your pizza arrives to your Disney resort. A night in with pizza is the perfect mid-vacation break from dining out, and it will go down a treat with the whole family.