When it was announced the Wave inside Disney's Contemporary was closing, I was sad as I always enjoyed The Wave: Taste of American Flavors. However like Disney World itself, nothing stays the same. The replacement being a steakhouse, at first struck me as "Oh no, not another". Let me tell you right now, my reaction should have been, "WOW! Disney did it again!".
Steakhouse 71 is open for breakfast, lunch, and dinner and has a separate menu for all three meals. There is also a lounge in the restaurant with its own menu. So no matter the time of day, you should have plenty of choices for those picky eaters. Before we get into the food, let's talk about the environment.
Decor
With the remodel of the Contemporary completed, you will see the mid-modern refresh throughout. There is a waiting area outside of Steakhouse 71, that looks like it's straight out of the TV show the Brady Bunch era. The photos on the wall as you walk through the entrance are of none other than the "Florida Project" that would ultimately be Walt Disney World. My first impression is it has a Shula's feel to it, but instead of football, it's Disney. So mixed with the delicious smell of the food coming out, I was in heaven already.
Breakfast at Steakhouse 71
Breakfast is the most important meal of the day, and you're going to need energy when you're about to rope drop Magic Kingdom. There are plenty of options at Steakhouse 71. First meals are reasonably priced for this upscale setting, with most meals not exceeding $21. Like other places, you can get Mickey Waffles here of course, but I have a few dishes that I highly recommend:
Walt's Prime Rib Hash
The Steakhouse Feast
Steakhouse 71 Seasonal Pancakes
I can't help but remiss the grits and sweet potato pancakes the Wave used to serve, but it's time to try something new. The grits here were still delicious, and the hollandaise sauce was light, fresh and delicious over the previous one served by the Wave. Walt's Hash is something a bit different for breakfast and I thoroughly enjoyed how full it made me without the overeating of too many breakfast pastries from the previous buffet offering here.
Lunch at Steakhouse 71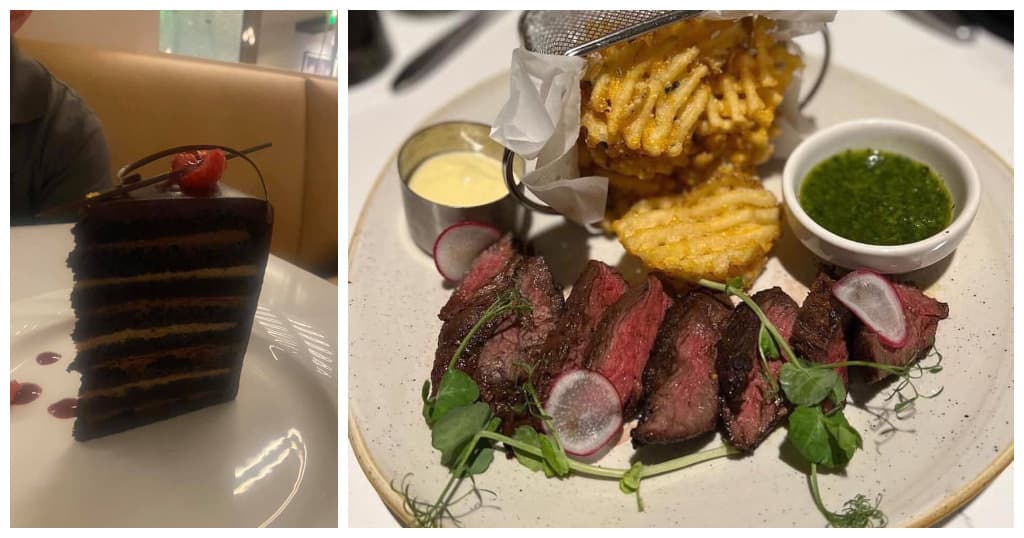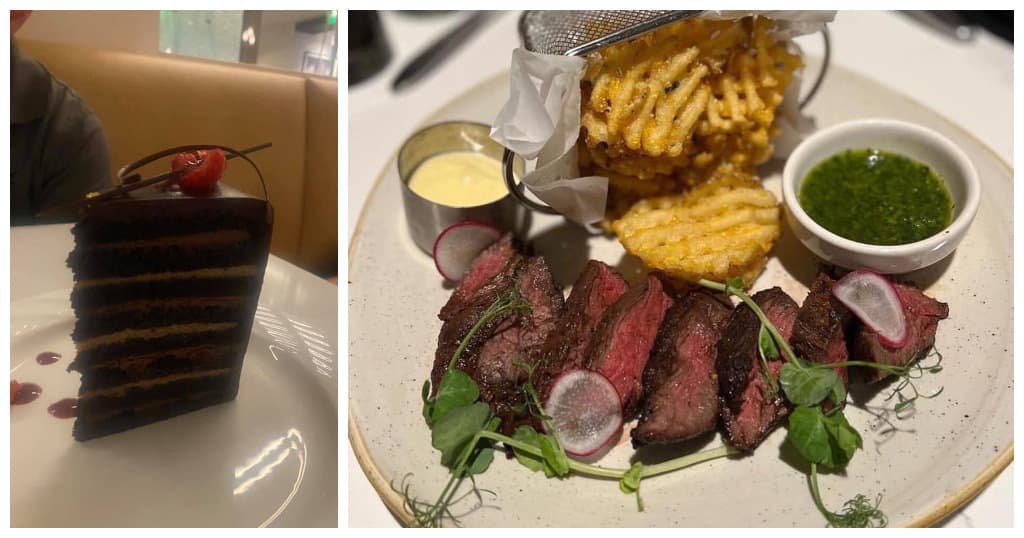 An afternoon treat of meat and light carbs refuel is a great thing when you Rope Drop at the Magic Kingdom. The waffle fries are served a bit crispy here, so warning to those that enjoy Chick-Fil-A fries which come a big softer. That said the chimichurri sauce complimented the steak well, and seared just right. I recommend the steak frites, but there is one thing I'd recommend over that…and it's the Steakhouse 71 Stack Burger!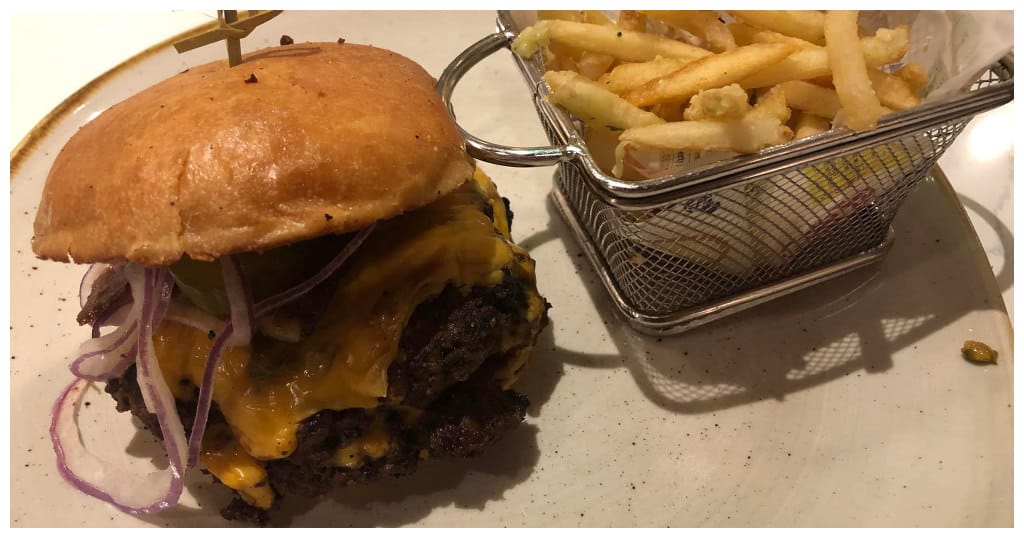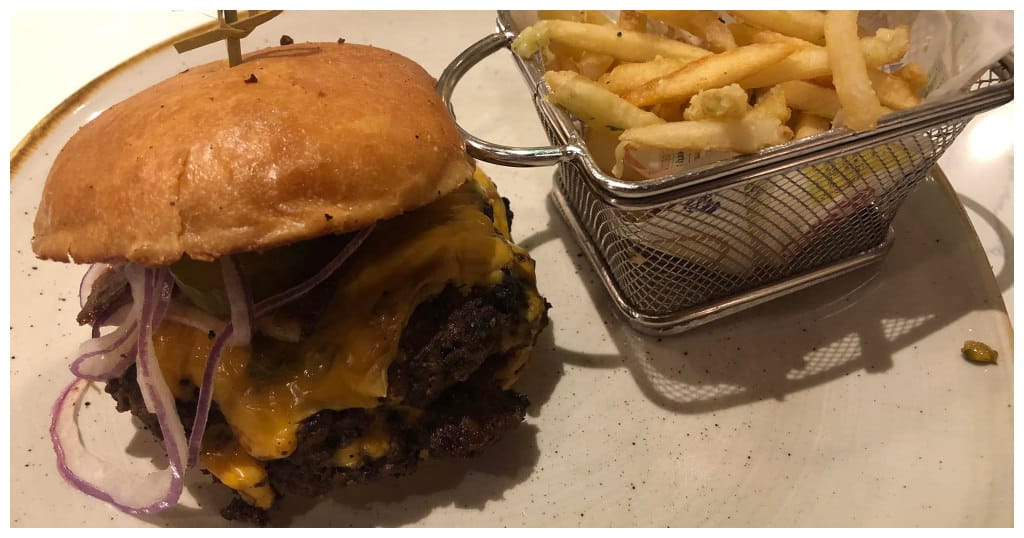 This burger is the highlight of the lunch trip. A good burger is hard to beat, and again Disney know what they are doing with high quality beef cooked with a good sear with melty cheese on it. The fries are a step up, but again they are crispy fries(which I love). So you might have to drown them for a bit in ketchup to get them to soften.
Dinner At Steakhouse 71
Now the time has come to discuss our favorite time of day, dinner! Dinner isn't slouching when it comes to good eating. The sauce flight with with card explaining the different sauces was a great touch. Currently they have the following sauced available:
Red Wine Sauce: a Bordelaise inspired sauce featuring a Bordeaux style blend of wine that is reduced with a veal demi and finished with butter.
Whipped Horseradish Cream: cream infusted with horseradish for 24 hours. Whipped with a touch of lemon juice and toppped with chives.
Au Poive: A classic French peppercorn sauce that we prepare with peppercorn melange (black, white, pink and green peppercorns), brandy, cream, veal dmei and aromatics.
Chimichurri: Freshly chopped herbs and aromatics mixed with fine extra virgin olive oil and red wine vinegar.

Signature Steakhouse 71: A signature house made steak sauce featuring 20 different ingredients including: tamarind, tomato, dried fig, vinegars, anchovy and citrus peel.
Bearnaise: A popular derivaative of the classic French Mother Sauce Hollandaise. Flavored with a tarragon vinegar reduction and freshly minced tarragon.
Signature Steakhouse 71: A signature house made steak sauce featuring 20 different ingredients including: tamarind, tomato, dried fig, vinegars, anchovy and citrus peel.

That said, I suggest Whipped Horseradish Cream, and Signature Steakhouse 71 sauce.

Wedge salads were delicious and highly Instagramable. The rolls came out with a butter dish indicating the 71. Are you paying attention for this next part? Order the Bone-in Pork Chop. The steaks are delicious, don't get me wrong. You won't be sorry you order those delicious hunks of meat – but the pork chop had flavor and surprised me the most. I couldn't stop eating it.
Final Thoughts On Steakhouse 71
Is your mouth watering yet? Is your reservation booked for Steakhouse 71? After our visits to Steakhouse 71, we are going to have to update and include it on the 5 best steakhouses at Disney World. Overall we loved this updated addition to the long line restaurants that are on the Monorail Loop, and think Disney hit it out of the park. I would love to find a reason to eat that Stack burger every chance I could, I mean calories don't count in Disney right?
If you want a more formal breakfast without characters, this is a no brainer to try, especially from a value stand point. Lunch and Dinner as well, great relaxing restaurant to come hangout in the Contemporary, take the escalator to watch some fireworks from the balcony they have setup. I don't like to eat at the same place twice in each trip, so I'd plan accordingly and plan multiple trips ;)! Skip dessert here, hope on the Monorail, get a Dole Whip at the Polynesian before crawling into bed to enjoy your food coma.
Breakfast: Walt's Hash
Lunch: Steakhouse Stack Burger
Dinner: Bone-In Pork Chop
All the rest of what you order is what I call, details. So eat up and enjoy!

What did you think when you went? Will you go again? What did you order? Comment down below if this post was helpful to you.