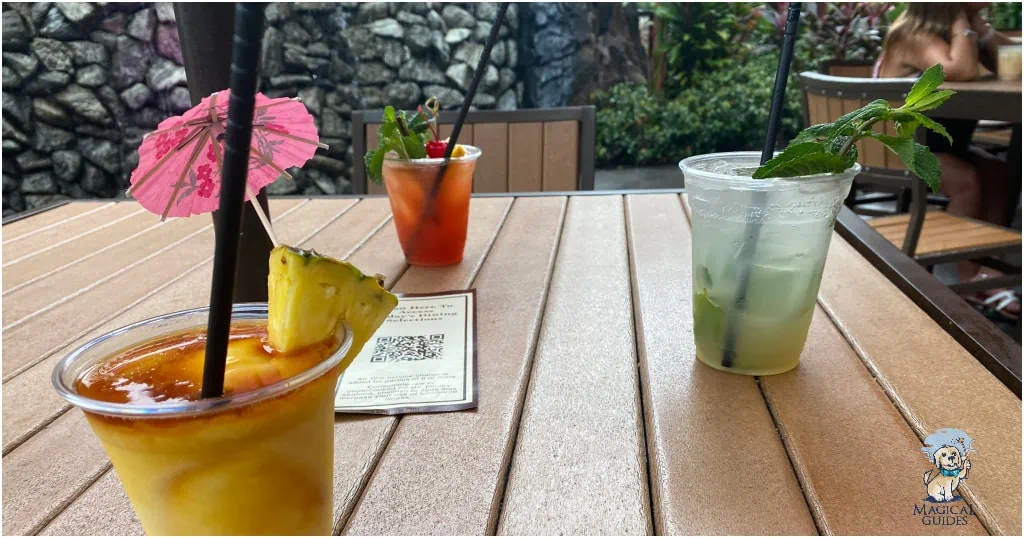 Disney Fans who are age 21 and up: What's your favorite place to grab a fancy, creative cocktail throughout Walt Disney World? Each deluxe resort hotel along the Disney Monorail line has a lounge or bar that offers delicious beverages with many unique flavors. Some guests like to visit more than one resort, all the while, hopping on the Disney Monorail in between stops!
On my last trip down with my two cousins, one who lives a few miles away in Celebration, suggested, why not do a few drinks along the Monorail. We couldn't argue with their logic, and visit some of the most deluxe Disney resorts for a few drinks.
So today, let us walk you through…The Monorail Bar Crawl!
What's the Monorail Bar Crawl? Is it free to ride the Monorail?
What's a Monorail Bar Crawl, you ask? Well, it's a Disney resort bar crawl at the three Walt Disney World Resort stops on the monorail. Riding Disney World's Monorail is free, and there's no charge. Guests can take in the atmosphere at their different-themed lounges or bars along the way. Each resort is very different, so it makes for an enjoyable adventure! Disney fans and influencers over 21 years of age also enjoy documenting their "Monorail Bar Crawls" or "Monorail Bar Hops" on social media. The best part about a bar crawl like this, is you can do it before or after your day at Magic Kingdom.
The easiest way to board the Monorail is getting on in front of the Magic Kingdom via the Disney bus system, at Ticket and Transportation Center. You're going to have to pay to park if you're not staying on property during, unless you're an annual passholder / Disney Vacation Club owner. You won't be able to park at the resorts to do a bar crawl, and they are serious about towing at the resorts on the Monorail.
Also Read: When Will Disney World Sell Annual Passes Again (UPDATED)
So with all that said folks, let's get into it!
As a reminder: Please always make sure to drink responsibly. It's highly recommended that those drinking alcohol use a service such as: Minnie Van, Uber, or Lyft. (Minnie Van services operate from 6:30am-12:30am throughout Walt Disney World property. If you are not staying on property, you can choose Uber or Lyft.) Otherwise, always elect a designated driver from your party. Never drive under the influence. Safety is the main priority!
First Stop: Disney's Contemporary Resort
Starting off with a Disney Classic: Disney's Contemporary Resort. There are actually multiple places with great drink options on the menu at the Contemporary. We've gone ahead to review them for you to help eliminate some of the tough decision-making!
The most convenient option in proximity to the monorail (if you started later in the evening, for example), is Outer Rim right next to Chef Mickey's! Outer Rim is classified as a "lounge." Outer Rim has a full menu, with just some of the highlights including: A Watermelon Margarita, "Walk The Plank," Bahama Mama, and a Captain's Mai Tai! And those are just to name a few! There's also a great selection of beer, wine, bourbon, and even a few non-alcoholic drinks as well.
You can't go wrong at Outer Rim.
Outer Rim is open from 4pm-11pm each evening.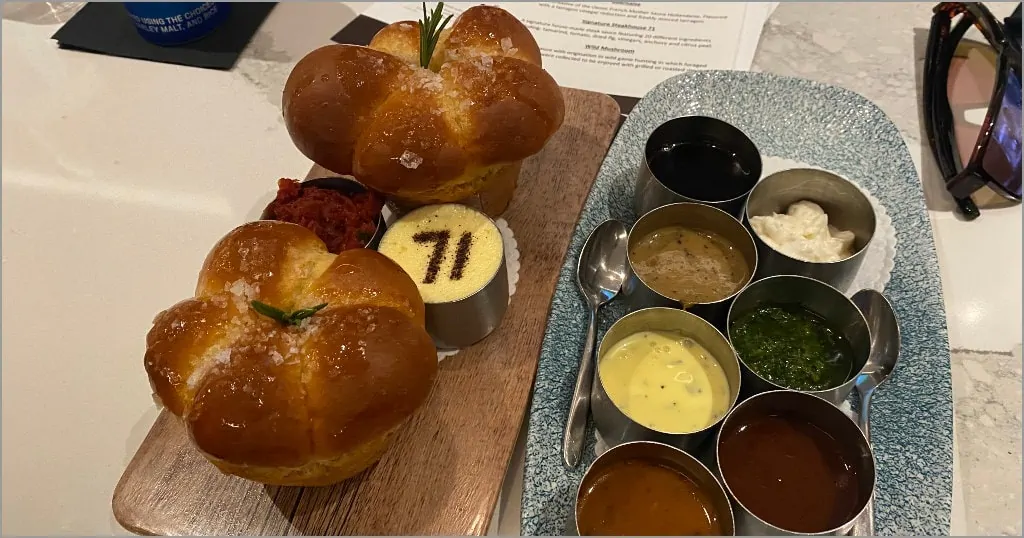 Another option at Disney's Contemporary Resort is Steakhouse 71. Different options than Outer Rim's selection, but just as many cocktails, wine, and beer. The great thing about Steakhouse 71 is that you can also order food here, and they have lots to choose from. Grab a couple of appetizers for the group such as the Steakhouse 71 Onion Rings or Shrimp Cocktail! There are also a lot of allergy-friendly items on the menu if you decide to stay for a longer meal.
Read Also: What You Need To Know About Disney's Steakhouse 71
You can go to Steakhouse 71 for dinner and drinks from 5:00pm-9:00pm.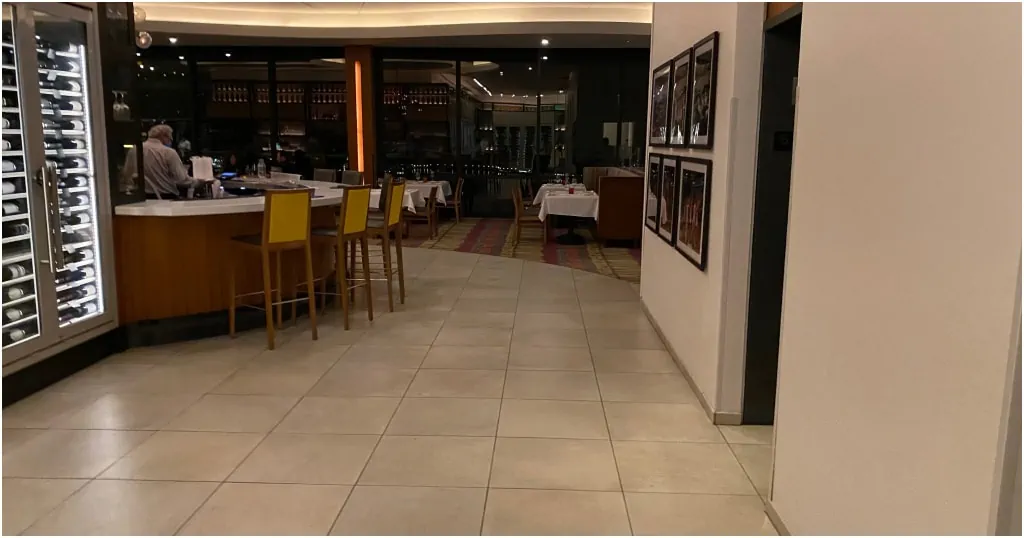 The last possible option on the list at Disney's Contemporary Resort will be a delight for any wine-enthusiasts. Most returning WDW guests might know that California Grill is THE place to enjoy an amazing meal. Well, you may not know that you can also sit at the bar without a reservation! As long as the restaurant isn't overcrowded, you can often get a seat at the bar and order from their drink and appetizer menu. California Grill has an unbelievable list of wines. Their beers and cocktails are also quite impressive.
Not an alcohol fan? No worries, California Grill also has an extensive tea list! Their appetizers and desserts are exquisite. It would be very hard to be disappointed by this experience!
California Grill is open from 5pm-10pm each evening.
Don't forget California Grill has an amazing 50th Anniversary dinner option going on, if you feel like dressing up and getting all fancy. We posted that review for the Contemporary's California Grill Dinner here.
To travel from Disney's Contemporary Resort to Disney's Polynesian Village Resort, you'll head up to the Monorail stop on the 4th floor of the Contemporary Resort. There, you can hop on and ride to…the next stop!
Next Stop: Disney's Polynesian Village Resort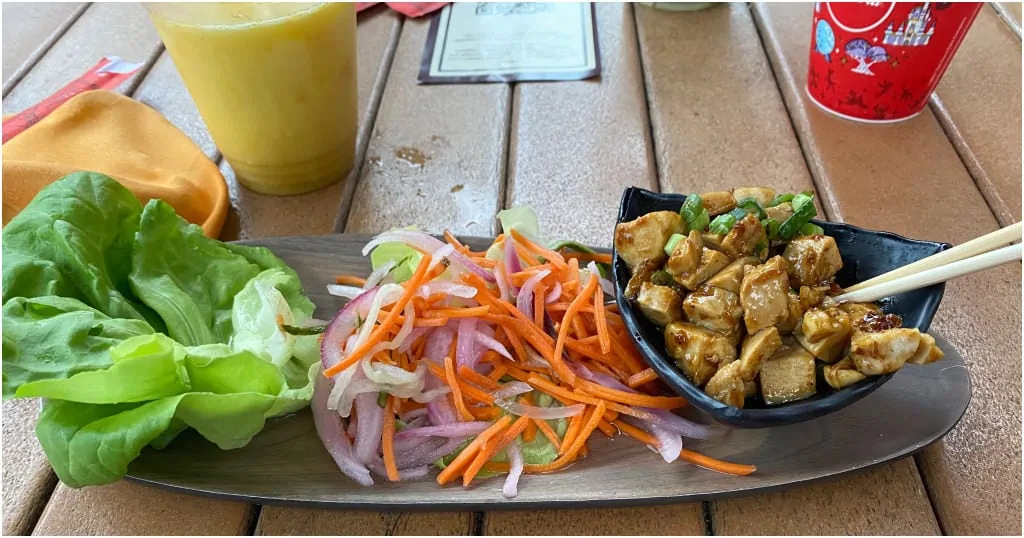 Disney's Polynesian Resort, or as some returning guests like to refer to it as, The Poly, is home to numerous options for a great drink! Make sure you're in a tropical island-type of drink mood if you're ordering something here. Many of the cocktails (but certainly not all of them) will include pineapple, rum, coconut, you get the picture! Delicious and thematic in every sip.
Your options at The Poly include Tambu Lounge, Kona Café, the Oasis Bar & Grill. But today we're only discussing the tiki bar of all tiki bars. If you only have time to come by the Polynesian once during your stay, Trader Sam's Grog Grotto and Tiki Bar is the place to be. Trader Sam's is open later than some of the Deluxe Resort bars, and the tropical theme is everywhere in the décor, in the names of the drinks, even in the fun souvenir cups that come with some of the beverages!
Trader Sam's offers amazing sushi, pan-fried dumplings, and thai chicken flatbread. If you come for the drinks, don't skip on the delicious appetizers! (They do stop serving food earlier on in the night, at 10pm.)
Some of the most popular drinks at Trader Sam's include:
The HippopotoMai-Tai (you'd naturally expect to see this on the menu!)
The Polynesian Pear (A RumChata drink) – You get to keep the souvenir pearl cup that it's served in!
The Uh-Oa – (a strong drink recommended for two guests to share!) This one sparks a fun experience inside the tiki bar when you order it. It's also $25!
And the Tiki Tiki Tiki Tiki Tiki Rum (See what we mean about fun names?!)
Trader Sam's has such a fun atmosphere, it's almost worth it to go just to experience the tiki vibes. We didn't even begin to list all the options they have here! Also, keep in mind that it can also get crowded early on in the evening.
Trader Sam's Grog Grotto is open from 3pm-12:00am each evening.
Not an alcohol fan? Try Pineapple Lanai at the Polynesian Resort. Open from 10am-10pm, it has multiple different versions of the Dole Whip dessert. Order it swirled or just pineapple or just vanilla. You can even order it as a float (with pineapple juice!) This is one of the most popular treats offered on property, and not only is it an option in the parks, but if you're already at The Polynesian, you'd be silly not to order one!
The Polynesian Resort's monorail access is on the 2nd floor of the resort.
Read Also: The Best Places to Find Disney's Dole Whip and Recipe
Final Stop: Disney's Grand Floridian Resort & Spa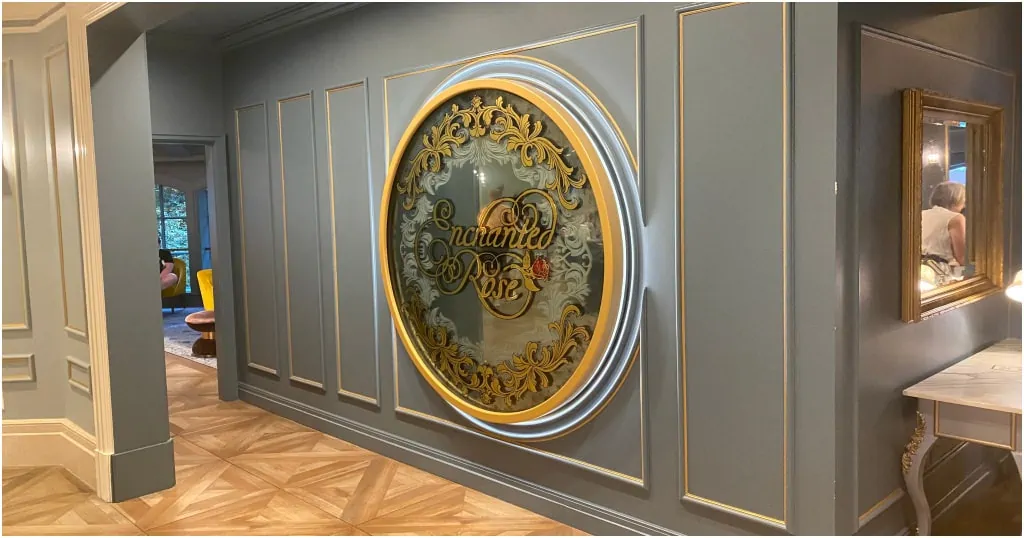 *Sigh* Disney's Grand Floridian… how could anyone not love it? Don't we all?
Staying very on-brand for the stunning GF Resort: Their main lounge is called "Enchanted Rose" and it has a beautiful Beauty and The Beast aesthetic inside. Located on the 2nd floor of the resort, you can choose to sit inside or on the balcony which overlooks the water.
You'll feel enchanted by the decorations including the gorgeous chandelier that will remind you of the gold gown that Belle wears in the ballroom! Much inspiration is pulled from the classic animated film throughout the lounge, and the drink list is impressive!
You can also order light snacks and apps here at Enchanted Rose. The Artisanal Cheese Selection and the Crab Mac and Cheese are absolutely delicious. Unique cocktails are offered such as the "Lavender Fog," the "Rye Not" and the "French Rose."
Enchanted Rose located on the second floor of the Grand Floridian Resort is open from 3:30pm-11:00pm each evening. If you arrive via the Monorail it will be on the same floor.
Monorail Bar Crawl Shirts
We know that no bar crawl is complete without cute matching shirts. Check out a few of our favorites here and most come in multiple colors. If you are going in the warmer months, consider these tank tops for your Monorail Crawl.
If you prefer to wear a t-shirt check out these options.
I know it can be hard to get your partner excited to wear a matching shirt. These tshirts come in Men or unisex sizes and you just may be able to get him to wear the monorail shirt to go with the shirt you love.
That's all, folks! You can't go wrong at any of these impressive spots. We love the fact that each of the resorts are connected by the Monorail.