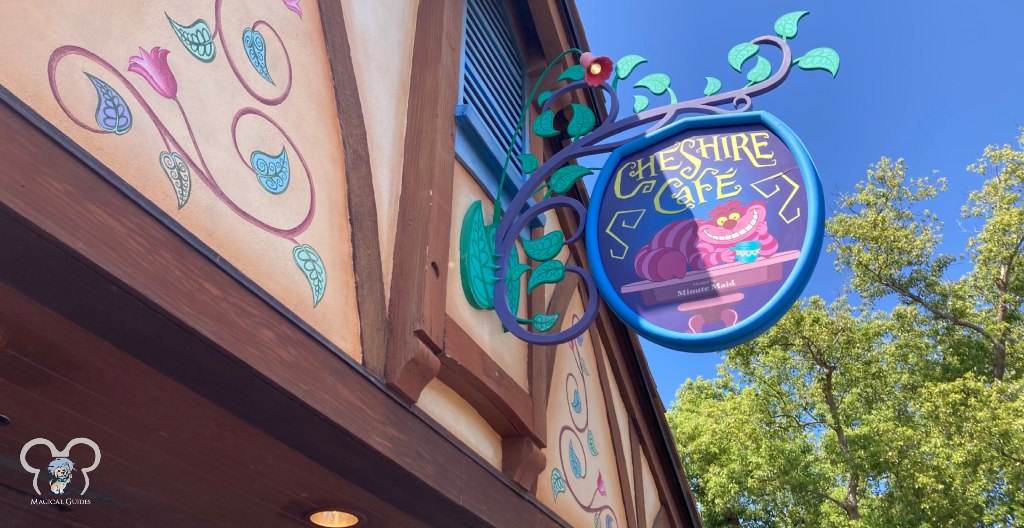 Alice in Wonderland needs no introduction, and neither does the Cheshire Cat's mischievous grin. But did you know that the whimsy extends beyond the book's pages and comes to life in Walt Disney World's Magic Kingdom?
I remember watching Alice in Wonderland as a child – but I never understood the Cheshire cat. He drove me nuts only answering in riddles and never helping Alice get back home. I do enjoy the detour Alice takes to see the Mad Hatter, and his mad tea party, but that smile from the Cheshire Cat scared me when I was younger.
That leads us to a snack, that makes a list of favorites for most Disney goers, but at the same time, a lot of people don't know about this pastry or where to find the Cheshire Cat tail pastry. I've gone even further, during times when I couldn't get it, I made it at home. I've included the recipe here so you can snack on these trips until your next Disney Vacation.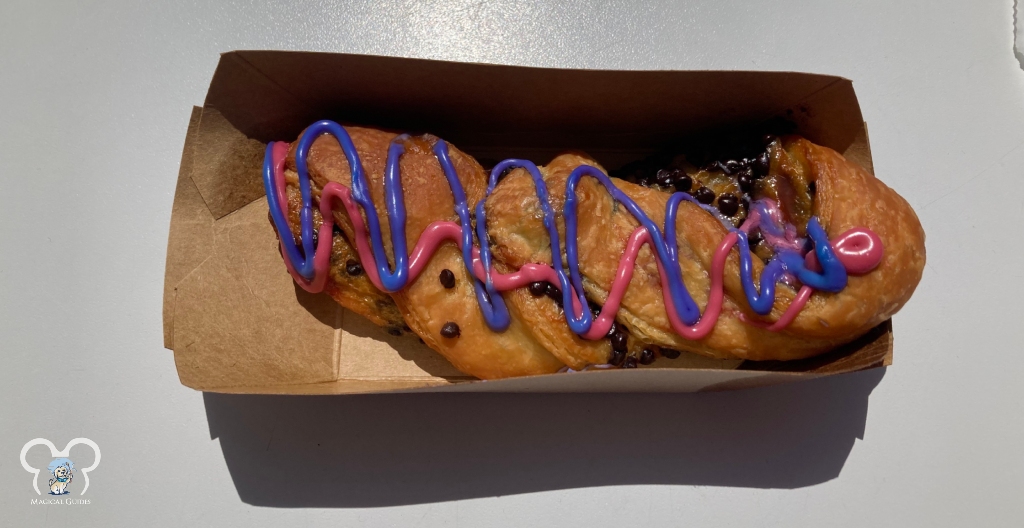 The famous Cheshire Cat Tail, a delectable Disney World snack, captures the beloved character's spirit in a treat as enchanting as the tale itself. Inspired by the enigmatic grin of the Cheshire Cat, these pastry treats will make you grin from ear to ear with every bite.
Walt Disney World parks are renowned for their enchanted snacks, and the Cheshire Cat Tail is no exception. Just like the Cheshire Cat himself, this snack embodies the playful and whimsical nature that makes Disney experiences truly enchanting.
Now, with our Cheshire Cat Tails copycat recipe, you can replicate the most magical snack at Disney's Magic Kingdom in your own kitchen.
What is a Cheshire Cat Tail?
Cheshire Cat Tail is a tail-shaped twisted flaky pastry filled with vanilla cream and chocolate chips and drizzled with zig-zagged stripes of pink and purple colorful icing. Its shape is long and skinny, just like the Cheshire Cat from Alice in Wonderland.
This enchanting pastry captures the Cheshire Cat's mischievous grin and playful spirit in a delightful edible creation. It is often found in Disney theme parks, particularly at the Magic Kingdom, where it has become a beloved snack.
What Does the Cheshire Cat Symbolize?
There is a common belief that the Cheshire Cat symbolizes Alice's inner guide, a voice or entity that guides her in the right direction. In her quest to locate the White Rabbit, Alice turns to the Cheshire Cat for assistance. Instead of providing instructions on how to find the elusive White Rabbit, the cat directs her to the March Hare's den for the mad tea party.
Following this advice ultimately leads Alice to the queen's garden.
The Cheshire Cat appears to have a keen understanding of what's best for Alice. Moreover, his remarkable capacity to manifest and disappear at his will signifies his representation of a supernatural mentor or guide.
Where Can You Find The Chesire Cat Tail In Disney World?
Disney fans have enjoyed this beloved pastry at Disney World's Magic Kingdom in the Cheshire Café in the heart of Fantasyland, near the Mad Tea Party Ride until 2017.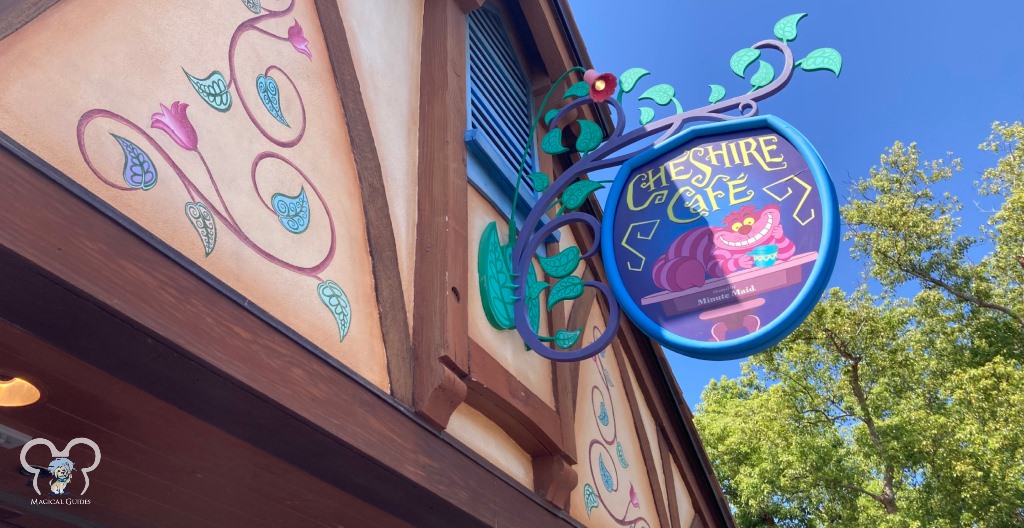 In the wake of the pandemic outbreak that swept over the world, the Magic Kingdom, like many other parks closed its doors to visitors following lockdown measures. Even upon the park's eventual reopening, visitors discovered that the beloved Cheshire Cat Tails were still unavailable due to the Cheshire Cafe's continued closure. At that time, Simba Pretzels from Disney's Animal Kingdom were also unavailable.
Even though the Cheshire Cafe remains closed, Cheshire Cat Tail is back and available to enjoy at Lunching Pad in Tomorrowland. Since it is only served on the breakfast menu at this new location, it might be best to be an early bird to enjoy the snack to avoid a long queue of people trying to grab this Fantasyland favorite.
Disney has devised a solution to address the concern by making them available all day at Cosmic Ray's Starlight Cafe. This strategic move guarantees that visitors can enjoy it during their park visit.
Where is the Cheshire Cat Tail in Magic Kingdom Park?
Disney fans have been enjoying Cheshire Cat Tail at the Cheshire Cafe in the Magic Kingdom's Fantasyland since 2017. You will find the Cheshire Cafe near the spinning teacups of Mad Tea Party Ride.
Currently, Cheshire Cat Tails are available on the menu at two quick-service locations in Tomorrowland: Cosmic Ray's Starlight Cafe and The Lunching Pad (sometimes).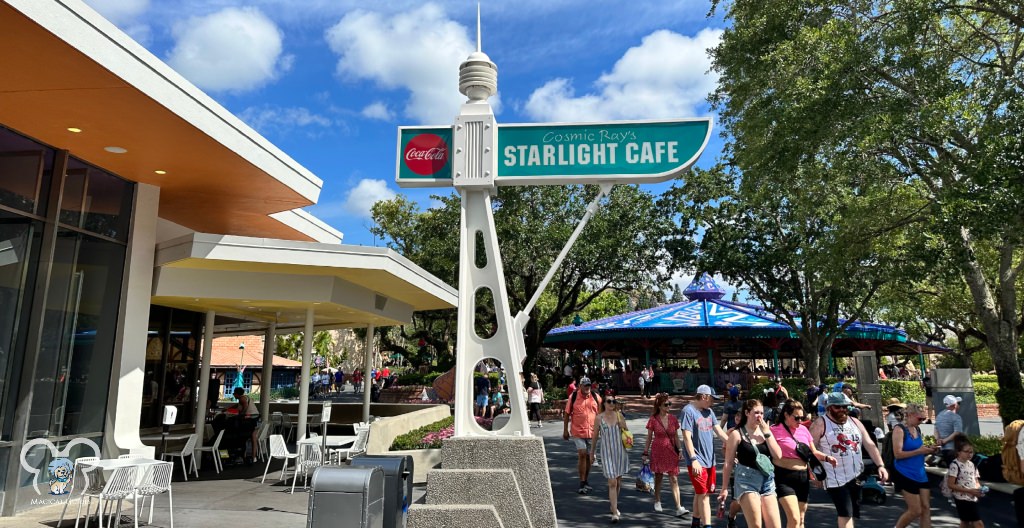 Cosmic Ray's Starlight Cafe is your best bet if you want to dig your teeth into this Fantasyland favorite if the cafe is closed, considering the cafe offers it throughout the day in its dessert menu. It is located close to the Mad Hatter's Tea Party ride and adjacent to Cheshire Cafe.
Speaking of Lunching Pad, you can also enjoy Cheshire Cat Tail at this quick service location but here, it's limited to the breakfast menu only. It's located below the Astro-Orbiter and Tomorrowland Transit Authority loading platform.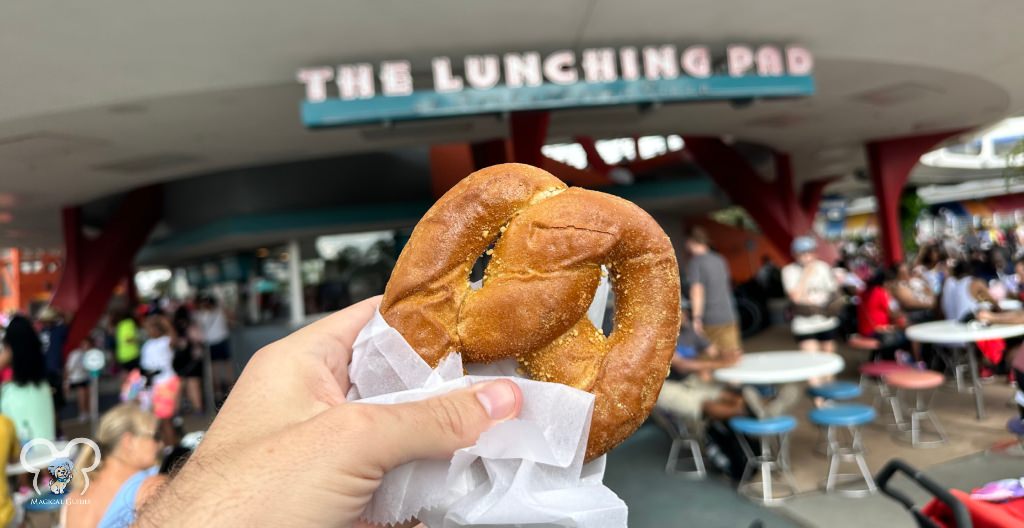 Due to the limitations faced during Walt Disney World's phased re-opening, The Cheshire Cafe was unable to accommodate mobile ordering. Consequently, it remained closed for a significant portion of the past year.
As a result, a new location in the vicinity, known as Cosmic Ray's Starlight Cafe, has recently incorporated the scrumptious pastry into its menu. Furthermore, The Lunching Pad has also followed suit by adding it to its breakfast menu. However, it may be worthwhile to note that these alternate locations may only offer this delectable treat for a limited period of time.
Who Is the Chesire Cat?
The Cheshire Cat is a beloved and iconic character from Lewis Carroll's timeless tale, "Alice's Adventures in Wonderland." With its enigmatic grin and whimsical nature, the Cheshire Cat has captured readers' and audiences' imaginations for generations.
The Cheshire Cat's mischievous grin and ability to materialize and vanish at will have led to various interpretations of its character. Some view the cat as a representation of Alice's inner guide or spirit, offering guidance whimsically and cryptically. Others see the cat as a symbol of reality's transient and ever-changing nature.
Regardless of interpretation, the Cheshire Cat symbolizes the fantastical and imaginative spirit of "Alice's Adventures in Wonderland." Its blend of wisdom, playfulness, and mystery has cemented it as one of literature's most iconic and enduring characters.
Ingredients for the Cheshire Cat Tail Recipe: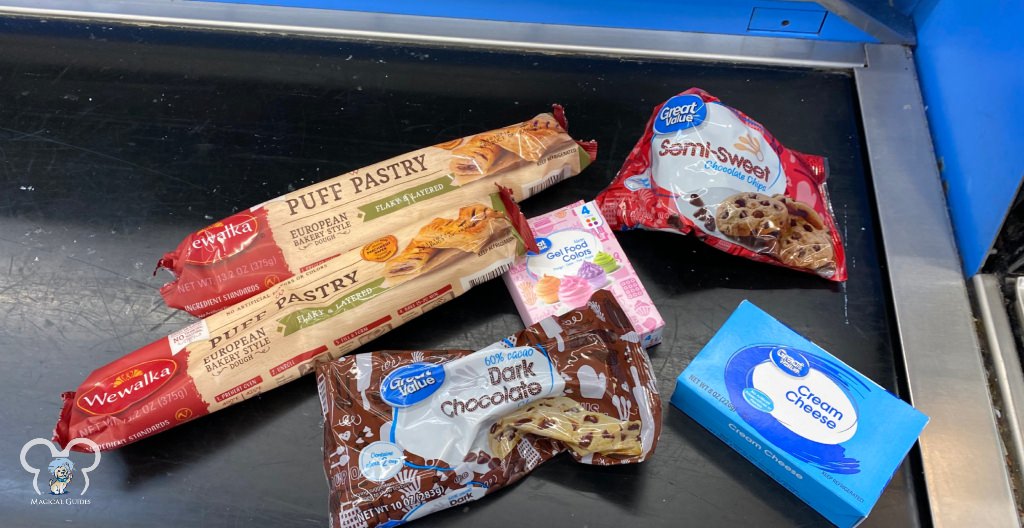 For Cheshire cat tails
Puff pastry (Made from scratch or frozen puff pastry sheets)
¼ cup of semi-sweet mini chocolate chips
¼ cup of dark Chocolate chips (60% cocoa)
6 ounces of vanilla pastry cream (use storebought or make from scratch)
1 whole egg (for egg wash)
Icing (powdered sugar and a few teaspoons of milk)
Red and blue food coloring (for the icing)
For the vanilla pastry cream
2 cups whole milk
½ cup sugar
1 teaspoon vanilla extract
4 large eggs (yolks only)
¼ cup corn flour
3 tablespoon butter (unsalted)
Instructions for making Cheshire Cat Tails at home: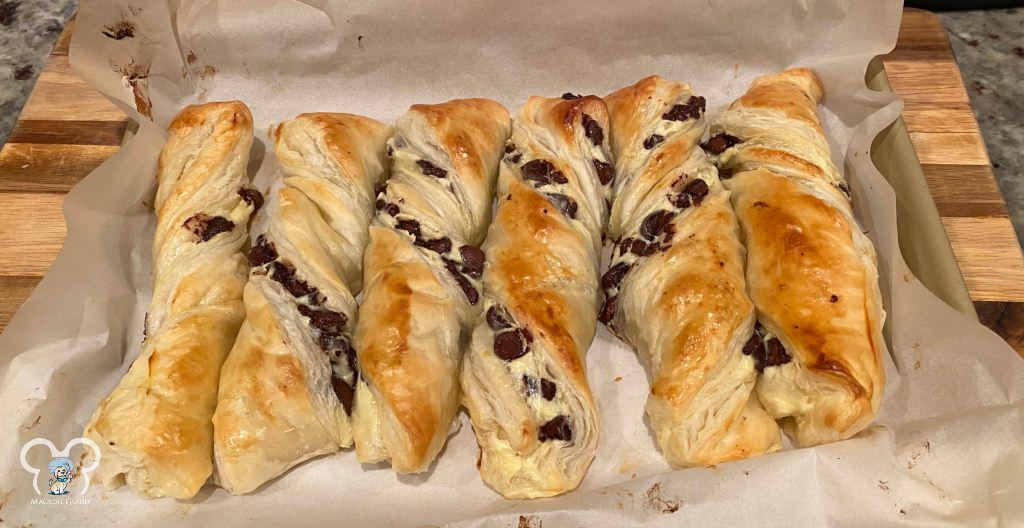 For The Vanilla Pastry Cream:
Take a medium-sized saucepan, heat the milk, and add half the quantity of sugar.
Add salt, vanilla extract, heat the mixture until it simmers, and then remove from heat. (Do not boil)
Add egg yolks and the remaining sugar to another bowl and whisk together until the mixture is pale and slightly thickened.
Gradually whisk the corn flour (cornstarch) in the egg yolk mixture until well combined.
Slowly add some hot milk mixture to the egg yolk mixture, whisking constantly to avoid lumps and curdling.
Now pour the tempered egg yolk mixture back into the saucepan, stirring the remaining hot milk mixture constantly while you pour.
Place the saucepan back onto medium heat and stir until the mixture thickens and comes to a gentle boil. It will take about 3 to 4 minutes.
Once the mixture is thickened, cook it for more than 1,2 minutes to ensure the cornstarch is fully cooked.
Remove the saucepan, add the butter, and mix until the butter is fully incorporated.
Strain the pastry cream through a fine sieve to make sure it has no lumps.
When it comes to room temperature, store it in a refrigerator for chilling before spreading it over your puff pastry.
15 steps for your own Cheshire Cat Tails:
Preheat the oven to 425 F and place your baking sheet into the freezer. This will help slow down the cooking of your puff pastry interior.
Tear off a sheet of Parchment paper and set aside. Take your puff pastry and roll it out into a rectangle, roughly 10×12 (it doesn't have to be perfect!). If using frozen puff pastry, bring it to room temperature.
Spread out vanilla pastry cream to cover half the side of the puff pastry.
Now take half a cup of dark chocolate and half a cup of semi-sweet chocolate chips combined and spread over the other half of the puff pastry.
Fold the half cream covered over the chocolate chip half. Now use a large knife or a pizza cutter and divide them into about 6 rectangles. Make sure they are clean cuts.
Now, line your baking tray from the freezer with parchment paper.
Separate each of the rectangles and slowly hand-twist them twice. Transfer them to a baking sheet.
Give them a nice egg wash before putting them into the oven.
Put your baking sheet in the oven and bake for about 15 minutes at 425 F or until crispy and golden brown.
While baking, mix 1 cup of powdered sugar and 1 tablespoon of milk until well combined and make a thick paste.
Place half of each into a sealable plastic baggie. Add 3-4 drops of purple dye into One mixture and pink into the other. Mix thoroughly and place both bags into the fridge to chill.
Once you pull the cat tails from the oven, let them cool for 2 minutes before transferring them to a wire rack to cool completely for approximately 45-60 minutes.
Once fully cooled, take back those baggies of icing, and clip the end of one corner as small as possible.
Now drizzle in a zig-zag design with one of the bags (pink frosting), followed by the purple frosting in the opposite direction, and enjoy your delicious Cheshire cat tails.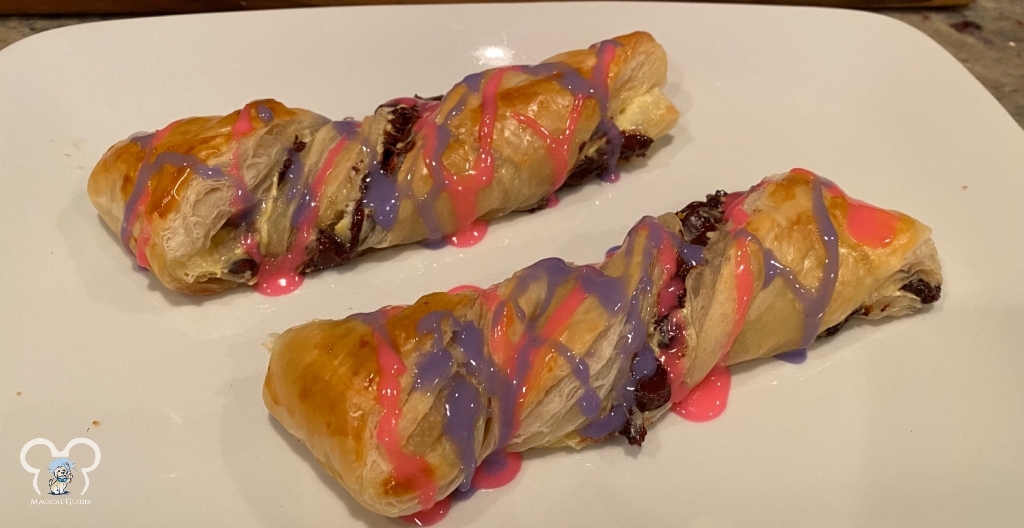 That's my finished product. I think it was a lot of fun to create a recipe for a Disney favorite snack. If you decide to make it, please let me know what you think of the recipe in the comments below!