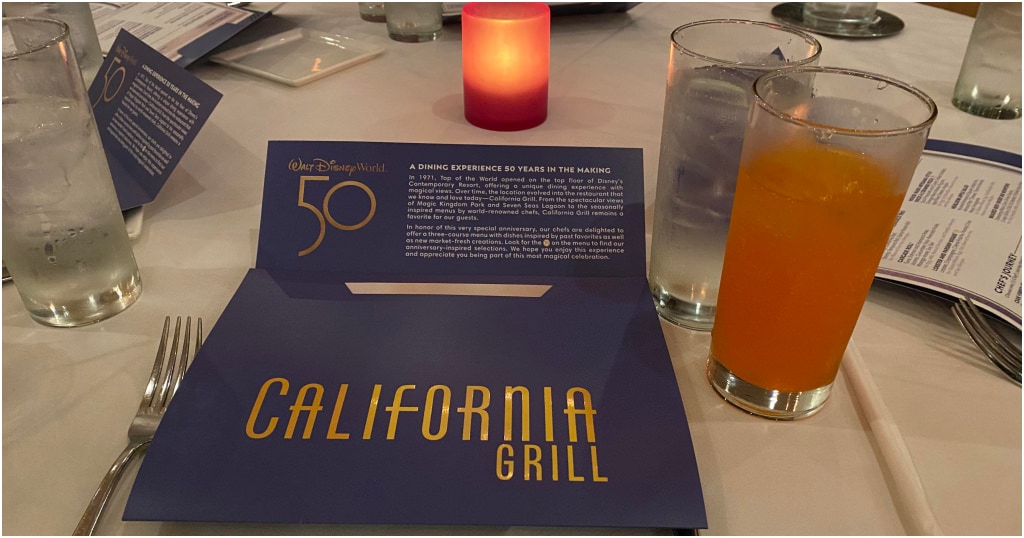 We know that Disney World has been pulling out all the stops for the 50th Anniversary Celebration (as they should!) But there's one dining opportunity that really ought to be highlighted located across from the Magic Kingdom. At the top of the Contemporary Resort, sits one of Disney World's signature restaurants, known as the California Grill.
If you've never heard of California Grill, we're about to rock your world. If you're not only familiar with its delicacies but have been to it at least one time, you know how incredible the experience is. *Sigh*…Take us back please!
But, regardless, if you've never been or are an avid fan of the fantastic dining experience…(and yes, it's an experience), it is possible that you are not yet aware of all that California Grill has been dishing out for their 50th Anniversary Celebration Menu…Did you know that there was a limited-time menu in honor of the 50th Anniversary Celebration? Take it from us, it is worth it.
We're about to give you the full picture of what heavenly options you can expect, so prepare your taste buds, friends! By the end of this page, you'll be calling that reservation line, believe us.
It's important to know in advance that you will absolutely need a reservation in order to dine at California Grill, and they can be hard to come by, depending on the time of year of your trip. Be sure to call early! Additionally, there is also a dress code. Men must wear dress slacks or dress shorts. Jeans are acceptable if presentable, and the dress code states that they prefer collared shirts. Women are asked to wear dress shorts or pants, or a skirt or dress. Unfortunately, (or maybe, fortunately?) flip-flops and t-shirts are not allowed. Additionally, swimsuits and hats are not acceptable either. This is fine dining, after all.
You'll enter the restaurant by checking in at the stand on the second floor. From there, when your table is ready, you'll be escorted to the special elevator that takes you up to the 15th floor, where California Grill resides!
To start off, let's address the fact that menu is extravagant, there's simply no other word to describe it. Rather than simply say "Entrees" on the menu, the main course options are referred to as "Chef's Journey." When we say that California Grill takes the presentation seriously, we mean it!
Appetizers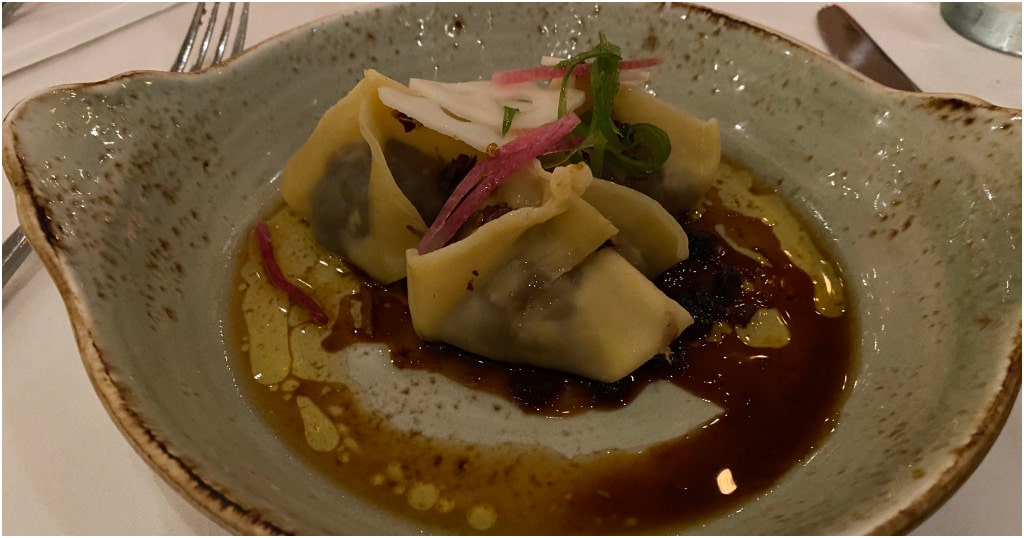 The appetizers alone, are exquisite. Guests will have to make the impossible decision between a delectable sushi trio, braised beef wontons, a salad containing raspberries, peaches, and granola, and several more options! The "Braised Beef Short Rib Wontons" were unbelievable. We're still thinking about them…
For 50th Anniversary Celebration – specific items, you'll want to check out the "House-Made Artisanal-Style Duck À L'Orange Pizza" orrr the "Florida Blue Crab Bisque."
Wine Pairings
For those who like to enjoy a glass of wine, there are two paths you may select for your meal. The "Signature Wine Pairing" and the "Deluxe Wine Pairing." While the Deluxe is pricier, it's a good idea to browse which pairings are offered through each option. We also found that the servers would discuss with you their recommendations, and even switch one out for you if you really didn't care for a certain wine. Choosing from a pairing means that they will bring out a new, full glass of wine with each course. You might not even be done with last one! All in all, the wine pairings are simply wonderful.
Entrees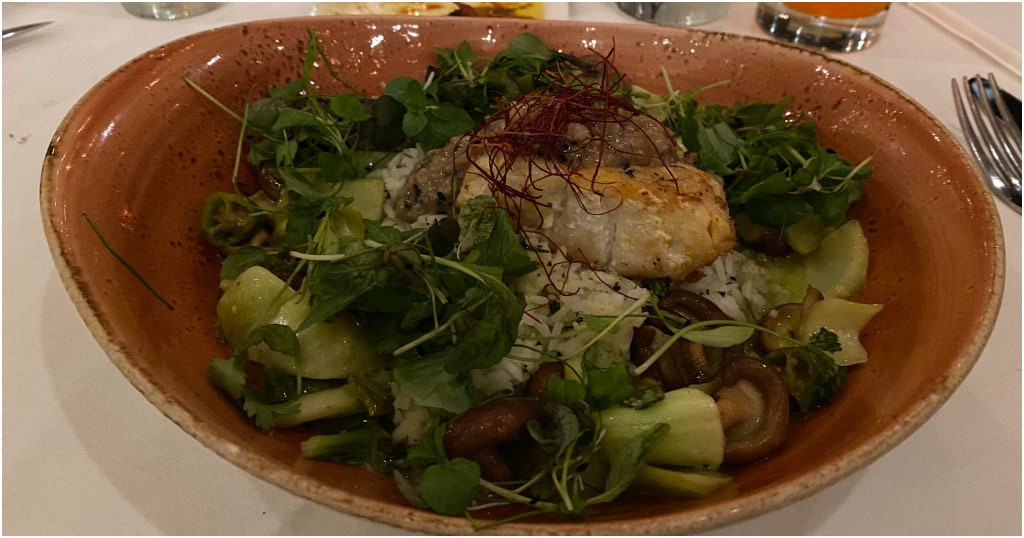 Chef's Journey options include "Wild Alaskan Halibut," "Peas and Carrots Risotto," "Florida Black Grouper," "Cast Iron-Grilld Pork Tenderloin," and that's not all! There's also a "35-oz Beef Rib-Eye Tomahawk Steak For Two" among even more options.
How does one even choose?!
For 50th Anniversary Celebration – specific entrees, you'll want to order either the "Oak-Fired Filet or Beef" orrr the "Free-Range Plancha-Seared Chicken."
Overwhelmed with hunger yet? Sorry, we can't stop now! On to the desserts, please!
Desserts
For 50th Anniversary Celebration themed sweets, you'll want to order the "Five Magical Bites – 50 Years In The Making." This option is soooo tasty, and its five very different sweet bites of various chocolate, honey, lemon, and more delightful flavors.
If that's not for you, we recommend the "Lavender Sugar Doughnuts."
You can thank us later!
There's also a crème brûlée and more, so what can we say, besides, arrive hungry!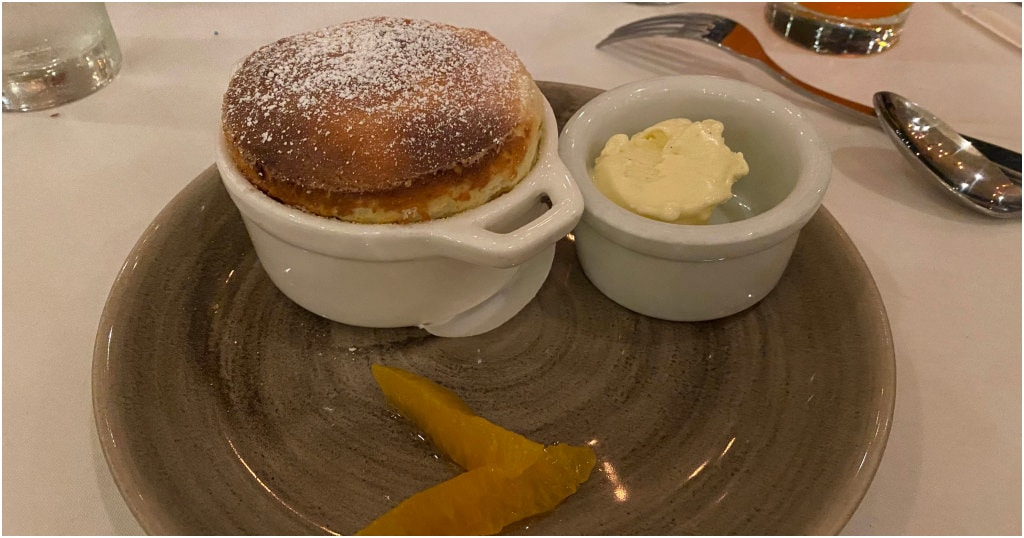 The wine pairings with the desserts are also incredible, so prepare yourself to be amazed. A few of the dessert options are paired with delicious champagnes, sauvignon blanc, and rosé, among other options!
Fireworks Viewing
We would say that what comes next is the best part, but who are we kidding? Every moment of this dining experience is unforgettable!
An exceptional part of the evening, to be sure, is the fact that you can step outside on the observation deck and have an unparalleled view of the fireworks at Magic Kingdom. Disney's Contemporary Resort is in walking distance to Magic Kingdom, but your view can sometimes be hindered depending on where you decide to watch! Unless, of course you're in the park itself.
The unique and highly-memorable cuisine and service you'll receive at California Grill is certainly complemented by the heavenly flavors of what the 50th Anniversary Celebration menu has to offer. Following up the whole meal with a premiere viewing spot only available to guests who dined that evening, is an extra special way to close out the evening.
(Pro tip: If your meal ends a bit too early to stick around and wait for the fireworks, you are usually allowed to go back up to the hostess counter for California Grill on the 2nd floor, and if you had a reservation earlier that evening, they will often let you go back up to the observation deck to enjoy the show. Our server actually let us know as our meal was ending that we had the option to return to view the fireworks. They want you to enjoy every moment of your experience!)
If you can add it in to your trip's schedule, we highly recommend adding in the California Grill. You'll want to take pictures at every bite. Get a reservation for your whole party so that you can experience the 50th Anniversary Celebration menu while it's available. We hope you enjoyed this review of Disney's Contemporary Resort's California Grill. Once you experience it, you'll see why we love it as much as we do.