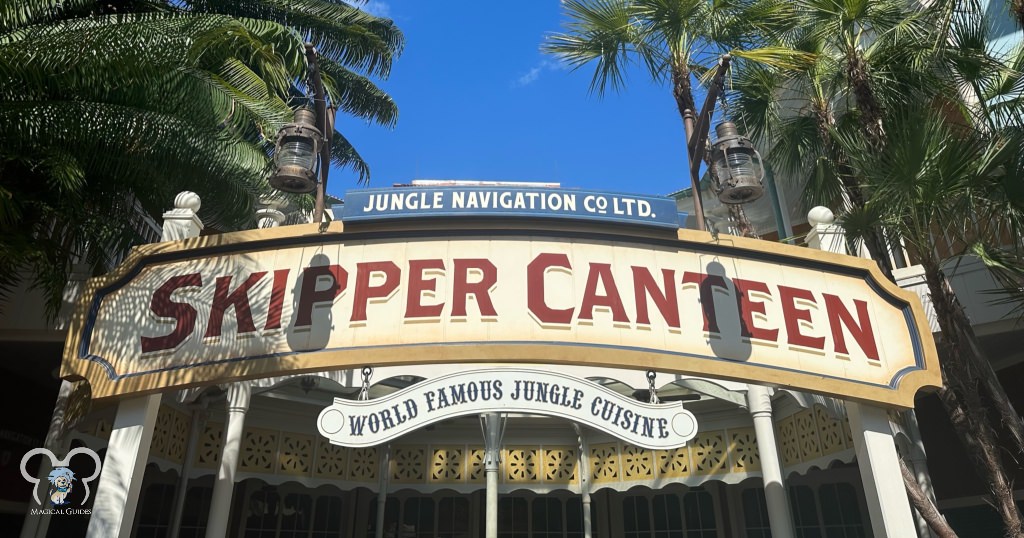 Welcome to the magical world of Walt Disney World's Magic Kingdom, where dreams come true and taste buds rejoice! With so many dining options, how do you choose the perfect place to eat?
Magic Kingdom has many character meals and experiences to enjoy that you won't want to miss out on. They also have some of the best places for a quick-service restaurant in this theme park so you don't miss out on park time!
We have eaten at most of these restaurants. There are so many in Magic Kingdom, that we are still working on hitting every restaurant in the park!
Fear not, we're here to help you discover the top 20 best Magic Kingdom restaurants. You will find enchanting table service experiences and mouthwatering quick bites.
Get ready to embark on a culinary journey as magical as the kingdom itself!
Best Magic Kingdom Table Service Restaurants
Magic Kingdom's table service restaurants offer a variety of unique atmospheres. Cinderella's Royal Table transports you into a fairytale.
CRT is complete with character meals and a three-course prix fixe menu. Be Our Guest Restaurant enchants you with a Beauty and the Beast experience like no other.
Meanwhile, Jungle Navigation Co. LTD Skipper Canteen and Liberty Tree Tavern provide delectable cuisine. These two restaurants please even the most discerning palate. These are great options for picky eaters.
Cinderella's Royal Table: A Fairytale Dining Experience
Have you ever dreamt of dining with royalty? Cinderella's Royal Table is inside Cinderella Castle.
Cinderella's Royal Table offers a magical character dining experience that will make you feel like a prince or princess! Enjoy Breakfast, lunch, and dinner served in a grand dining room.
You will see regal decorations while you eat. Beloved Disney princesses make their rounds for unforgettable photo opportunities and interactions.
The menu offers an array of sumptuous dishes, fit for royalty, and caters to various dietary needs. For dessert, indulge in the trio for a taste of all the sweet delights Cinderella's Royal Table has to offer.
The experience comes at a premium cost of around $250 for a party of four people over the age of 10. The enchanting atmosphere and delightful cuisine make it a magical experience worth every penny.
This is a difficult reservation to make so you will want to be prepared. Check out the FAQs at the bottom of this article to have the best chance at snagging this hard to get reservation.
This reservation is more about the experience and princesses you can meet than the enjoyment of the food. If you are a foodie, you may want to skip this one and opt for a non-character meal.
Be Our Guest Restaurant: An Enchanting Beauty and the Beast Experience
Located inside beast's castle, Be Our Guest Restaurant offers an enchanting Beauty and the Beast dining experience. You will feel transported straight into the classic Disney film.
There are three themed dining rooms, the Castle Gallery, West Wing, and Grand Ballroom. You'll feel immersed in the story as you savor French-inspired cuisine.
Be Our Guest serves quick service dishes for breakfast and lunch, as well as a table service dinner. For dinner, you can indulge in Belle's Préféré, the Feast á la Gaston, the plant-based LeFou Festin, French dip sandwich, or the coq au vin-style braised chicken. All delightful choices that will leave you enchanted.
Though not a character meal, the ambiance alone makes Be Our Guest Restaurant a must-visit dining experience in the Magic Kingdom. You can meet the Beast during dinner only making this a character meal only for dinner.
This is another great place for the experience rather than the food quality.
Jungle Navigation Co. LTD Skipper Canteen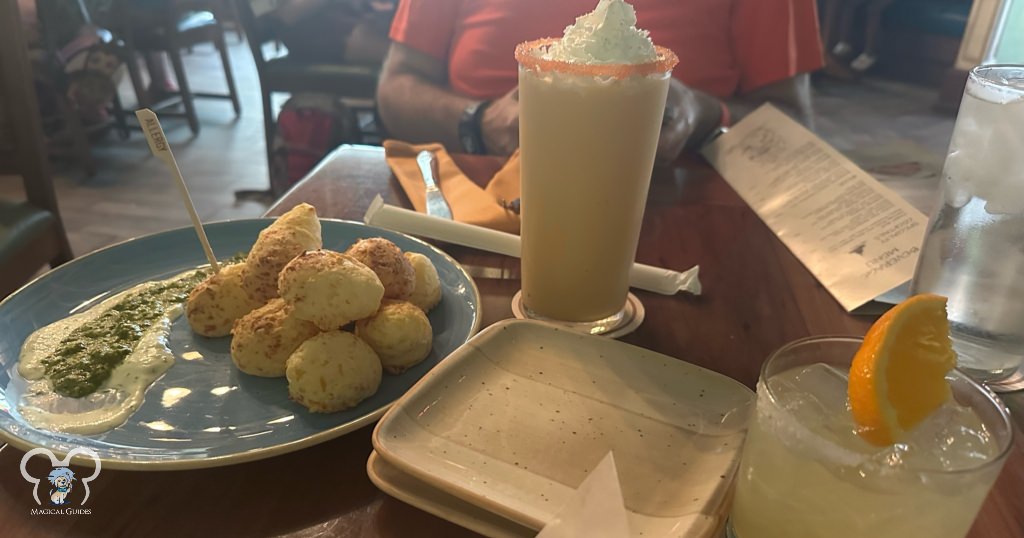 For a taste of adventure, Jungle Navigation Co. LTD Skipper Canteen is a table service restaurant. It offers exotic flavors inspired by the cuisines of Asia, Africa, and South America. This restuarant is across from Jungle Cruise in Magic Kingdom.
Menu items include "Hardy har har" siu pork, Falls Family Falafel, and Orinoco Ida's Cachapas (corn pancakes with beer-braised pork). Your taste buds will embark on a culinary journey as thrilling as any Magic Kingdom attraction.
The restaurant is located in Adventureland at the Magic Kingdom, and is the perfect spot for a family meal or a romantic dinner. This is an underrated restaurant and is my absolute favorite.
The food here as well as the service was top notch. This is my favorite table service restaurant in Magic Kingdom so far. We will definitely return to Skipper Canteen on our next Disney Vacation!
Liberty Tree Tavern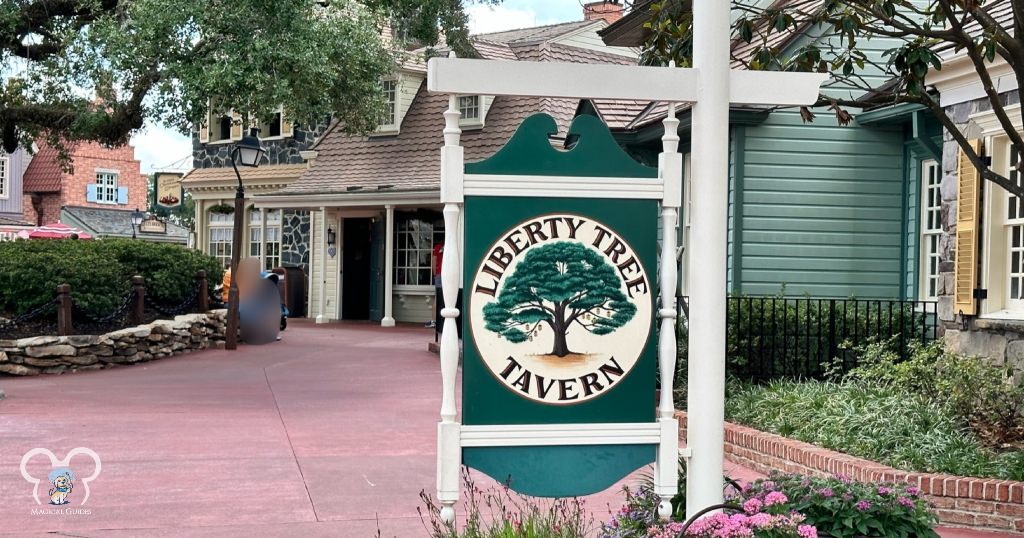 Step back in time and enjoy a hearty meal at Liberty Tree Tavern, a colonial-themed table service restaurant in Liberty Square. The cozy atmosphere has brick fireplaces, candelabra chandeliers, and wood paneling.
It is the perfect backdrop for a family-style feast featuring dishes like the patriot platter, turkey pot pie, and the pilgrim's feast.
Don't forget to save room for their famous ooey gooey toffee cake, a dessert that will leave you craving more. This is another good option for those that want a better food quality than the character meals.
Top Quick Service Restaurants in Magic Kingdom
Sometimes a table service restaurant isn't in your plans. You may want a quick and satisfying meal between adventures instead. Magic Kingdom's quick service restaurants have got you covered.
Columbia Harbour House offers a seafood oasis with mouthwatering lobster rolls and fried shrimp or fish.
Cosmic ray's Starlight Cafe serves out-of-this-world eats. complete with a toppings bar and entertainment from an animatronic alien lounge singer.
Pinocchio Village Haus has an Italian-inspired menu. Casey's Corner hits a home run with various hot dogs, including a monthly special dog.
These quick service locations are great options for those that would rather be on rides instead of sitting down in a restaurant for an hour or two.
Columbia Harbour House: A Seafood Oasis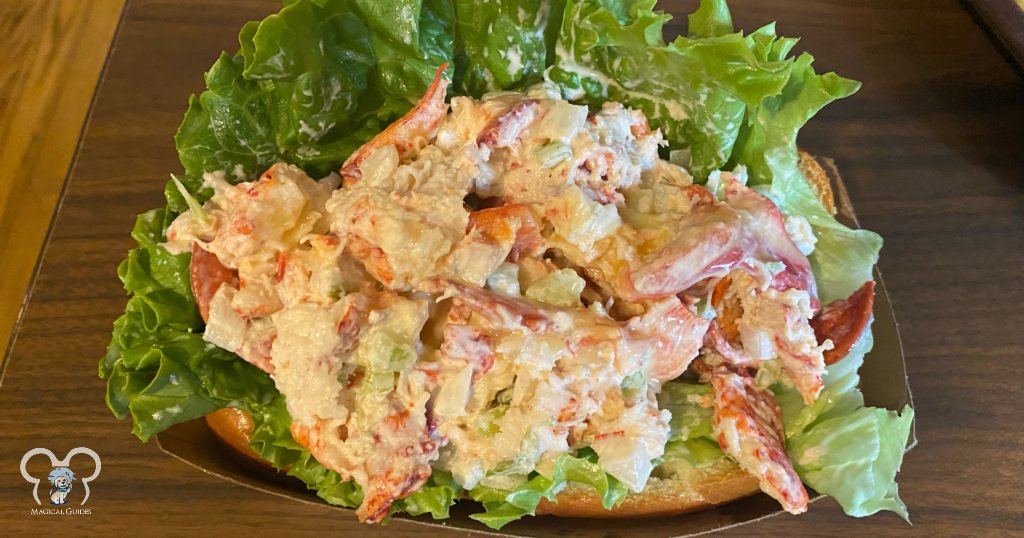 For those craving a taste of the sea, Columbia Harbour House is a quick service restaurant for you. This restuarant is in Magic Kingdom and specializes in delicious seafood dishes.
Enjoy a New England vibe with a variety of seafood options. Dishes like fried shrimp, lobster rolls, and clam chowder will leaved you satisfied all while taking a break from the hustle and bustle of the park.
I grew up in Maine and prefer the actual New England fresh seafood so this isn't my favorite spot. It is a pretty good option especially for those that haven't had authentic New England seafood to compare.
The restaurant offers a great atmosphere for a quick lunch or dinner, with plenty of seating and a view of the castle. The menu is reasonably priced and the food is always fresh and delicious. Whether you're looking for a smartphone or not, we have you covered.
Cosmic Ray's Starlight Café: Out-of-this-World Eats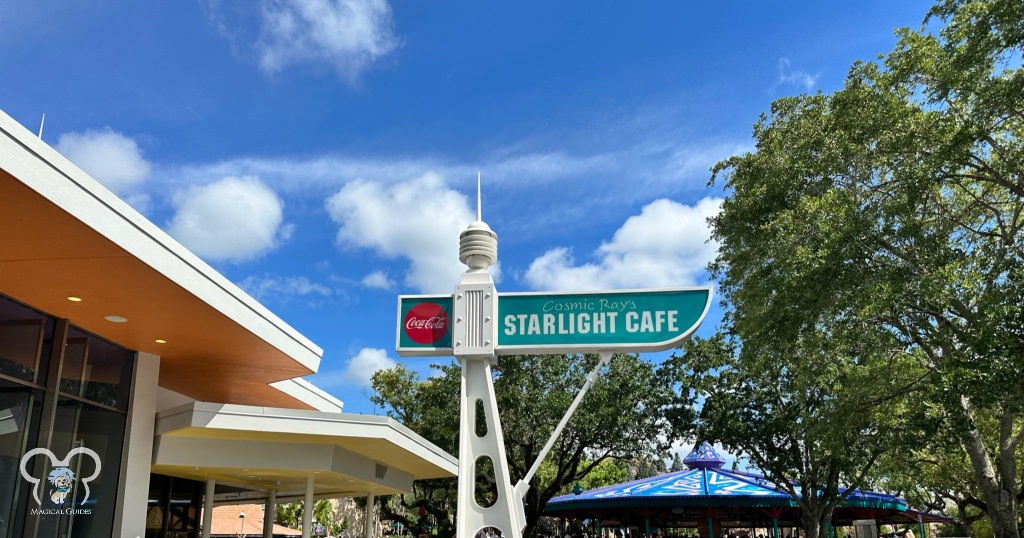 Blast off to an intergalactic dining experience at Cosmic Ray's Starlight Cafe. This is a quick service restaurant in Tomorrowland. Here, you can satisfy your hunger with a variety of food options like chicken, burgers, salads, and hot dogs.
The real star of the show is Sonny Eclipse. Sonny Eclipse is an animatronic alien lounge singer.
Guests can enjoy his out-of-this-world tunes while they eat. Don't forget to take advantage of the toppings bar to customize your meal the way you like it.
Pinocchio Village Haus
If you're in the mood for Italian-inspired cuisine, look no further than Pinocchio Village Haus. The Village Haus is a quick service restaurant in Fantasyland.
The menu featues flatbreads, breadsticks, tomato basil soup, Caesar salad, and chocolate gelato. There is something for everyone.
As an added bonus, you can enjoy a view of It's A Small World while you dine, making this a magical meal experience.
Casey's Corner
Step up to the plate and satisfy your hunger at Casey's Corner, a baseball-themed quick service restaurant located in Magic Kingdom. Specializing in hot dogs, this popular eatery offers a variety of loaded dogs.
Their chili is a popular topping and they also include a plant-based option, and their fan-favorite Corn Dog Nuggets with cheese sauce.
Grab a bite and enjoy the atmosphere, complete with classic baseball décor and views of Cinderella Castle.
Must-Try Snacks and Desserts in Magic Kingdom
When it comes to satisfying your sweet tooth or grabbing a quick snack, Magic Kingdom has an array of delightful options. Cheshire Café is your go-to for Wonderland treats. Sleepy Hollow offers waffles and more. The Adventureland Spring Roll Cart serves up unique snacks, and the iconic Dole Whip is a must-try dessert that will have you coming back for more.
If you are like me, one of your meals in Magic Kingdom just consists of trying different snacks around this theme park. I could eat Magic Kingdom snacks all day for every meal if my husband would let me.
Cheshire Café: Wonderland Treats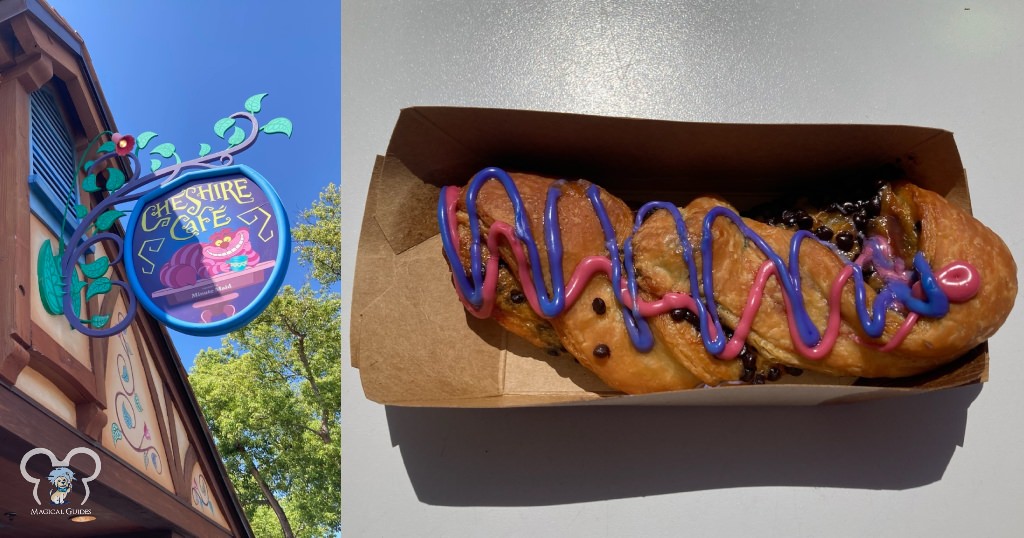 Venture down the rabbit hole and satisfy your sweet cravings at Cheshire Café, located in Magic Kingdom's Fantasyland. This whimsical snack spot offers Wonderland-inspired treats. The most popular is the Cheshire Cat Tail, a scrumptious pastry filled with sweet cream and chocolate chips.
Enjoy a magical snack break as you take in the enchanting atmosphere of this delightful café.
Sleepy Hollow: Waffles and More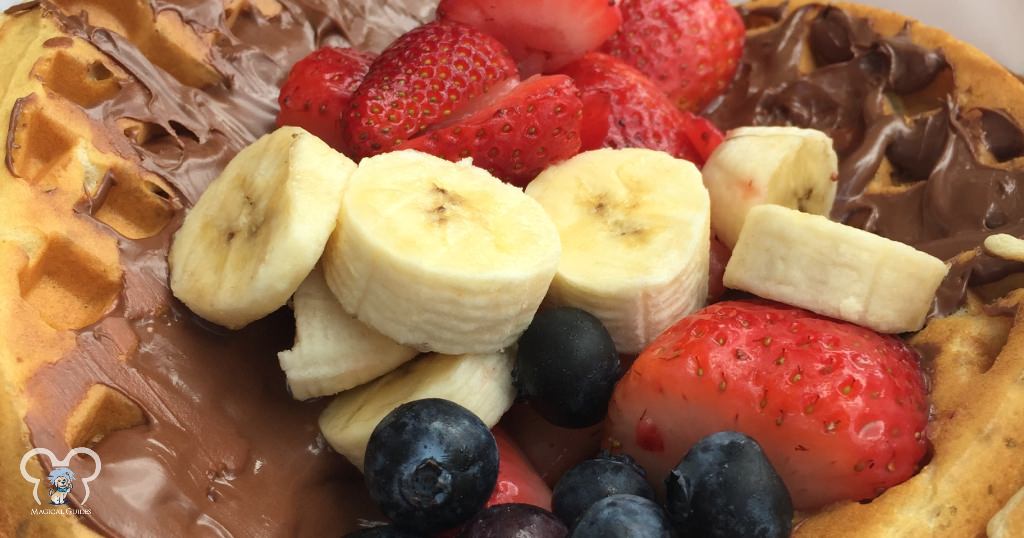 Craving something sweet and satisfying? Head over to Sleepy Hollow, a quick service snack spot in Magic Kingdom. They have a delicious selection of waffle sandwiches and other tasty treats. Whether you're in the mood for a fresh fruit waffle sandwich or a savory sweet and spicy chicken waffle sandwich, Sleepy Hollow has got you covered.
Don't forget to indulge in their vanilla ice cream churro sandwich for a delectable dessert experience. This is one of my favorite snack spots in the parks. You have to add the Nutella waffle to your next Disney World Vacation!
Adventureland Spring Roll Cart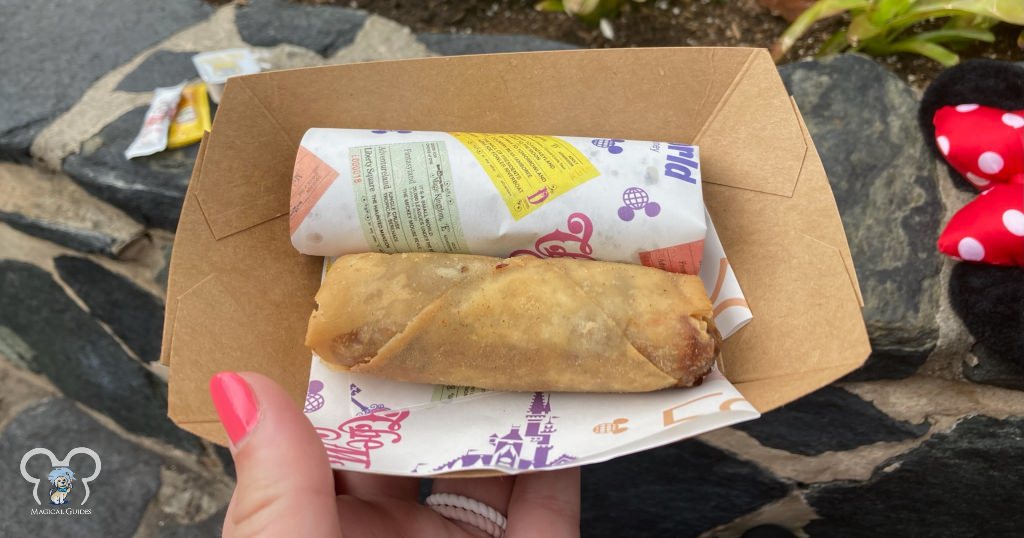 For a unique snack experience in Magic Kingdom, make your way to the Adventureland Spring Roll Cart. Here, you can savor some inventive spring roll flavors. They have had cheeseburger, pepperoni pizza, and buffalo chicken spring rolls in the past.
These hand-held treats are the perfect snack to enjoy as you explore the magical lands of the kingdom. This is also one of my favorite snacks in Magic Kingdom. Give me a nutella waffle from Sleepy Hollow and a couple of spring rolls and I am a very happy girl!
Dole whip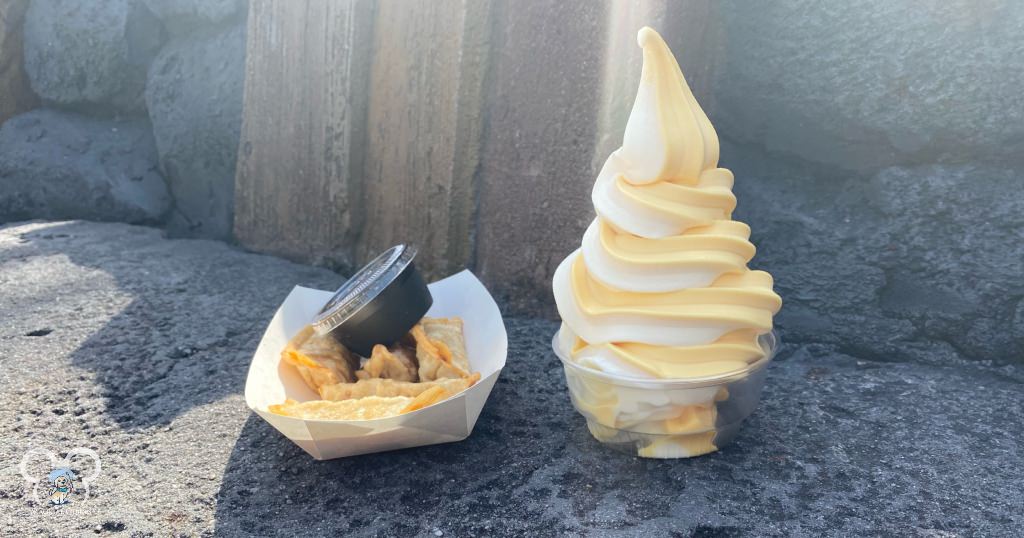 No visit to Magic Kingdom would be complete without trying the iconic Dole Whip. This pineapple-flavored soft serve-style ice cream has become a fan favorite. Typically dairy-free, this refreshing treat can be found at Aloha Isle Refreshments or Sunshine Terrace in Magic Kingdom.
You will find the classic Pineapple as well as a seasonal flavor at Aloha Isle Refreshments near the Magic Carpets of Aladdin. You can find orange and strawberry Dole Whip at Sunshine Terrace behind the Spring Roll cart.
Don't miss out on this sweet and tangy delight that has captured the hearts of Disney park-goers for years.
Best Character Dining Experiences in Magic Kingdom
Character dining experiences in Magic Kingdom offer a unique opportunity to enjoy delicious meals while interacting with your favorite Disney characters. Two standout options are Cinderella's Royal Table, which offers a fairytale experience complete with character meals and a prix fixe menu, and The Crystal Palace, an all-you-can-eat buffet where you can dine with Winnie the Pooh, Tigger, and friends.
At Cinderella's Royal Table, guests can enjoy a three-course meal with their favorite Disney princesses. The prix fixe menu includes a variety of options, such as roasted chicken and beef.
Cinderella's Royal Table vs. The Crystal Palace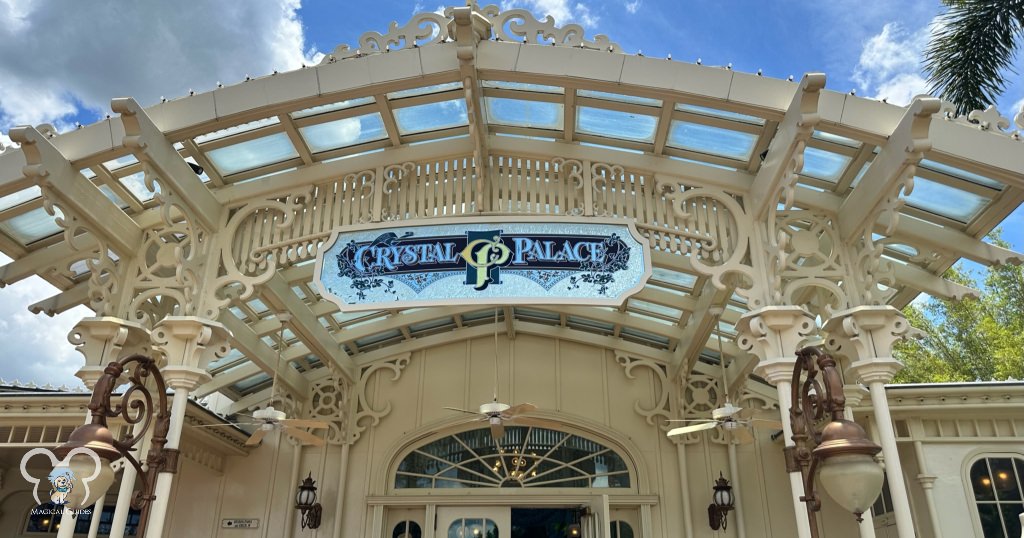 When it comes to character dining in Magic Kingdom, both Cinderella's Royal Table and The Crystal Palace offer unforgettable experiences. Cinderella's Royal Table is a one-of-a-kind dining experience where you get to meet beloved Disney princesses in the stunning setting of Cinderella Castle. The food and service are top-notch, but the experience does come at a premium cost.
On the other hand, The Crystal Palace offers a more affordable character dining option with a buffet-style spread of delicious Disney food and the opportunity to meet Winnie the Pooh and friends.
So, which character dining experience is right for you? If you're looking for a truly magical and unforgettable experience, and don't mind spending a bit, Cinderella's Royal Table is the way to go. However, if you prefer a more affordable option with good food and character greetings, The Crystal Palace is a fantastic choice.
No matter which you choose, you're sure to create lasting memories with your favorite Disney characters!
Tips for Making Magic Kingdom Restaurant Reservations
Making advanced dining reservations for Magic Kingdom restaurants is crucial, especially for popular locations like Cinderella's Royal Table and Be Our Guest. By being proactive and booking your reservations well in advance, you can secure a table at your desired restaurant and have peace of mind knowing your dining plans are set.
Read on for tips on how to make reservations, as well as last-minute options and walk-up availability.
Online Booking and Phone Reservations
To make your Magic Kingdom restaurant reservations, you can either book online using The Walt Disney World Website or the My Disney Experience app or call (407) WDW-DINE or (407) 939-3463. It's best to book 60 days in advance, especially for popular restaurants like Cinderella's Royal Table and Be Our Guest.
Flexibility with the time and date is key, and it's recommended to make the reservation as early as possible and check back daily if you're less than 60 days out from the day you're interested in.
Last-Minute Options and Walk-Up Availability
While advanced reservations are highly recommended, there are still some last-minute options and walk-up availability for Magic Kingdom restaurants. To increase your chances of snagging a last-minute reservation, sign up for cancellation notifications on restaurant reservation platforms like Resy so you'll get an alert as soon as a table opens up due to a cancellation.
Walk-up reservations are also available at some locations, but it's best to call ahead to double-check and ensure you get a table.
Dietary Considerations and Allergy-Friendly Options
Worry not, for dietary considerations and allergy-friendly options are available at most Magic Kingdom restaurants. Many allergy-friendly menu options at Disney quick service restaurants are done through omission or substitution, which can be easily found by checking out the menus on the Walt Disney World app.
Even at character dining experiences like The Crystal Palace, the chef can explain all the options and even bring other dishes to accommodate your dietary needs. Rest assured that Magic Kingdom dining caters to a diverse range of preferences and requirements.
No one does allergies better than Walt Disney World. I have a sulfite allergy which can make dining out pretty difficult with this rare allergy. The wonderful chefs and staff at Disney restaurants make eating out with an allergy painless.
Best Meals for Different Times of Day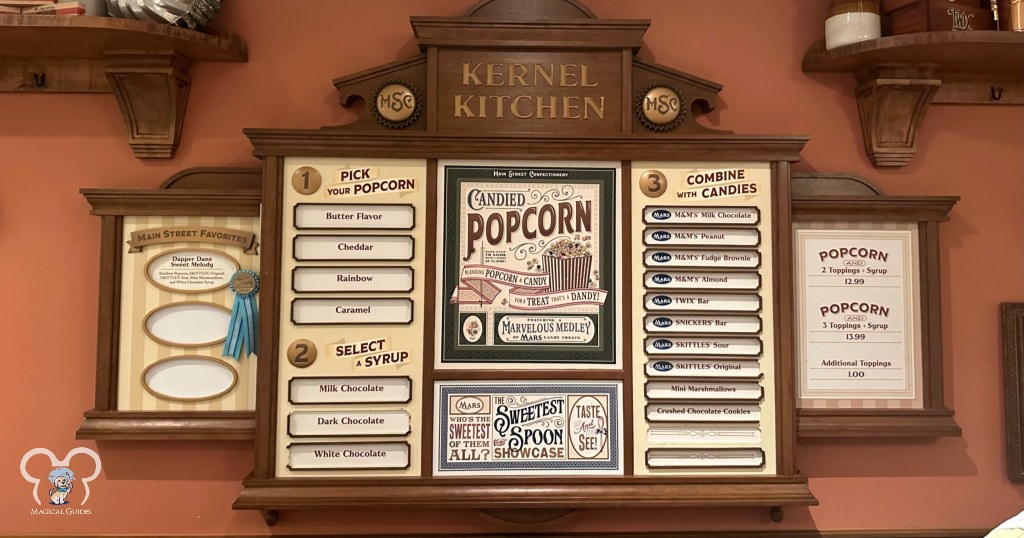 Whether you're fueling up for a day of adventure, taking a midday break, or winding down with a delightful dinner, Magic Kingdom offers a variety of delicious meals for any time of day.
Read on for our top recommendations for breakfast, lunch, and dinner spots in the kingdom.
Top Breakfast Spots
Start your magical day with a delicious breakfast at Main Street Bakery, where you can indulge in the popular Mickey Cinnamon Roll. This scrumptious treat is a fan favorite and the perfect way to kick off your day of adventure in Magic Kingdom.
Plus, it's conveniently located on Main Street U.S.A., so you can grab a bite before exploring the park.
Lunchtime Favorites
For a midday meal, Magic Kingdom offers an array of lunch options to satisfy your hunger. Be Our Guest Restaurant, Columbia Harbour House, and The Plaza Restaurant are all excellent choices for lunch, each offering a unique atmosphere and delectable dishes.
From the enchanting Beauty and the Beast experience at Be Our Guest to the seafood oasis of Columbia Harbour House, you're sure to find the perfect lunch spot to recharge during your day in the kingdom.
Dinner Delights
As the sun sets on your magical day, treat yourself to a delightful dinner in Magic Kingdom. For a truly unforgettable experience, consider dining at off-peak times to avoid the crowds.
Cinderella's Royal Table and Be Our Guest offer enchanting atmospheres and delectable cuisine that will leave you with lasting memories of your day in the kingdom.
Honorable Mentions: Other Noteworthy Magic Kingdom Restaurants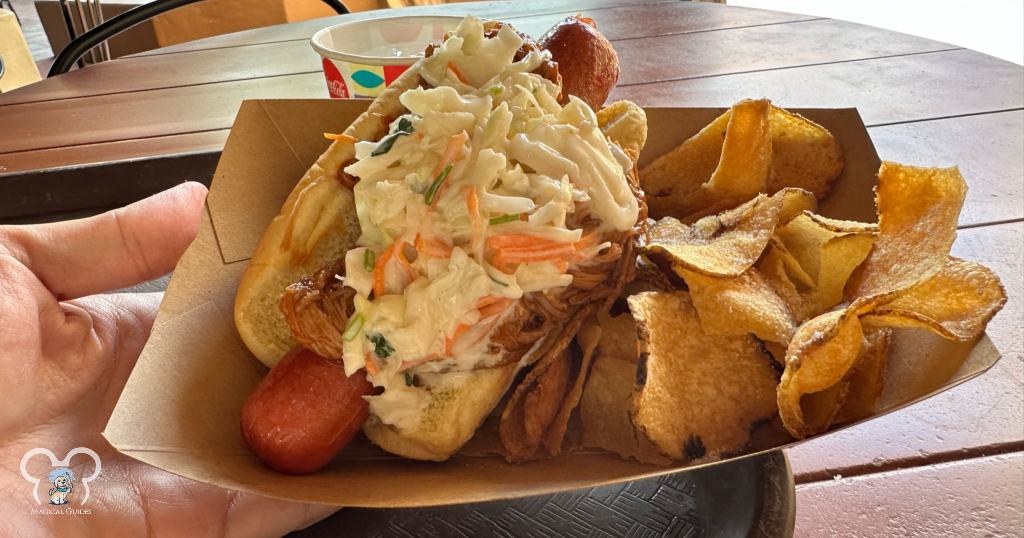 While we've covered some of the top Magic Kingdom restaurants, there are plenty of other noteworthy dining options to explore. Some honorable mentions include Tony's Town Square Restaurant, Tortuga Tavern, The Lunching Pad, The Diamond Horseshoe, Tomorrowland Terrace Restaurant, Gaston's Tavern, Friar's Nook, The Plaza Restaurant, Pecos Bill Tall Tale Inn, and Main Street Bakery.
Each of these establishments offers unique dining experiences and delicious cuisine, ensuring that there's something for everyone in Magic Kingdom. Pecos Bill Tall Tale Inn used to be out favorite quick service location. Since the pandemic, the food quality has decreased significantly. We hope it will return to the delicious food we knew and loved someday, and until then we will skip this restaurant.
Magic Kingdom offers an array of dining experiences and culinary delights that cater to a wide range of tastes and preferences. From enchanting table service restaurants and quick-service gems to must-try snacks and character dining experiences, there's something for everyone in this magical kingdom. So gather your loved ones and embark on a culinary journey as unforgettable as the kingdom itself. Bon appétit!
Frequently Asked Questions
Can I bring snacks and water into Magic Kingdom?
Yes, you can bring snacks and water into Magic Kingdom! Just make sure that your food is not in glass containers and does not require heating, reheating, processing, refrigeration, or temperature control.
Also be aware of any pungent odors as they may not be allowed. Enjoy!
When Can I make Dining Reservations for Magic Kingdom?
If you are staying on property, you can start making dining reservations for your entire stay 60 days before your arrival day. You can make reservations for up to 10 days of your trip.
If you aren't staying on property, you will need to make reservations every day at the 60 day mark.
What time do I make reservations on my 60 day window?
Reservations are available at 6am EST, so you will want to wake up early!
Where can I find Mickey Waffles in Magic Kingdom?
Sleepy Hollow has Mickey Waffles in Magic Kingdom.