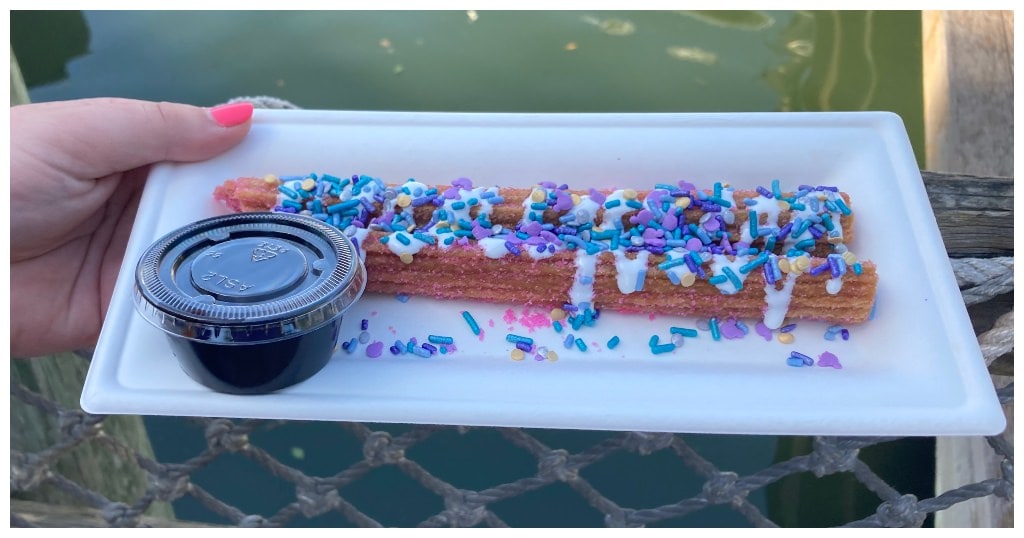 Disney World is known for a range of iconic snacks and no trip to "The Most Magical Place on Earth" is complete without eating a churro!
The traditional Disney churro comes with a chocolate dipping sauce, but there are also a range of special edition churros that come in a range of exciting flavors and even a whole booth dedicated to different varieties of this sweet treat in Disney Springs!
Are There Churros at Disney World?
You can find churros at Disney World in each park. In fact they have become an iconic Disney World Snack!You can find churros in a number of locations in all of the Disney World Parks, at Disney Springs and in one Disney Resort.
You can find this tasty treat in a range of snack and quick service locations and you will even find churros carts dotted around the parks!
Are Disney World Churros Good?
Churros are a nostalgic snack and many people love them. I can see why people love this fried cinnamon treat, but personally it isn't my favorite snack and I would opt for a candy apple from the confectionary instead. I can appreciate the regular churros dipped in chocolate sauce especially at Pecos Bill, but I don't see the appeal for the specialty churros. This of course is just my opinion and I know many people love this snack when they visit Disney World. The only way to know if they are good is to try them yourselves and let us know in the comments below how much you enjoyed your Churro.
Read More: The Best Disney Park Snacks You're Missing out on
How Much Are Churros at Disney World?
The classic churros you find at Disney World cost $6.39. Specialty churros will cost a bit more than this. You can also find some locations where churros are a little bit cheaper too!
If you are at a restaurant and churros are a dessert option they will cost you a bit more, but what better way to finish your meal!
Are Disney Churros Vegan? Dairy Free? Gluten-Free?
The good news is there are some Disney World churros that are gluten-free!
Nomad Lounge in Animal Kingdom serves gluten-free churros and they are very, very good churros!
You can also order them at Three Bridges Bar and Grill at Coronado Springs Resort.
Both of these locations use gluten-free recipes as standard but always check with your server or the chef just in case the recipe or ingredients have changed. These are the only two locations at Disney World where you can find gluten-free versions of these treats.
Disney churros are sadly not vegan. They contain both egg and milk so are not suitable for people who are dairy-free.
If you are looking for a vegan alternative to churros be sure to visit Erin McKenna's Bakery NYC in Disney Springs. This bakery is entirely vegan and gluten-free and sells a cinnamon sugar donut which could be a great way to fix your churro craving!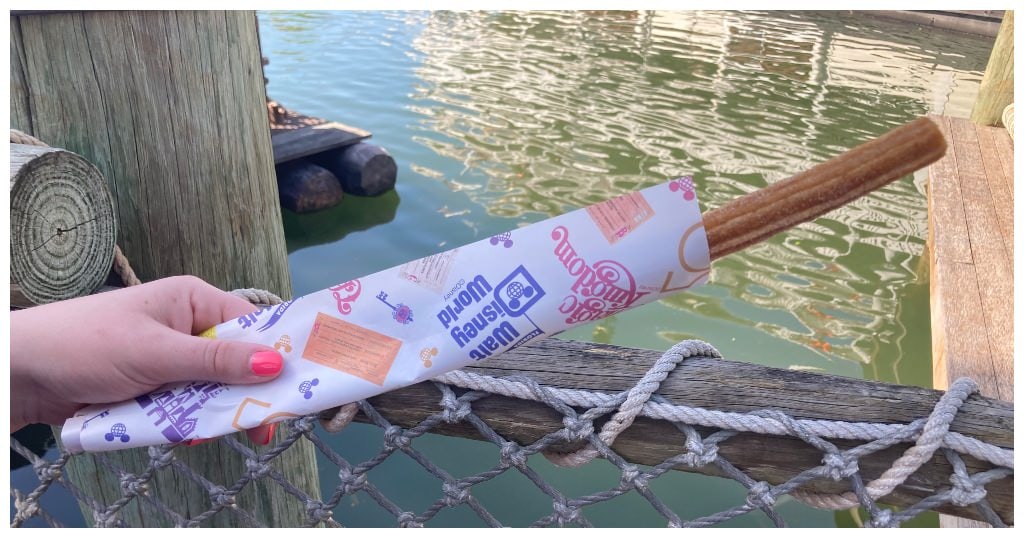 Where Can I Find Churros In Magic Kingdom?
There are three locations in Magic Kingdom that sell churros and a number of carts where you can find this sweet treat!
Pecos Bill Tall Tale Inn
This quick service location is currently selling a 50th Anniversary specialty churros treat!
EARidescence Nugget Churros served with Chocolate Dipping Sauce
Cool Ship
Churro served with Chocolate Dipper
The Lunching Pad
Storybook Treats Outdoor Cart
At this cart in Fantasyland you can find the Dumbo Churro. This churro is unique as it is coated in peanut dust and comes with a chocolate dipping sauce. The best thing is that this tasty treat also comes in a special Dumbo-themed paper bag. You can try this new churro for $7.
Main Street Food Cart
This snack cart is selling a new churros snack, which you can find in the hub in front of Cinderella Castle. Come here for a churro rolled in cinnamon sugar, dipped in chocolate, drizzled in caramel sauce, and topped with crushed pretzels. Delicious!
Frontierland Churro Wagon
This churro cart is selling a special edition churro which is rolled in strawberry sugar, drizzled with marshmallow cream and topped with shimmer sprinkles plus comes with a chocolate dipping sauce for $7.
Read More: Best Magic Kingdom Snacks: Top 15 Snacks at Disney's Magic Kingdom
Where Can I Find Churros In EPCOT?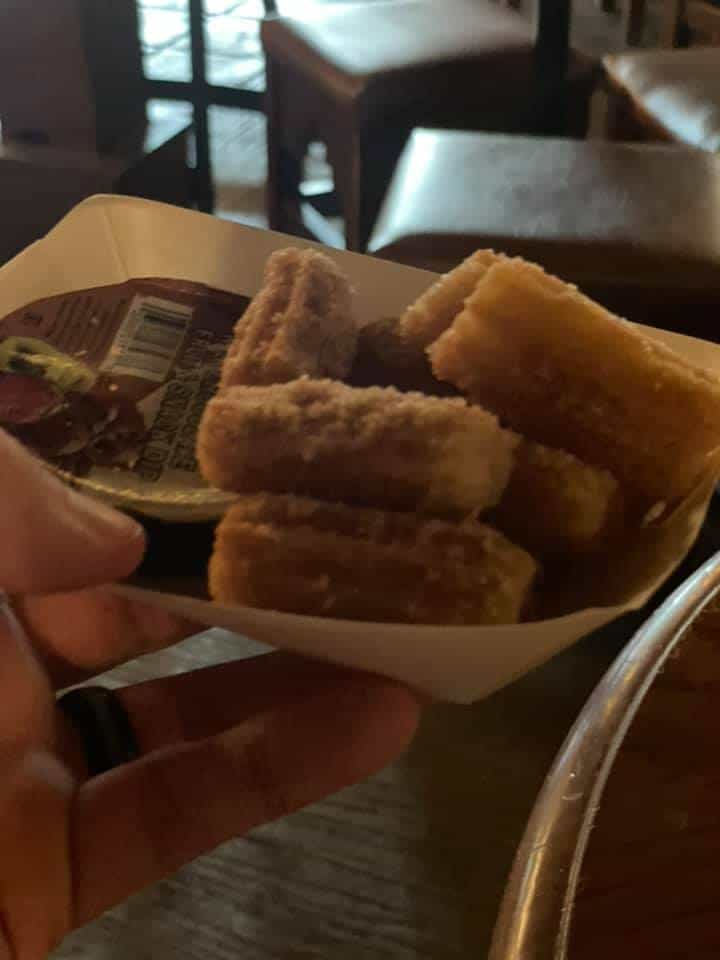 For churros in EPCOT be sure to head to the Mexico Pavilion!
La Cantina de San Angel
Churros with chocolate hazelnut spread
Where Can I Find Churros In Hollywood Studios?
Hollywood Studios has a few locations to get your churro fix, and is home to one very special themed churro!
Anaheim Produce
Churro served with Chocolate Sauce
You can also find churros at a number of food carts in Hollywood Studios including near Mickey and Minnie's Runaway Railway and in Galaxy's Edge where you can find the supercool Lightsaber Churros!
Where Can I Find Churros In Animal Kingdom?
Animal Kingdom has four locations for churros and is also home to what is regarded as the best churros at Disney World!
Harambe Fruit Market
Churro with Chocolate Sauce
Dino Diner
Churro with Chocolate Sauce
Nomad Lounge
The churros at Nomad Lounge are regularly voted the best churros at Disney World! They cost $9 and come with two unique sauces and are a great dessert or snack to have at this underrated Animal Kingdom location.
Churros with Vanilla Crema and a Chili-Strawberry Dipping Sauce

Snack Cart in DinoLand U.S.A
Can I Get Churros At The Disney Water Parks?
You can indeed get churros whilst cooling off in a Disney water park! At Blizzard Beach you can find the classic version of this Disney World treat.
Warming Hut
Churro with Chocolate Dip served with Chocolate Sauce
Where Can I Find Churros In Disney Springs?
Disney Springs is home to a whole booth entirely dedicated to serving different types of churros!
Sunshine Churros
There are two Sunshine Churros booths at Disney Springs so you are never far from a churro! This booth only sells this tasty treat and offers a variety of different ways to enjoy them!
Dipped Churro with Nutella or Milk Chocolate Sauce
Traditional Cinnamon ∙ Watermelon ∙ Apple Cinnamon ∙ Fruity Pebbles ∙ Salted Caramel ∙ Rose Gold
Gourmet Churron with Strawberry Cheesecake or Oreo
Paradiso 37, Taste Of The Americas
If you dine in this table service restaurant you will find churros on the dessert menu!
Cinnamon & sugar dusted churros, caramel & chocolate dipping sauce
Do The Disney Resorts Sell Churros?
You can indeed find churros at the Disney Resorts! Head over to Coronado Springs Resort where there are two restaurants where you can find churros on the menus as desserts.
Coronado Springs
Three Rivers Bar and Grill
· Warm Churros with Espelette Sugar and Chocolate Sauce
Maya Grill
· Fried Baby Churros with Dulce de Leche Ice Cream and Caramel Sauce
Now you know everything there is to know about churros at Disney World the only thing left to do is eat some!
Read More: The Best Places to Find Disney's Dole Whip and Recipe