Soarin' is one of the most popular attractions at Epcot in Walt Disney World. However, if you've been on the ride in the past, you might not know that there are certain places to sit if you want to have the best view and experience of the attraction. Today we're here to share our top tips for Soarin' so that you can fully immerse yourself in this unique ride next time you travel to EPCOT.
What is Soarin'?
If you've never been on Soarin' before, you might be wondering why this attraction is so popular. It's located in The Land pavilion in Epcot and is one of the three most popular attractions in this park. The ride opened back in 2005 as part of the Happiest Celebration on Earth.
For anyone who hasn't been to the park for some time now, you'll notice that the ride has changed over the years. It is now Soarin' Around the World, which reopened in 2016, and it takes you on a journey to locations around the world, including the Taj Mahal, Paris, and on safari in Africa. It's the perfect choice for Epcot, which celebrates the many cultures of the world.
The ride takes riders through six different continents, giving you a tour of the highlights of the world in just a few minutes. There is quite a bit of CGI used in this attraction, and you swerve and dip to avoid encounters with animals and different vehicles.
You'll find there are various scents used as well during the ride, which help to immerse you in these scenes even more. It's one of the most popular rides still to this date in Epcot, and you'll want to make sure you get here early in the day or during a quieter time to avoid a long queue.
Soarin' uses a 180-degree screen that sits at 80-foot tall. It offers you incredible aerial footage and lovely scents with a very graceful motion. It's the perfect combination of thrilling and soothing, which is why so many families rate this as one of their must-do attractions in the park.
The musical score is also a highlight of the ride and was composed by Bruce Broughton and based on the original score by Jerry Goldsmith. You'll find that from the moment you join the line for the attraction, you and your family are kept entertained by the trivia game in the queue. This will help to pass the time if you do have a long wait, but by following our tips below, we hope this won't be an issue.
Who Can Ride Soarin'?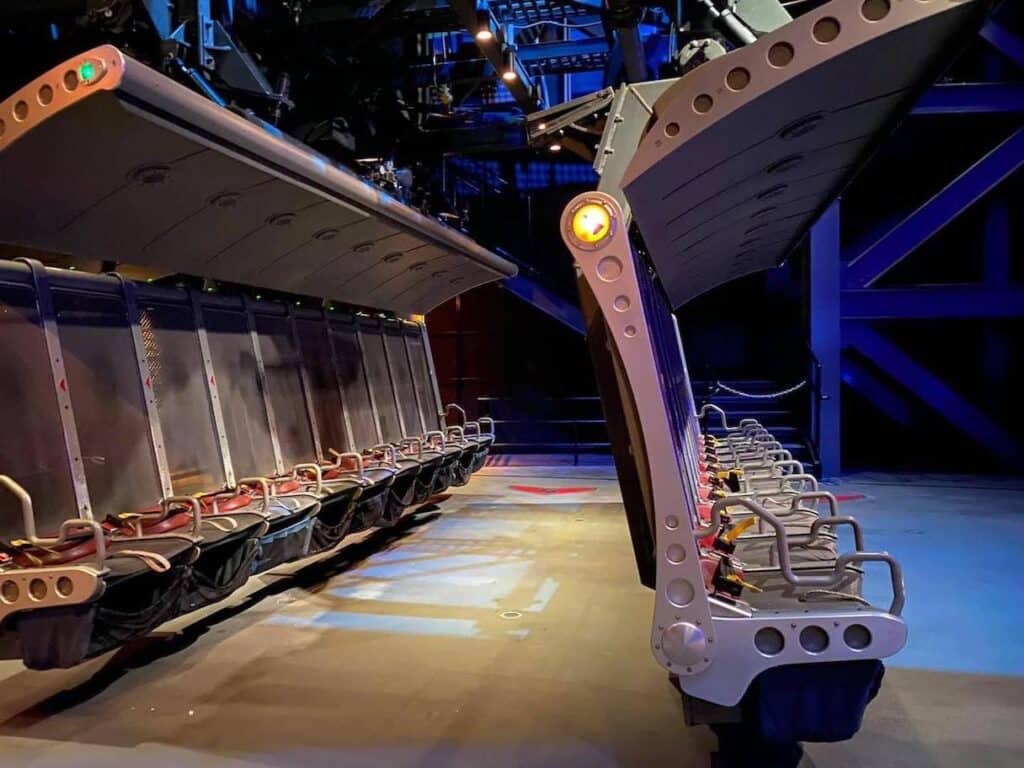 To avoid disappointment on any Disney trip, make sure you check out the height restrictions for popular attractions. Soarin' is open to any guests who are 40 inches or taller in height, which is 102 cm. It's suitable for kids and teens, and many of them will find it to be one of the highlights of their day in Epcot.
One thing to keep in mind is that this ride might not be suitable for anyone with motion sickness or various other medical conditions. While it's not as intense as many of the other rides in the park, it does involve screens and some gentle motion, which may aggravate certain conditions.
If you've never been on Soarin' before, you'll find that the ride vehicle looks like a long bench. Each bench can hold up to ten people, and your party will always be sat together if it's not bigger than ten people. The ride vehicle rises up and forward as the attraction begins, and it slowly lifts and tilts to feel like you are flying.
There is a safety belt on each seat and a mesh bag where you'll store all of your personal items. Make sure you don't have any loose items with you, as you might find they slip down and drop to the floor or riders below if you aren't careful.
As far as accessibility for Soarin', wheelchair and ECV users will need to transfer to the ride vehicle by themselves. Service animals are not allowed on this attraction.
Try to take a look at pictures of the benches before riding if you are worried about your comfort on this ride, as they are reasonably compact when compared to other attractions. The attraction does contain some loud noises and fireworks, so this ride might not be suitable for all guests.
If you are a larger guest, concerned about fitting into the seating, understand that's okay. You may wish to request an aisle seat, to prevent spilling too far over on another guest (if flying solo). We recommend pulling the seat belt out as far as you require prior to sitting, and buckling up to avoid issues with the belt.
Read More: The Definitive Guide to Rides in EPCOT
There is a bar dividing you up from the next guest, and it can be slightly uncomfortable when pressing into you. Be assured, your safety and comfort are a top priority at Disney World, just be an advocate for yourself and cast members will help where they can.
Is Soarin' Included With Genie+?
Genie+ is the new service that has replaced the previous FastPass lines at Walt Disney World. In Epcot, Soarin' is one of the attractions that's included in this service. You'll pay a daily fee for this service, and then we'd recommend booking Soarin' and Test Track as your first two rides of the day. This service has caused some mixed opinions with park guests, but we recommend considering it if you are traveling during a busy time of the year. You'll use your app to book the rides and can ride each attraction without as much of a wait.
Riding Soarin' During Extra Magic Hours
For anyone who is visiting Epcot during Extra Magic Hours, this would be one of our top recommendations. These hours are available each morning for resort guests, and for Disney Deluxe guests, the evening hours take place once a week in Epcot. The evening hours are usually on Monday nights in Epcot, from 9 pm to 11 pm. During these times, you'll find the queues are much shorter at all of the major attractions. As far as Epcot, we recommend riding Frozen Ever After or Test Track first and then head over to Soarin' after. These are the most popular rides in the park, but Soarin' sometimes has just a 20 to 30-minute wait during quieter times of the year. Of course, there's also Remy's Ratatouille Adventure now, but that requires a virtual queue pass to ride.
How high off the ground are you in Soarin?
When everyone was is securely strapped into their seats, verified by pulling on the yellow strap by a cast member, a cantilever system quickly and smoothly lifts the chairs up and into an area which contains a concave IMAX movie screen. The lowest of the three rows is about 30 feet off the ground, the middle row gets about 40 feet off the ground with the top row reaching the highest at about 50 feet up.
Where is the Best Seat on Soarin'?
Due to the unique nature of Soarin' and the screen that's used on the attraction, there are certain seats that provide a better view of the ride than others. Soarin' Around the World has three rows of seats, which you'll be assigned before you board the ride. At this point, you have the chance to ask for a certain ride and boarding area. We recommend waiting for the next rotation if you have the chance in order to get the best seat in the house.
Try to request Concourse B if you get the opportunity before heading down to the boarding area. This is based in the center of the screen and so naturally has the best view of the action during the ride. The other concourses sometimes restrict your view, as you are left with the edge of the screen if you end up at the end of the row. From there, you'll want to choose row number one. This gives you an unobstructed view with no feet from above dangling down on you. If you do have someone in your travel party who is afraid of heights, they might prefer row number three. This is located closer to the ground, so it might not be as frightening for anyone with a fear of heights or who is riding for the first time.
We find the best seat for Soarin' is Concourse B, center of the row 1.
How Long is Soarin' Around the World?
The ride lasts about five minutes, so it's one of the longer attractions when it comes to thrill rides. For that reason, many people find it well worth queueing up for, especially when compared to the roller coasters in other parks. However, this is why we highly recommend asking for the right row and concourse. You don't want to wait an hour for the ride, only to have a terrible view. Your time at Walt Disney World is precious, so make the most of every moment and get the best experience on each ride.
The Land Pavilion – A Great Place to Wait for Riders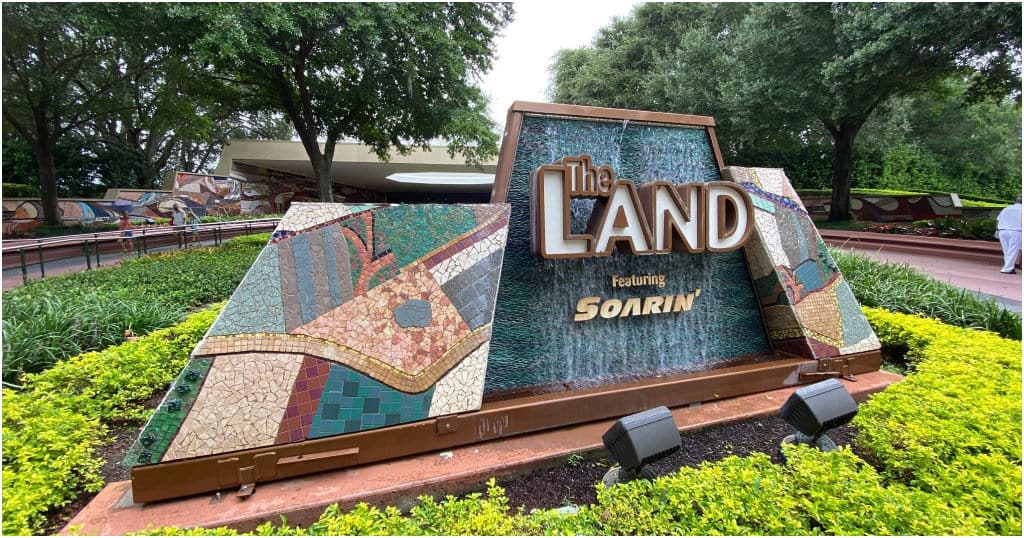 For anyone in your party who doesn't fancy the ride for any reason, you'll benefit from everything else The Land pavilion has to offer. Sunshine Seasons is open for breakfast each day, so this is a good place to start off your day after you ride. There are also other attractions here to consider riding instead, and then your whole travel party can meet up after. Thankfully, this area is inside, so if you do visit on a rainy day, you'll have somewhere to keep warm and dry during the rainstorm.
When is the Best Time to Ride Soarin'?
In general, first thing in the morning is the best time to ride Soarin'. Usually, within the first hour, you won't have to wait too long to board the ride. One thing to note is that this ride does take a little while to load, and you'll enjoy a brief pre-show film before you ride. It's located quite close to the entry of Epcot, so we recommend getting there before the park opening for the best chance to ride. Otherwise, keep an eye on the My Disney Experience app to see how wait times are. You'll notice that in the middle of the afternoon, this ride sometimes drops down quite a bit, making it an ideal choice. If you are using Disney Genie+, opt to do Test Track first and then move over to Soarin'.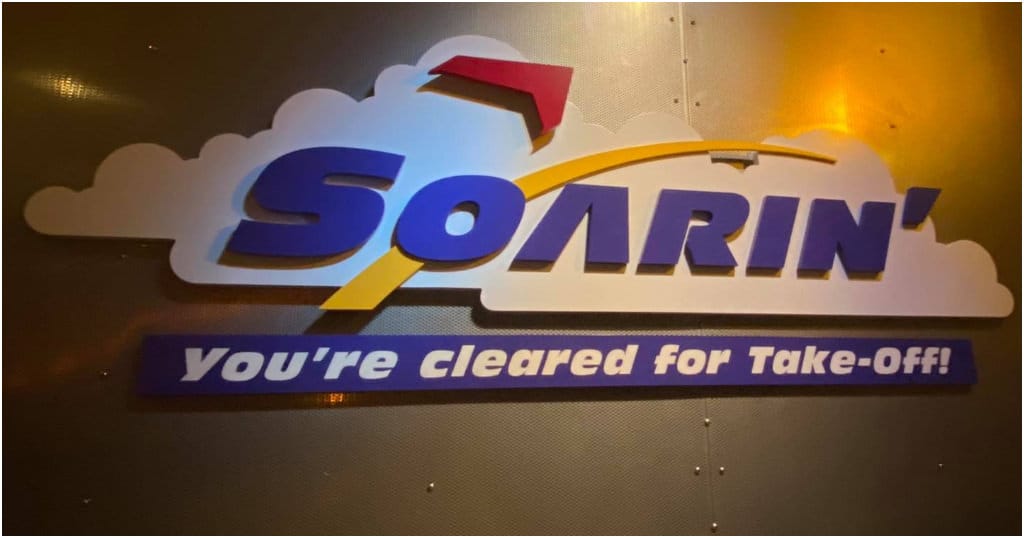 Soarin' Around the World is one of the most popular attractions in Epcot, and as you can see, it's something that most of your travel party will be able to enjoy. We highly recommend requesting the right concourse and seat row in order to have the best experience on the ride. It's worth waiting out for another ride for this experience, as you'll find you have fewer obstructions to block your view of the screen. Soarin' still gets incredibly busy to this day, and we don't see its popularity dying off soon. Genie+ has made this a more accessible ride for anyone purchasing this option, but of course, you'll need to decide whether it's worth it for your trip. We hope you enjoy your next trip to Walt Disney World and traveling around the world via Soarin' in Epcot.