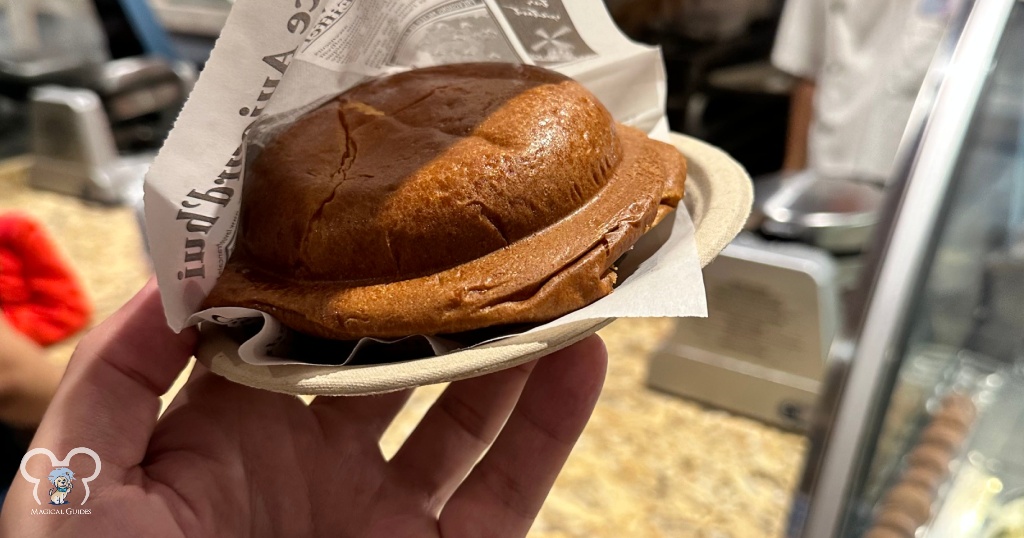 One of my favorite parts of a Disney World vacation is enjoying all of the unique treats and snacks they have to offer! Every theme park has food it is known for, and Epcot may just be Disney's best park for guests who love sampling different flavors and treats.
I'm going to tell you all about a tasty treat, an ice cream sandwich that you can find only in EPCOT. It's located in the back of the France pavilion. 
What is L'Artisan des Glaces in EPCOT France Pavilion?
L'Artisan des Glaces is an artisanal ice cream shop in EPCOT that sells various frozen desserts! They are open from 12:00 pm to 9:00 pm, making it the perfect place to stop for an afternoon or nighttime snack.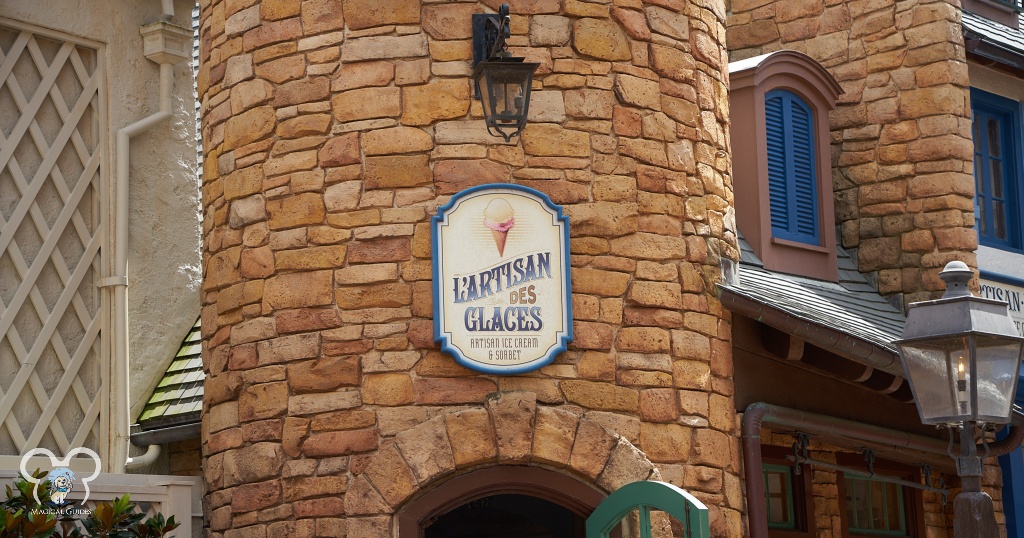 They have traditional flavors of ice cream like chocolate and vanilla and more unique flavors such as cinnamon caramel apple ice cream and caramel fleur de sel ice cream.
What is a croque glace?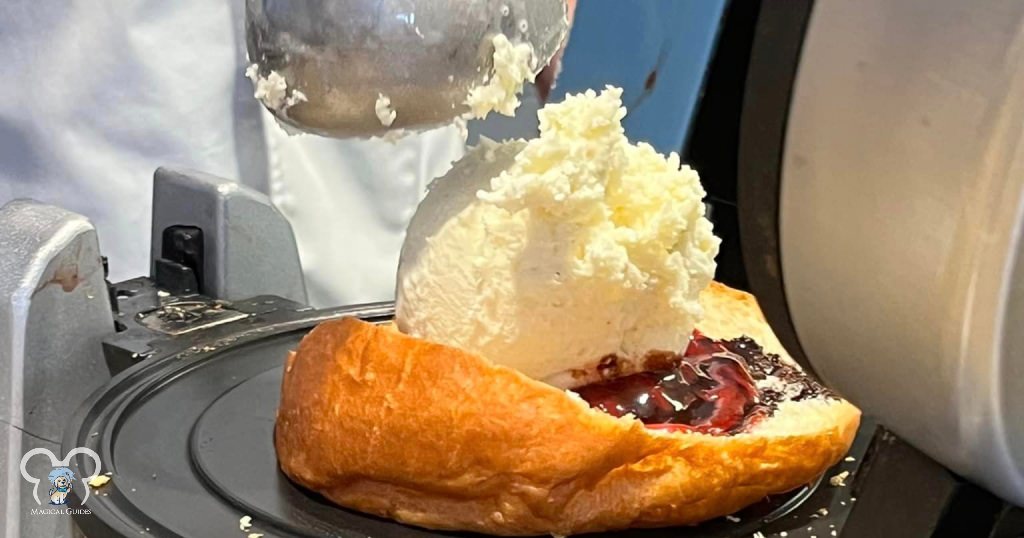 This frozen treat is a brioche ice cream sandwich. It comes with a single scoop of your choice of ice cream with a sauce of your choosing in a homemade brioche bun. The warm brioche bun is pressed warm, making a delicious combination of ice cream and warm bread.
The sauce options include options such as chocolate sauce, caramel sauce, and raspberry sauce.
For my first experience, I went with the caramel sauce for my scoop of vanilla ice cream.
Where is croque glace in Epcot?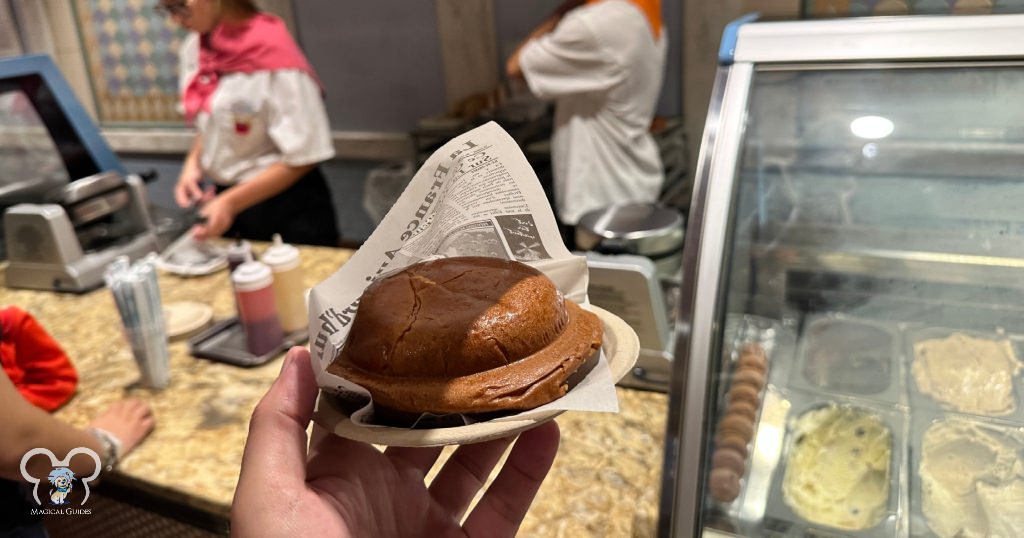 This amazing dessert can only be found at L'Artisan des Glaces in Epcot. Because of its deliciousness and the power of social media, it's become fairly popular over the past couple of years. Because of this, there can be a line you may need to wait in.
They also sometimes sell out of the buns before 9:00 pm. If a croque glacé is something you must get on your next trip to Disney, be sure to get there right at noon when they open!
How much is a Croque Glacé at EPCOT?
A Croque Glacé is $9.50.
How do they make the Croque Glacé?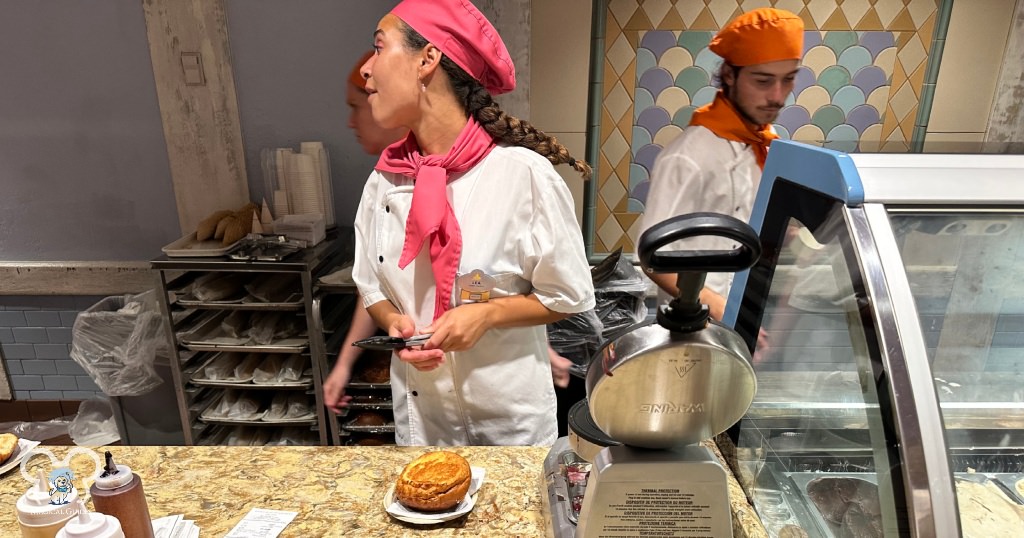 A cast member will take a sliced brioche bun and place the bottom half on a warm press in front of you. They'll drizzle the bottom bun with a sauce of your choice, sometimes even with fun Disney-themed designs!
After you select your flavor of ice cream, they'll place a single scoop on top of the bun with another drizzle of sauce. After that, they'll place the top bun over your ice cream and sauce, then close the device to seal the bread together.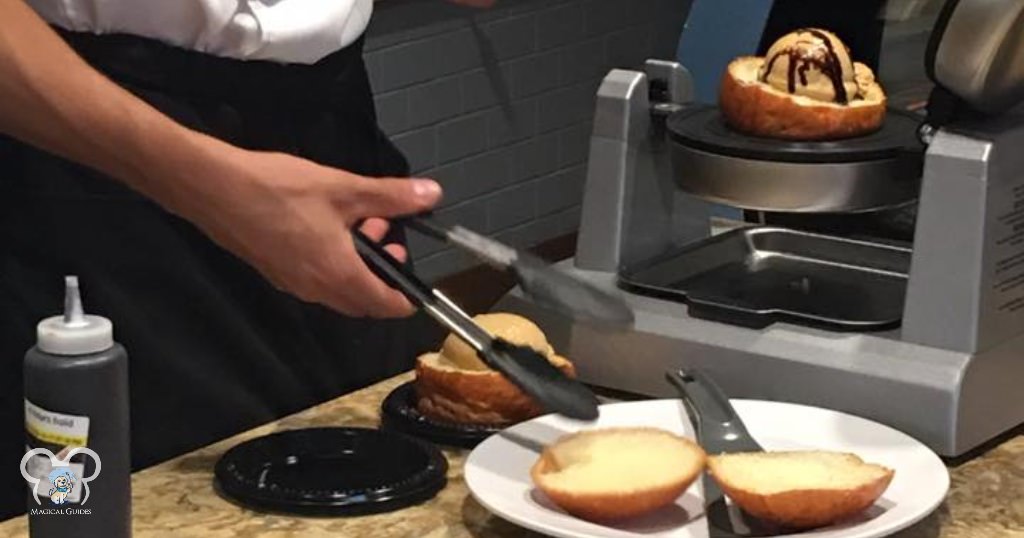 It's similar to a Belgium waffle maker, but instead of a delicious ice cream cone, you're getting a yummy and unique dessert sandwich! They'll place the sandwich in a cute paper wrapper and voilà! You have a croque glacé.
How do you order the Croque Glacé?
The Croque Glacé is made to order so you can customize it however you like! Tell the cast member that you'd like a Croque Glacé and tell them what flavor of ice cream you want as well as your choice of sauce. It's that simple! 
What is EPCOT's Croque Glacé like?
The Croque Glacé is a perfect combination of cold sweet ice cream and a warm fluffy bun. Because there are dozens of different combinations you can make with the ice cream and sauce, you can have a unique sandwich every time you go!
It's a fantastic treat on those hot Florida days. Knowing that both the buns and ice cream are made fresh in Disney every day makes this snack even better!
What else is on the L'Artisan des Glaces menu?
Even if you don't want to try the Croque Glacé, there are still plenty of other fun frozen treats you can order. They have macaron ice cream sandwiches that come in chocolate or a new seasonal flavor.
You can also order 2 scoops of ice cream in a homemade waffle bowl with whipped cream and sauce.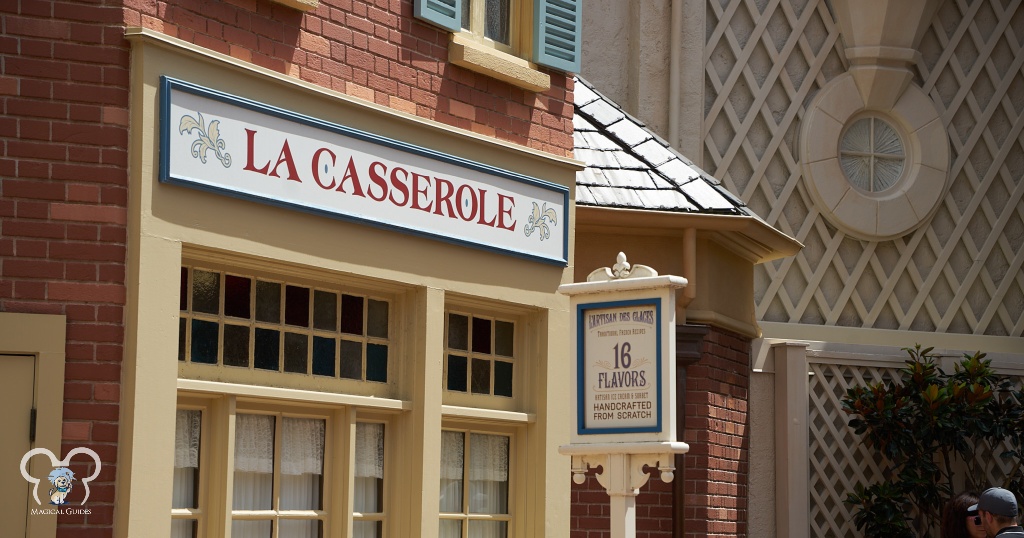 The Café Glacé is an ice cappuccino with a scoop of ice cream and whipped cream.
For those looking for an alcoholic treat, you can order an ice cream martini, 2 scoops of ice cream with a shot of Grand Marnier, whipped cream vodka, or rum.
You can also order a simple scoop or double scoop of ice cream in a cup or waffle cone. L'Artisan des Glaces has several ice cream flavors to choose from such as coconut, mint chocolate chip, and coconut white chocolate.
They even have several sorbet flavors from mango to raspberry. With the variety of ice creams sold here, there is something for everybody.
Does L'Artisan des Glaces offer a passholder discount?
Sadly, there are no passholder discounts offered here, but it's so delicious that it's worth visiting anyway! Disney dining plan or a snack credit is also not accepted here.
The next time you're In Walt Disney World, definitely check out L'Artisan des Glaces. It is a can't-miss stand for ice cream lovers everywhere and your taste buds will thank you!