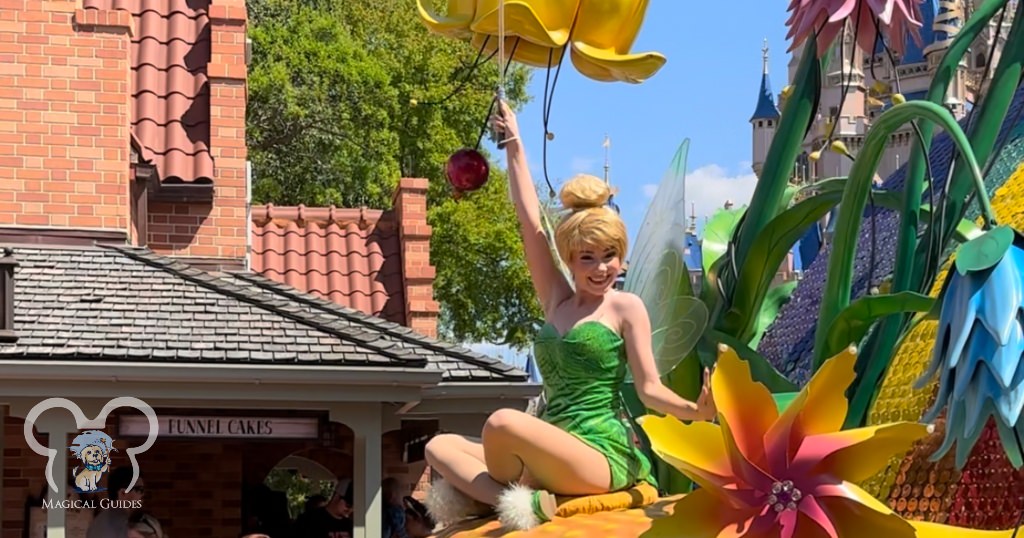 Tinker Bell is one of Disney's most iconic characters. Even if you have never seen Peter Pan, it's likely that you can recognize this sparkly green fairy.
She is known for being jealous, sassy, and loyal. She's come a long way since her first Disney appearance in Peter Pan, but how much do you really know about this iconic fairy?
I put together a guide of all the commonly asked questions about Tinker Bell to help you learn what makes her so important to the Walt Disney company!
What is Peter Pan's relationship to Tinker Bell?
In the Disney Peter Pan movie, Tinker Bell and Peter Pan are just friends. She is the sassy but loyal sidekick.
Despite being considered a sidekick, many might even argue that Tinker Bell is even more famous and recognizable than Peter Pan himself!
Who is Tinker Bell in love with?
Even though Tinker Bell never speaks, her romantic feelings for Peter are heavily implied. Her jealousy of Wendy is so strong that she convinces the Lost Boys to try to shoot her down while flying. She also risks her own life in order to save Peter Pan.
What was the purpose of Tinker Bell?
Tinker Bell was originally created to be a supporting character in J.M. Barrie's Peter Pan play in 1904. Since then, she's gone on to star in multiple films of her own.
She also became the unofficial mascot of Disney and Disney Magic. She can be seen flying across the castle in multiple Disney parks' fireworks shows.
In the logo that you see before any Disney film, it is believed that Tinker Bell is the sparkling figure flying over the castle.
How did Tinker Bell end up with Peter Pan?
According to one of the Disney Fairies books titled The Trouble With Tink, Tinker Bell met Peter Pan while he was trying to steal a shark tooth to make a necklace. In order to rescue him from an angry shark, Tinker Bell taught Peter how to fly after sprinkling some pixie dust on him.
Why Can't Fairies Fly Without Pixie Dust?
Despite having wings, fairies cannot fly unless they have pixie dust. Their wings help with control and steering, but they cannot get far off the ground without pixie dust.
The reason behind this was due to children injuring themselves in real life. When they saw that Peter Pan and the Lost Boys could fly on their own, they attempted to do so by jumping off of their beds. To avoid this from happening, later adaptations included pixie dust as a requirement for flying.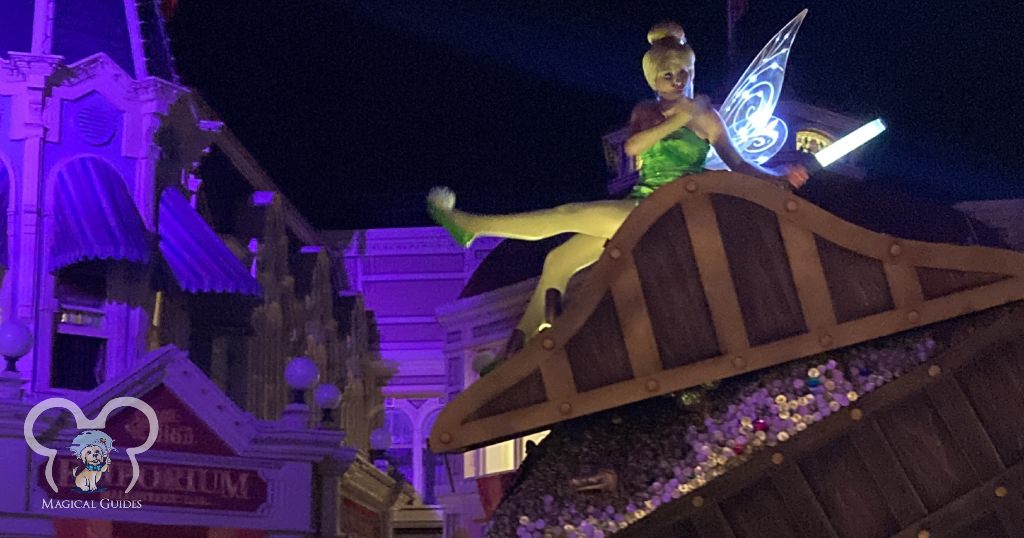 What is Tinker Bell's Weakness?
As mentioned above, Tinker Bell cannot fly without pixie dust.
Since Tinker Bell is so small, she cannot talk to humans. In Peter Pan, she can only communicate with the sound of bells. This is because humans are so large in comparison, that the bells are all they can hear.
In the Tinker Bell movies, you can hear Tinker Bell speaking because she is with other fairies her size.
Her emotions could also be considered a weakness. Since fairies are so small, it is said that they can only feel one emotion at a time.
This is why Tinker Bell sometimes comes off as so jealous and possessive of Peter Pan when Wendy is around.
Will Tinker Bell Die Without Attention?
Like other magical creatures in popular culture, fairies need belief in order to exist. Applause is a physical and visual representation of the belief in Tinker Bell, which is why it is believed that she needs attention or she will die.
What movies feature Tinker Bell?
Tinker Bell made her first film appearance in 1924 with Peter Pan, a silent adventure film made by Paramount Pictures.
In 1953, the Tinker Bell most people recognize appeared in Disney's Peter Pan.
Since then, she's appeared in numerous series and movies based on the fairies of Pixie Hollow:
Tinker Bell
Tinker Bell and the Lost Treasure
Tinker Bell and the Great Fairy Rescue
Tinker Bell and the Secret of the Wings
Tinker Bell and the Pirate Fairy
Tinker Bell and the Legend of the NeverBeast
Tinker Bell
Let's look at Tinkerbell quotes from each of the movies.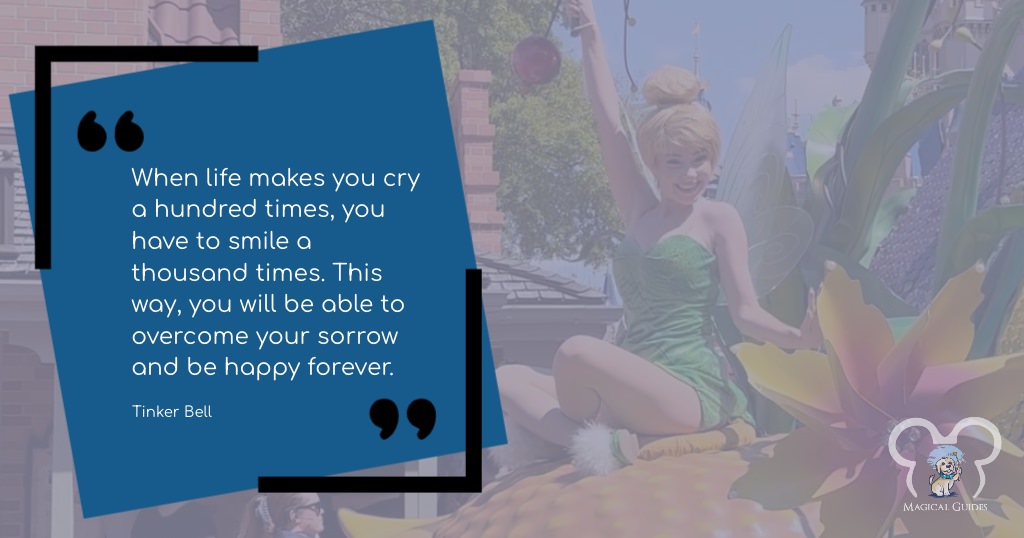 Tinker Bell
You all do things that are beautiful and magical and… and important. But me… there's gotta be more to my life than just pots and kettles." – Tinker bell
"Well, I was thinking. Why do I have to be a tinker? Just because some silly hammer glowed? I mean, who's to say it wasn't just some big mistake? Maybe I can just switch my talent!" – Tinker Bell
Tinker Bell: "The mouse's name is Cheese?"
Bobble: "Must be. He always comes when we yell it."
"Guess what? I've decided, I'm not gonna be a tinker fairy anymore." – Tinker Bell
Terence: "Well, I don't know. I'm just the dust-keeper guy. I'm not exactly seen as the most important fairy in Pixie Hollow."
Tinker Bell: "Terence… what are you talking about? You're probably the most important one there is. Without you, no one would have any magic! Why your talent makes you who you are. You should be proud of it! I mean…"
"You all do things that are beautiful and magical and… and important. But me… there's gotta be more to my life than just pots and kettles. All I'm asking you is that you give me a chance." – Tinker Bell
"If you could teach me your talent-any of them- maybe I can show the queen that I can work with nature too! And then she'd let me go to the mainland for spring!" – Tinker Bell
"Um, you're a pollen-izer? Um, pollen-ator. Pollen picker? Pollen plucker…" – Tinker Bell
"Laughter is timeless. Imagination has no age. Dreams are forever." – Tinker Bell
"Yes. Because I'm a tinker. It's who I am. And tinkers fix things." – Tinker Bell
"Wow! The mainland sounds flitterific!" – Tinker Bell
"Wow, everyone seems so busy." – Tinker Bell
"Nice to meet you all!" – Tinker Bell
"When life makes you cry a hundred times, you have to smile a thousand times. This way, you will be able to overcome your sorrow and be happy forever." – Tinker Bell
"Your talent makes you who you are, you should be proud of it." – Tinker Bell
"One thing is certain that there are plenty of fairies in the presence of the children." – Narrator
"Every fairy has an affinity for the kids from the bottom of their hearts." – Narrator
"When I go to the mainland, I'll prove just how important we are." – Tinkerbell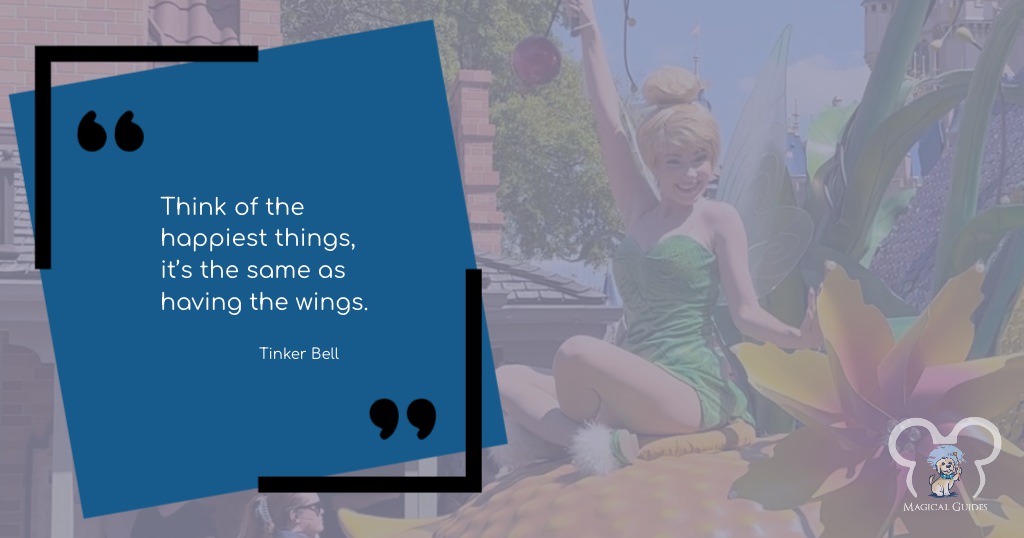 Tinker Bell and the Lost Treasure
"Think of the happiest things, it's the same as having the wing." – Tinker Bell
"The greatest treasures are not gold, nor jewels, nor works of art. They cannot be held in your hands. They're held within your heart. For worldly things will fade away as seasons come and go. But the treasure of true friendship will never lose its glow." – Tinker Bell
"I thought I didn't need anyone's help. I wish you were here." – Tinker Bell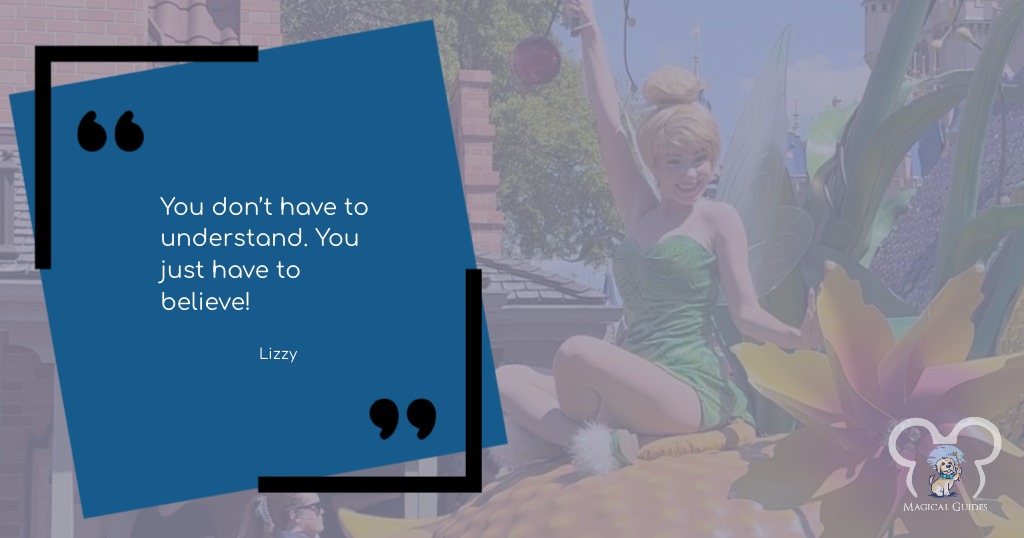 Tinker Bell and the Great Fairy Rescue
"You don't have to understand. You just have to believe!" – Lizzy
"Well, just because you haven't seen a fairy doesn't mean they aren't real!" – Lizzy
Lizzy: "I had no idea fairies were responsible for changing the seasons. I thought it had something to do with the earth's axis as it rotated around the sun."
Tinker Bell: "That's what we wanted you to think."
"There is no fairy who does not love children."
"It's so beautiful out here. I can't believe we get to stay for the whole season."
"You cannot call me short-statured. I am of the size of a fairy."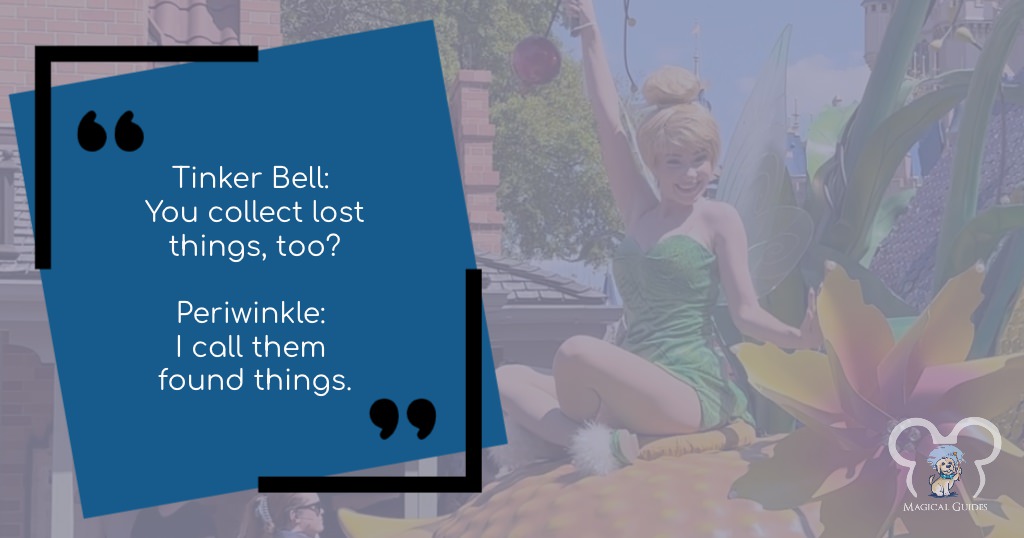 Tinker Bell and the Secret of the Wings
"Tinker Bell: 'You collect lost things, too?' Periwinkle: 'I call them found things.'
"They wanted to surprise you. Everyone, this is Periwinkle, my sister." – Tinker Bell
"Her name's Periwinkle. She's a frost fairy, and she's just amazing. I'm making this machine so she can come here and meet you all, and after that we'll go straight to Queen Clarion!" – Tinker Bell
"There's a whole other world over there." – Tinker Bell
"Silvermist: It's like you found the perfect lost thing.
Tinker Bell: "And I'm never going to lose her."
"She's very wise. And if we tell her we're sisters, she'll change Lord Milori's rule." – Tinker Bell
"I know. Even our wings are identical. That's why they sparkle. Let's show them."
"I even made this coat." – Tinker Bell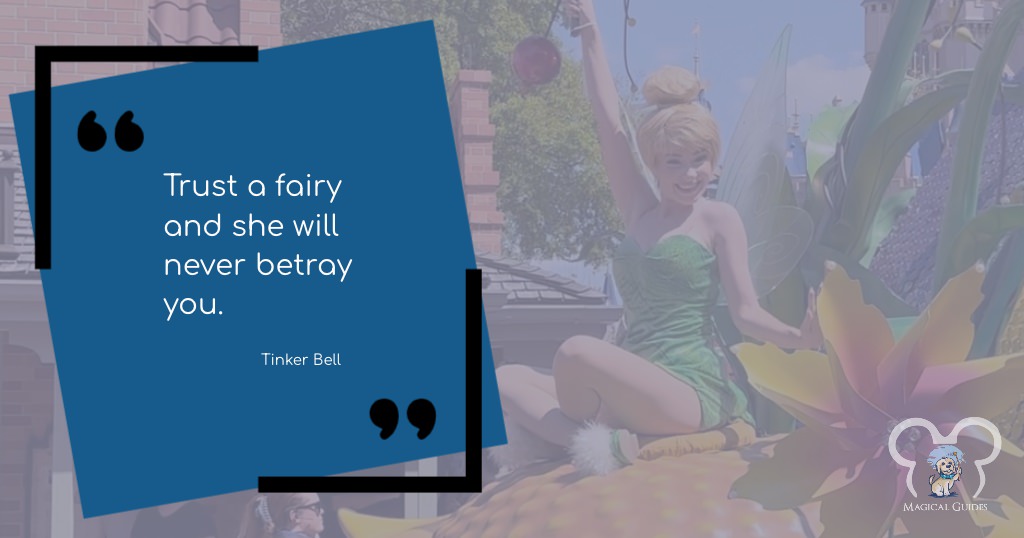 Tinker Bell and the Pirate Fairy
"Trust a fairy and she will never betray you." – Tinker Bell
"You're bending light? But you're not a Light Fairy. You're a Dust Keeper. Amazing, right? Uh, but, how? Whoa! You found orange pixie dust?" – Tinker Bell
Zarina: You saved me! Why?
Tinker Bell: "Let's just say we're offering you quarter."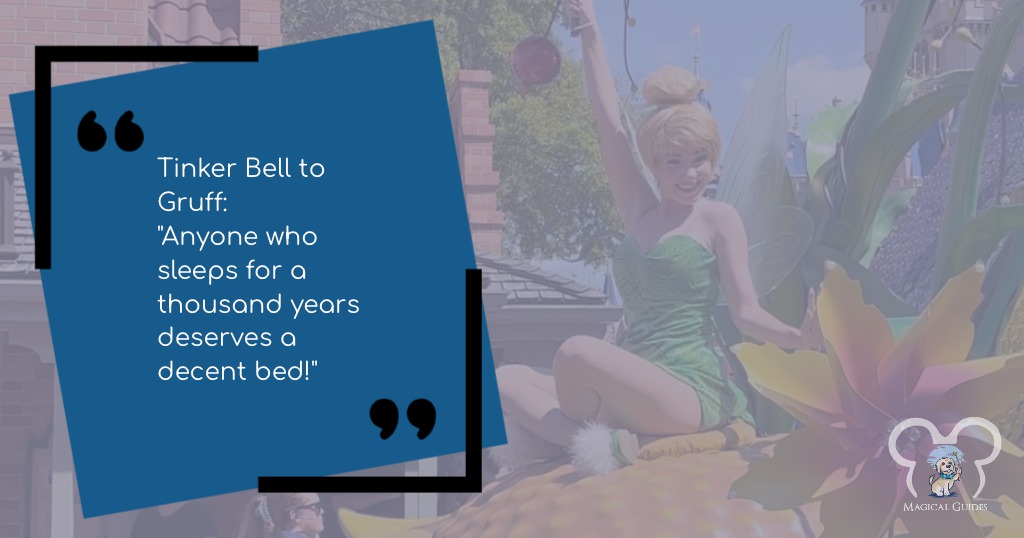 Tinker Bell and the Legend of the NeverBeast
Tinker Bell to Gruff: "Anyone who sleeps for a thousand years deserves a decent bed!"

Is Tinker Bell Considered a Disney princess?
Tinker Bell used to be part of the first nine official Disney princesses but was later removed and replaced with Princess Tiana from Princess and the Frog.
Fortunately, Tinker Bell has done plenty to make up for her lack of a crown. Not only does she have her own franchise that she starred in, but she also has her own star on the Hollywood Walk of Fame!
Where can you Meet Tinker Bell at Walt Disney World?
Before the Disney parks' closures in March of 2020, Tinker Bell was available to meet in Town Square Theater in Magic Kingdom. Currently, Snow White is doing meet and greets in that location.
Tinker Bell has sadly not been available to meet since the parks reopened in July 2020.
In 2022, Disneyland Park in California brought back Tinker Bell meet-and-greet opportunities, so hopefully, 2023 will be the year fans get to meet Tinker Bell again in Magic Kingdom.
While we wait for the return of our favorite fairy, you can currently still spot her in a few places in Magic Kingdom. During the Happily Ever After fireworks show, you can usually see Tinker Bell fly across the sky.
Unless there are unsafe weather conditions, this is an easy way to guarantee you see her on your next trip to Disney World. Tinker Bell can also be seen in the Festival of Fantasy parade.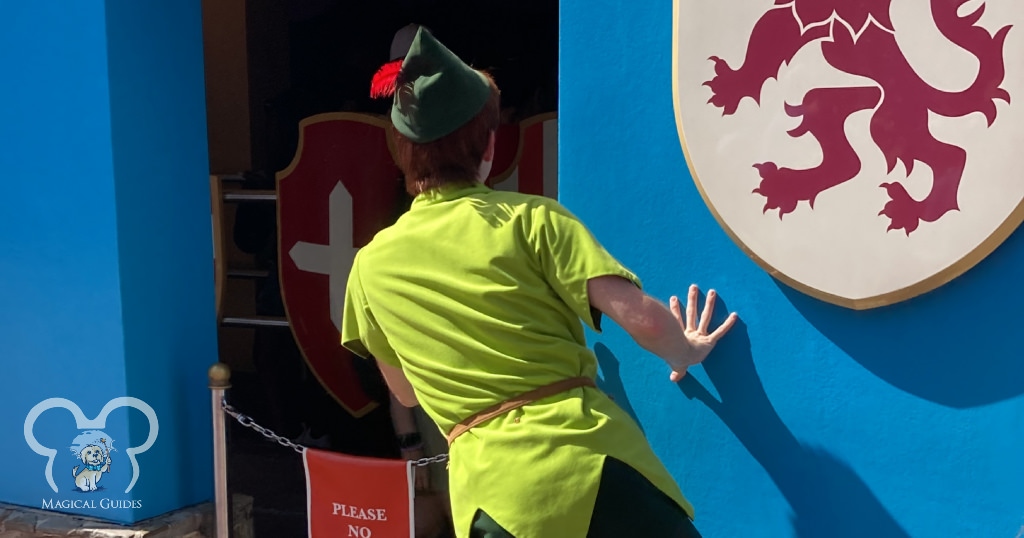 Peter Pan Quotes to or About Tinker Bell
"All it takes is faith, trust, and pixie dust." – Peter Pan
"I believe in fairies." – Peter
"What's the deal? Where's the real food?" – Peter
"Eat what? There's nothing here. Gandhi ate more than this." – Peter
"Never give in to the sorrows of life; always smile as much as possible and remain happy." – Peter Pan
"You're a… you're a complex Freudian hallucination having something to do with my mother, and I don't know why you have wings, but you have very lovely legs, and you're a very nice tiny person and what am I saying, I don't know who my mother was; I'm an orphan, and I've never taken drugs because I missed the sixties, I was an accountant." – Peter
"I DO NOT BELIEVE IN FAIRIES!" – Peter
"I think I've killed it." – Peter
Peter to Tinker Bell while fighting off pirates: "Are you related to Mighty Mouse?"
"Fairies have to be one thing or the other because being so small they, unfortunately, have room for one feeling only at a time." – Peter Pan
"When the first baby laughed for the first time, its laugh broke into a thousand pieces, and they all went skipping about, and that was the beginning of fairies." — Peter Pan
"Children know such a lot now. Soon they don't believe. And every time a child says 'I don't believe in fairies', there's a fairy someplace that falls down dead." – Peter Pan
"What's the matter with you? It was poison, wasn't it? You drank it to save my life. Tink? Dear Tink! You're dying! Your voice is so low now I can hardly hear you. What's that? You believe that you could get well again… if children believed in fairies." – Peter Pan
Wendy Quotes
"There it is, Wendy. Second star to the right and straight on 'til morning." – Peter Pan
"There oughta be a fairy for every girl and boy." – Wendy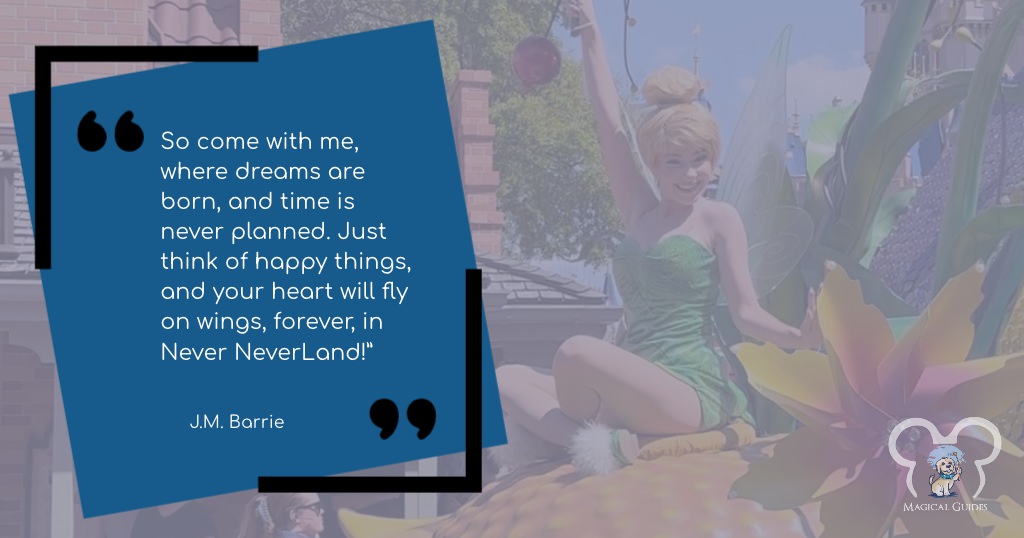 Author Quotes
"So come with me, where dreams are born, and time is never planned. Just think of happy things, and your heart will fly on wings, forever, in Never Neverland!"
– J.M Barrie
"It was like this sometimes, and I felt I should look away, but I couldn't. I wanted to be there, having my face touched, defeating a heart like Peter's, but the next best thing was seeing it for Tiger Lily." – Jodi Lynn Anderson, Tiger Lily
"A faerie heart is different from a human heart. Human hearts are elastic. They have room for all sorts of passions, and they can break and heal and love again and again." – Tiger Lily
Tinker Bell Quotes from Hook
"Well, whoever you are it's still you, 'cause only one person has that smell." – Tinkerbell
"The smell of someone who has ridden the back of the wind, Peter. The smell of a hundred fun summers, with sleeping in trees and adventures with Indians and Pirates. Oh remember, Peter? The world was ours. We could do everything or nothing. All it had to be was anything 'cause it was always us."
Hopefully, this helped you have a better appreciation for Tinker Bell! Whether she's flying across the sky during the fireworks or on an adventure with her fairy friends, she has definitely made her mark on the Walt Disney Company.
What's your favorite part about this iconic green fairy?