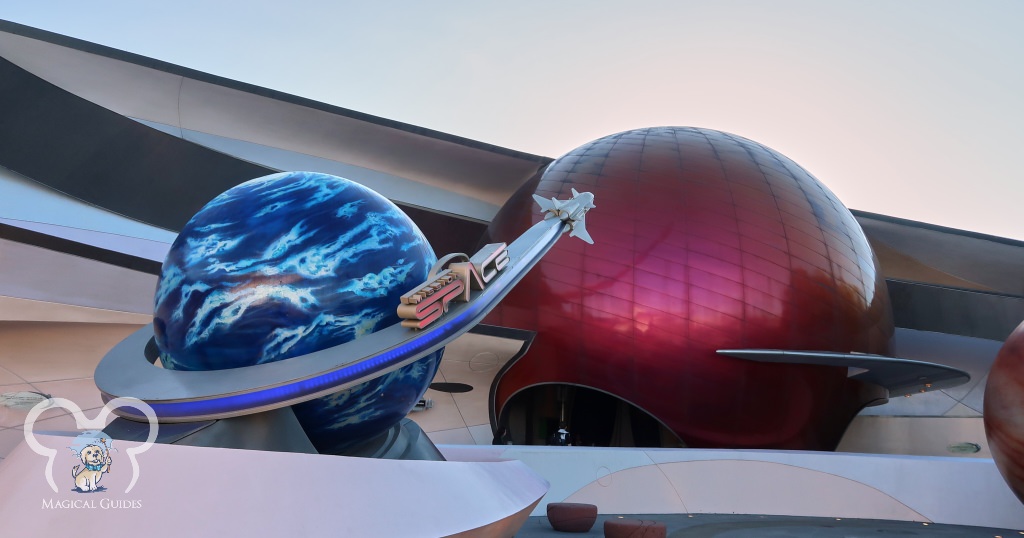 (Photo by Bayley Clark for MagicalGuides.com)
Mission: SPACE at EPCOT is one of the most thrilling attractions in the park, but it's often overlooked by visitors in favor of Test Track and Soarin'. If you've always wondered how this ride works, today I'm going to share the hidden secrets behind this ride.
I'll also share everything else you need to know about riding this attraction and if it's worth adding to your next day at EPCOT.
If you're thinking about using Genie+ to use the individual lightning lane – don't. This ride often doesn't have long waits, and if you rope drop as I did, you'll have the entire orange side to yourself until about noon.
How does Mission: SPACE at EPCOT work?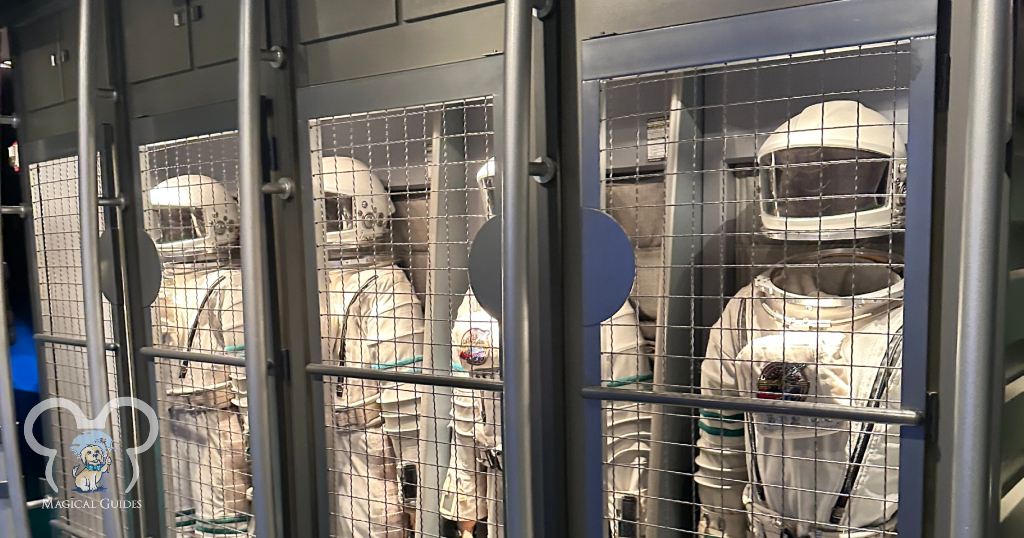 (Photo by Bayley Clark for MagicalGuides.com)
Mission: SPACE at EPCOT first opened in 2003 and strives to recreate astronaut training as if you are on the first crewed mission to Mars. You board the fiction X-2 Deep Space Shuttle in the year 2036, and as a trainee, you'll be arranged into a group of four to take on this challenge.
Before boarding, each rider is given a specific role to perform during the ride. These include the navigator, pilot, engineer, or commander.
(Photo by Bayley Clark for MagicalGuides.com)
You'll have two tasks to perform during the ride, which simply involve pressing a button to ensure the ride goes smoothly. This part is overridden if you are short of riders, so you can be sure you'll still have a great ride no matter what.
Read Also: Guide To Rope Drop at EPCOT In Disney World
The attraction is created with a multiple-arm centrifuge, which helps to accelerate the vehicle by spinning and tilting it during the four-minute mission. To help avoid motion sickness, fans gently add air into the capsule.
In front of each rider is a window with high-resolution computer-generated imagery, which helps you to feel like you are heading into space. There are ten capsules attached to each of the four centrifuges, each of which can hold up to four riders.
What is the difference between Mission: Space Green and Orange at Epcot?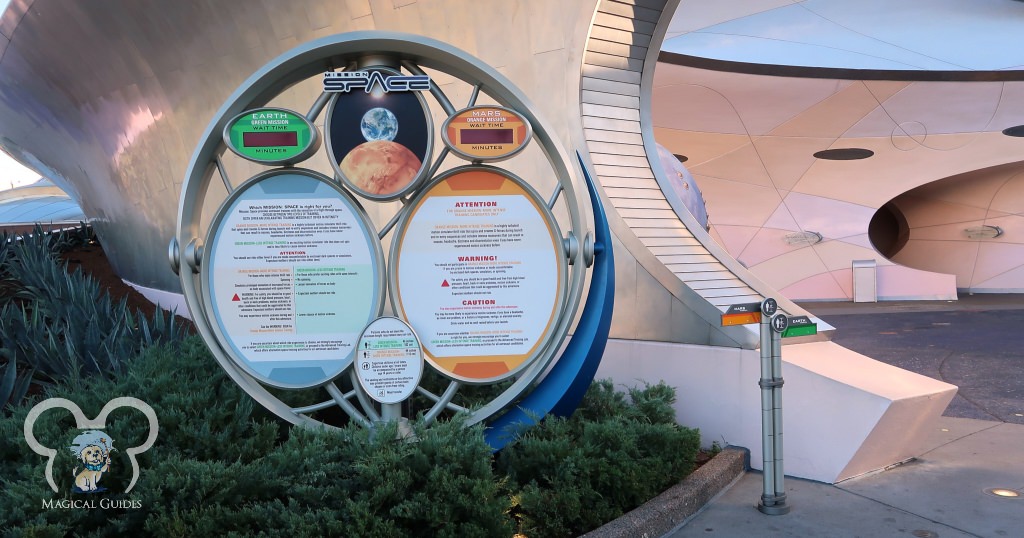 (Photo by Bayley Clark for MagicalGuides.com)
The attraction offers guests forces of up to 2.5G, which is double what we experience on Earth. Within a few months of the ride's opening, there were already complaints about just how intense this attraction was.
From 2006 onwards, Disney offered two versions of the attraction. You now choose between the classic attraction on the Orange Mission or the tamer option on the Green Mission.
This option has less motion and no spinning, so you'll find that it helps to prevent some motion sickness. However, the ride vehicles still pivot and pitch, so it's certainly not a good option for anyone who is very sensitive to simulators.
Read Also: Which rides have Single rider lines at Disney World?
In 2017, the ride was closed for refurbishment, and the Green version of the mission was given a new video. This new video now showcases a flight around Earth, which was opened in August 2017.
For more daring riders, you can still opt to join the Orange Mission, where you'll still travel to Mars. The orange team side also received updates to the graphics, offering a more thrilling and modern rider experience.
What Are The Height Requirements for young kids? Can anyone ride Mission Space?
There are two separate lines for the attraction, and the height requirements are 40 inches for the Green side and 44 inches for the Orange option. This allows quite young children to enter either side, but as a parent, you'll want to be aware of their limits.
If your child has never been on a simulator before, we wouldn't recommend starting with the Orange Mission. This is going to be very intense for most riders, so start on the Green side first and see how they do.
Read More: Guide to Rides in EPCOT
From there, you can come back again and try the more daring mission if they were okay after the first side.
That said, there are a few folks that should not ride Mission Space, and this means no green team or orange team.
Folks that should not ride are:
Experience high blood pressure
Have any back or neck problems
Expecting mothers
Larger guests or those that have unique body shapes
Service animals can not ride
If being in small enclosed dark spaces makes you uncomfortable
If you are unable or unwilling to transfer from a wheelchair or any ECV
Does Mission: SPACE Go Upside Down?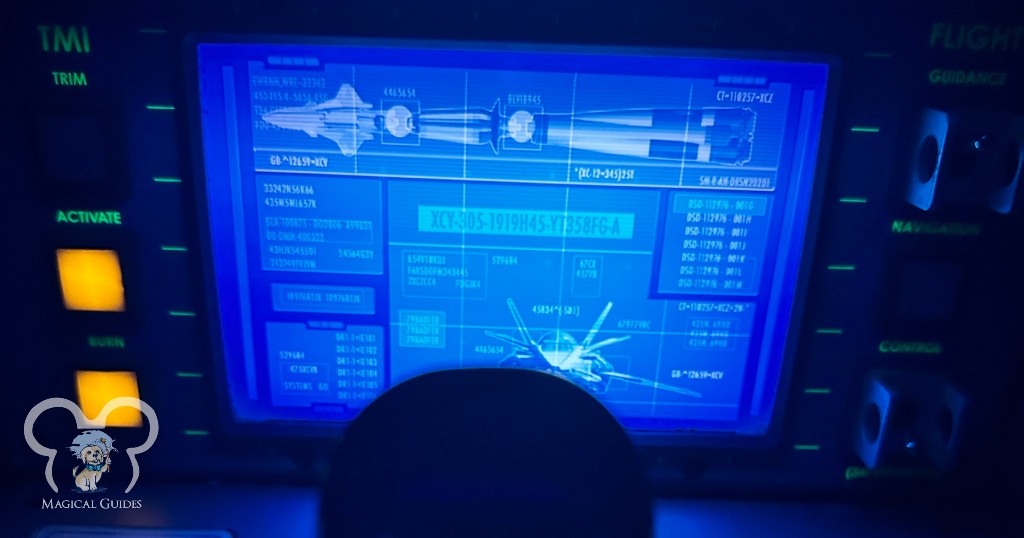 (Photo by Bayley Clark for MagicalGuides.com)
Mission: SPACE is a simulator that moves riders around quite a lot during the ride. However, it doesn't go upside down at all during the ride.
You will spin a lot during the ride, giving the sensation of lifting off the ground and into space. Many people find they lose all sense of space and time during the attraction, as it really is quite intense.
You'll always be firmly seated upright in the vehicle, but you will pitch from side to side and feel like you are spinning.
How Do They Simulate G Force On Mission: SPACE?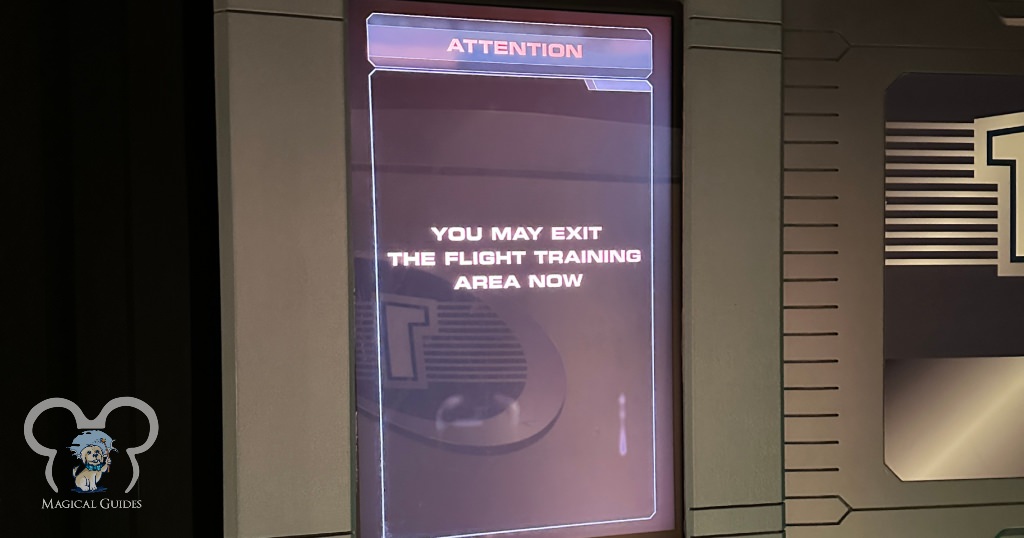 (Photo by Bayley Clark for MagicalGuides.com)
In order to make riders feel like they are blasting off to space, the ride vehicles simulate G forces during the ride. The attraction uses centrifugal forces on the ride capsule, which helps to create this feeling during the rocket launch.
You'll then feel like you are weightless during the ride, as astronauts feel when they are up in space. During the blast-off, you'll experience 2.2g for 10 seconds, and then you'll have four seconds of 2.2g again when you go around the moon.
If it's your first time experiencing this type of attraction, you may feel a little odd to begin with, but it's all part of the fun of riding Mission: SPACE. So before you experience the extra gravity being pushed on you, think twice before eating a large meal.
Does Mission: SPACE Make You Sick?
Whether Mission: SPACE will make you sick or not is very much down to your tolerance for motion sickness and simulators. Many riders who went on the attraction when it first opened with just one option have never been on again.
This is down to just how intense the attraction is on the Orange Mission, making it unbearable for anyone who doesn't like simulators and spinning. Make sure you read the warnings as you enter the attractions, as the ride can aggravate a wide range of conditions.
If you are unsure about whether you'll enjoy the ride or not, we recommend heading on the Green Mission first. From there, you can see how your body reacts and maybe try the Orange Mission again another time.
It's not an attraction that many people will want to ride over and over again in one day, as it's just far too intense for most people. They often have sick bags to hand around the ride, as many people do get sick after it.
Just keep all of this in mind if you have a long day in EPCOT ahead. You don't want to be walking around feeling sorry for yourself just for daring to ride one attraction.
Also Read: Laundry at Disney World: In-Room, Self-Service, Valet
What Else Can You Do At Mission: SPACE?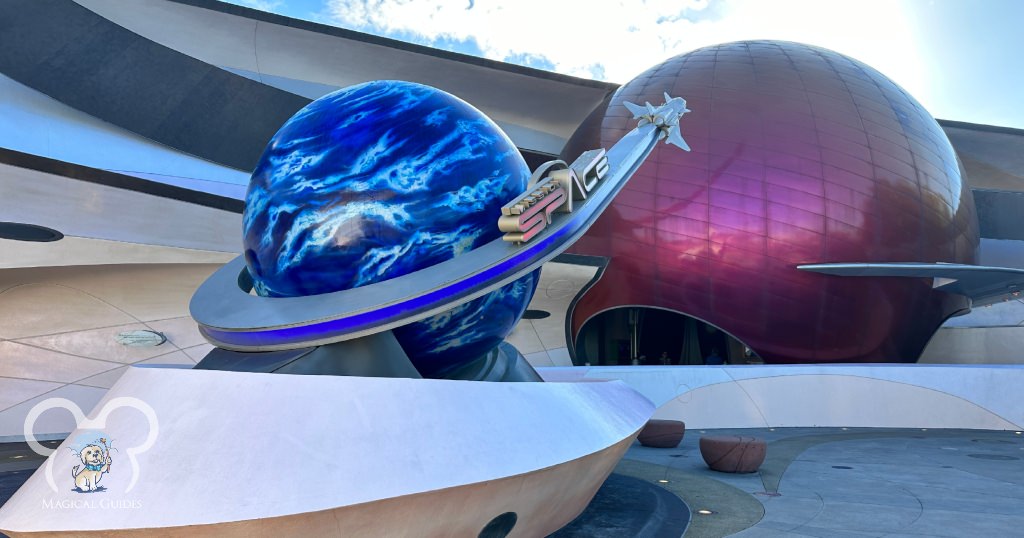 (Photo by Bayley Clark for MagicalGuides.com)
Don't let the thought of motion sickness put you off from visiting this area of the park. There are some other fun things to do in the area, which any non-riders in your party can check out while they are waiting.
The pavilion includes a gift shop, which is called Mission Space: Cargo Bay. There are some fun gifts here, which would be great for kids and adults in your family who are fascinated by space.
Read Also: How to get the best seat on Soarin' Around the World
One often overlooked part of this pavilion is the Advanced Training Lab. This is a high-tech play area for all ages and heights and will allow you to get ready for your next space mission.
You'll fly virtually over the surface of Mars with a jetpack and race against the other players to get into space. At the end of the challenge, you can send a video postcard to your friends and family back home from space.
There's also an interactive playground for younger children, whereas older kids will enjoy the virtual games. It's a great way to escape the heat in the summer months or wait somewhere fun while others in your party are riding Mission: SPACE.
Dine at Space 220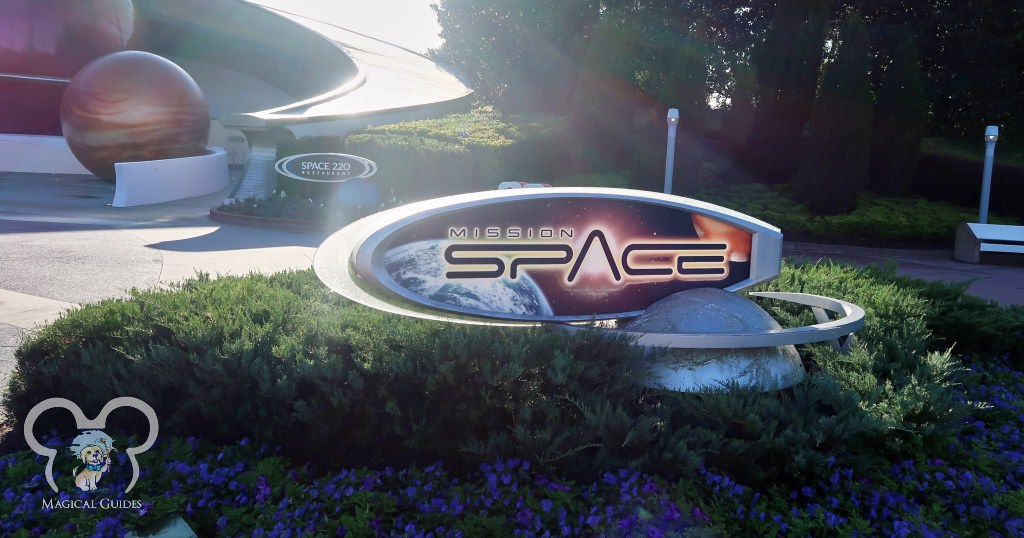 (Photo by Bayley Clark for MagicalGuides.com)
The newest addition to this pavilion is the Space 220 restaurant. This can be found on the right-hand side of the attraction line, and you'll need to make sure you book ahead of time for this restaurant.
There is a lounge and restaurant, both of which take reservations, and it's open for lunch and dinner each day. Space 220 is one of the most immersive restaurants in the whole of Walt Disney World, and it's a great option for space lovers who are too small to ride Mission: SPACE.
It gets booked up very quickly on the 60-day dining reservation mark, so make sure you are prepared to get up early to secure your booking here.
Read Also: The Best EPCOT Restaurants You Don't Want To Miss!
When you dine at Space 220, you'll be offered an appetizer and entrée at lunch from a set menu, with a dessert added during dinner. It's a fixed-price menu for all diners, with options for both adults and children.
Adults will also love the range of fun cocktails here, many of which have special effects and unique ingredients. One thing we love about this restaurant is how relaxed and leisurely it is. You aren't rushed through your meal, so it makes for a great escape into space when you have a long day in EPCOT.
Mission: SPACE at EPCOT is a great ride for thrill-seekers in your travel party. Just make sure you are aware of how intense this attraction can be for some visitors. I recommend trying the Green side first before challenging yourself with the Orange side.
Of course, you'll find there's plenty more to keep you busy in the area. Space 220 is an amazing dining experience for the whole family and one that we highly recommend visiting following your ride on Mission: SPACE.
Is this a must-ride for you when you visit EPCOT? Do you think Guardians of the Galaxy Cosmic Rewind is more a thrill ride than Mission Space? Are you a space nerd that loves that Walt Disney Imagineering teamed up with scientists to create this ride system? Let my know by leaving a comment down below!