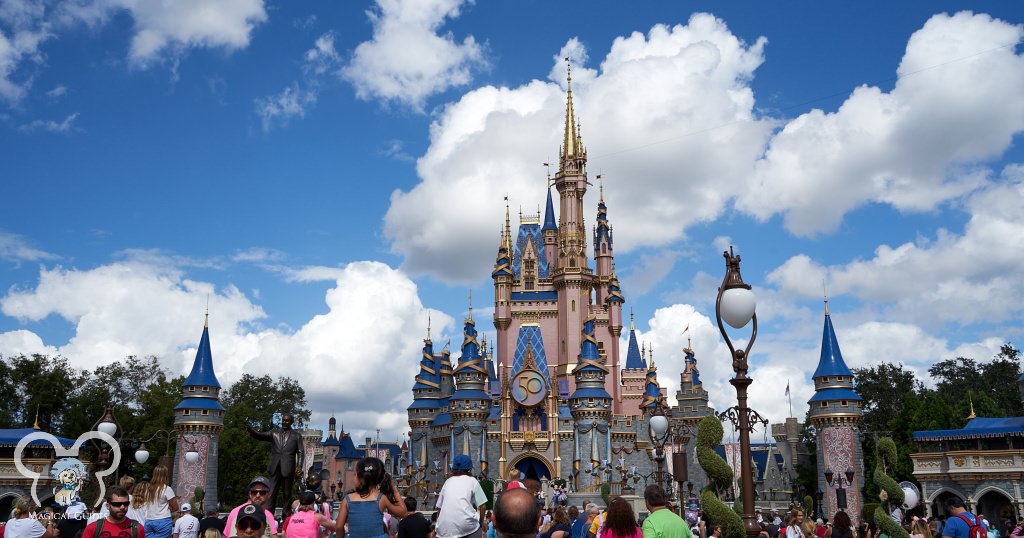 When I enter Magic Kingdom from beneath the train station and spot Cinderella Castle at the very end of Main Street, USA, I can't help but experience an overwhelming sense of happiness. Cinderella's Castle is the perfect enchanted storybook castle and a true park icon.
Out of all the princess castles, it's fair to say that it's known to be the most beautiful castle for a reason. Not only is it full of Cinderella's magic, but it truly is the castle of magical dreams. From the glass slipper to the beautiful stained glass windows, the stunning Cinderella castle is truly a sight to see!
Fictional castles are popular because they're large, lovely, and bring about excitement and magic that everyone searches and hopes for.
Architecture and Gardens
Located in the heart of the Magic Kingdom at the Walt Disney World Resort, the castle is straight out of a fairy tale. Every detail down to the design of the castle was taken with great care.
Herbert Ryman, WDW's principal designer, drew inspiration for his design of Cinderella Castle from the Neuschwanstein Castle in Germany and various other sources. You'll be surprised to know that the castle's height is an optical illusion.
Disney uses a technique called Forced Perception to fool your eyes into perceiving an object as being far higher than it is. The castle's bricks and windows become smaller as it rises in height. The towers are just a third as tall as they appear from here. I think this little trick that Disney's engineers pulled off is brilliant.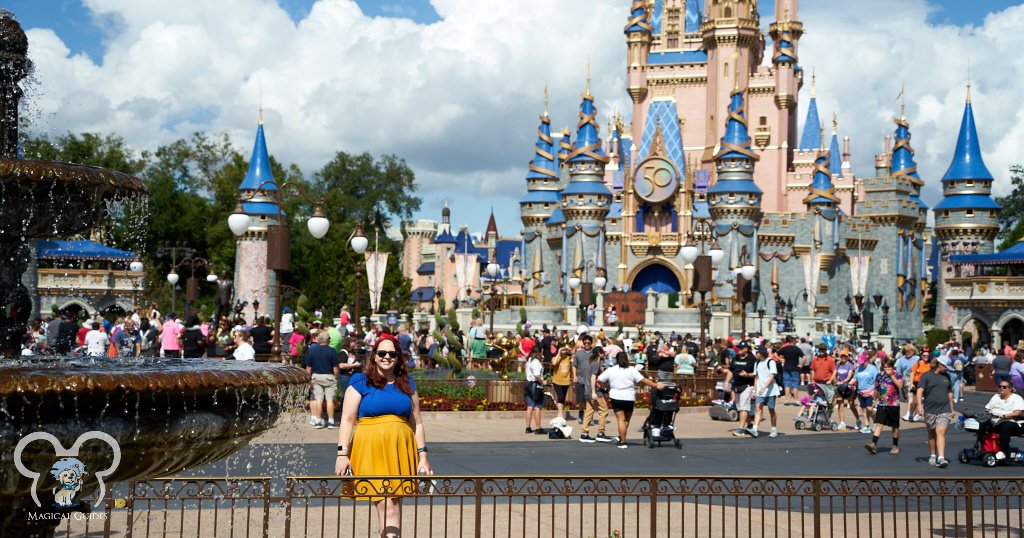 A long-standing rumor about Walt Disney World in Florida claims that Cinderella Castle was constructed to be disassembled in the case of a hurricane. That would be convenient, but it is not true. It was built, to withstand hurricane winds. (sometimes fake stories make the most interesting ones!)
This lovely castle is surrounded by luscious grass, a rose garden, and a wishing well. There is a moat and a drawbridge, but the drawbridge does not go up.
When I need a break, I follow the pathway on the castle's right side to the wishing well. This is often a peaceful area, perfect for taking it easy. It's also a great spot to take pictures with a stunning backdrop. If you are so inclined, go ahead and make a wish. This is the best place to catch your breath, and hope for your own magic!
Each time the well is emptied, the proceeds are donated to a good cause.
Dining in Cinderella Castle
The Royal Table at Cinderella Castle is an experience not to be missed. It's an additional charge, but one that is worth it. Sitting at Cinderella's Royal Table needs to be on everyone's list.
Step into the grand Grand Hall and take the spiral staircase up to the ballroom above (There is also a golden elevator ready to take you to the festivities.) Then, enjoy a meal in a fantastical setting with towering stone arches, medieval banners, and stained-glass windows gazing out over Fantasyland.
Typical meals here are character dining experiences with the Disney princesses. There princess character dining is slowly returning to pre-shut down levels of entertainment.
Breakfast, lunch, and dinner are available at the restaurant. The cost of dining ranges from $35 to $67 per person, without taxes and gratuities, depending on when you dine.
Breakfast is my favorite (and least costly) meal of the day. I love the caramel apple-filled french toast. The cinnamon apples and caramel drizzle are heavenly. It would be best to view menus on the Walt Disney World website to determine which meal you prefer.
Can You Reserve A Room In The Castle?
It's a common question, and it's not surprising given that the royal suite at Walt Disney World is one of the most famous places to stay. However, the fact is that it is not rentable. Period. Dreaming of an overnight stay in the Cinderella Castle Suite will have to remain a dream.
You can only stay in the royal suite if you win a contest or are chosen for a promotion. It was rumored that people have tried to offer up to $40,000 to stay in the suite, but Disney declined.
Meant for Walt Disney and his family, the 650-square-foot apartment features stained-glass windows and vaulted ceilings. These Cinderella-themed stained-glass images complement the four-karat gold molding and 200-year-old writing desk.
Visitors must pass a grandfather clock whose minute and second hands are permanently set to "11:59 p.m." which is one minute before Cinderella's world changes back.
Even while the suite isn't quite large, it more than makes up for its compact layout with its attention to design. Each room, from the foyer to the salon, the bedroom, and the bathroom, is lavishly appointed and individually designed.
Bibbidi Bobbidi Boutique in Cinderella Castle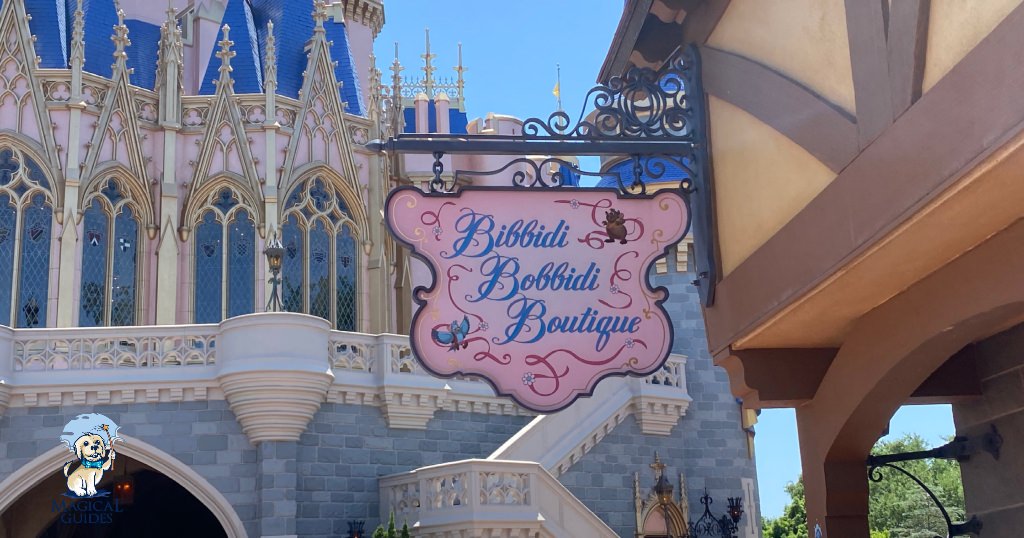 The Bibbidi Bobbidi Boutique within Cinderella Castle is the place for any child aged three to twelve who wants to feel like a princess, prince, or shining knight on their Disney vacation.
A "Fairy Godmother's Apprentice" is there to meet the children. They will be treated like royalty and feel like they've stepped into a fairytale when they depart. The kids choose hairstyles, nail polish shades, and jewelry.
Costume outfits are also offered. Various packages are available, each offering a unique set of features.
Children can dress like Snow White, Elsa, Ana, Tinker Bell, and other princesses and then get dolled up like them, too.
A Work of Art
If you're a fan of the fairy tale, you won't miss the hand-crafted mosaic masterpieces that tell the story of Cinderella along the walls of the tunnel that goes through this magnificent castle.
Inside the archway of the Cinderella Castle are a set of five mosaic murals that depict scenes from the Cinderella story.
It took 22 months to build these stunning murals, which are made up of more than 300,000 individual pieces of Italian glass. The sterling silver and 14-karat gold are fused together in each individual glass piece.
To appreciate the skill involved, consider that it took six artisans over two years to construct the whole collection of mosaic pictures. Seeing the finished works in person will shed light on the lengthy process that went into their creation.
Each illustration in the 15 x 10-foot Cinderella glass mosaic mural is made up of thousands of tiny glass pieces, some no bigger than a nail head. Additionally, more than 500 unique glass hues were incorporated into these murals.
There are also many little things you can overlook at first. Take your time and enjoy the details involved in the murals.
A Fairytale Wedding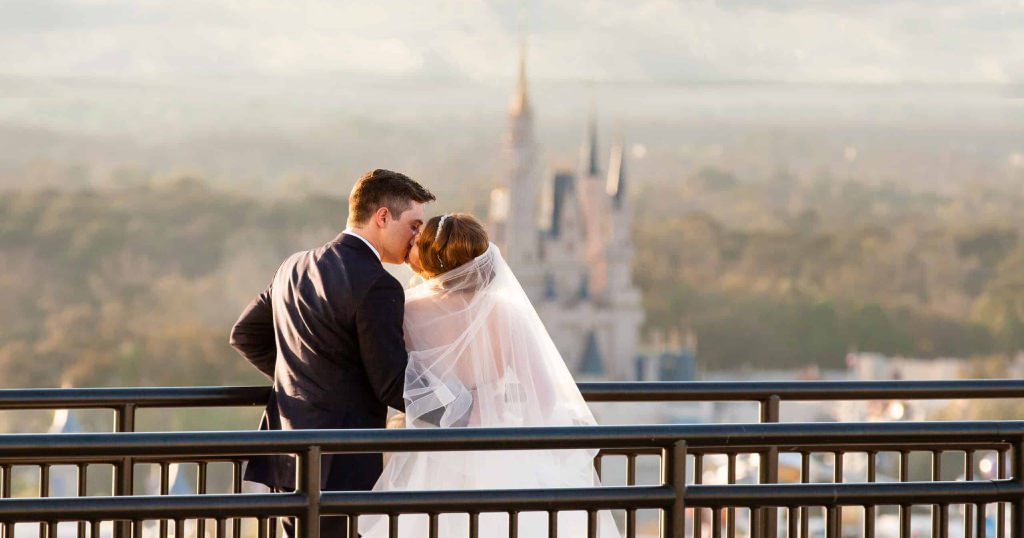 Photo by Vicki Ardnt / Used with permission as she's our favorite Disney wedding photographer
Do you dream of having your wedding in front of Cinderella Castle? Imagine the romance of arriving in a horse-drawn carriage where your prince or princess is waiting eagerly.
Indulge your inner princess or prince with a private nighttime ceremony in a one-of-a-kind location and live out your own personal fairy tale. Envision your wedding in front of the famous Cinderella Castle, lit up with all the beauty and majesty of this incredible place surrounding your vows.
If you are ready to pay the $30,000 fee, this location may be yours. This amount does not cover the reception, music, flowers, or any other wedding-related extras.
A Stunning Nighttime Spectacle
When the night draws to a close, my favorite thing to do is get a treat from the bakery or ice cream and settle in towards the end of Main Street to watch the fireworks.
We wait for Tinkerbell to fly from the right spire of the castle to Tomorrowland Terrace when the performance officially begins.
Enchanting effects from Cinderella Castle now reach all the way down Main Street, USA! Also, the Castle courtyard will be illuminated with glittering lights, and the night sky will be lit up with spectacular fireworks. Throughout the program, you'll be carried away on a magical musical journey with new takes on iconic Disney tunes.
The entire Disney property is lit up and beautiful! The first time you experience it, it's truly magical.
And Finally,
If you ever get the chance, stand on the empty court of Cinderella Castle when the park closes for the night. Take advantage of the opportunity to gaze along Main Street USA toward the train station. The piped-in music and glittering lights make it particularly peaceful. It has a magical effect on me.
I hope that the next time you visit Walt Disney World, you take the time to see Cinderella Castle in all its splendor. It's one of the main castles that you'll remember from your trip, and you'll likely remember full details about it as well. It's truly a beautiful sight to see!