For adults visiting Walt Disney World, one of the most fun additions to your trip is to take part in a Drinking Around The World experience at Epcot. This is a self-guided tour that encourages adults to sample drinks that are typical to each country in the World Showcase. World Showcase is an area of the park which inspires you to learn more about cultures around the world, and what better way to do this than trying out drinks and snacks? Today we're going to share with you our guide to Drinking Around The World to prepare you for this fun experience on your next trip.
Top Tips for Drinking Around The World
As you can probably tell, this experience is only recommended for adults over 21, and it's certainly one you'll want to avoid doing with your kids. If you have non-drinkers in your party, they could opt for the non-alcoholic drinks in each country or try snacking around the world. We encourage you to treat this as a cultural exploration as opposed to an opportunity to drink as much as possible in a day. If you are attempting Drinking Around The World in the summer months, pace yourself throughout the day. You may even want to split this into two trips as it's a lot of drinks in one go! Keep hydrated throughout your walk and stop to enjoy lunch, dinner, and some attractions on your way.
It's up to you which direction you start Drinking Around The World, but for the sake of our recommendations today, we'll start in Mexico and work clockwise from there. Here we're going to share with you our top drink choices for each country and what else to see and do on the way.
Mexico
Starting off at the Mexico Pavilion, you'll find you are spoilt for choice at this location. Of course, Mexico is the home of tequila, so you could enjoy a single shot and be on your way. We recommend heading to La Cava del Tequila, where you can enjoy a huge selection of drinks and be educated about the history of tequila. There's also the outdoor stand, Choza de Margarita, which is ideal for cooling off on a hot summer's day with a frozen drink or cool beer. Take a ride on the Gran Fiesta Tour while you're here before heading on to the next stop.
Norway
The best option for a quick visit to Norway is to stop at their beer cart on your way into the pavilion. If you fancy a more civilized stop in this country, consider booking to dine at the Akershus Royal Banquet Hall. Here you'll enjoy a wide selection of drinks and cocktails. No visit to Norway is complete without riding Frozen Ever After, although you should expect long lines later in the day.
China
China has a surprisingly good selection of alcoholic drinks to enjoy. For a quick stop, check out the Lotus Blossom Cafe. You'll enjoy Chinese beers such as Lucky Buddha and Tsing Tao, and you can eat a quick lunch at the same time. For a table service meal and drink, head to the Nine Dragons Restaurant, where you'll find a similar selection of beers. Enjoy the Reflections of China show here, although you may want to avoid this one if you are already feeling the effects of your drinks!
Germany
No trip to the Germany Pavilion would be complete without sampling their beers. Inside the Weinkeller store, you can choose from a huge selection of beers and wines and can even buy some to take back to your resort with you. Outside, you'll find a beer cart, where you can try Schöfferhofer Pink Grapefruit Hefeweizen and Warsteiner Dunkel.
Italy
By now, you probably need to sit down or cool off a little, and so for your next stop, we recommend visiting the Tutto Gusto Wine Cellar. Here you can enjoy Italian wines, sangria, cocktails, and small plates of food. They also have a store here, similar to the one in Germany, called La Bottega Italiana. Here you can enjoy a beer or wine and choose from a huge selection of local and authentic drinks.
The American Adventure
Congratulations – you've made it to the halfway point! Head to Block & Hans for a quick stop, where you can try American craft beers and ciders, including the Ciderboys Strawberry Magic Hard Cider and the Orlando Brewing Blonde Ale. We love the introduction of these local drinks into the park, so you'll definitely want to enjoy one of these during your time here. You'll probably be ready for another sit down at this point, so enjoy the 29-minute The American Adventure attraction.
Japan
Japan is one of our favorite stops on the Drinking Around The World tour. Head to the very back of the Mitsukoshi Department Store, where you'll find their Sake Bar. Here you can enjoy a huge selection of drinks, including cold and hot sakes, plum wine, and beer. If you need something to eat at this point, enjoy quick service dining at Katsura Grill or the interactive teppanyaki experience at Teppan Edo.
Morocco
Morocco is an area that is so often skipped over by visitors to the park due to its lack of a signature attraction. However, there are some fantastic dining and drinking opportunities for you here. At their quick service restaurant, the Tangierine Café, you'll find spiked coffees, sangria, Moroccan wine, and beer on the menu. If you are looking to enjoy a more relaxed meal at this point, head to Spice Road Table. They offer Mediterranean small plates, which are ideal for sharing alongside your drinks. They also have a full bar here, so you'll have no trouble finding a drink to suit your tastes.
France
A glass of wine is our top recommendation for your stop at the France Pavilion. Head to Les Vins de France for a wide selection of champagne and wine. There's also a popular kiosk called Les Vins des Chefs de France, which serves the Orange Grand Marnier or Citron Grey Goose slush drinks. After enjoying your drink, head into Impressions de France for an 18-minute discovery of the beautiful landscapes of the country.
United Kingdom
No trip around the World Showcase would be complete without a drink in the Rose & Crown Pub. They have a walk-up bar inside, so you don't have to dine here to enjoy your drink. We recommend trying the Welsh Dragon cocktail, the Cider & Blackcurrant, or the Bass Ale. There's also a beer cart outside of the pub, and you'll find this stop to have one of the most extensive selections in the whole of World Showcase.
Canada
If you've made it this far, you just have one more drink to go before you can call it a day. The popcorn cart outside the main building offers a wide selection of beers for your final drink. These include La Fin Du Monde, Labatt Blue, and Apricot Wheat. If you fancy a celebratory meal, head into Le Cellier Steakhouse, where you can enjoy their delicious steak and Canadian Cheddar Cheese Soup. The Canada: Far and Wide Circle-Vision show is worth a stop usually, but you may want to skip it after this many drinks.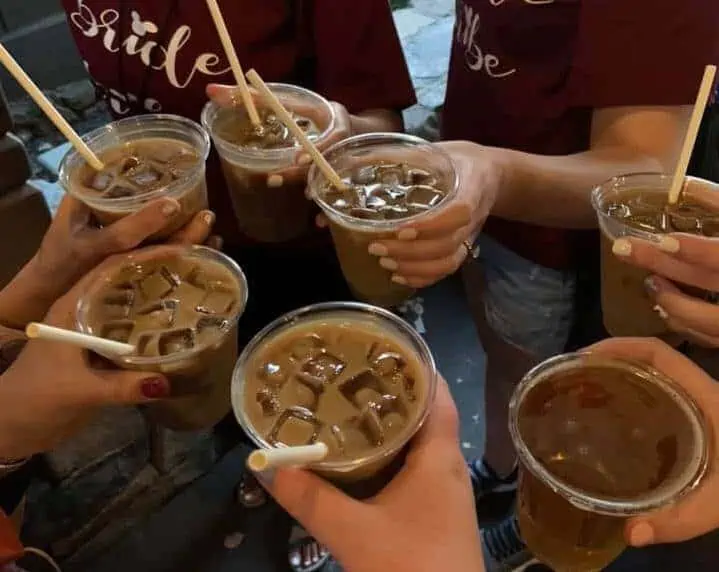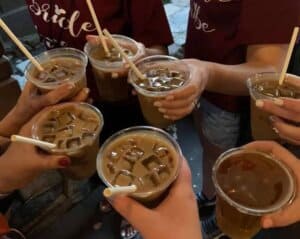 Drinking Around The World is a full-day activity, and we recommend setting aside a whole day in Epcot to enjoy this experience. If you are visiting during Epcot's International Food and Wine Festival, you'll find your drink and snack choices are doubled during this time. If you are planning to attempt this challenge on your next trip to Disney, keep hydrated, stay safe, but most importantly, have fun!