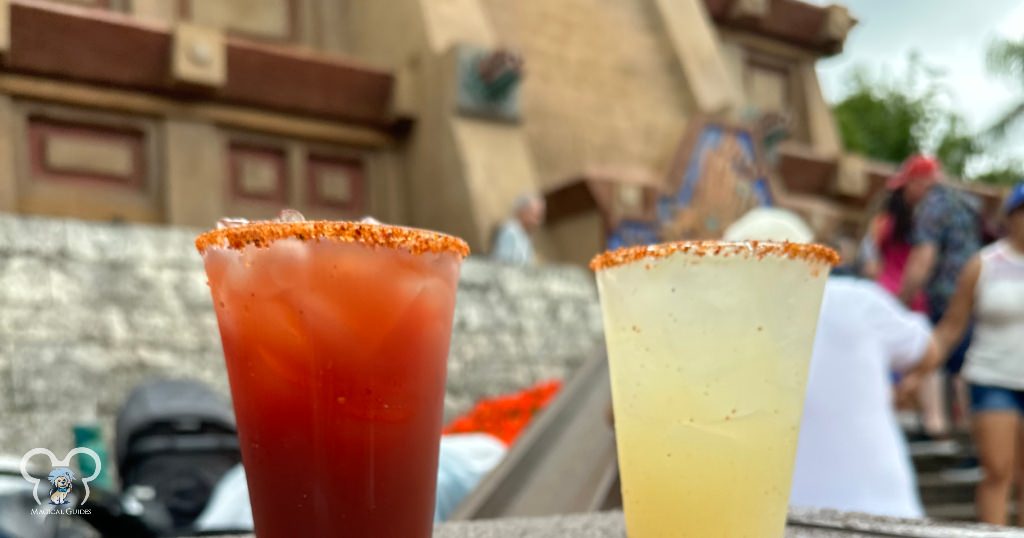 Imagine exploring the world's most iconic beverages in just one day, all within the magical confines of Walt Disney World. Welcome to Epcot's World Showcase, where you can embark on an unforgettable journey of "drinking around the world".
There are so many great options to choose from in EPCOT. It can be difficult to choose the best drinks when you are only getting one drink per country.
You can find many of these drinks and other options to choose from on the My Disney Experience App. Many of these restaurants have an online menu.
Discover the best drinks at Epcot in 2023. Ready to wet your whistle with some global refreshments? Let's dive in!
Exploring EPCOT's Top Drinks by Country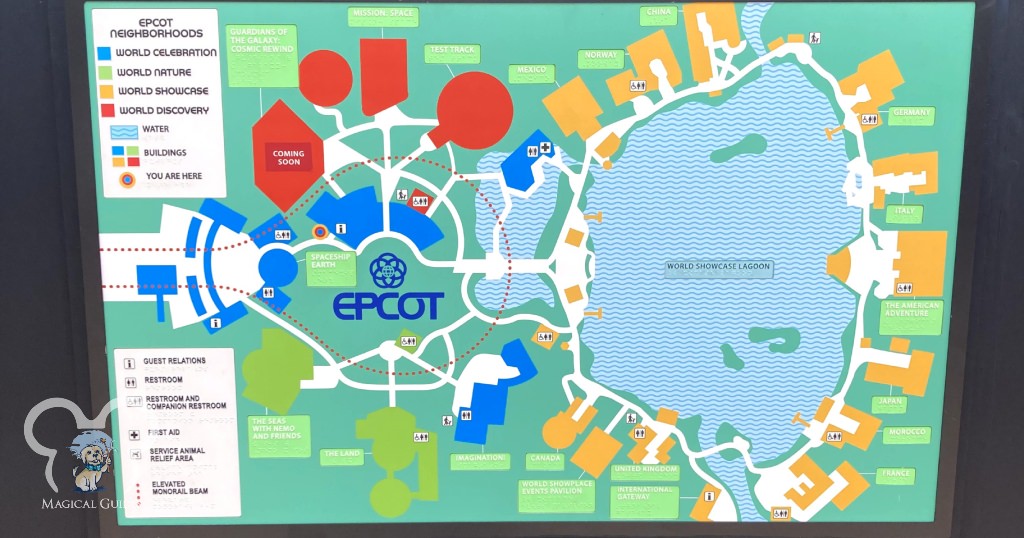 EPCOT's World Showcase at Walt Disney World is an international treasure trove of delicious alcoholic drinks and refreshing non-alcoholic options. Whether you're a fan of sweet cocktails, tangy beers, or bold wines, there's something for everyone to enjoy as they drink around the world.
So, what are the best drinks in each country? Let's take a closer look at some of our favorite sips from each pavilion.
To help you navigate this global adventure, we've compiled a list of top recommendations for each country in the World Showcase. From Canada's Ottawa Apple to China's Tipsy Ducks in Love.
These drinks will transport you around the globe and immerse you in the unique flavors each country has to offer. But first, let's explore some non-alcoholic options for those who prefer to keep things light and refreshing.
Non-Alcoholic Options for All Ages
Of course, not everyone is seeking alcoholic beverages while visiting EPCOT's World Showcase. For those who prefer non-alcoholic options or are exploring with younger guests, fear not – there are plenty of refreshing and delicious choices available.
France's Frozen Violet Lemonade and Japan's Ramune Soda are two popular selections that offer delightful flavors without the alcohol content.
So don't worry – you can still drink around the world and enjoy the unique flavors each country has to offer, even if you're not imbibing in alcoholic beverages.
France: Frozen Violet Lemonade
Sweet and tangy, the Frozen Violet Lemonade in France is a fantastic non-alcoholic option for anyone looking to cool down on a hot day. This refreshing beverage is a mix of lemonade, violet syrup, and ice, creating a delightful treat that's perfect for all ages.
For those seeking a caffeine boost, consider trying a frozen viking coffee as an alternative.
In addition to the Frozen Violet Lemonade, the France pavilion offers other non-alcoholic options like the La Vie en Rose Frozen Slush, made with vodka, Grey Goose L'Orange Vodka, and St. Germain Elderflower Liqueur is an ideal drink for a summer evening.
It includes a mix of white and red cranberry juices which add to its flavor. No matter your preference, there's a refreshing and delicious beverage waiting for you in France.
Japan: Ramune Soda
In the Japan pavilion, the Ramune Soda is a popular non-alcoholic choice that offers a unique and satisfying drinking experience. This carbonated soft drink from Japan comes in various flavors and features a distinct bottle shape with a glass marble stopper to keep the fizz in.
With flavors such as strawberry, melon, and cola, there's a Ramune Soda option for everyone to enjoy.
For those seeking additional non-alcoholic options in Japan, the Blackberry Sake Mist and Twinings Hot Tea are also available. Whatever your preference, the Japan pavilion has refreshing and delicious beverages to suit your taste.
There is a debate in the Disney community about where to start drinking around the world. My personal favorite is Mexico so I always start there for a margarita.
Mexico: Choza de Margarita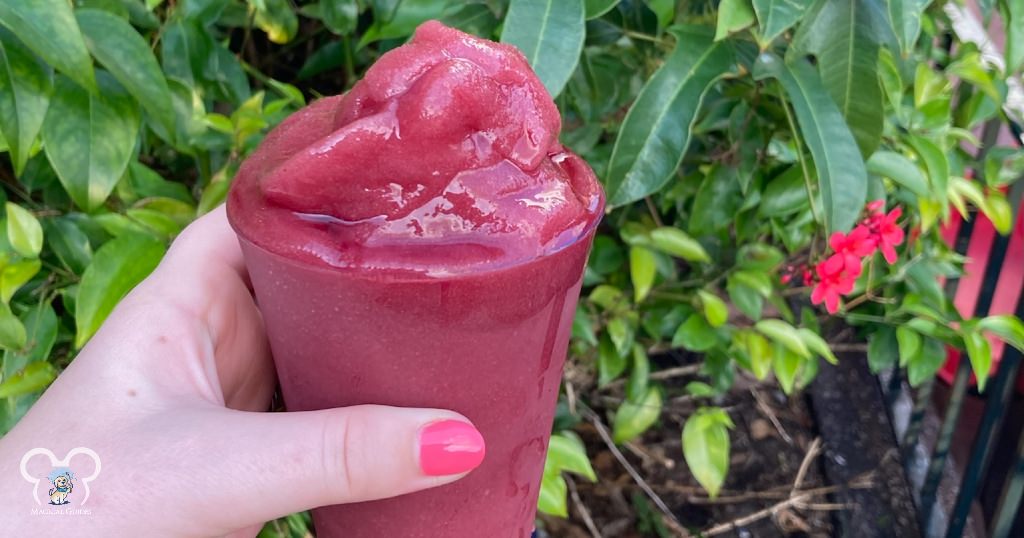 Many guests go inside the Mexico Pavilion to La Cava Del Tequila which has really great reviews. I didn't love the popular margaritas inside the pavilion.
The popular La Cava Avocado is a frozen Margarita. This avacado margarita is made with fresh avocado, blanco tequila, melon liqueur, and lime juice.
I love the cart just outside the pavilion called Choza de Margarita. I haven't had a bad margarita there so it is so hard to choose a favorite.
If you like sweet margaritas my favorite is the Black Magic Margarita. You can find the Black Magic Margarita here that was created by Neil Patrick Harris. This margarita is frozen and made with Mezcal tequila, blackberry puree, cassis liquor, lime and mint.
Another great frozen Margarita is called the Fiesta. This allows you to try all three of their popular flavors Strawberry, Lime, and Mango all together.
If you don't like sweet Margaritas, try the Cucumber Margarita. This on the rocks margarita is the perfect refreshing light margarita to enjoy in the heat.
Norway: Frozen Viking Coffee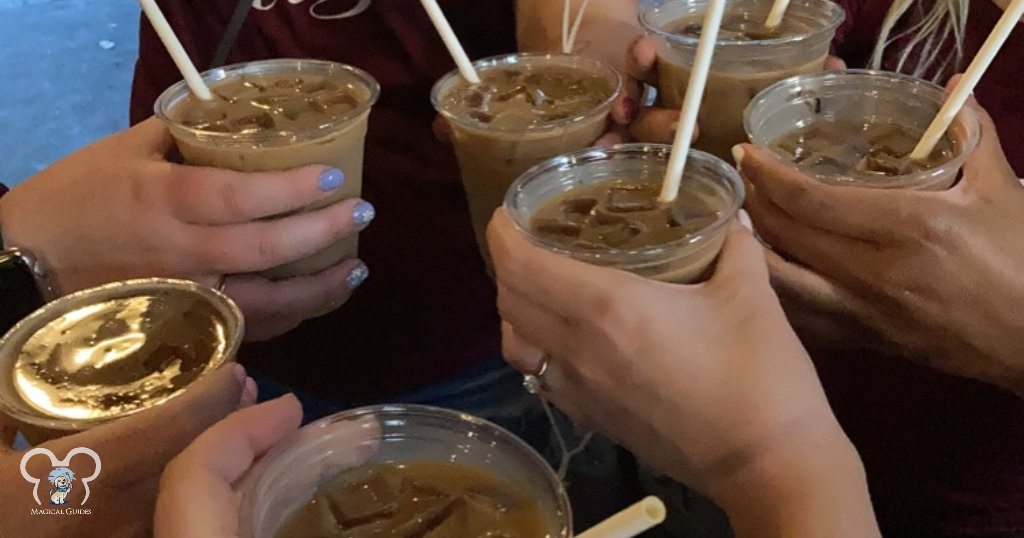 My second favorite drink in EPCOT is the second stop if you start in Mexico. The Frozen Viking Coffee inside the bakery Kringla Bakeri Og Kafe in the Norway pavilion has Baileys Irish Cream, Kamora Coffee Liquor, Chocolate, and Coffee.
This drink is also frozen to help you cool off in the Florida heat. While you're here for the coffee, try the school bread!
China: Canto Loopy
The China pavilion offers the unique and delicious the Canto Loopy, a refreshing cocktail made with vodka and cantaloupe, is a popular choice. This is my personal favorite in the China Pavilion.
For those seeking other drink options in the China pavilion, Tipsy Ducks in Love is another great option at the Joy of Tea. This cocktail combines bourbon, coffee, black tea, cream, and coffee chocolate sauce for a truly one-of-a-kind beverage experience.
If you're looking for something different and indulgent, this coffee chocolate crunch inspired drink is the one for you. If you'd like a non-alcoholic option, boba tea is a delicious and fun choice.
No matter your taste, China has a drink to satisfy your desires.
Germany: Schöfferhofer Pink Grapefruit Hefeweizen
For a refreshing and tangy beer option, look no further than the Germany pavilion's Schöfferhofer Pink Grapefruit Hefeweizen. This grapefruit beer offers a unique flavor that doesn't taste like your average beer, making it a great option for those who prefer something different.
With a taste rating of 8.5/10, it's definitely worth a try.
In addition to the Schöfferhofer Pink Grapefruit Hefeweizen, the Germany pavilion offers other drink options like the Bärenjäger Honey & Bourbon cocktail for $13.50. No matter your preference, Germany has a drink to quench your thirst.
Italy: Italian Margarita
If you're a fan of margaritas, then the Italy pavilion is the place to be. The Italian Margarita is a refreshing and zesty drink that combines Limoncello and Tequila for a unique and satisfying beverage experience.
This delightful concoction is sure to become a favorite among EPCOT visitors.
In addition to the Italian Margarita, the Italy pavilion offers other tasty drink options such as the Swirl Frozen Sangria and the Naufrago, made with Root Beer and Vanilla Gelato. Whether you're in the mood for a cocktail or a sweet treat, Italy has something for everyone.
American Adventure: Frozen Mint Julep
When visiting the American Adventure pavilion, don't pass up the opportunity to try the Frozen Mint Julep. Regal Eagle Smokehouse Restaurant has an outdoor bar where you can find this cocktail.
This delicious frozen twist on the classic American cocktail is a perfect way to cool down on a hot day at EPCOT. Made with ingredients like bourbon, coffee, black tea, cream, and chocolate syrup, this unique beverage is sure to please even the most discerning palate.
For other drink options in the America pavilion, the Tennessee Lemonade, made with Jack Daniel's Tennessee Whiskey, Minute Maid Premium Lemonade, and Peach, is a popular choice.
Another popular choice is the Moonshine Sour made with Ole Smoky Blackberry Moonshine, Blood Orange, Blackberry, and Lemon. No matter what you're craving, the American Adventure has a drink to suit your taste.
Japan: Violet Sake
Sweet, fruity, and delicious – that's the Violet Sake from the Japan pavilion. This delightful drink features sake, purple pear, and lime juice, creating a refreshing and unique flavor profile that you won't want to miss.
It's an ideal choice for those looking to try something different and delicious on their EPCOT drink journey. Japan also offers the Sake Slushy in flavors like blood orange, coconut pineapple, and blackberry.
Of course, the Japan pavilion has more to offer than just the Violet Sake. Other popular options include the Blackberry Sake Mist and the Ramune Soda, a non-alcoholic beverage available in various flavors. No matter your taste, Japan has a drink to satisfy your thirst.
Morocco: Moroccan Mule
For a taste of exotic flavors, head over to the Morocco pavilion and try the Moroccan Mule. This refreshing cocktail is a unique variation of the classic Moscow Mule.
Found at Spice Road Table, this drink features ingredients like ginger beer, vodka, and lime juice, with the potential addition of mint tea, raspberry, cardamom, rosewater, and kamora coffee liqueur.
Priced at $15, it's a must-try for anyone looking to discover the flavors of Morocco at EPCOT, especially when served with a hibiscus salt rim.
If you're seeking other drink options in the Morocco pavilion, the Iced Mint Tea made with Bombay Sapphire Gin is a popular choice. No matter your preference, you're sure to find a delicious and satisfying beverage in Morocco.
France: Grand Marnier Orange Slush
Ah, France – home of romance, fine cuisine, and the Grand Marnier Grey Goose Orange Slush. This delightful drink combines Grey Goose L'Orange, Rum, Grand Marnier, and orange juice.
Found at les vins de chefs, it is a unique and delicious beverage that you simply must try. Trust us, it's worth the indulgence.
The best way to enjoy this EPCOT drink in France is to take your bubbly into Les Halles Boulangerie-Patisserie. Sip while you wait in line to grab some pastries for breakfast to go.
This way, you'll not only satisfy your thirst but also your appetite, making for a truly memorable experience in the France pavilion.
United Kingdom: Pimm's Cup
Over in the UK pavilion, the Pimm's Cup awaits as a refreshing, light, and fruity cocktail that's perfect for a hot day. This popular drink is just one of the many alcoholic options available at EPCOT, ensuring you'll find something to suit your taste buds.
If you're looking for something different or a non-alcoholic option, the United Kingdom pavilion has you covered. The Cider and Fireball drink, made with Tullamore Dew Irish Whiskey, Fireball Cinnamon Whisky, Strongbow Cider, and Ginger Ale, offers a sweet twist on a classic cocktail.
Alternatively, non-alcoholic Twinings. Hot Tea is available at the Rose & Crown Pub, providing a cozy beverage for those who prefer a break from the booze.
Canada: Ottawa Apple
When it comes to Canadian drinks, the Ottawa Apple is a must-try. You will find drinks at the popcorn cart in Canada.
This popular cocktail features Crown Royal whisky, maple, apple infusion, and cranberry juice, creating a delightful blend that showcases the flavors of Canada. Not only is it unique, but it's also quite affordable at $14.50 for the original and $15 for the frozen version, making it a popular choice for visitors at Disney World's Epcot.
Of course, if you're looking for something different, there are plenty of alternatives to the Ottawa Apple in the Canada pavilion. La Fin du Monde, a strong beer with a Belgian-style kick, is a great option, or you could opt for a refreshing cocktail featuring fresh lime juice.
Whatever your taste, you're sure to find a satisfying beverage in Canada. After Canada, you are back in Mexico to finish where you started. I love to start and end with a marvelous margarita.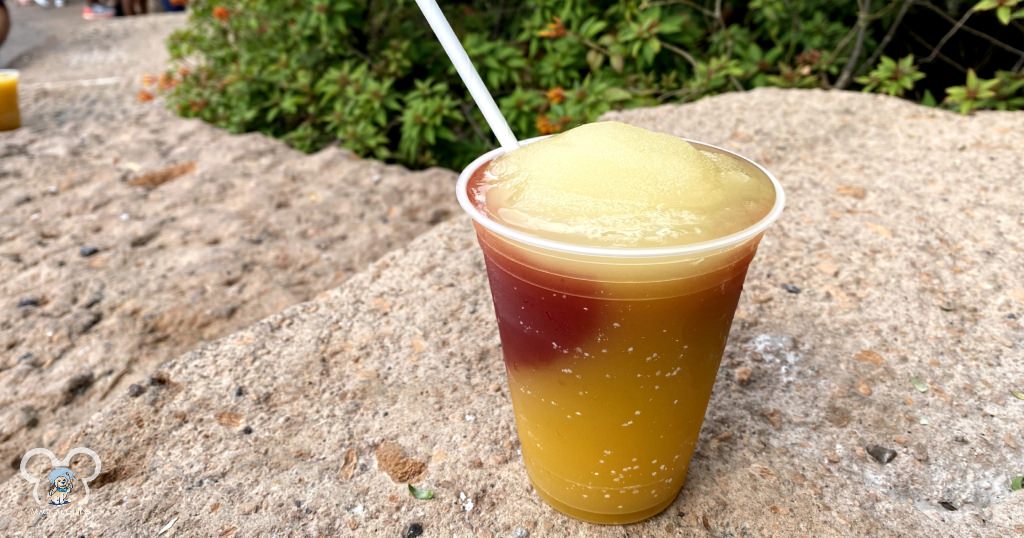 Seasonal and Festival Drinks at EPCOT
Aside from the permanent drink offerings at EPCOT's World Showcase, there are also unique and limited-time options available during seasonal events, like the Food & Wine Festival and the Flower & Garden Festival. These events feature specialty cocktails, wines, and beers from around the world, offering an even greater variety of delicious beverages to explore.
Let's take a look at some of the fan-favorite drinks from these seasonal events.
Food & Wine Festival Favorites
The Food & Wine Festival is an annual event at EPCOT that celebrates international flavors with specialty cocktails, wines, and beers you can only find during the festival. There can be long lines at the festival booths especially on the weekends so be prepared for the lines.
Some of the top recommendations include the Sipping Chocolate Flight, featuring a selection of White, Milk, and Dark Chocolate, and the Frozen French Martini, a mix of Grey Goose Vodka, vodka, chambord liqueur, pineapple, orange, and grape juice topped with lemon-lime foam.
The Greek Wine flight is a popular menu item for the festival.
The Strawberry Mimosa is very popular at Food & Wine Festivals. It's made with Pol Rewy Sparkling Wine, orange juice and Monin Strawberry Rose Syrup.
With so many unique and delicious options available, the Food & Wine Festival is a must-visit event for any Disney vacationer.
Flower & Garden Festival Sips
During the Flower & Garden Festival, EPCOT comes alive with beautiful floral displays and refreshing, floral-inspired beverages. Some of the top drinks at the 2023 Flower & Garden Festival include the Peach Bellini at BRUNCHCOT, the Cucumber Watermelon Slushy with Gin, and the Frozen Desert Violet Lemonade at Pineapple Promenade.
Another standout drink at the Flower & Garden Festival is the Collective Arts Brewing Blueberry & Elderberry Sparkling Hard Tea, offering a unique and delicious flavor combination.
With so many refreshing and delightful drinks available, the Flower & Garden Festival is the perfect time to visit EPCOT and enjoy the beauty of nature alongside your favorite beverages.
Tips for Drinking Around the World at EPCOT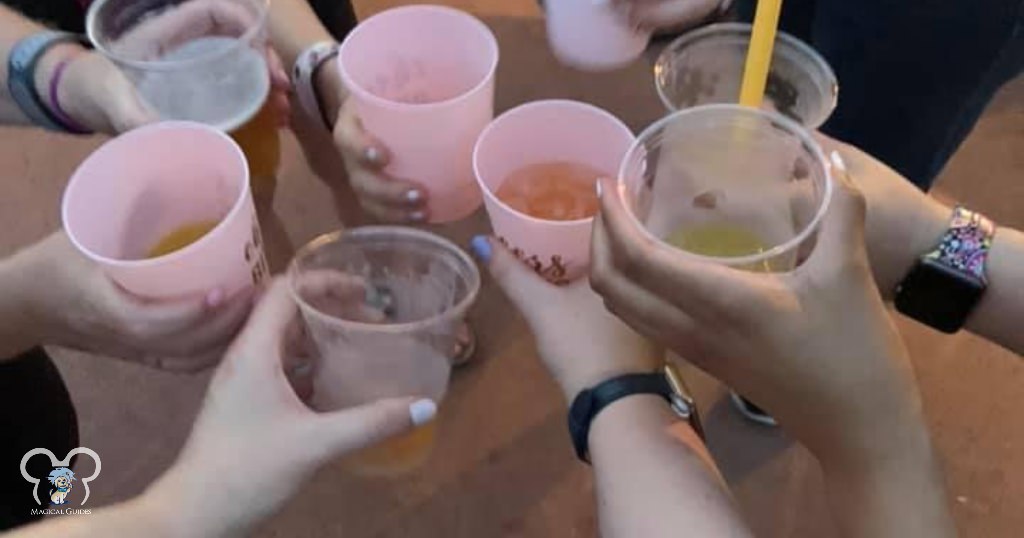 Now that you have an idea of some of the best drinks at EPCOT in 2023, it's time to prepare for your drinking around the world adventure. To make the most of your experience, consider these tips: choose the right group to accompany you on your journey and budget for the cost of drinks (roughly $160).
Start in Mexico and work your way around the World Showcase, and wear comfortable attire for a full day of exploration and enjoyment.
Remember to pace yourself, stay hydrated, and take breaks when needed. Drinking around the world at EPCOT is a unique and fun experience, but it's important to enjoy it responsibly.
With these tips in mind, you'll be well-prepared to sip your way through EPCOT's World Showcase and create lasting memories with friends and family.
From the sweet and fruity Violet Sake in Japan to the refreshing Pimm's Cup in the United Kingdom, EPCOT's World Showcase offers a diverse array of delicious drinks for every taste. Whether you're embarking on a drinking around the world adventure or simply seeking a refreshing beverage to enjoy during your Disney vacation, the World Showcase has something for everyone.
So raise a glass to new experiences, unforgettable memories, and the magic of EPCOT in 2023!
Frequently Asked Questions
Can you share drinks at Epcot?
Sharing drinks at Epcot is definitely an option! This is a great way to enjoy the variety of drinks available at Epcot without breaking the bank. Plus, it's a great way to try more delicious EPCOT drinks.
A great tip for sharing drinks is to bring some fun cups with you to split drinks.
What is drink around the world at Epcot?
Experience the world of drinks by visiting each country in Epcot's World Showcase and ordering a beverage. Take on the challenge of trying them all or pick your favorites. Cast members may ask you to leave the park if you have consumed too many adult beverages so please drink responsibly.
Does Epcot have a drink limit?
At Epcot, guests are limited to two drinks per transaction, so yes, there is a drink limit.
What are some must-try drinks at EPCOT in 2023?
If you're visiting EPCOT in 2023, be sure to try the Ottawa Apple from Canada, Pimm's Cup from the United Kingdom, Grand Marnier Orange Slush from France, Moroccan Mule from Morocco, and Tipsy Ducks in Love from China – they're all must-haves!
Are there non-alcoholic options available at EPCOT's World Showcase?
Yes, you can find non-alcoholic options at EPCOT's World Showcase, like the Frozen Violet Lemonade in France and the Ramune Soda in Japan.