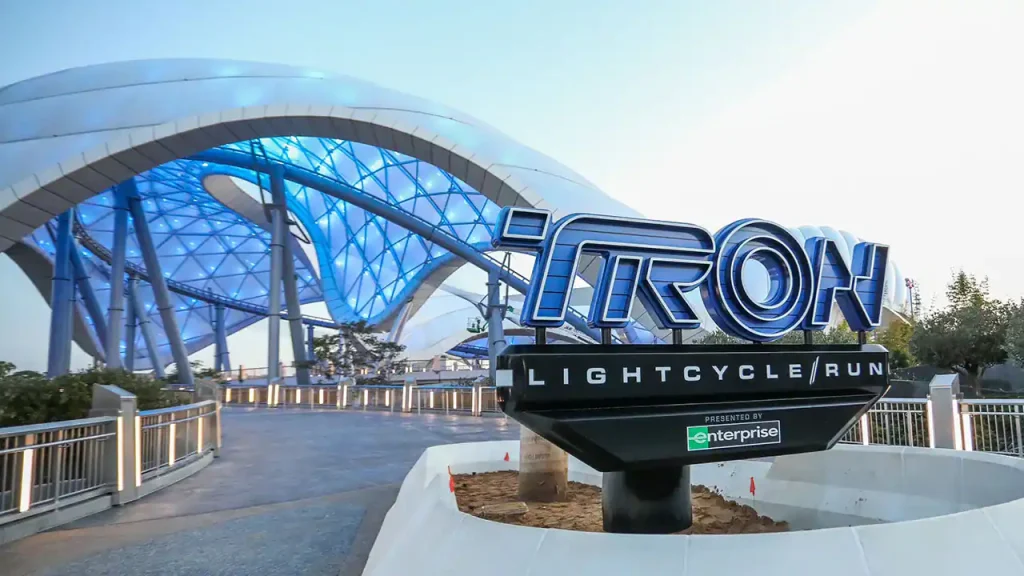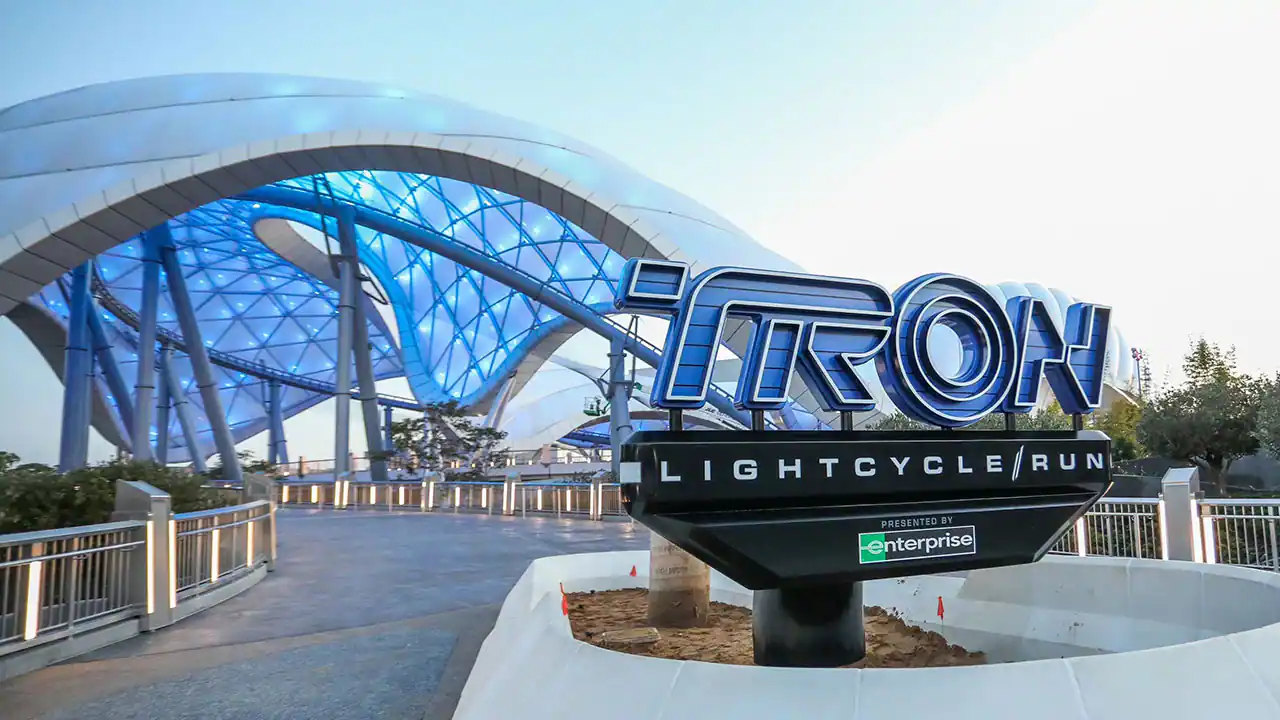 New rides at Disney World are a favorite! There's always a lot of media hype around it, and just another reason for me to plan a trip!
My husband is way into Tron more than I am, but I blame it in part to him being a geek. However when a new ride opens, usually another has to close. Thankfully not with Tron, more things are finally open now that it's finished!
When Will Tron Lightcycle Run Open?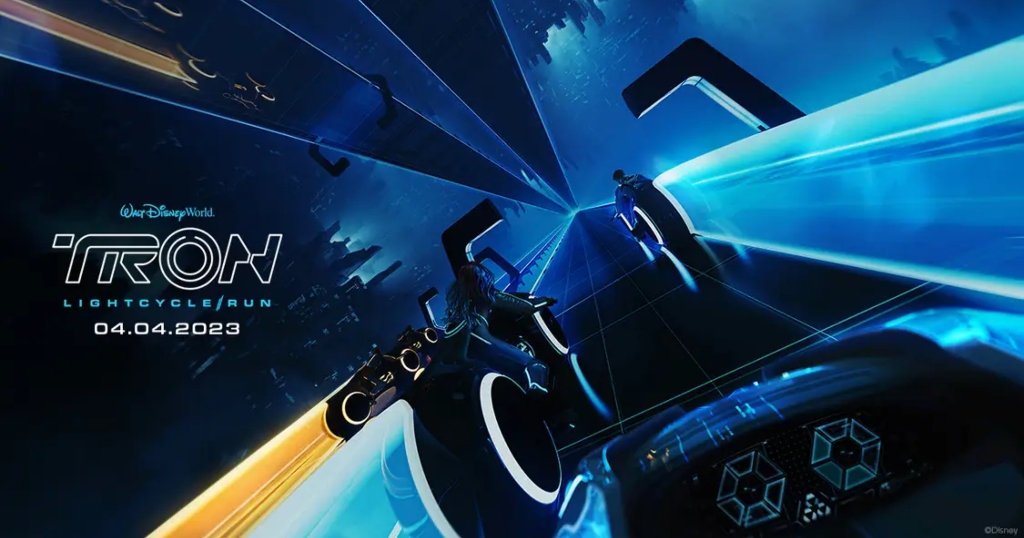 Announced at the 2017 Disney D23 Expo, the Tron Lightcycle/Run is ready to launch in Tomorrowland at Disney World's Magic Kingdom. Tron has an official opening date of April 4th, 2023.
The attraction is sure to be a massive hit in central Florida. It's a much-needed addition to Magic Kingdom, more on that later.
Cast Members will be able to preview the attraction before its official opening starting February 6th. If you are a Disney Annual Passholder, D23 members, or eligible Disney Vacation Club Member you may experience the ride during specific dates starting in March.
Is Tron Replacing Space Mountain? Where is it located?
No, Tron is not replacing Space Mountain. The ride is located in Tomorrowland next door to the classic Space Mountain roller coaster. So don't worry about Magic Kingdom losing another mountain!
Though Disney has shut down Splash Mountain for good due to a re-theming to The Princess and the Frog (I love the alternate name "The Princess and the Log…" get it?). Space Mountain will continue its operation as it has since the 1970's.
How Fast does Tron Go?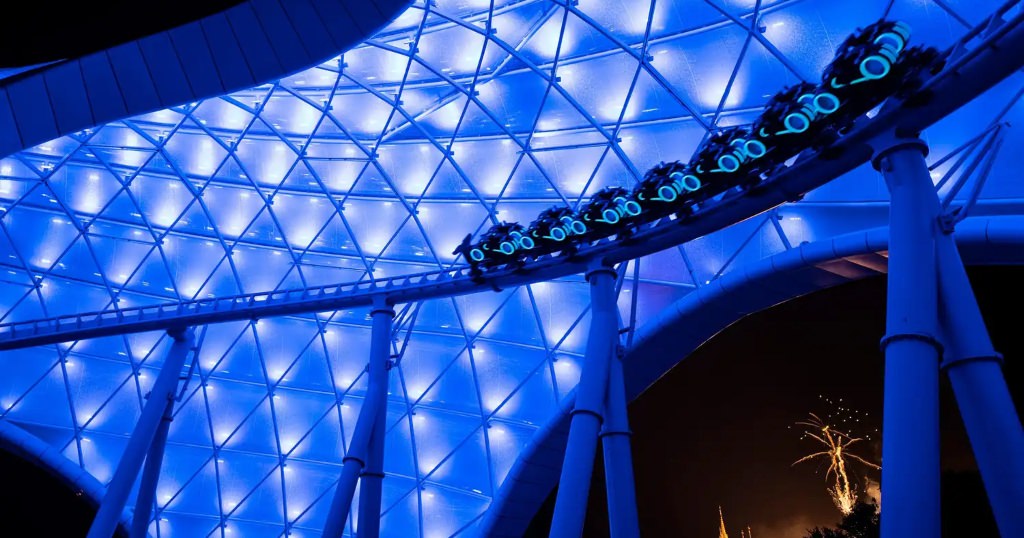 The Tron coaster is a direct copy of the named Tron Lightcycle Power Run in Shanghai Disneyland. So we already have lots of information on what to expect when you ride.
To start, you should know that it's a very fast roller coaster, especially by Disney's standards. With a top speed of under 60 miles per hour, the new roller coaster surpasses Rockin' Roller Coaster in Disney's Hollywood Studios Park.
Making the Tron Coaster Disney's fastest roller coaster. Space Mountain has a top speed of 23 miles per hour, and Seven Dwarf's Mine Train has a max speed of 34 miles per hour.
Though the ride is very fast, it is also very smooth.
How Scary is the Tron Ride?
There are many things to take into consideration for what you consider to be scary. Since I'm a huge roller coaster fan (I once went on Expedition Everest 10 times in a row, for example), I wouldn't consider it scary at all.
The ride does not contain any loops or inversions, so you won't be going upside-down. That means you don't need to worry about flying out of your seat like you might if riding Universal Orlando's new Velocicoaster.
At the same time, the ride is still very intense for Disney's normal standards. Disney has been pushing the envelope as it feels market pressure from Universal ramping up. It seems to me that Disney is making a concerted effort to offer more exciting and thrilling ride.
If you are familiar with other Disney rides, think of it as having the speed of Test Track while on large, swooping turns like Slinky Dog Dash or Fantasyland's Seven Dwarf's Mine Train.
It will definitely be the scariest and thrilling coaster in the Magic Kingdom. For thrill factor, I'd put it short of Guardians of the Galaxy: Cosmic Rewind in EPCOT.
What sets the ride apart from other roller coasters is the ride vehicle. You'll be sitting over your seat like how you ride a motorcycle – legs straddled over the seat and leaning forward to hold onto the handlebars. A back restraint will hold you down in the forward position.
Which could be uncomfortable for some riders with back conditions. This feature might leave some riders with less roller coaster experience feeling anxious.
If you have any doubts about riding, you can test the seat in front of the ride before getting in line. Part of the coaster is also visible from the outside, so you can take a minute to observe what your ride will be like.
The height requirement for the attraction is 48 inches. Be sure to check the height of your kids before making promises about riding.
Riders must also place all loose articles and other belongings in a locker before the ride. It will be the first time where Disney guests are not allowed to carry their belongings onto a ride with them.
More details on the ride procedures will be released before the ride opening. Be sure to follow Disney Parks' social media for more information!
What is Tron About? Is there a Movie? What's the Theme?
Tron is a science fiction film with a strong cult following that was released in 1982. The movie is about a computer hacker and arcade owner named Kevin Flynn (played by Jeff Bridges).
Flynn is pulled into the digital world to compete in a series of challenging games. Stuck in the cyberspace game, Flynn has to use Tron programs in an attempt to escape.
The movie was one of the first films to ever use computer-generated imagery! The movie franchise was rebooted with a sequel by the name of Tron: Legacy which was released in 2010.
Tron: Legacy follows Sam Flynn's journey into the same computerized world that his father was lost to years before. The father and son are reunited in the cyber universe and fight the villain program CLU to escape back to the real world.
If nothing else, you might remember Tron from the colorful blue and orange neon motorcycle imagery which made the movie famous. Tron Lightcycle/Run comes in after the conclusion of the Tron: Legacy film. It continues the story when Sam Flynn opens a second gateway into "The Grid."
Guests will be digitized and transported into the digital realm for a special Lightcycle race. You join team blue to defeat the Grid's villainous team orange program.
If you haven't seen the movies, pay attention as you work your way through the ride queue and you'll pick up the story.
During the ride, you'll speed through energy gates in the exciting race which offers impressive light visuals. Due to the awesome lighting, many riders have reported that the experience is better at night during the day.
A large part of the ride is indoors, though some are under the computerized canopy visible from the front of the ride.
My General Thoughts on the Ride and its Impact on Magic Kingdom
I have been waiting for the Tron Roller Coaster to be open for years at this point. The ride was first announced while I was a Cast Member working at Magic Kingdom. I actually got to sign one of the support beams used in the ride! It has taken an eternity for Imagineers to finally bring the ride to the United States.
The wait should be worth it. It's definitely an exciting ride that everyone should be able to enjoy. Even if they don't know all that much about the Tron films. The digital landscapes in the world of Tron should be a sight to behold, and I expect Disney to knock it out of the park.
I do have a few concerns about the new coaster. Based on on-vehicle footage from China and recent GMA team previews, it is an absolute blast that may go by a bit fast.
Since the ride moves so fast, the duration of the ride is under 2 minutes. Though this is typical of roller coasters in other parks. Most of Disney's more family-friendly thrill rides last far longer, which makes them feel like a good value, even if waiting for an hour or so.
That is part of the reason why Splash Mountain was so popular – it's a story/thrill ride that lasted around 12 minutes!
Wait times for Tron Lightcycle/Run are sure to be astronomical, and I expect Disney to use virtual queues for a few months after opening. This is like what they have done for Cosmic Rewind in EPCOT.
This means many guests won't get a chance to experience the ride without purchasing individual Lightning Lane selection. As a classic Disney Parks fan I weary to support Disney's forcing guests into buying a better experience.
Despite these criticisms, Tron should be the best attraction to open at Disney World since Avatar: Flight of Passage. If you have the chance to experience the ride yourself during the spring of 2023, be sure to take it!
Even if you are planning a visit to the Walt Disney World Resort later in the year, be sure to keep track of the procedures needed for you to ride.
Whether it is waking up at 7 am to reserve a spot in a virtual queue or heading straight to the ride at rope drop. Keep in mind that this new E-ticket attraction is sure to make a splash in how people move about the Magic Kingdom Park – so plan!