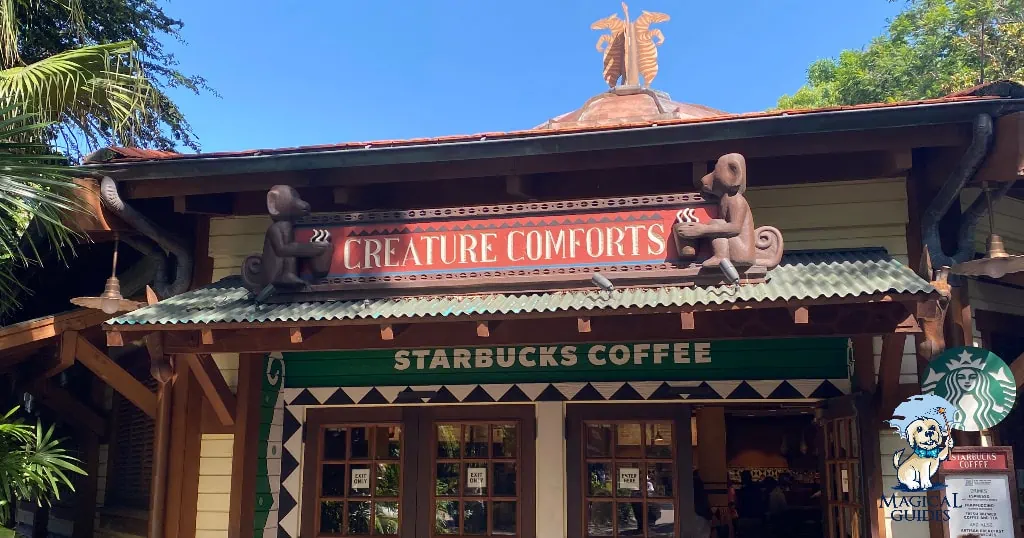 (Photo by Bayley Clark for Magical Guides)
People ask me all the time what my favorite park is, and I will spout off the usual, Magic Kingdom, EPCOT, Hollywood, but in reality it's Animal Kingdom.  I love the zoo type atmosphere, and seeing the carvings in the Tree of Life when I come over the bridge. What really seals the deal for me is that Animal Kingdom is home to the best Starbucks I've ever gone to called Creature Comforts. The cast members at Creature Comforts are some of the friendliest I've come across at the Disney World, and while I know they are working, they appear to being having fun filling the caffeine needs of park goers.
Where is Creature Comforts located?
If you walk in from the entrance of Animal Kingdom, you are going to want to go left at the tree of life. This will take you to the path going to Africa. If you get distracted and end up in Pandora, you've simply gone off trek. If you reach the Africa part of the park, you also have gone to far.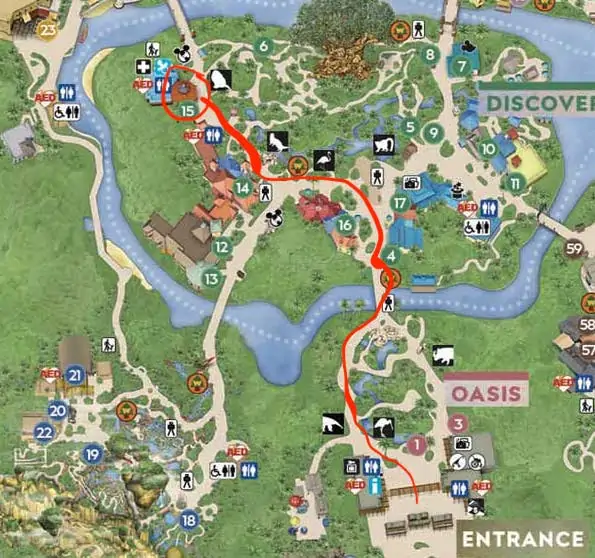 Can you use Starbucks rewards at Creature Comforts?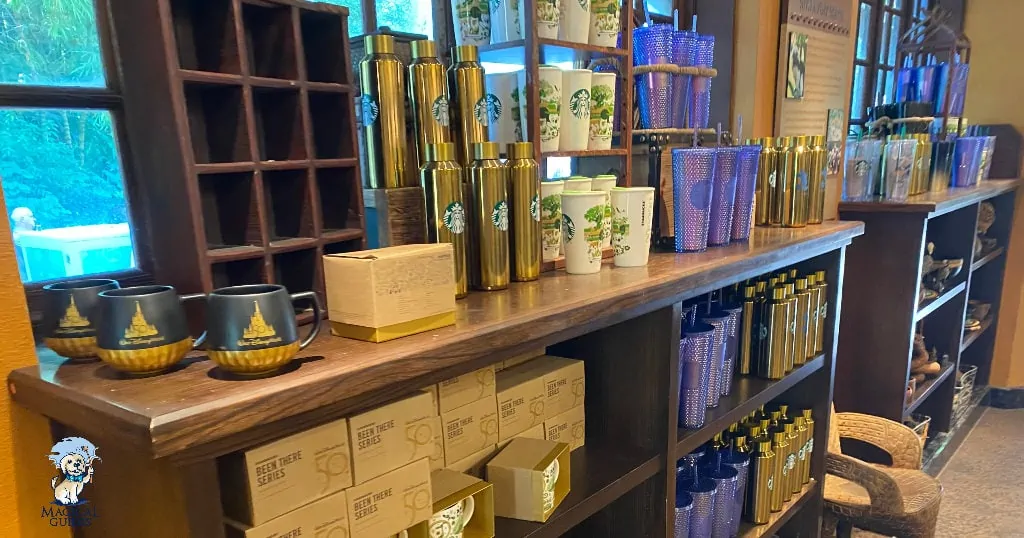 (Photo by Bayley Clark for Magical Guides)
So you happen to be inside a Disney park on your birthday, and you decide you want to use your Starbucks reward. Unfortunately you are not able to redeem the those rewards (or stars) at Starbucks inside the Disney parks. Sad days for sure, but remember you're at Disney and any day at Disney beats being anywhere else!
You can still pay with the app (building up more Starbucks reward stars), Starbucks gift cards, or Disney Gift Cards (can't do that at one outside the parks), or Magic Band if staying on site.
What to order from Creature Comforts?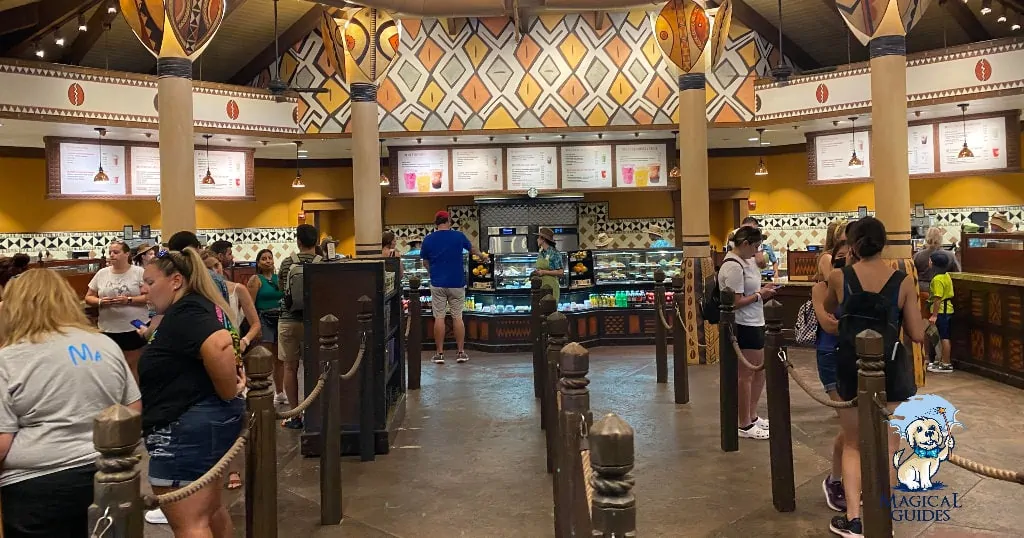 (Photo by Bayley Clark for Magical Guides)
Oh there really is a long list, and it depends on what time of day it is for me. However there is one go to drink that I always order from Creature Comforts, and that is a Venti Ice Water, and best of all it's completely free (as of August 2022)! In other parks such as Magic Kingdom or EPCOT, they will issue you small cups of (sometimes ice) water, but not inside Animal Kingdom. I absolutely enjoy taking a few minutes to sit outside of Creature Comforts sipping my multiple beverages (it's important to stay hydrated) and people watch.
Does Starbucks accept the Disney Dining Plan Credits?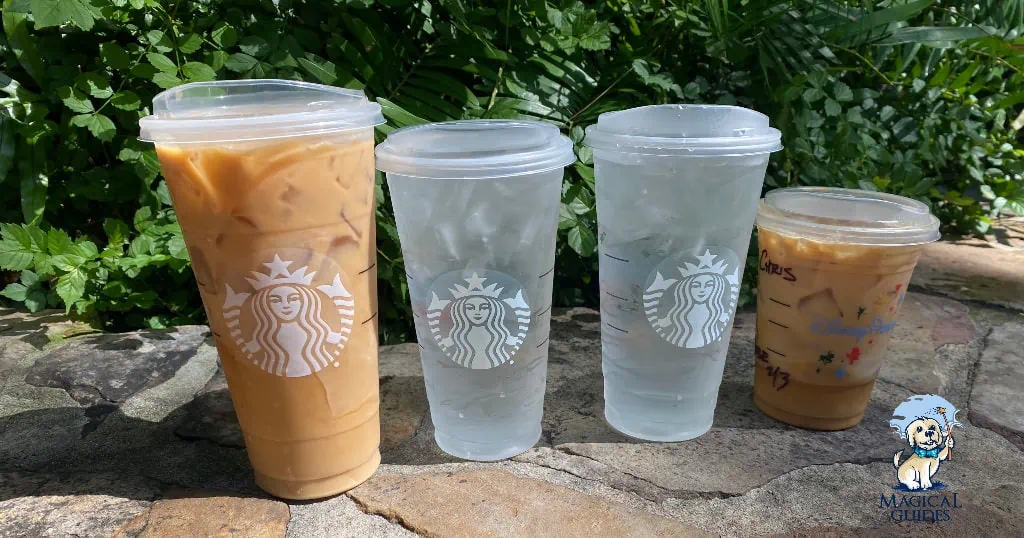 (Photo by Bayley Clark for Magical Guides)
When Disney offered the dining plan, you could use a snack credit to get the largest drink highly customized at Starbucks. However, until Disney decides to bring back the Dining Plan (rumored to be coming back before the end of 2022)
I love the Starbucks within Animal Kingdom, better known as Creature Comforts. It truly is a creature comfort for me, and Disney has my number on this one.
Where is Joffrey's Coffee at Animal Kingdom?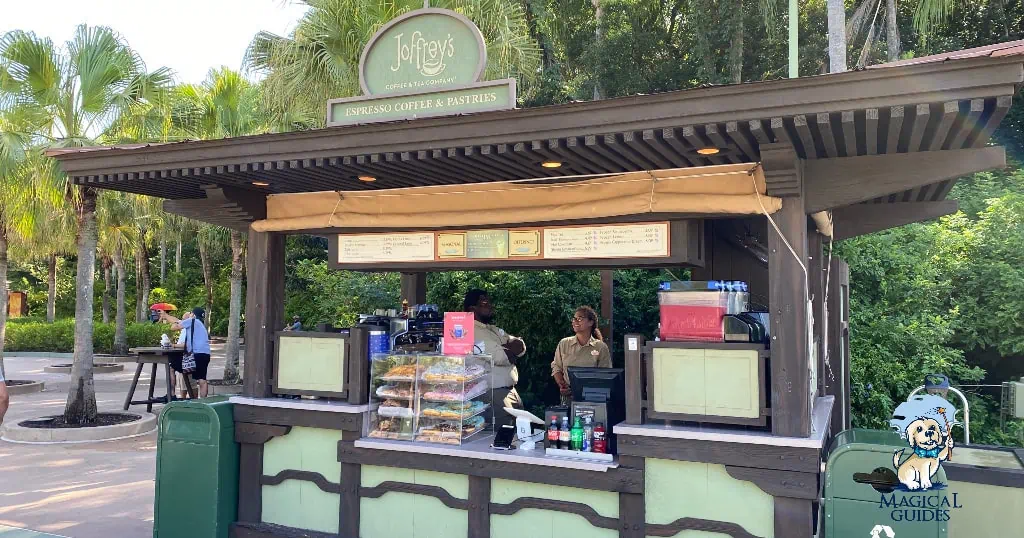 (Photo by Bayley Clark for Magical Guides)
If you decide to rope drop Animal Kingdom, or need an afternoon pickup with some java brew, Joffrey's is sitting right outside the entrance to Animal Kingdom waiting for you. With pastries, soft drinks, and multiple coffee offerings this kiosk will satisfy almost any craving you have.
If you're looking for those huge pink frosted doughnuts that I swear look like they were inspired from an episode of the Simpsons, this is where you go to get one of them. You can even see them in the picture I took if you look real close on the second glass case on the second row. I will tell you these things are good, but nothing something I would seek out like the Carrot Cake Cookie at Hollywood Studios.