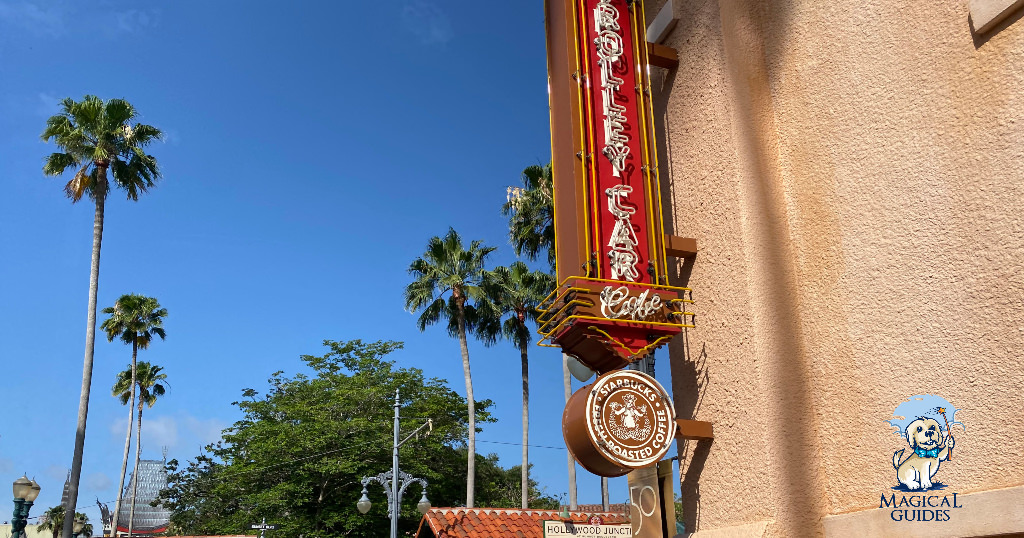 (Photo by Bayley Clark for Magical Guides)
Finding coffee on a Disney World vacation is a requirement, especially if you are going to rope drop Hollywood Studios!
Steps away from the entrance of Disney's Hollywood Studios and before you make a right to head to Tower of Terror or Aerosmith's Rock 'N Roller Coaster sits a classic trolley car station themed Starbucks. Of all the Disney World Starbucks locations, the Trolley Car Café comes as my second favorite place to get my vanilla sweet cream cold brew.
My favorite Starbucks location is in Animal Kingdom, called Creature Comforts. However before you decide to skip Hollywood Studios Starbucks there is one thing this location has that others don't. It has a carrot cake cookie, that isn't a cookie, it's more of a cake. I will tell you, if you like carrot cake, you should try this.
So besides the Vanilla Sweet Cream cold brew I talk about so often, what else does Hollywood Studios Starbucks serve? Here is a quick list of the drinks they serve at the Trolley Car Cafe currently:
Frappuccino

Caramel Frappuccino – Grande $5.79
Mocha Frappuccino – Grande $5.79
Vanilla Bean Crème Frappuccino – Grande $5.49
Double Chocolaty Chip Crème Frappuccino – Grande $5.79
Caramel Ribbon Crunch Frappuccino – Grande $5.99
Coffee Frappuccino – Grande $5.49
Strawberry Crème Frappuccino – Grande $5.79
Starbucks Refreshers

Pink Drink – Grande $5.49
Starbucks Refreshers $4.79

Strawberry Acai or Mango Dragonfruit

Starbucks Refreshers with Lemonade – Grande $5.29

Strawberry Acai or Mango Dragonfruit

Pineapple Passionfruit Starbucks Refreshers Beverage – Grande $4.79

Espresso & Coffee

Caramel Macchiato – Grande
Caffè Latte – Grande
Iced Chocolate Almondmilk Shaken Espresso – Grande
Freshly Brewed Coffee – Grande
Apple Crisp Oatmilk Macchiato – Grande
Iced White Chocolate Mocha – Grande
Caffè Mocha – Grande
Iced Brown Sugar Oatmilk Shaken Espresso – Grande
Pumpkin Spice Latte – Grande
Cold Brew

Starbucks® Cold Brew – Grande
Salted Caramel Cream Cold Brew – Grande
Pumpkin Cream Cold Brew – Grande
Chocolate Cream Cold Brew – Grande
Vanilla Sweet Cream Cold Brew – Grande
Tea & Refreshment

Teavana® Shaken Iced Tea – Grande
Lemonade – Grande
Teavana® Iced Matcha Green Tea Latte – Grande
Teavana® Shaken Iced Tea Lemonade – Grande
Teavana® Chai Tea Latte – Grande
Seasonal Offerings

Iced Toasted Vanilla Oatmilk Shaken Espresso – Grande
Dragon Drink
Now if you're looking for a bite to eat, I didn't forget you here. These items are premade and usually heated up, just like they would at any other Starbucks locations. So my recommendation since you're in Disney World, skip most of these items if you can. That is, unless you're talking Carrot Cake Cookie(s) that is.
Breakfast Sandwiches and Pastries

Sausage, Cheddar & Egg Sandwich
Slow-Roasted Ham, Swiss & Egg Croissant
Spinach, Feta & Cage-Free Egg White Breakfast Wrap
Bacon, Gouda & Egg Sandwich
Double-Smoked Bacon, Cheddar & Egg Sandwich
Ham & Swiss Croissant
Chocolate-covered Apple
Glimmer and Shimmer Pineapple Mousse
Carrot Cake Cookie
Assorted Pastries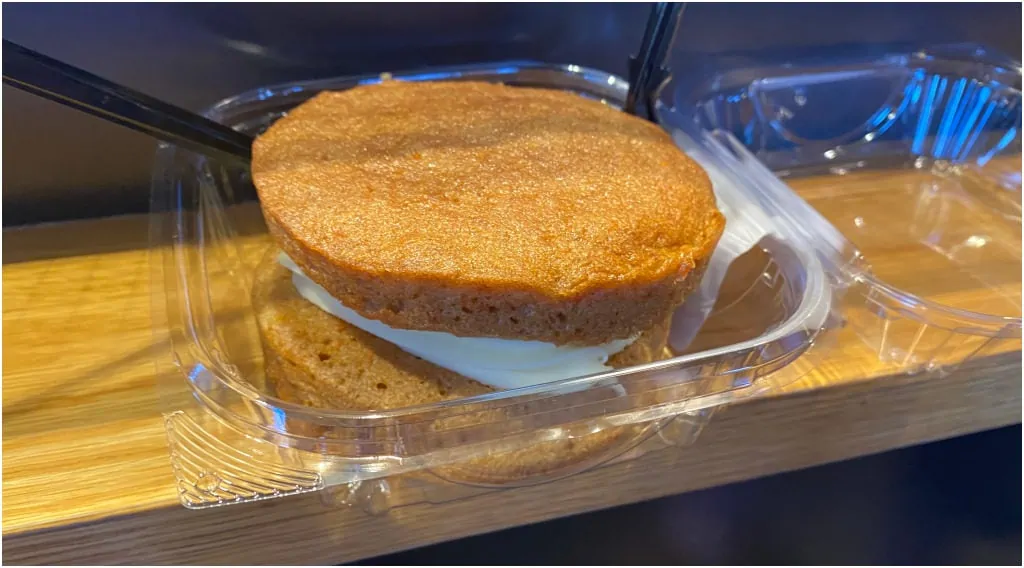 (Photo For MagicalGuides/Bayley Clark)
If you're looking for breakfast, there's number of places to get a quick bite, check out our article about where the best places for breakfast in Hollywood Studios. Just a recap if you don't want to jump articles yet, is if you're heading to ride any Star Wars ride, or even Slinky Dog Dash in Toy Story Land, head over to Ronto Roasters and grab a wrap. Use the Disney App to order as you pick up your favorite latte (don't forget they do offer pumpkin spice latte's during the Fall for all of my PSL fans out there).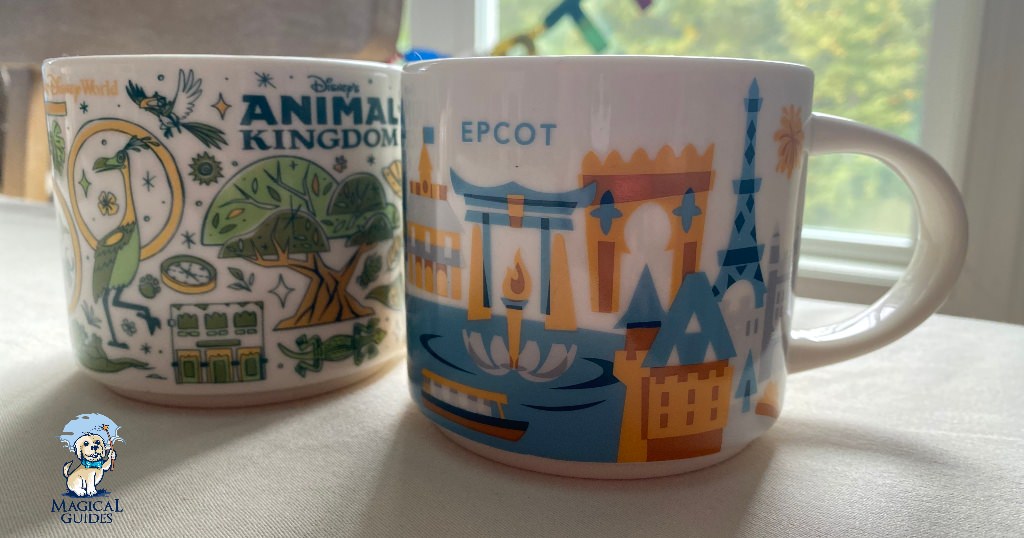 (Photo For MagicalGuides/Bayley Clark)
While you are in the Trolley Car Cafe, be sure to check out the Disney mugs and tumblers. Starbucks park locations carry items you can online find inside the parks, like the Been There Series or the You Are Here collection all decorated with Disney theme parks icons. We have only collected a few so far, and you can see we still need to pick one the new mugs for Disney's Hollywood Studios. Until then I love sipping coffee from one of my EPCOT mugs. Don't forget if you qualify for Disney Vacation Club discounts or Annual Passholders discounts to have those cards ready and show them to the cashier to save even more!
How can you pay for your Starbucks inside Disney World?
When you're in Disney World, I highly recommend going for the larger size of the coffee, especially in the mornings you're thinking about rope drop so you will take on the day even more caffeinated.
There's a couple of ways for you to pay for your caffeinated concoction in a cup that just because it has Disney on it, seems to taste better than anything you get at back home. You of course, can pay with cash, major credit card, debit card, Starbucks gift cards (including using the Starbucks app), Disney gift cards, Disney Rewards redemption cards, or Magic Bands.
Just note that if you opt to use a Magic Band for payment you will need to have a card linked to your account, and being staying on property. This is something I cover in another recent article, about needing a Magic Band if staying off property.
Sadly you can not use birthday drink credits, or redeem stars for upgraded drink add ons or free food at locations inside the parks. So earn all those bonus stars while you're in the park, and redeem them when you're home, and hopefully the upgraded coffee or free food will bring a smile to your day thinking about your next Disney trip.
Before March 2020, Disney dining plan snack credits were also allowed to be used as payment for Starbucks beverages and pastries. The small icon of DDP would indicate if the item qualified as a snack credit. I hope that this returns sooner rather than later, as it's frequently a top question asked about in the Disney World Secrets Facebook Group.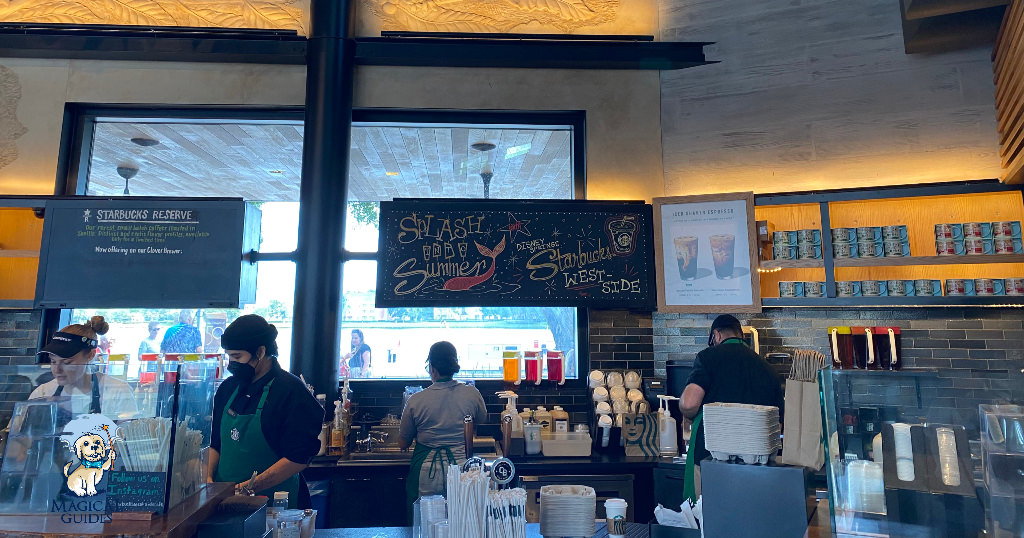 (Photo For MagicalGuides/Bayley Clark)
If you happen to be at the Disney Springs locations, there are two, you can redeem birthday free drinks, or stars paid upgrades like free food, or extra shots of espresso. One of the Disney Spring locations is near the AMC Disney Springs (formerly Downtown Disney for those old enough to remember), and the other is located right outside of the World of Disney store. The location outside of the World of Disney store has a walk-up window, and the line is moves fairly quickly.
Where are the other Starbuck locations at Disney World?
With the exception of the two water parks, Disney's Typhoon Lagoon, and Blizzard Beach each park has a single location inside past the ticketed entrances.
Main Street Bakery, is such a delight to smell as you make your way towards Cinderella's castle in Magic Kingdom. As you can imagine with this being the busiest of all Disney World parks, this is a high traffic Starbucks location, so you can expect long lines, with the exception being during parades or later in the evening during fireworks.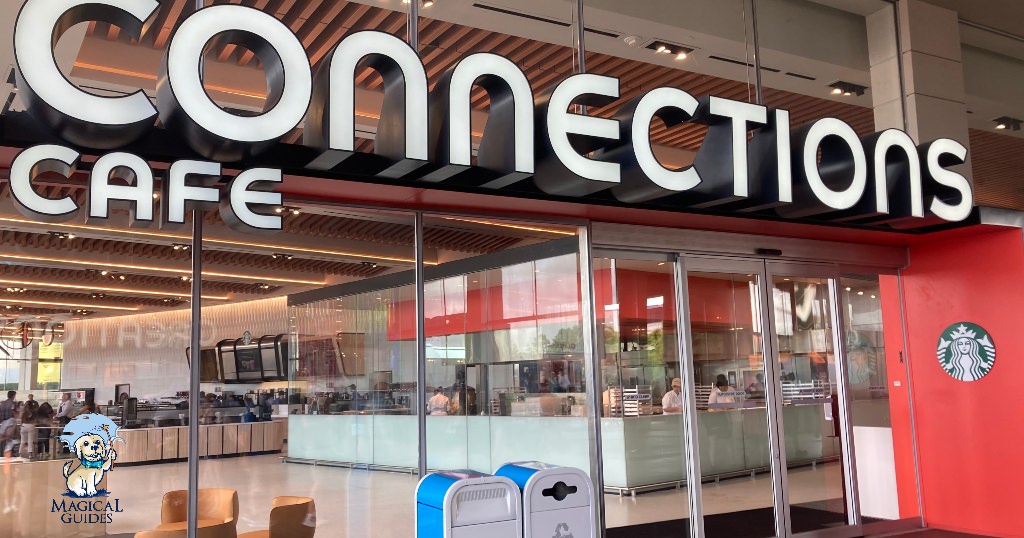 (Photo For MagicalGuides/Bayley Clark)
Disney's newest Starbucks location is inside of EPCOT, just past the infamous Spaceship Earth ride connected to the very spacious CONNECTIONS Cafe. I highly recommend coming to this location if you need a break from the heat while walking around EPCOT's World Showcase, or enjoying a few too many adult international beverages during the Food and Wine festival. So don't forget to order yourself multiple cups of ice water, as they will be smaller cups. This is the only location to offer seating inside of an air conditioned building, all the rest of the park locations are a quick service serving that want the traffic to get what you need and get out.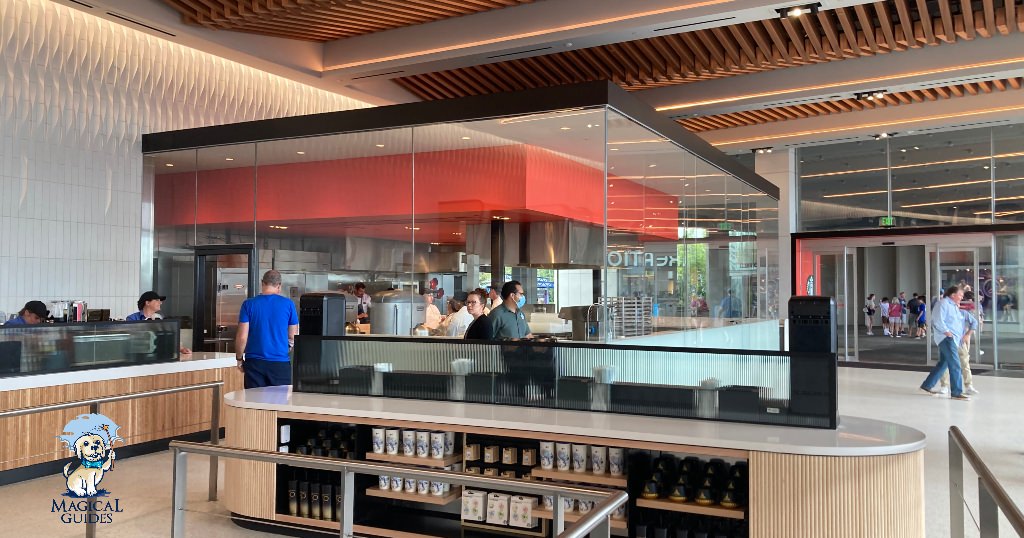 (Photo For MagicalGuides/Bayley Clark)
I've mentioned this before and wrote a whole article dedicated to the Starbucks inside Animal Kingdom, Creature Comforts. This is my favorite park location, I wonder if it's due to exposure to all of the animals (My favorite ride is Kilimanjaro Safaris) mixed with caffeine that play tricks on me to think that. Whatever it is, I'm sure Disney has done a study where I'm excited to pay $5-7 for a cold brew coffee.
Is Joffrey's Coffee better than Starbucks?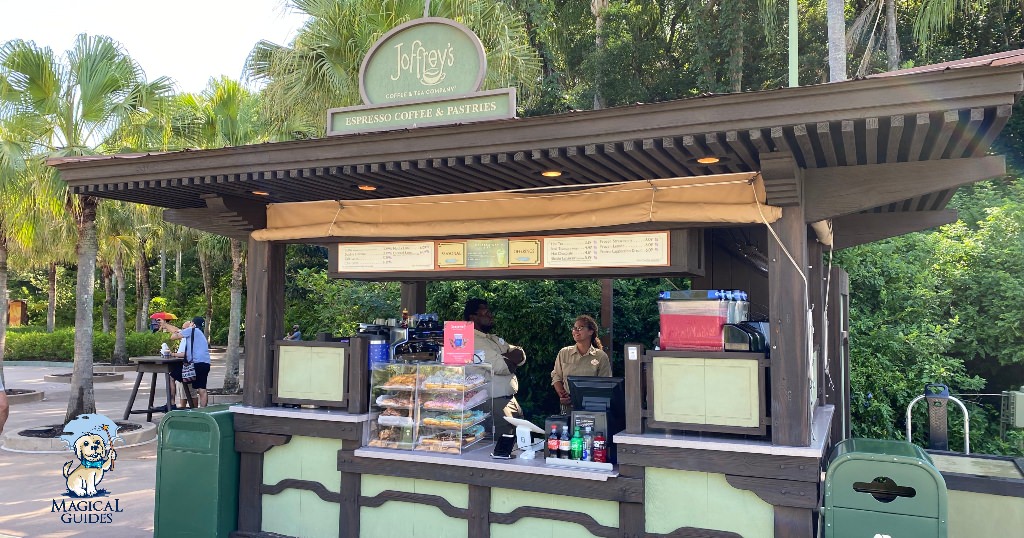 (Photo For MagicalGuides/Bayley Clark)
This will cause a lot of controversy with you the readers and my inner circle of friends. Joffrey's is a Florida based coffee roasters that has multiple kiosks throughout Hollywood Studios that offer Joffrey's coffee (decaf and regular) and tea. I want to find the magic here with Joffrey's but, I've yet to be as impressed. I promise, I will give them a solid try next time I'm down – and report the positives about Joffrey's.
There is a full Joffrey's Coffee and Tea Co. stand right outside of Tower of Terror at the end of Sunset Boulevard, and another full Joffrey's Coffee and Tea Co. station in Pixar Place (right that offers the full menu of specialty coffee and tea beverages. Here, you'll find drinks such as the Dreamsicle Iced Latte, Dulce de Leche Iced Latte, Orange Vanilla White Chocolate Tea, along with about 28 other tea flavors, depending on availability!
Usually at the Joffrey's kiosks throughout the Walt Disney World Resort, you can purchase from a selection of bakery items such as cookies, a cinnamon roll, and more. You can find them out front of park at Disney's Animal Kingdom, or even at the Skyliner hub at the Caribbean Beach Resort, so you can get your caffine fix in before hitting up the parks.