Animal Kingdom Lodge is one of the most popular Disney Deluxe resorts at Walt Disney World. If you've never stayed here before, there's a lot to keep in mind when you plan your stay. Today we're going to share with you everything you need to know about this resort to help you plan your upcoming stay in this beautiful property.
Introducing Disney's Animal Kingdom Lodge
If you've never visited Disney's Animal Kingdom Lodge before, it's a resort that was created alongside Disney's Animal Kingdom park. It first opened in 2001, and you'll find the main part of the resort is called Jambo House. There's now another smaller section of the resort, called Kidani Village, where you'll find the majority of the Disney Vacation Club accommodation. The resort itself is absolutely spectacular and is based around a savanna. You'll find the property is home to over 100 animals and 130 birds, with the majority of rooms here overlooking the animals in their savanna. One thing to note about staying here is that you can't walk to Animal Kingdom from the resort. It's a completely separate savanna from the one in the park, but it's an amazing experience for any animal lovers in your travel party.
Animal Kingdom Lodge – Room Options
As with any Disney Deluxe resort, you'll find there's no shortage of accommodation options for you and your family. Many of the rooms have been updated in the last couple of years, but they generally have a very elegant and wooden feel to the rooms. Standard rooms come with a variety of views. The most cost-friendly rooms are the standard view rooms, which face out onto the parking lot. From there, you can upgrade to a pool view room or a savanna view room for the most incredible experience in the resort. There are also deluxe rooms on offer, which provide additional space and amenities for families. For the ultimate luxury experience, you can then upgrade to the concierge rooms, which come with additional benefits for anyone staying here. If you need an accessible room, there are also plenty of these on offer, which are kitted out with a roll-in shower and accessible seat for the toilet.
One thing to keep in mind for larger travel parties is that you can also benefit from the DVC location at Kidani Village. As with the other DVC resorts, they have rooms ranging from studios to three-bedroom villas. This is a great way to experience everything the Animal Kingdom Lodge has to offer but with more space than your typical rooms. No matter where you are staying, you'll have a balcony which will give you a space to get some fresh air and relax.
As with any Deluxe resort, you'll find a small safe and fridge in your room. The room comes with a coffee maker, and you'll be given coffee pods to use in this. When booking your room, you'll find there are rooms with either showers or baths. If this is important to you and your family, make sure you request a bathtub. Families can also request interconnecting rooms, which will allow you to see each other with ease each morning and evening.
Animal Kingdom Lodge Room Charges
Animal Kingdom Lodge is in the Deluxe resort category, so naturally, it's one of the more pricey resorts on property. However, compared to other deluxe resorts, the standard rooms are the most affordable in this category. Prices for a standard view room start at roughly $420 a night but will be up to double this in the holiday season. Of course, for anyone looking to splash out on their upcoming trip, there are some beautiful suites and villas to give you more space. It's all about finding the option that works for your family for your upcoming trip. Many guests find the savanna view to be well worth paying for, as it's what the resort is so well known for.
Animal Kingdom Lodge's Savannas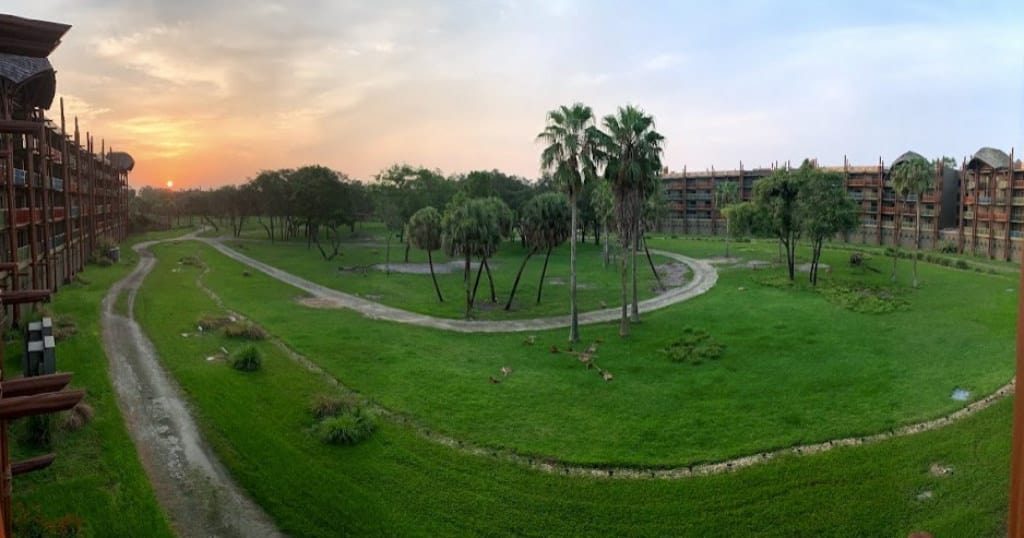 The number one reason to choose this resort over some of the others is the incredible savannas that are around the resort. While many of the rooms have balconies that overlook the savannas, you'll also find that there are some public savannas anyone can visit. This is a great option for an evening out, even if you aren't staying here, and you can enjoy visiting the savannas during the day or the night.
There are a few different savannas, all of which have different features and are open 24 hours a day. Not all of them have the same animals, for example, you'll only find zebras on the Arusha savanna. Giraffes can be found on all of the savannas, and they are one of the highlights of a stay here. We recommend checking out the activity guide for the resort when you arrive. They offer special activities, such as night-vision goggles, for visitors who are staying or visiting here.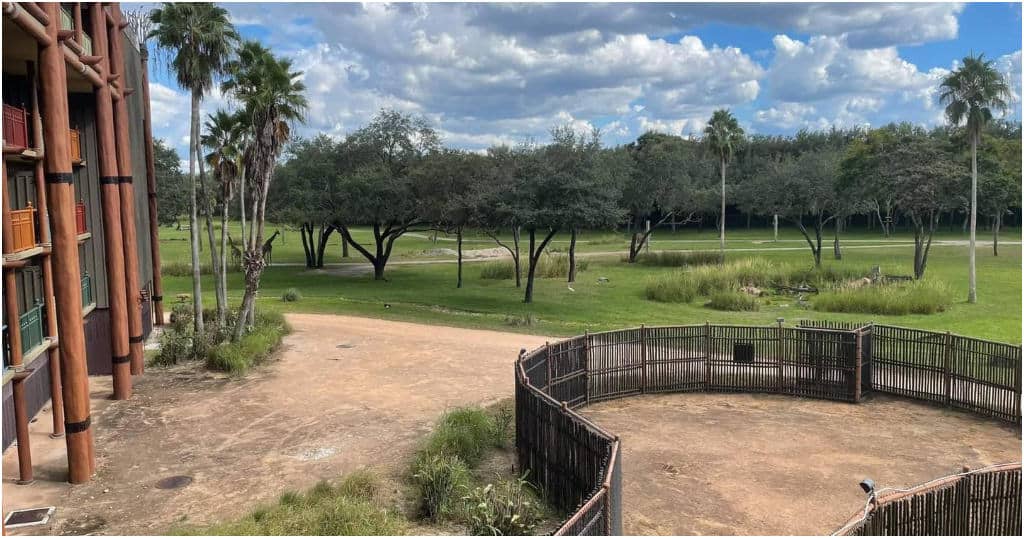 For anyone wondering what type of animals you'll see on the savanna, you'll be blown away by the variety of species who call this resort home. Expect to see bongo, eland, greater kudu, giraffe, red river hogs, wildebeest, and zebras. Make sure you visit the savanna at different times of the day in order to get the best experience. There's nothing better than waking up first thing in the morning to see these animals going about their day. It really is a once-in-a-lifetime experience, and a hotel stay you'll never forget.
Dining at Animal Kingdom Lodge
As with any other Disney resort, you'll find a great range of dining options on offer here. They are known for their unique and exotic menus, giving adventurous eaters something that's worth visiting the resort for.
Mara
The quick-service restaurant in Jambo House is Mara, which can be found down by the pool area. It is currently using the mobile order system, which is a great way to order from the comfort of your room and then pick up your meal when you are ready. You'll find they serve breakfast, lunch, and dinner here. Pick up a refillable mug here at the start of your stay to save money on sodas. There are fridges full of snacks here, so you'll never be hungry when spending a day chilling at the resort.
Boma
The gallery was not found!
Boma is located in Jambo House and serves a buffet breakfast and dinner. It offers African-inspired dishes mixed with typical buffet offerings, and you certainly won't go hungry when dining here. It's a really popular spot with both families and adults, and you'll find the menu to be varied and plentiful. We recommend booking your ADRs for this spot as soon as possible, as it does tend to get very booked up for peak dining times. If you are staying at the resort, start your morning off here one day before heading to the parks.
Jiko
Sadly, Jiko has yet to reopen since the pandemic, but it's likely to reopen in the near future once the resort is operating at full capacity again. This signature dining location is the fanciest of dining options at the resort and is ideal for adults looking for a date-night dinner. In the past, they've hosted various events here, which offer you the chance to dine and visit the animals on the savanna. The food and wine menus here are extensive, and we can't wait to see it open once again in the future.
Sanaa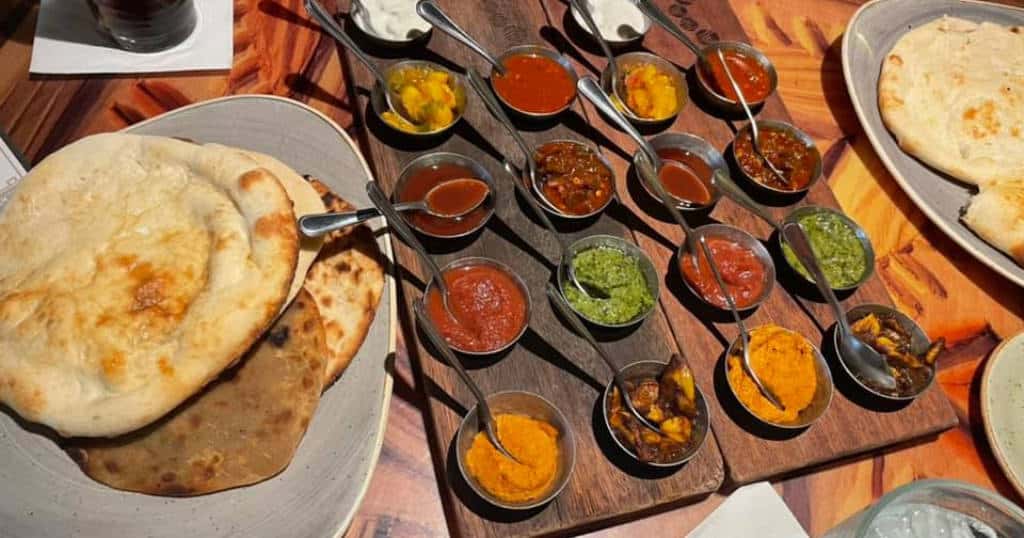 Heading over to Kidani Village now, you'll find Sanaa. If you've ever visited here before, you no doubt know about their incredible bread service. No meal here is complete without trying this appetizer, which is perfect for your whole family to share. After that, you'll enjoy an Indian and African-inspired menu with dishes such as curry. The restaurant has a few window tables which overlook the savanna, but it's a stunning location to visit even if you aren't seated here. There's also a bar here, so you can just pop in for a drink after a busy day at the parks.
Amenities at the Animal Kingdom Lodge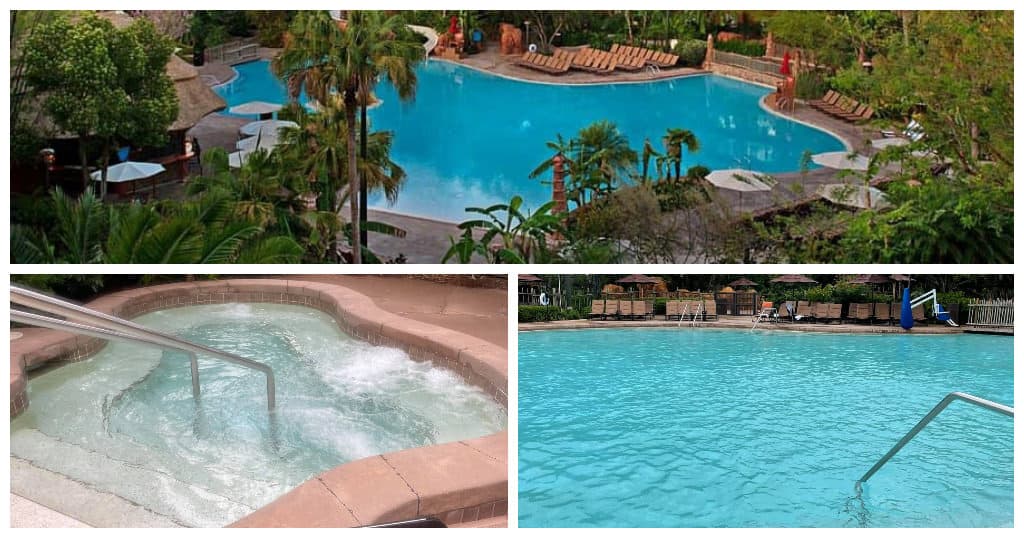 As with any of the Disney resorts, you'll find there's no shortage of things to do and see while staying at Animal Kingdom Lodge. We highly recommend taking a day out of your park touring plans when staying here to make the most of their facilities. These are just a few of the highlights of a stay at the resort:
Pools and hot tubs – Both parts of the resort have their own pools. The main Jambo House pool has a slide and two hot tubs and is one of the larger pools on the property. It's a great location for sunbathing and swimming, and you'll find there are plenty of chairs dotted both inside and outside of the main pool area. There's also a small children's pool here, which is great for anyone traveling with toddlers.
Gym – As with the other Deluxe resorts, you'll find a gym on the site. It has all of the equipment you could expect from a resort and is a great way to burn off some of those extra calories you might be consuming during your stay here.
Bars – For anyone looking to chill out after a day at the park, you'll find multiple bars here. We particularly like the pool bar at Jambo House and Victoria Falls, which overlooks Boma. They all offer an extensive menu of cocktails, beers, and wines.
Gift shop – Before you head home, don't miss out on the gift shop here, which has some of the most unique items on property. You'll find they have many African-inspired gifts, which you can bring home to remind you of your stay at the Animal Kingdom lodge.
Resort activities – There's no shortage of things to do if you aren't visiting the parks. Check out the resort activity schedule when you arrive, which will share when movies and activities are taking place during your stay.
Animal Kingdom Lodge is one of the most popular resorts at Walt Disney World, and no doubt you can now see why. We highly recommend that you add this resort to your Disney bucket list, as you'll love waking up each morning and seeing the animals outside your room before heading to the parks for the day.