Everyone knows about the famous Mickey pretzel or dole whip, but did you know that there are hundreds of unique treats you can try at Walt Disney World, even when it's not Food and Wine Festival season? The classic Mickey ice cream bar is one of the best Disney park snacks, but I think it's worth expanding your palette a little bit. You might find a new favorite to look forward to eating on your next Walt Disney World vacation.
Here are 12 of the best snacks in Disney World.

Seasonal Dole Whip
Many Guests go for the classic dole whip float at Magic Kingdom, but Aloha Isle in Adventureland always has a seasonal flavor that you can't get anywhere else! I've tried Cherry Pistachio swirl, Raspberry Pineapple swirl, and Coconut dole whip! Storybook Treats in Fantasyland also usually has a seasonal flavor as well and other favorite Disney Park snacks.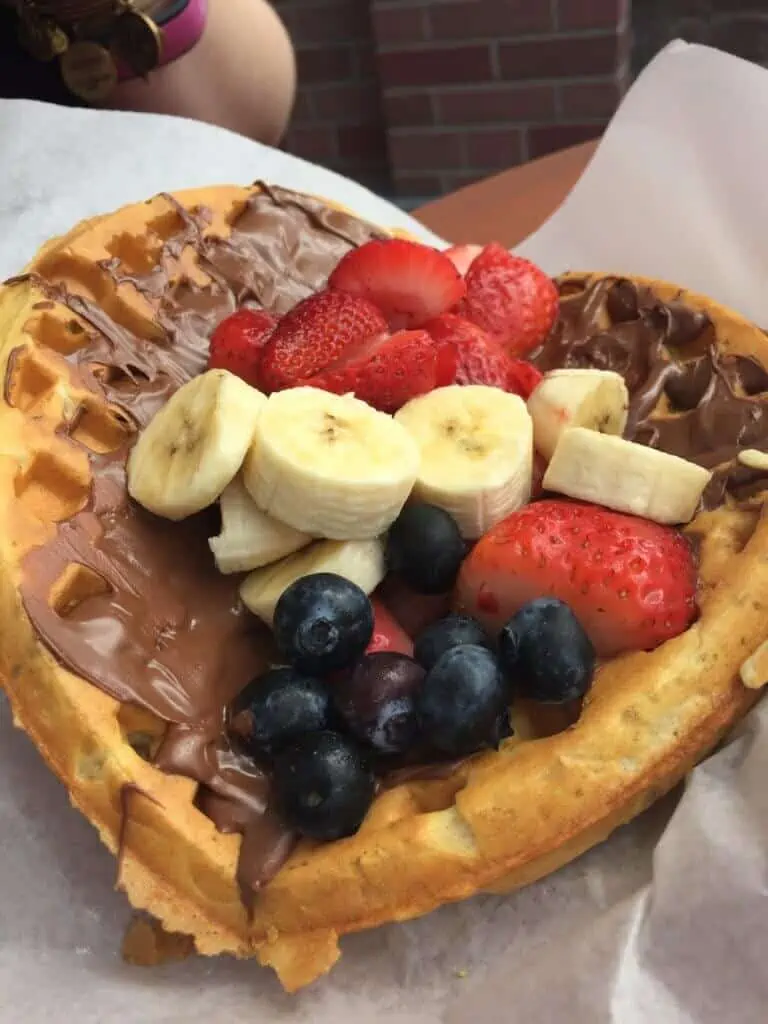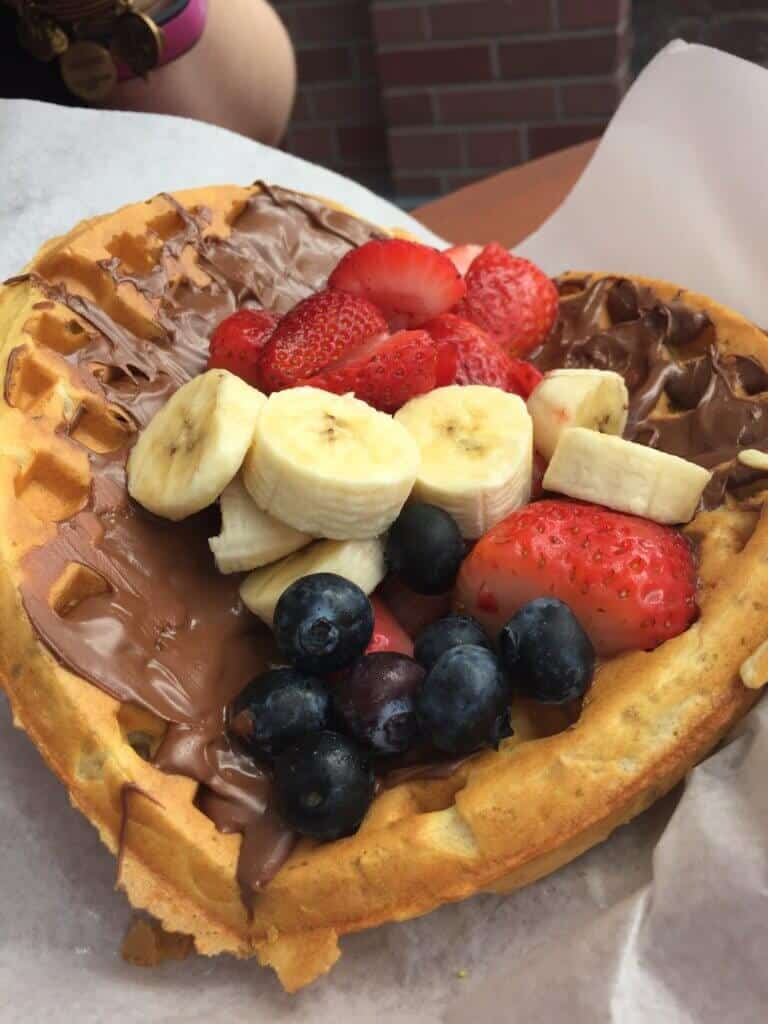 Fruit and Hazelnut Spread Waffle Sandwich
This is a great, filling breakfast treat, and it is nestled in Sleepy Hollow Inn at the entrance of Liberty Square. The waffle is hot and fresh, and it is topped with strawberries and bananas. Then, warm hazelnut spread oozes from the sides as you take a bite. If you're in the mood for lunch, you can trade the dessert spread and fruit for chicken tenders!
Churro Ice Cream Sandwich
This treat is a twist on one of the best snacks in Disney World, and you can find this right at Sleepy Hollow Inn also! You can't beat ice cream sandwiched between two warm cinnamon-sugar churros shaped like cookies!
Gourmet Popcorn
Here's another upgrade on one of the best snacks in Disney World! You can buy flavored popcorn near Imagination Pavilion in Epcot. A good plan is to try a flavor you have never had before. You can try bleu cheese or sour cream popcorn!

Pongu Pongu Drinks
Ever see someone walking around Animal Kingdom with a colorful, smoothie-looking drink with the funky paper straw? That drink is from Pongu Pongu in Pandora. You can get the non-alcoholic Night Blossom, which is layers of apple and desert pear limeade with passionfruit boba balls, but Pongu Pongu is better known for its alcoholic beverages. My favorite is the Mo'ara Margarita, which has tequila, Blue Curaçao, lime juice, and passionfruit boba balls.
Mickey Donut
Mickey Donut
Did you know you can also eat a donut in the shape of a Mickey head? It is one of the underrated Disney Park snacks that you can share with your whole family. You can find this at Main Street Bakery in Magic Kingdom.

BBQ Pulled Pork Fries
This is a Disney Park snack you can't miss! At Flame Tree Barbeque, they cover plain fries with nacho cheese, pulled pork, and barbeque sauce! My favorite lunch to eat at Walt Disney World is at this location, so if you are looking for an upgrade on this snack, try the Pulled Pork Mac and Cheese!
Trust me, when I say these replenish your energy levels after walking around Animal Kingdom!
Street Corn
You have probably had corn on the cob before, but not Disney's version from Harambe Market! Cast Members in Africa at Animal Kingdom will roast corn on a grill, dip it in butter, and dust it with a homemade curry salt that is super addicting. You will want to stop here every time you come to Animal Kingdom!

Spring Rolls
Did you ever think to try spring rolls on your Disney vacation? Allow me to place that thought in your head! You can purchase spring rolls at Magic Kingdom right outside the entrance to Adventureland and munch on them with a great view of the castle. The spring rolls stand is actually seasonal, and they open it when there are larger crowds in Magic Kingdom.
PSA: Word of warning, the lines can get long. We were in line recently for the hamburger, and pizza roll – it's worth the wait.
The Grey Stuff Cupcake
From time to time, Gaston's Tavern will serve up the renowned Grey Stuff from Beauty and the Beast, meaning you do not need a reservation at Be Our Guest to eat it! It is so delicious that I could eat it with a spoon all day. So, if you pop in Gaston's Tavern and see it on the menu, you won't want to miss out!

The Original Chocolate Chip Cookie at Gideon's Bakehouse
The best snacks in Disney World aren't restricted to the parks! These final two snacks are actually found at Disney Springs! Gideon's is a new location at Disney Springs, and Guests are flocking to it! This shop is famous for its half-pound cookies and introduces limited-time flavors all year long.

Poutine
This is my go-to snack at Disney Springs! Located right outside World of Disney, this poutine stand serves the classic with gravy and cheese curds, but my favorite is the Italian with Turkey Bolognese sauce, Pecorino Romano, and mozzarella cheese! You can also acquire tasty poutine in Canada at Epcot.

Mickey Premium Ice Cream Bar
How do you make an ice cream bar taste even more amazing? You put it in the shape of Mickey, that's how! This full fat ice cream bar is covered in dark chocolate. The dark chocolate isn't thin either. I find myself also needing some water when I enjoy this delicious treat only found at the Walt Disney World Resort. The ones in the stores aren't the same, they are made with low fat ice cream, which isn't a bad thing, but it doesn't taste the same.
I usually grab one of these after I ride a coaster, it really makes the ride even better knowing I'm getting one of these right after. Don't believe me? Grab one after riding Rocking Roller Coaster, or Splash Mountain, I promise you that you'll be even happier after enjoying this treat.
Which of these snacks is your favorite? Can you recommend any snacks you don't see on this list? Let us know in the comments below!