Disney World Resorts have become a foodie destination for vegans! 
In 2019 Disney added hundreds of plant-based dishes across the restaurants at Walt Disney World and now there are a plethora of incredible vegan dishes to choose from!
With so many options what should you choose? 
Let's take a look at 10 of the best vegan dishes you can currently enjoy at Disney World!
1) Felucian Kefta and Hummus Garden Spread – Docking Bay 7 Food and Cargo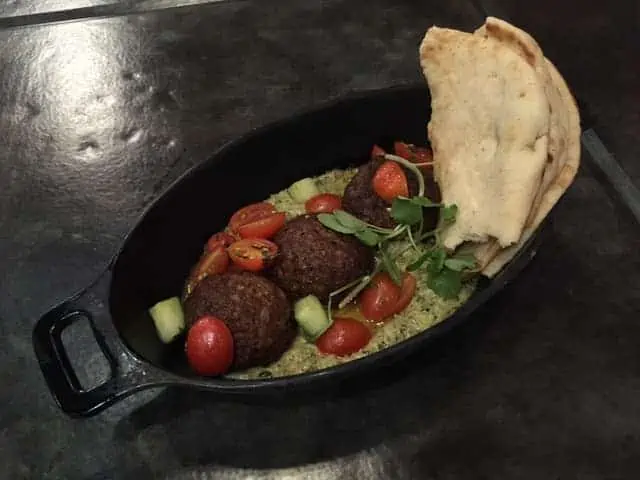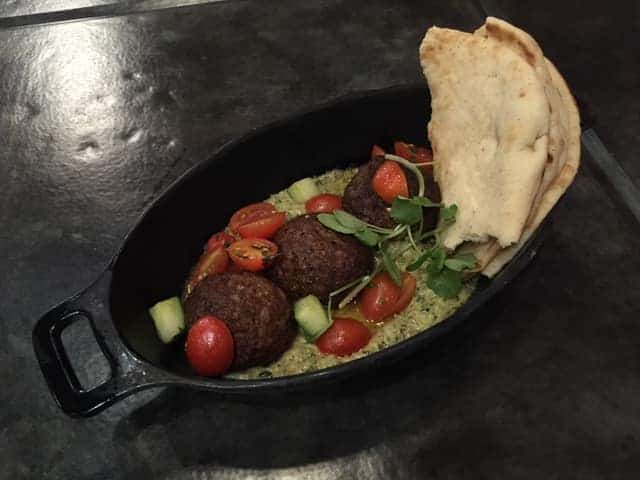 This dish has become a vegan favorite! Head to this awesome quick service location in Galaxy's Edge in Hollywood Studios to try this out-of-this-world dish! It is made of plant-based meatballs with a herb hummus, tomato-cucumber relish and pita bread. This makes a super flavorful and refreshing meal! 
If you are looking for a similar dish in Hollywood Studios you can also get the Tatooine Two Suns Hummus from Backlot Express which is a red pepper hummus and an original hummus topped with plant-based meat and garnished with a cucumber relish, fried chickpeas, sesame seeds and za'atar spice served with pita bread and a lemon vinaigrette tossed spring salad.
2) Chili-Spiced Crispy Fried Tofu Bowl – Satu'li Canteen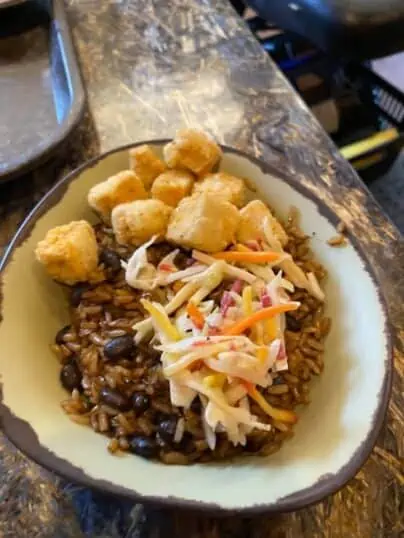 One of the tastiest quick service meals at Disney World can be found at Animal Kingdom, at Satu'li Canteen, in the beautiful setting of Pandora. One of the great features about this restaurant is you can 'build-you-own-bowl'. You can choose your protein, base and sauce so can modify the dish to your taste! The vegan option is a crispy fried tofu seasoned with chili spice, topped with a crunchy slaw and boba balls. For the base choose from sweet potato hash or black beans and rice. The vegan sauce is a charred green onion vinaigrette. A super tasty and unique vegan dish to enjoy!
3) Perkins Thai Noodles – Jungle Navigation Co. LTD Skipper Canteen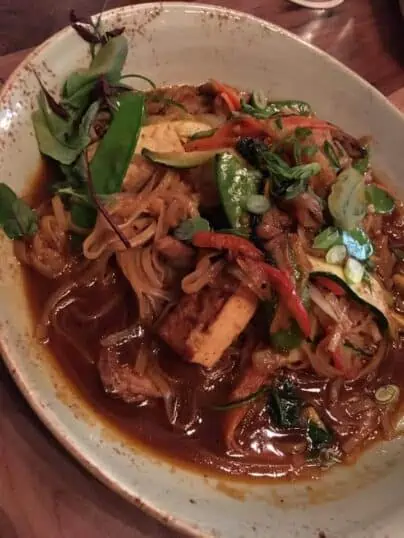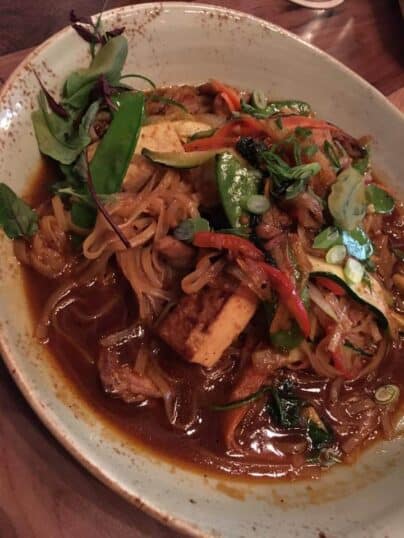 Jungle Navigation Co. LTD Skipper Canteen is the most vegan-friendly restaurant in Magic Kingdom! There are plenty of vegan options on the menu but the Perkins Thai Noodles always come out on top! This dish is made of tofu, seasonal vegetables and rice noodles in a spicy soy-chili-garlic sauce. If you like bold flavors and some heat this dish is for you!
4) Avocado Toast – The Wave…Of American Flavors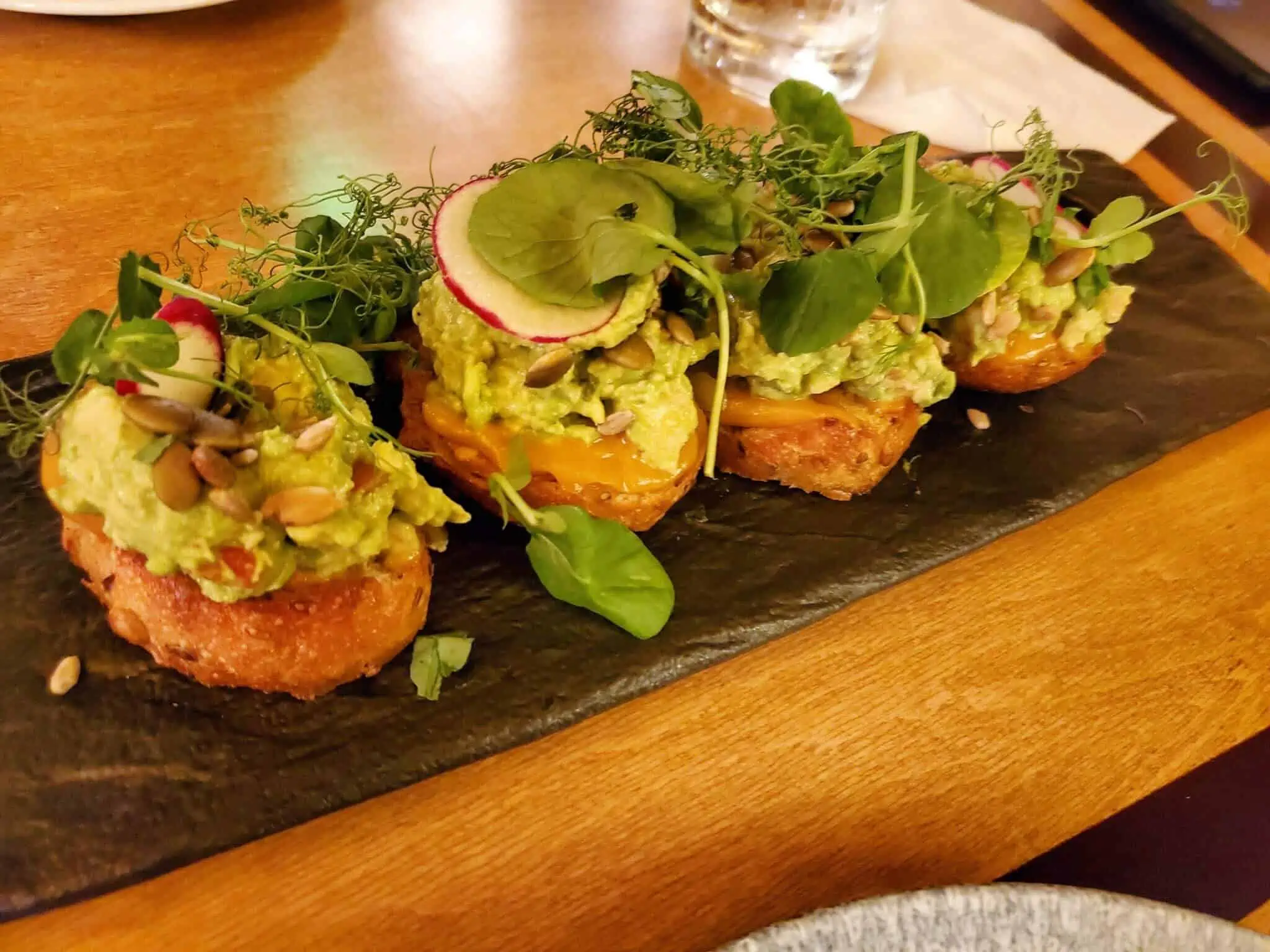 Avocado toast is a classic breakfast dish and many versions can be found at Disney World. The best has to be from The Wave…of American Flavors at the Contemporary Resort. This avocado toast is made with toasted multigrain bread, avocado, caramelized onion jam, radishes and microgreens and is delicious!
5) Wild Mushroom Scramble – Topolino's Terrace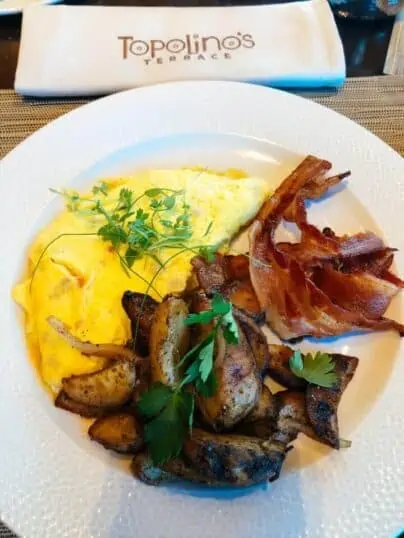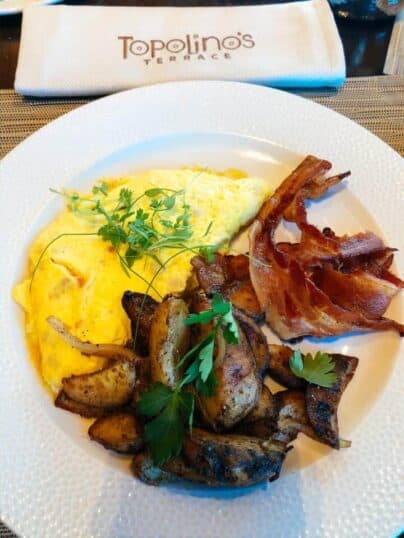 A character dining meal is always a special experience when visiting Disney World but sometimes the food can be hit or miss. Luckily there is an incredible vegan breakfast option at Topolino's Terrace at the Riviera Resort, which is also a character dining meal! You can enjoy a Wild Mushroom Scramble that is made with plant-based eggs, wild mushrooms, spinach and tomatoes and comes with breakfast potatoes and a plant-based sausage, all whilst getting to meet Mickey and his pals!
6) Roasted Vegetable Bowl – Yak & Yeti Restaurant
For a tasty dish that is a healthier option be sure to visit Yak & Yati Restaurant in Animal Kingdom. The Roasted Vegetable Bowl is made with oven-roasted Kalbi marinated vegetables served with a blend of white and red quinoa, brown rice and vegan sriracha aioli. This dish has flavors that pack a punch, making this a hearty and tasty meal!
7) Power Greens Salad with Jackfruit – Regal Eagle Smokehouse
For a lighter meal visit Regal Eagle Smokehouse in Epcot for the Power Greens Salad with Jackfruit. This dish can be made vegan upon request and comes with mixed greens tossed in sunflower seeds, fresh citrus fruit, dried cranberries and radishes with a fresh citrus vinaigrette and can be ordered with jackfruit.
8) Forbidden Roll – California Grill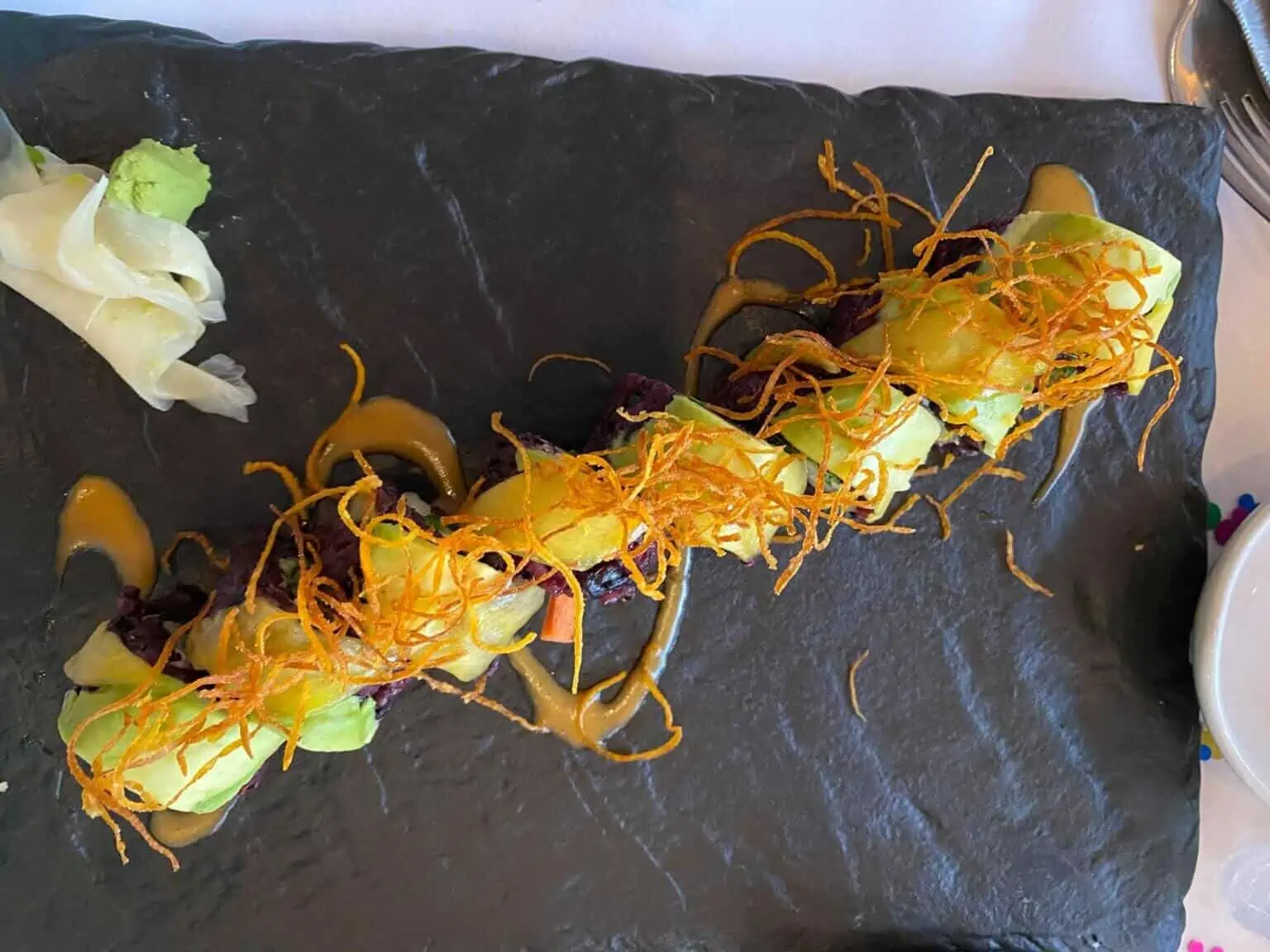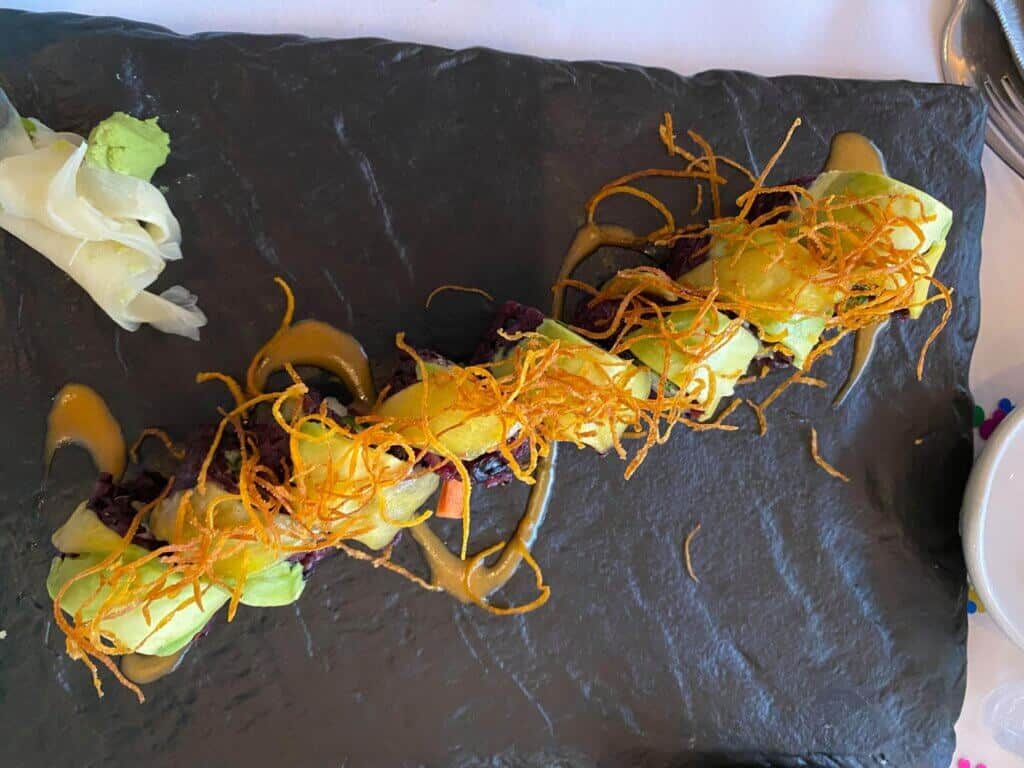 If you are looking for a restaurant to enjoy a special occasion make a reservation at California Grill at the Contemporary Resort. There is a fantastic vegan dish called the Forbidden Roll. This plant-based sushi is made with forbidden black rice, shitake mushrooms, pickled mango and a smoked paprika aioli. This restaurant is on the top floor of the Contemporary Resort and has incredible views over Magic Kingdom. Book a table for sunset for a truly special evening! Also on the menu is a seasonal plant-based pasta and plant-based blueberry doughnuts.
9)Dolmas – Spice Road Table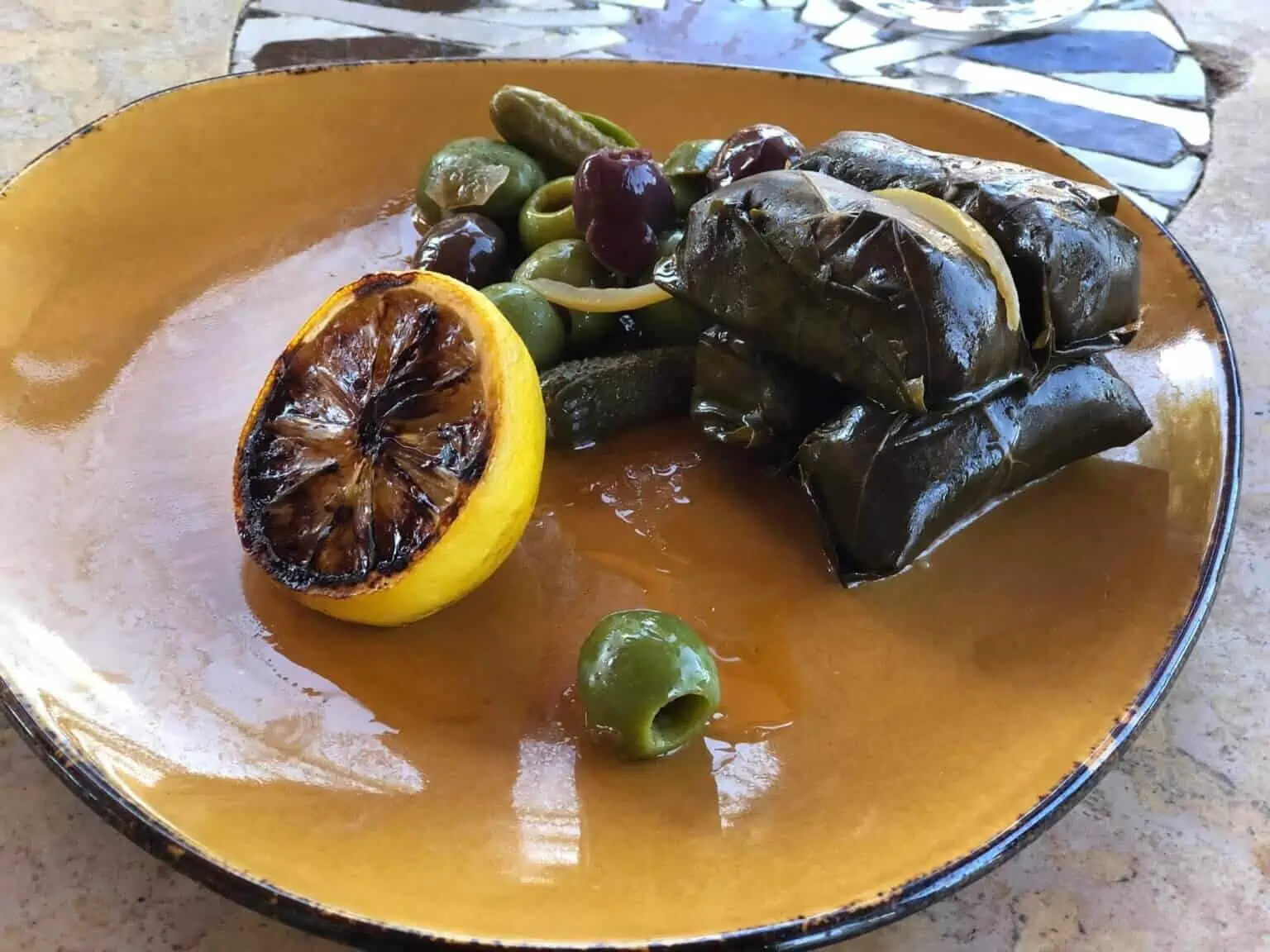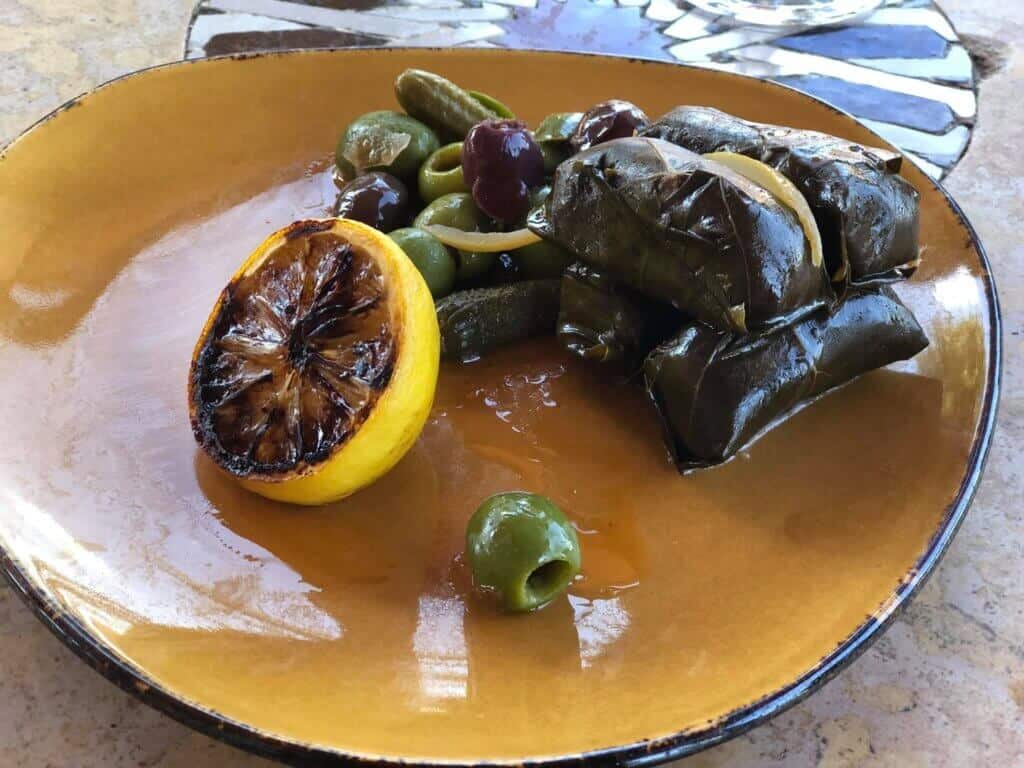 If you are looking for some delicious food in EPCOT then head to the Morocco Pavilion and visit Spice Road Table. This table service restaurant offers small plates, 4 of which can be vegan! The Dolmas dish is grape leaves stuffed with rice and herbs with marinated olives and charred lemon. 
10) Sanaa Bread Service – Sanaa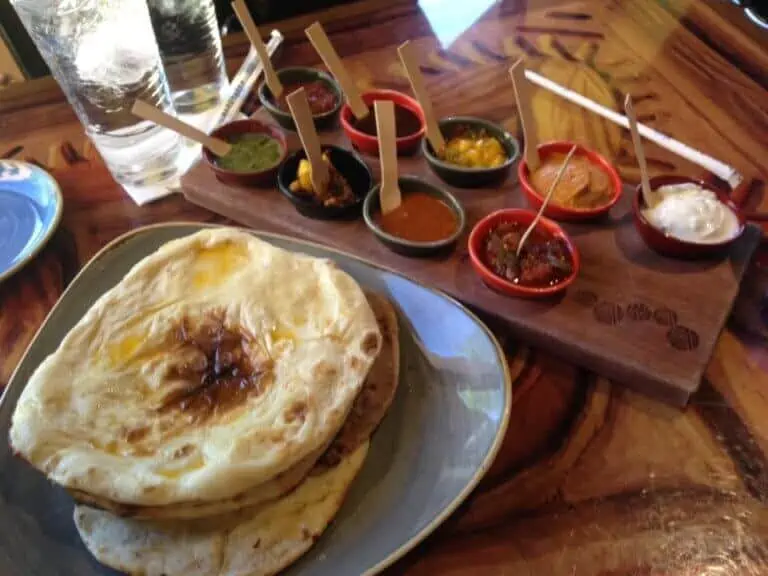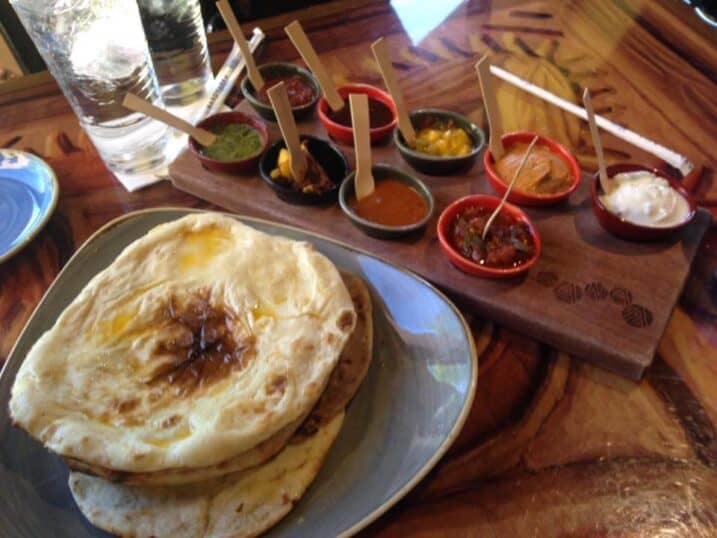 The Sanaa Bread Service dish is infamous and is something everyone should try at least once! The great news is this dish can be made vegan upon request. Enjoy tasty bread with a selection of nine different dips. Sanaa, at Animal Kingdom Lodge, is also one of the most vegan-friendly restaurants in the whole of Disney World so is definitely worth the visit! 
If you would like to try a similar dish but in the Disney parks then head to Tiffins Restaurant or Nomad Lounge in Animal Kingdom, which both serve the Tiffins Bread Service. This bread service comes with three dips and can be made vegan upon request. 
This is just a tiny selection of the amazing vegan dishes you can enjoy at Disney World!
Disney have made it easier than ever to know what dishes are vegan by adding a green leaf symbol onto their menus to highlight plant-based dishes.
Disney state that their plant-based dishes are free from meat, fish, dairy, eggs and honey and are therefore suitable for vegans.
Disney chefs are super knowledgeable and are used to making accommodations so if there is something else you see on a menu and wonder if it can be made vegan don't be shy to ask! The chef may be able to make accommodations such as removing cheese and butter or replacing items with a vegan alternative, such as vegan cheese.
To find out more visit the Disney World Plant-Based website.
www.disneyworld.disney.go.com/dining/plant-based
You can also look at all the menus for every restaurant at Disney World on the Disney World website.
www.disneyworld.disney.go.com/dining
Disney are great at wanting to make everybody have a memorable experience when visiting Disney World. If you have any questions about vegan food, or any food allergies or intolerances, then please contact the Special Diets team. They are really helpful and can speak directly to the chefs at the restaurants you wish to eat in to get the answers to your questions. 
You can find out more about the Disney World Special Diets Team here.
www.disneyworld.disney.go.com/guest-services/special-dietary-requests