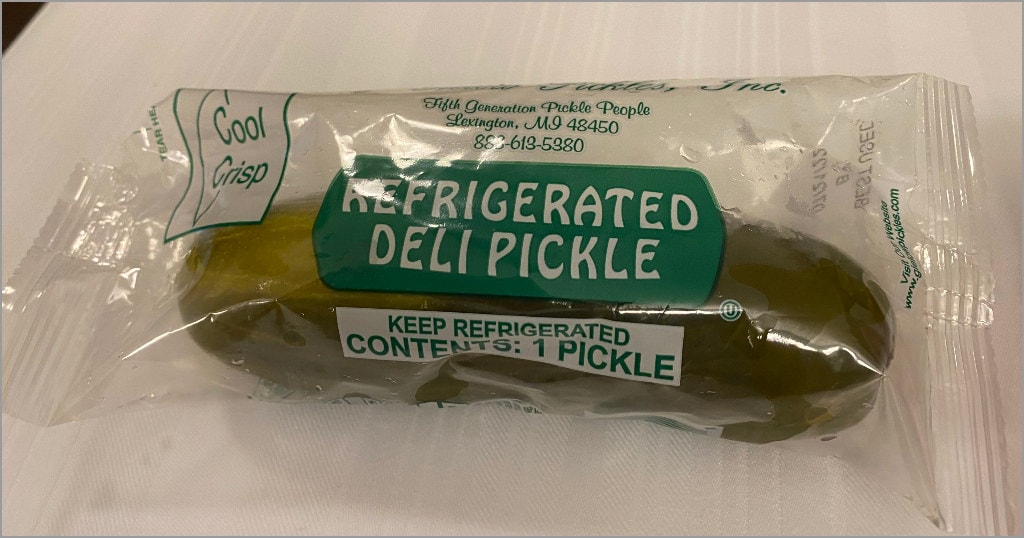 (Photo by Bayley Clark for Magical Guides)
Walt Disney World sells individually wrapped whole deli dill pickles, called "pickle in a pouch". They are sold individually sealed in bags for $1.99 each. The pouches are not resealable, so keep that in mind if you don't think you'll eat the whole thing right away. You don't want to put the pouch or pickle in a bag or pocket only to get pickle juice all over its surroundings.
Why are Disney pickles so good?
Pickles are a tasty snack, and loaded with vitamins – but they also contain a good bit of sodium. When you are walking around a theme park like Disney World, your energy levels will get depleted and a pickle can be a great way to replenish your lost sodium. Keep that in mind, as you're probably already enjoying a number of high sodium, but at least these delicious pickles are lower in in calories. Not to mention these cool dill treats are juicy and pickle juice has been shown to help with onset muscle soreness and let's be honest, you will walk more than you ever have when visiting Disney World.
The actual pickle compared to the pickles you get from the store (looking at you Mt. Olive pickles) is Disney pickles are cold pressed. Meaning they are fresh, instead of being packed for a long shelf life. It's another reason why they are chilled in order to keep their freshness.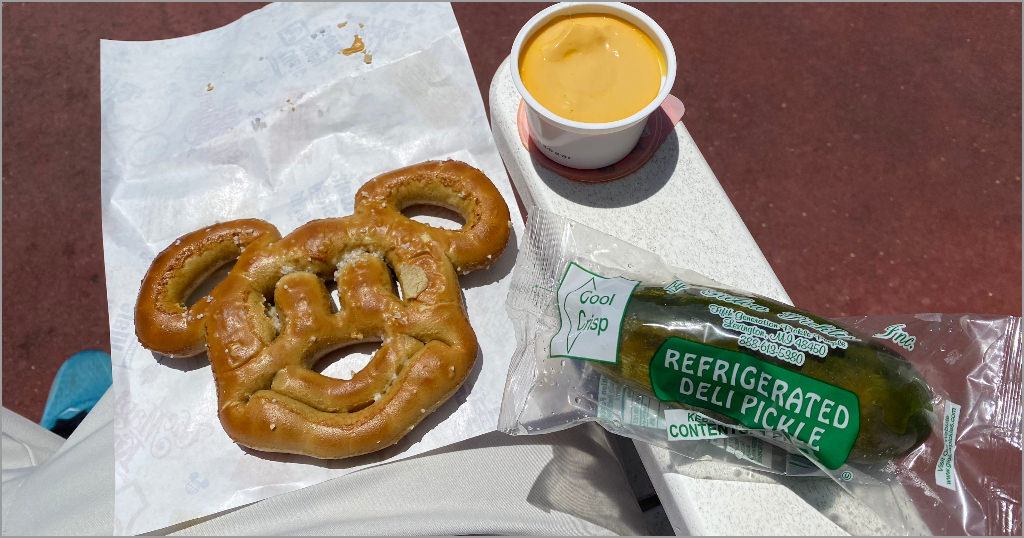 (Photo by Bayley Clark for Magical Guides)
Where do you get pickles in Magic Kingdom?
If you are looking for a pickle in the Magic Kingdom, head over to Liberty Square. At the Liberty Square Market where they sell other items like Turkey Legs, Mickey shaped Pretzels, you can find the ice cold pickles. We recommend digging a little deeper to get the coldest pickle you can.
Liberty Square Market is located across from the Liberty Belle Riverboat.
Read Also: Where to Find Turkey Legs at Magic Kingdom inside Disney
Are there pickles in EPCOT?
So far we have not been able to find anywhere in EPCOT that offers a "pickle in a pouch". We hope they increase their offerings of this cool salty snack. So just know you won't be able to find these deli pickles when you visit EPCOT.
Read Also: Can you get free soda at EPCOT's Club Cool?
Do They Sell Pickles At Hollywood Studios?
Yes, they sell "pickles in a pouch" for $1.99 at Anaheim Produce on Hollywood Blvd. Start walking towards Rock'n'Roller Coaster and Tower of Terror, and Anaheim Produce will be on your left hand side before getting to those rides. You can also pickup a margarita while there, along with other beverages to help cool off and settle after riding any of the great attractions inside Hollywood Studios.
Read Also: How fast is Rock 'n' roller Coaster in Disney World?
Do they sell pickles at Animal Kingdom?
We found these delicious chilled pickles right before reaching the checkout at Harambe Fruit Market in Africa; right before Kilimanjaro Safaris at Animal Kingdom. You can get freshly grilled corn there as another option. There are a number of other places to eat, and other snacks we highly recommend. Don't forget you can get Dole Whip in Animal Kingdom, with or without some rum can make your day in Animal Kingdom even better.
Read Also: The Best Places to Eat in Animal Kingdom
Can you get pickles at your Disney World hotel?
Not all Disney resorts will carry the whole dill pickles. Recently we stayed at Port Orleans: Riverside and found the pickles in the food hall at both Riverside and French Quarter. Two weeks later we stayed at the tower of Coronado Springs Resort, and could not find the large fresh pickle that was such a delicious way to end the day at the Walt Disney World Resort.

Final thoughts on Disney World Pickles
It's important to stay hydrated when visiting Florida, as the heat can cause you not to feel well. Snacking on things like a pickle while at Disney World can certainly help! Do you enjoy the pickles at Disney World? We think they are a great low cost cool treat that helps fuel any vacation.