Club Cool is an "attraction" where guests can sample different Coca-Cola flavors from all over the world, FREE of charge. Perhaps less of an attraction than a corporate showcase, Club Cool is the result of a long-standing partnership between The Walt Disney Company and Coca-Cola that dates back to 1955 and the opening of Disneyland. The first iteration of Club Cool was actually called Ice Station Cool back when it debuted in 1998. Since then, guests have made grabbing a complimentary Coke as much a part of the EPCOT experience as riding Spaceship Earth or taking a stroll around World Showcase Lagoon.
Read Also: What Is Reflections Of China At Disney's Epcot?
Can you still get free drinks at Club Cool?
The short answer is: Yes! Keep in mind, they won't be serving drinks that are sold in the parks. So if you're looking to fill up on soda, these will not be your normal Coke products. I found that after enjoying a few of the sodas, I was more thirsty than when I started. It could be my body's way of telling me to drink more water, but I like to think it's a part of the soda conspiracy to buy more of those overpriced Dasani waters.
Read Also: Guide To Rope Dropping EPCOT In Disney World
My recommendation is to go into Club Cool after filling up our favorite Simple Modern Water Bottle (Amazon affiliate link, we may get a commission if you make purchases using our link) with ice from your resort clipped to your bag, so that when you've enjoyed some of the free drinks at Club Cool you have water to quench your thirst without paying $5 for a Dasani or Smart water. If carrying around a water bottle isn't your thing, feel free to find a food stand that sells fountain drinks, and ask for a cup of ice water for free.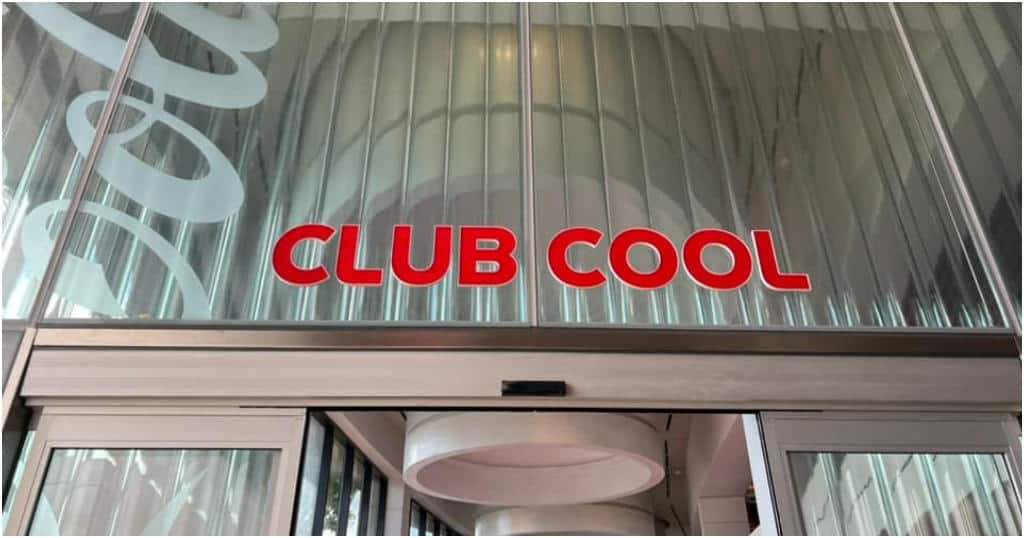 What Soda Flavors are Available at Club Cool?
Just because they are giving away free soda, doesn't mean you can't be picky and know what flavors are available right? We think you should be very picky, and encourage you to check out the flavors to see which one gets you excited, but be assured all are free, and plentiful when you go. You will get a paper cup, and select your choice to have it filled with a shot sized filled cup to really get the flavor.
Beverly (Italy) – Beverly, with its bitter flavor, is a popular non-alcoholic aperitif that is a traditional part of Italian refreshment culture.
Bon Bon Anglais (Madagascar) – Exclusive to Madagascar, Bon Bon Anglais offers a unique taste experience with a blend of tropical fruit flavors.
Country Club Merengue (Dominican Republic) – Enjoy the smooth, creamy tropical fruit taste of Country Club Merengue from the Dominican Republic. Pronounced "muh-reng-gey", the music and dance is just as popular as this sweet sparkling drink.
Minute Maid Joy Apple Lychee (Korea) – Minute Maid Joy Apple Lychee is a still beverage with ripe apple and lychee notes. Lychee is a tropical and subtropical fruit tree native to southern China and now cultivated in many parts of the world.
Royal Wattamelon (Philippines) – Royal Wattamelon is a sparkling beverage with a refreshingly, sour watermelon flavor available exclusively in the Philippines.
Smart Sour Plum (China) – Suan Mei Tang or Sour Plum Tea is a traditional Chinese beverage that has existed for over 1,000 years. Smart Sour Plum has a savory, sweet and tart flavor that is considered by many to be the ultimate sparkling thirst quencher on a hot day.
Sprite Cucumber (Russia) – Sprite originally launched in 1961 and is now enjoyed in multiple countries around the world. Sprite Cucumner from Russia has a crisp cucumber flavor, providing a refreshing twist on this classic lemon-lime beverage.
Viva Raspberry (Moldova) – Viva Raspberry is a delicious sparkling beverage from Molvoda, a country in Eastern Europe. The slightly tart, yet sweet raspberry flavor is complimented by a hint of raspberry juice.
We would love to hear your thoughts on the current offerings, and flavors. I enjoyed the Sprite Cucumber making me think about a spa day experience with this flavor, what about you?
What is Beverly and what does it taste like?
If you're going to Club Cool for the first time with a seasoned Disney guest, don't fall for them trying to get you to taste the Beverly soda without fulling knowing what it is. Beverly is an Italian Soda that is the most popular flavor to try while at Club Cool in EPCOT. Beware Beverly if you think it will be sweet, because it contains no sweetness, and gets it's bitterness from the grapefruit flavoring. The taste of beverly is often compared to awful medicine you would get from your grandma, yes it would make you feel better but to do that you have to swallow this extremely bitter concoction. It's popular to record first time reactions to Beverly and we've included this Youtube video showing someones reaction at the old Club Cool.
Where is Club Cool located in EPCOT?
Club Cool is located adjacent to the new Creations Shop, which will be in the Creations Neighborhood, one of three neighborhoods being carved out of the old Future World.
On the map location below you we've highlighted the location with the arrow.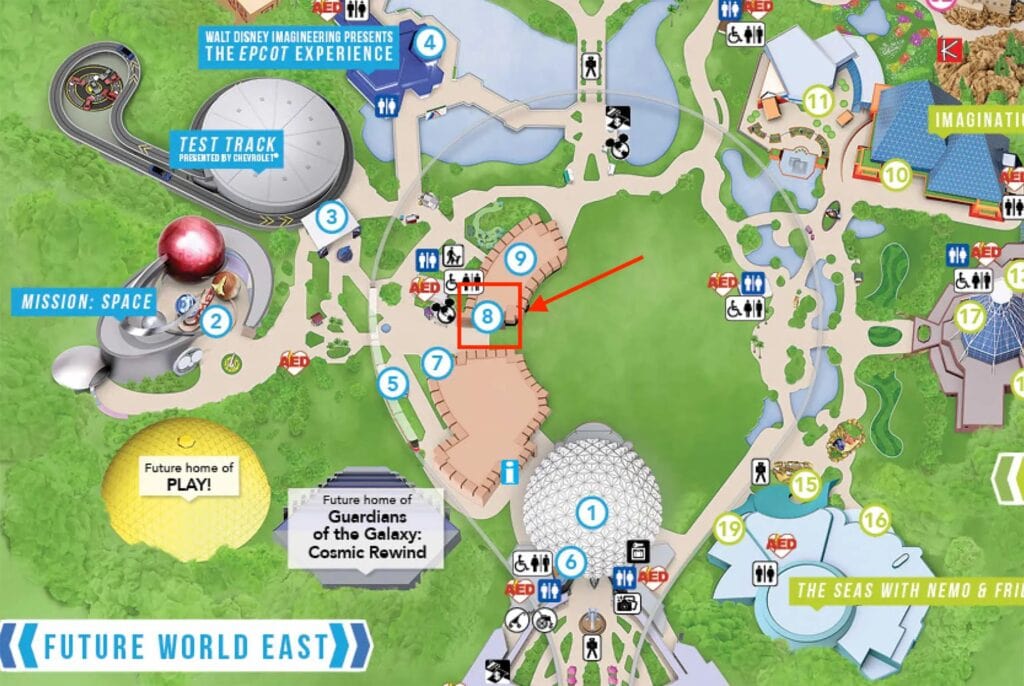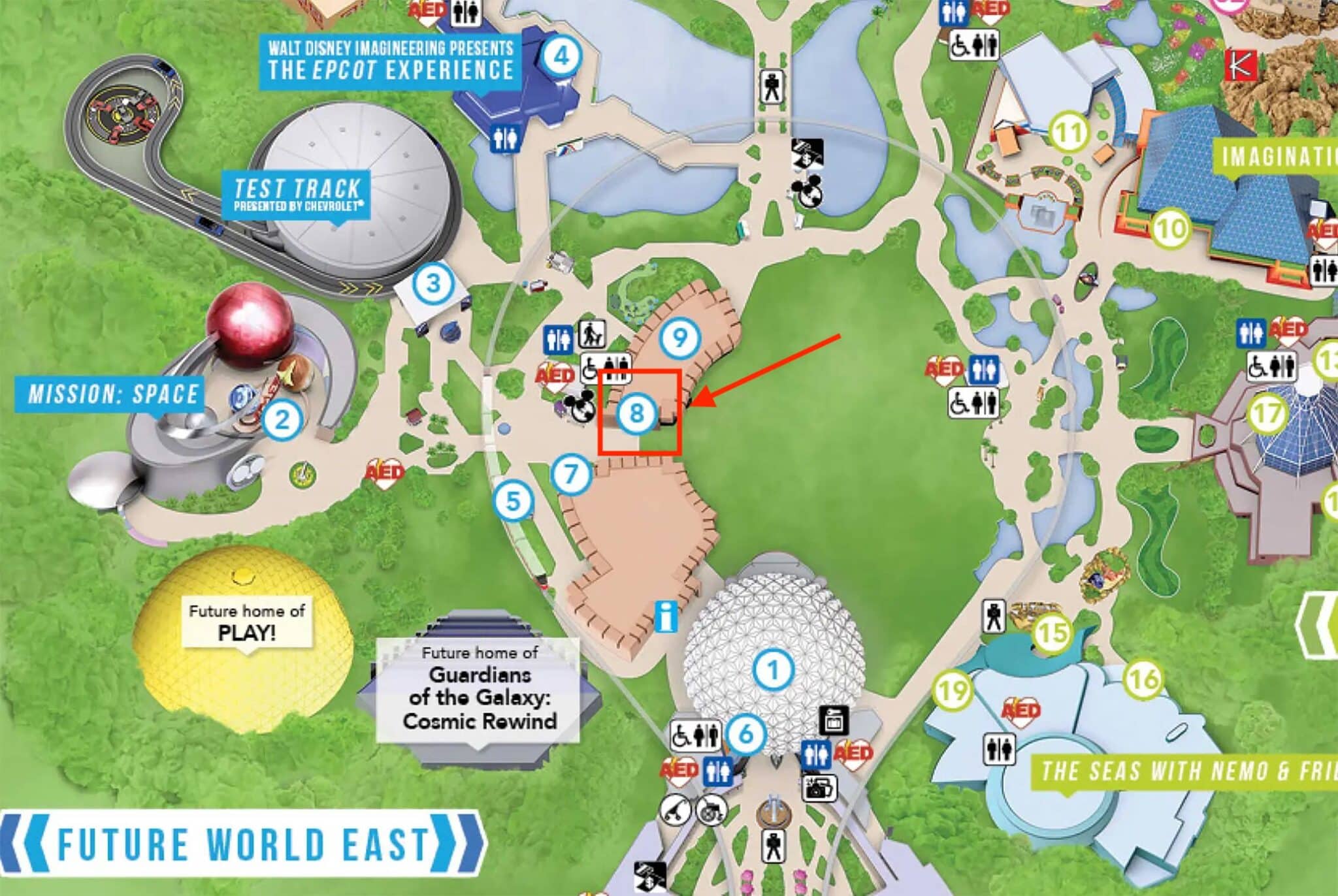 We hope you enjoy your visit to Club Cool inside of Disney's EPCOT. Once you try all the flavors, did you have a favorite? Let us know in the comments down below. Would you recommend going on a hot day or just stick to water? Let us know!