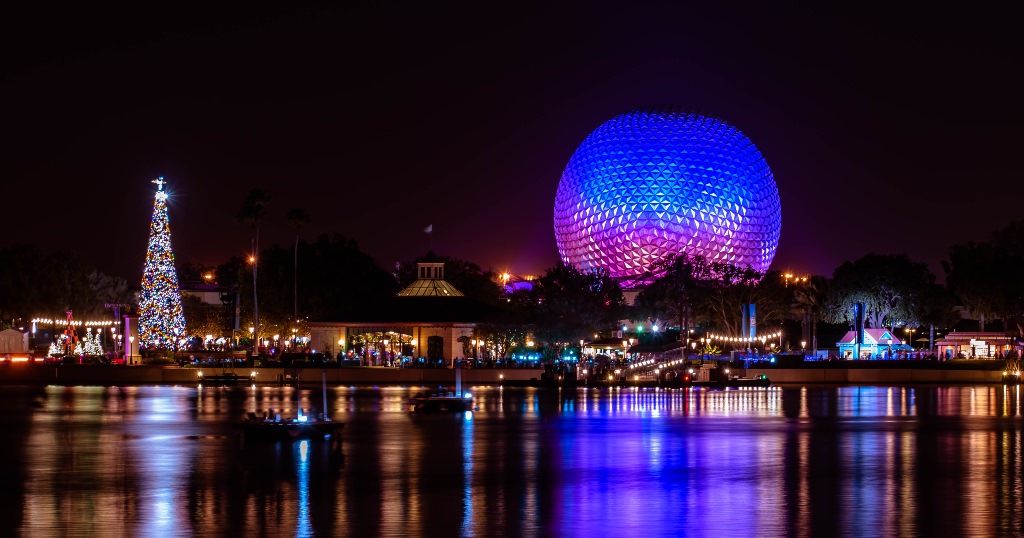 The Epcot International Festival of the Holidays celebrates the most joyous time of the year. Come enjoy the dazzling lights and festive holiday decorations around the World Showcase from November 25, 2022, to December 30, 2022. Throughout the park, you'll also discover holiday-themed entertainment such as storytelling, marketplace food kitchens, Olaf's scavenger hunt, Santa & Mrs. Claus, and more.
During the spectacular EPCOT Candlelight Processional at American Gardens Theater, soak in the ambiance while listening to live Christmas music and a retelling of the Christmas Story narrated by different celebrities. 
Attending the Candlelight Processional is included at no additional charge with your EPCOT park ticket, and confirmed park reservation. However you will need to plan ahead to ensure you get a place in the first come first serve seating. You may also have the option of booking a dinner package, but be aware they sell out quickly.
Christmas time at Disney World is one of my favorite times, usually reserved for Magic Kingdom, however the traditions that EPCOT has quickly expanded my list of favorites. So let's go through a few basics about the happenings of Christmas time inside EPCOT, and let's see if it won't become one of your favorite parks at Christmas time as well!
What is the Epcot Festival of Holidays and Epcot's Candlelight Processional?
The Epcot International Festival of the Holidays is a fantastic way for families to spend the holidays together. The event allows people from all over the world to gather and share their traditions and customs with one another. The legends and stories of the season come to life throughout the World Showcase with dance performances, stories, and music at each country's pavilion.
The EPCOT Candlelight Processional is the festival's featured attraction. It is a remarkable telling of the biblical Christmas Story with its beautiful narration by well-known celebrities, accompanied by the Voices of Liberty choir, a 50-piece live orchestra, the Voices of Liberty acapella ensemble and a mass choir. This year, Disney is bringing back the guest choirs that were featured before 2020.
What are the details of the Candlelight Processional?
The original Candlelight Processional premiered in 1955 at the Disneyland park in California. It grew in popularity and debuted in Walt Disney World's Magic Kingdom in 1971. In 1994, the show was relocated to Epcot. It is currently performed at the America Gardens Theatre. The outdoor amphitheater is located across from the American Adventure pavilion in the World Showcase.
The all-ages performance is featured every night at 5:15 PM, 7:00 PM, and 8:30 PM. Once the show starts the average show time is about an hour.
Every night, a famous person leads a heartwarming retelling of the traditional Christmas story.
This year's lineup of celebrity narrators invited to take part are Simu Liu, Edward James Olmos, Raul Esparza, Whoopi Goldberg, Isabella Rossellini, Daymond John, Josh Gad, Gloria Estefan, Neil Patrick Harris, Mariska Hargitay, Cal Ripken Jr, Marie Osmond, Courtney Vance, and Angela Bassett.
Here is the celebrity narrator lineup schedule:
11/25 – 11/26: Simu Liu (First time)
11/27 – 11/29: Edward James Olmos
11/30 – 12/1: Raul Esparza (First time)
12/2 – 12/3: Whoopi Goldberg
12/4 – 12/6: Isabella Rossellini
12/7 – 12/9: Daymond John (First time)
12/10 – 12/12: Josh Gad (First time)
12/13 – 12/14: Gloria Estefan (First time)
12/15 – 12/18: Neil Patrick Harris
12/19 – 12/20: Mariska Hargitay (First time)
12/21 – 12/23: Cal Ripken Jr.
12/24 – 12/26: Marie Osmond
12/27 – 12/28: Courtney Vance
12/29 – 12/30: Angela Bassett
It does not look like the fan favorite guest celebrity narrators, Jodi Benson or Pat Sajak will be in this year's candlelight processional lineup.
For a complete schedule of when and an updated list of narrators, please visit the official page here.
Do you need special tickets to see the Candlelight Processional?
The Candlelight Processional guests will be seated on a first-come, first-served basis. Due to limited capacity, seating is subject to availability. The early show is usually the most crowded. If possible, I would try to attend the last show as it tends to be the least crowded.
To attend EPCOT, you must have a theme park reservation and valid theme park admission. Unless you purchase the candlelight processional dining package, there is no additional charge for the Candlelight Processional.
What is the Candlelight Processional dinner package?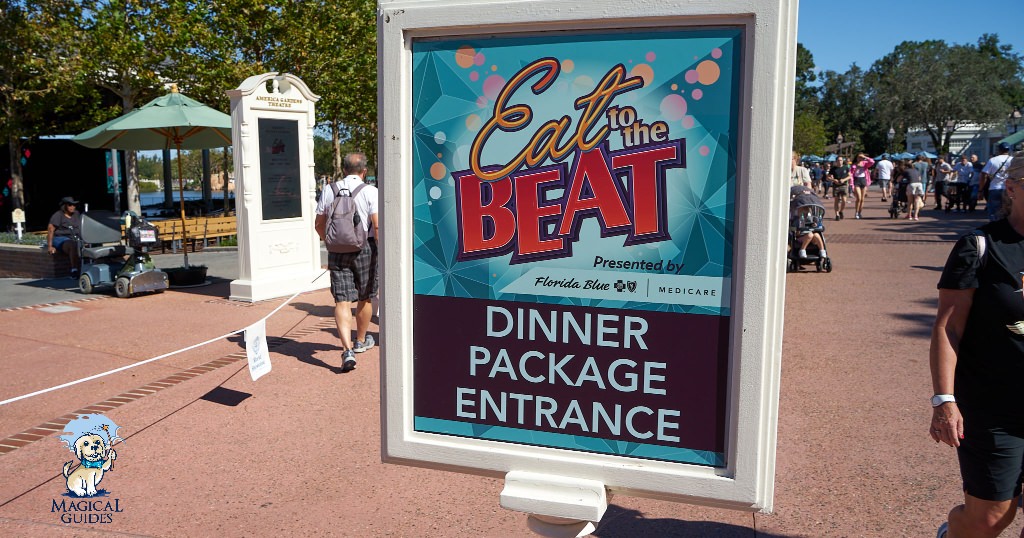 Photo by Bayley Clark for Magical Guides
The easiest way to ensure a seat for the performance is to purchase a candlelight dining package. Dinner or lunch at one of the following full-service restaurants is included in the package: Biergarten Restaurant, The Coral Reef, The Garden Grill, Le Cellier Steakhouse, and The Rose and Crown Dining Room. Two restaurants will have limited availability for same-day seating if you cannot make a reservation. These include Spice Road Table and Regal Eagle Smokehouse (Quick Service).
The meal includes an appetizer, entrée, and dessert, or a complete buffet (where appropriate), as well as a non-alcoholic beverage. Prices range from $40 to $100 for adults and $23 to $46 for children under 12. Make note these dinner packages do not include park admission.
One (1) guaranteed seat per person to a Candlelight Processional performance on the same day.
Check availability online beginning October 6, 2022—and reserve your seat for this limited-time dining event. Advance bookings are strongly advised. A credit card will guarantee your reservation and make note Epcot admission is not included.
After their meal, attendees will be given Candlelight Seating badges. The badge will state the day and time they have reserved for the show.
Guests who have purchased the Dining Package will enter America Gardens Theater through a separate line and be seated on a first-come, first-served basis. Seating is guaranteed; however, you will still want to line up early to get a good seat up front in the middle. The theater has roughly 1000 seats, so you can end up near the back.
If you want to relax, eat, and know you'll have a seat at the frequently sold-out performances, the dinner package is worth it.
It is always suggested to book as soon as possible, especially for the more popular narrators. These sought-after dinner packages sell out very quickly.
What if I don't get a seat?
Guests who do not have a dinner package will start lining up well before the performance begins (up to several hours!) to ensure a spot. If you don't obtain a seat, you can hear the music and narration from the general vicinity of the theater. Still, enjoying the show is easier if you're inside without people moving around you. I recommend stocking up on munchies and waiting it out. It'll be worthwhile.
What other activities can I enjoy at EPCOT's International Festival of the Holidays?
The Candlelight Processional is the festival's highlight, but there are many other activities to enjoy like the Holiday Cookie Stroll.
How much fun does a Holiday Cookie Stroll sound?
I'm thrilled that the Holiday Cookie Stroll is returning this year! I enjoy strolling through the park and sampling cookies from several Holiday Kitchens. I love Christmas at Walt Disney World, the decorations, and the cookies!.
You'll purchase 5 cookies from any of the approved cookie stroll places listed in your Festival Passport and receive a matching stamp for each cookie purchased. Bring the stamped Passport to Holiday Sweets & Treats once you've obtained 5 stamps to enjoy a special treat!
The following treats and locations are available:
Alfajores – Vanilla Shortbread Cookie with Dulce de Leche and Coconut – Nochebuena Cocina
Yukon L'Chaim! Holiday Kitchen: SNICKERS®-Doodle Cookie created with SNICKERS® Bar bits Black and White Cookie Decorating (plant-based)
Chocolate Crinkle Cookie for the American Holiday Table
Bavaria Linzer Cookie from the Holiday Kitchen
Desserts for the Holiday Hearth: Gingerbread Cookie
Connections Café: M&M's® Sugar Cookie Sunshine Seasons: M&M's® Sugar Cookie
Next on our list is Olaf's Holiday Tradition Expedition Scavenger Hunt.
Olaf has been collecting Christmas customs from all over the world and lost them in World Showcase, and it's up to you to help him find them.
To participate in Olaf's Holiday Tradition Expedition Scavenger Hunt, you must purchase a map and stickers for $9.99 plus tax at the festival merchandise shops in World Showcase: Creations Shop, Port of Entry, or World Traveler at International Gateway. As many of the hiding places are outside, I recommend this activity during the day.
Mark the "tradition" Olaf has discovered at each pavilion on your map using the stickers you've received. Once you've completed the adventure, take your map to Creations or World Traveler at International Gateway and exchange it for a unique holiday souvenir—even if you haven't finished. Redeemable through December 31, 2022, or while supplies last.
Get a taste of the season's finest treats and festive drinks at the Holiday Kitchens.
Sample delectable delights prepared in the Holiday Kitchens throughout the World Showcase in celebration of the most beautiful time of the season. Whether you are a lover of food or not, you will find something tasty to eat at this year's celebration. You'll find everything from a roasted turkey stuffed with chestnuts to peppermint sweets and more!
If you're interested in something more exotic? Try some Chinese dim sum or green tea ice cream from Japan. For those of you looking, new this year is the Nochebuena Cocina – Near Port of Entry, offering delicious plant-based menu items. Holiday Kitchens are stand-alone marketplace stands.
Choosing which goodies to taste as you journey through the pavilions from Norway to France to China and beyond will be challenging. So the best option is obviously to try a lot, and share with the ones you enjoy spending the holidays with on your Disney vacation.
Final thoughts about EPCOT's International Festival of the Holidays and Candlelight Processional
The Epcot International Festival of the Holidays is a spectacular event that should not be missed. These kinds of celebrations live up to their names and excite our senses. When you visit Epcot's World Showcase, you are steeped in a festive spirit unlike any other time of year. EPCOT's candlelight processional is a meaningful event for the entire family—it's one of my favorite emotional holiday traditions. It brings out the spirit of Christmas in everyone. It's a must-see!
I hope you can attend the Epcot International Holiday Festival and the Candlelight Processional this year. It's a magical time of the season when you can get in touch with your inner child—and maybe even your inner elf.