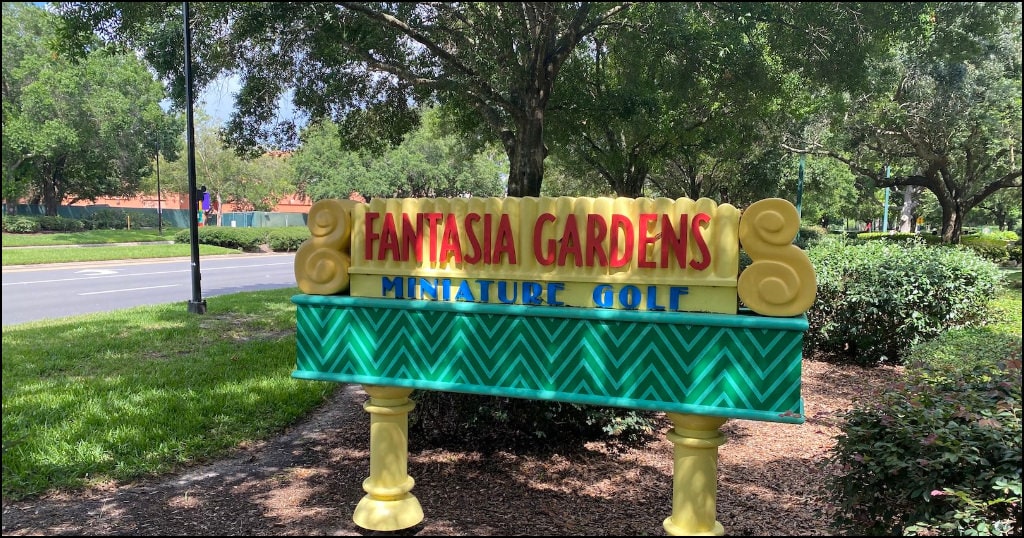 Growing up in Maine it was always a bit more difficult to find putt putt near me. Family vacations to Myrtle Beach included bumper cars, shopping at the boardwalk, and mini golf. It became a ritual for my family.
So, when my husband and I go to Disney World for the first time, I was delighted to see there was a mini golf course near our resort. Best of all it was just a short walk across from the Swan Hotel where we were staying.
While the Magical Theme Parks and Resorts may be the main reason most guests travel to Walt Disney World, there are some great activities on property you won't want to miss.
Mini golf is a fun, family-friendly activity Disney offers on property. If it's not part of your family vacation ritual, I would suggest you change that on your next visit!
This is a great way to take a break from the crowds at Disney Parks and spend time having fun outdoors.
Walt Disney World has two locations to choose from for mini golf, Winter Summerland and Fantasia Fairways Miniature Golf Course. Both locations have two 18-hole courses the whole family will enjoy.
These hidden gems are the perfect low-key activity while on your fun-filled Disney Vacation.
One of the best perks is both Winter Summerland and Fantasia Gardens are open 10 AM – 10 PM each day, with the fairways at Fantasia Gardens taking their last guest at 9 PM due to the more complex fairways.
Winter Summerland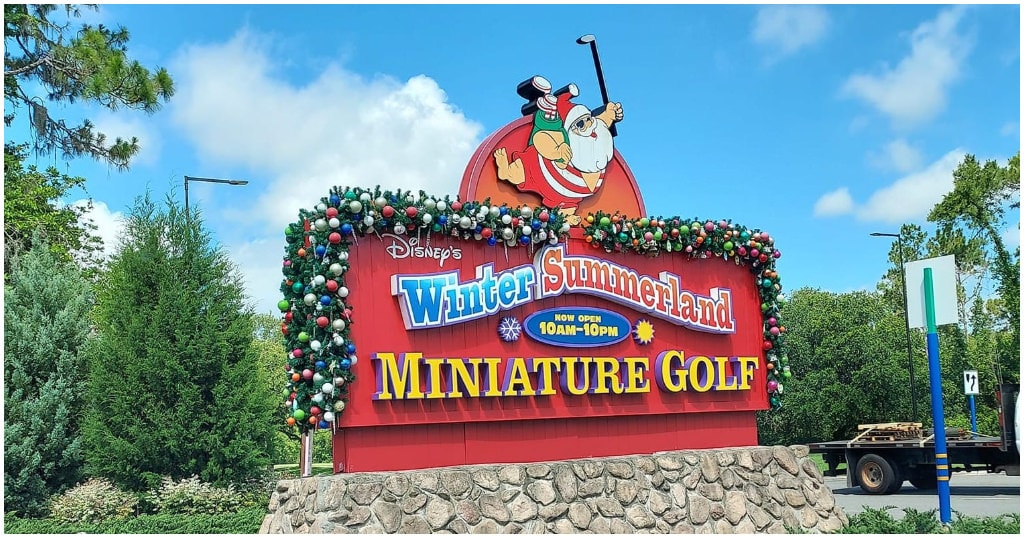 Winter Summerland will have you celebrating Christmas throughout the year. There are two 18-hole courses at Winter Summerland, the Summer course and the Winter course. The Summer course is a Florida Christmas-themed putt-putt course.
Summerland has sandcastles, surfboards, palm trees with ornaments hanging, and melting snowmen throughout the course.
Winter Summerland is open from 10AM – 10PM each day.
The Winter course will have you feeling like you are in a winter wonderland. Even in the middle of summer, you will feel like you are walking through a Christmas carol with igloos and ice castles throughout the course.
Fantasia Gardens and Fairway Miniature Golf Course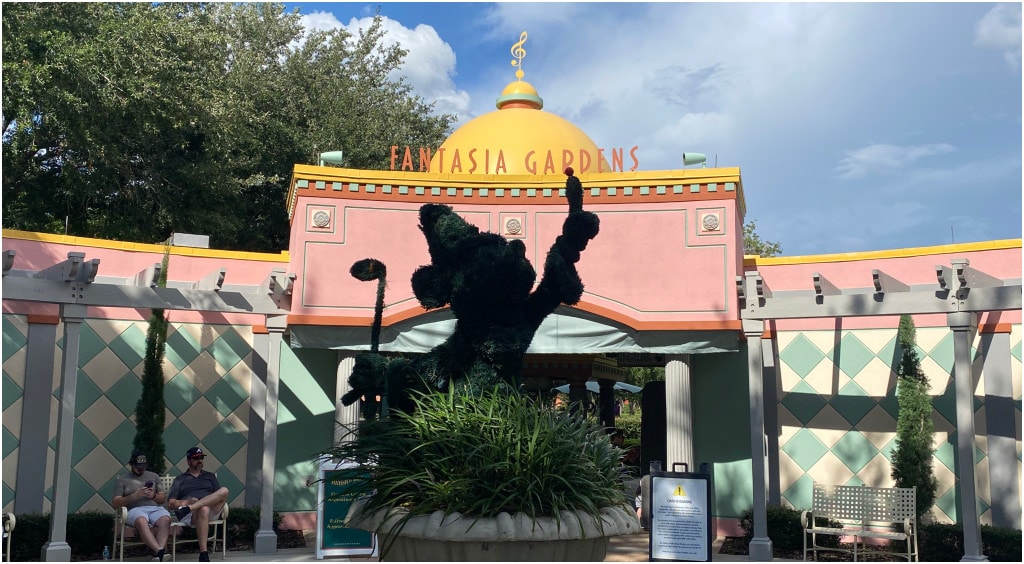 Both Fantasia Gardens and Fairway are two unique courses the whole family will enjoy. Fantasia Gardens was the first mini golf course at Walt Disney World and opened in 1996. Fantasia Gardens is a traditional mini golf course, with topiaries and statues of scenes from the iconic movie Fantasia.
Fantasia Gardens and Fairway are open from 10AM – 10PM each day.
Fairway Miniature Golf is not your typical mini golf course, it is a miniature version of a traditional golf course. The Fairways course has sand traps, bunkers, and water hazards, which you would be expecting to see at an entire 18-hole golf course, only on a smaller scale.
This course has holes ranging from 63 feet to 109 feet, and is either a par 3 or par 5, earning a course a par 72 overall. Fairway Miniature Golf course closes an hour before the Fantasia Gardens course.
How much does mini golf cost at Disney?
Mini golf at Walt Disney World is an affordable activity for a family to do as an extra activity during their Disney Vacation. Both Winter Summerland and Fantasia are the same prices for a game of mini golf. For adults, the cost to play a game is $14, and for kids 3 – 9 years old, the price is $12.00.
If you have the sports package with your annual pass, it includes one game before 4pm each day.
Read Also: When Will Disney World Sell Annual Passes Again
Walk-ups are welcome, or you can book a mini golf tee time reservation by calling 407-WDW-PLAY (407-939-7529).
Do you get free mini golf when staying at a Disney Resort?
If you book a Walt Disney World Resort vacation package with Walt Disney Travel Company Magical Extras, you receive free vouchers to play an 18-hole round of golf at Winter Summerland or Fantasia Gardens miniature golf courses. Each Magical Extra Package includes Four Vouchers per package, and each voucher is valid for one 18-hole round of mini golf on one day for one guest.
Do you have to pay to park for Disney mini golf?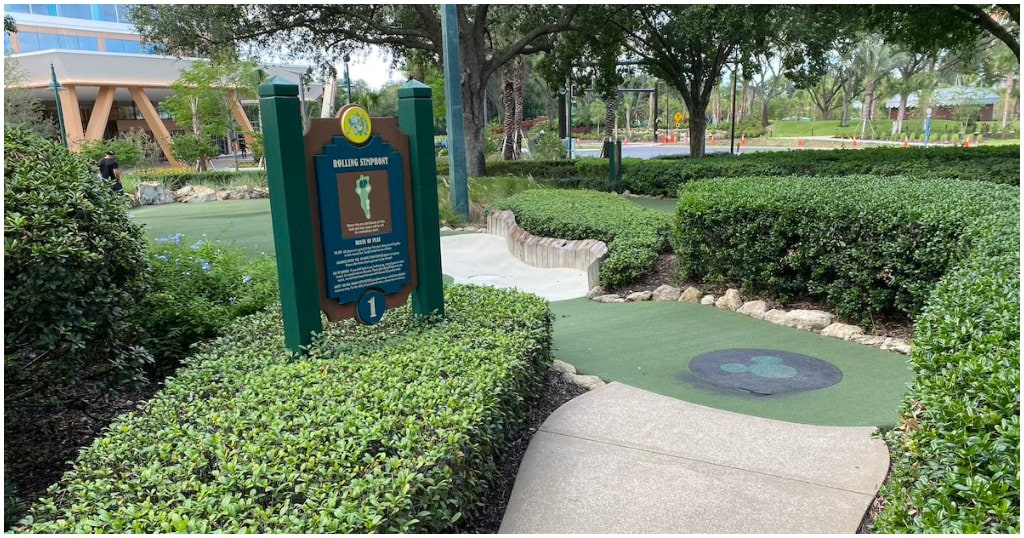 If you visit Fantasia Gardens, you'll notice the parking lot is shared with Disney's Swan Reserve hotel. You'll have to take a ticket when entering the parking lot and given 3 hours to play golf and exit the parking lot or pay the fee charged to hotel guests.
So be sure to get a validation ticket from the cast members at Fantasia Gardens to avoid paying the parking fee. If you forget to get validated, you should be able to press the operator button on the ticket box to get out.

Winter Summerland shares a parking lot with Disney's Blizzard Beach Water Park, so you'll be able to park there for free.
If you take an Uber/Lyft or Disney's Minnie Vans you can skip the parking fees altogether.
Does Park Hopper Plus include mini golf?
Disney's Park Hopper is an add-on to a Disney Theme Park ticket that allows you to visit more than one Disney Theme Park per day. The Park Hopper Plus option also offers more than one Disney Theme Park per day and also provides a few more perks along with your Theme Park Tickets.
Guests are allowed a certain number of visits to select activities on Disney Properties, depending on the length of their stay. If a guest has a 5-day ticket, they are allowed five activity visits. With the Park Hopper Plus, guests can use their visits on activities including:
Disney's Typhoon Lagoon Water Park
Disney's Blizzard Beach Water Park
ESPN Wide World of Sports Complex
Disney's Oak Trail Golf Course (including Footgolf)
Disney's Fantasia Gardens Miniature Golf Course
Disney's Winter Summerland Miniature Golf Course
If you purchase the Park Hopper Plus, you can choose one of these activities per day that you have the Park Hopper Plus added onto your Disney Park Ticket. While Fairway is not on the list, the other three mini golf courses are available with the Park Hopper Plus.
Read Also: Everything You Need to Know About Golfing at Walt Disney World
How do you get to Winter Summerland?
Winter Summerland miniature golf is located beside Blizzard Beach Water Park. To get to Winter Summerland, you will park in the Blizzard Beach parking lot. The easiest way to find Winter Summerland if you are driving is by following the signs for Blizzard Beach.
The entrance to Winter Summerland is located on the right of the entrance to Blizzard Beach. Transportation is provided from select an on-property Walt Disney World Resorts. If your Disney Resort does not offer bus transportation to Blizzard Beach, you can take a bus to Disney's Animal Kingdom Resort and, from there, transfer buses to Blizzard Beach.
From there, you can walk to the entrance to Winter Summerland.
How do you get to Fantasia mini golf from EPCOT?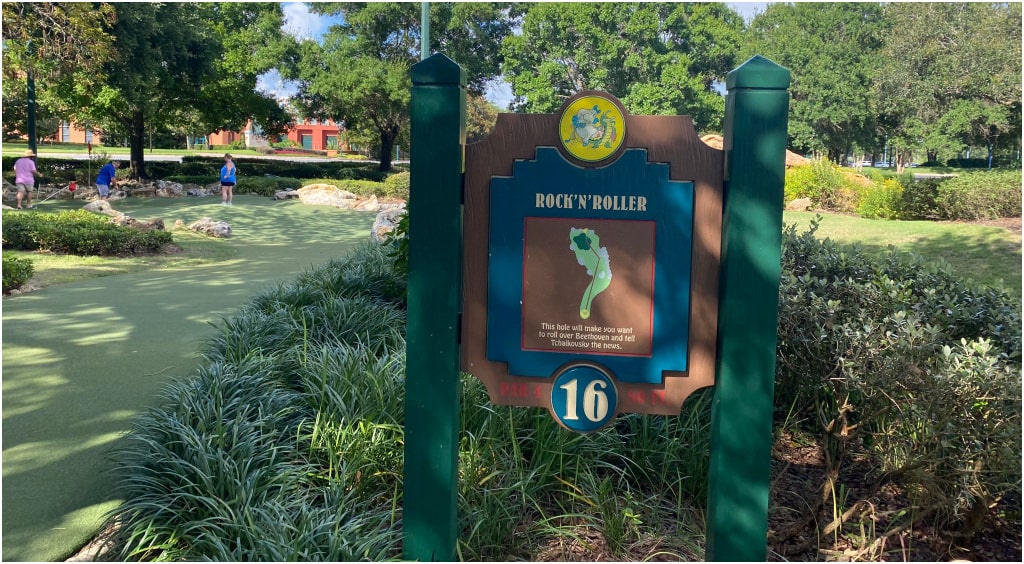 Fantasia and Fairway mini golf is located in the EPCOT Resort area next to Disney's Hollywood Studios. Fantasia and Fairway mini golf is an easy walk from EPCOT. If you exit out of EPCOT through the International Gateway (located between the United Kingdom and France pavilions), you can walk on Disney's BoardWalk and pass through the Swan & Dolphin Hotel ground.
When you get to the Swan & Dolphin, you will walk across Epcot Resorts Blvd directly to Fantasia mini golf. It is less than a mile to walk from International Gateway to Fantasia mini golf and about 20 minutes.
If you are staying at an on-property Disney Resort, you can take a bus to Hollywood Studios, then transfer to a boat to the Swan, Dolphin, and Swan Reserve Hotel. From there, head towards the Swan & Dolphin, then you will see signs on the right that will take you to Fantasia Gardens.
You will cross Epcot Resorts Blvd and find Fantasia Gardens directly across the street.
Frequent Questions and Answers
Do you get a discount when playing more than one course?
Yes! Bring your receipt with you, and you can save 25% for playing another course when playing the same day or the next day. You must show your receipt to receive the discount.
What should I bring with me to play mini golf at Disney?
When heading out to play mini golf at the courses at Walt Disney World, you will want to bring a few things with you. Bring a camera, as each hole is an excellent phot spot fun photo spot with fun Disney-theming. You will also want to bring along a few snacks and a drink. During the Florida summers, the courses are very hot, make sure to hydrate and stay in the shade.
Read Also: Everything You Need In Your Disney Park Bag
How long does it take to play a round of mini golf?
To play a round of mini golf at one of the four mini golf courses at Disney typically takes about 1-2 hours. For Winter Summerland and Fantasia, it usually takes about an hour to an hour and a half to play your way through the 18-hole course. Fairway course takes a little longer and usually takes about an hour and a half to two hours.
Where can I put my things when playing mini golf?
Both mini golf locations provide lockers to hold your belongings while you play. Lockers are $3.00 plus a $2.00 deposit you get back when you return your key.
Which course should my family play?
Choosing the best course for your family will depend on your skill level. For more experienced players, Fairway is a great course that will give you more of a challenge. For beginners looking to have a fun time entertaining the kids, Winter Summerland and Fantasia Gardens are all great options, and you may want to pick the course that has a theme you like more.
What time are the courses open?
Winter Summerland and Fantasia Gardens are open seven days a week from 10:00 am to 10"00 pm. Fairway mini golf course closes an hour earlier than the other three courses and is available from 10:00 am to 9:00 pm.
When is the best time to mini golf at Disney?
The best time to mini golf at Disney is in the morning. Choosing to mini golf in the morning helps you beat the crowds, this way, you don't have to wait to go from hole to hole.
You can beat the heat in the summertime by playing your round in the morning. June through November is the rainy season in Florida, and you can expect a daily thunderstorm in the afternoon. Choosing to play your round in the morning can help ensure you don't get stuck in the rain before finishing your game.
While the Disney Theme Parks are magical and may be why you choose to stay at Disney, there are many other great activities you won't want to miss on your Disney Vacation. On a non-park day, mini golf at Disney is an affordable activity that is still exciting for the kids.
Have you played a round of putt-putt at Disney? Let us know what course you will choose on your next Disney Vacation.